This slow cooker French Dip sandwich is all about fork-tender slow cooked chuck roast served over crusty rolls and topped with melting slices of provolone cheese. Dip in the au jus and eat your way into a warm, hearty dinner!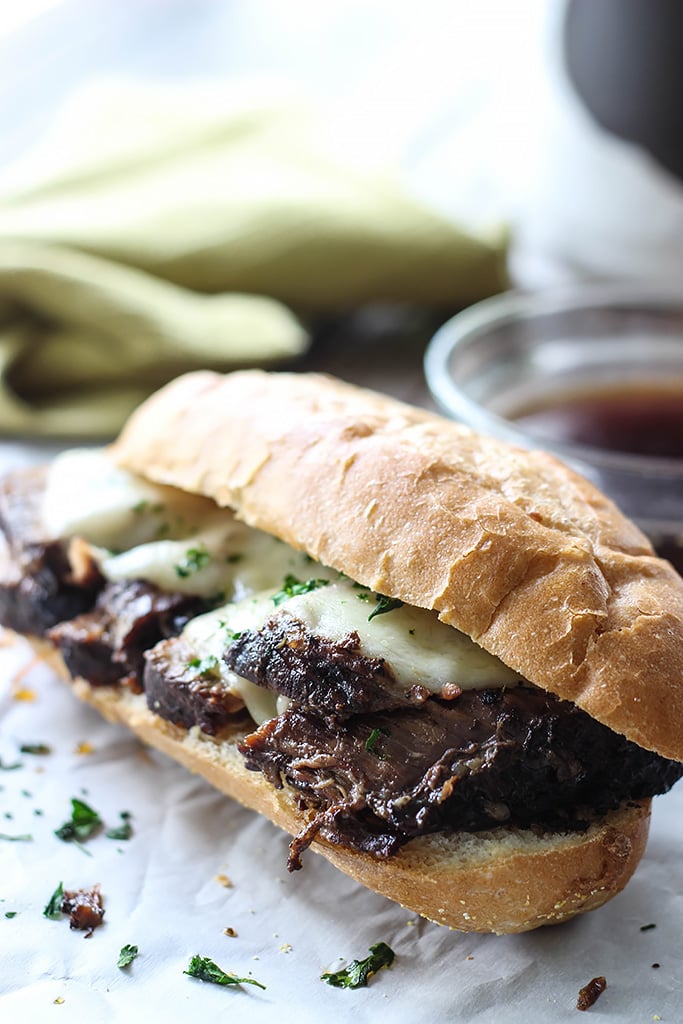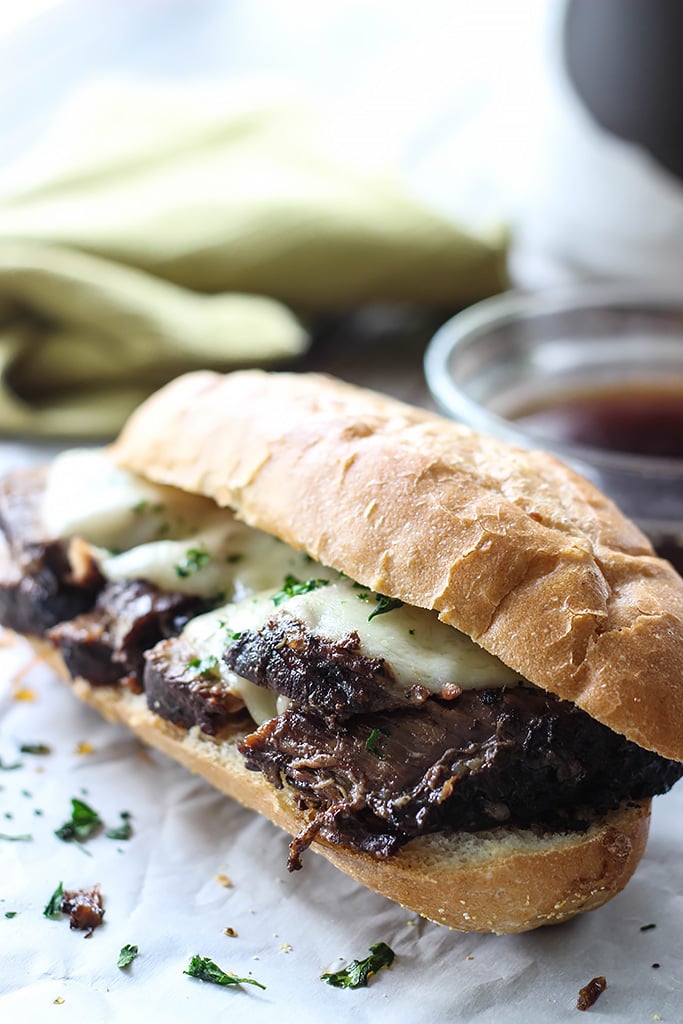 Today we'll be doing a slow cooker French Dip sandwich, a hot sandwich that's the perfect answer for cold days. It's really all about getting some good chuck roast, tossing in some seasonings and letting it slow cook for 8 hours while filling the house with tempting smells and promises of dinners to come. Most of the work comes from assembling the sandwich later. It's that easy!
This one will be good for at least 8 sandwiches so that's either plenty of leftovers for a smaller family or one hearty dinner for a big one. So let's get dipping!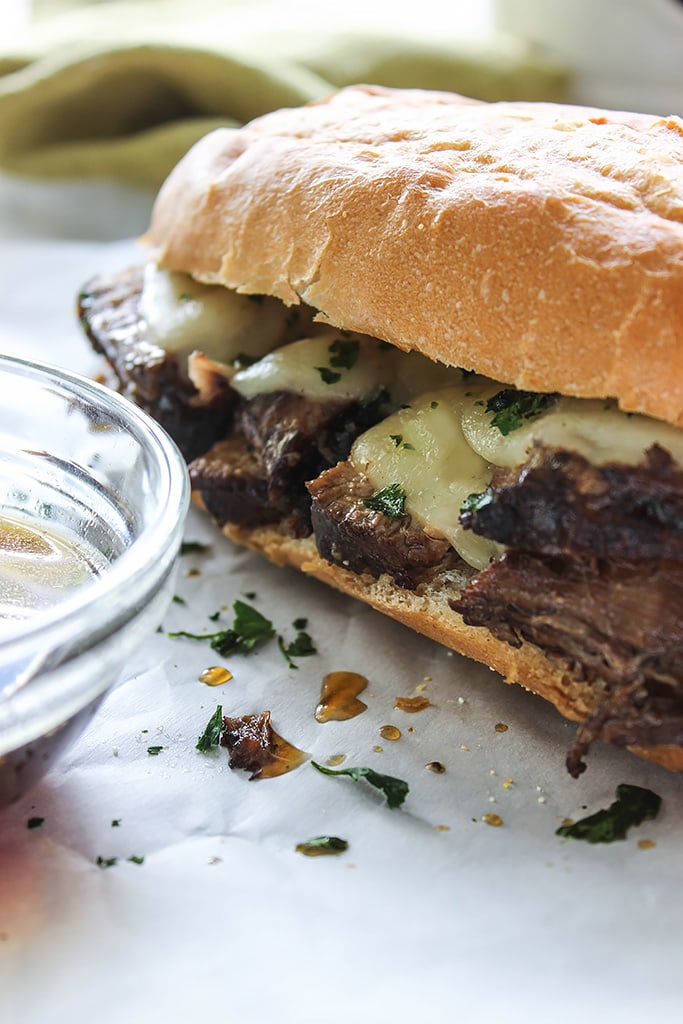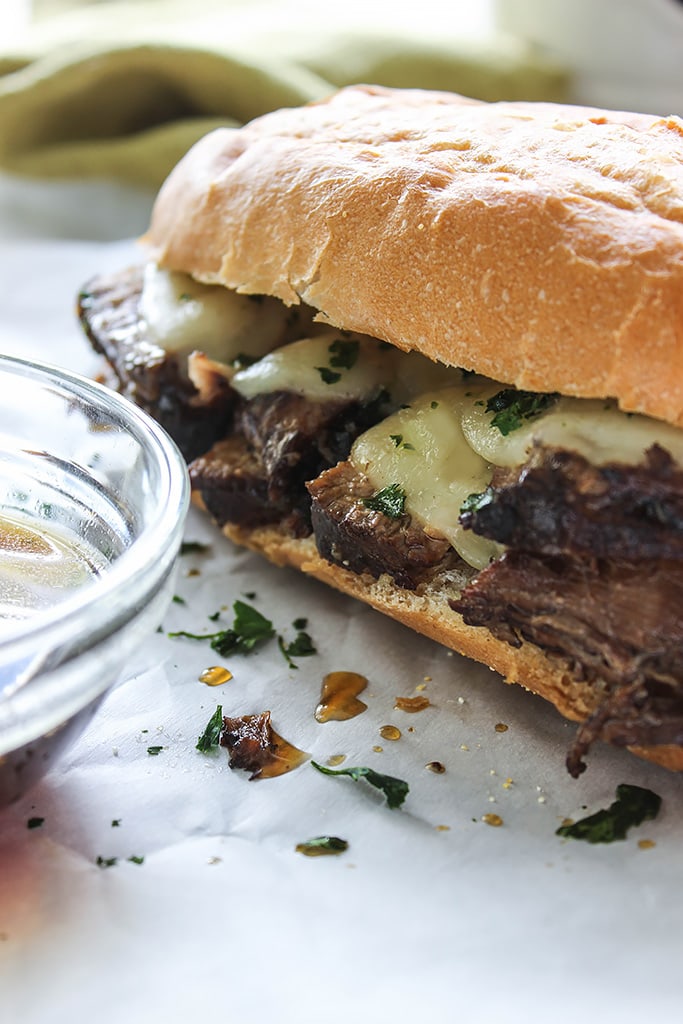 Like most slow cooker recipes, it was really quick to put together. The searing did require some finesse though because I had 4 pounds of beef clamped precariously in my tongs. It's a lot of meat! And since I'm mentioning it already, I would say make this if you have a huge family or don't mind eating the same thing for days. Or you can freeze it. Because it's a lot of meat!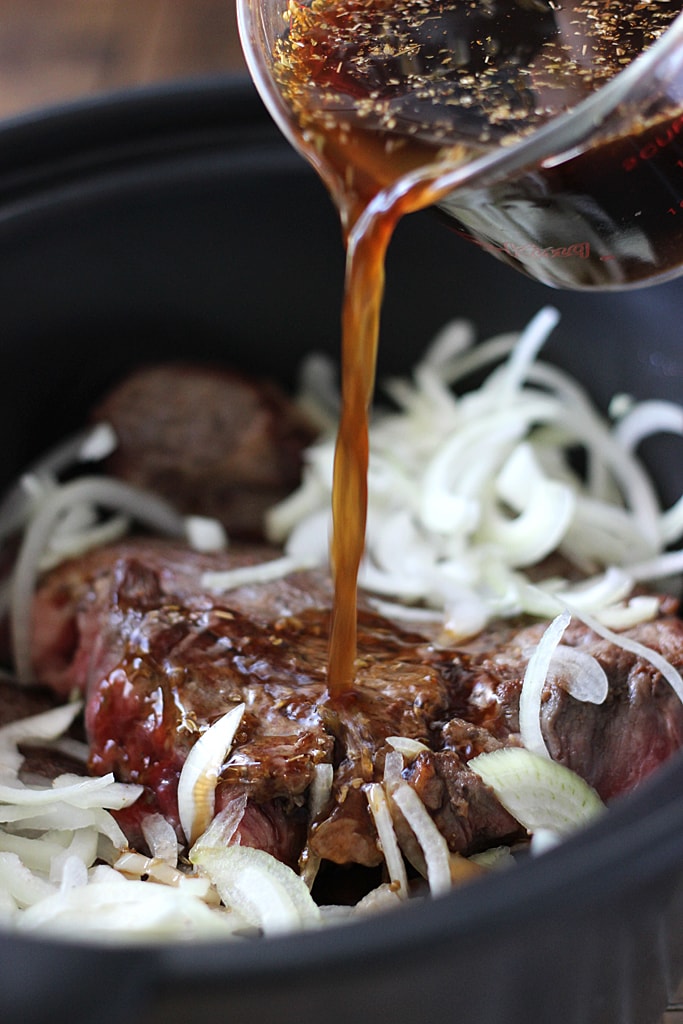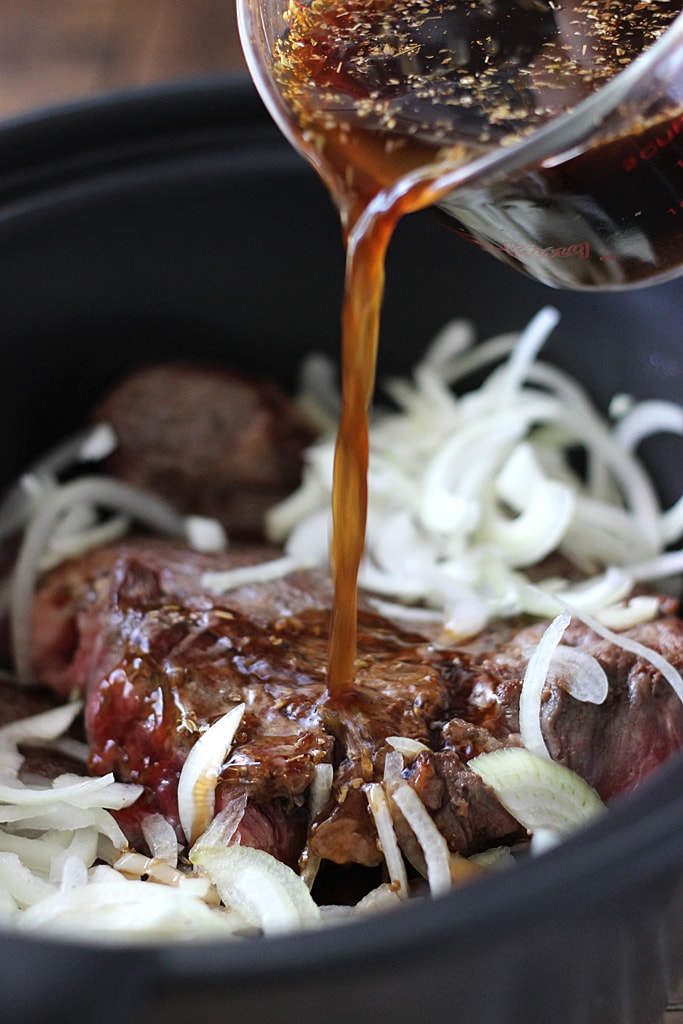 Mixing the broth together was fun. Once you're done with the prep state (which I promise is a lot faster than how much I have blabbed so far) toss it in the slow cooker, pour that broth in and sit back and relax for 8 hours. Or go to work. Or sleep! It's a nice thing waking up to delicious smells in the house.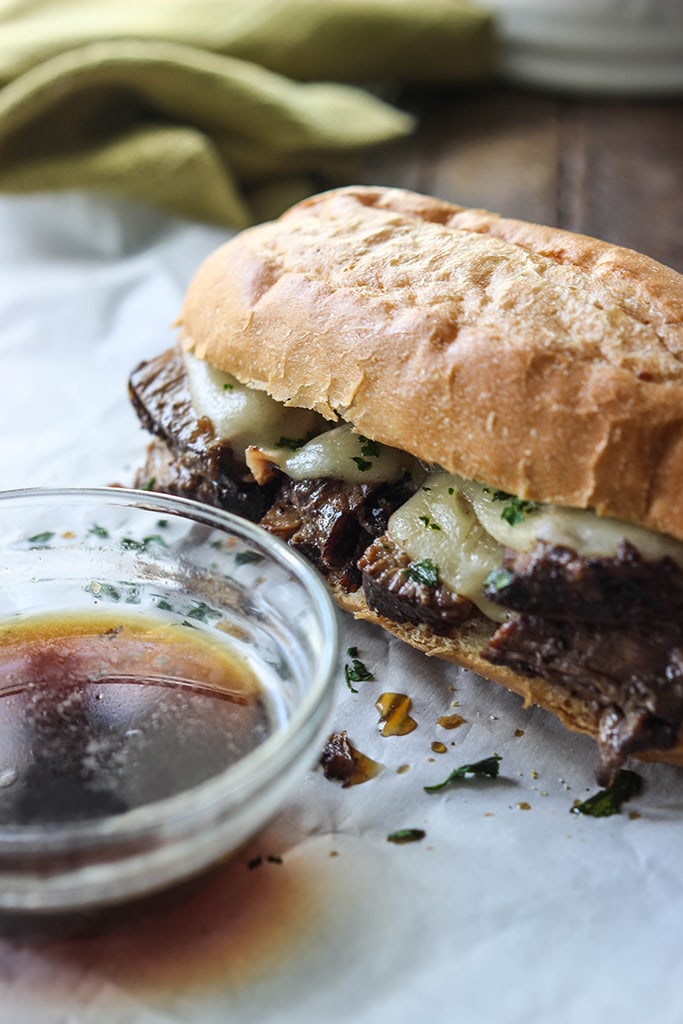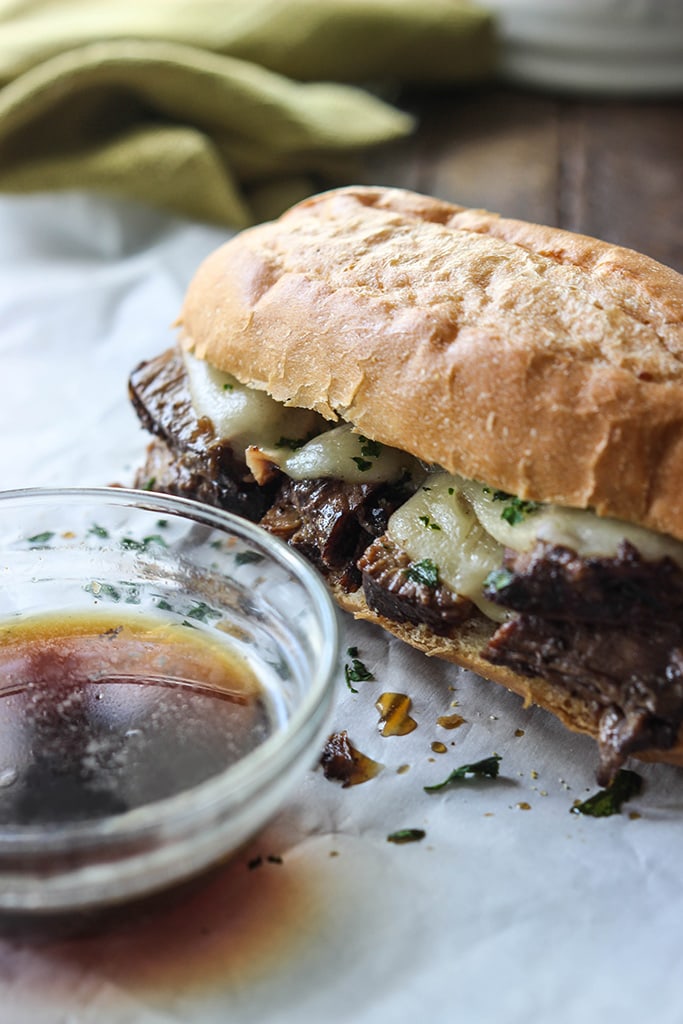 Then it's shredding time with two forks. This part is easy. Be sure to separate the fatty bits and toss them. I used hoagie rolls because its a perfectly portioned sandwich for one. Ours came in a bag of four, so we got two bags to work with the recipe. Or you could opt for a traditional baguette. Whatever works for you!
Make sure to top with some Provolone cheese for some melty goodness and/or a very thin spread of horseradish mustard just for that bite. Once the sandwich is assembled, toast/broil both halves of the sandwich to melt the cheese and get the bread all nice and crusty. The crustier it is, the more it holds up when you dip! I did mine in a toaster oven since I didn't feel like heating up the stove top oven for just a few sandwiches, so that's always an option.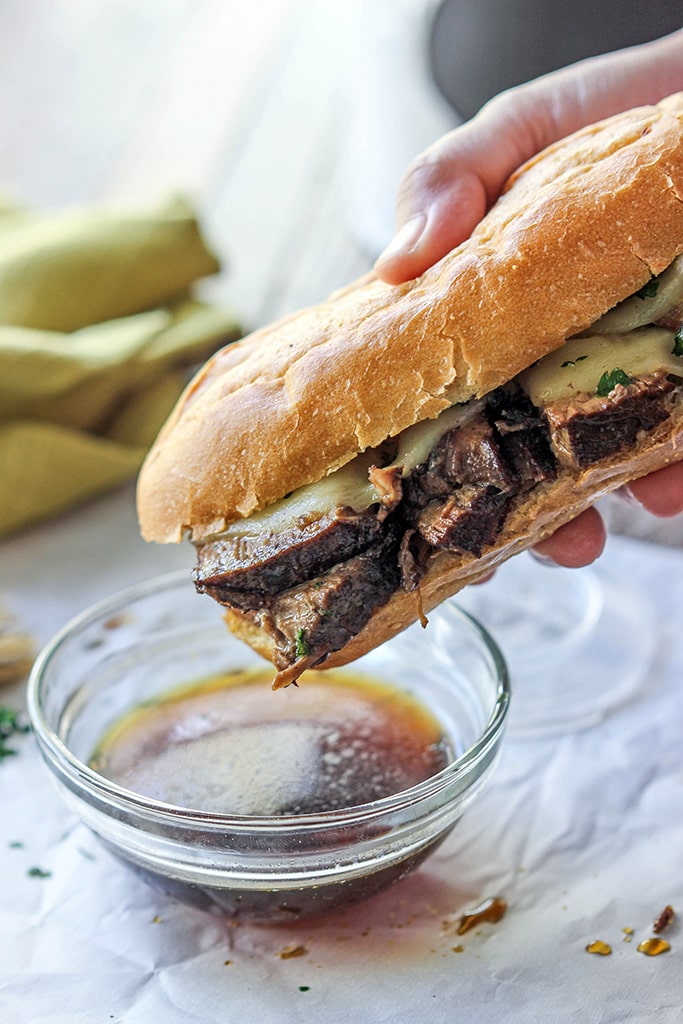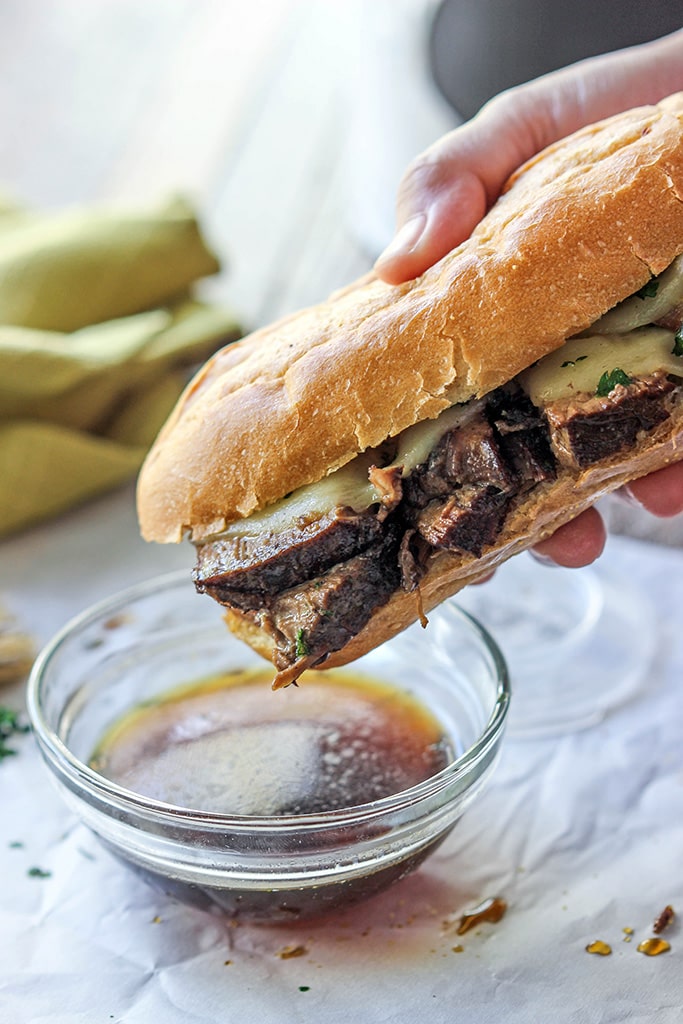 And that's all there is to it. Have fun dipping!
Print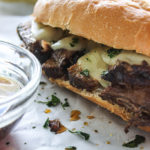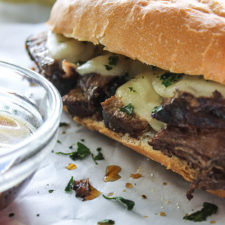 Slow Cooker French Dip Sandwich
---
Author:

Prep Time:

15 mins

Cook Time:

8 hours

Total Time:

8 hours 15 mins

Yield:

8

1

x
Description
A slow cooker French Dip sandwich that's a perfect hot fix for cool weather. Dip, dip, dip it in some hearty au jus gravy!
---
3

–

4

lb. chuck roast
Salt and pepper to taste

1

onion, thinly sliced

2 cups

beef consommé/broth

1 tablespoon

Worcestershire sauce

1/2 tablespoon

garlic powder

1/2 tablespoon

onion powder

1/2 tablespoon

dried oregano

1/2 tablespoon

paprika
Sandwich assembly:
Hoagie rolls/crusty French baguette
Provolone cheese
Horseradish mustard/cream (optional)
---
Instructions
Season meat with salt and pepper to taste and sear over medium high heat until browned on both sides.
Transfer meat to a slow cooker and add in onions
Combine consommé/broth with Worcestershire sauce, garlic and onion powders, oregano and paprika. Stir to mix
Pour broth mixture over the meat, cover and cook for 8 hours on low
Once cooked, remove the roast and shred with two forks
To make a sandwich,  add some meat to a hoagie roll cut in half lengthwise and top with provolone cheese
Broil at 450 degrees F for 5 minutes or until cheese has melted
Dish and serve hot with au jus dip