These 5-ingredient slow cooker Italian beef sandwiches have mouthwatering chuck roast on a toasted hoagie roll with melted provolone cheese.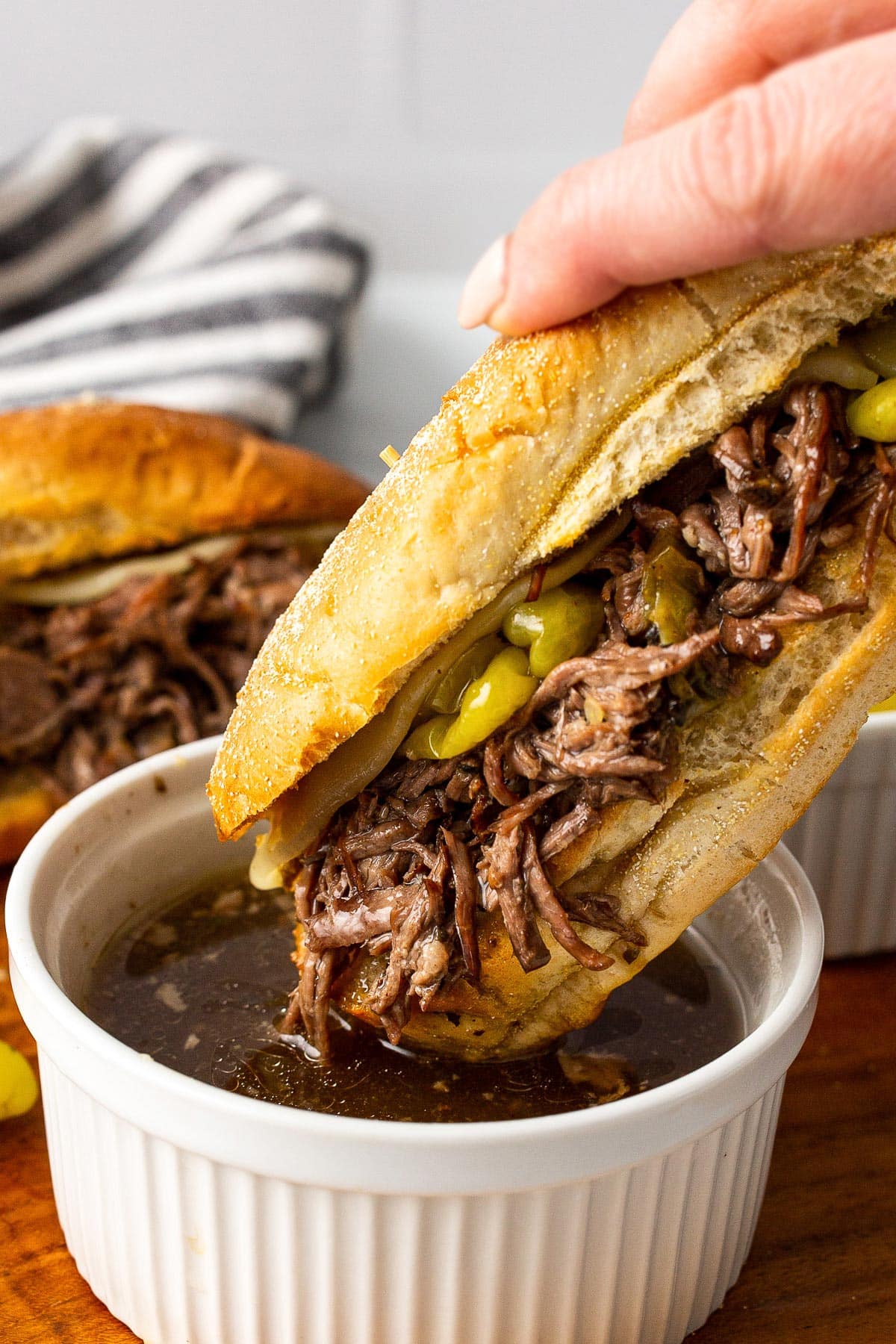 Today we're making some slow cooker Italian beef sandwiches. These hot sandwiches deliver big on flavor with fork-tender chuck roast slow cooked with pepperoncini peppers and Italian seasoning. Serve them dry, wet, or dipped in au jus on crusty rolls with lots of melty cheese and some giardiniera, if that's your thing.
I like to joke that these crock pot Italian beef sandwiches are like Mississippi pot roast and French Dip sandwich had a baby with its tangy broth and lots of sloppy sandwich action from all the au jus dipping. Make them for parties, game day, or just as fun, family meal.
It's an easy 5-minute prep recipe with only 5 ingredients for the ultimate convenient meal. For more no-fuss recipes with 5 ingredients or less, try this meatball pasta bake, honey garlic chicken or shrimp, slow cooker three packet pot roast, or these slow cooker grape jelly meatballs.
How To Make Slow Cooker Italian Beef Sandwiches (1 Min Video)
Ingredients in Slow Cooker Italian Beef Sandwiches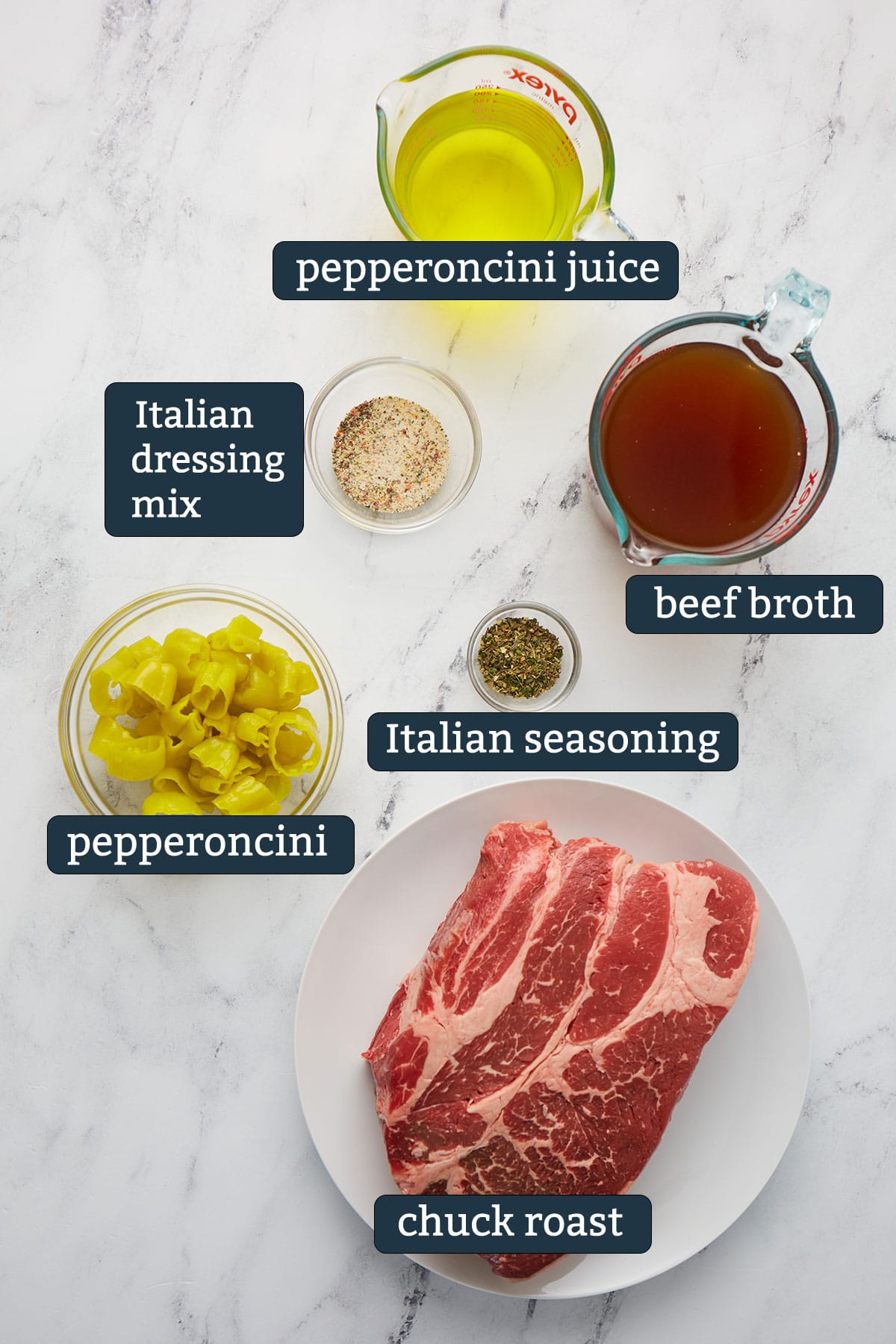 Are Pepperoncini Peppers Spicy?
These Greek peppers, also known as sweet Italian peppers, are mild in flavor and usually found pickled. They are more tangy and zesty than spicy or hot.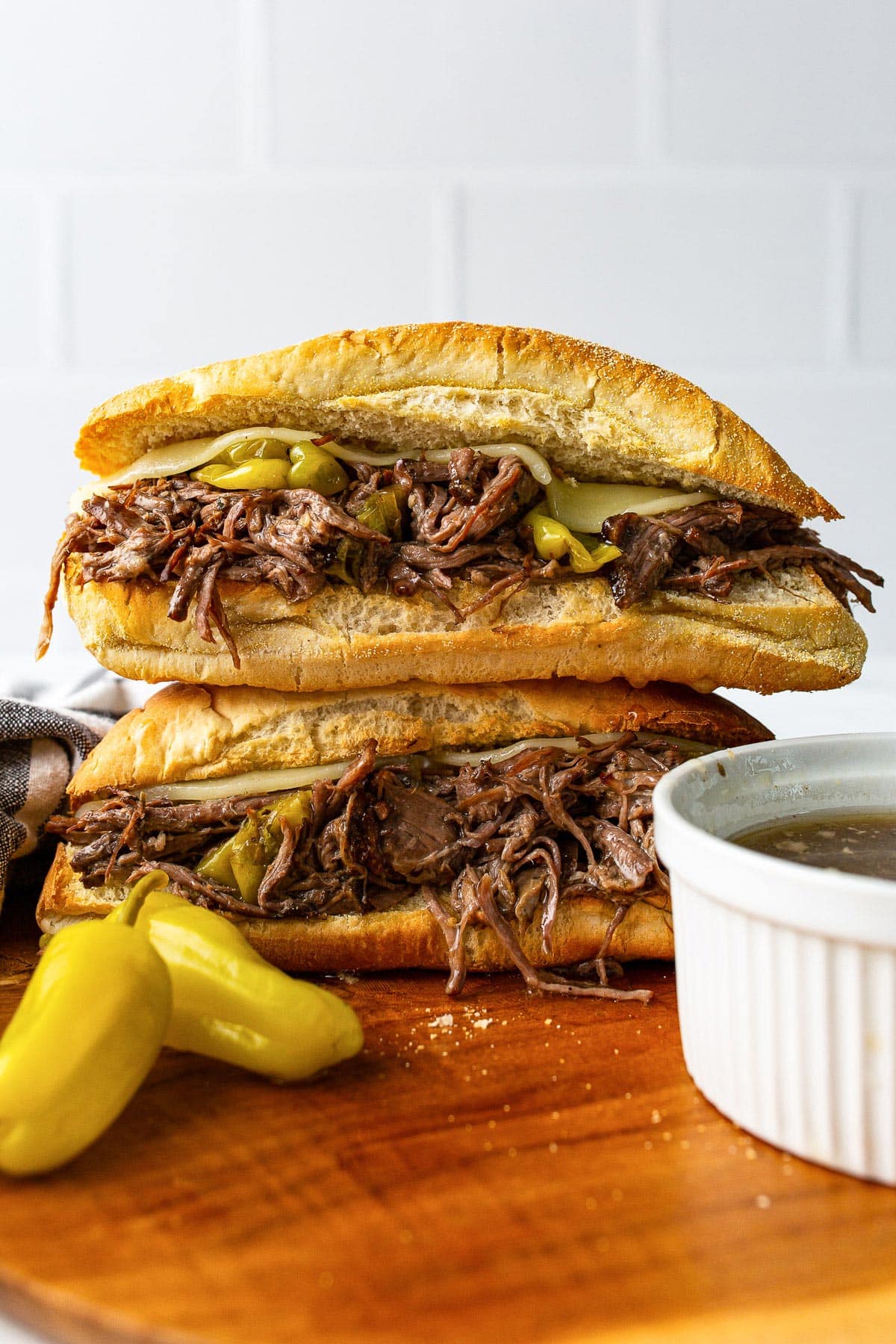 SLOW COOKER ITALIAN BEEF SANDWICHES RECIPE TIPS
Cut of meat – A good chuck or rump roast works well with slow cooking.
Seasoning – You won't need need to season the roast or use any additional salt for this recipe because there's plenty of sodium in the Italian dressing mix.
Sear the meat – Searing the meat before putting it in the slow cooker is one of the best ways you can get a juicy, flavorful pot roast. It is highly recommended! Sear the roast for about 5 minutes per side until nicely browned. I have a 6 qt. Hamilton Beach slow cooker that lets me sear the meat in the insert directly to make things easier.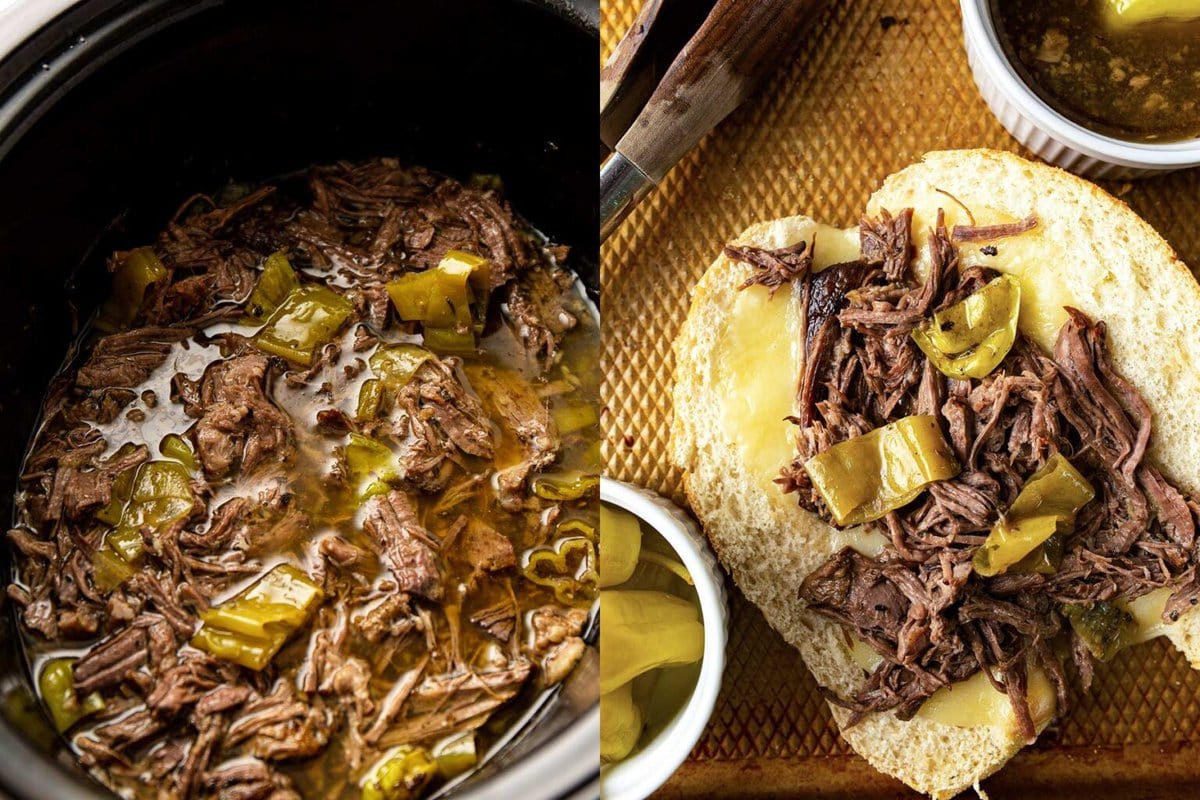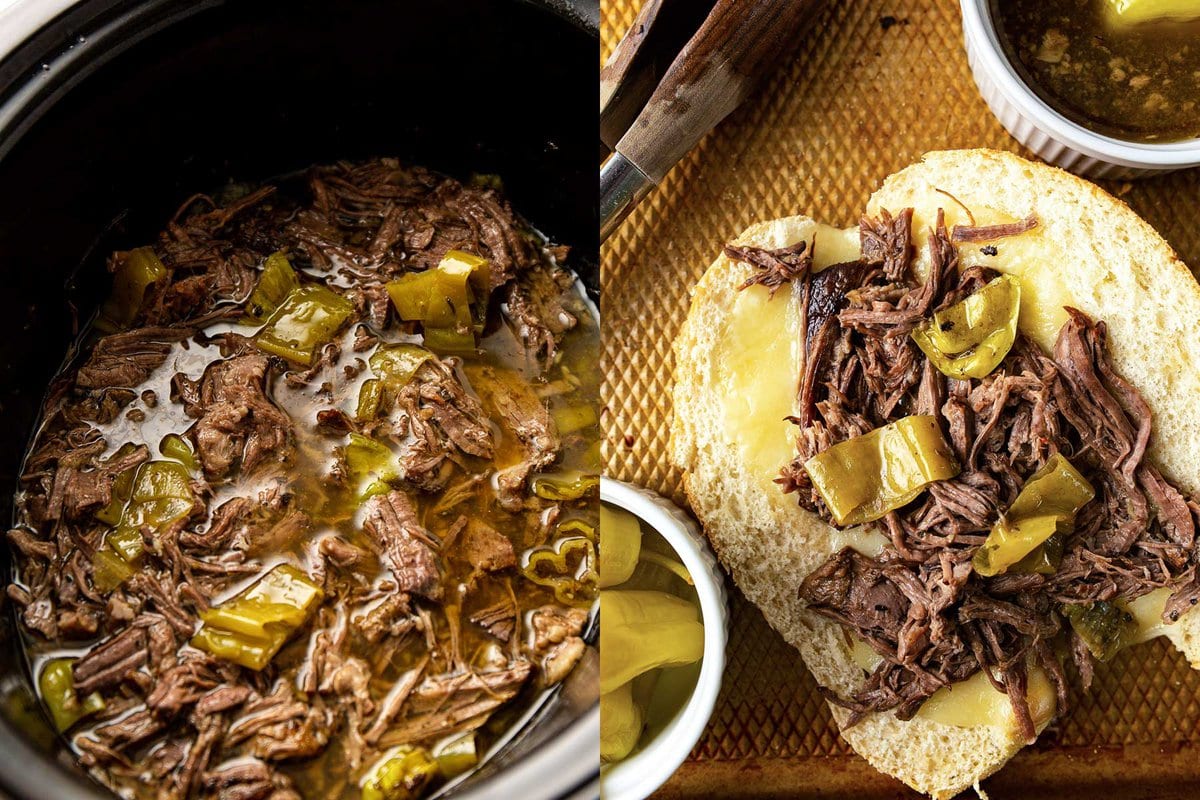 Browned bits – If you decided to sear the roast, you should have some leftover stuck-on bits in the pan. Use the beef broth to deglaze the pan and scrape off these yummy browned bits into the broth. These browned bits, also known as fond, will add a ton of flavor to your roast.
Slow cooker – For big roasts like these, you will need a 6 qt. slow cooker to comfortably fit all the ingredients.
Beef broth – You can substitute this with equal amounts of beef consomme. You can also use low sodium beef broth to cut down on sodium.
Italian dressing mix – This is the dry seasoning mix in the envelopes. I used the Good Seasons Italian Dressing & Recipe Mix which is about 0.7 oz per packet.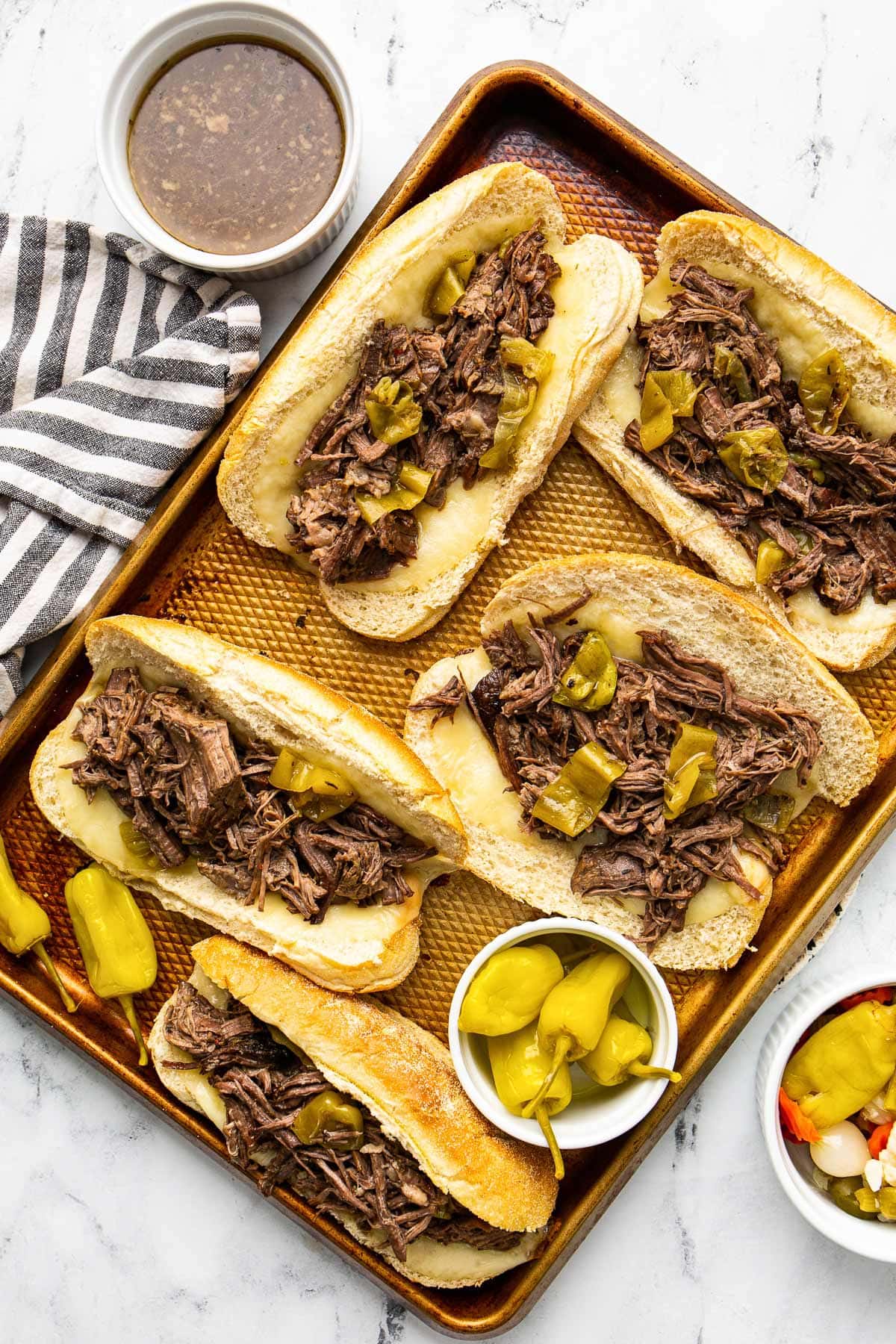 Pepperoncini – I used the Vigo brand of pepperoncini peppers. These Greek peppers add a tangy bite to the meat and aren't spicy at all. I got whole pepperoncini, cut off the stems and cut them into 1″ slices. I also added a little pepperoncini juice to flavor the broth; about 1/3 cup to 1/2 cup of pepperoncini juice should be enough without it being too overpowering.
If you want crisp pepperoncini to add to your sandwiches later, set aside a few of them from the jar. They tend to break down and lose their crispness and texture while cooking for a long time in the slow cooker.
Sandwich bread – Hoagies work great to make a sandwich but you can also use French or Italian rolls. I like buttering the rolls and toasting them to give the sandwich more flavor.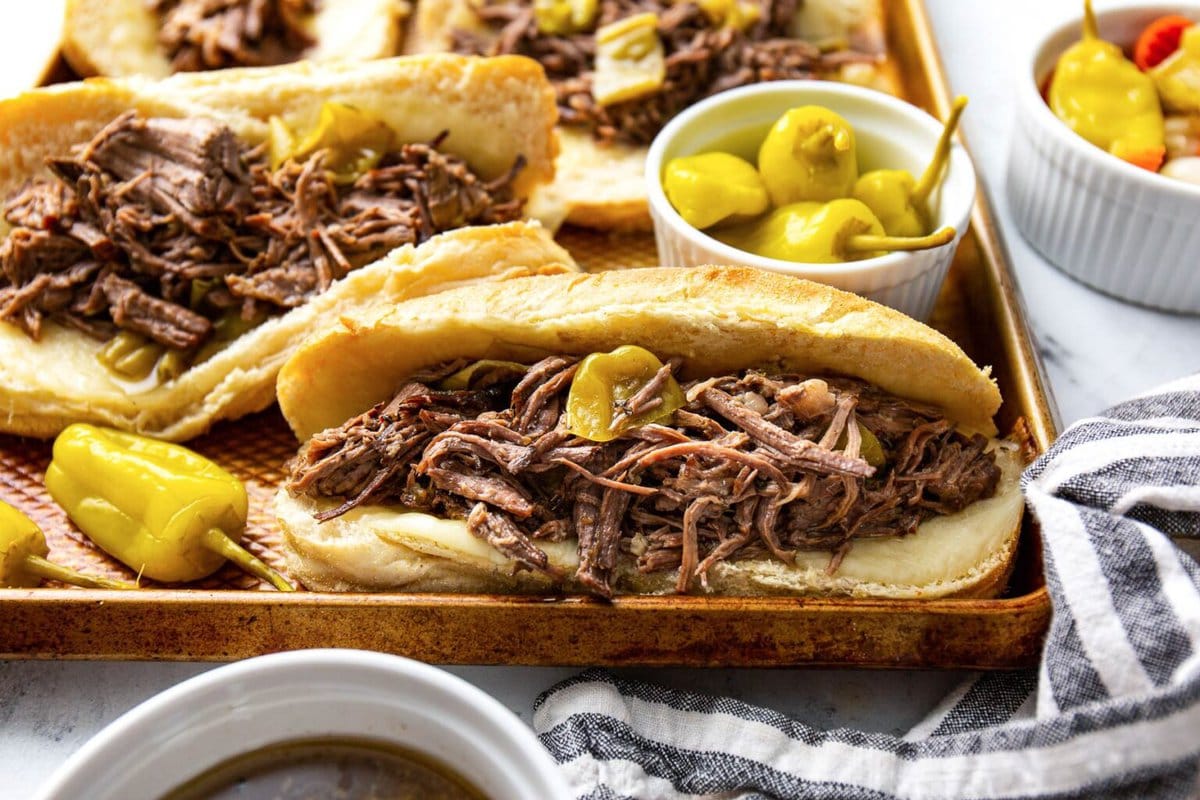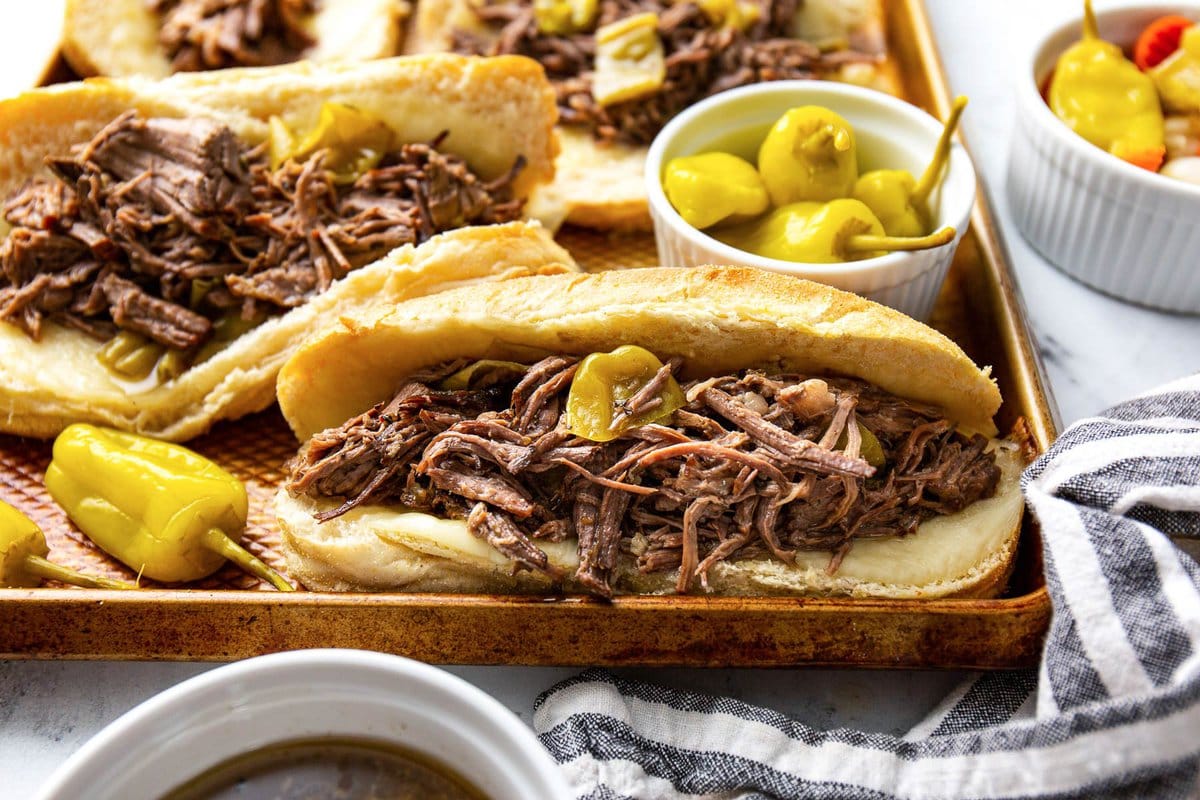 Cheese – Any kind of melting cheese will work with the sandwich such as provolone, mozzarella, swiss, or Monterey Jack.
Giardiniera – Giardiniera is a medley of pickled vegetables like peppers, carrots, celery, cauliflower and gherkin in some vinegar and olive oil. I used a mild version of the brand Marconi, but they also have it in medium and hot.
Leftovers – Leftovers can be stored for up 4 days in the fridge.
Freeze – Leftovers can be frozen safely for up to 3 months.
And that's about it. Enjoy your sandwiches and let me know how you liked them in the comments below!
MORE MEATY SANDWICHES TO TRY
Did you make this recipe? Rate it!
♡ If you liked this recipe, giving it a star rating ★★★★★ in the comments below really helps! For more recipes, subscribe to my newsletter or follow me on Facebook, Instagram and Pinterest.
Print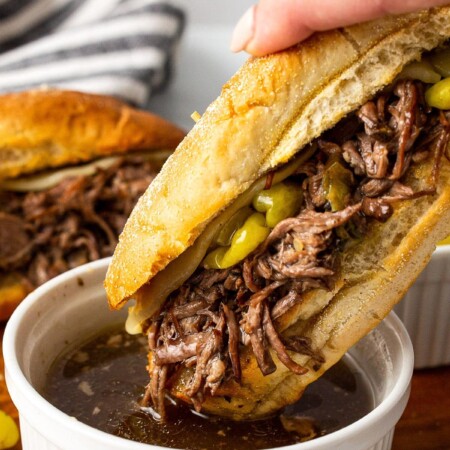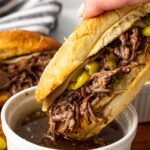 Slow Cooker Italian Beef Sandwiches
---
Author:
Total Time: 8 hours 5 minutes
Yield: 8 sandwiches 1x
Description
These 5-ingredient slow cooker Italian beef sandwiches have mouthwatering chuck roast on a toasted hoagie roll with melted provolone cheese.
---
3–4 lbs. chuck roast
2 cups beef broth
1 (0.7 oz.) packet dry Italian dressing mix
2 teaspoons Italian seasoning
1 (16 oz.) jar pepperoncini with juice, stems removed and cut into 1" slices
SANDWICH ASSEMBLY
Hoagie rolls
Butter
Sliced provolone/mozzarella cheese
Giardiniera (optional)
---
Instructions
[Optional step] Over medium-high heat in a skillet, sear the roast in some oil on both sides until browned, about 4-5 minutes per side. Pour some beef broth or wine to deglaze the pan and scrape the yummy browned bits to mix in with the rest of the broth.
Add the roast to a 6 qt. slow cooker and sprinkle with the dry Italian dressing mix and Italian seasoning.
Add beef broth, sliced pepperoncini and 1/2 cup of pepperoncini juice.
Cover and cook for 8 hours on low heat or 4-5 hours on high heat.
Remove cooked roast to a cutting board. Shred into bite-sized pieces with two forks and discard any fatty bits.
Split the rolls lengthwise and butter them. Add some provolone cheese and toast or broil until the cheese has melted.
Top with shredded beef and pepperoncini peppers then dish and serve hot with/without the au jus and giardiniera(see notes for three ways to enjoy the sandwich)
Enjoy!
Notes
Three ways to enjoy the sandwich:
Dry – Let most of the juice drip off from the meat before putting it on the roll.
Wet – Top the roll with meat still dripping in juices. You can also spoon some au jus over the sandwich before serving.
Dipped – The sandwich is dipped into the au jus for a soggy but delicious sandwich.
Prep Time: 5 mins
Cook Time: 8 hours