This fork-tender slow cooker Mississippi pot roast is super easy to make with only FIVE ingredients but boasts of deliciously decadent, buttery, rich and tangy flavors.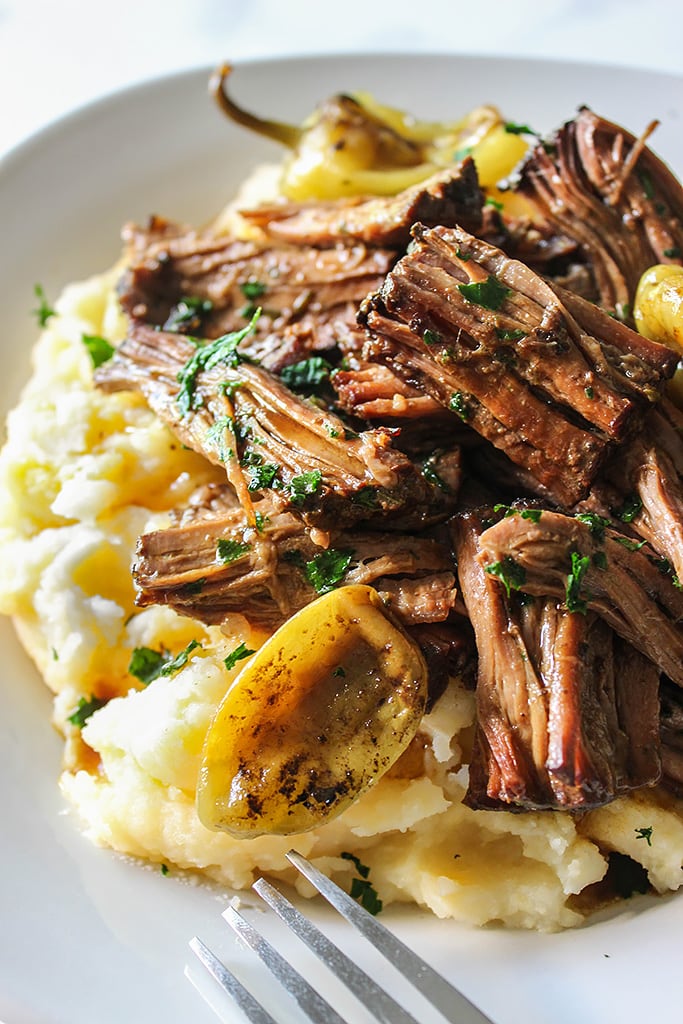 I made two mistakes while cooking this. First, I started the pot roast pretty early in the morning which meant we had to deal with eight agonizing hours of tasty smells wafting to all four corners of the house while we worked from home. And second, I made this in advance while we still had leftovers to finish up, so we couldn't even reward ourselves immediately.
You will need a strong constitution to rally your stomach into ignoring the amazing smells while going about your day and an ironclad will to not lift the lid of the slow cooker to get some of that mouthwatering aroma in your face. Because this buttery roast is quite simply, utterly delicious. I can honestly say this slow cooker Mississippi pot roast is one of the BEST roasts I have ever tasted, And it will definitely be a staple. So let's get started.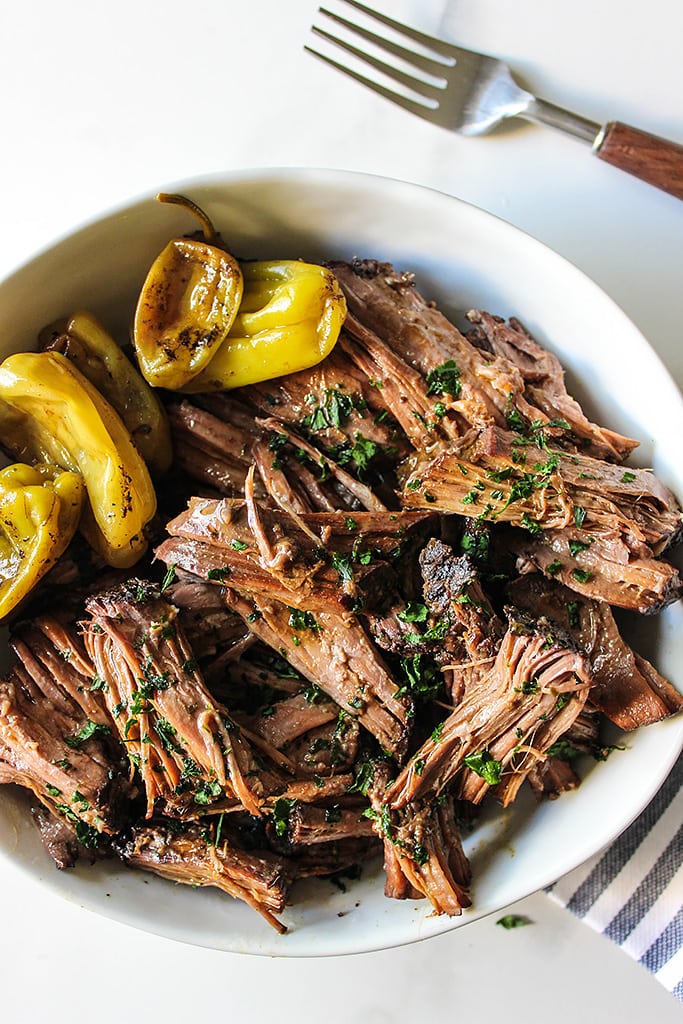 What is Mississippi Pot Roast?
Almost a decade ago, a pot roast from a home cook in Mississippi became popular and while she did not specifically call it Mississippi Pot Roast, the roast was quickly dubbed that on the internet in its rise to fame and popularity.
Is Mississippi Pot Roast Spicy?
The pepperoncini peppers are not spicy at all if this makes you hesitate. Think of bell peppers that aren't spicy but still lends some flavor to a recipe. These give a slight tangy taste to the roast, which is balanced out by the fullness of au jus gravy mix and the richness of ranch dressing. Coupled with butter, this roast is absolutely decadent and not your typical pot roast by any means.
Can You Cook Mississippi Pot Roast On High?
Yes, you can cook a chuck roast on high for about 4-5 hours. I highly recommend the low and slow method however to give the meat more time to absorb all the flavors!
Can You Make Mississippi Pot Roast In The Oven?
Yes, you can roast it in the oven like a regular roast. I would recommend a starting point of 300°F for about 1 hour per pound, or until the roast is fork-tender. Adjust the time as needed. If you do end up doing it this way, I'd love to hear back from you on the time and settings you used!

MISSISSIPPI POT ROAST RECIPE TIPS
Searing – I seared the chuck roast on both sides to lock in the flavor but you can skip this step if you're feeling lazy, don't feel like breaking out a pan and washing it, or simply want to throw everything in the slow cooker and call it a day. You do not have to pre-season the roast with salt and pepper because there is more than enough sodium and flavor from the flavor packets.
Pepperoncini peppers – I used the Vigo brand of whole pepperoncini peppers which you can easily find in the pickle/olive aisle. They're sweet and mild in flavor but not very hot despite being called a pepper. Use 6-10 whole peppers depending on how tangy you want your roast. I also use them in this slow cooker Italian beef sandwich recipe.
Butter – For the butter, I used Land O Lakes half sticks butter. Each stick of butter is 1/4 cup or 4 tablespoons of butter, which makes it easy for you. Just cube up the stick of butter and you're done. No need to break out the measuring cups.
Veggies – Throw in some baby carrots and baby potatoes for extra veggies, or skip the potatoes and add the carrots to serve the pot roast with mashed potatoes. I like using the colorful blend but it really doesn't matter visually since, in the slow cooker, all veggies end up coming out slightly browned from cooking in the meat juices. If you don't use baby carrots and potatoes and decide to dice up regular ones instead, cut them into big 2″ pieces because they tend to disintegrate slightly in the slow cooker.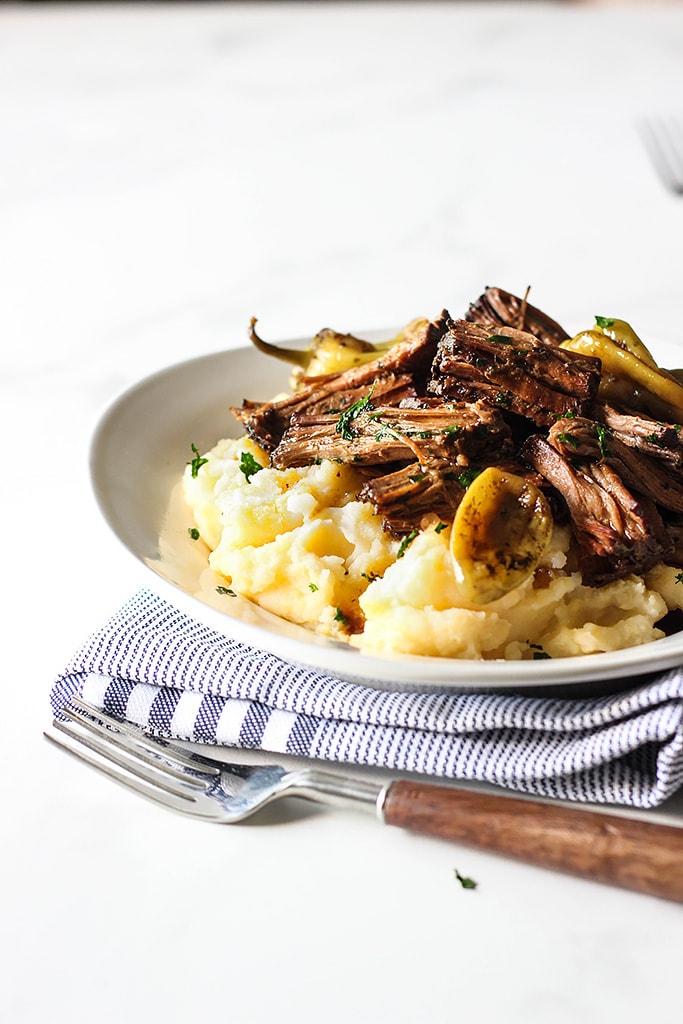 Recipe Notes:
Some people have substituted the au just gravy mix with brown gravy mix or onion soup and dip mix. I personally have not tested these yet so I cannot confirm how good or bad they are but these are options available to you.
And that's about it. I cooked mine on low for 8 hours and now we have delicious leftovers for days. Enjoy your roast and let me know how you liked it, what substitutions you made and what you paired it with in the comments below!
MORE SLOW COOKER BEEF RECIPES TO TRY
Did you make this recipe? Rate it!
♡ If you liked this recipe, giving it a star rating ★★★★★ in the comments below really helps! For more recipes, subscribe to my newsletter or follow me on Facebook, Instagram and Pinterest.
Print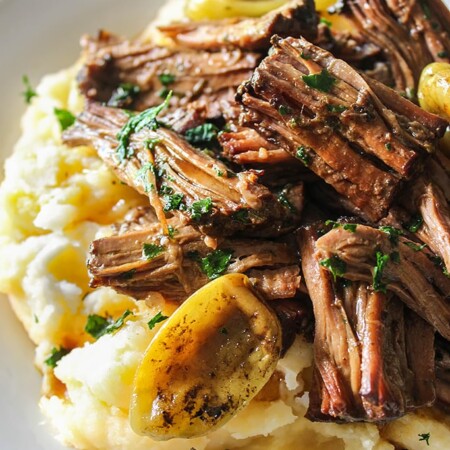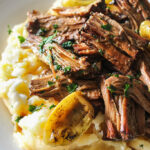 Mississippi Pot Roast
---
Author:
Total Time: 8 hours 5 minutes
Yield: 8 1x
Description
This fork-tender slow cooker Mississippi pot roast is super easy to make with only FIVE ingredients but boasts of deliciously decadent, buttery, rich and tangy flavors.
---
3–4 lb. chuck roast
1 (1 oz.) packet ranch dressing mix
1 (1 oz.) packet au jus gravy mix
4 tablespoons butter
6–10 pepperoncini peppers
---
Instructions
[Optional step] Over medium-high heat, sear the chuck roast on both sides until browned, about 5 minutes per side.
Place roast in a 6 qt. slow cooker and sprinkle evenly with ranch dressing and au jus gravy mix.
Add butter and whole pepperoncini peppers. If adding veggies, see notes.
Cook on LOW for 8 hours.
Shred the roast with two forks and return the meat to the slow cooker to toss in the juices.
Dish and serve hot with mashed potatoes or your own sides.
Enjoy!
Notes
Use about 1 lb. baby carrots and 1 1/2 lb. baby potatoes if you decide to add veggies to the roast.
Scroll up to RECIPE TIPS for more useful tips, suggestions and ingredient substitutions.
Prep Time: 5 mins
Cook Time: 8 hours