A quick holiday gift guide for the home cook with gifts that are tried and true. From my kitchen to yours.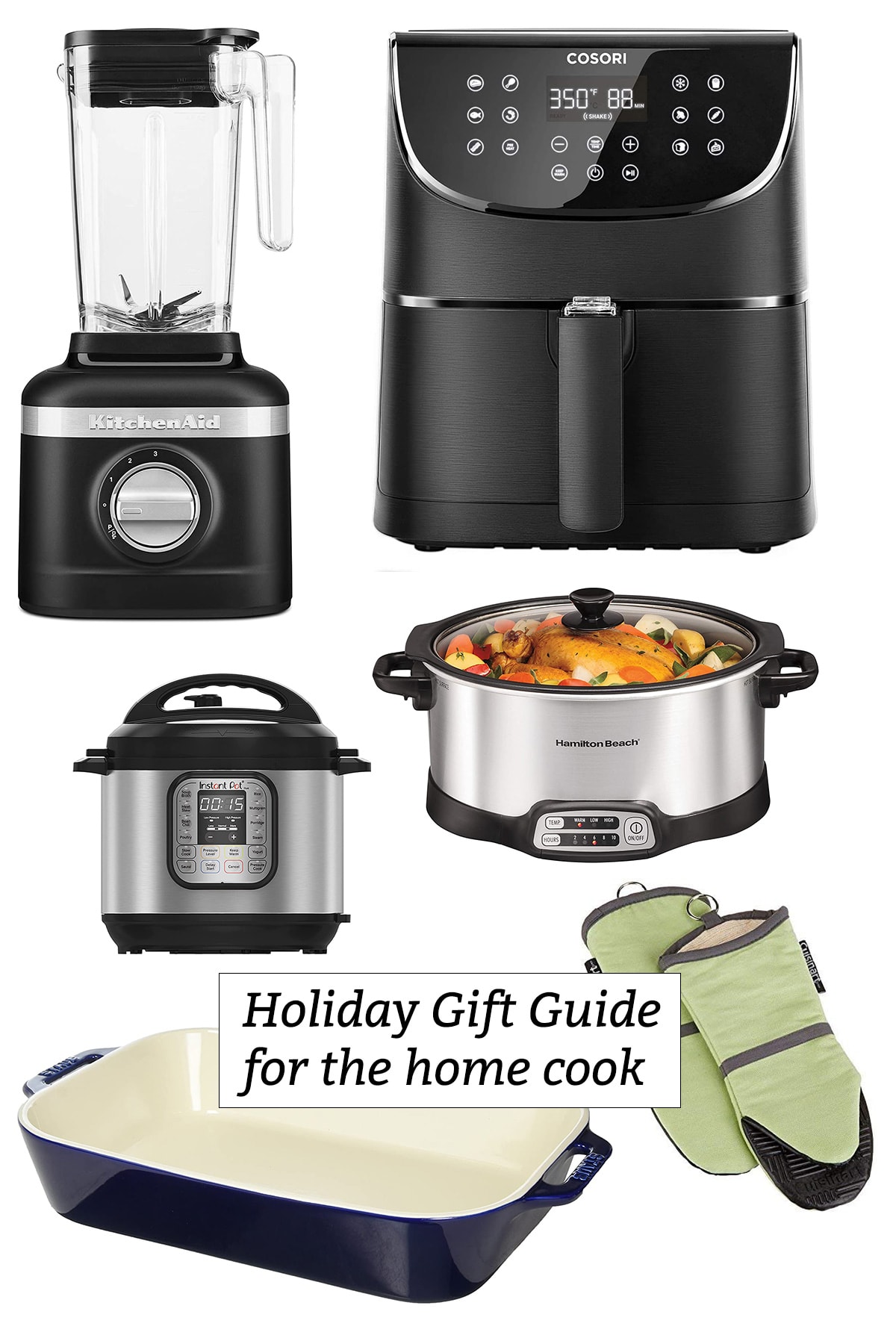 I don't normally do  gift guides but I've noticed a lot more traffic this time of year to 'Kitchen Essentials: The Basics' and come to realize that folks need a little help or some suggestions finding gifts for their loved ones. With that being said, I've put together a list of things in this holiday gift guide for the home cook which I have in my kitchen and personally use day to day.
While some of these are affiliate links, none of these were sponsored or given to me. I spent my own money buying these things over the years after hours of researching for quality, functionality and balancing them out with aesthetics. It's a little tough and frankly annoying nowadays searching for what you want with so many options (sometimes too many options when all you want is a simple measuring spoon set) and unvetted or padded reviews. So hopefully this personal collection of my kitchen tools will help you.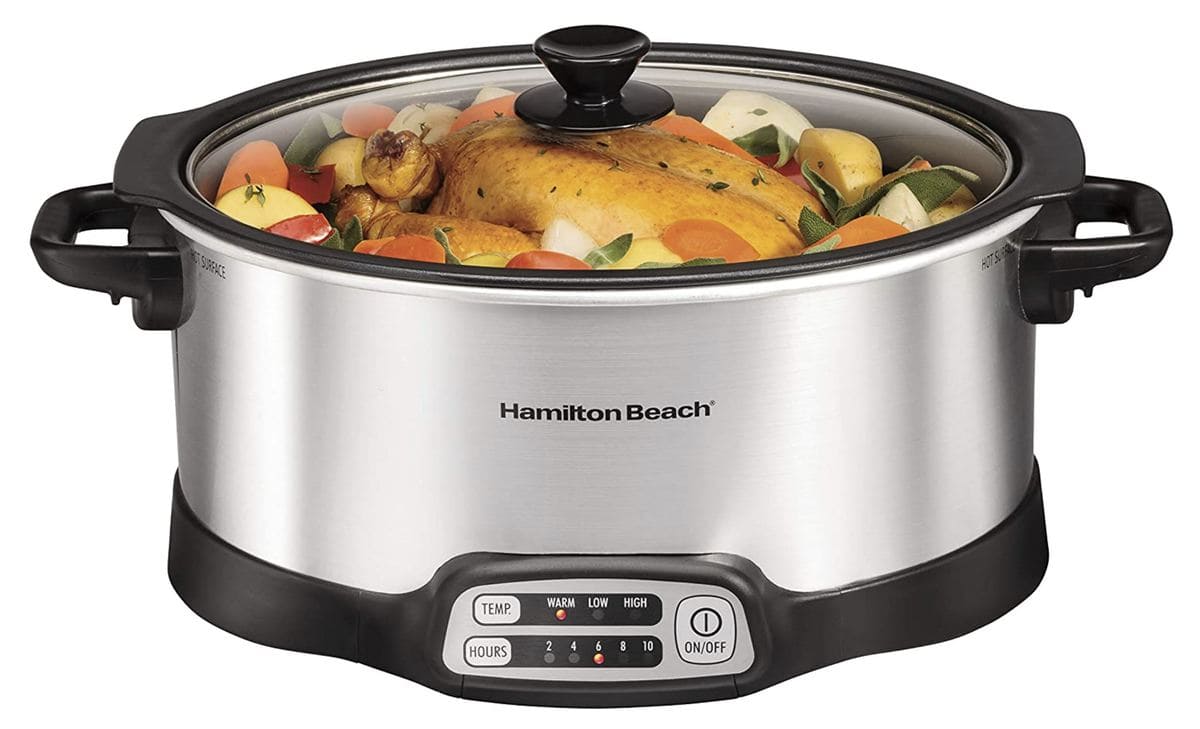 Elite Gourmet 6 Quart Slow Cooker: This model was originally sold and branded under GE 10 years ago when I originally bought it. It has lasted me until today and I've finally managed to find the same model (albeit under a different brand name) incase mine ever conks out. I mean 10 years is a long time. In the meantime, this is one slow cooker I will swear by. One of the best features about this is after it's done cooking, it automatically switches to the 'warm' setting and keeps it warm for up to 4 hours. This is super handy if you set it up to cook for 6-8 hours before heading out for work and want it to still be warm by the time you get home. Or if you're like me and prefer to set it to cook just before bed. I've never had to use a liner because of the non-stick interior and my food has never burned. I also love the retractable cord. It's a huge 6 quart slow cooker and will take up significant counter space but you can cook huge meals with it that will last for days.
Breville Duo Nonstick Panini Press: I got this panini press because I wanted hot sandwiches for lunch for a change. The nonstick-interior is easy to wipe clean with a wet paper towel and I love how you can stand it up to store it to save counter space. Besides the usual panini press method, there's also several sliders to choose from so you can also make an open faced toasted sandwich if you're feeling lazy and don't want to break out the toaster oven.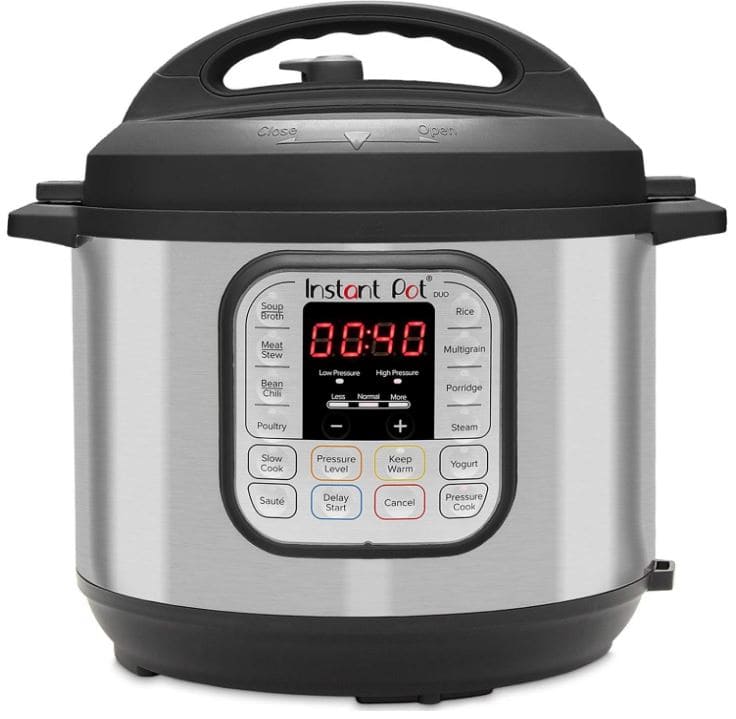 Instant Pot Duo 7-in-1 6 Quart: I got this to replace an old fashioned whistling pressure cooker I had and because I was curious of the hype. There's a bit of a learning curve so make sure to read the instructions carefully and to always use a wooden spoon to manually release the pressure so you don't get burned. That being said, I've bought this 3 times now. Once for myself and two others as gifts for family and a friend. We've made a few recipes so far but one thing that amazed me was how it can function as a one pot for things like a chicken pasta meal. You can literally brown some chicken in it first with the sauté option, then switch to the pressure cooker mode and throw in uncooked pasta, some broth and the browned chicken and come out with not soggy, but al dente pasta and perfectly juicy chicken. It was pretty impressive. I saved having to wash a Dutch oven to cook the pasta, a pasta strainer to drain it and a saucepan to brown the chicken. I also bought the recipe book to get me started. If you do that as well, do yourself a favor and try out the 'Italian Ribs' there.

Lodge 10.25″ Pre-Seasoned Cast Iron Skillet: I've used Lodge cast iron for a long time. It's great for getting a good sear on things like some honey garlic shrimp. I've also used it to to bake things in the oven like this hash brown breakfast quiche or a cheesy meatball skillet. There's so many ways to use it once you get the hang of how to take care of it. I use soap and a chainmail cleaner to wash it up then spray it and wipe it down with a paper towel before storing it. You can also use regular canola or vegetable oil for the seasoning and wiping down but I just use the spray to make things easier.
Lodge 12 Inch Seasoned Carbon Steel Skillet: I got this much later on when I wanted a lighter option to cook with but didn't want to miss the brilliant sear. It's slightly wider and flatter but much lighter. It cooks the same and the care routine is the same as cast iron.  I've used this many times for a quick and low calorie chicken dinner we like to season with The Spice Lab's BBQ seasoning pack, some seared brussels sprouts and store-bought quinoa salad. And from that seasoning pack, we use the ancho chili coffee rub exclusively for our grilled steaks during the weekend and have bought refills for it many, many times.

Hammer Stahl Santoku Knife: A santoku knife is all I ever use in the kitchen. It's versatile and fits nicely in my hand. I use it from chopping up onions and garlic to veggies like carrots, potatoes and celery. I also use it to cut up meat for prepping like butterflying boneless, skinless chicken breasts or removing fat from a chuck roast, I started out with a reasonably priced Farberware santoku knife from Walmart and used it for 10 years before finally upgrading to a quality Hammer Stahl, I tend to like getting the 5-5.5″ ones because it's a small enough size to slice and dice without worrying too much about cutting your fingers off. The bigger ones tend to be too unwieldly for me.
Hammer Stahl Cheese Knife: This is a recent buy after discovering its existence. I'm not sure how I survived a few decades of slicing tomatoes without knowing about this gem. You know how most knives, no matter how often you sharpen them, tend to put too much pressure on a tomato while you're trying to slice it and it just comes off bad anyway? This cheese knife doesn't do that. In fact, this cheese knife works like how all knives should work when you're slicing tomatoes. I can even go into super thin slices if I want.
Hammer Stahl Steak Knives Set: For the longest time, we used to use the butter knives that came with a cutlery set to cut up our steaks. This year we finally decided to get a set of proper steak knives and spent a long time researching quality vs cost. We settled on this one and so far have been loving it.
Everyday Baker Set Of 3: If you've seen some of my casseroles, you've seen the deep dish 9×13 one I always use. I've been asked a few times where I've gotten it so here we go. I bought this from Crate and Barrel over 5 years ago and it's lasted me so far. What I like besides the functionality and price is that it can withstand up to 450 degrees F which is essential when you want to broil for a few minutes with recipes such as this chicken Alfredo pasta bake or this pizza pasta casserole. This set of 3 is reasonably priced and should be enough for big 9×13 casseroles to smaller side dishes.
Elite Gourmet Easy Electric Cooker: I'm no stranger to being guilty of buying useless gadgets for the kitchen and then desperately trying to offload them to family, friends or through donations. I've gone through a breakfast sandwich maker and a deep fryer this way. This handy contraption though is one exception. I like having hard boiled eggs every now and then for things like an egg salad sandwich but I'm far too lazy to babysit it over the stovetop. Too often I've gone under because I got too impatient standing by the stove. And then there's the saucepan you have to wash. This little guy does that for you and is hands-free. There's this little measuring cup you fill with water and dump into the reservoir and at the end it has a little needle. You prick the end of each egg (which is super fun by the way) and put it hole side up, fill up the reservoir, cover and press the button. An alarm will tell you when it's done and that's all there is to it. Easy hard boiled eggs.
Smaller stuff:
Pasta Silicone Holders: I got these specifically to take out stuff from the microwave. You know when the bowl is too hot to carry with your bare hands but slightly too full that your kitchen gloves are bound to get stained? This solves that problem. It's easily washable and  perfect small, little grippers for microwaving. Bonus points for being cute little pasta shapes.
Cuisinart Silicone Oven Mitts: Speaking of kitchen gloves or oven mitts, these are the ones I have been using for many years. I like how it comes pretty high up your arm for those oopsie moments when your wrist area accidentally brushes against an oven surface while taking something out. This takes out the fear of getting burned in the oven.
KitchenAid All Purpose Shears: I used to use the simple, blue Ikea kitchen scissors but those rusted eventually then finally broke. SO I got these. I tend to use scissors a lot in the kitchen for opening up packaged food. This one has lasted me many years and so far has not rusted.
Zulay Splatter Screen: This is always used while sautéing things like chicken, bacon strips or anything that splatters. I'm far too lazy to clean the floor after every meal so this helps tremendously. It has not rusted on me yet.
Calphalon Nonstick Pizza Pan: I use this for lazy date nights at home where you just feel like heating up a frozen pizza and watching a movie.  I like this one because the perforations make the pizza crust more crispy than your average pan. Just be careful to layer a paper towel under the pan before slicing the pizza up for easier clean up.
And that's all I managed to find worth mentioning after scouring my kitchen. Happy shopping!
♡ Affiliate disclosure: As an Amazon Associate, I earn commissions from qualifying purchases from Amazon.com. You can learn more about it here.