This easy slow cooker Pasta e Fagioli soup recipe has tender pasta, creamy beans and savory beef in a warm and hearty broth. Simmering all day in the crockpot makes a rich and comforting Italian-style soup that tastes just as great as Olive Garden.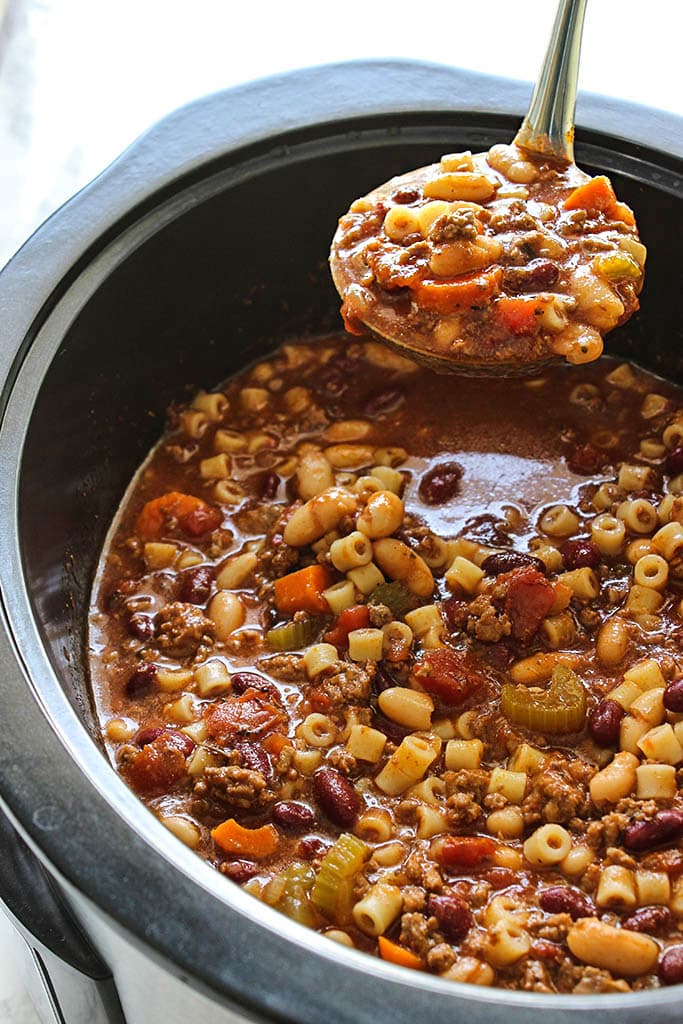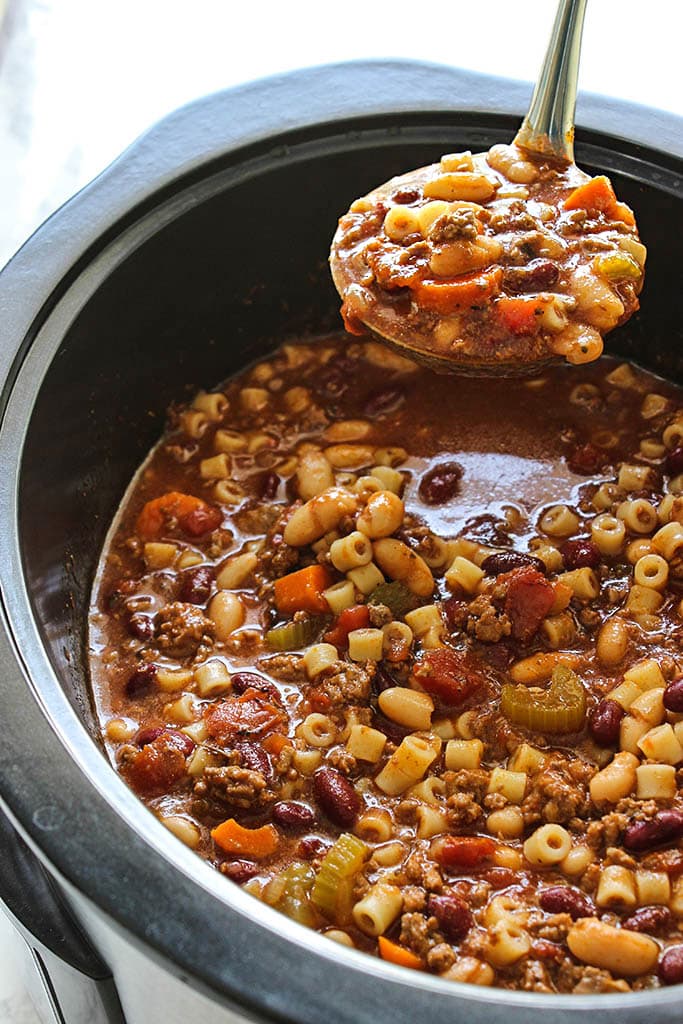 Today we're making some slow cooker Pasta e Fagioli which is a heartwarming Olive Garden favorite. It's known by many names like Pasta e Fagiole or pasta fazool but what it basically boils down to is a simple soup made from pasta and beans. Just like its many names, there are also many variations and today we are making my version.
This Italian-style beef and beans pasta soup is loaded with plenty of hearty ground beef or Italian sausage to add a wonderfully rich and savory taste. There are also two kinds of creamy beans for all you bean lovers out there. We have your regular kidney beans and some great northern beans or cannellini beans.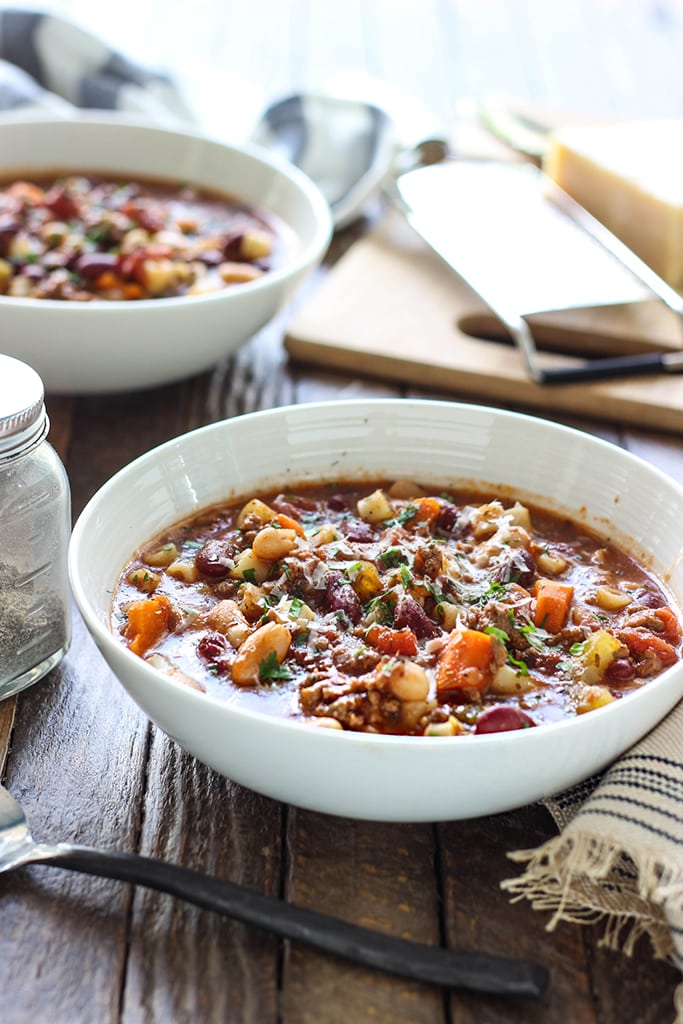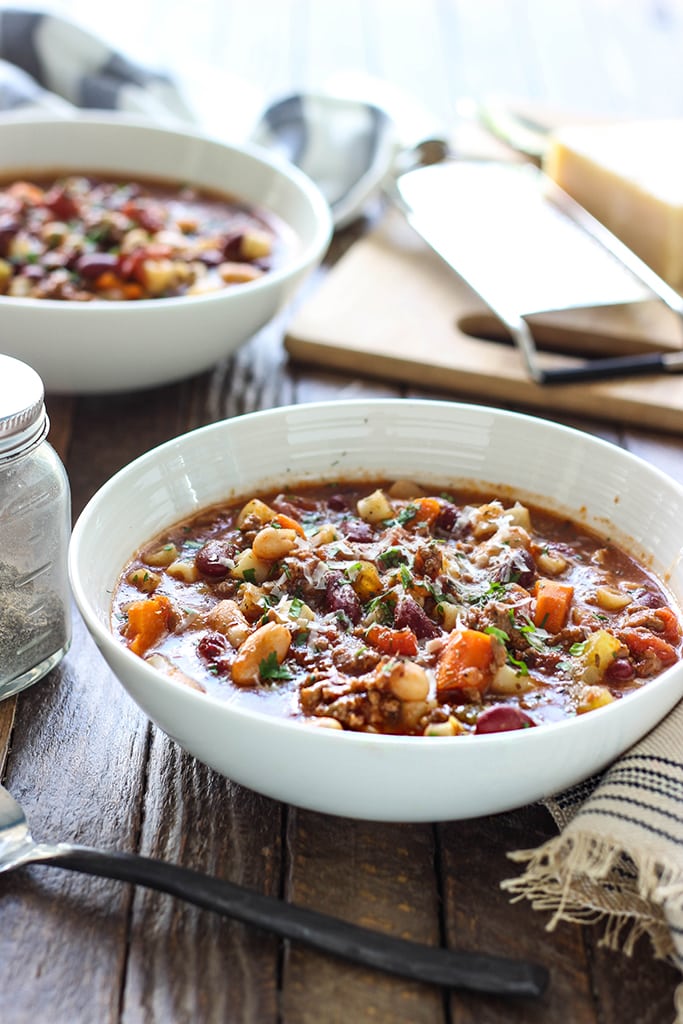 Then we have a rich, hearty tomato-based Italian-inspired broth to marry all the flavors together. And finally, short ditalini pasta. It's small enough to not be too chewy for a soup but big enough to add some substance.
Make it soupy with extra beef broth or keep it thick, with a chili-like consistency. For more comforting slow cooker soups, try some chicken gnocchi soup or this creamy tortellini soup. In the meantime, let's make some Olive Garden copycat Pasta e Fagioli!
What is Pasta e Fagioli?
Pasta e Fagioli is a traditional Italian pasta soup that literally means 'pasta and beans'. The only true requirements for an authentic pasta e fagioli are that beans and pasta are included. Recipes may vary widely but here is my version. It's a comforting and filling soup with tender pasta, creamy beans, hearty beef or sausage and plenty of aromatics.
If you're a fan of traditional, Italian-inspired flavors like spinach and three cheese manicotti, lasagna roll-ups, ravioli lasagna, baked ziti, or some cheesy hot Italian sausage pasta bake, you will love this soup.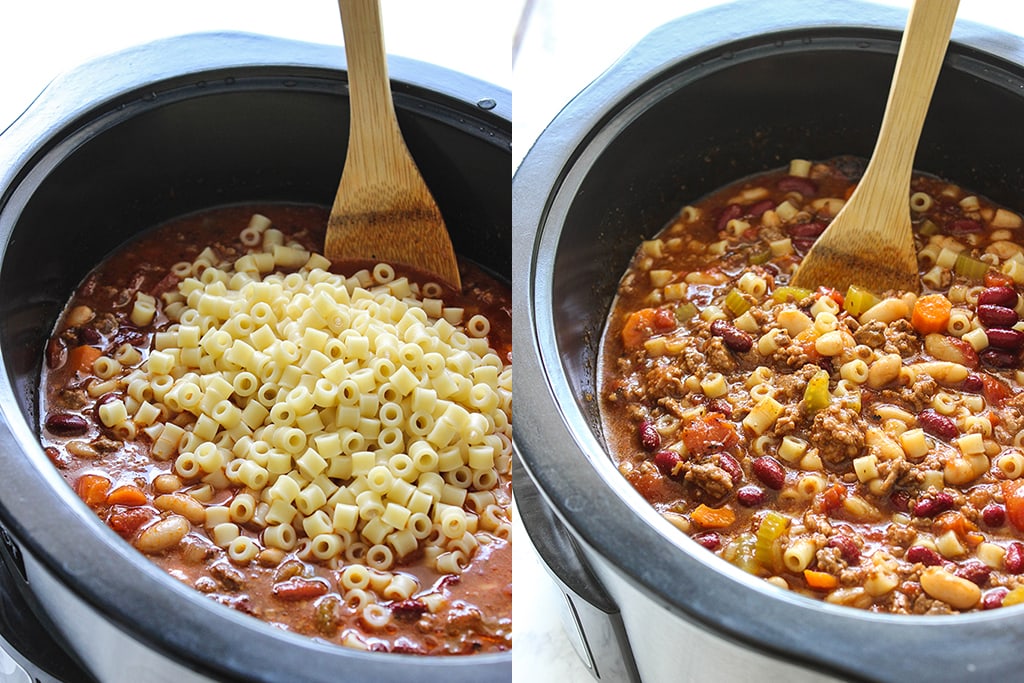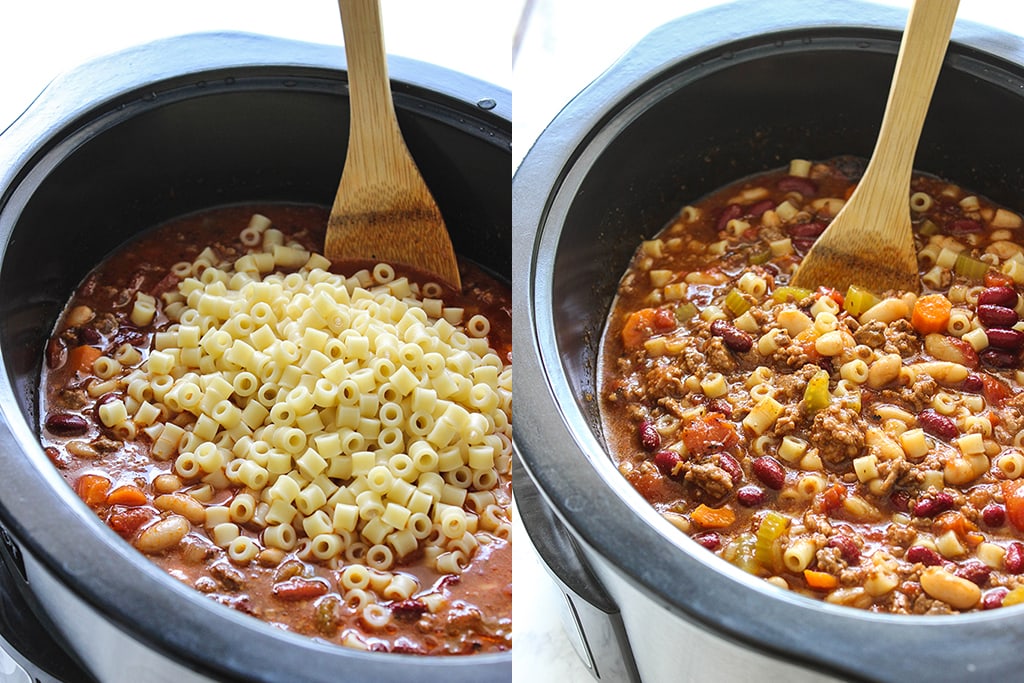 SLOW COOKER PASTA E FAGIOLI RECIPE TIPS
I'll preface this by saying that technically, you can toss everything in the slow cooker and whistle while you walk away for 8 hours. But sautéing the veggies (sofrito) beforehand brings out the most bang for your buck flavor-wise, so I highly recommend it!
I also browned the ground beef to drain off all the rendered fat, so it doesn't dilute the soup. And I added in the beans and pasta (already cooked) towards the end so the beans don't break down and get mushy and the pasta doesn't get soggy.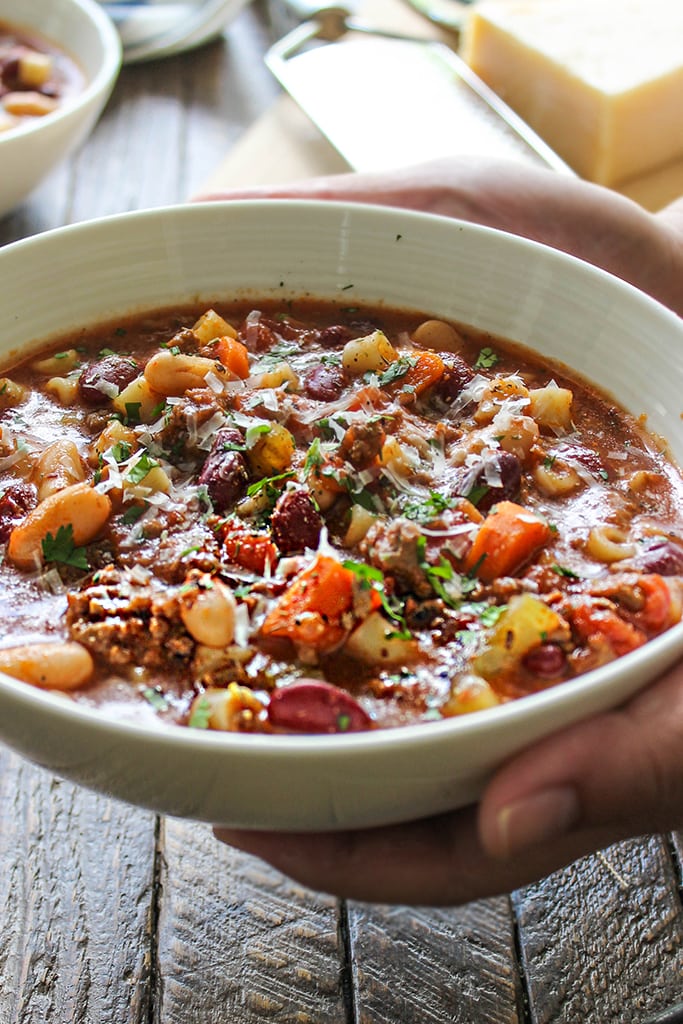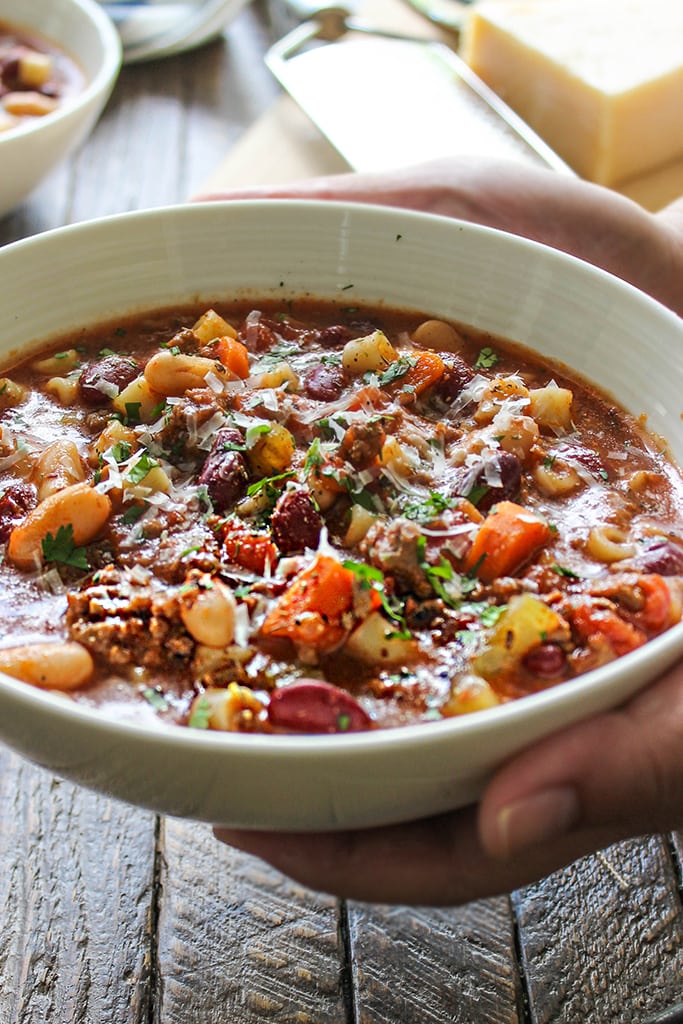 So try it this way if you have the time. It may make a difference! You can also try adding in the uncooked pasta towards the last 30 minutes to cook it in the soup as well. Just make sure there's enough liquid to cover it all.
Anyway, back to the beginning, we brown the beef, drain all fat, and set that aside. Then we sauté the veggies for about 5 minutes until just tender.
Now you're ready to throw it all in the slow cooker and walk away. Add in the rest of the ingredients and seasonings except for the beans and pasta and simmer on low for 8 hours to get the flavors to marry.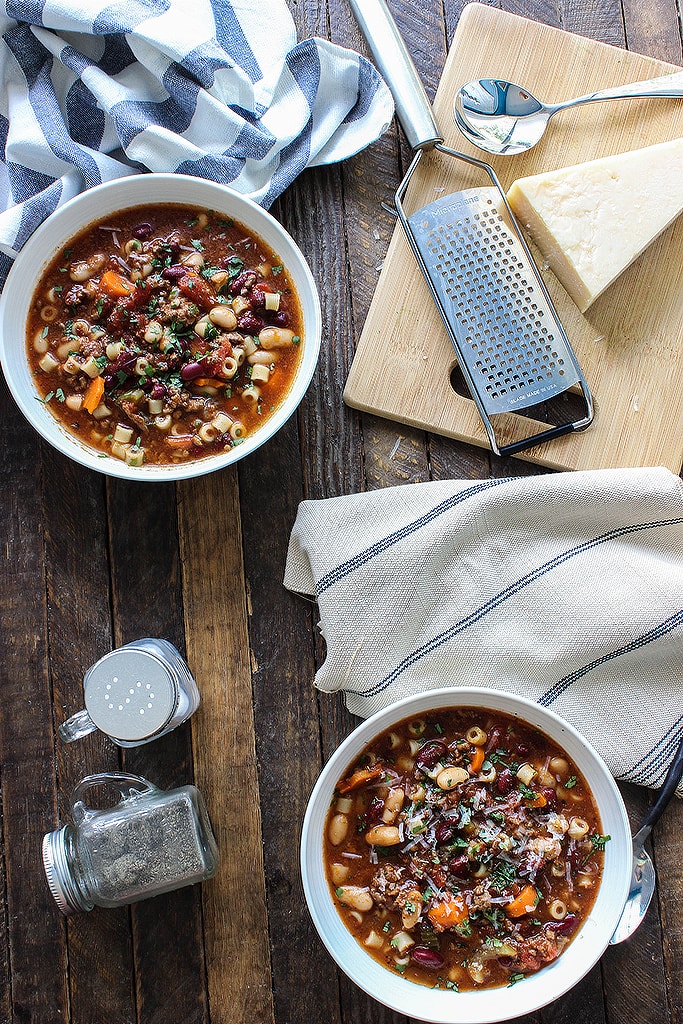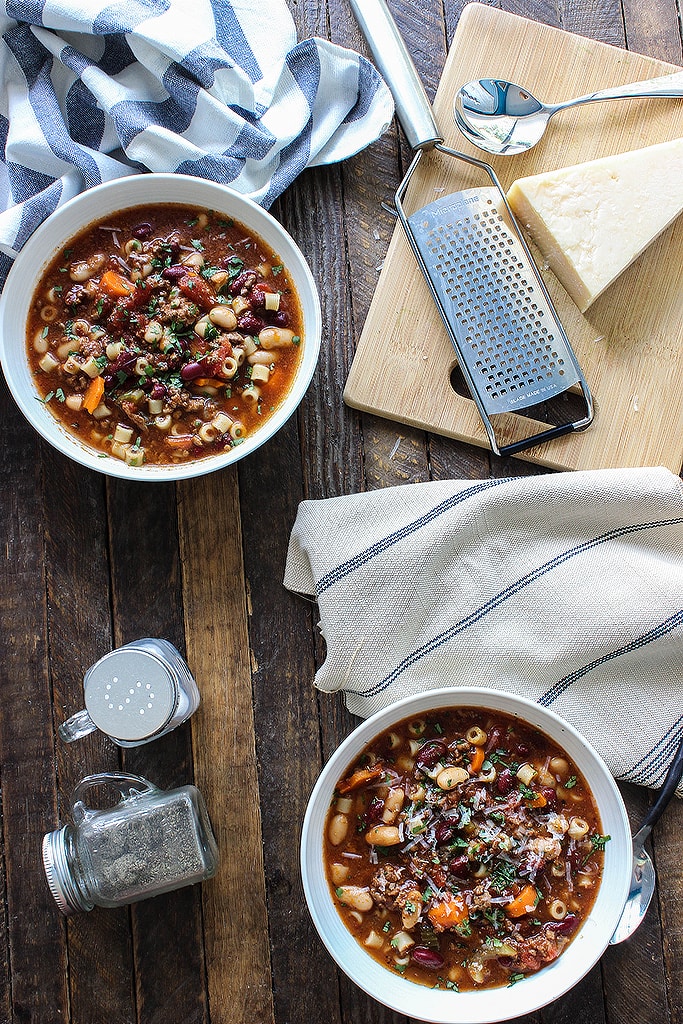 I added some sugar to the seasonings to balance out the tartness and acidity of the tomatoes like I always do. Try one tablespoon first, do a taste test and then decide if you want to add in the other. Or if you like the tartness, leave out the sugar.
I also added some red pepper flakes to taste to add a little kick. Once it's all done, toss in the cooked pasta and beans and mix it all up. Don't forget the Parmesan and if you want something fresh to garnish with, try some parsley or basil.
And that's about it. Let me know how you liked it, any substitutions you made and what you paired it with in the comments below.
MORE SLOW COOKER SOUPS TO TRY
Did you make this recipe? Rate it!
♡ If you liked this recipe, giving it a star rating ★★★★★ in the comments below really helps! For more recipes, subscribe to my newsletter or follow me on Facebook, Instagram and Pinterest.
Print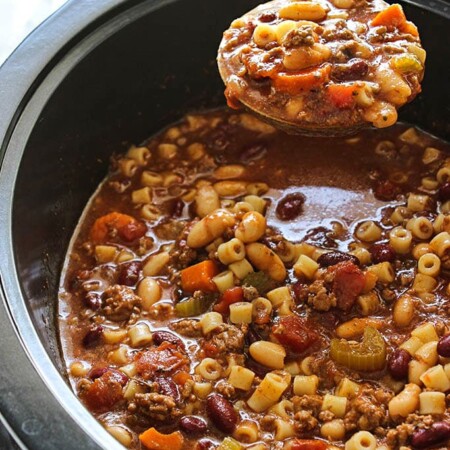 Slow Cooker Pasta e Fagioli
---
Author:
Total Time: 8 hours 30 mins
Yield: 8 1x
Description
This easy slow cooker Pasta e Fagioli soup recipe has tender pasta, creamy beans and savory beef in a warm and hearty broth.
---
1 lb. lean ground beef/Italian sausage
1/2 yellow onion, roughly chopped
1 teaspoon garlic, minced
2 medium carrots, sliced
2 celery hearts, sliced
1 can (16 oz.) tomato sauce
1 can (15 oz.) diced tomatoes
3–4 cups beef broth
1 teaspoon dried basil
1 teaspoon dried oregano
1/2 teaspoon dried thyme
2 tablespoons Worcestershire sauce
2 tablespoons sugar
Red pepper flakes to taste
Salt and pepper to taste
1 cup ditalini pasta, cooked al dente
1 can (15 oz.) red kidney beans, drained
1 can (15 oz.) cannellini beans/great northern beans, drained
Parmesan cheese for serving
---
Instructions
Over medium-high heat in a skillet, brown the beef until cooked. Remove beef and set aside. Drain any fat from the pan.
In the same skillet, add some olive oil and saute onions, garlic, carrots, and celery until vegetables start to sweat, about 5 minutes.
Transfer vegetables and cooked beef to a 6 qt. slow cooker.
Pour in tomato sauce, diced tomatoes and beef broth and stir to mix.
Add in basil, oregano, thyme, Worcestershire sauce, sugar and salt, and pepper to taste.
Cook on LOW for 8 hours.
Add cooked pasta and beans and stir to mix.
Dish and serve hot with grated Parmesan cheese.
Enjoy!
Notes
If you want things a little soupier, add more beef broth. This will also work when heating up the leftovers.
Scroll up to RECIPE TIPS for more useful tips, suggestions and ingredient substitutions.
Prep Time: 10 mins
Cook Time: 8 hours 20 mins