This copycat Olive Garden creamy slow cooker chicken gnocchi soup with perfectly seasoned chicken and pillowy-soft potato gnocchi is pure comfort food. Serve with some crusty bread to keep warm on a cold day.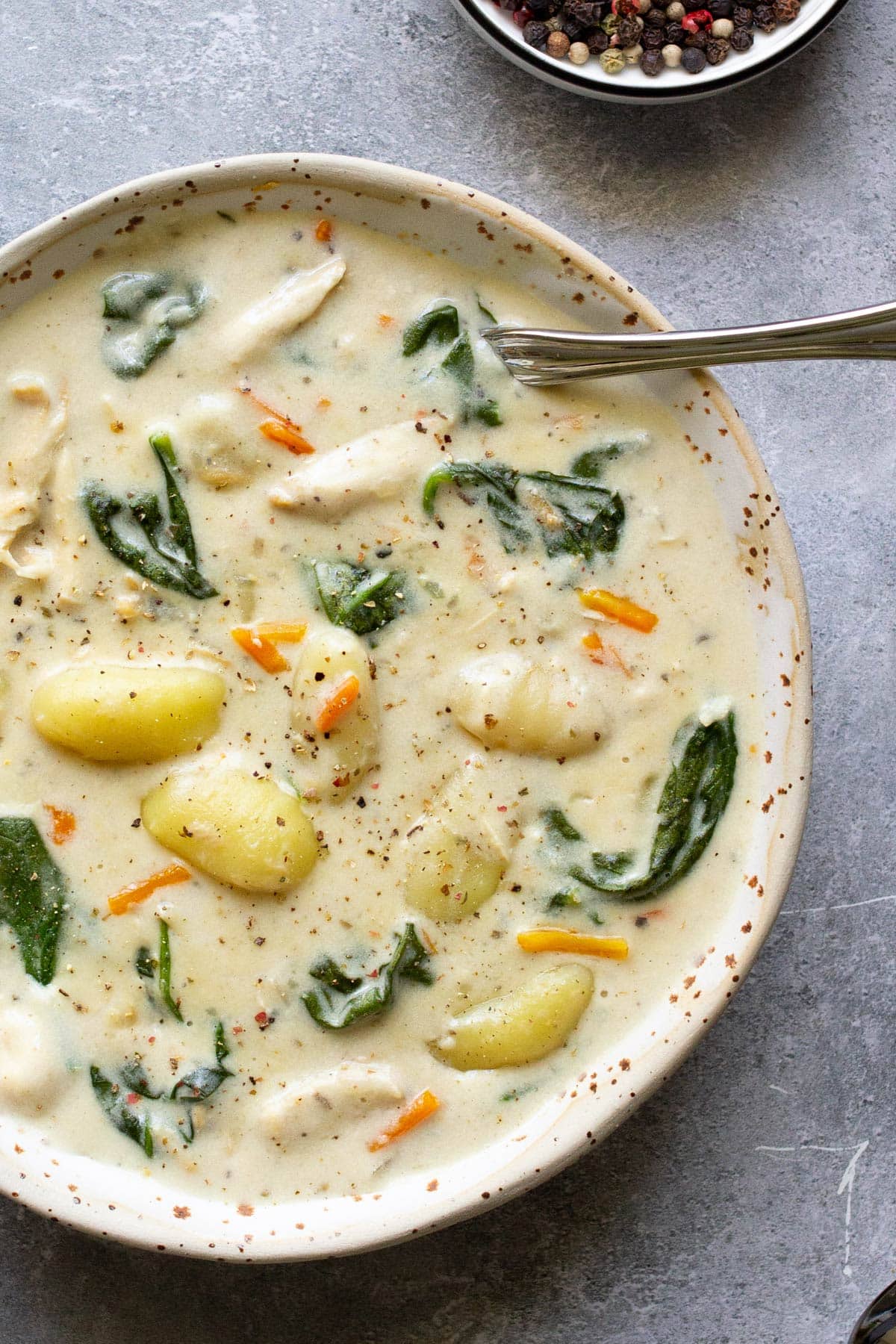 Today we're making a cozy slow cooker chicken gnocchi soup inspired by the famous classic from Olive Garden. It's packed with tender veggies, flavorful chicken and soft, airy potato dumplings in a velvety cream-based soup to give you a warm bowl of goodness.
Like most slow cooker soups, this gives you the flavor of all-day simmering without the hassle of standing over the stovetop for hours. So if you enjoy slow cooker soups, try this slow cooker creamy tortellini soup, beef stew, white chicken chili, pasta e Fagioli, or cream cheese and potato soup. But back to the recipe, let's start simmering.
How To Make Slow Cooker Chicken Gnocchi Soup (1 Min Video)
Ingredients in Slow Cooker Chicken Gnocchi Soup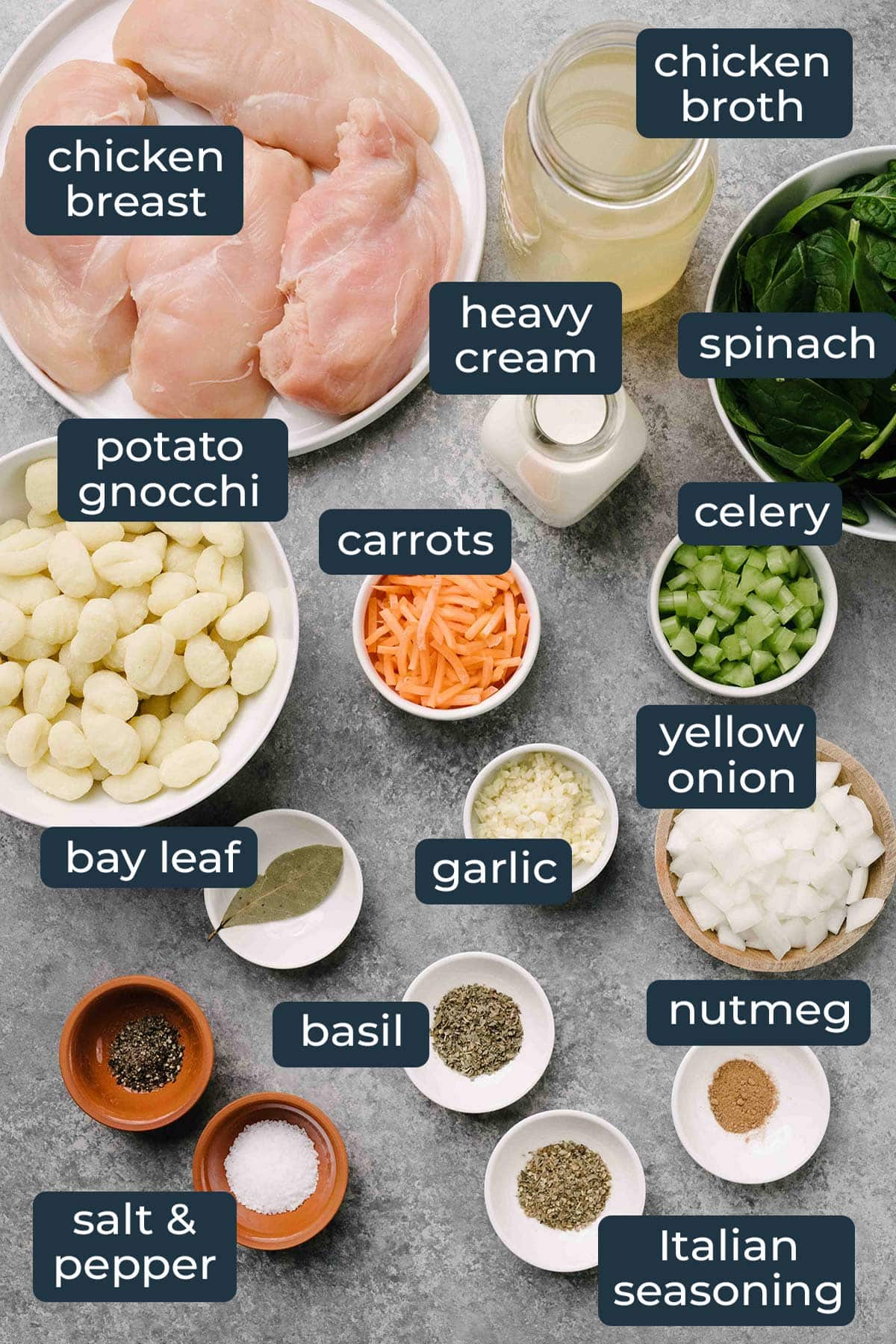 What is Gnocchi?
Gnocchi is an Italian potato dumpling that's soft, light and airy. You can make it yourself with some mashed potatoes, eggs and flour or buy them from the store.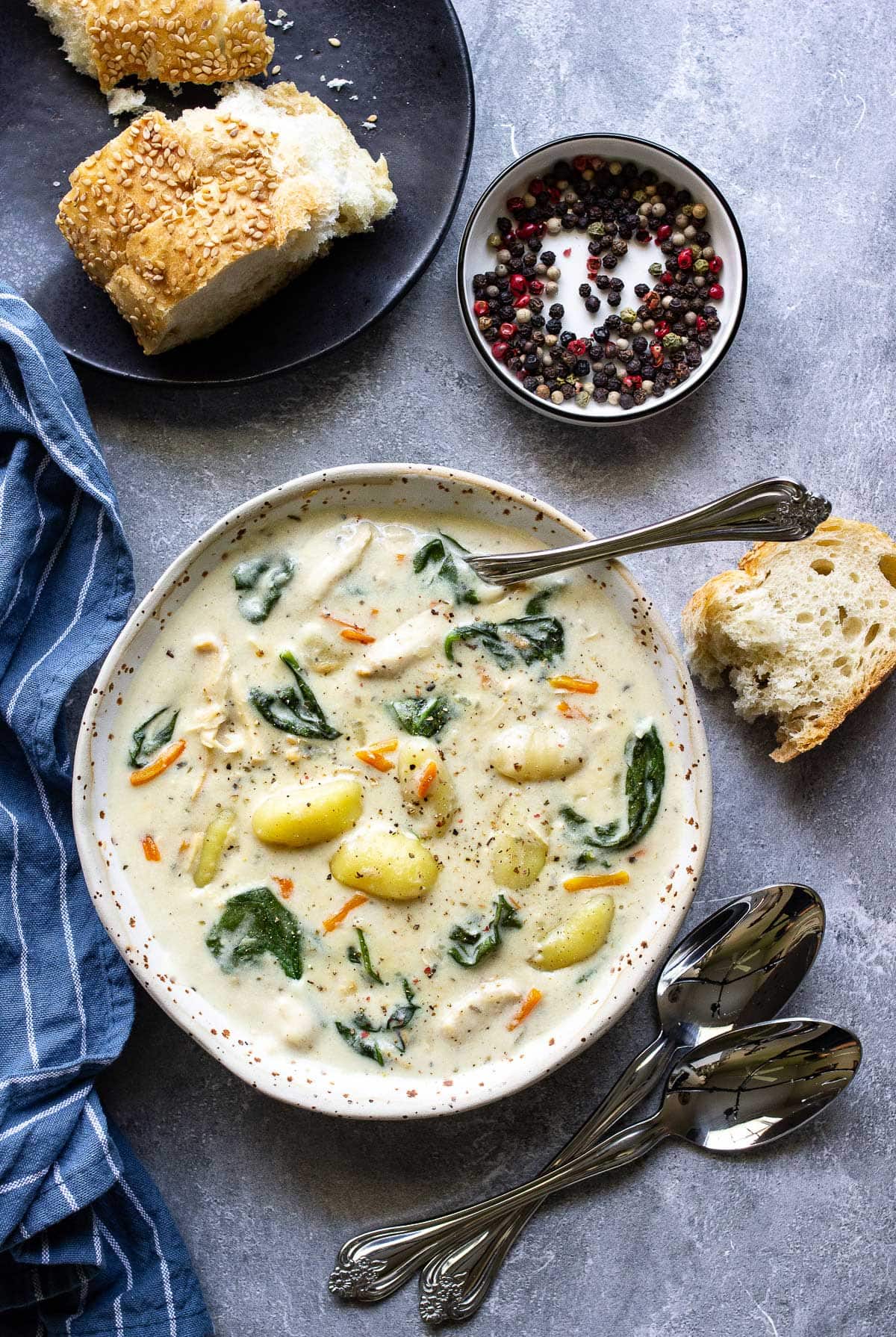 SLOW COOKER CHICKEN GNOCCHI SOUP RECIPE TIPS
Sauteing – Saute the onions, garlic celery and carrots before adding them to the slow cooker for more flavor. Some slow cookers allow you to do this directly in the insert such as this one from Hamilton Beach.
Nutmeg – Nutmeg is a fantastic way to enhance the creaminess in the soup and give it a little warmth. A little goes a long way so a few dashes are enough.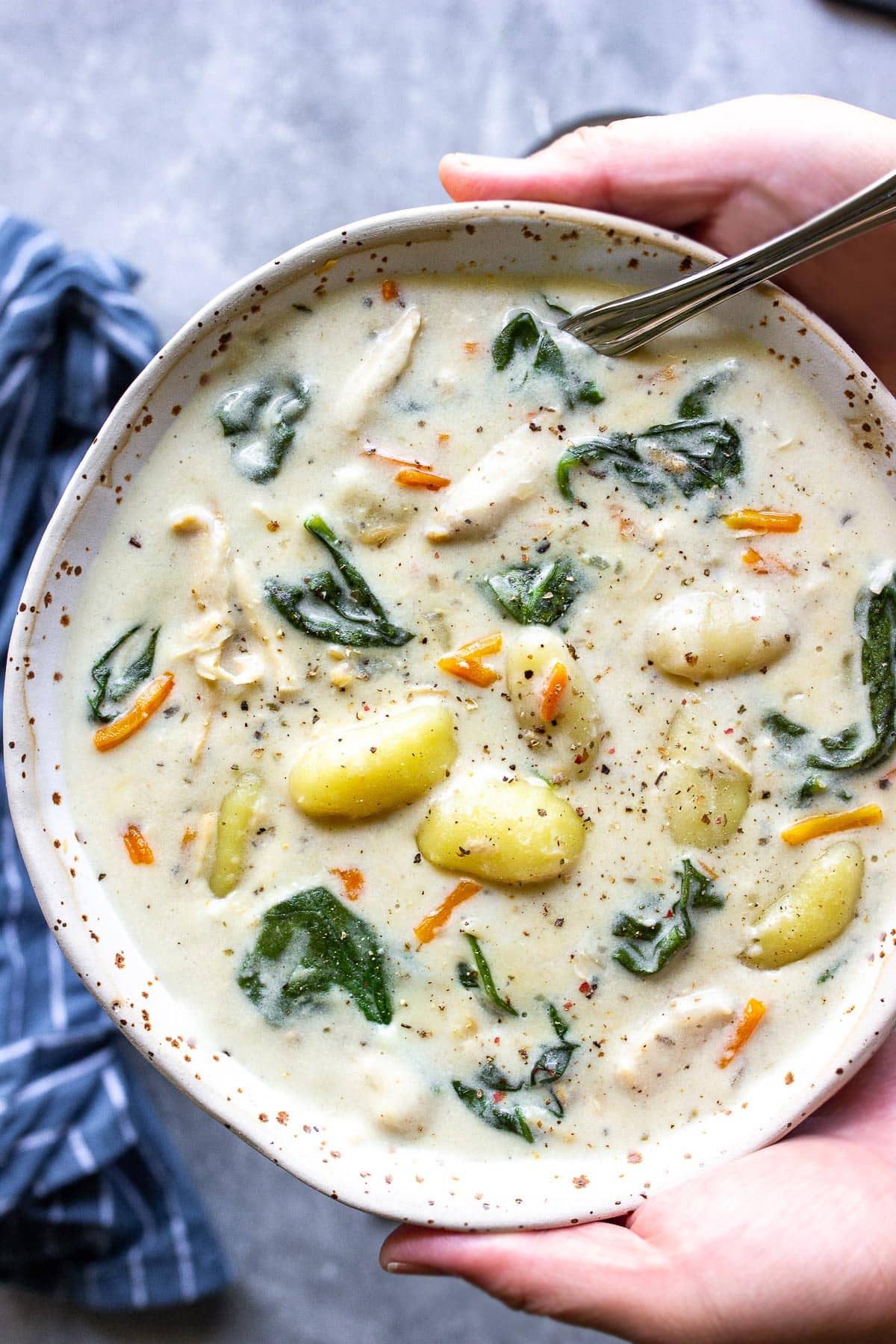 Shredding chicken – I like shredding on a cutting board because it's easier and some slow cookers also have non-stick liners which will scratch if you do it directly in the slow cooker. If your insert can handle it, feel free to shred it directly in the slow cooker. You can also cut the chicken up into bite-sized pieces for a cleaner look.
Gnocchi – These are fluffy, potato dumplings and don't need to cook too long so add them towards the end of cooking. Once the gnocchi is fully cooked, it will float to the surface.
Lightening it up – You can substitute heavy cream with half and half or evaporated milk for a lighter, healthier soup. Pour it in towards the end of cooking with the gnocchi so it doesn't curdle.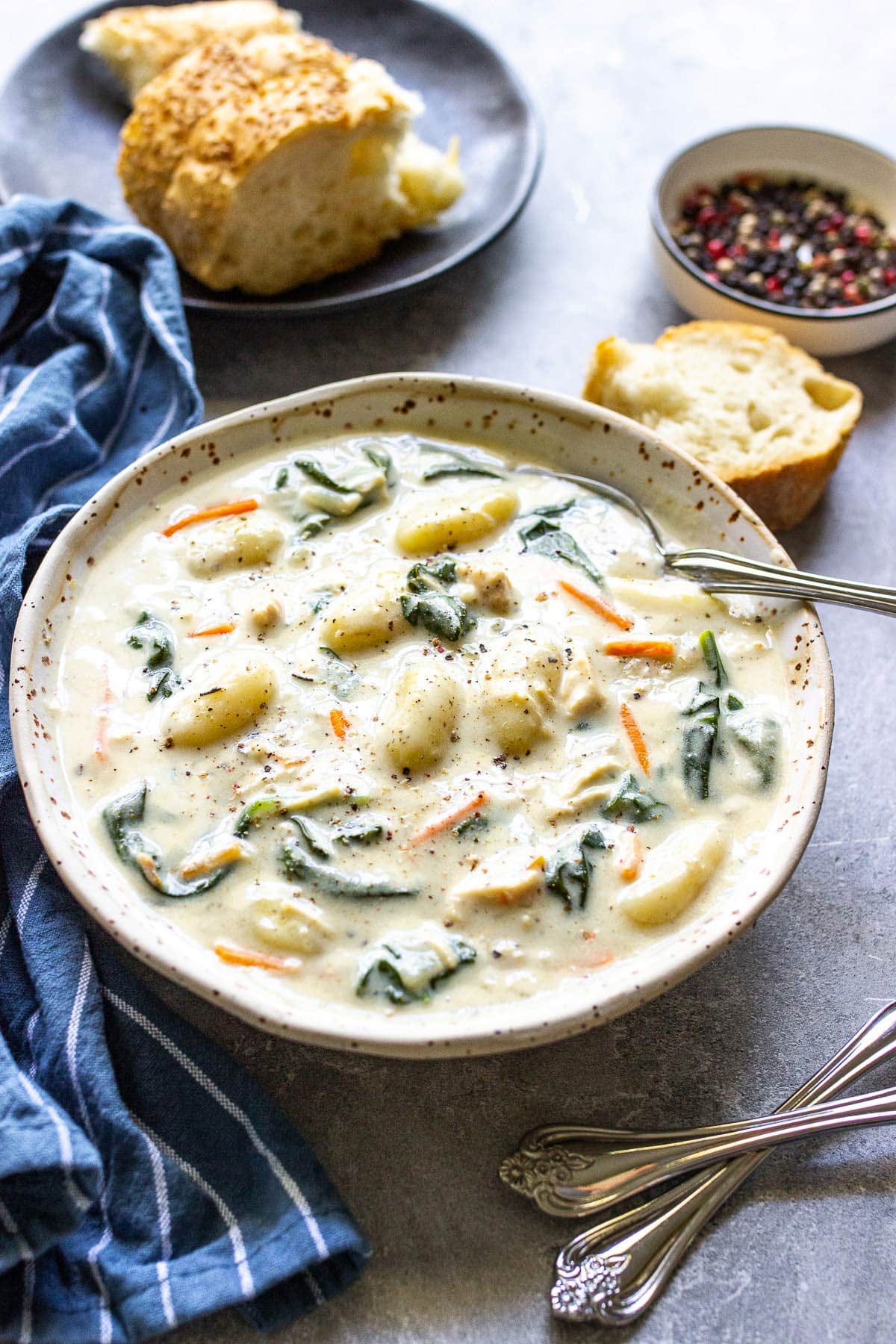 Thickening the soup – You can thicken the soup by making a cornstarch slurry with one tablespoon of cornstarch mixed with two tablespoons of cold water. If the consistency isn't thick enough for you even after adding the slurry, increase in small increments until it's the consistency you like.
Stovetop directions – Saute onions, garlic, celery and carrots in a Dutch oven. Cube chicken and sear until cooked. Pour in chicken broth, seasonings and gnocchi and simmer for 10 minutes until gnocchi is cooked. Add heavy cream and spinach and simmer until the soup has thickened. Do a taste test and season as needed.
Leftover celery and carrots – If you need ideas on how to use the leftover celery and carrots, try using them to make this slow cooker spaghetti Bolognese, skillet chicken pot pie, or this chicken noodle soup.
And that's about it. Let me know how you enjoyed the soup, what substitutions you made or what you paired it with in the comments below.
MORE SLOW COOKER SOUPS AND STEWS TO TRY
Did you make this recipe? Rate it!
♡ If you liked this recipe, giving it a star rating ★★★★★ in the comments below really helps! For more recipes, subscribe to my newsletter or follow me on Facebook, Instagram and Pinterest.
Print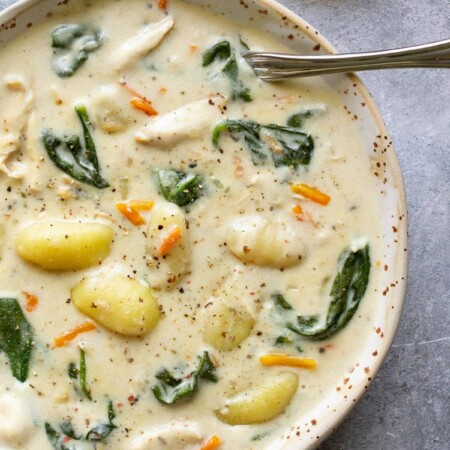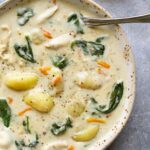 Slow Cooker Chicken Gnocchi Soup
---
Author:
Total Time: 8 hours 10 minutes
Yield: 8 1x
Description
This copycat Olive Garden creamy slow cooker chicken gnocchi soup with perfectly seasoned chicken and pillowy potato gnocchi is pure comfort food.
---
4 boneless, skinless chicken breasts (about 1–1.5 lb.)
1/2 yellow onion, diced
4 cloves garlic, minced
1 celery stalk, diced
1/2 cup carrots, shredded
5 cups chicken broth
1 teaspoon dried basil
1 teaspoon Italian seasoning
1/4 teaspoon ground nutmeg
1 bay leaf
Salt and pepper, to taste
1 cup heavy cream
1 (16 oz.) package potato gnocchi
3 oz. fresh baby spinach, tightly packed (about 3 cups)
---
Instructions
Place chicken in a 6 qt. slow cooker and top with onions, garlic, celery and carrots.
Season with basil, Italian seasoning, ground nutmeg, bay leaf and salt and pepper.
Pour chicken broth over the chicken and veggies.
Cook on high for 3-4 hours or low for 6-8 hours.
Remove chicken to a cutting board and chop or shred it into bite-sized pieces. Discard bay leaf. Add the chicken back to the slow cooker.
Pour in heavy cream, add gnocchi and cook on high for 30-45 minutes or until the gnocchi is tender and the soup has thickened.
Toss in spinach, cover and let it sit in the residual heat until the spinach has wilted into the soup.
Adjust seasonings to taste and dish and serve hot.
Enjoy!
Notes
For a thicker soup, mix 1 tablespoon of cornstarch with 2 tablespoons of cold water to make a cornstarch slurry. Add it in with the gnocchi towards the end before cooking on high.
Scroll up to RECIPE TIPS for more useful tips, suggestions and ingredient substitutions.
Prep Time: 10 mins
Cook Time: 8 hours