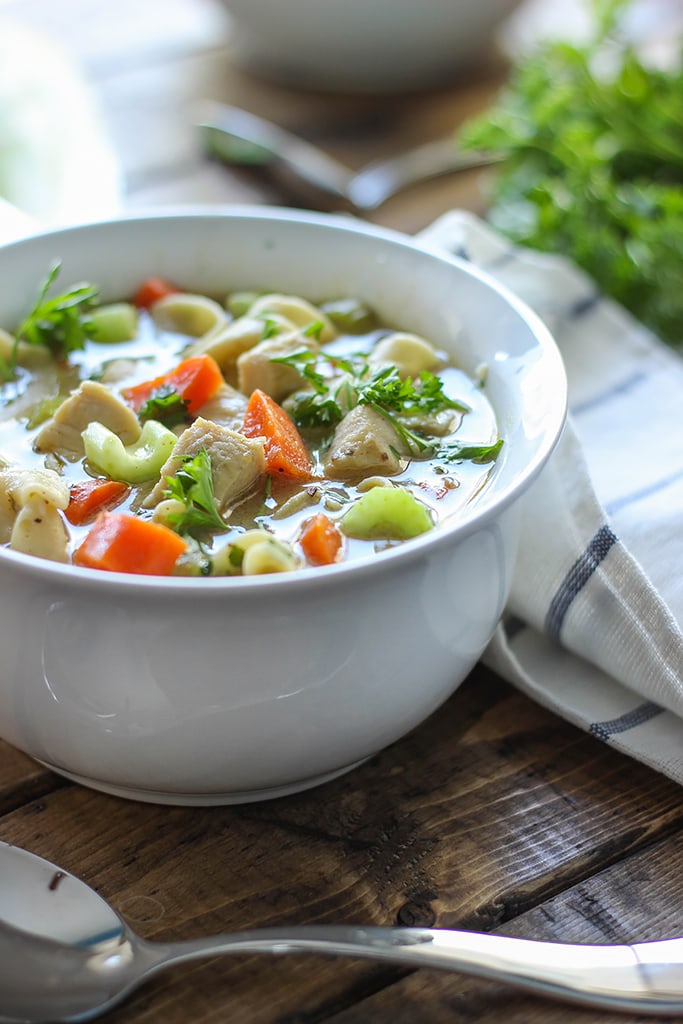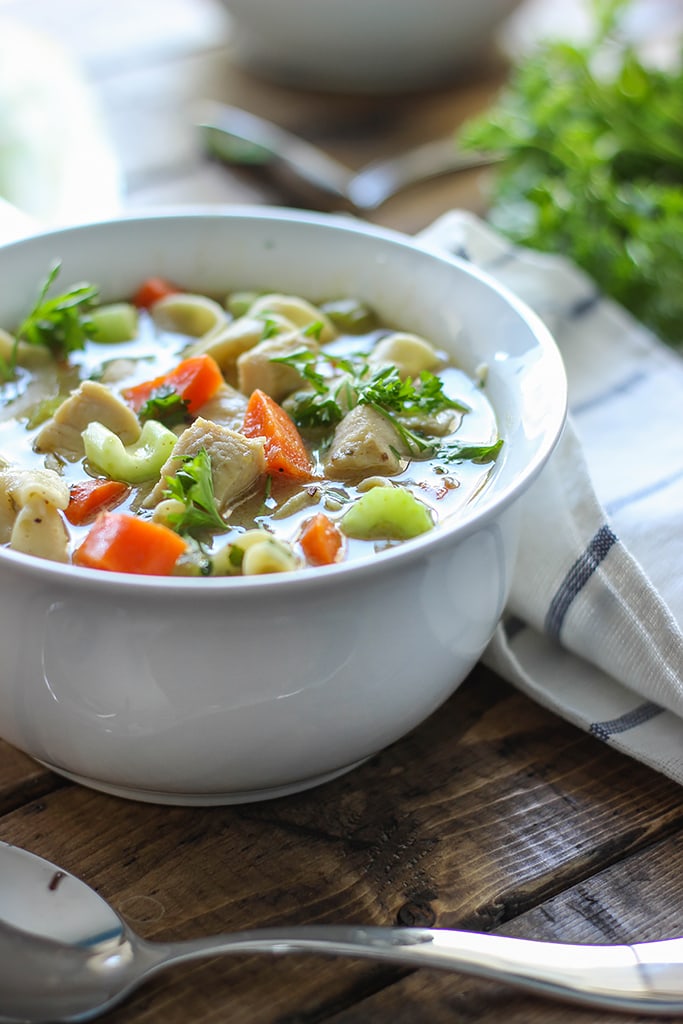 If there's one thing you can rely on in Florida, it's the weather being a fickle, fickle thing. It did a complete 180 from dropping temperatures in November to highs of 79 around Christmas. And yes I should be happy except for one thing.
It makes people like me who joined the oh-no-it's-cold now bandwagon where  I lent a hearty voice to the collective bemoaners now feel like a sun-tanned hypocrite. And it's not like I can take back all my moaning either cause it's all immortalized on the blog. But to my credit, the temp dropped to 35 degrees this week so my weather credibility isn't completely shot.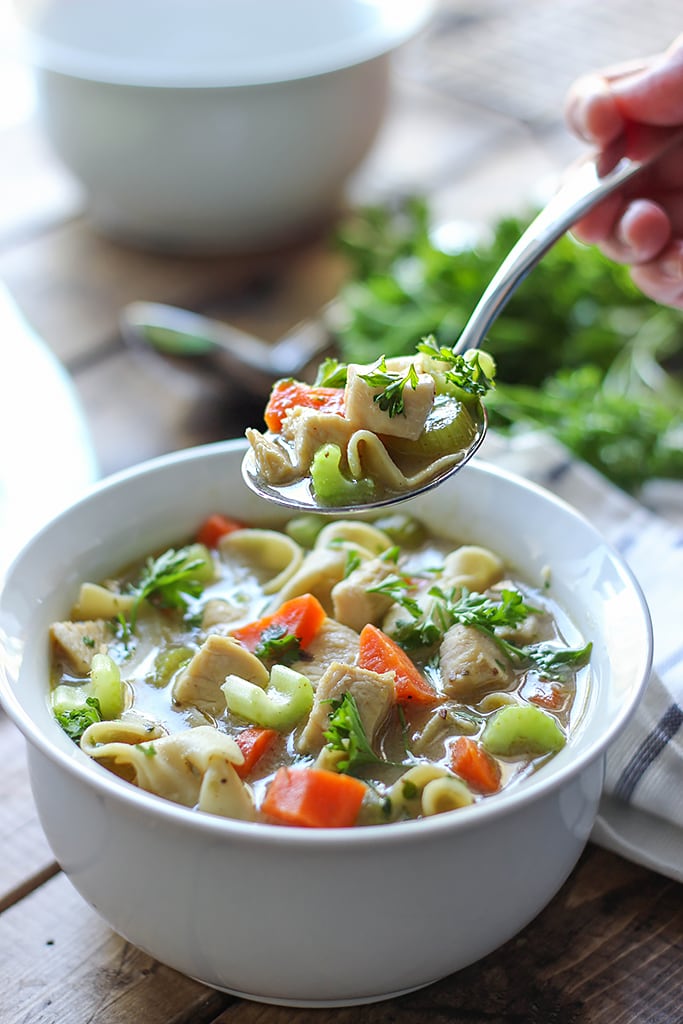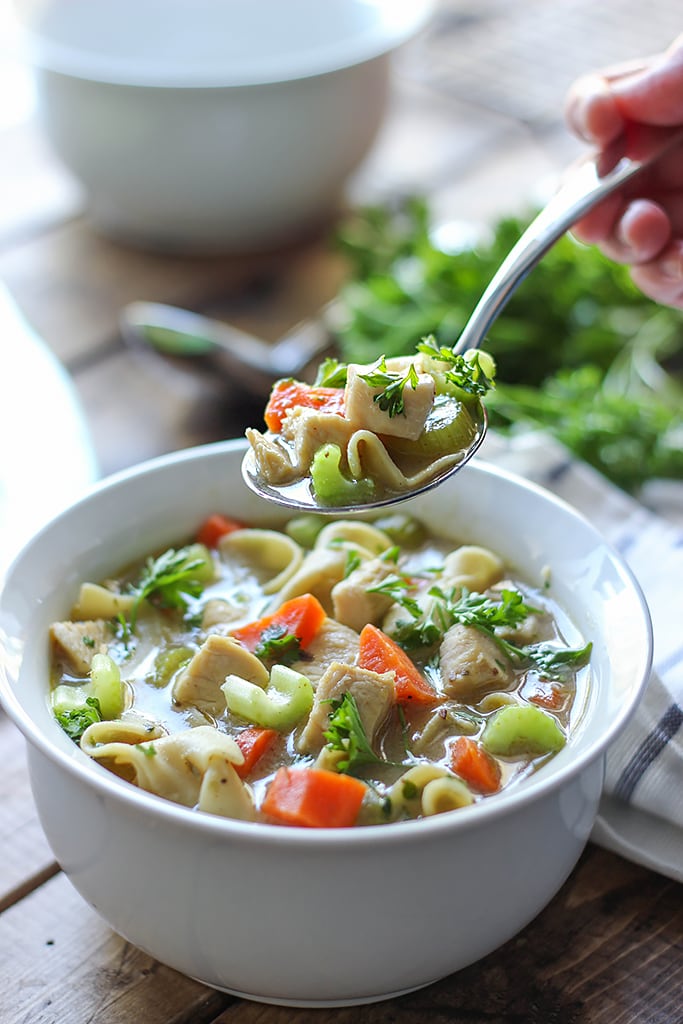 But I know there are those out there that still deserve to moan, especially those up north. And for those with the sniffles or just feel like you need some classic comfort, here's a one pot homemade chicken noodle soup for you.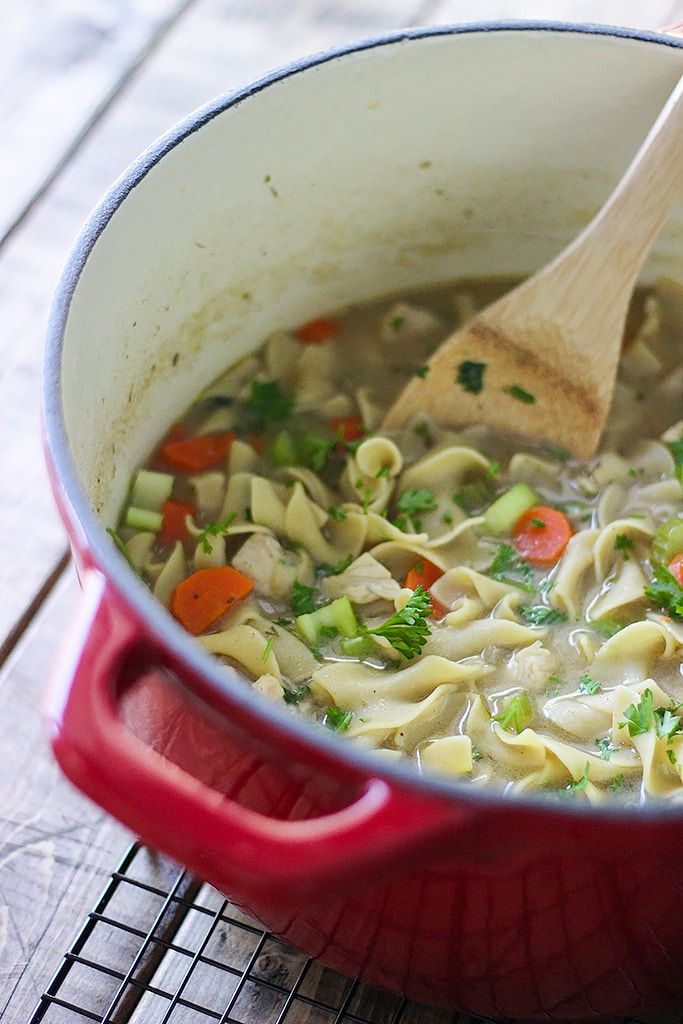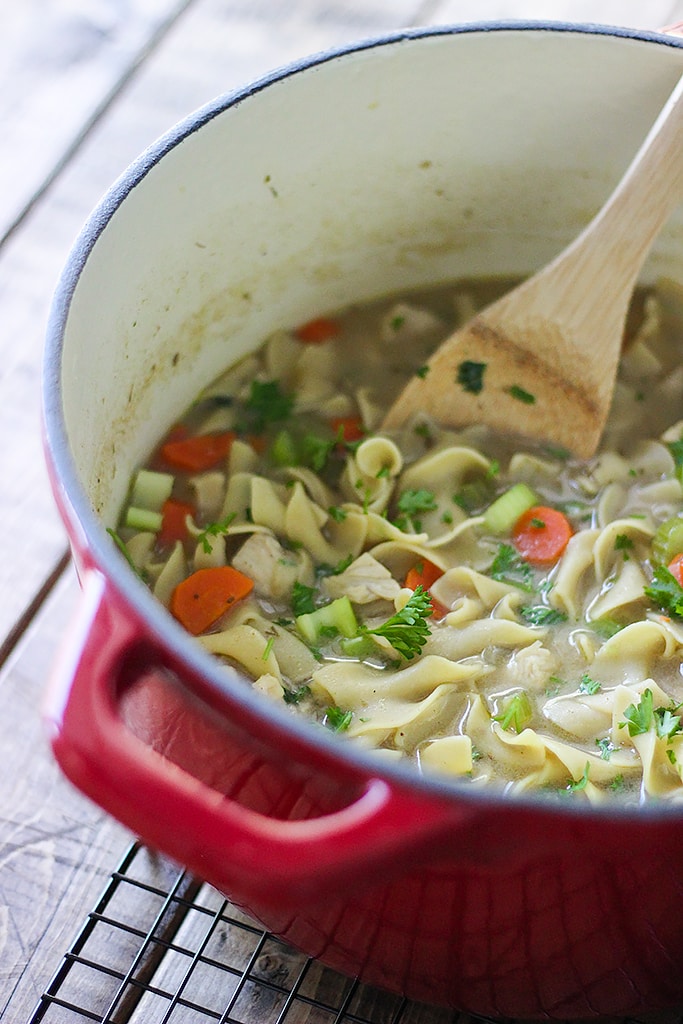 I had to come up with an impromptu version with whatever I had in the fridge when Mr. Cooking Jar wasn't feeling too well after a bad bout of sushi. In lieu of celery and carrots, I used some frozen mixed veggies. The recipe today will have all the proper things you need but just incase you don't have some stuff handy, some substitutes are always good to know.
I didn't realize till later that it was all one pot, which is something people seem to love. Less washing, I get it.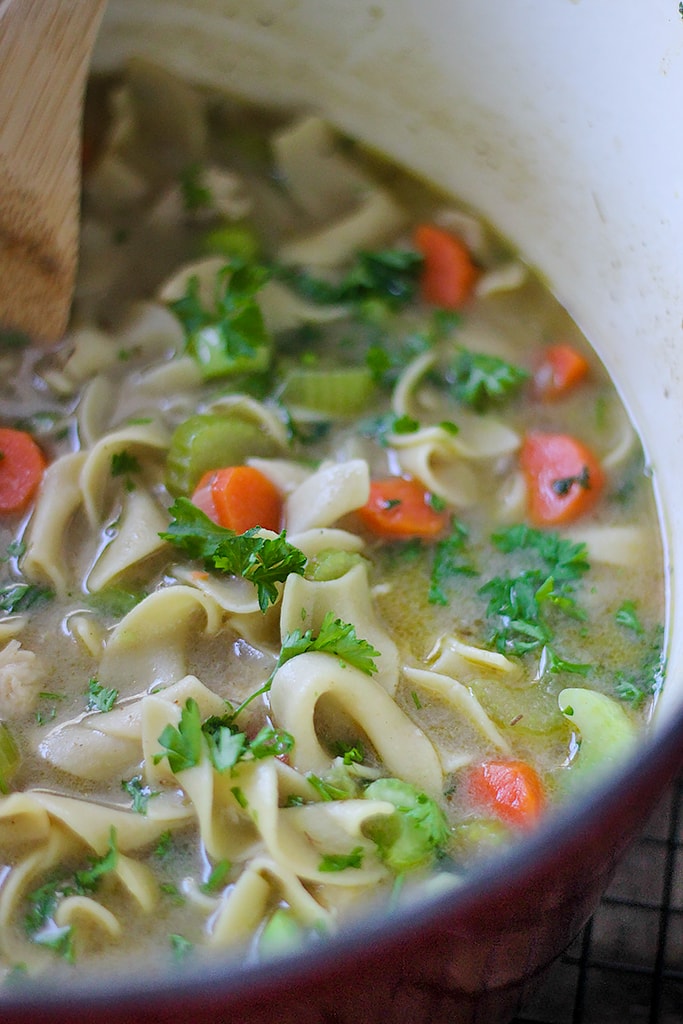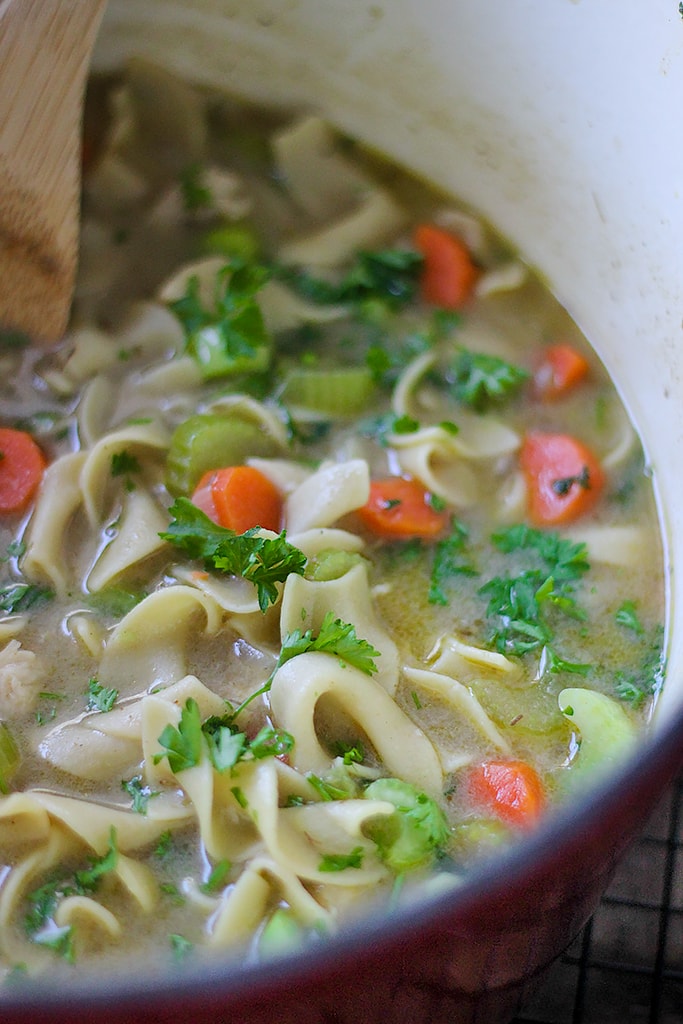 So what we do is just sauté some onions and garlic. I liked thinking that adding some garlic there would help things health wise. Same reason I suggest some lemon juice because hey, vitamin C. And while the amounts are probably too little to make any difference it's the thought that counts. Putting in all the good things in there to make someone feel better.
Then it's sautéing the veggies till they're soft which doesn't take too long at all. Adding some chicken broth, homemade or store bought, less sodium or regular. Also, the longer the noodles sit, the more the egg noodles will absorb the soup, so just add more broth if you want it soupier.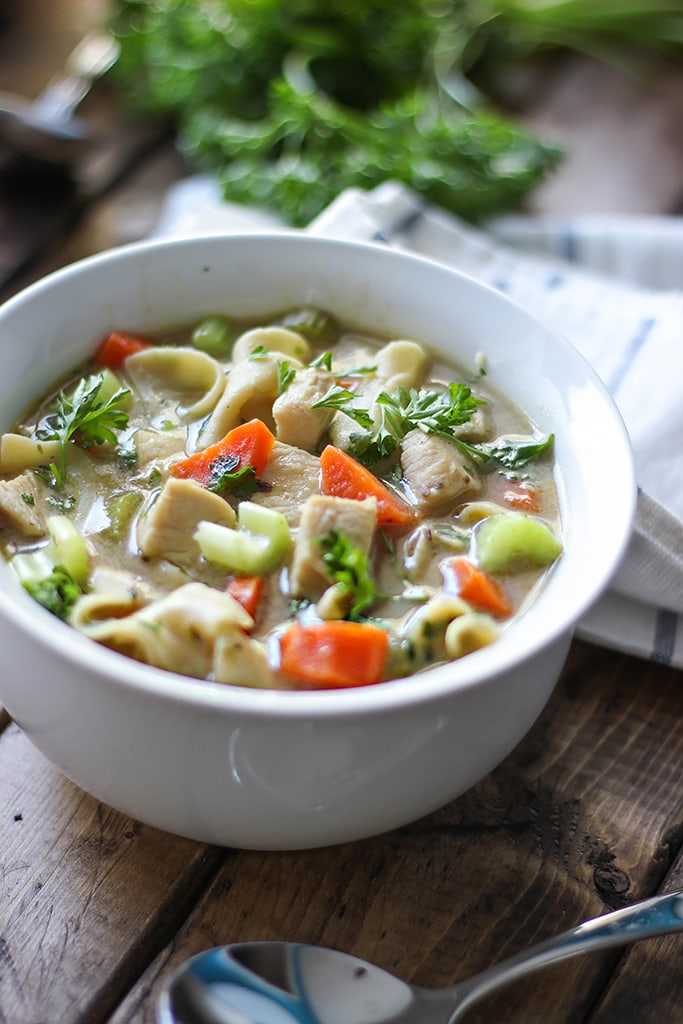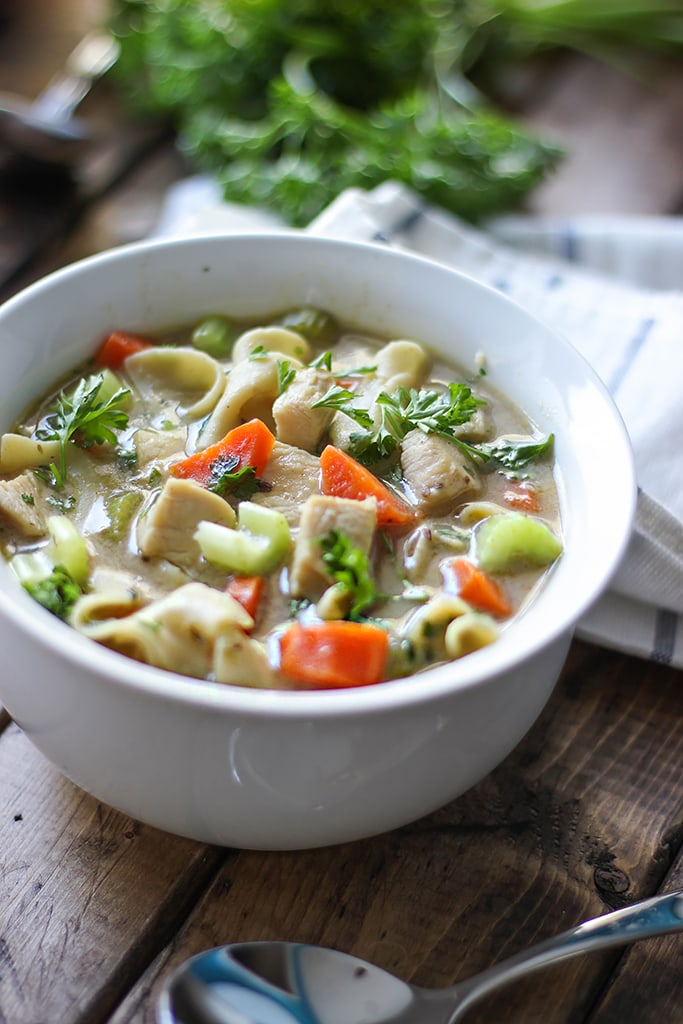 The chicken cubes will poach in the broth at the same time the egg noodles cook. Basically the amount of time you spend simmering the soup will depend on how tender you like your carrots since that's what will take longest to cook. So use the carrots as a benchmark.
Some seasonings are in order to make this yummy. I went with the regular thyme and oregano along with salt and pepper but I felt it was still missing something. So I took liberties of adding in some old bay seasoning.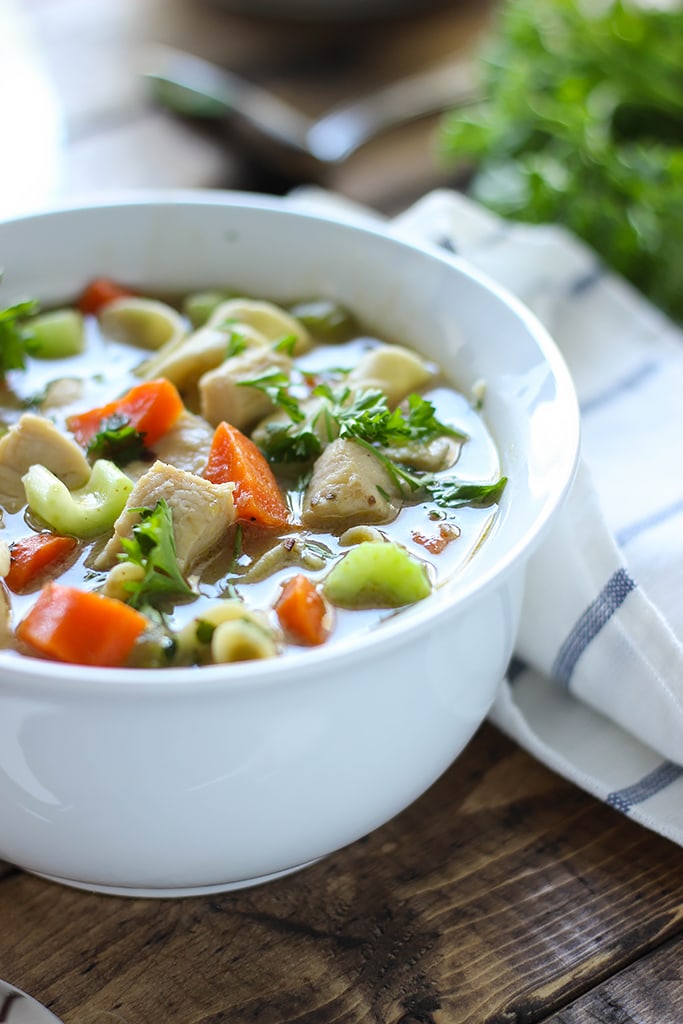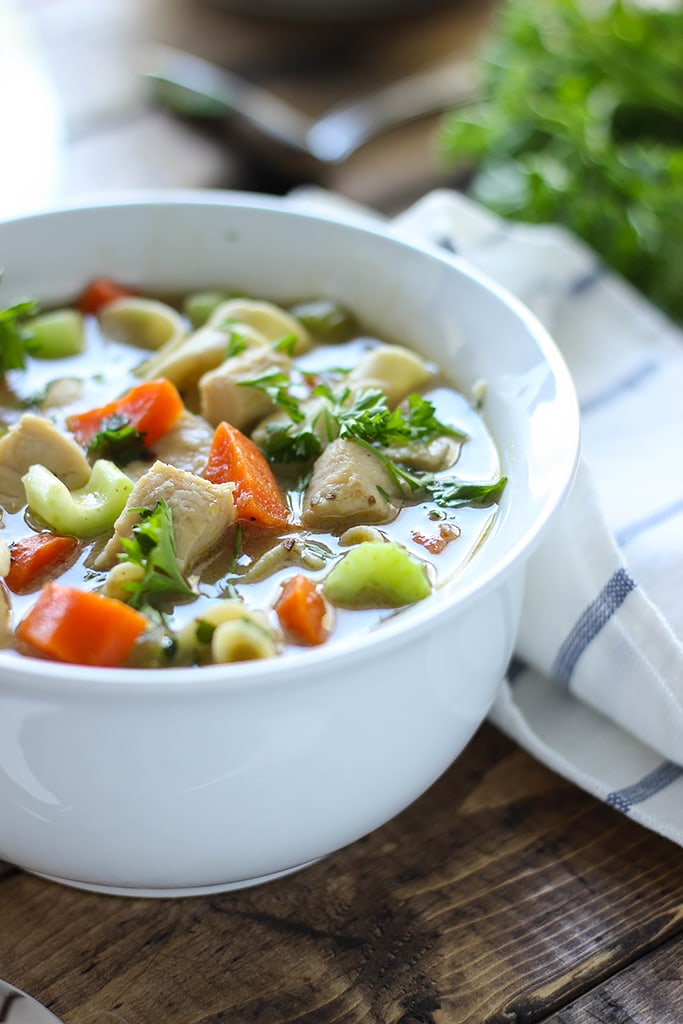 And it's done! One pot to wash and four portions of soup to give someone you love, including yourself.
Feel better, whoever out there needs it!
Print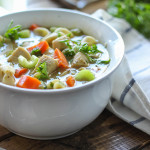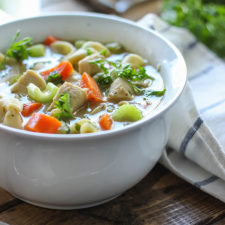 One Pot Chicken Noodle Soup
---
Author:

Prep Time:

10 mins

Cook Time:

20 mins

Total Time:

30 mins

Yield:

4

1

x
Scale
Ingredients
1/2

yellow onion, sliced

1 teaspoon

garlic, minced

1

bay leaf

4

stalks celery, sliced

3

medium sized carrots, peeled and sliced

6 cups

chicken broth

3

boneless, skinless chicken breasts, cubed

1/2 teaspoon

dried oregano

1/2 teaspoon

dried thyme

1 teaspoon

old bay seasoning
Salt and pepper to taste

2 tablespoons

parsley, chopped

1/2

lb. egg noodles
Lemon juice (optional)
---
Instructions
Over medium high heat in a 5 qt, dutch oven, saute onions, garlic and bay leaf until onions are soft
Add vegetables and saute for 2 minutes
Pour in chicken broth and add chicken cubes
Add seasonings and bring to a boil
Reduce heat to medium and add egg noodles
Simmer for about 10 minutes or until noodles are al dente. Remove bay leaf
Dish and serve hot sprinkled with parsley and lemon juice (optional)