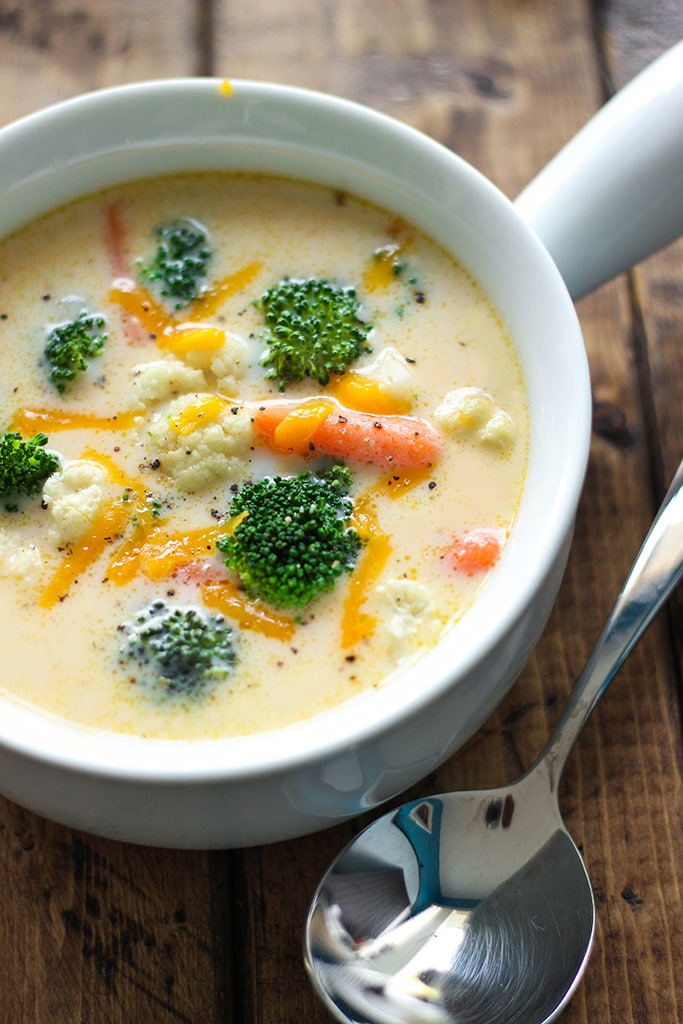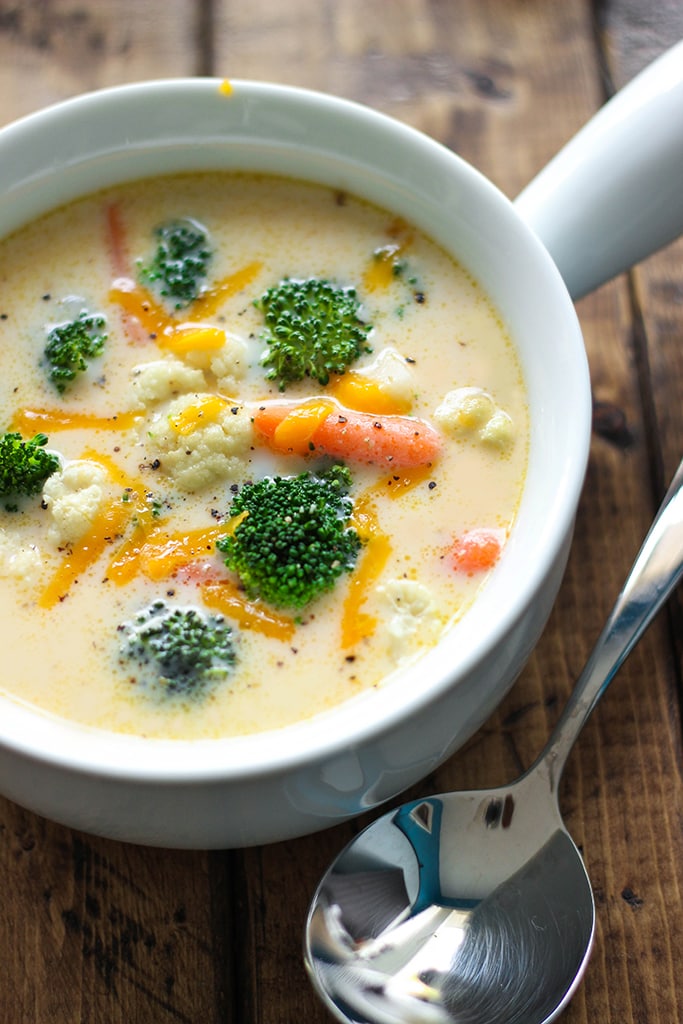 More soup please! I know I posted a one pot chicken noodle soup recently. But hey, it's soup season people! So here's a quick cheesy soup fix for everyone. No real slicing and dicing needed since you can find bags of fresh vegetable medleys in the produce isle or if you don't mind frozen veggies, that too.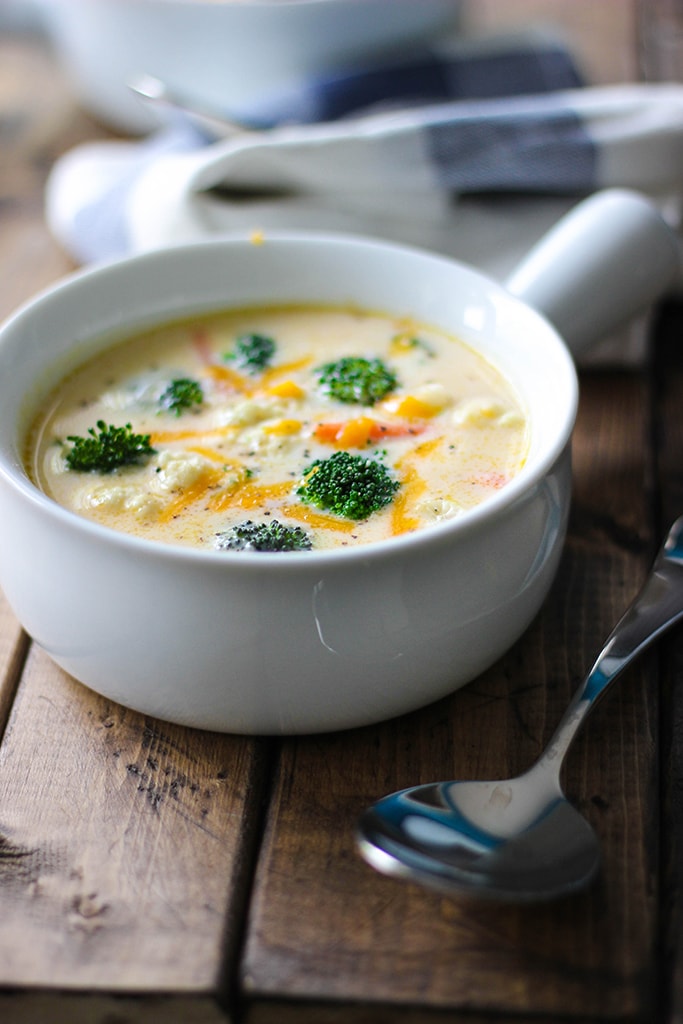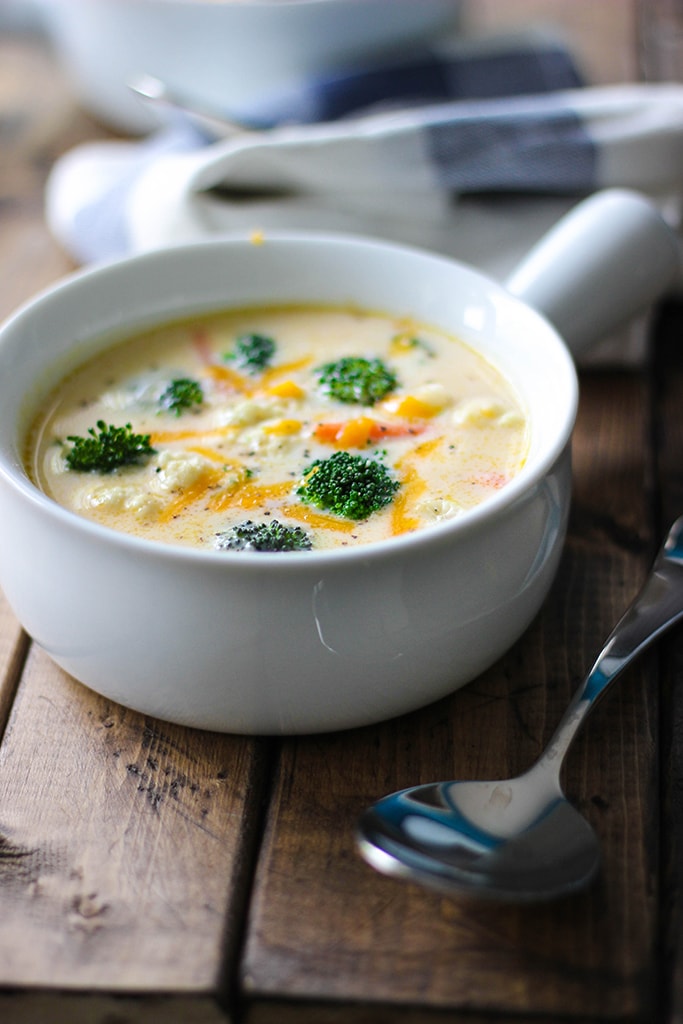 It's a great way to get the kids to eat their veggies. It's even easier if it's the steam-in-the-bag kind. Thank you microwave, you just saved us a pot. So let's get down to it.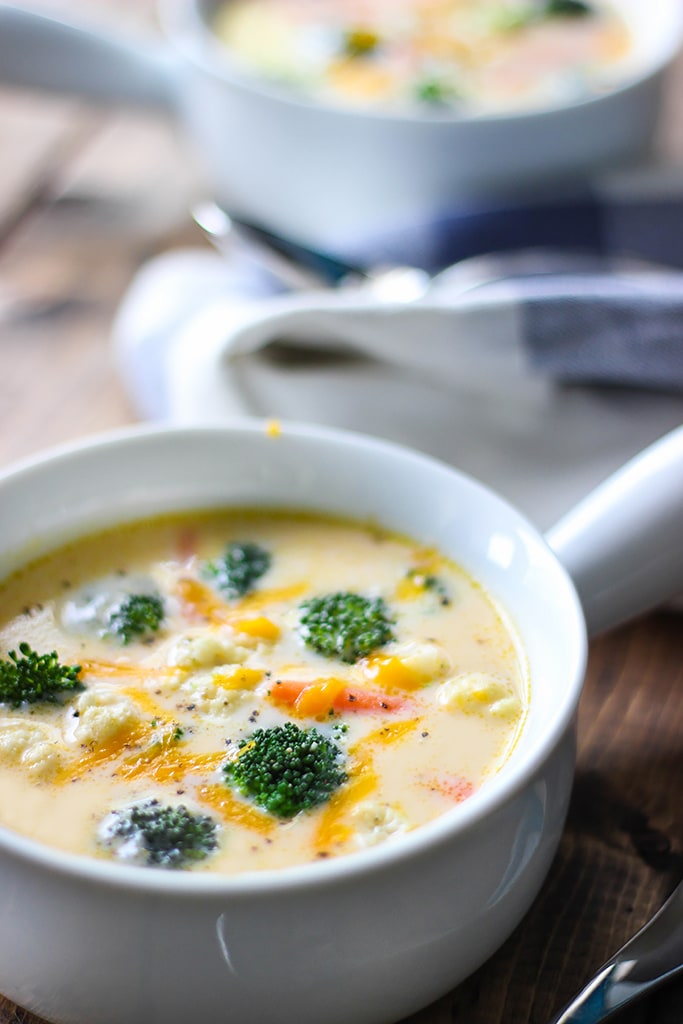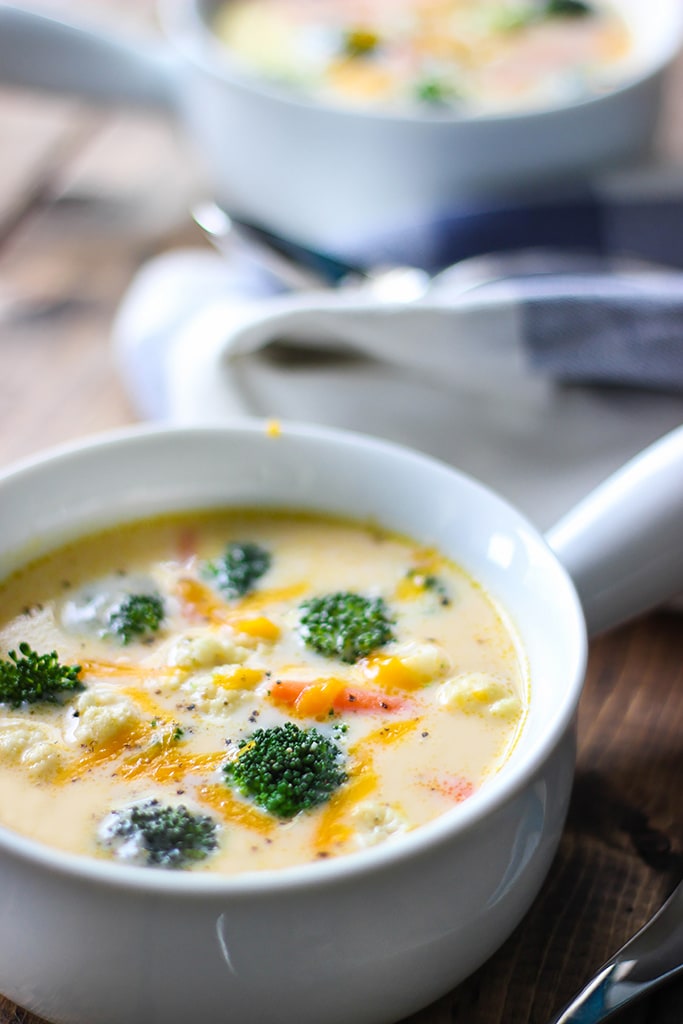 What we do is start off with a roux which is basically melted butter mixed with flour. This thickens the soup later. Then it's adding some milk and chicken broth  for the soupiness and making your basic bechamel sauce. Bechamel is fun for all kinds of things! I used it as a base for chicken pot pie and a creamy cauliflower casserole. Once you get the hang of it, it's pretty easy. So back to the recipe, whisk it all until it's evenly blended. I like having a small whisk handy for this. It's about the size of your hand, a little mini whisk if you will.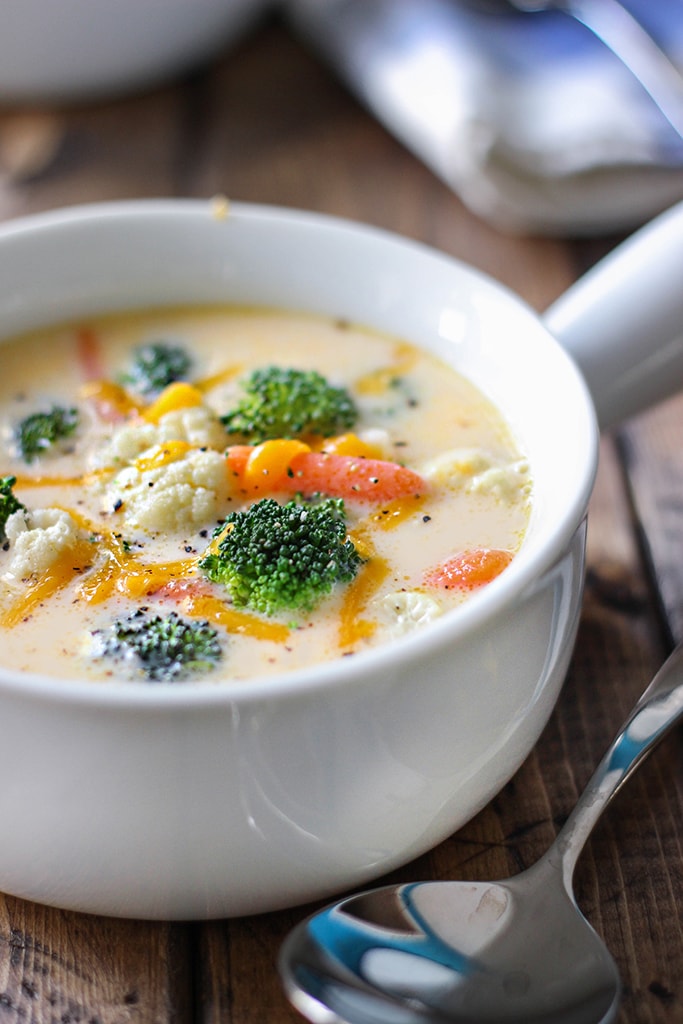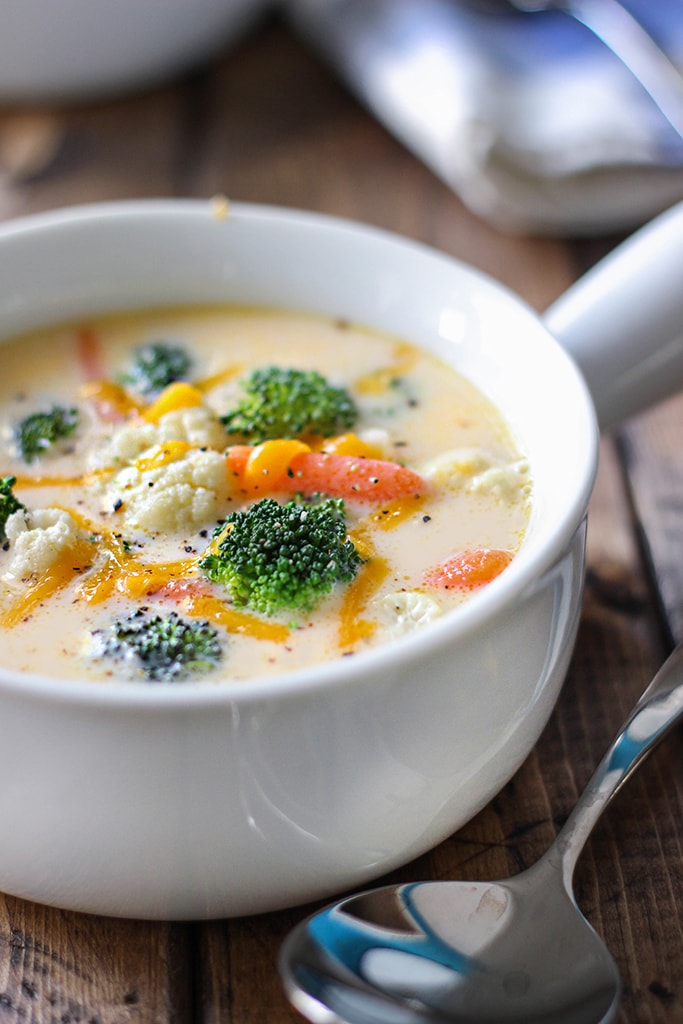 Simmer it over medium heat until it thickens to your liking. Some might like it thickish like a chowder should be while some might want more soupy.  The measurements in this recipe are for an in between kind of consistency. If it doesn't thicken enough to your liking, just add a cornstarch slurry little by little while it's at a gentle boil.
Once it's the consistency you like, remove the pot from heat and add in your shredded cheddar cheese. It has to be freshly shredded, none of that pre-shredded stuff. Notice the bold letters I used to stress on this! Cause even though pre-shredded stuff  is tempting and makes your life easier, the same thing that stops them from clumping together in the bag stops them from melting properly in the soup.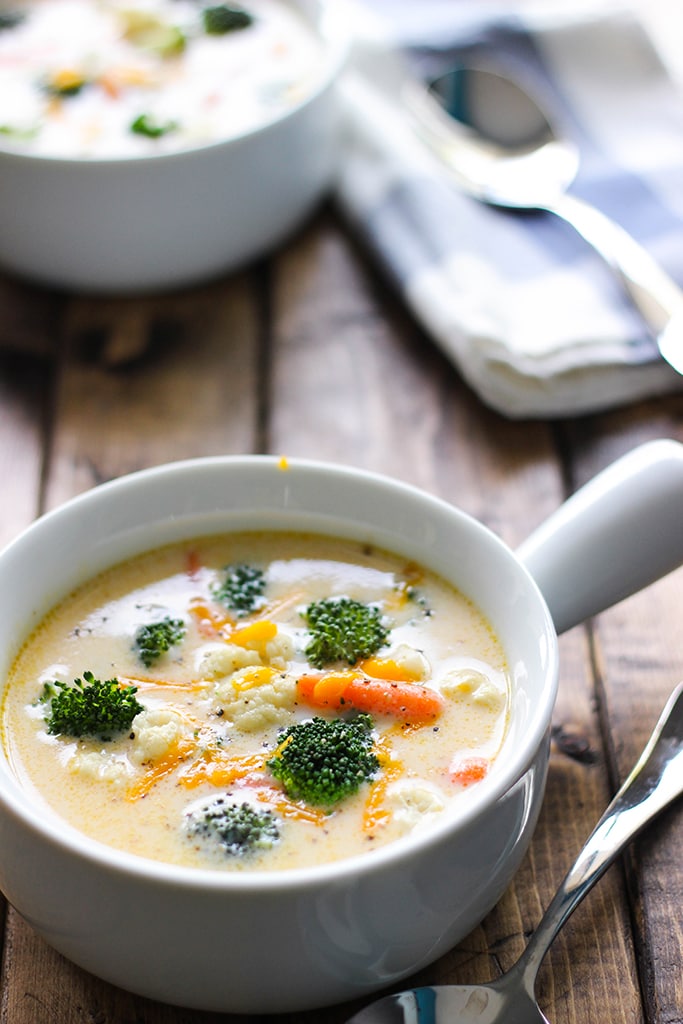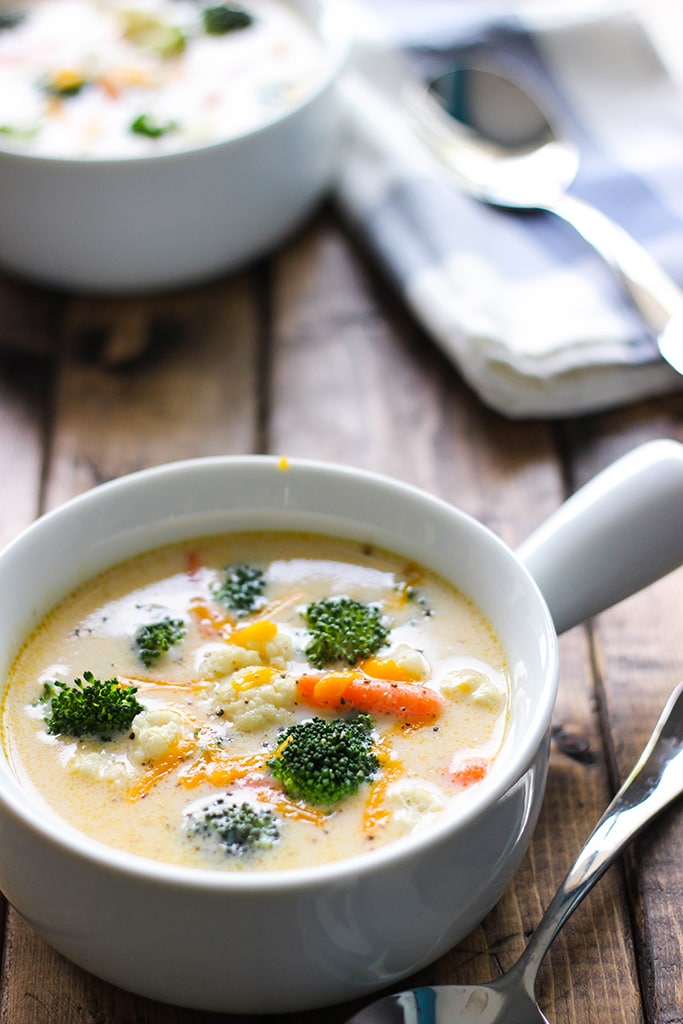 It's more work, I know but trust me, you can't skip this step. I've had one too many clumpy, messy, cheese lumps stubbornly refusing to melt and be one with soups and sauces to know better now. No more! And since I knew I had to shred cheese more, I decided to try out a microplane to make my cheese-shredding-life easier. It was so much easier than using a normal shredder. I had a long curtain of delicate, feathery cheese strings hanging from it, which was fun to wiggle about. I'm pretty happy with the purchase so far.
Once the cheese has melted, add the veggies that were steamed earlier. Depending on how they are pre-cut, you might want to chop them into manageable bite-sized pieces. If they're already like that, then great! I used a mix of broccoli, cauliflower and carrots.
Dish the soup and serve topped with more shredded cheese and some pepper! And maybe some croutons if you like them. Yummy!
Print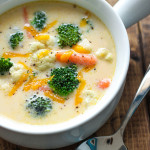 Cheese and Veggie Chowder
---
Author:

Total Time:

25 mins

Yield:

4

1

x
12 oz

. fresh or frozen vegetable medley (broccoli, cauliflower and carrots)

4 tablespoons

butter

4 tablespoons

flour

2 cups

milk

1 3/4 cup

chicken broth
Salt and pepper to taste

1 cup

cheddar cheese, shredded
---
Instructions
Prepare the vegetables according to the package directions. Set aside
Over medium low heat, melt butter and add in flour
Stir to combine and cook for 2 minutes
Pour in milk and chicken broth and whisk to blend evenly
Season with salt and pepper to taste
Bring to a gentle boil and simmer until soup has thickened. Remove from heat
Add in cheddar cheese in portions and stir until cheese has melted. Add in vegetables
Dish and serve hot topped shredded cheese and/or croutons
Prep Time:

5 mins

Cook Time:

20 mins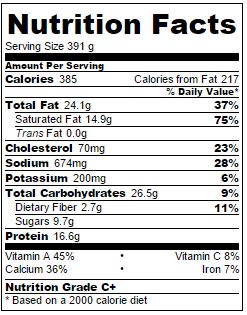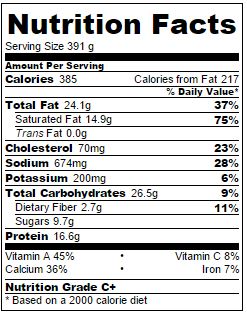 ♡ Affiliate disclosure: As an Amazon Associate, I earn commissions from qualifying purchases from Amazon.com. You can learn more about it here.