This recipe for skillet chicken pot pie uses one pie crust as a healthier way to enjoy this classic comfort food.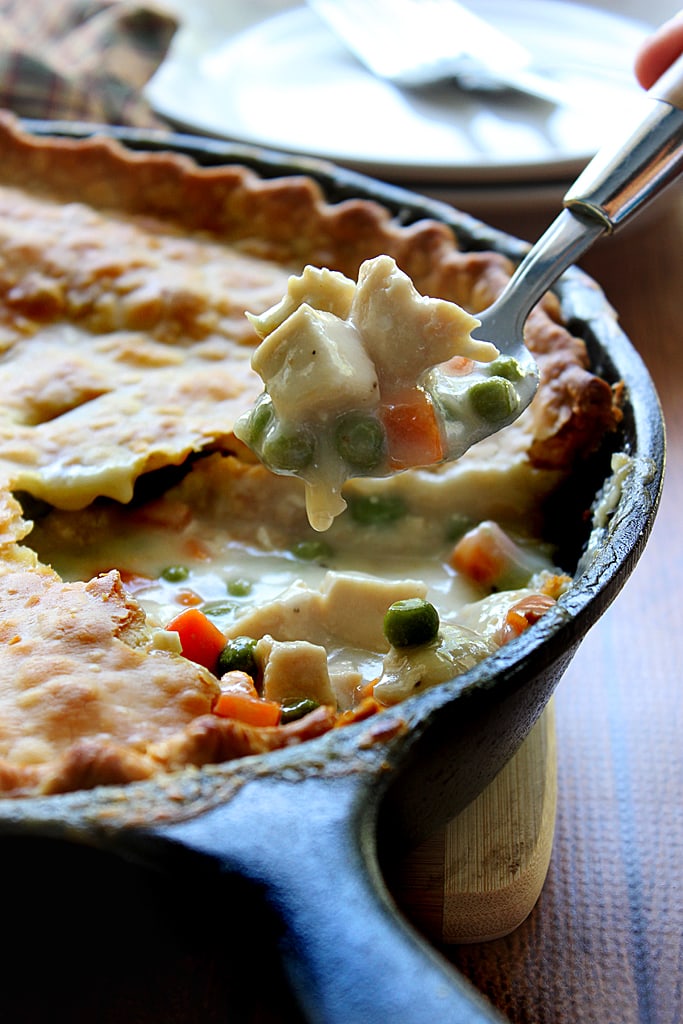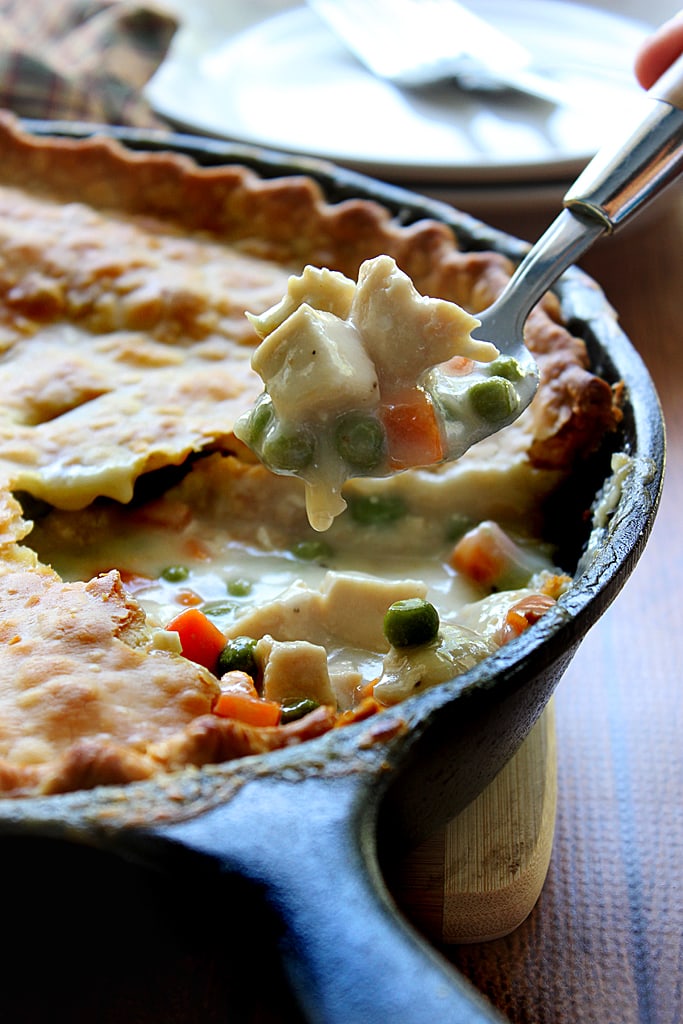 Lately, I've been rambling on and on about how great pre-made pie crusts are. The first time I ever played around with it was last week when I tried it with a chicken pot pie casserole I was planning to post. It even had the words 'deep dish' in it which made it sound all grand.
But while the playing around with the crust experiment worked, the filling got watery. I had tried a cheat using soups instead of making a bechamel sauce from scratch to make it easy and approachable.
But when it was all baked and stuff, the soups seemed to have evaporated. Where did they go? That kitchen fail was that much sadder because I actually knew how to make the sauce from scratch. Use a cheat and BAM. Fail.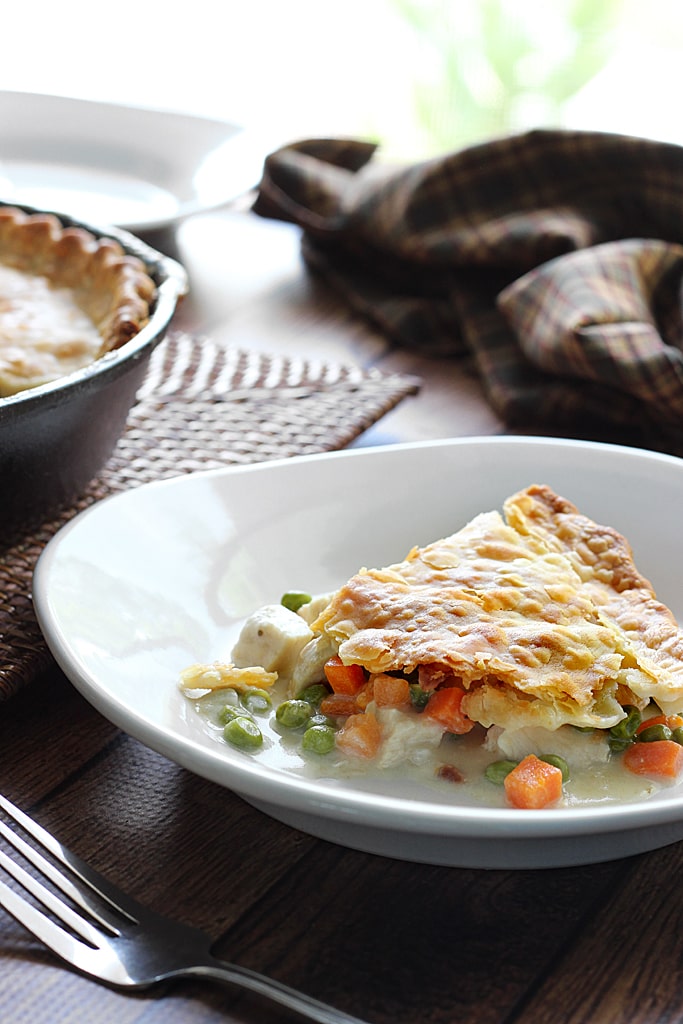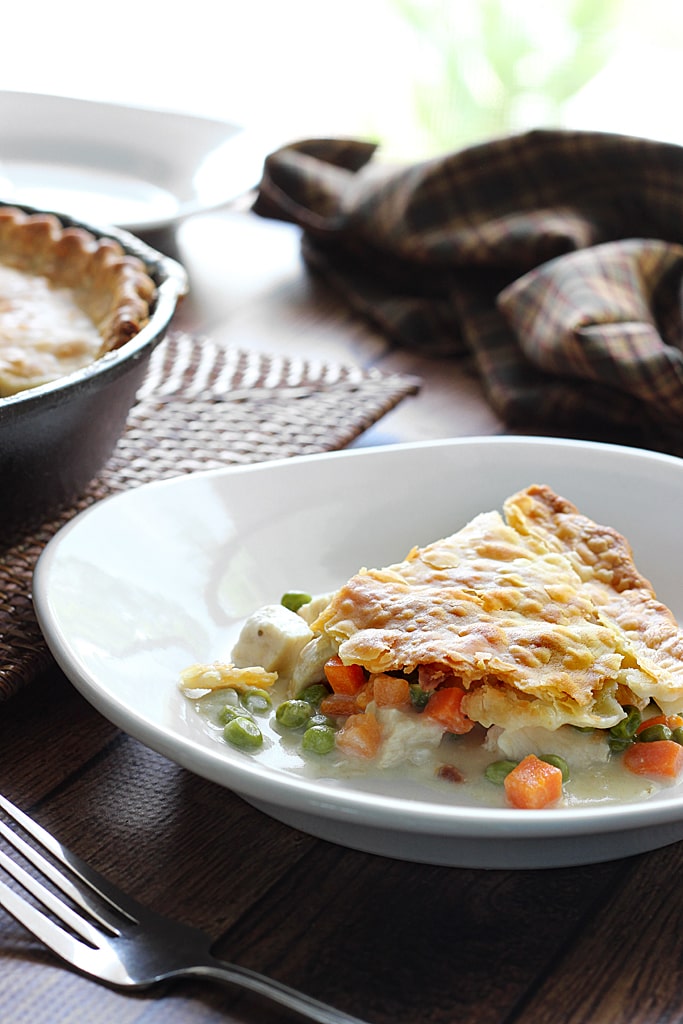 So today I decided to make it from scratch and scrap the deep dish casserole idea, replacing it with a skillet. While having double the amount of crust tastes great and all, it's really not that good for you.
So here's a recipe to have your pot pie with just the top crust. And because the white sauce is made from mostly milk and chicken stock instead of heavy cream, it's that much healthier. I won't go so far as to say it's clean eating, but it's better for your gut than it would be. Let's start cooking.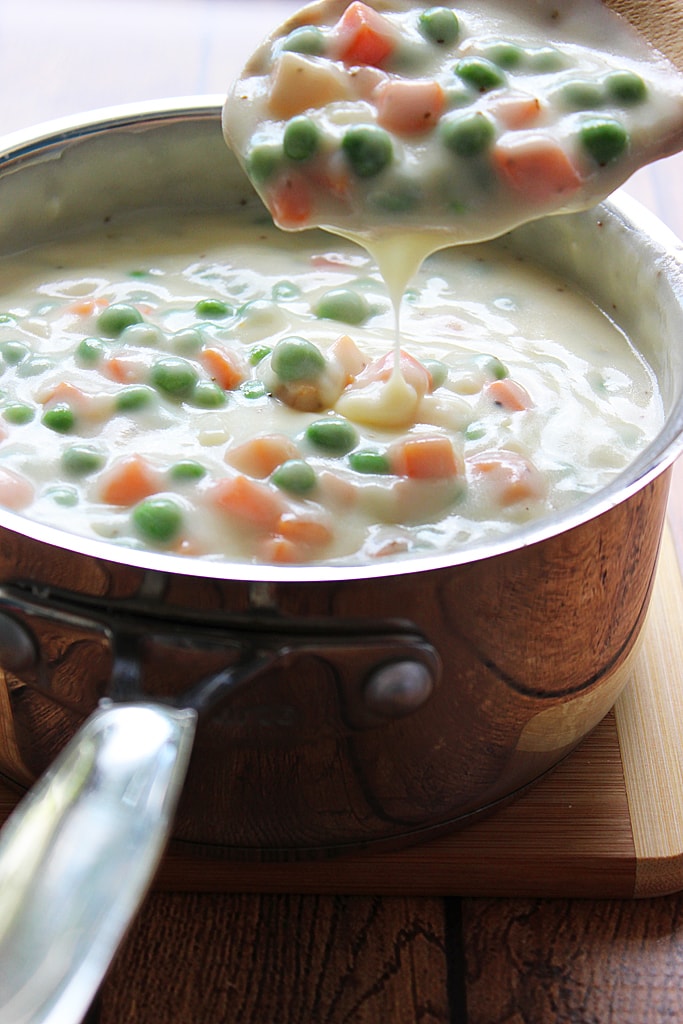 SKILLET CHICKEN POT PIE TIPS AND TRICKS
Making the sauce is pretty much the same concept I used in cauliflower au gratin. Melt some butter with onions, add some plain flour to form a roux, something that will thicken up the sauce.
Cook it for some time to get rid of the floury taste and then slowly pour in milk and stock. You'll want to whisk it at this stage to make sure everything blends well and the sauce is smooth.
All this is done on medium-low heat so the milk doesn't curdle. And then more gentle simmering with an occasional whisk until the sauce thickens. And this is your base!
If you want your sauce slightly on the goopy side, combine some flour or cornstarch with enough cold water to dissolve it and add it in to thicken it some more. Then keep on simmering till it thickens. Or you could just add less chicken stock.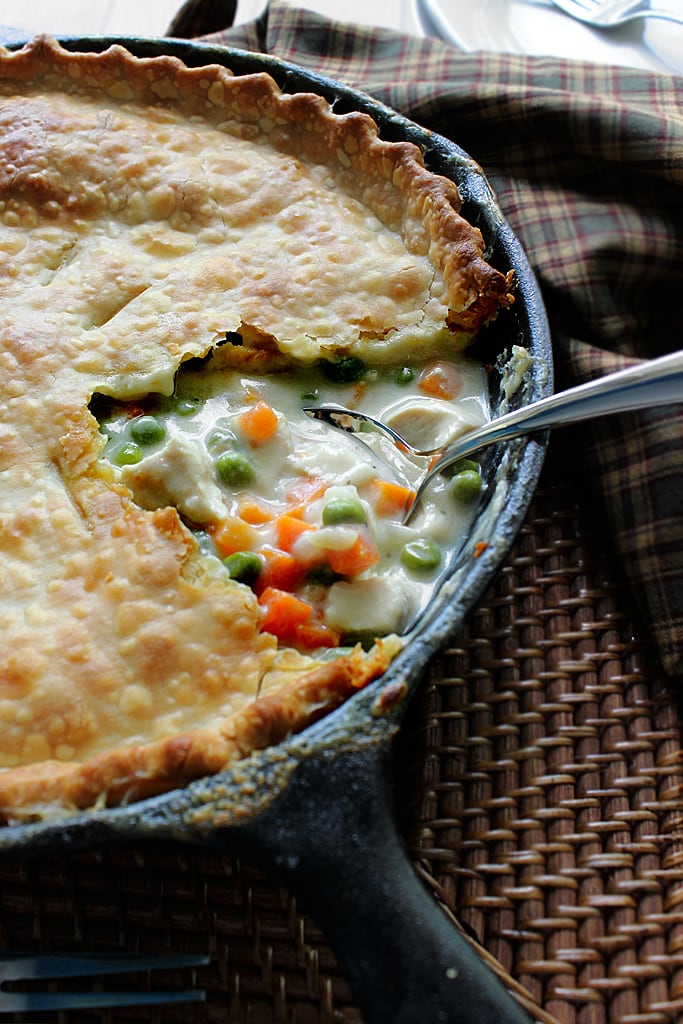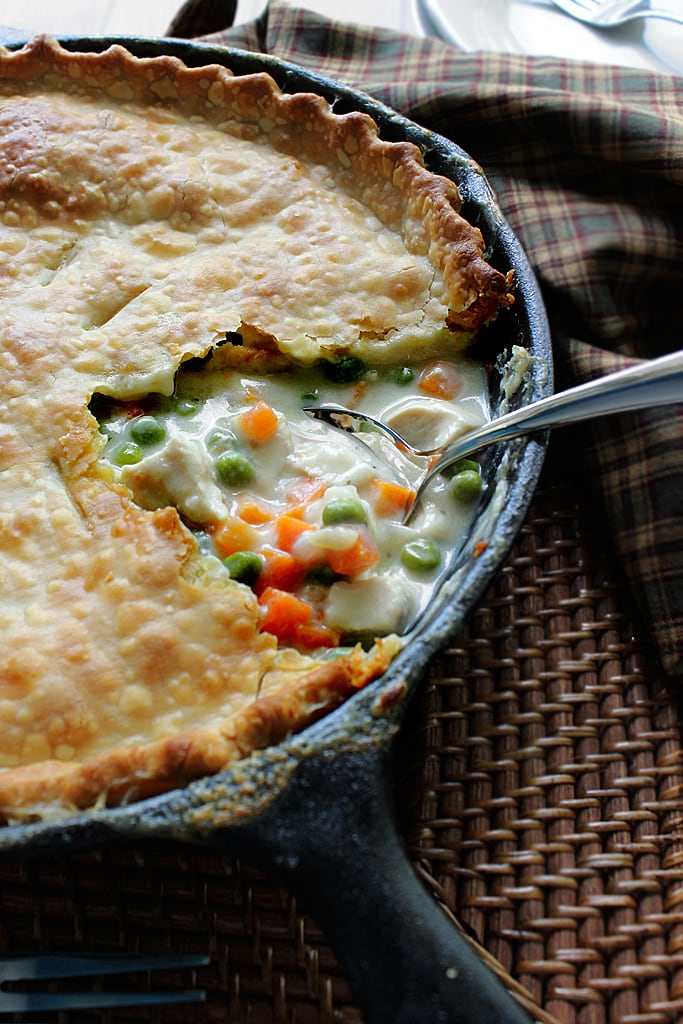 Then we add some veggies and poached chicken cubes, pour them into a skillet and top with a 9″ pre-made pie crust. And we bake! And during the downtime, you can do other stuff. I usually wash my dishes because it really sucks coming back to a sink full of them later on.
My pie crust shrank a little in the oven but it doesn't really bother me. I've just been having a hard time resisting making bad jokes of "Honey, I shrunk the pie crust!" here. So don't freak out if yours does.
It might have something to do with the pre-made pie crust or the high heat I cooked it at. I read somewhere that high heat of 425 degrees F encourages shrinking while 350 is still a good bet. If you decide to go with the lower heat, try baking it a little longer to make up for it or eyeball the time until the crust is golden brown. See, this is why baking scares me!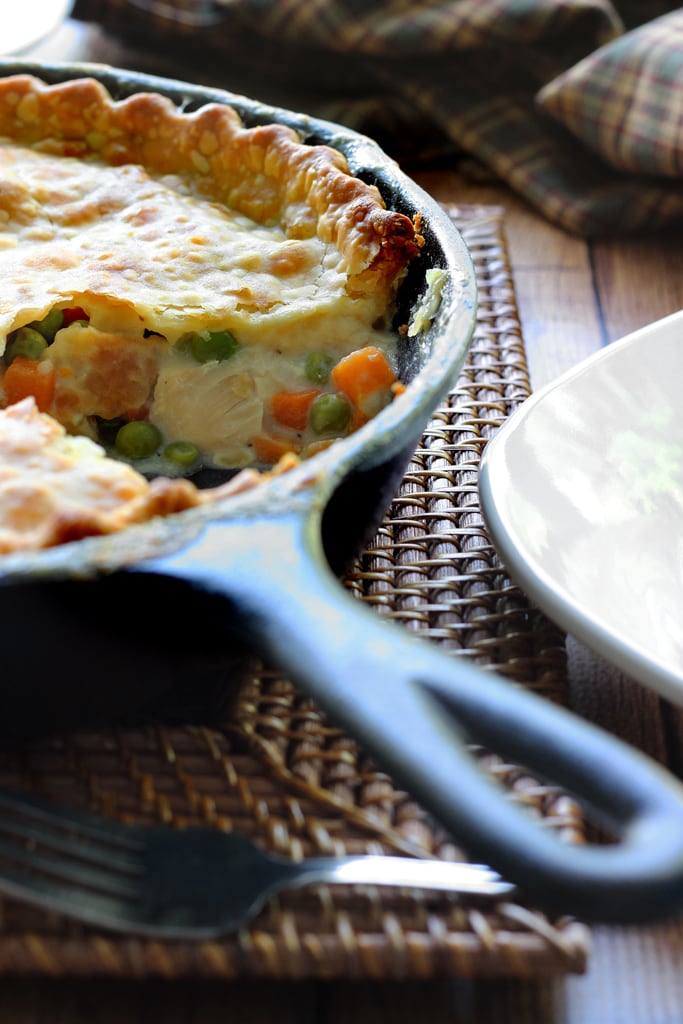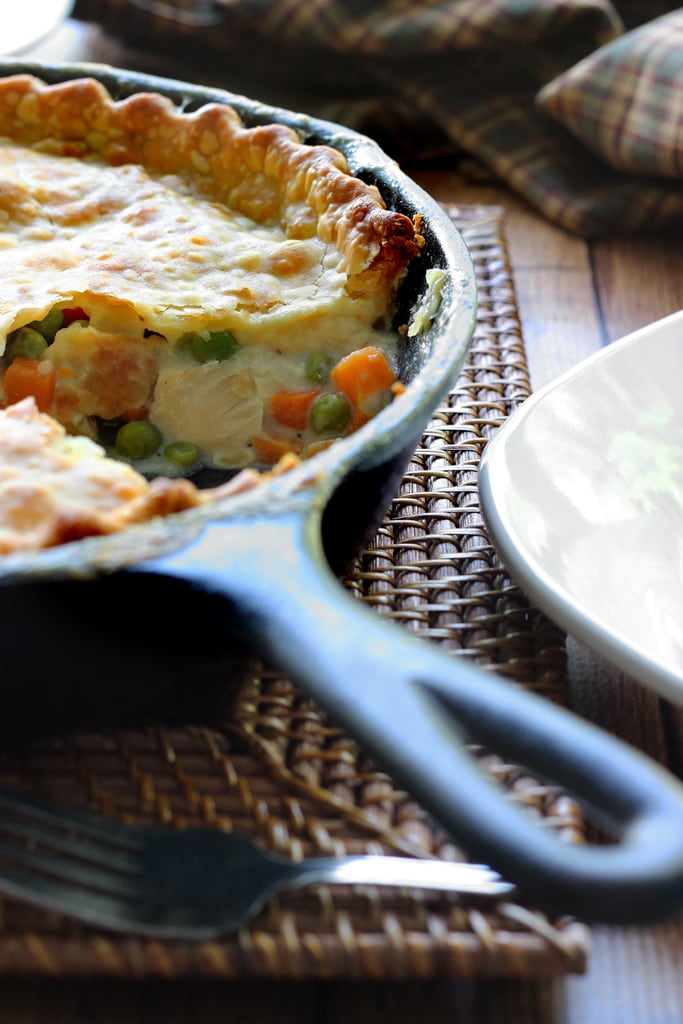 Also, the sauce tends to be a little runny if you cut the pie too early. The longer it sits, the more it sets and thickens. I found popping it in the fridge to keep until dinner time and reheating it later set the filling pretty well.
And lastly, if you want more seasoning, you can add garlic or garlic seasoning or additional herbs like rosemary and thyme. I think those will work well.
As usual, enjoy and happy cooking!
MORE COMFORT FOOD CLASSICS TO TRY
Did you make this recipe? Rate it!
♡ If you liked this recipe, giving it a star rating ★★★★★ in the comments below really helps! For more recipes, subscribe to my newsletter or follow me on Facebook, Instagram and Pinterest.
Print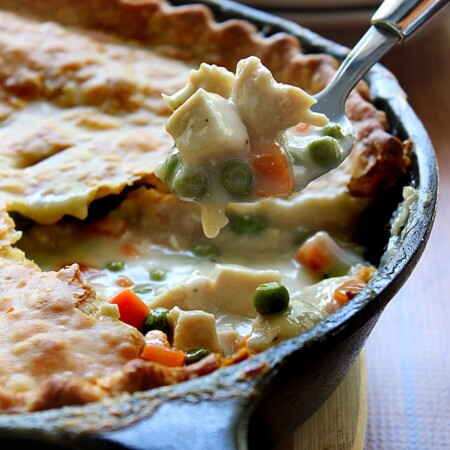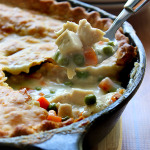 Skillet Chicken Pot Pie
---
Author:
Total Time: 1 hour 10 mins
Yield: 6 1x
Description
This recipe for skillet chicken pot pie uses one pie crust as a healthier way to enjoy this classic comfort food.
---
4 boneless, skinless chicken breasts
5 tablespoons butter
1/4 yellow onion, diced
5 tablespoons flour
1 1/2 cups chicken broth
1 cup milk
2 cups frozen mixed carrots and green peas
1/2 cup celery, sliced (optional)
1/4 teaspoon celery seed
Salt and pepper to taste
9" pie crust
---
Instructions
Over medium-high heat, add chicken breasts to a pot of water and bring it to a gentle boil.
Reduce to medium-low heat and poach the chicken breasts 15-18 minutes, skimming foam from the surface when needed.
Meanwhile, over medium-low heat, melt butter and stir in onions, cooking until onions are translucent.
Add in flour and whisk for 2 minutes to combine and form a roux.
Slowly pour in chicken broth and milk and whisk till smooth. Simmer for 10-15 minutes until the sauce thickens, whisking occasionally.
Add peas, carrots and celery to the sauce and season with celery seed and salt and pepper to taste.
Drain and remove chicken and dice into cubes.
Place the chicken in a 10″ skillet and pour sauce over, coating evenly. Stir to combine.
Roll out the pie crust to fit over the skillet, tuck in the edges and make several 1″ slits to let steam escape.
Place the skillet on a baking sheet to catch drips and bake at 425 degrees F for 30-35 minutes or until the crust is golden brown.
Let it sit for 10 minutes minimum before slicing and serving warm.
Enjoy!
Prep Time: 20 mins
Cook Time: 50 mins