These mini Shepherd's pot pies are a cute and insanely delicious spin on the classic Shepherd's pie with all the goodness of a flaky, crumbly pie crust.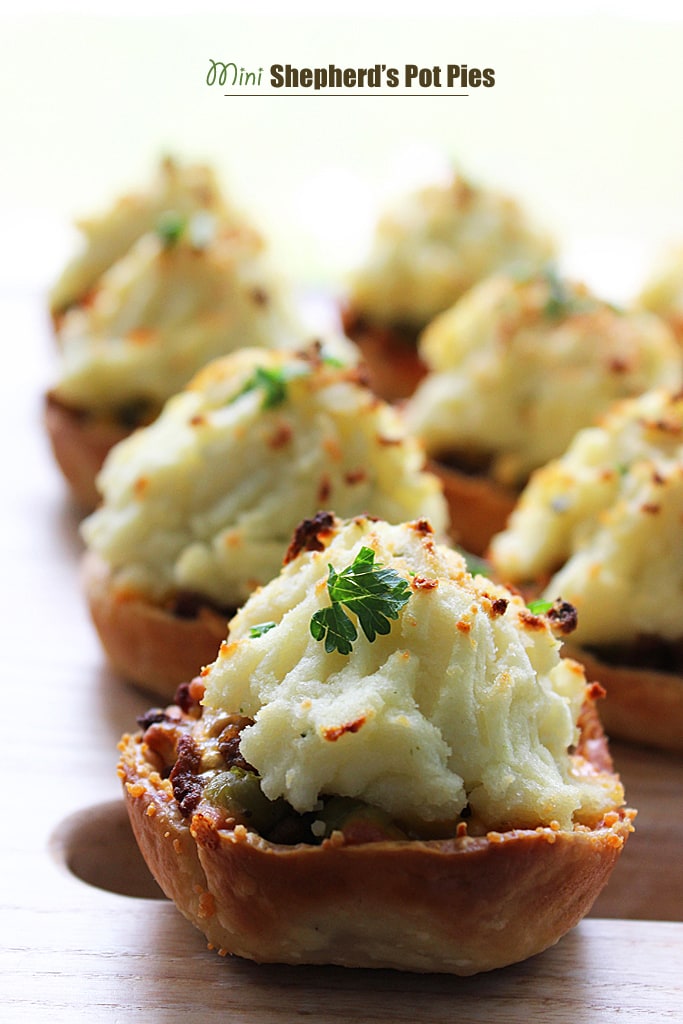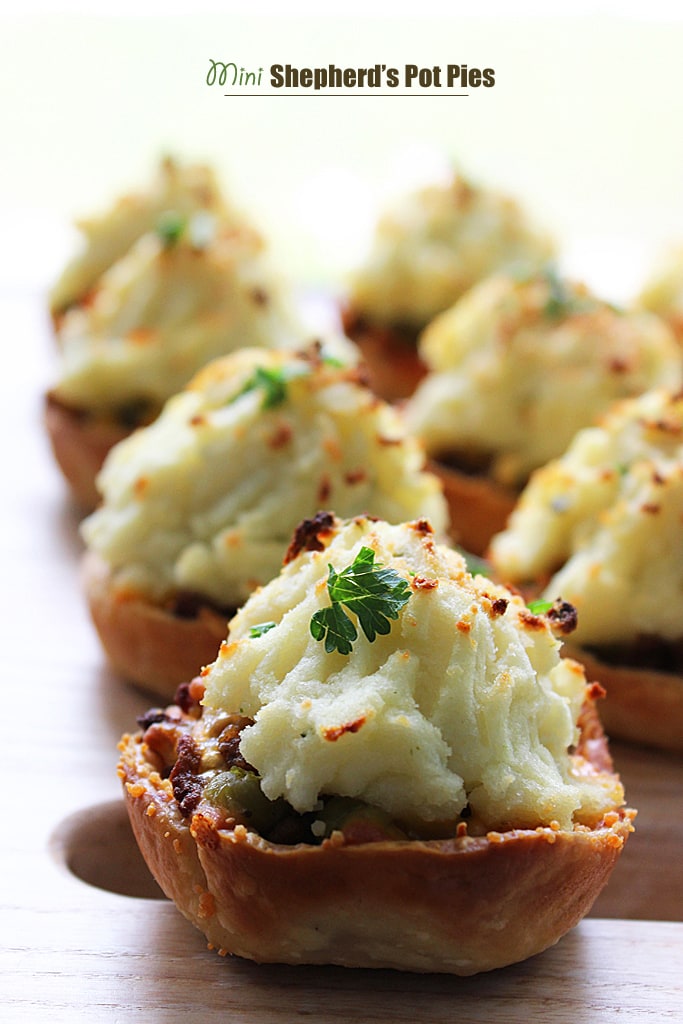 Lately, I've been playing with pre-made pie crusts. If you know me well enough, you know I can't bake AT ALL. In fact, this whole blog name centers around this sad lack of talent of mine. But lately, I've been brave and tried out the wonder that is a pre-made pie crust. It's cheap, it's easy, it's a cheat but it tastes so gooood.
And since I don't bake, I have never had a reason to use baking-related stuff. The first time I used a muffin pan in my life was a month ago when I made hash brown egg nests. Yeah, it was a little bit of an unconventional way to use muffin pans but hey, it worked and it was yummy. And today I found a second reason to use them.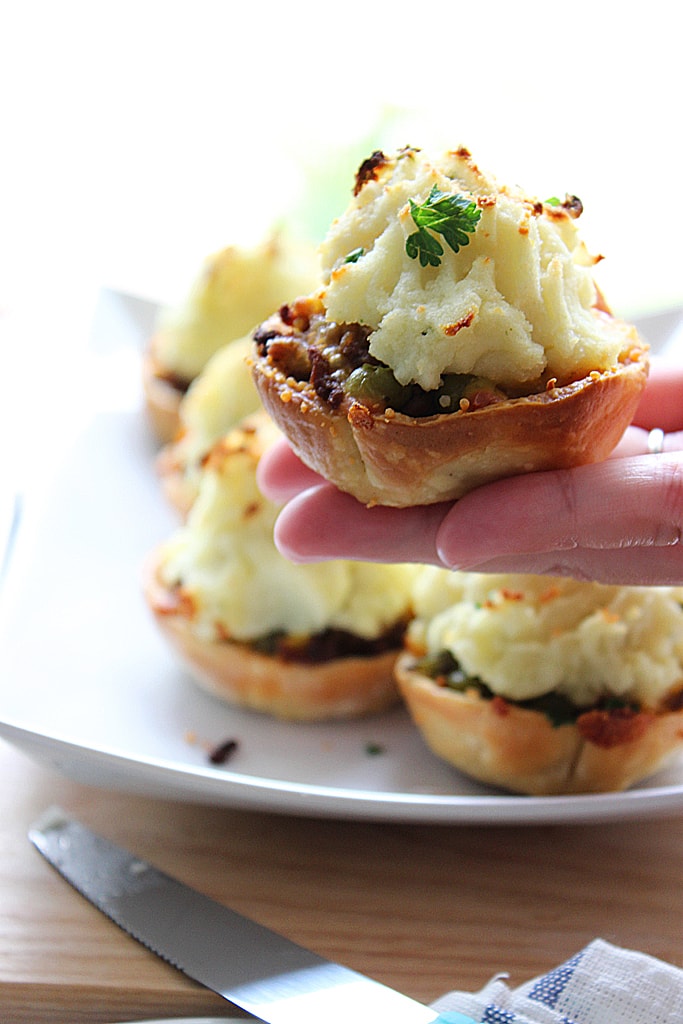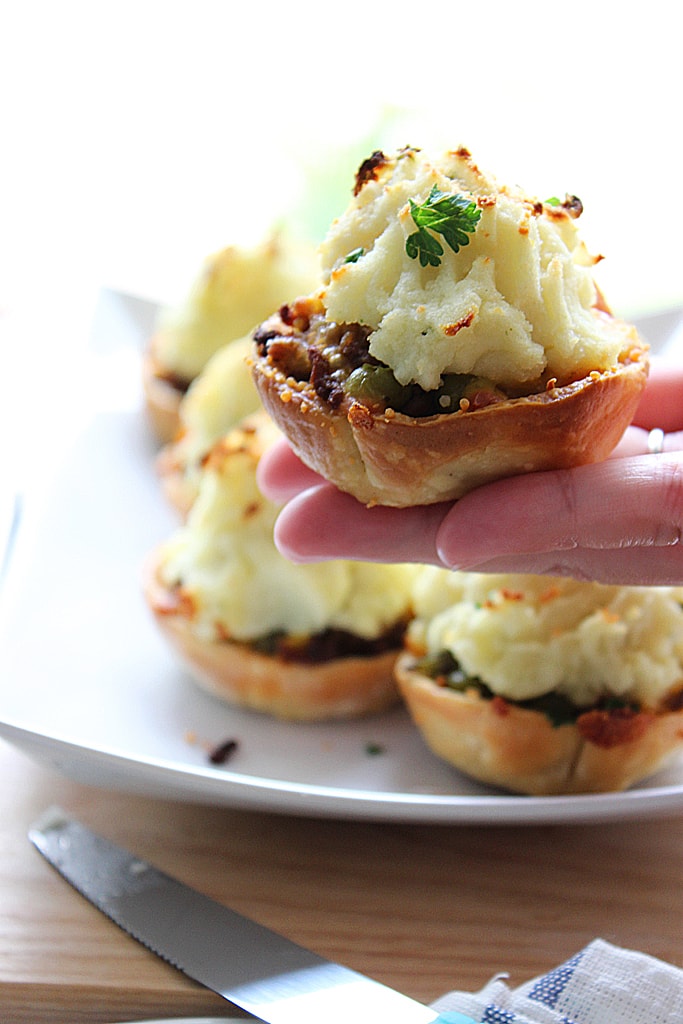 Behold the humble mini Shepherd's pot pie. A couple of weeks ago I posted skillet shepherd's pie, a no-fuss version to enjoying comfort food. As I said there, if there's anything I know how to do, it's how to make a good shepherd's pie. So when I saw a recipe for mini shepherd's pot pies from Pillsbury, armed with my recent lessons of playing with pie crusts, I went with it with a few alterations.
Do you know how shepherd's pie tastes great by itself? Well, add a flaky crumbly pie crust to the tried and true classic and it's just mmmmmm delicious. It's something I can truthfully say is great and it's so good, I have no problem singing from the mountain tops about how great it is. So let's start making some mini pies!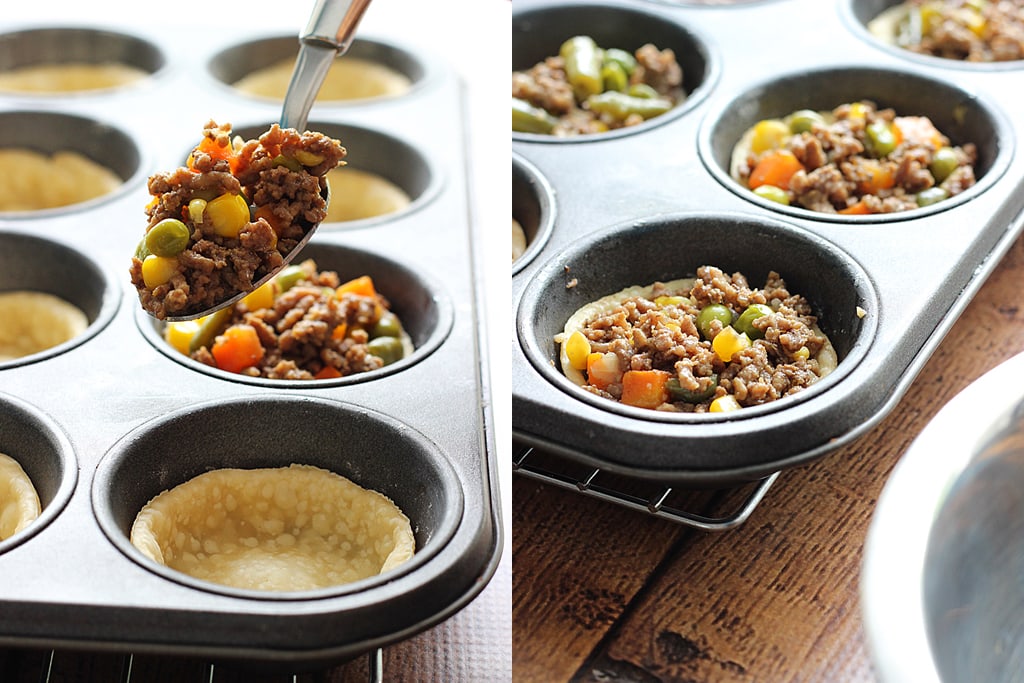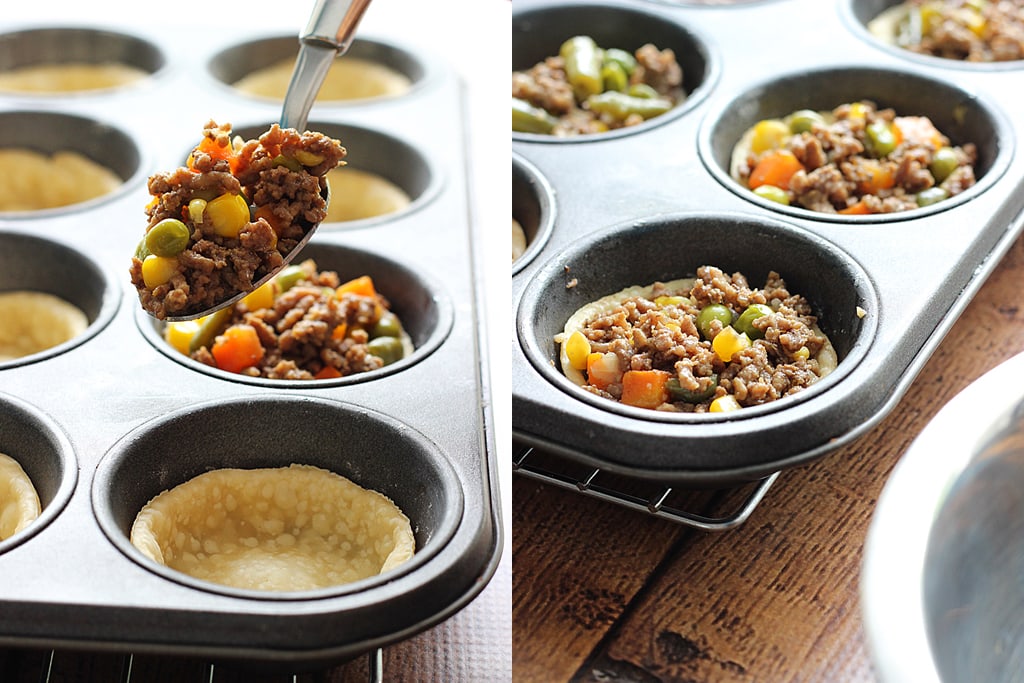 MINI SHEPHERD'S POT PIES RECIPE TIPS
The beefy filling is heavily seasoned with beef bouillon cubes and Worcestershire sauce (does anyone else have extreme difficulty spelling that?) to add some heartiness to the flavor. I also doubled the beef quantity because…beef. We need more beef.
And I added a third layer of shredded cheddar cheese and did my usual fork sculpting with the mashed potatoes to make it look pretty. And finally, I broiled it a little to brown the potatoes some more.
Being the stranger to baking that I am, I didn't have a 4″ dough cutter thingy though so I had to use a cup that measured about 3 1/2″. So my cups look a little on the tiny side. Which meant I had to pack less filling. The measurements for the beef mixture should work though for proper-sized cups. Let me know if they don't. And if not, you'll have some extra beef filling to munch on while waiting for the pie crusts and potatoes to brown. Not a bad deal.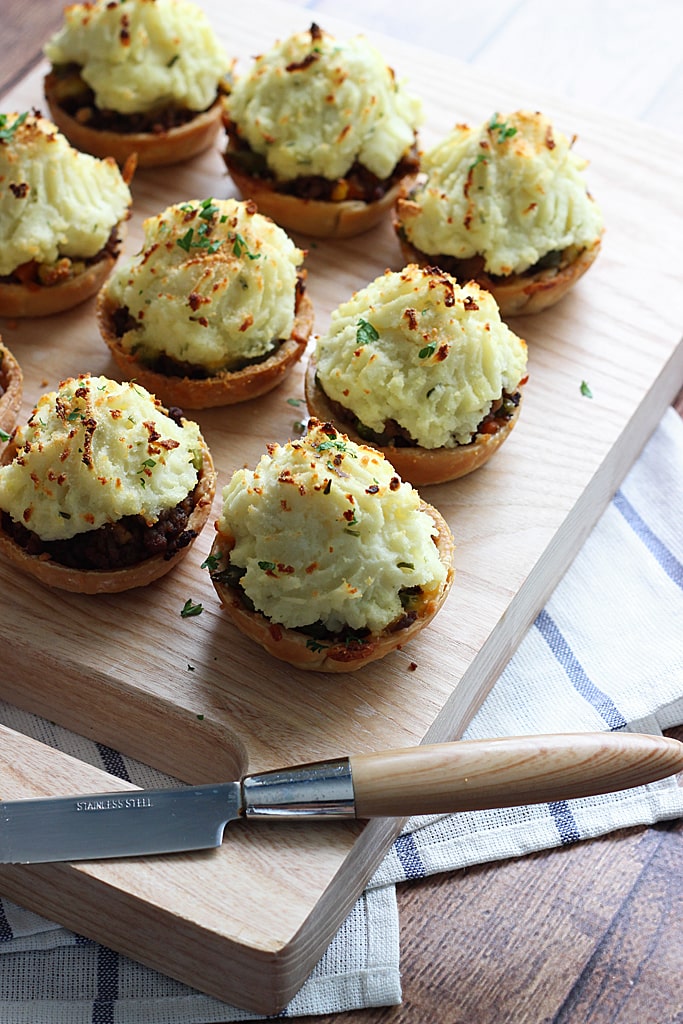 For the potatoes, I felt it was a waste of time to make them from scratch for so little an amount, so I used a 4.8 oz. packet of Betty Crocker's sour cream and chives instant mash. There were some leftover mashed potatoes but again, not a big deal. More leftovers to munch on. What I did with the leftover beef and potatoes was layer them Shepherd's pie style into ramekins with cheese in between layers. Cute way of enjoying Shepherd's pie, ramekin style!
If we want to be precise, I would say half a packet of that would be enough but it feels weird only cooking half. Besides, I like mashed potatoes, so the more the merrier. If you want to take the purist approach and make your mashed potatoes from scratch, it should take two russet potatoes to fill them up nicely. I also sprinkled some dried Parmesan on the mashed potatoes before baking and garnished them with chopped parsley. This step is purely optional though. If you notice little round specks of texture on the pie crusts, yeah, that's the Parmesan.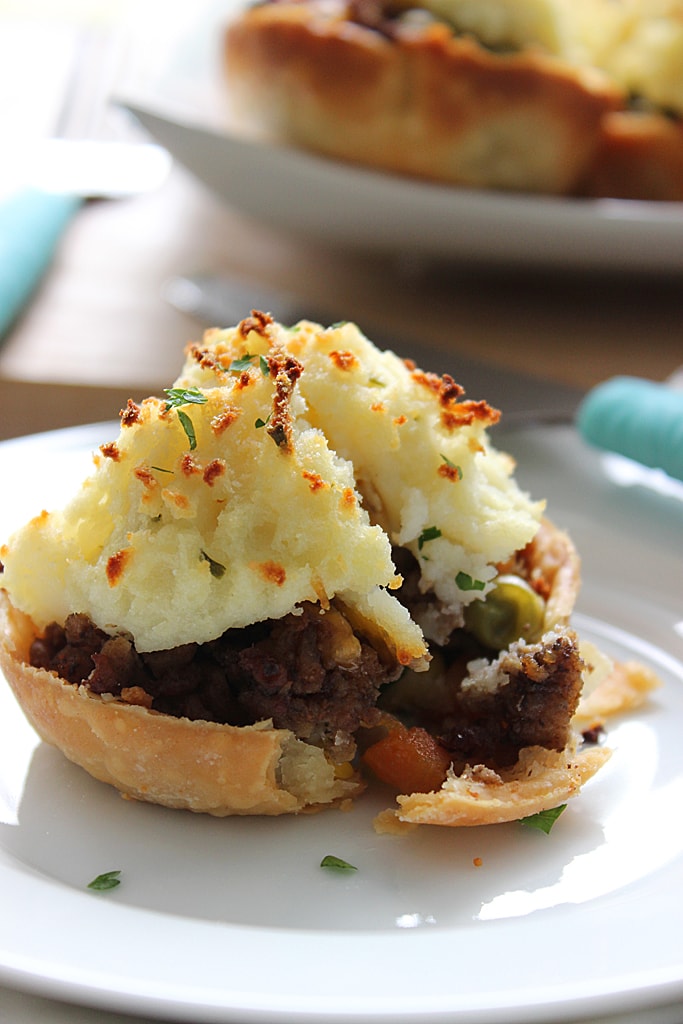 And what do we do with the leftover pie crust? A reader, Kelly came up with the brilliant idea of brushing it with butter and sprinkling a little cinnamon sugar on it. Bake it at 350 degrees F for 10 minutes for tasty treats!
Do you see that crust just breaking apart and crumbling into flaky pie crusty goodness? It's the perfect treat, appetizer, breakfast, or brunch. And just in time for the cold months!
Enjoy!
MORE BITE-SIZED APPETIZERS TO TRY
Did you make this recipe? Rate it!
♡ If you liked this recipe, giving it a star rating ★★★★★ in the comments below really helps! For more recipes, subscribe to my newsletter or follow me on Facebook, Instagram and Pinterest.
Print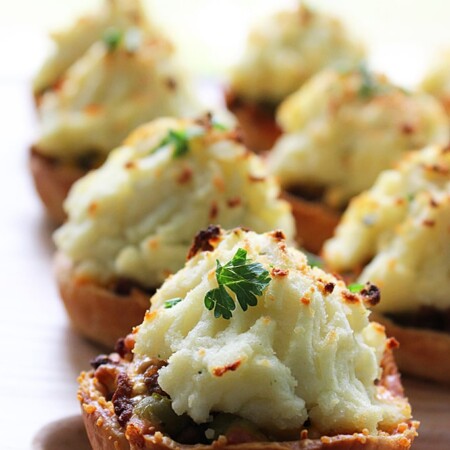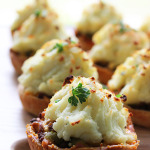 Mini Shepherd's Pot Pies
---
Author:
Total Time: 1 hour 25 mins
Yield: 12 1x
Description
These mini Shepherd's pot pies are a cute and insanely delicious spin on the classic Shepherd's pie with all the goodness of a flaky, crumbly pie crust.
---
2 9″ refrigerated pie crusts
1 lb. ground beef
1/4 yellow onion, diced
1/2 teaspoon garlic, minced
1 cup frozen mixed vegetables
1 beef bouillon cube
1 tablespoon Worcestershire sauce
1 teaspoon tomato paste (optional)
Pepper to taste
1/2 cup cheddar cheese, shredded
2 cups mashed potatoes (homemade or instant)
---
Instructions
Prepare the mashed potatoes and set aside.
Over medium-high heat, brown beef until fully cooked. Drain off any excess fat. Remove and set aside.
Saute onions and garlic until translucent. Add mixed vegetables, crumble the beef bouillon cube and simmer until vegetables are soft.
Add beef, Worcestershire sauce, tomato paste and season with pepper to taste. Reduce heat to medium and simmer for 15 minutes.
Meanwhile, unroll the pie crusts and roll each crust to 12″ in diameter. Cut six 4″rounds from each crust.
Press each round on the bottom and sides of a muffin pan and bake at 350 degrees F for 7-10 minutes or until lightly browned. Remove from oven and set aside.
Divide beef mixture among all 12 cups.
Top with some cheddar cheese and finish with mashed potatoes.
Bake at 350 degrees F for 30 minutes or until crusts are golden brown and mashed potatoes have browned.
Broil at 450 degrees F for 5 minutes if needed to brown the potatoes some more.
Let it stand for 10 minutes and remove by running a knife outside each pie.
Dish and serve warm.
Enjoy!
Prep Time: 30 mins
Cook Time: 55 mins