Skillet Shepherd's pie is a great way to enjoy the classic in a one-pot. With a hearty beefy base, cheesy middle and topped with a layer of fluffy mashed potatoes.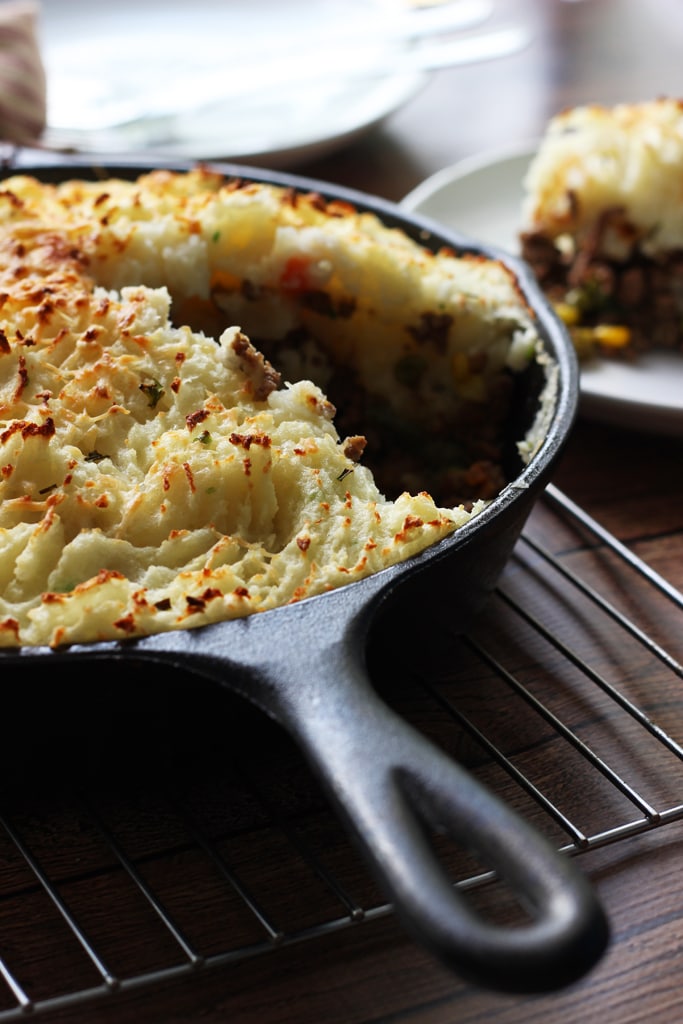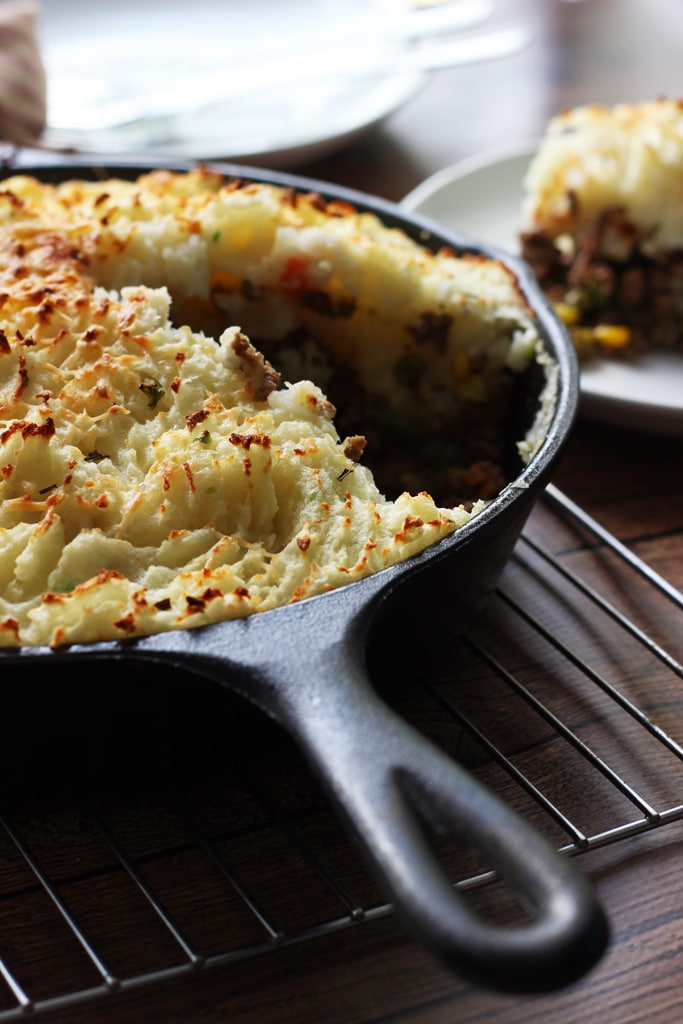 Today we're making some skillet shepherd's pie. It's a slight twist to the classic casserole for those that want to enjoy this comfort food in smaller portions. This will be called cottage pie or shepherd's pie or used interchangeably, depending on where you are in the world. In the US, the version with ground beef is often called Shepherd's pie, even in English and Scottish-themed pubs. So whether you use ground beef or lamb/mutton and whatever you choose to call it, please enjoy the food.
I've never really had a recipe for it up until now. It was just something I perfected over the course of a decade, adding a few things here and there and tweaking it to my tastes. One year I decided to beef up the meat base by adding some Bovril. Bovril is next to impossible to find in the US so I substituted it with Better than Bouillon or Marmite. Another year, I decided to add a cheesy middle layer with tons of cheddar. Lastly, I focused on the mashed potatoes by adding a bit of chives, fluffing them up for texture and then finishing it off with a generous sprinkle of Parmesan cheese.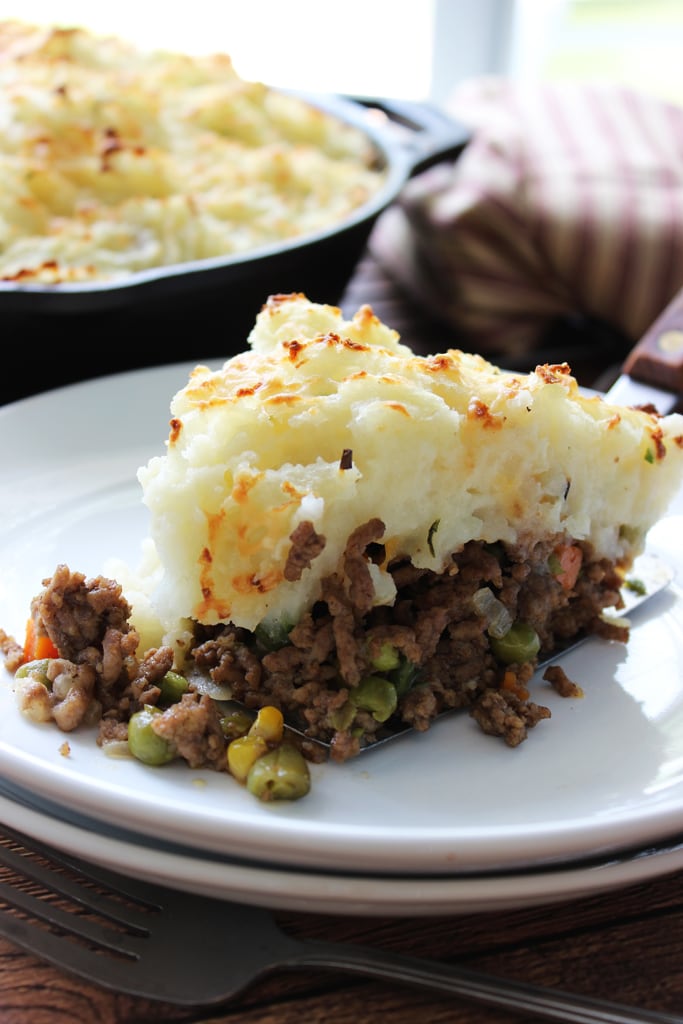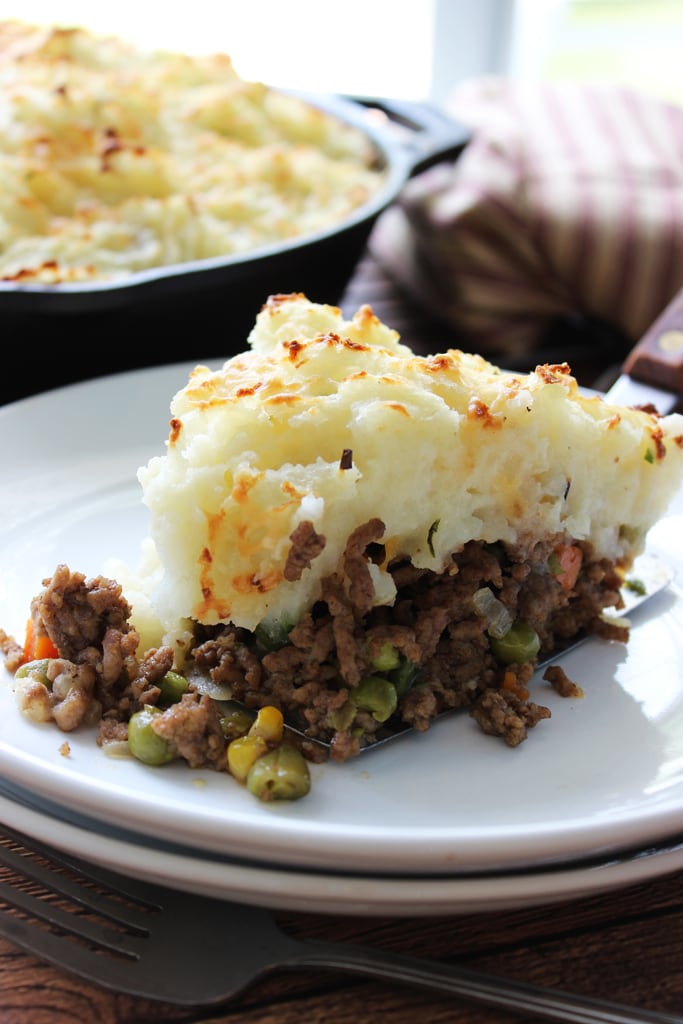 I've even made tiny little cute appetizer versions of these with these mini Shepherd's pot pies. For more comfort food, try some other casseroles, slow cookers meals and soups and stews. Some comfort food reader favorites are meatball pasta bake, spinach and artichoke ravioli bake, sour cream beef noodle casserole, Mississippi pot roast, and slow cooker beef and cheese pasta.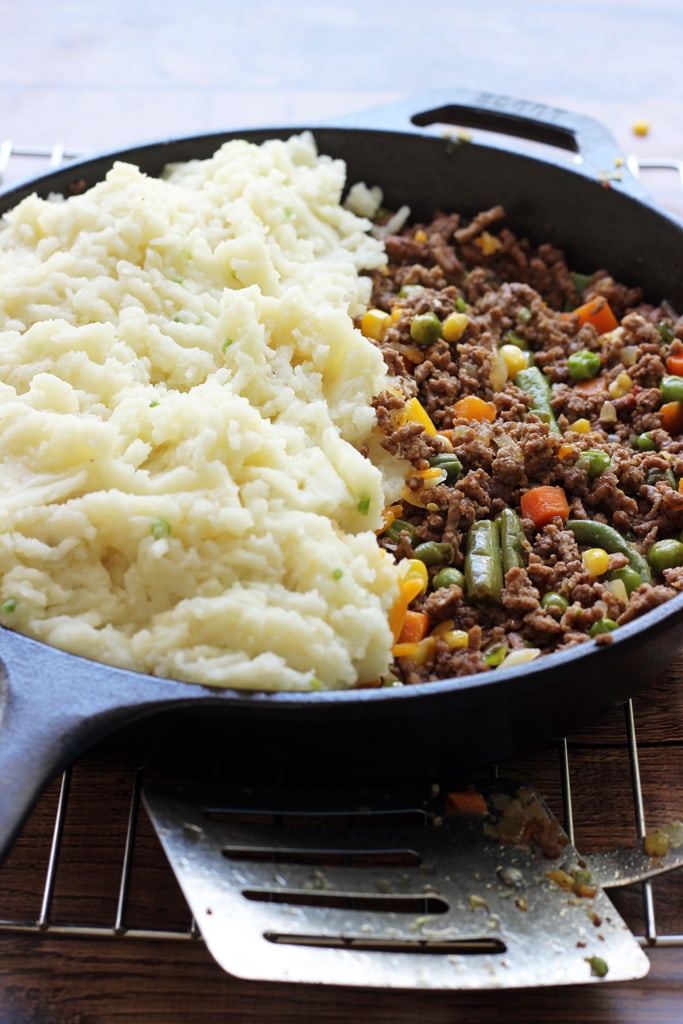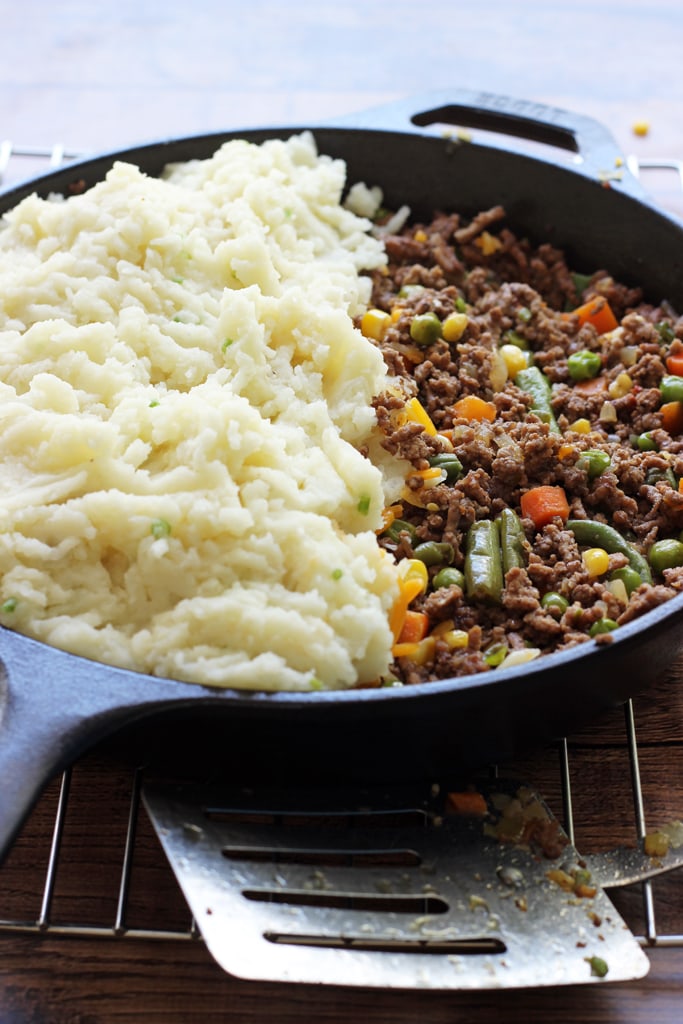 SKILLET SHEPHERD'S PIE RECIPE TIPS
As mentioned earlier, I used to make a super beefy version before with a flavor concentrate like Bovril, Marmite, or Vegemite. But since that stuff is so hard to find, here's an approachable recipe using regular beef bouillon cubes or the equivalent in a concentrate like Better than Bouillon. You should be able to find both in your regular grocery stores.
And with the exception of making the mashed potatoes, it's all done in one skillet. If you want to skip making mashed potatoes from scratch, this also works well with the instant kind for those short on time. I won't tell! Back to the recipe, you brown the beef, simmer the fillings, layer it and bake it all in the skillet.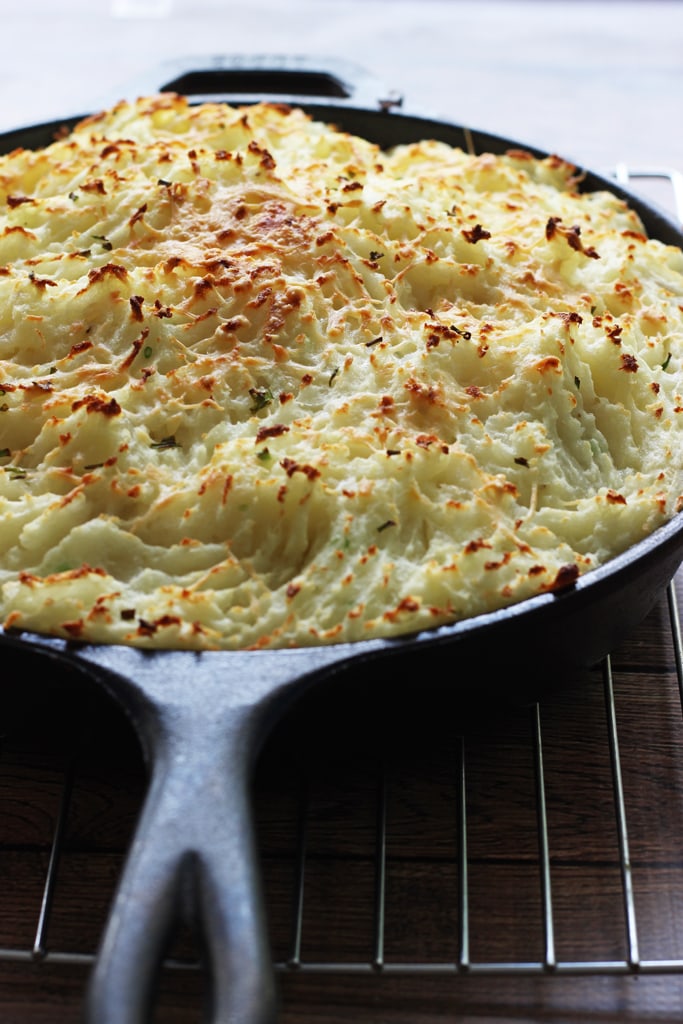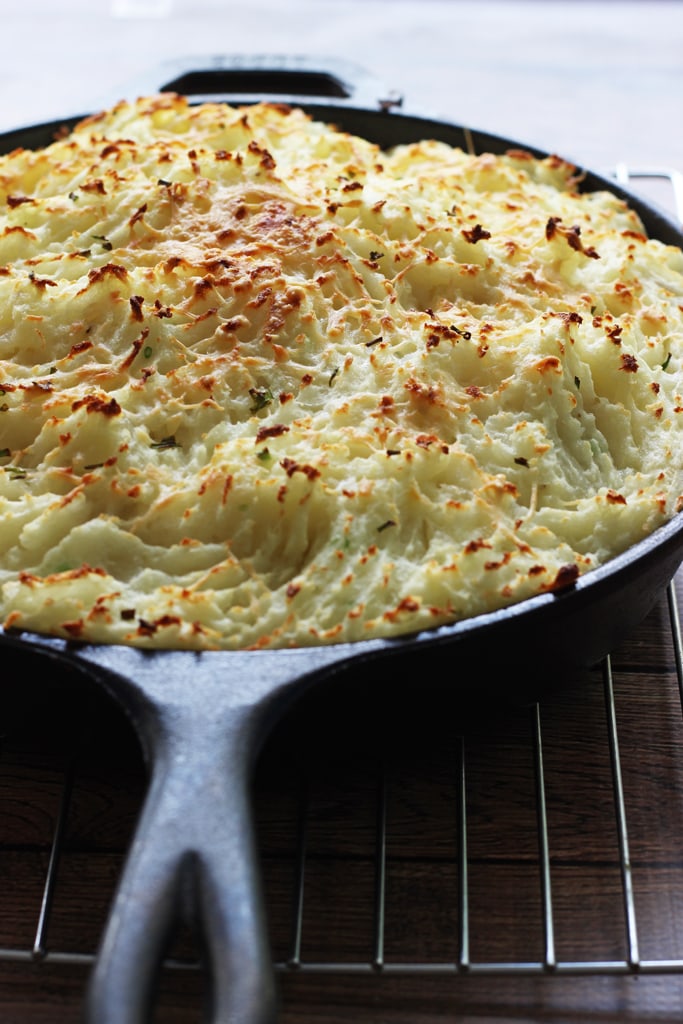 So it's good to use that cast iron skillet of yours, something I really like playing with lately. Sure it's a lot of maintenance with the constant oil rub down after every use, but I think it's worth it. Since most of the cooking will be done on the stove, not much time is needed in the oven. It's mostly to brown the mashed potatoes and give it a nice crusty yumminess.
I like to take a fork and tease the mashed potatoes into small waves. The textures really show when it's browned and they turn out super crispy. Mr. Cooking Jar said it looked like a coconut cream pie with a surprise beef filling! All you need to do is use the tines of the fork and sort of pull it upwards at the end of each stroke.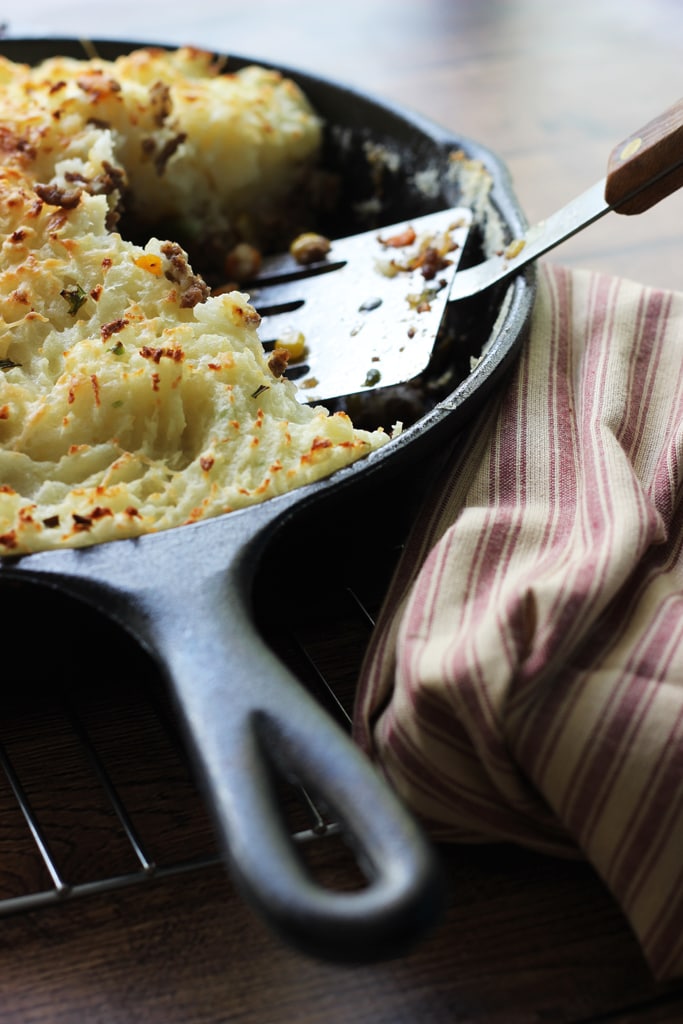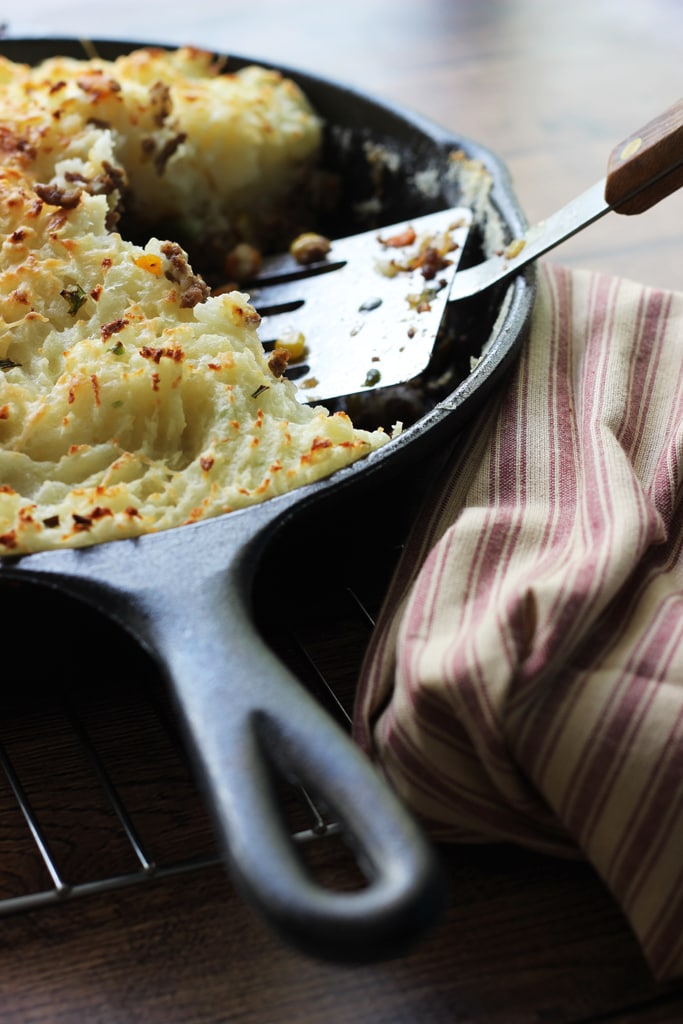 The messier it looks, the more texture and crisp-to-potato ratio you'll get once it's done baking. So take that fork and fluff the mashed potatoes layer until you have hills and craters everywhere. Go nuts!
And that's about it. You can also do this in a casserole dish for the standard shepherd's pot pie casserole, but today we are doing this in a cast iron skillet. So bring out your cast iron skillet and let's get cooking!
MORE MEAT PIE RECIPES TO TRY
Did you make this recipe? Rate it!
♡ If you liked this recipe, giving it a star rating ★★★★★ in the comments below really helps! For more recipes, subscribe to my newsletter or follow me on Facebook, Instagram and Pinterest.
Print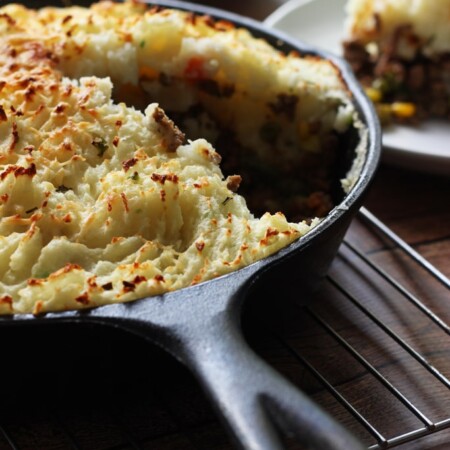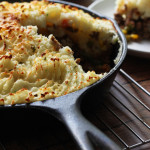 Skillet Shepherd's Pie
---
Author:
Total Time: 1 hour
Yield: 8 1x
Description
Skillet Shepherd's pie is a great way to enjoy the classic in a one-pot: with a beefy base, cheesy middle and topped with a layer of fluffy mashed potatoes.
---
2 lb. ground beef / lamb
1/2 medium yellow onion, diced
1 teaspoon garlic, minced
12 oz. frozen mixed vegetables
2 beef bouillon cubes
2 tablespoons Worcestershire sauce
2 teaspoons tomato paste
Pepper to taste
4 large russet potatoes, peeled and cubed
2 tablespoons butter
1 cup milk
1 tablespoon chives, chopped and divided
1 cup cheddar cheese, shredded
1/4 cup Parmesan cheese, grated
---
Instructions
Over medium-high heat bring a pot of salted water to a boil. Add potatoes and simmer until fork-tender, about 20 minutes.
Drain and transfer potatoes to a mixing bowl. Add butter and milk and mash until fluffy.
Season with 1/2 tablespoon of chives and salt and pepper to taste. Mix well and set aside.
In a 10″ cast iron skillet over medium heat, brown the beef or lamb until fully cooked. Drain off any fat. Remove beef and set aside.
In the same pan, saute onions and garlic until translucent.
Add mixed vegetables, crumble beef bouillon cubes and simmer till vegetables are soft.
Toss in beef, Worcestershire sauce, tomato paste and season with pepper to taste. Stir to mix thoroughly.
Reduce heat to medium and simmer for 15 minutes to let the flavors marry.
Remove from heat and compress the beef layer before topping with a layer of cheddar cheese.
Finish with a thick layer of mashed potatoes and sprinkle Parmesan and leftover chives to finish.
Bake at 400°F for 20 minutes or until the potatoes are browned.
[Optional] Broil at 400°F for 3-5 minutes if needed to brown them even more.
Allow it to cool for 10 minutes before serving.
Enjoy!
Prep Time: 15 mins
Cook Time: 45 mins