This creamy cauliflower au gratin recipe smothers cauliflower in a rich cheese sauce for a decadent side dish that's perfect for the holidays. It's a low-carb spin on the much-loved potato gratin but just as creamy and delicious.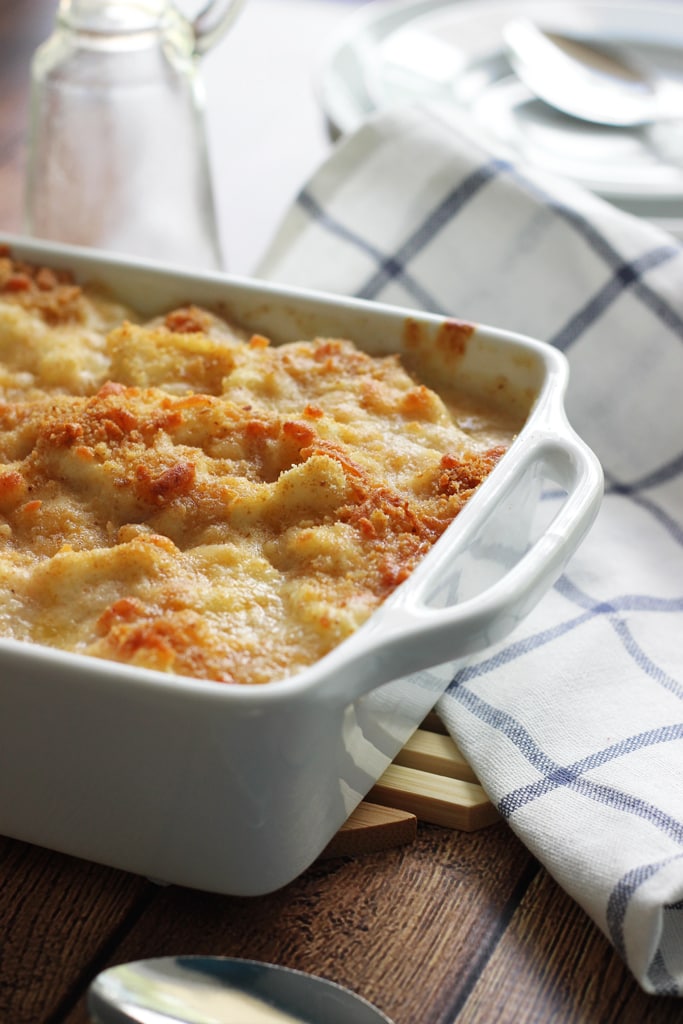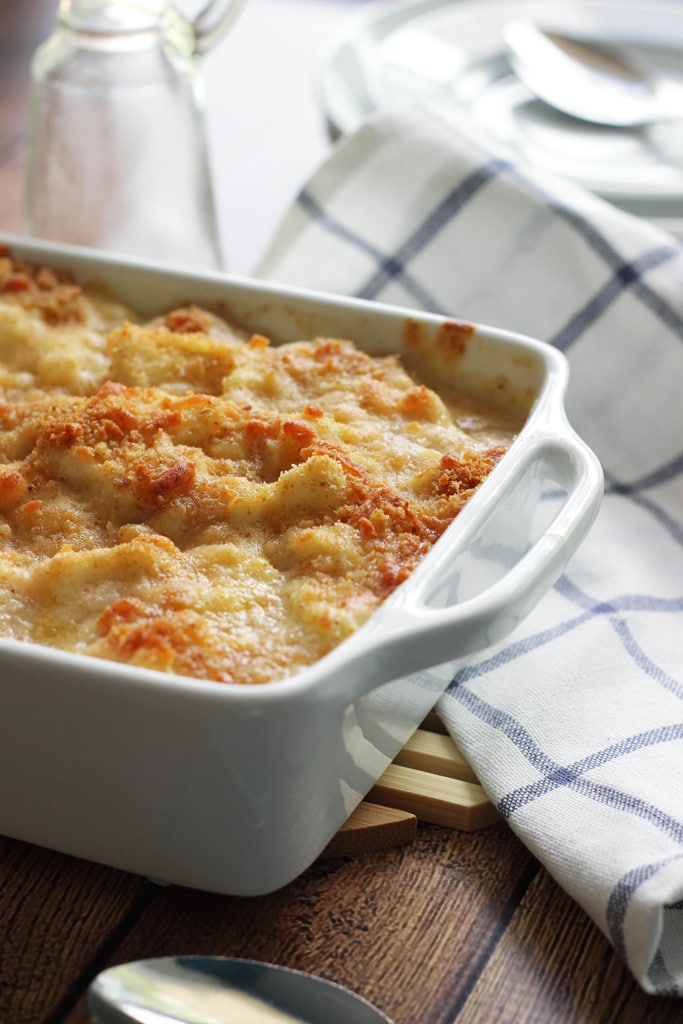 Today we're making some creamy cauliflower au gratin which is a worthy substitute for potato au gratin during Easter, Thanksgiving, or Christmas dinner. Blanched fresh cauliflower is smothered in a rich and cheesy bechamel sauce made lovingly from scratch and finished with a crunchy breadcrumb topping and a drizzle of melted butter.
Au gratin basically means the casserole is topped with a crusty layer of breadcrumbs and cheese. Despite its fancy name and obvious French origins, it tastes just as comforting and down-to-earth as a regular home-cooked meal.
Even if you are not particularly fond of cauliflower or generally indifferent towards it like me, you will love this! It's even had meat-eaters ask me when I was gonna make this again. It makes people want to eat their veggies! Why? Because it's creamy and cheesy. So let's start cooking!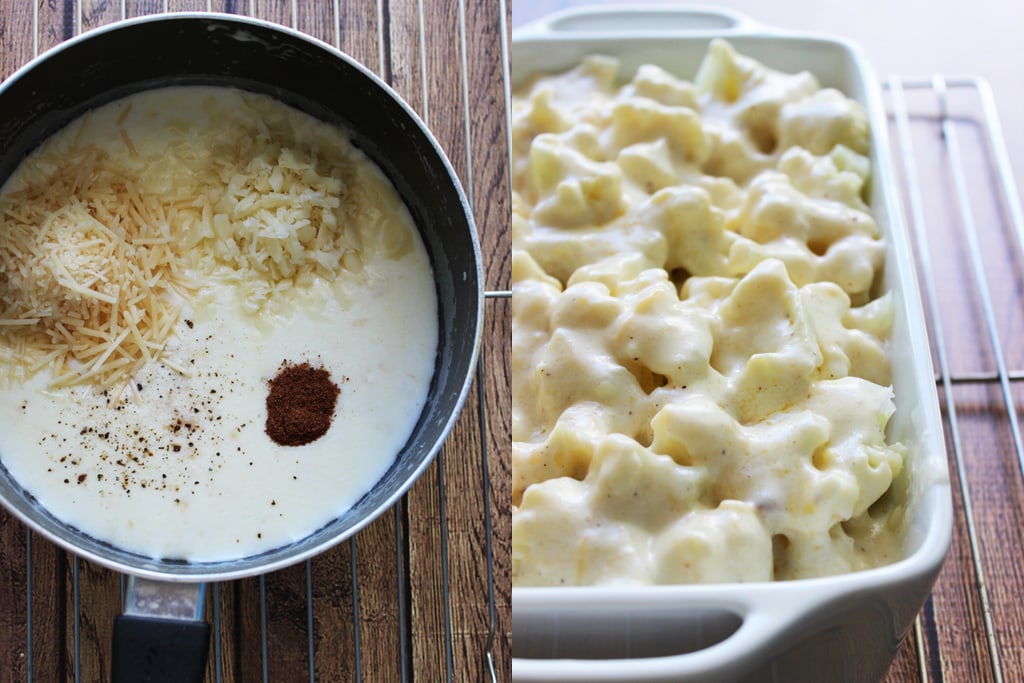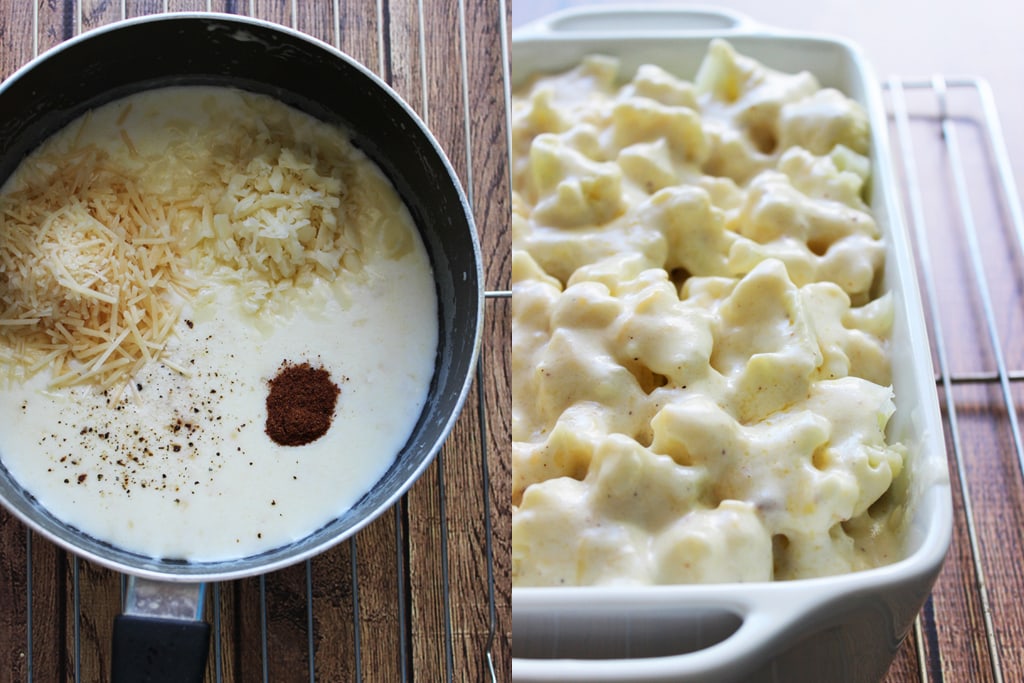 CREAMY CAULIFLOWER AU GRATIN RECIPE TIPS
Do you see that cheese? That sauce is a combination of two types of cheese on top of the bechamel sauce. Think of it as a cauliflower version of mac and cheese.
Simply whip out that casserole dish, blanch some cauliflower florets for five minutes until al dente and work on the sauce for another ten or so. The sauce is what will take up most of your time at the stove. Layer it in the casserole and top with the crusty breadcrumb mixture then bake! I make it sound so easy and it truly is.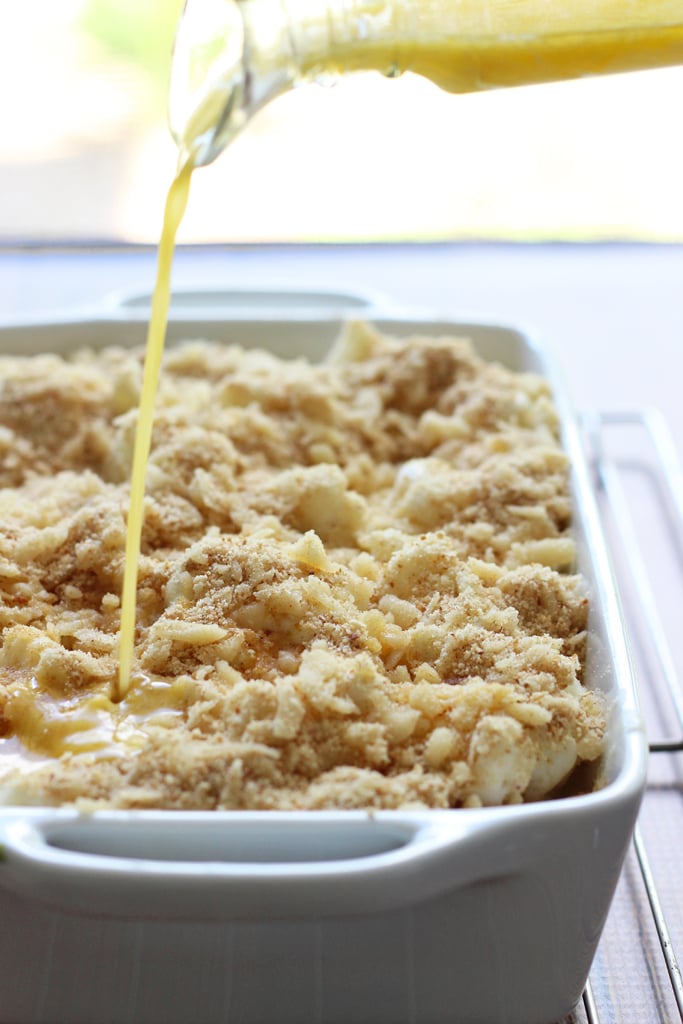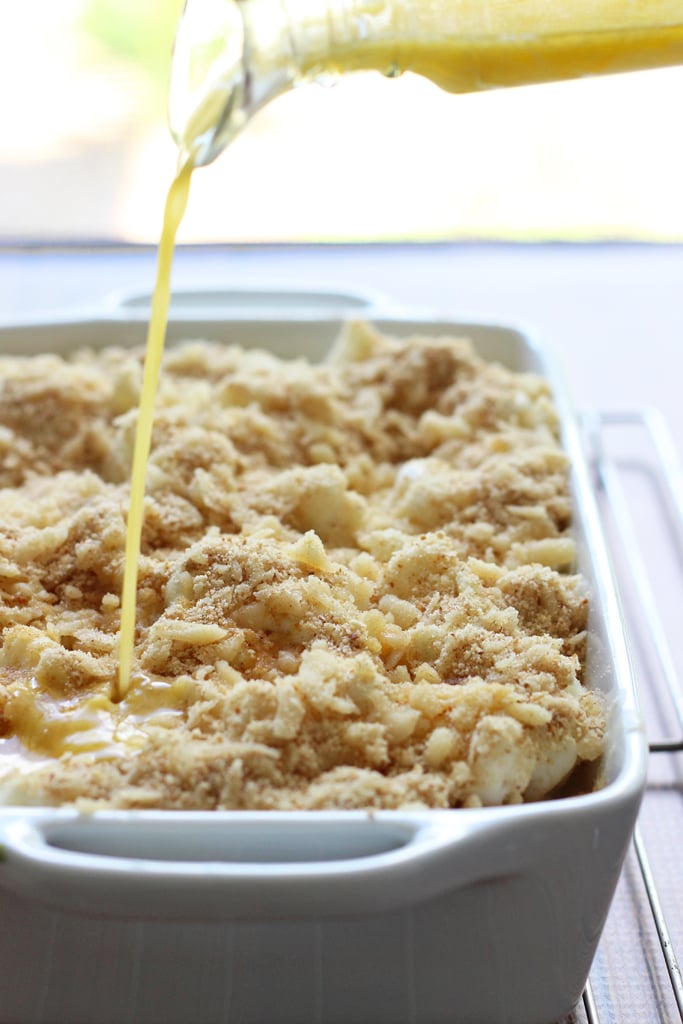 The only thing you'll need to be careful of is not to curdle the milk while making the sauce by not cooking it over high heat. So be patient and it'll come out nicely. I know it'll seem like it's taking forever for that milk to thicken but it will. I promise! So just keep stirring or whisking until it does. And then you will have made a bechamel sauce. Tada!
Then remove it from the heat and add in your cheese, nutmeg and seasonings. The cheeses will thicken it up some more to this yummy, creamy, cheesy sauce full of delicious goodness.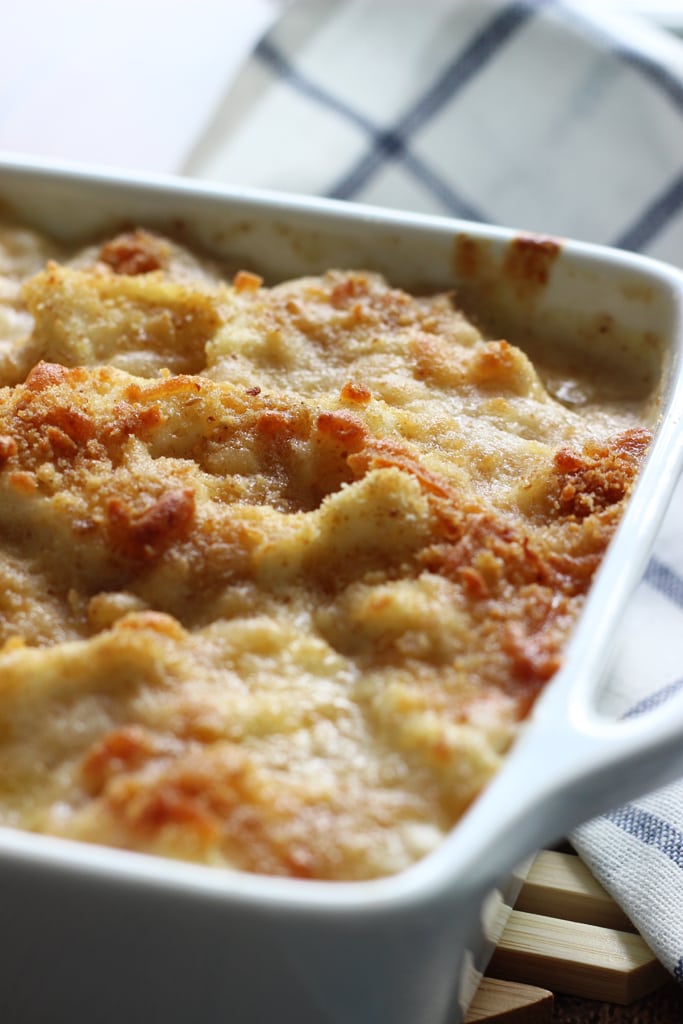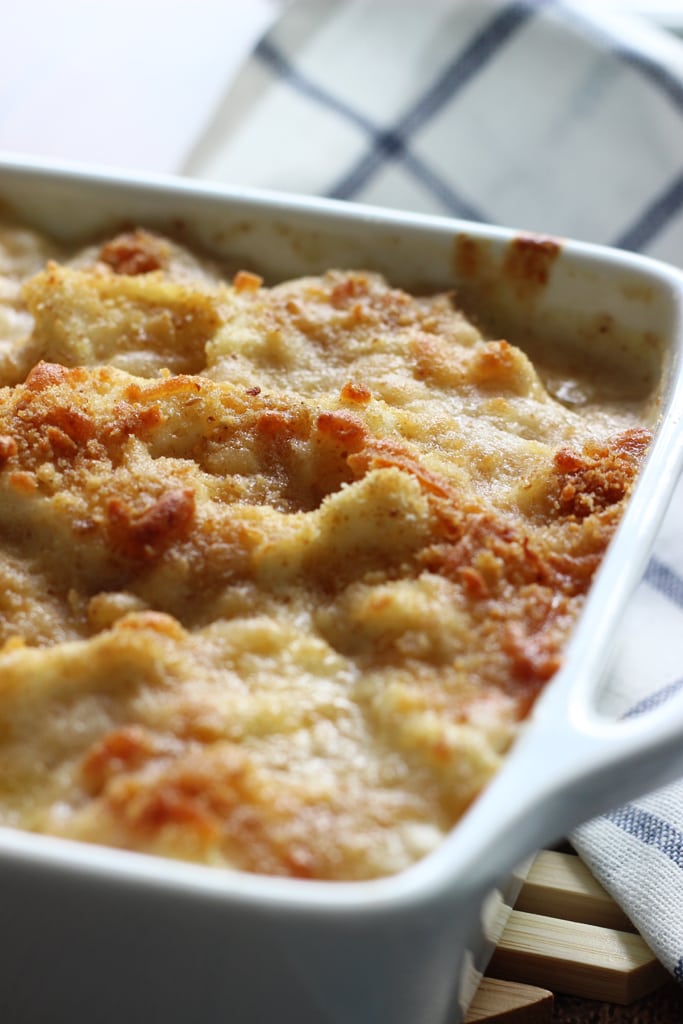 One word of advice is to dry that blanched cauliflower until it's bone dry. Any excess liquid will make your casserole watery! I've made this mistake before so take it from me. Bring out that colander and drain that cauliflower! You can even take that extra step and pat them dry with some paper towels.
And that's about it. Despite the labor of love needed to make a roux and bechamel sauce from scratch, it's well worth it in the end. So take the time and enjoy this cauliflower au gratin recipe. Let me know how you liked it, what substitutions you made and what you paired it with in the comments below!
MORE SIDE DISH RECIPES TO TRY
Did you make this recipe? Rate it!
♡ If you liked this recipe, giving it a star rating ★★★★★ in the comments below really helps! For more recipes, subscribe to my newsletter or follow me on Facebook, Instagram and Pinterest.
Print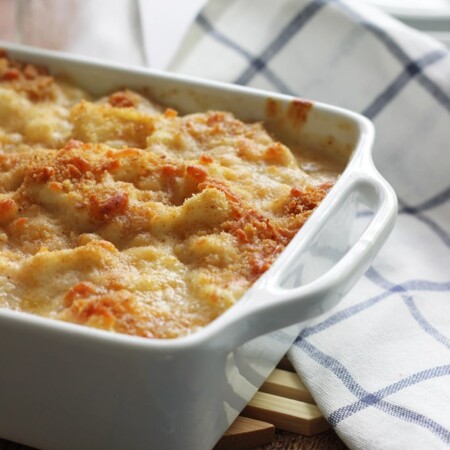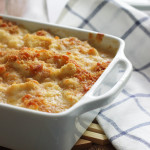 Creamy Cauliflower Au Gratin
---
Author:
Total Time: 1 hour
Yield: 4-6 1x
Description
This creamy cauliflower au gratin recipe smothers cauliflower in a rich cheese sauce for a decadent side dish that's perfect for the holidays.
---
1 head cauliflower, cut into small florets
4 tablespoons butter, divided
2 tablespoons all-purpose flour
2 cups milk
1/4 teaspoon ground nutmeg
Salt and pepper to taste
1 cup Gruyere/Swiss cheese, grated and divided
1/2 cup Parmesan cheese
1/4 cup breadcrumbs
---
Instructions
Over medium-high heat, bring a pot of salted water to a boil and blanch the cauliflower florets for 5 minutes or until al dente. Drain completely and set aside.
Melt 2 tablespoons of butter in a large pot over medium-low heat.
Add flour and whisk constantly for 2 minutes to make a roux.
Pour in milk and bring to a simmer, whisking continuously to remove lumps until the sauce thickens, about 10-15 minutes.
Remove from heat and season with salt and pepper to taste, nutmeg, 1/2 cup Gruyere/Swiss and Parmesan cheese.
Pour 1/3 of the sauce into a 1 1/2 quart baking dish. Top with the cauliflower and pour the rest of the sauce over it.
Combine breadcrumbs with the remaining Gruyere/Swiss cheese and sprinkle on the cauliflower.
Melt 2 tablespoons butter and drizzle over the casserole.
Bake at 375°F for 25-30 minutes or until the top has browned. 
Allow it to cool slightly before serving.
Enjoy!
Notes
Drain the blanched cauliflower completely and pat it dry with paper towels if needed. You will want the cauliflower bone dry so the casserole doesn't end up watery.
Scroll up to RECIPE TIPS for more useful tips, suggestions and ingredient substitutions.
Prep Time: 15 mins
Cook Time: 45 mins