With over 1 million pins, enjoy this addictive slow cooker beef and cheese pasta that is cooked long and slow to bring out the best cheesy meat sauce!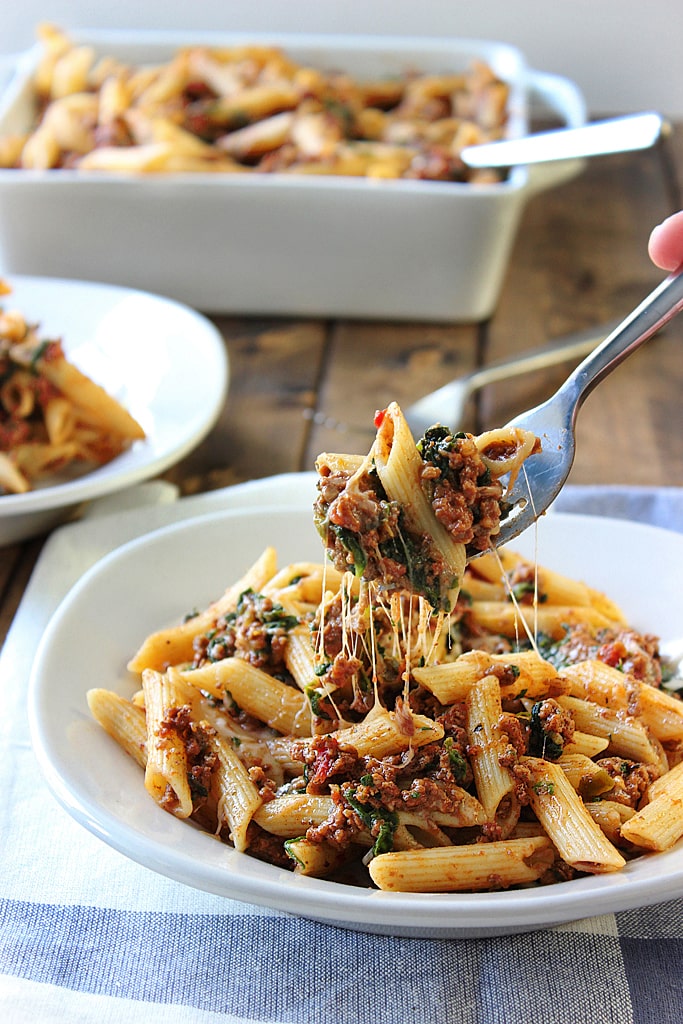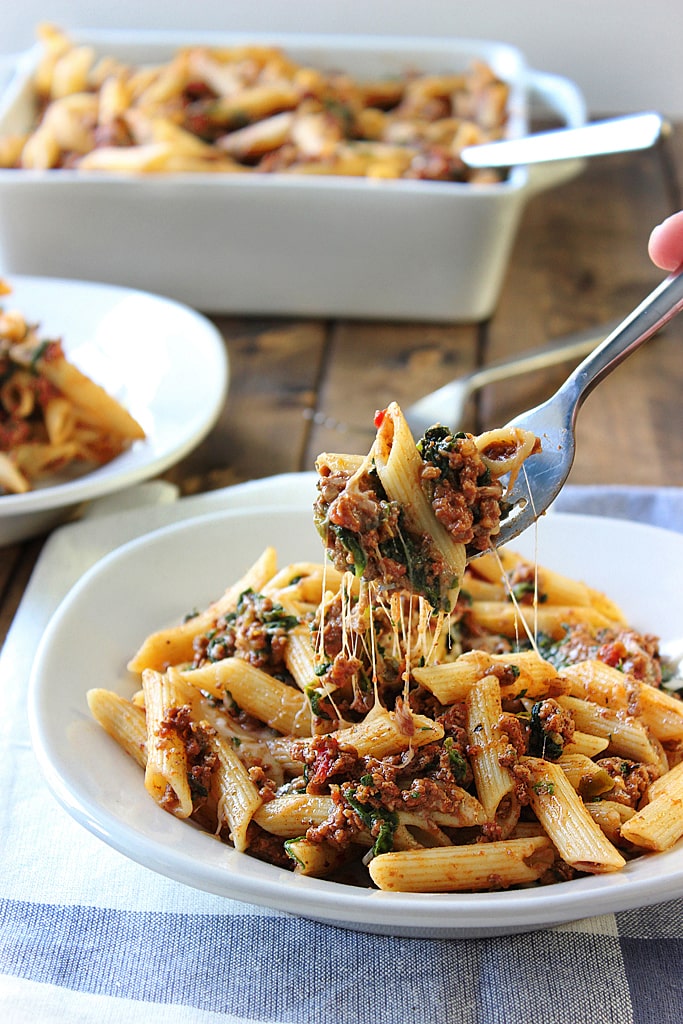 Here's a really simple meal to throw together that's pretty kid-friendly too. This slow cooker beef and cheese pasta boasts lots of melty mozzarella cheese strings and a rich meat pasta sauce that has plenty of time to marry the flavors long and slow.
It's a big enough meal for eight servings so there are plenty of leftovers to go around, although there usually aren't much leftovers with this one. Though not your conventional pasta sauce, the addition of sugar to balance out the tartness of tomato sauce and other seasonings to make it extra beefy makes this an addictive combination. And with that, let's get started.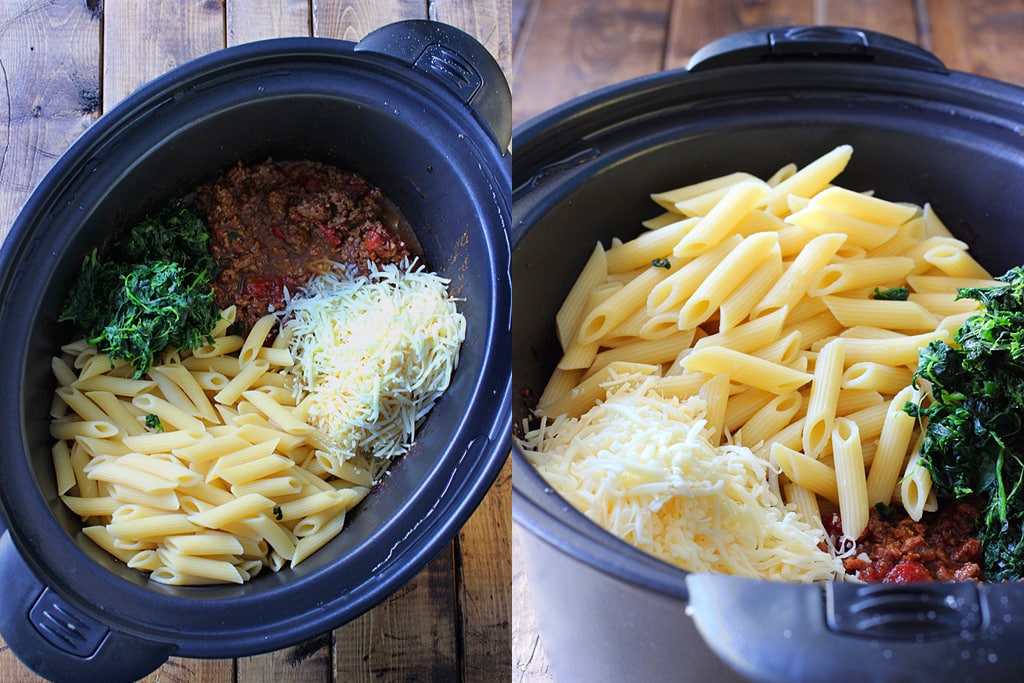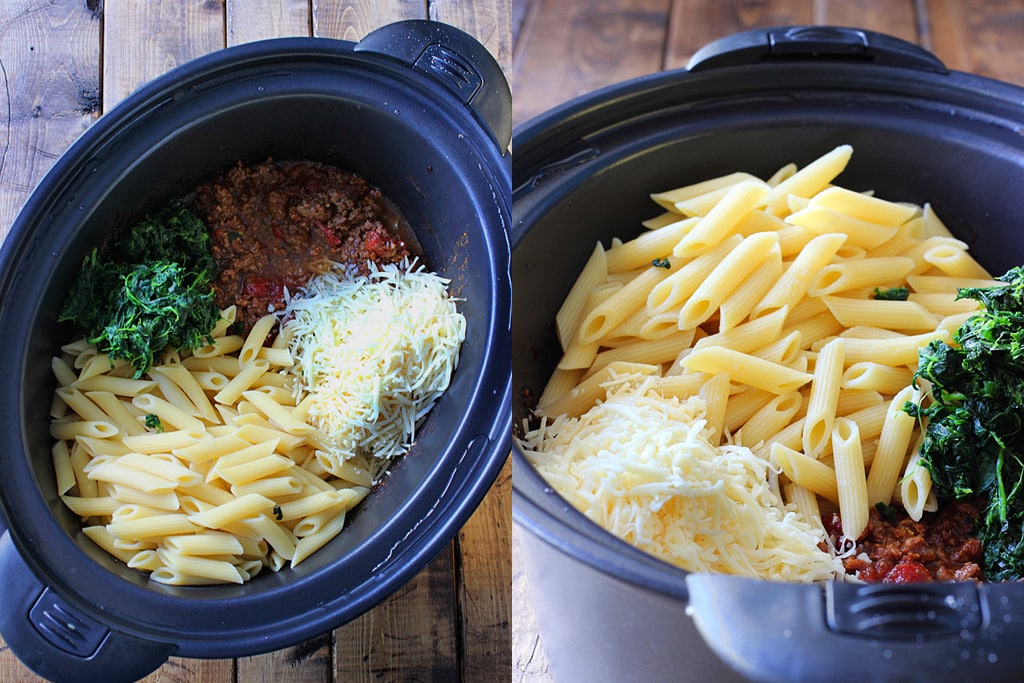 SLOW COOKER BEEF AND CHEESE PASTA RECIPE TIPS
‣ Pasta – I cooked the pasta till al dente and tossed it in the slow cooker 30 minutes before the end. You will end up with soggy pasta if you add uncooked or cooked pasta in the beginning. And no one likes soggy pasta!
‣ Ground beef – If you're not using lean ground beef, brown it over the stovetop before adding it to the slow cooker. Too much fat will dilute the sauce.
If you have super-lean ground beef, you can skip this step. I would brown anything below 93% lean/7 % fat, then drain away all that fat.
‣ Spinach – I used frozen spinach but if you want to use fresh instead, toss it in once it's all done cooking and mix. The residual heat will be enough to cook them. It's the same reason I tossed in the cooked frozen spinach last.
Cooking spinach for too long will make it tough and leathery. There's no such thing as undercooking spinach since you can eat it raw anyway, but there is such a thing as overcooking it!
‣ Marinara sauce – The marinara sauce is mildly sweetened to balance out the tartness from tomatoes. I've also added some beef bouillon cubes and Worcestershire sauce to enhance the beef flavor.
It's like adding in the flavor of 2 cups of beef broth, only you don't have to cook it down. Do a taste test and see if you need to add more of the other seasonings to tweak things to your taste.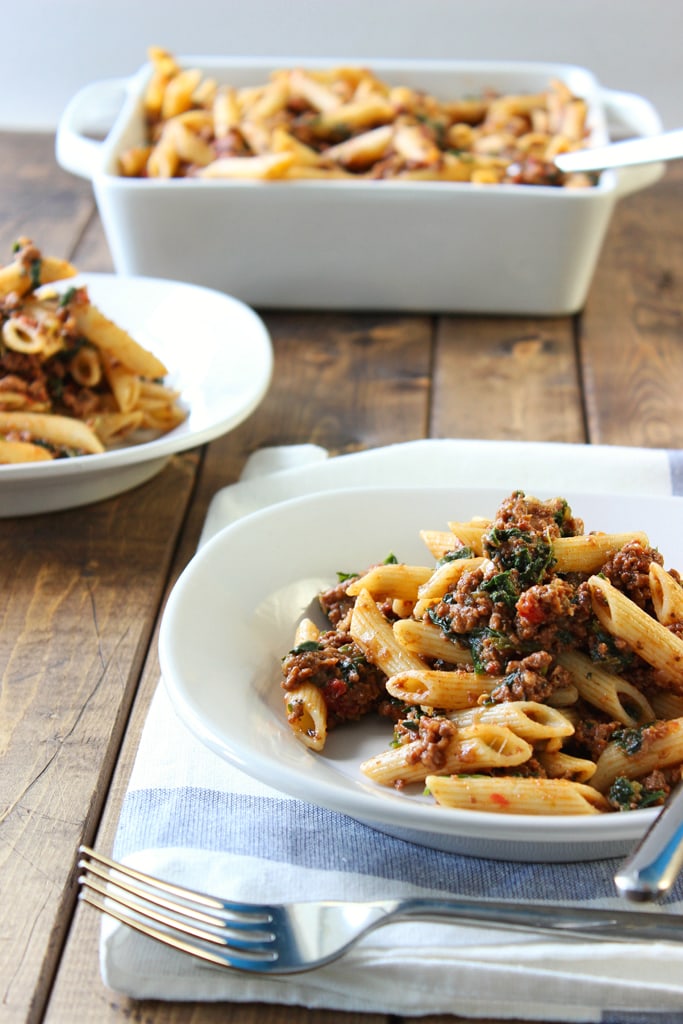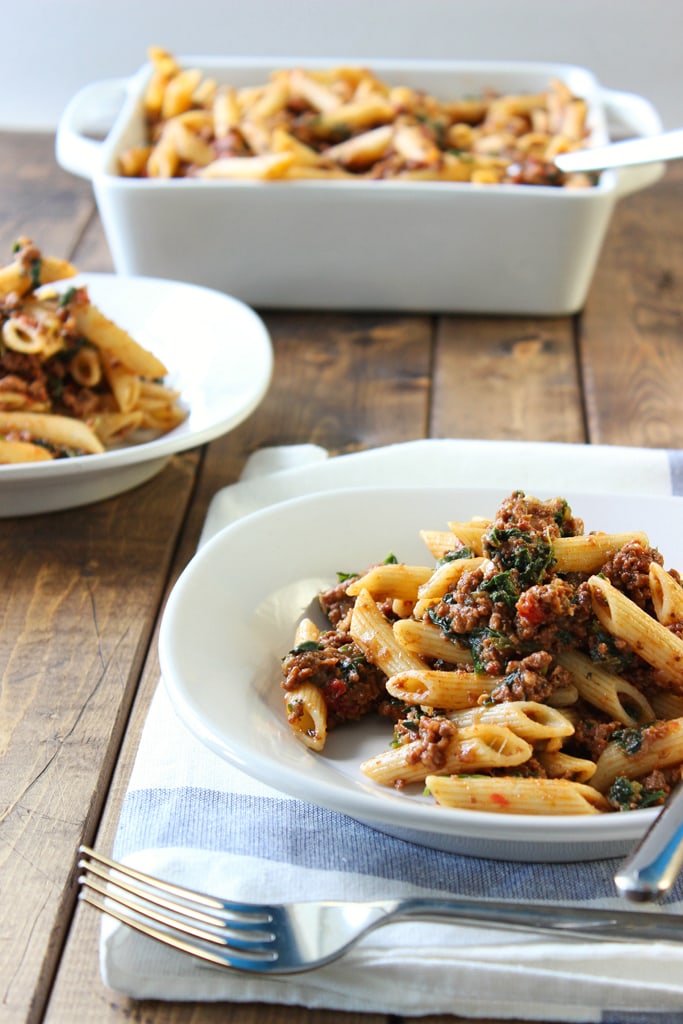 And that's about it. As I said, this one is a really simple meal to throw together if you're craving meaty pasta and happen to like cheese. Because who doesn't like cheese!
For appetizers, the classic homemade garlic bread or these Parmesan garlic knots pair really well. Enjoy, happy cooking and let me know how you liked it or what substitutions you made in the comments below!
MORE PASTA RECIPES TO TRY
Did you make this recipe? Rate it!
♡ If you liked this recipe, giving it a star rating ★★★★★ in the comments below really helps! For more recipes, subscribe to my newsletter or follow me on Facebook, Instagram and Pinterest.
Print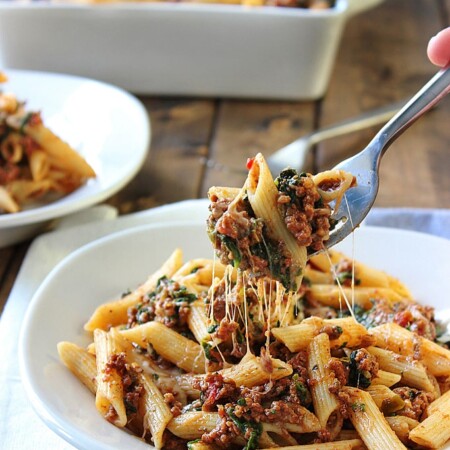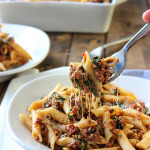 Slow Cooker Beef and Cheese Pasta
---
Author:
Total Time: 6 hours 10 mins
Yield: 8 1x
Description
With over 1 million pins, enjoy this addictive slow cooker beef and cheese pasta that is cooked long and slow to bring out the best cheesy meat sauce!
---
2 lb. lean ground beef
1 medium yellow onion, diced
1 teaspoon garlic, minced
15 oz. marinara sauce
15 oz. stewed tomatoes
1 teaspoon dried basil
1 teaspoon dried oregano
1 teaspoon Italian seasoning
Red pepper flakes to taste
2 tablespoons Worcestershire sauce
2 beef bouillon cubes
2 tablespoons white sugar
Salt and pepper to taste
10 oz. frozen spinach, cooked
1 lb. penne/rigatoni/bow tie pasta, cooked al dente
1/2 cup Parmesan cheese, shredded
1 1/2 cups Mozzarella cheese, shredded
---
Instructions
Over medium high heat, brown the beef in a skillet until cooked and fat has melted. Drain any excess fat.
Remove beef and sauté onions and garlic until onions are translucent.
Transfer onions, garlic and beef to a 6 qt. slow cooker and pour in marinara sauce, tomatoes, basil, oregano, Italian seasoning, red pepper flakes, Worcestershire sauce, crumbled beef bouillon cubes and sugar.
Stir to mix well and season with salt and pepper to taste.
Cook for 6-8 hours on low.
Cook the pasta till al dente according to package instructions. Drain well and add cooked pasta, Parmesan and mozzarella cheese to the meat sauce and stir to combine.
Cook on high for 30 minutes.
Mix in cooked or raw spinach leaves and stir well.
Dish and serve hot.
Enjoy!
Prep Time: 10 mins
Cook Time: 6 hours