Indulge your pasta craving with this creamy, slow cooker spaghetti Bolognese. This rich and cozy sauce is cooked long and slow to bring out the best, melt-in-your-mouth meat pasta for a comforting and hearty home-cooked meal.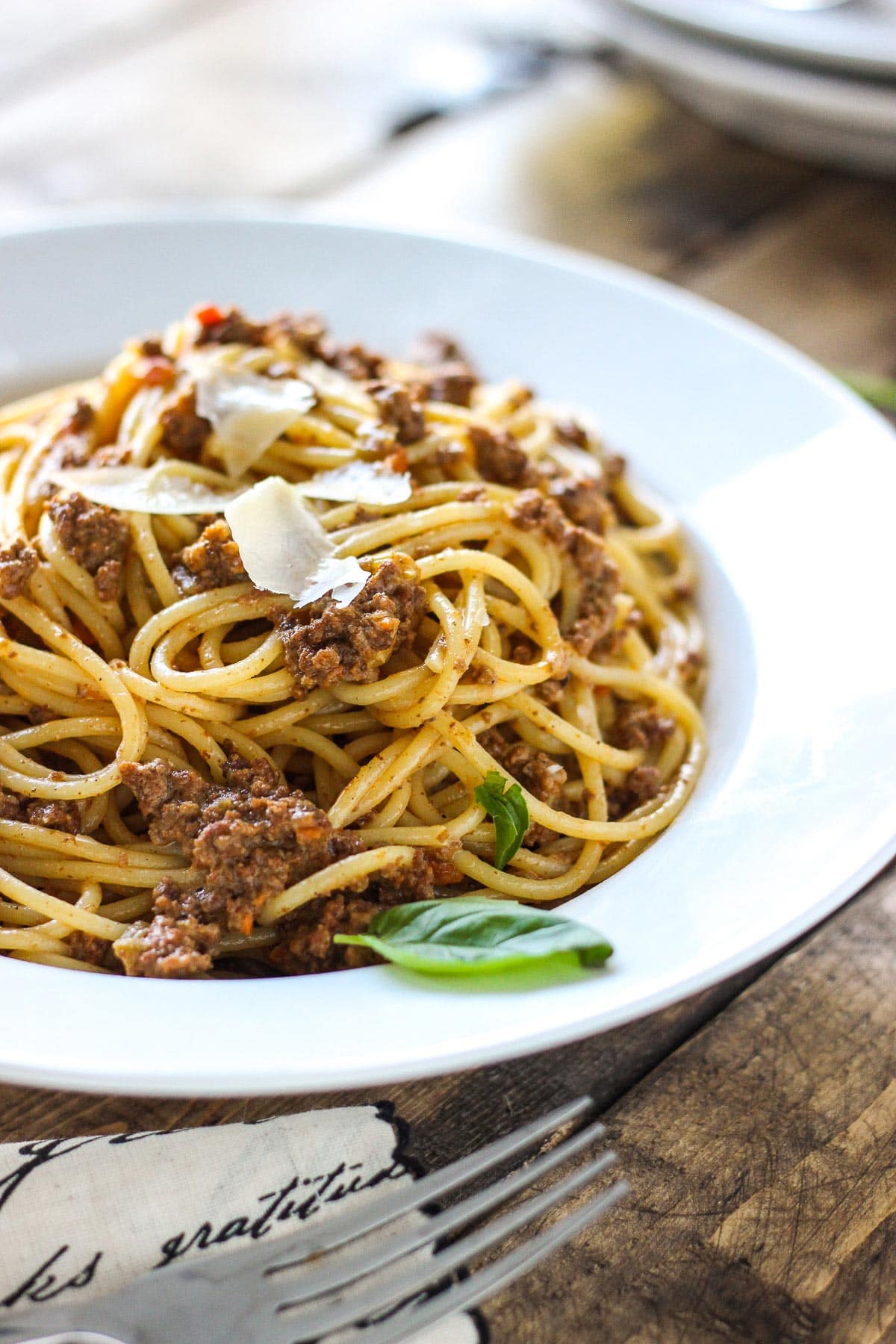 Everyone loves a cozy but elegant plate of spaghetti Bolognese. So today we're making some slow cooker spaghetti Bolognese that's cooked long and slow to give it plenty of time for the flavors to marry. It's the perfect use of a slow cooker. Instead of simmering it for hours and babysitting it over the stovetop like the good old days, you let the slow cooker do all the hard work and come back to a rustic and rich meat sauce.
This one is all about indulging, so prepare yourself for some serious hearty comfort food which is a great antidote to cold, chilly days. Or throw this together for a romantic and elegant pasta date night. Serve it with garlic Parmesan knots, homemade garlic bread, or some French onion soup for a restaurant-quality meal cooked from the comfort of your home. Let's start slow cooking!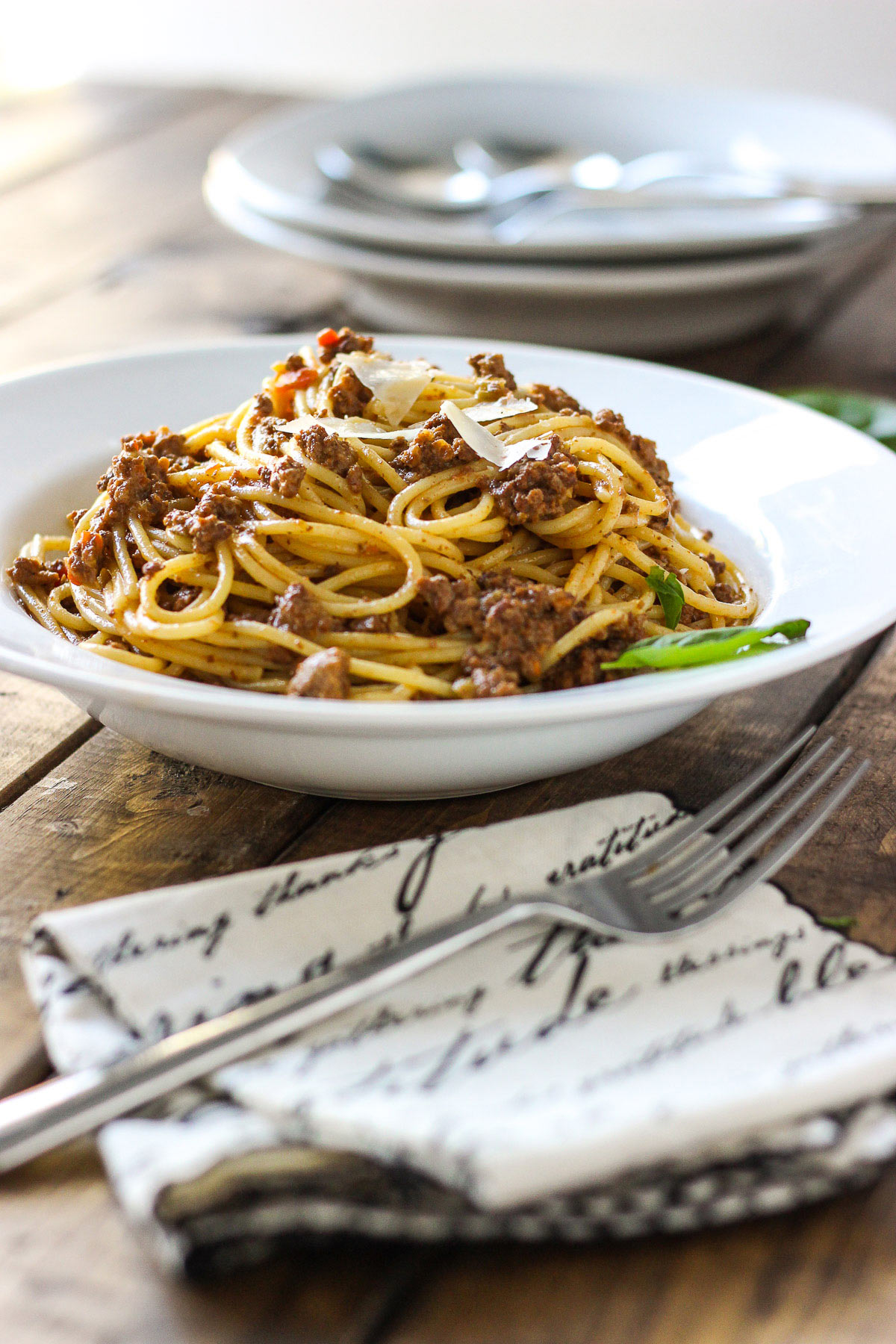 SLOW COOKER SPAGHETTI BOLOGNESE RECIPE TIPS
Pasta – I used spaghetti but you can also use pappardelle, linguine, or fettuccine. The bolognese sauce also pairs well with tube-type pasta if you prefer those.
Vegetables – The holy trinity base of diced onions, carrots and celery is the famous base for this sauce. You'll want to sauté them to bring out the best flavors. While you can technically throw all the ingredients in the slow cooker and call it a day, this little extra step is worth it.
Ground beef – You'll want to use extra lean ground beef for this. The leaner it is, the less you have to drain the fat. Also, with lean ground beef, you can skip the sautéing step on the stovetop and toss everything in the slow cooker (for those lazy, quick meal days).
White wine – The wine is optional but adds a little more flavor. If you add this, you must cook it down completely over the stovetop so the sauce isn't too watery. If you decided to skip sautéing everything and want to dump everything in the slow cooker, try using 1/4 cup of wine instead.
Tomato paste – I use Cento tomato paste that comes in a tube as it keeps and stores better than the ones in the can.
Nutmeg – Nutmeg is the secret ingredient that coaxes out the richness in a meat sauce. I use it for this sauce and other things like this hamburger quiche. You only need a tiny bit to make a huge difference.
Heavy cream – This is what makes the sauce super creamy. It's a wonderful addition to the tomato-based sauce that takes it from hearty to rich. Add it in towards the end so there's less chance of it curdling if cooked too long.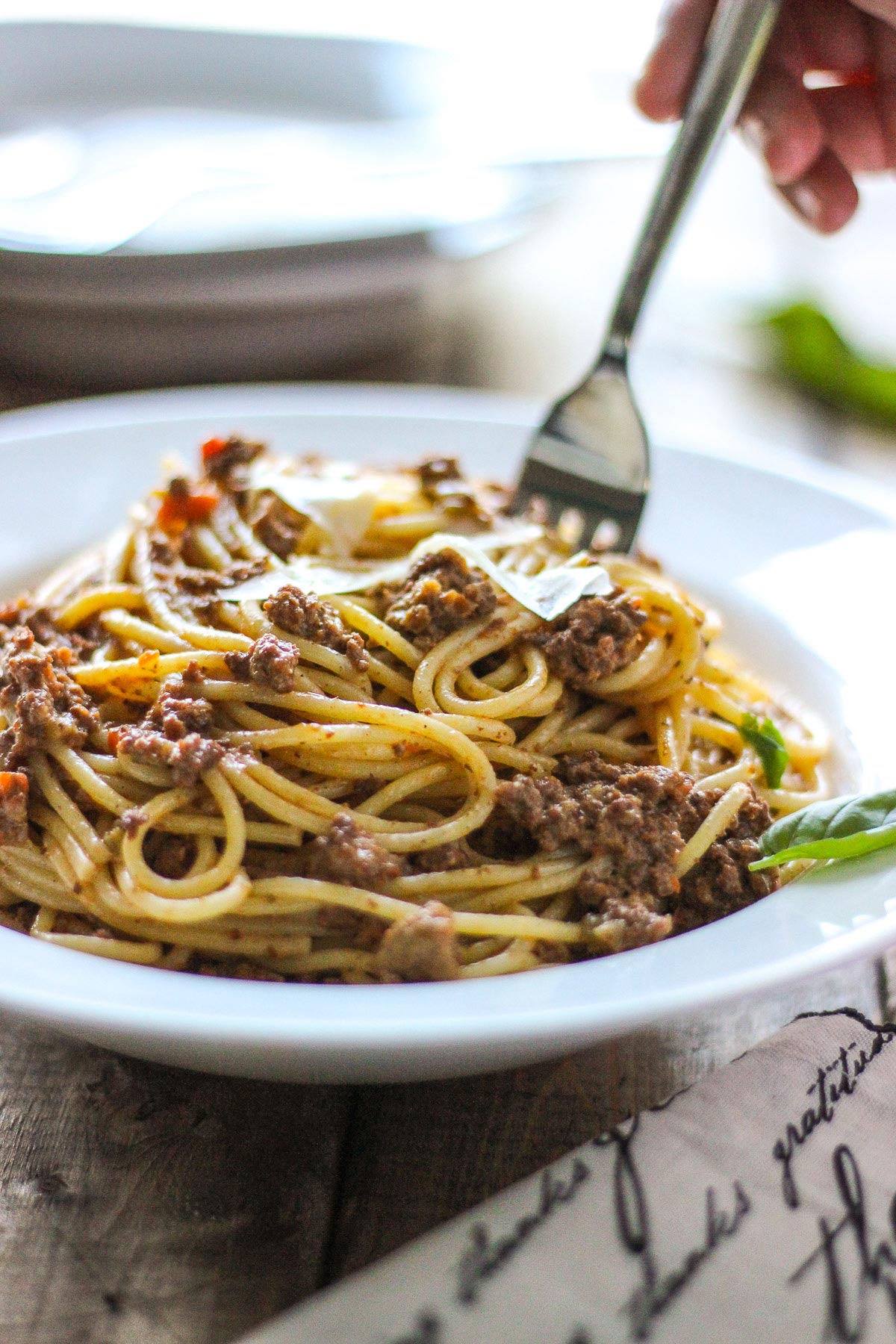 You could serve it two ways: dish out a plate of pasta and top it with the Bolognese sauce, or mix it all together so it's evenly distributed and people won't be fighting over getting more meat sauce (which happens a lot in my house).
I tend to go with the latter since the eye will fool you into thinking you need more meat sauce to pasta ratio than you actually do. So the best way to not fall for this is to toss the bulk of it together. Problem solved. No more meat sauce hogging!
And that's about it. Enjoy your comforting bowl of pasta and let me know how you like it. It's one of my favorite recipes 🙂
MORE PASTA RECIPES TO TRY
Did you make this recipe? Rate it!
♡ If you liked this recipe, giving it a star rating ★★★★★ in the comments below really helps! For more recipes, subscribe to my newsletter or follow me on Facebook, Instagram and Pinterest.
Print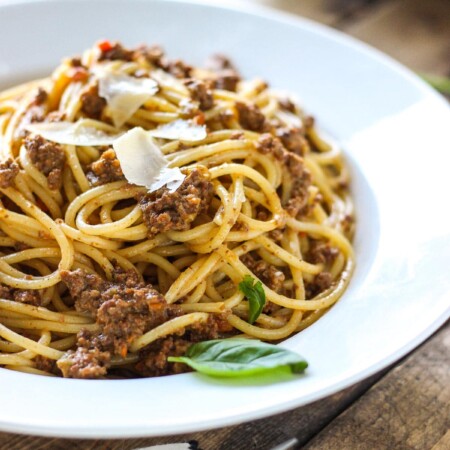 Slow Cooker Spaghetti Bolognese
---
Author:
Total Time: 6 hours 35 mins
Yield: 6-8 1x
Description
This rich and creamy, slow cooker spaghetti Bolognese brings out the best, melt-in-your-mouth meat pasta for a hearty home-cooked meal.
---
1 lb. pasta, cooked al dente
2 tablespoons butter
2 tablespoons olive oil
1 medium yellow onion, diced
2 medium carrots, diced
3 celery hearts, diced
2 lb. ground beef
1 cup white wine (optional)
3 tablespoons tomato paste
1/2 teaspoon ground nutmeg
2 beef bouillon cubes
Salt and pepper to taste
1 cup heavy cream
---
Instructions
Over medium-high heat, cook the ground beef until browned. Drain any excess fat, remove beef and set aside.
Melt butter, add in olive oil and sauté the onions, carrots and celery until soft, about 10 minutes.
Add the ground beef back in and stir to combine.
[Optional step] Pour in the wine and cook until it evaporates, about 10 minutes.
Add tomato paste, nutmeg, beef bouillon cubes and season with salt and pepper to taste.
Transfer meat sauce to a 6 qt. slow cooker and cook on low for 6-8 hours.
About 30 minutes before it is finished cooking, pour in the heavy cream and stir to mix. Cover and simmer for an additional 30 minutes.
Toss the sauce with the pasta, dish and serve warm with shaved Parmesan cheese.
Enjoy!
Notes
Cook it over the stovetop: Follow steps 1-5. Reduce heat to medium and add in heavy cream. Simmer uncovered for 10 minutes or until cream has reduced and incorporated fully into the sauce. Toss with pasta and serve hot.
Prep Time: 15 mins
Cook Time: 6 hours 20 mins