Bloomin' onion bread is the appetizer you're looking for to 'wow' guests where gooey strings of cheese meet crunchy, fresh green onions and poppy seeds!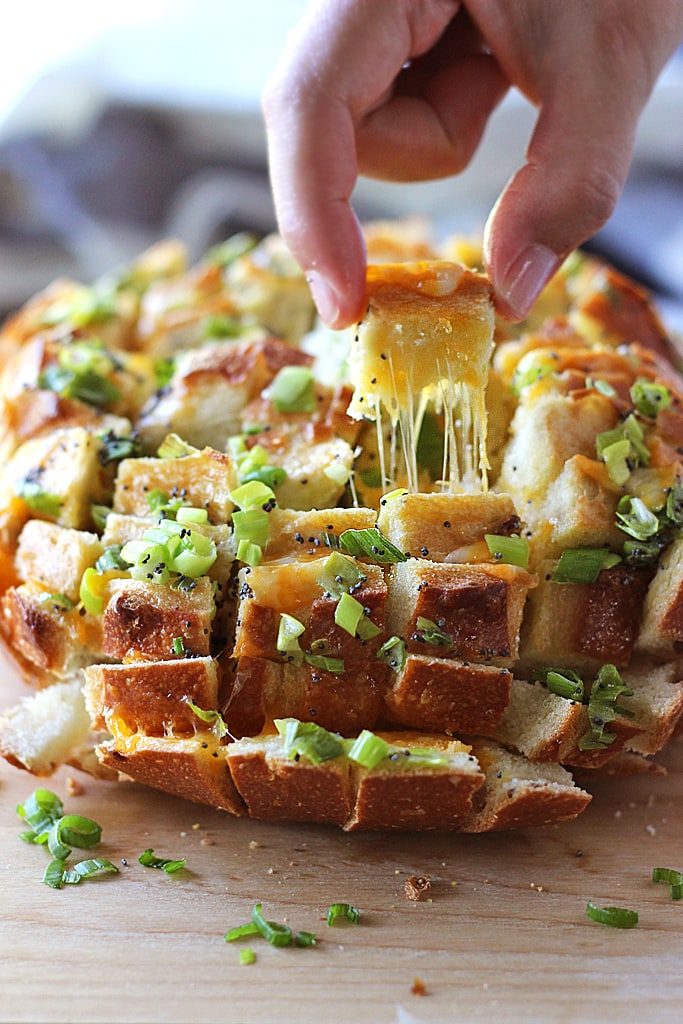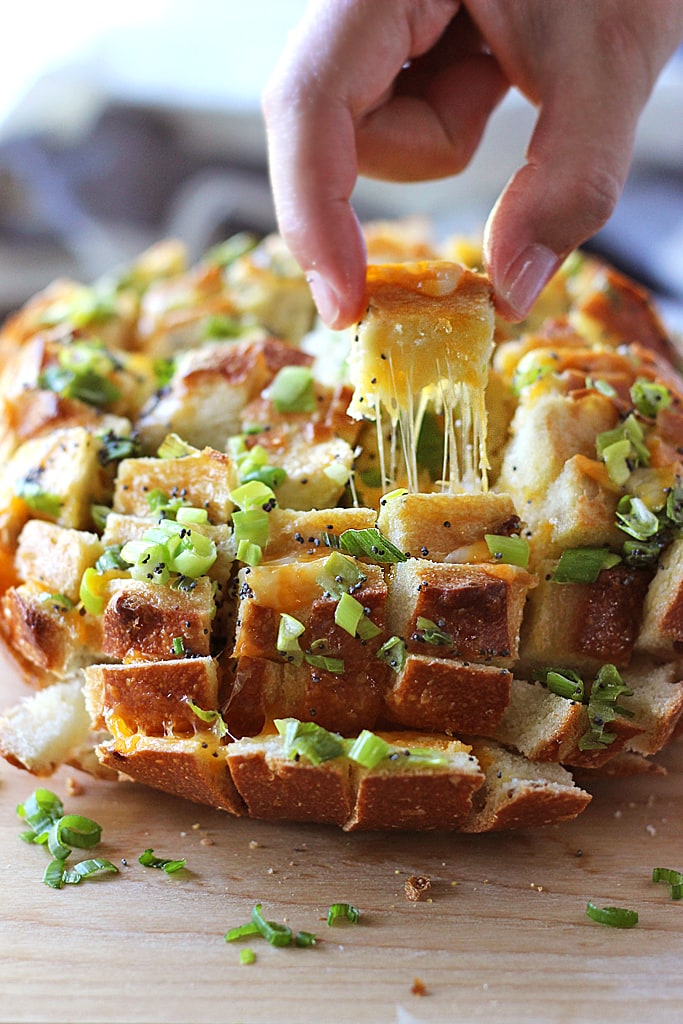 Bloomin' onion bread takes its name cues from the famous bloomin' onion bread served at Outback Steakhouse and just like its namesake, there's a lot of eye-extravagance in this fun appetizer.
It's a simple 5-ingredient recipe that packs a ton of flavor and texture. Think generous chunks of Monterey Jack nestled in artfully cut-up sourdough bread for maximum cheese melting action. Then the whole bread is shamelessly drizzled in a melted buttery mix of green onions and poppy seeds for flavor and crunch.
It's cheesy, buttery, a lot of fun to eat and even more fun to show off. For another flashy bread appetizer, try this cheesy pesto pull-apart bread. Or for something a little more classic, try some homemade garlic bread, Parmesan garlic knots, or these Red Lobster copycat cheddar bay biscuits.
BLOOMIN' ONION BREAD RECIPE TIPS
I used a good sourdough loaf for this recipe. The toughest and probably most time-consuming part is cutting up the bread. You'll want to start by using a serrated bread knife and slicing up the loaf into 1″ identical squares.
You'll want to keep the base of the bread intact so don't cut all the way to the bottom of the bread. Just like the bloomin' onion, this is what will hold the whole thing together.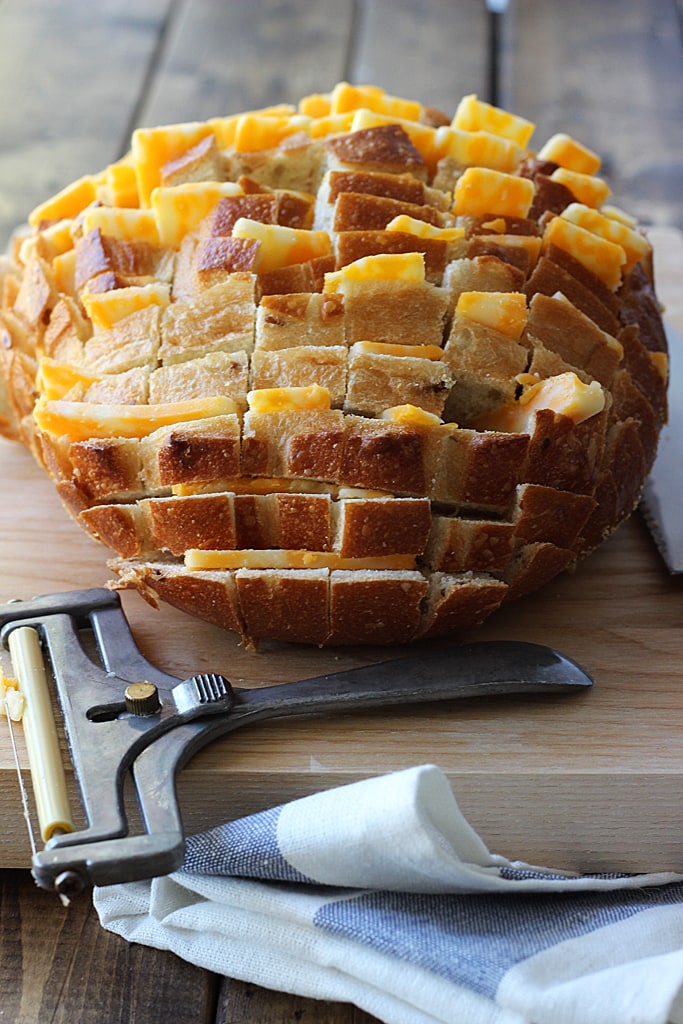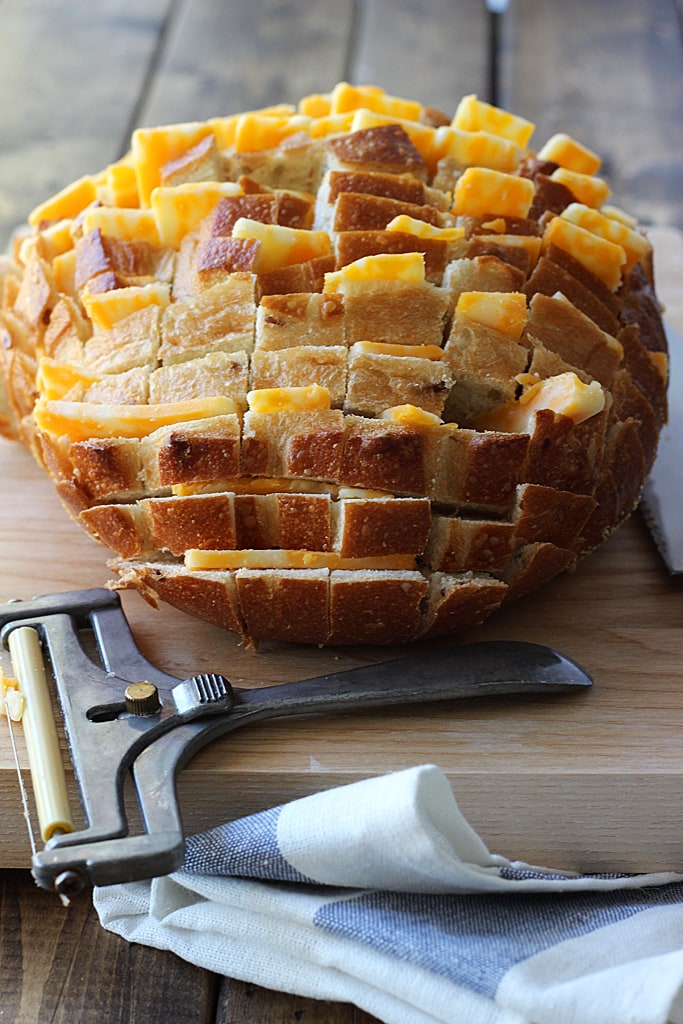 I used a block of Monterey Jack for the cheese and cut them up into manageable thin slices to fit neatly into each bread opening. You can use any other kind of good melting cheese like mozzarella or use a mix of melting cheese. You could also use shredded cheese but it will be a little more messier and harder to stuff into every nook and cranny.
The pics you see are with just one 8 oz. brick of Monterey Jack cheese but if you want it even cheesier, double it up! I could have done a better job stuffing the sides so try not to neglect them like I did.
What is Monterey Jack Cheese?
If you're like me, you know the basic cheeses: cheddar, Parmesan, mozzarella, swiss and provolone. Maybe some gouda, blue cheese, or gruyere if you're adventurous. Then comes the Jack cheeses and this is where it gets confusing. Which Jack cheese should be used for what and what's the difference? Who is Jack and do you capitalize the Jack cheeses?
This well-written and funny article will explain who Jack is, what Jack cheeses are, the difference between the Jack cheeses and when to use them like a pro. And maybe one day, you can haughtily recite all this newfound knowledge of Jack cheeses to your plebeian friend.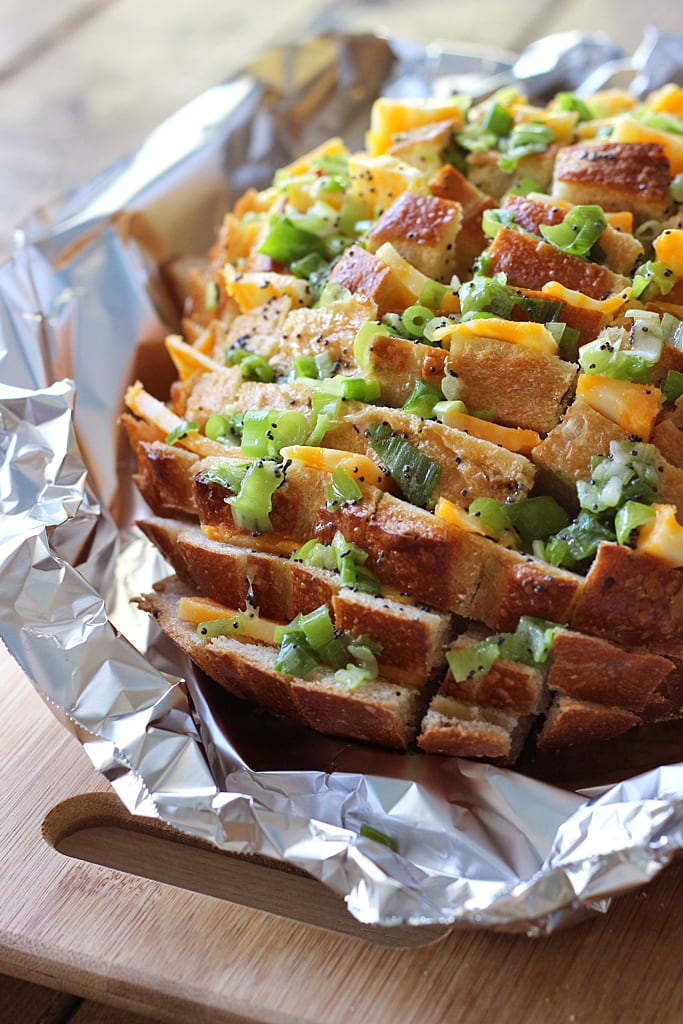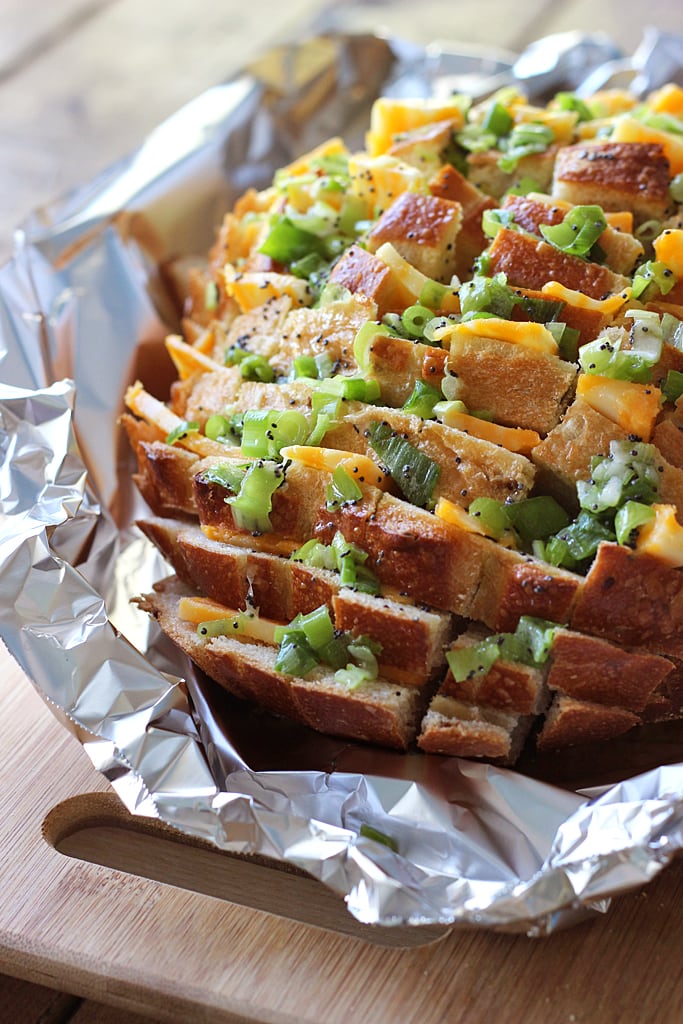 Now it's time to place the sliced-up, cheese-stuffed bread on some foil because this next step will get messy. Combine the melted butter with diced green onions and poppy seeds and drizzle generously all over. Get this in as many nooks and crannies as you can and just like the cheese step, don't ignore the sides!
There's going to be a lot of lifting of bread to get in between cuts and it's best to have a good pouring vessel with a spout so you have more control over the amount of butter mix poured and an even spread of melted butter.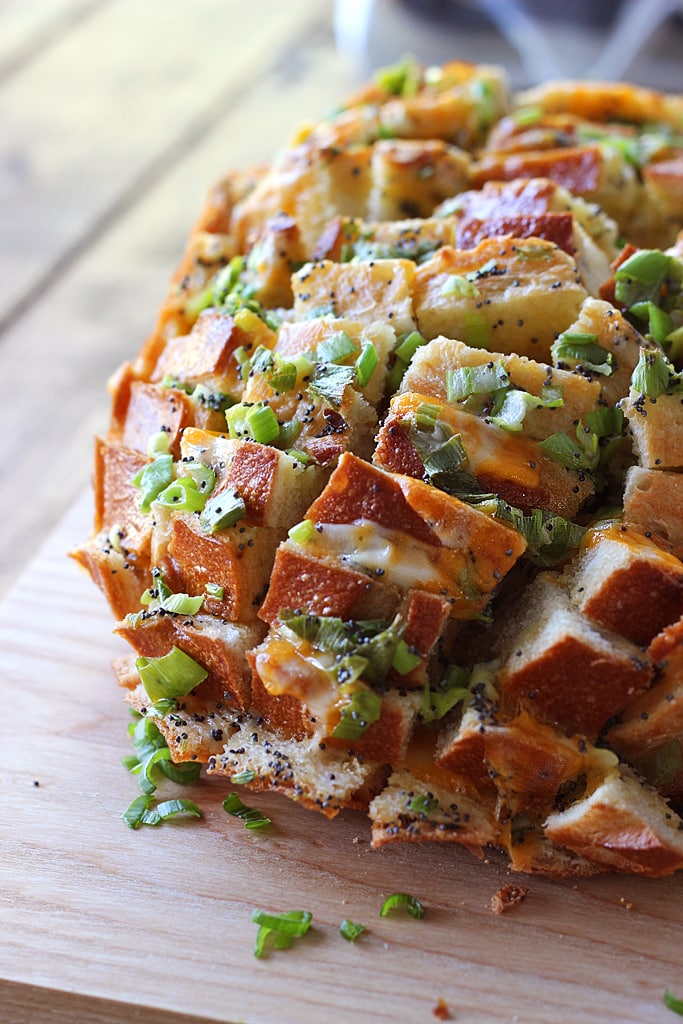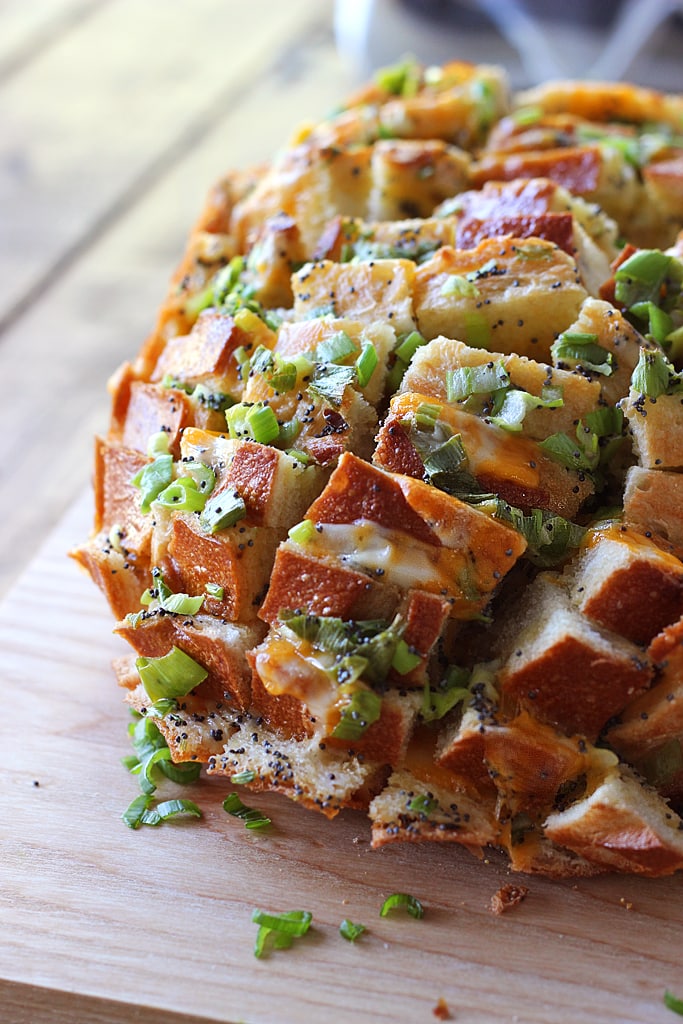 I've found that once you dig in, the bottoms get even cheesier. I guess the cheese melts into a cheesy pool of heaven at the bottom of the bread so that's something to look forward to.
You can also add some bite to this appetizer with some freshly minced garlic or garlic powder. 2 cloves of minced garlic should be more than enough. Just add it to the melted butter mix and start pouring to add that garlic punch of flavor. Cheese, butter, garlic, green onions and poppy seeds make a mouthwatering combination so this variation should be just as great as the original, if not better.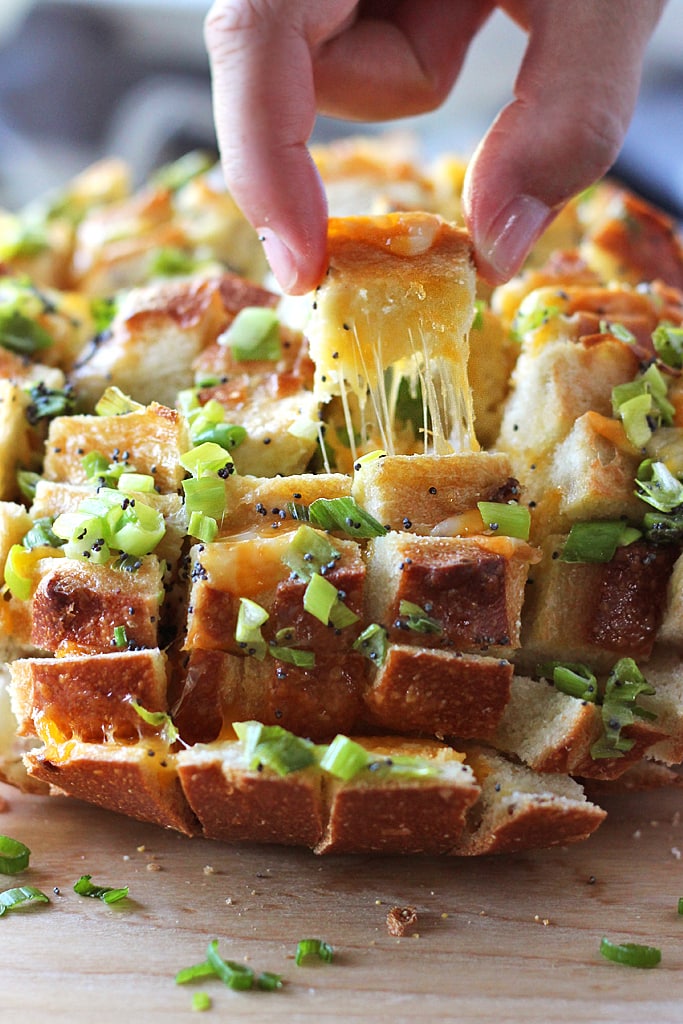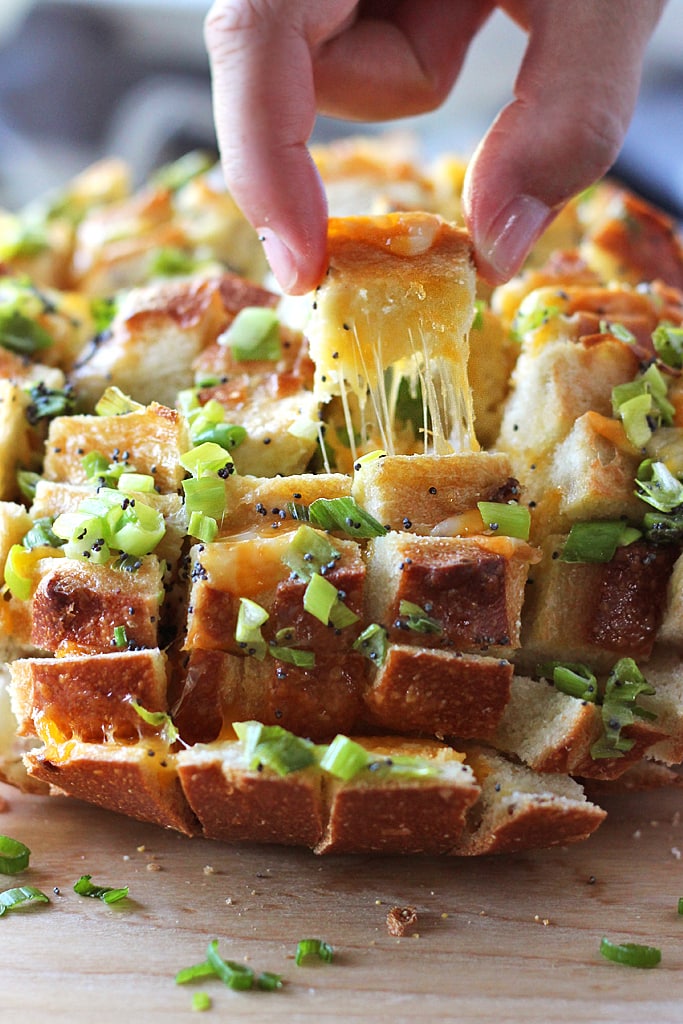 And that's about it. Enjoy this delicious appetizer with epic cheese strings and let me know how you liked it in the comments below!
MORE BREAD APPETIZERS TO TRY
Did you make this recipe? Rate it!
♡ If you liked this recipe, giving it a star rating ★★★★★ in the comments below really helps! For more recipes, subscribe to my newsletter or follow me on Facebook, Instagram and Pinterest.
Print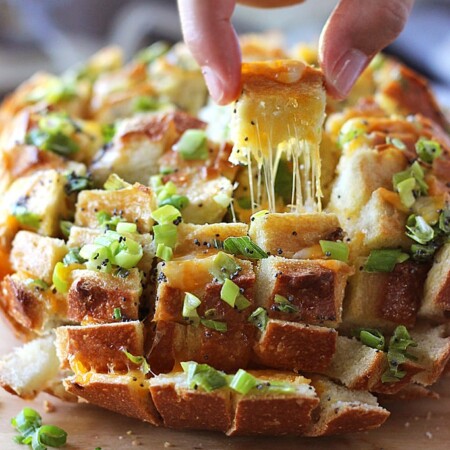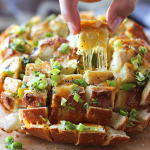 Bloomin Onion Bread (Pull Apart Bread)
---
Author:
Total Time: 40 mins
Yield: 8 1x
Description
Bloomin' onion bread (pull apart bread) has gooey cheesy strings with crunchy, fresh green onions and poppy seeds!
---
1 sourdough bread
8–16 oz. Monterey Jack cheese, sliced thinly
1/2 cup butter, melted
1/2 cup green onions, finely diced
2 teaspoons poppy seeds
---
Instructions
Cut the bread lengthwise and widthwise without cutting through to the bottom and insert cheese slices between the cuts.
Combine the melted butter, green onions and poppy seeds in a measuring cup and stir to mix.
Place the bread on some foil and drizzle with the butter mixture. Move the green onions around with your fingers, if needed, to spread them out.
Wrap the bread loosely with the foil, transfer it to a baking sheet and bake at 350°F for 15 minutes.
Remove foil and bake another 10 minutes or until the cheese has melted.
Enjoy!
Notes
The pictures show the recipe using 8 oz. of cheese. For a cheesier bread, double the cheese to 16 oz.
Scroll up to RECIPE TIPS for more useful tips, suggestions and ingredient substitutions.
Prep Time: 15 mins
Cook Time: 25 mins
Nutrition for 8 oz. cheese: