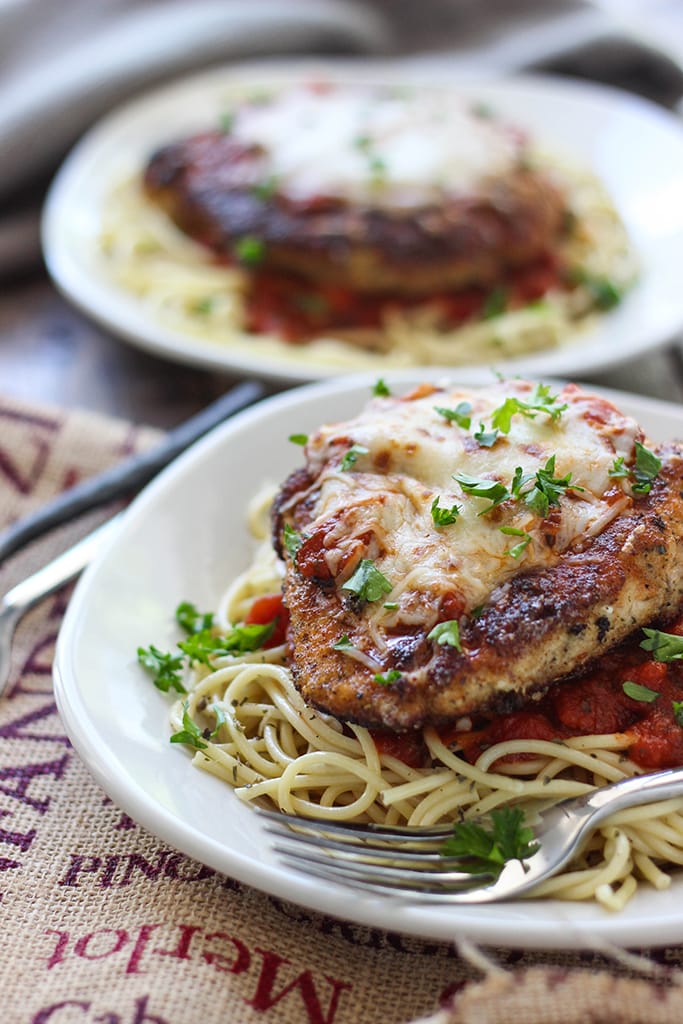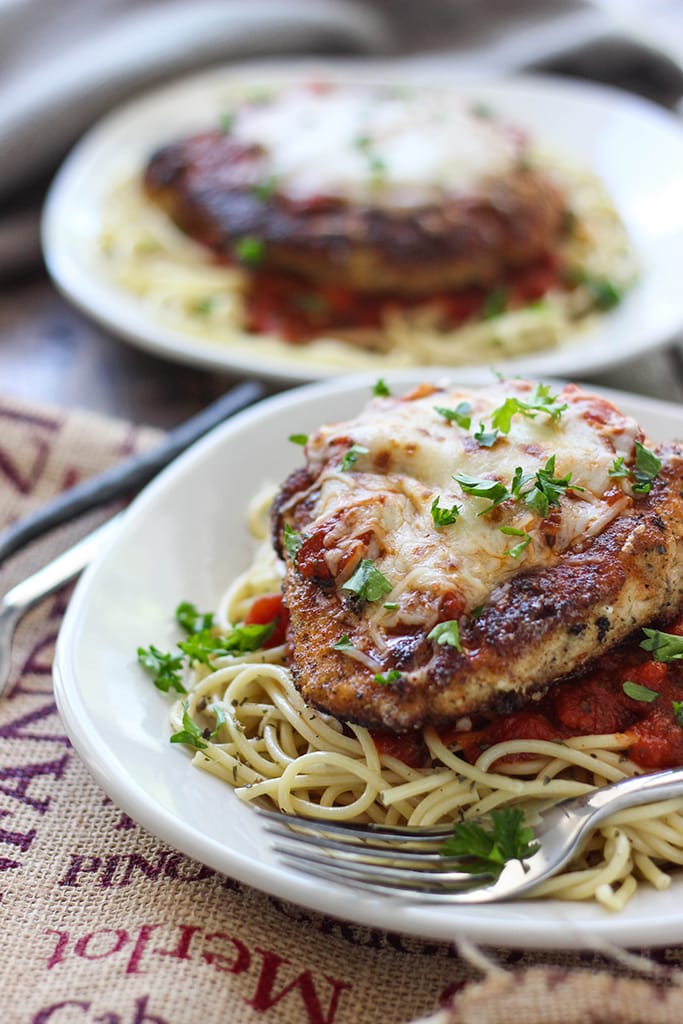 I had a slow cooker chicken Parmesan recipe I posted a couple years back. It really feels like a lifetime ago. This was about the time the blog was in its infancy stage so I didn't know much about how to make food look good, just how to make it taste good. So you'll find yourself staring at an angry red blob atop a bed of spaghetti. Not very appealing, but it was yummy.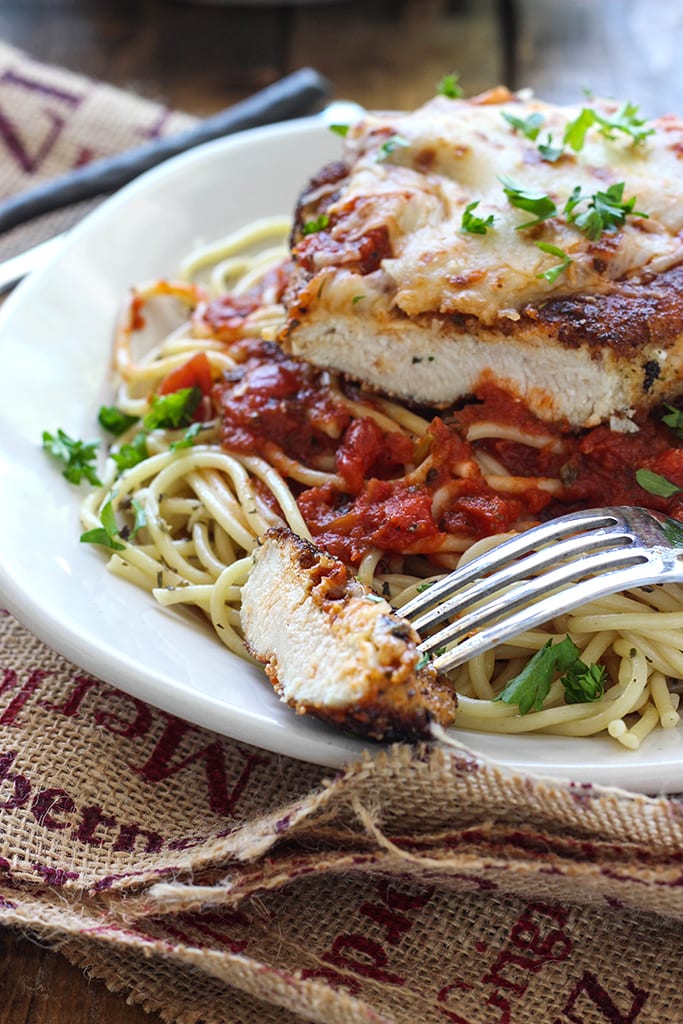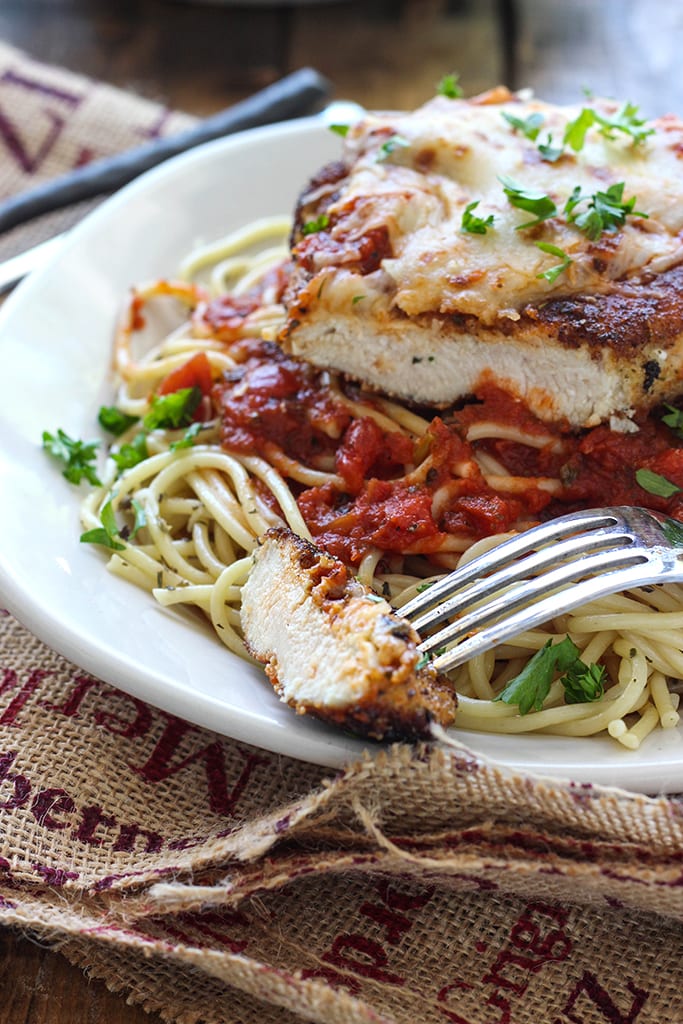 So today I'm gonna revisit chicken Parmesan and do it skillet style. It's faster and definitely more crunchy. It's still a little messy to look at but I think it's a slight improvement from the angry blob! I really like the breading here, once you get to the crunchy parts that haven't been touched by the marinara sauce, it's pretty droolworthy. So let's get started!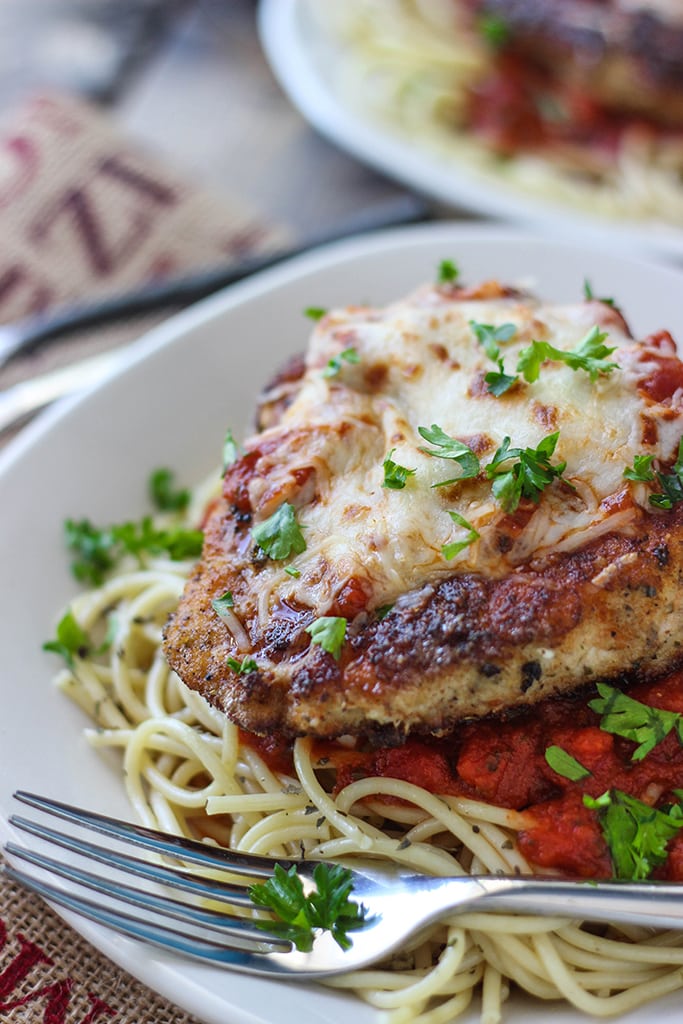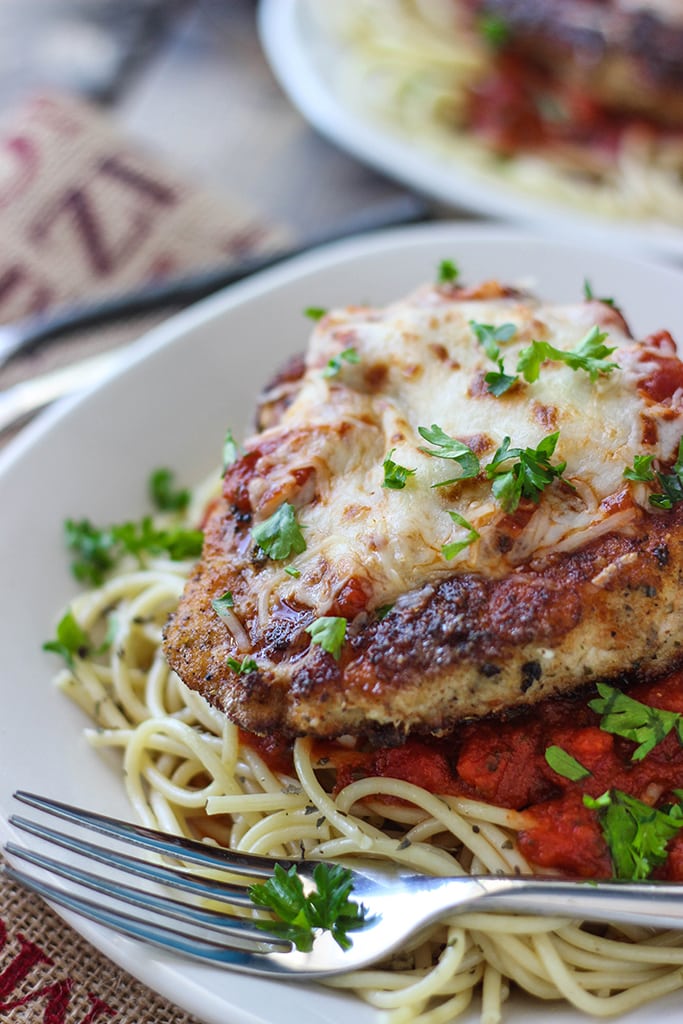 This is a cozy recipe for two but feel free to adjust for however many people you're feeding. It's pretty versatile like that.
First we'll flatten the chicken a little so it cooks evenly. A meat mallet comes in handy here. Apparently I'm still not that great at meat-malleting cause my chicken breasts are still too thick. Guess I'm still afraid of obliterating the chicken. Anyway, after that it's the usual breading treatment: egg wash and then dredging. I combined Italian breadcrumbs with some Parmesan cheese and a little Italian seasoning to get some nice breading. If you want it even crunchier, you could try out panko breadcrumbs. It's the same thing I used in baked Parmesan and herb crusted chicken. Pretty crispy, even for something baked! I even used it as a breading for tilapia.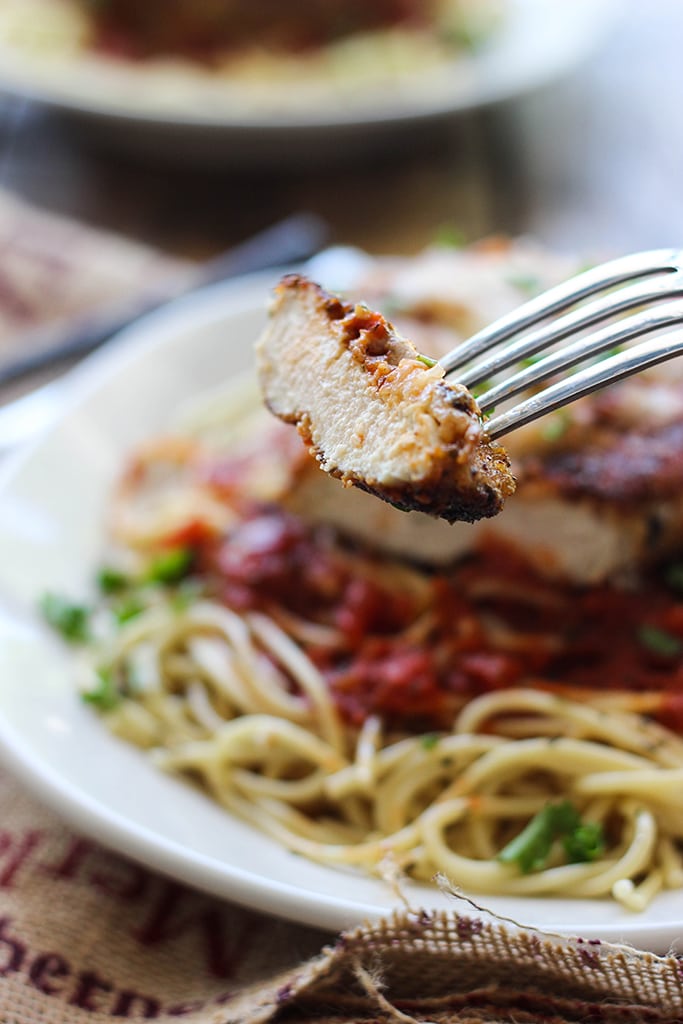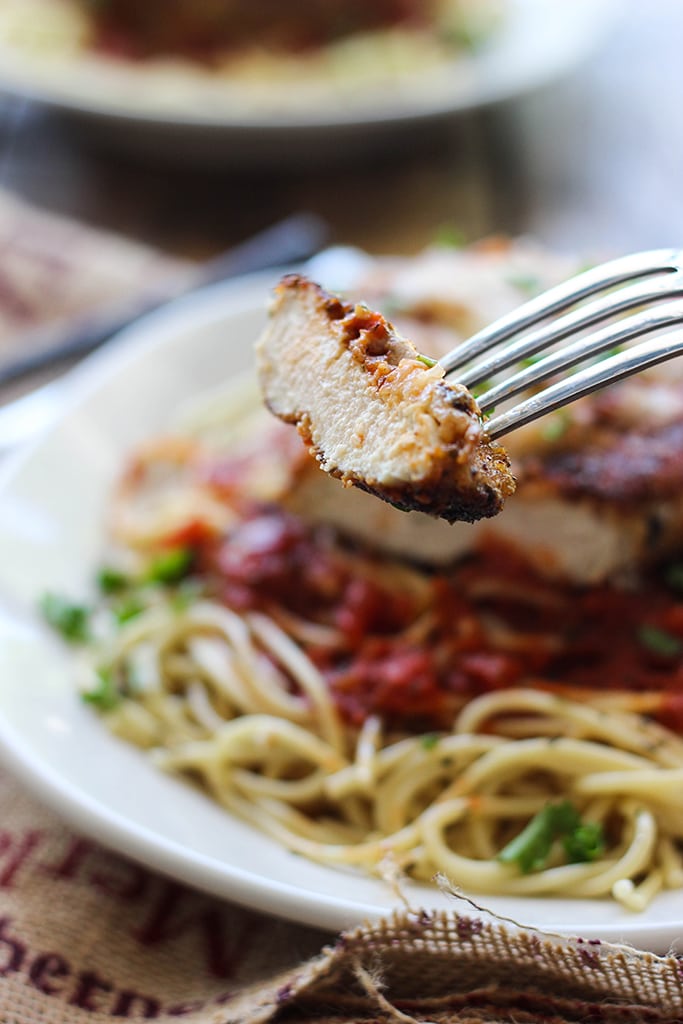 I've been having trouble naming the kind of Parmesan cheese in my recipes. It's not the shredded stuff in the diary section, it's the dry powdery stuff in the pasta section. So what do you call them? Grated Parmesan? That could easily be mistaken for the shredded stuff. Or freshly grated Parmesan from a cheese wedge. So I just throw in the towel and call it dry Parmesan.
Back to the recipe, it's into the pan for some pan-frying. This shouldn't take long at all. Use just enough oil to cover the bottom half of the chicken, maybe four tablespoons or so. Then flip it to get the other side cooking. It's always good practice to get the oil nice and hot before pan-frying. It results in less sticking. You know the oil is ready after it sizzles when you throw something in there. So use some leftover breading and take a pinch of that to test the oil.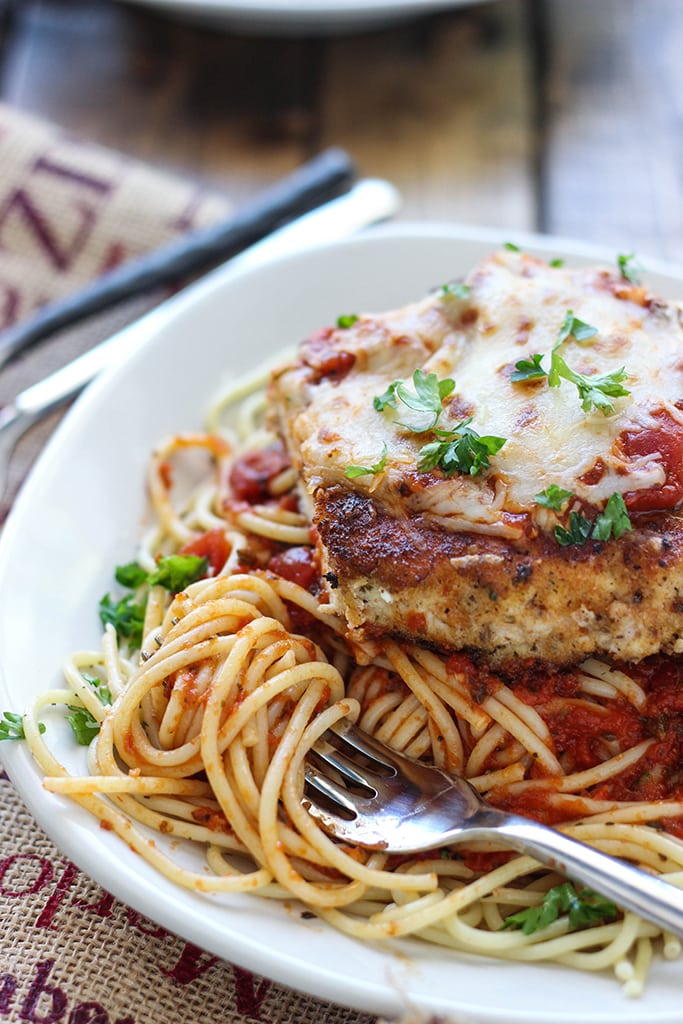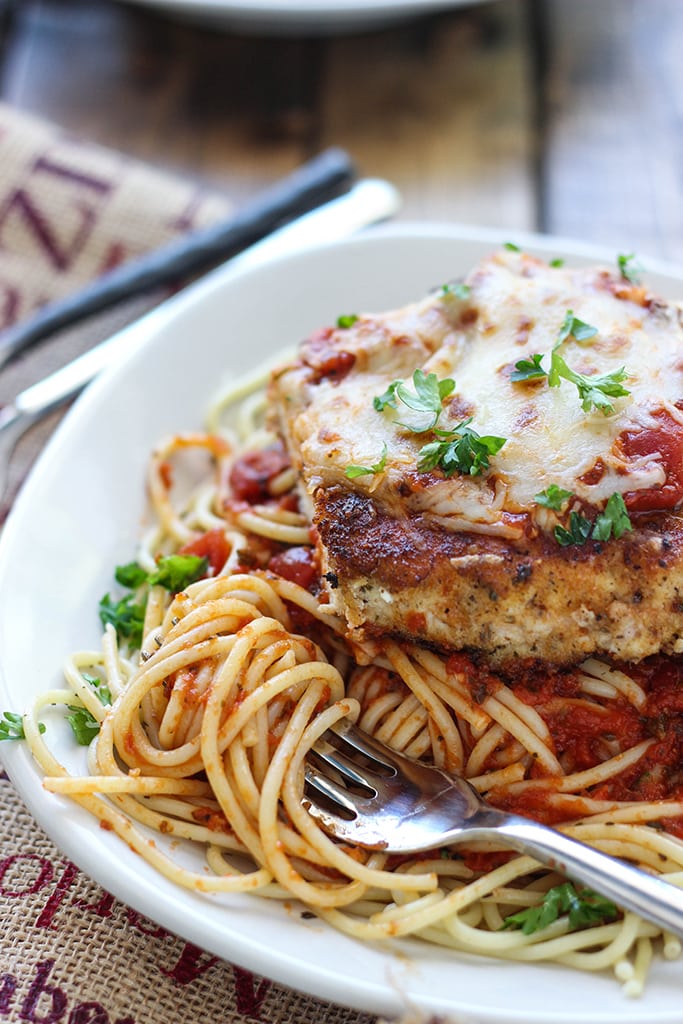 Then we remove the chicken and drain them on paper towels and we drain any excess oil in the pan. If there's no excess oil, you can skip this step. Return the chicken to the pan and spread some marinara sauce on each breast and top with some mozzarella cheese. This is where we will broil it for 2 minutes to get it all melty and stuff.
Your pasta should have been cooking in the background by now. I like tossing my pasta in some olive oil and dried basil. The olive oil stops the pasta from sticking together even when it's cooled down and with good quality olive oil, it'll smell so good.
Dish the pasta, add more marinara sauce and the top it with the chicken Parmesan. Add some parsley or Parmesan cheese for serving and you're done!
Print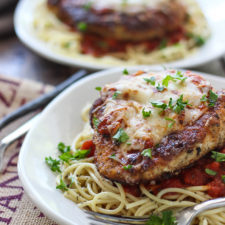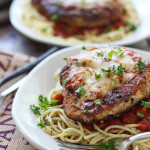 Skillet Chicken Parmesan
---
Author:

Total Time:

23 mins

Yield:

2

1

x
2

boneless, skinless chicken breasts

1/2 cup

Italian breadcrumbs

1/4 cup

dry Parmesan cheese

2 teaspoons

Italian seasoning

1

egg, beaten

1 cup

marinara sauce, divided

1/2 cup

mozzarella cheese, shredded
---
Instructions
Wrap the chicken breasts in plastic wrap and pound into ½" thickness with a meat mallet
Combine the breadcrumbs, Parmesan cheese and seasoning in a bowl
Dip the chicken breasts in the egg. Shake off any excess then dredge through the breadcrumb mixture
Over medium high heat in an oven safe skillet, pan-fry the chicken until golden brown about 3 minutes per side
Remove chicken and drain on paper towels. Drain any excess oil in the pan
Return chicken to pan and spread 1/4 cup marinara sauce on each breast
Top with mozzarella cheese and broil at 450 degrees F until cheese has melted, about 2 minutes
Dish and serve hot over pasta with remaining marinara sauce
Prep Time:

15 mins

Cook Time:

8 mins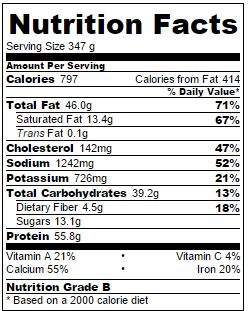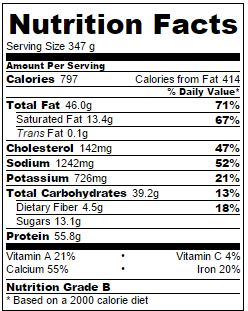 ♡ Affiliate disclosure: As an Amazon Associate, I earn commissions from qualifying purchases from Amazon.com. You can learn more about it here.