Here's a quick and easy balsamic glazed salmon recipe for salmon lovers. With a sweet and tangy balsamic sauce and ready in under 30 minutes!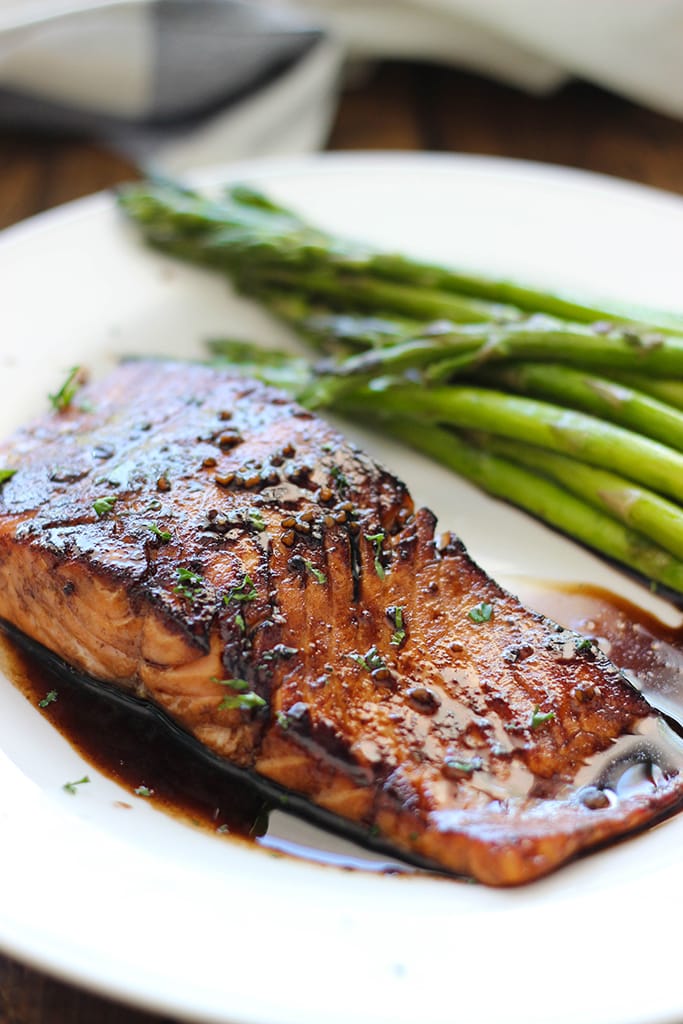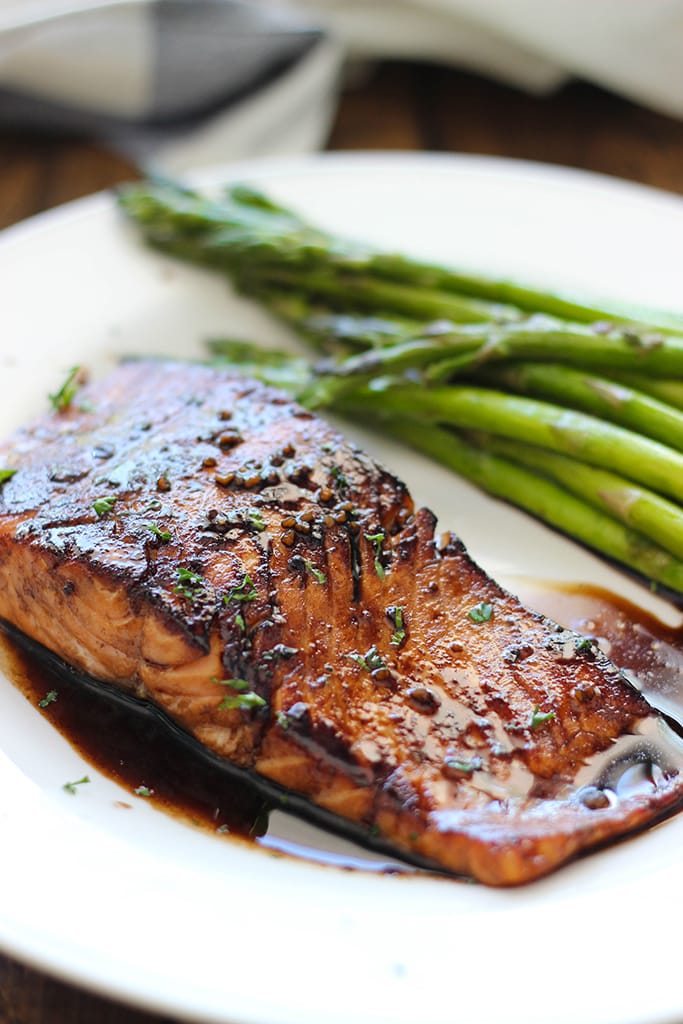 I'm really excited to share this recipe with you because it's sooooo good. So good that it made me talk to myself after the photoshoot and once it was safe to eat it kinda good. And so good that the only thing I kept saying out loud was "Good, good, good!" Talking to myself like some crazed food blogger. Well, my cats were there but I don't know if that counts.
I took the flavor profile from slow cooker balsamic roast. And before you think "Ugh, balsamic vinegar…wouldn't that be too sour?", I'm here to let you know that mixing it in equal portions with brown sugar really balances out that sourness and makes a heavenly sauce. But if you know this already, just ignore me and go ahead and start cooking!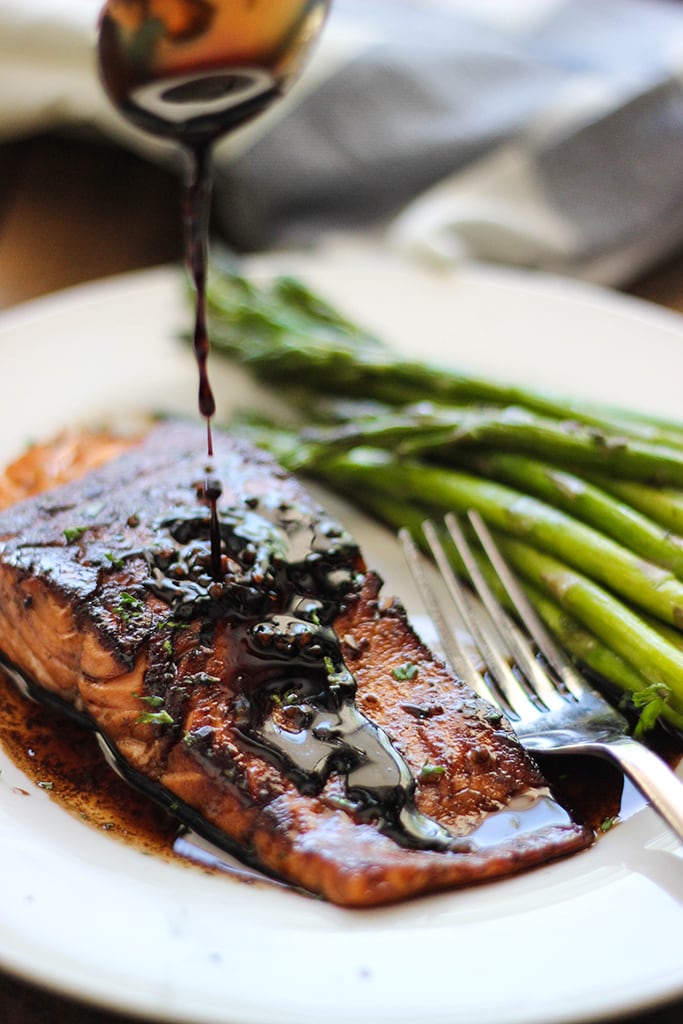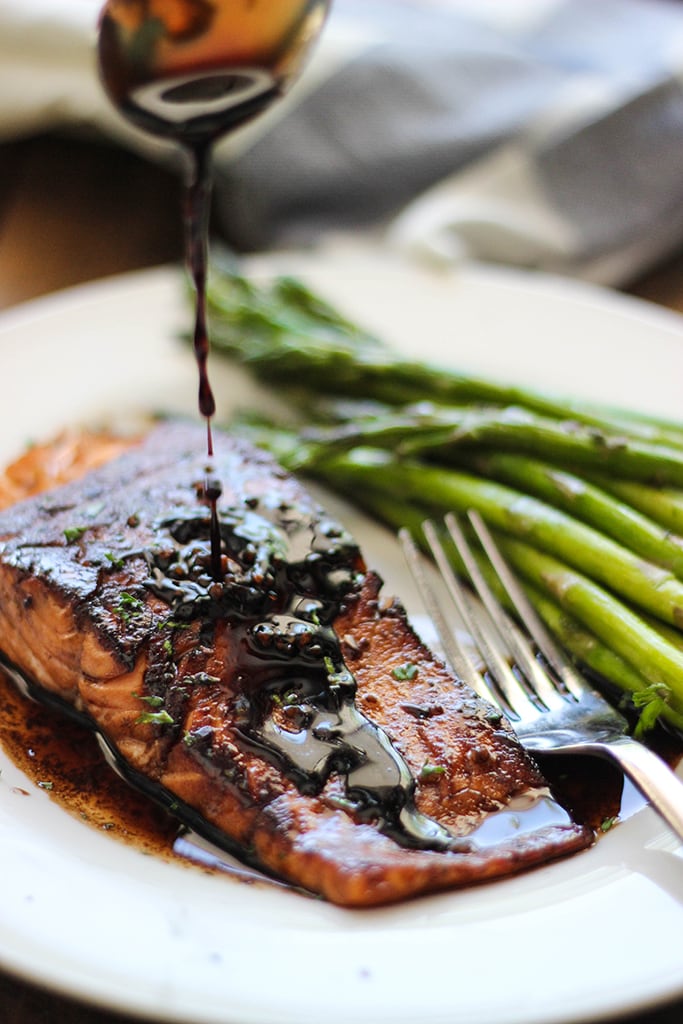 BALSAMIC GLAZED SALMON RECIPE TIPS
There's really not much technique going on here for this recipe. You just mix a bunch of stuff for the sauce and divide it into three portions. One for the marinade, one for the basting and one for the drizzle.
The sauce is basically a mix of brown sugar and balsamic vinegar with some garlic, soy sauce, red pepper flakes and a teeny bit of Worcestershire sauce. You don't need any salt because the soy sauce takes care of that. Mix it all together until the brown sugar dissolves and do a taste test. Then adjust if needed.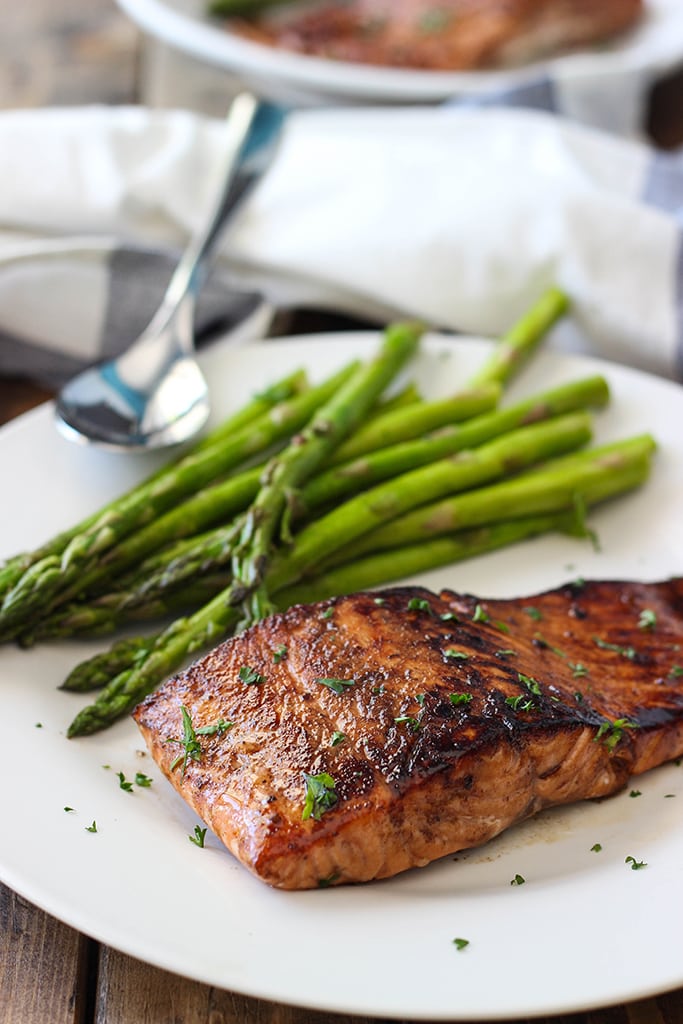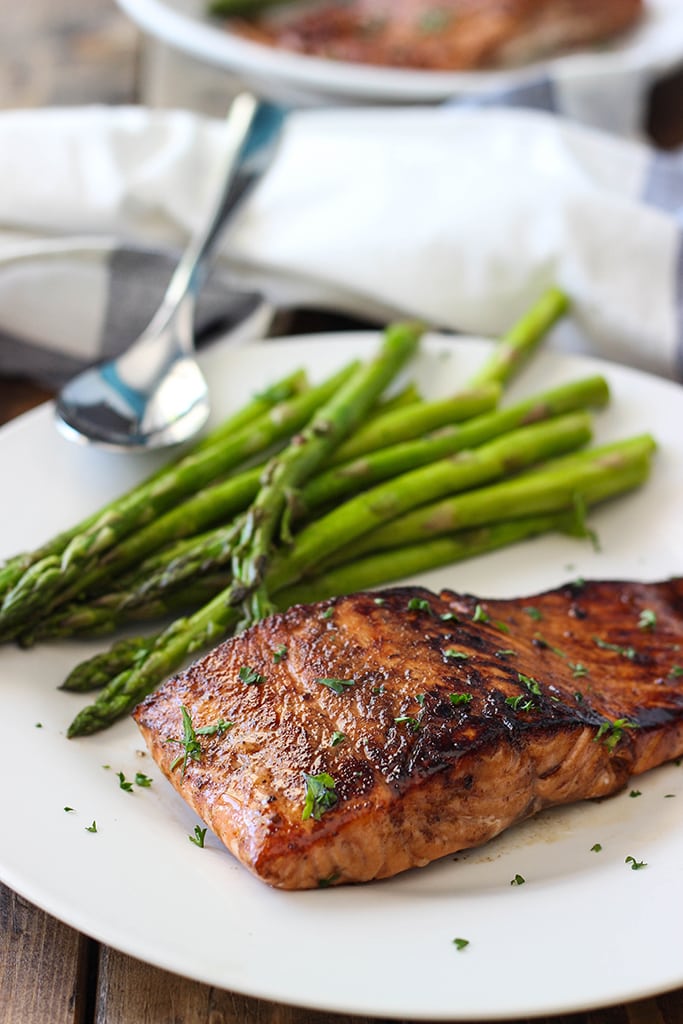 Then we marinate the salmon for 15-30 minutes, not too long. The acidic ingredient in balsamic vinegar will start to cook the fish if left too long, so a short marinade is just fine. I read somewhere that fish is sensitive to marinades so, unlike chicken or beef, you can't do it overnight.
You can choose to crisp and caramelize the top of the salmon before baking it by searing it for 1-2 minutes. Two tablespoons of oil are enough for this. Or you could go straight to baking. Cooking time depends on the thickness of the salmon. A good rule to go by is to cook for 10 minutes per inch of thickness which is measured from the salmon's thickest point. Or you could invest in a meat thermometer. We keep two handy in the kitchen for grilled steaks, roasts and chicken breasts.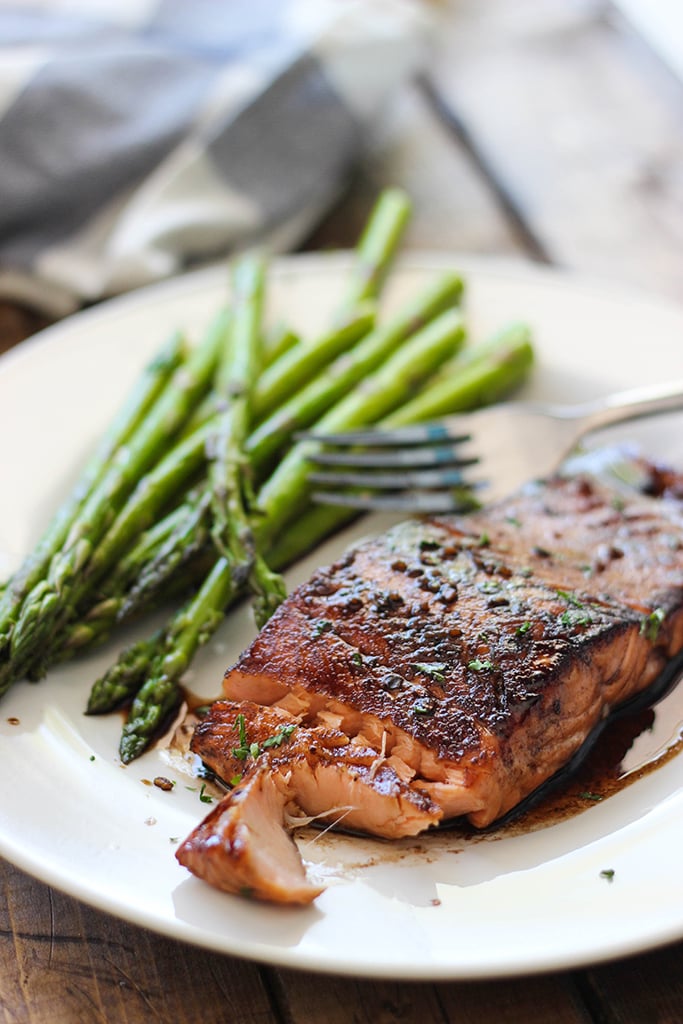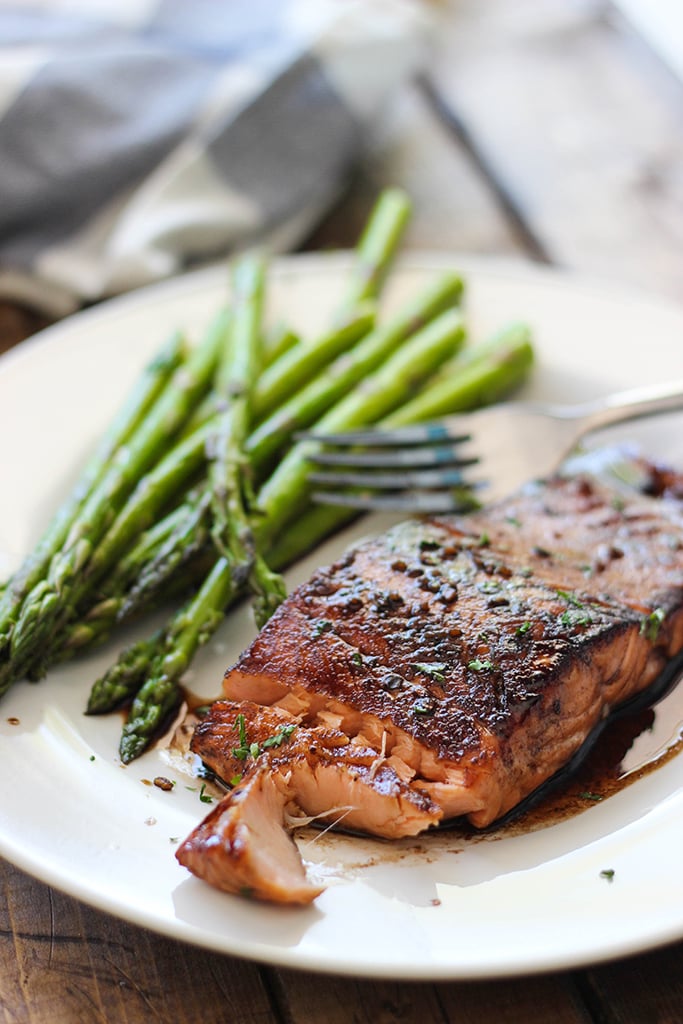 Baste the salmon halfway through the cooking time with the other 1/3 of the sauce. Get your sides ready and serve hot. Then we use the remaining 1/3 sauce for a drizzle. You could use the sauce as is, or do a reduction. Bring the sauce to a boil over medium-high heat then reduce the heat to low and simmer until most of the vinegar has reduced. This will take some time and patience though! But you should get a nice, thick balsamic sauce which you can make fancy squiggles with.
And that's all there is to it! Enjoy your salmon. 🙂
MORE SALMON RECIPES TO TRY
♡ If you liked this recipe, giving it a star rating ★★★★★ in the comments below really helps! For more recipes, subscribe to my newsletter or follow me on Facebook, Instagram and Pinterest.
Print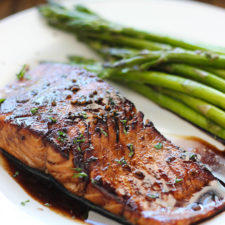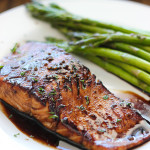 Balsamic Glazed Salmon
---
Author:

Total Time:

30 mins

Yield:

2

1

x
Description
Here's a quick and easy balsamic glazed salmon recipe for salmon lovers. With a sweet and tangy balsamic sauce and ready in under 30 minutes!
---
Sauce:
1/4

cup

brown sugar

1/4

cup

balsamic vinegar

1/2 tablespoon

soy sauce

1 teaspoon

garlic, minced

1/4 teaspoon

red pepper flakes

1/2 tablespoon

Worcestershire sauce
---
Instructions
Combine the sauce ingredients and divide into three batches.
Marinate the salmon with 1/3 of the sauce for 15-30 minutes. Discard the marinade.
Arrange the salmon on a foil-lined baking sheet and bake at 350°F for 15-20 minutes depending on the thickness, basting the salmon with 1/3 of the sauce halfway through.
Dish and serve hot drizzled with the remaining 1/3 of the sauce.
Enjoy!
Notes
For a slightly crisp and caramelized top, sear the top of the salmon over medium high heat for 1-2 minutes before baking.
Prep Time:

10 mins

Cook Time:

20 mins
♡ Affiliate disclosure: As an Amazon Associate, I earn commissions from qualifying purchases from Amazon.com. You can learn more about it here.