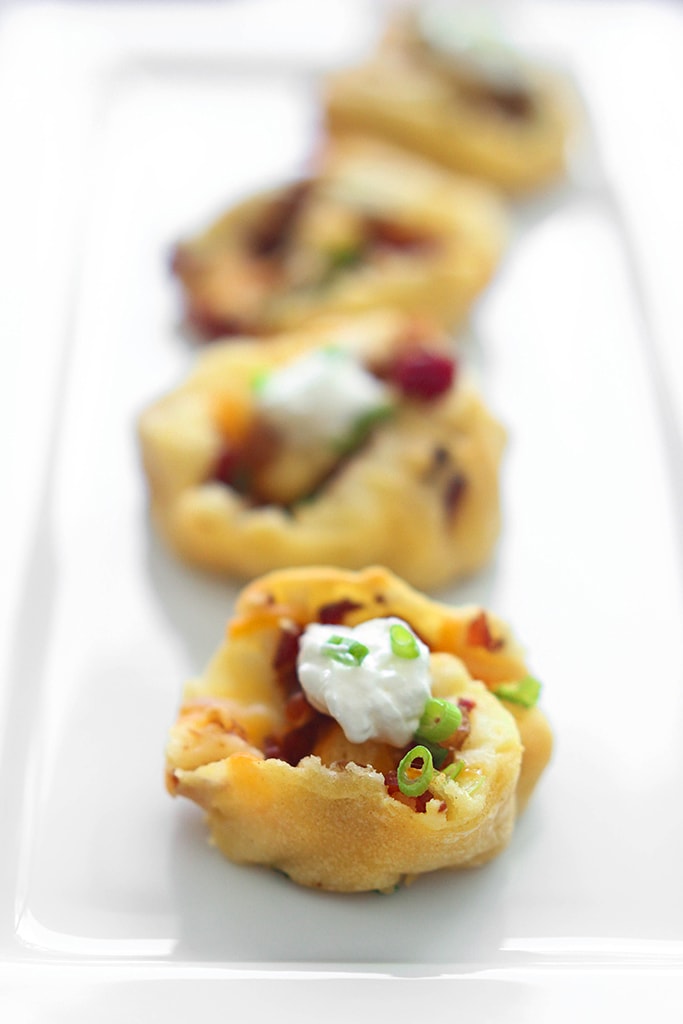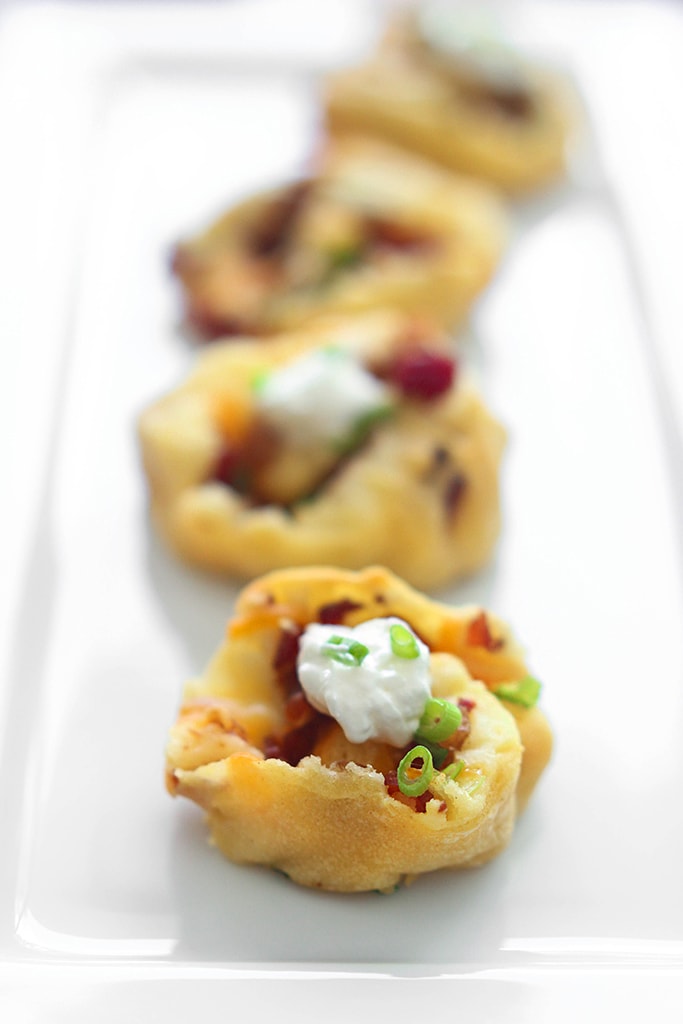 I recently came across a recipe for bacon and cheddar pinwheels. The base spread was ranch which I felt was a little too overpowering. Some suggested cream cheese which was slightly better but I still wanted something a little different. So I had this brilliant idea of using leftover mashed potatoes as a base. You get the added texture of something soft to bite into in between layers of crispy crescent rolls. And in between all those textures galore, you have bacon bits, cheese and green onions or chives.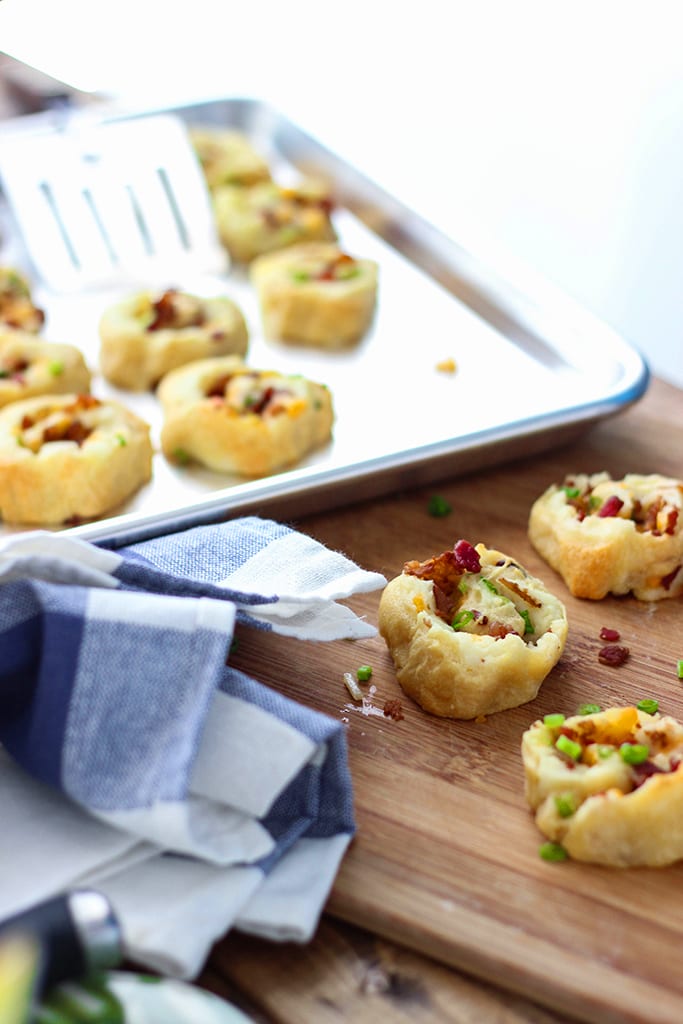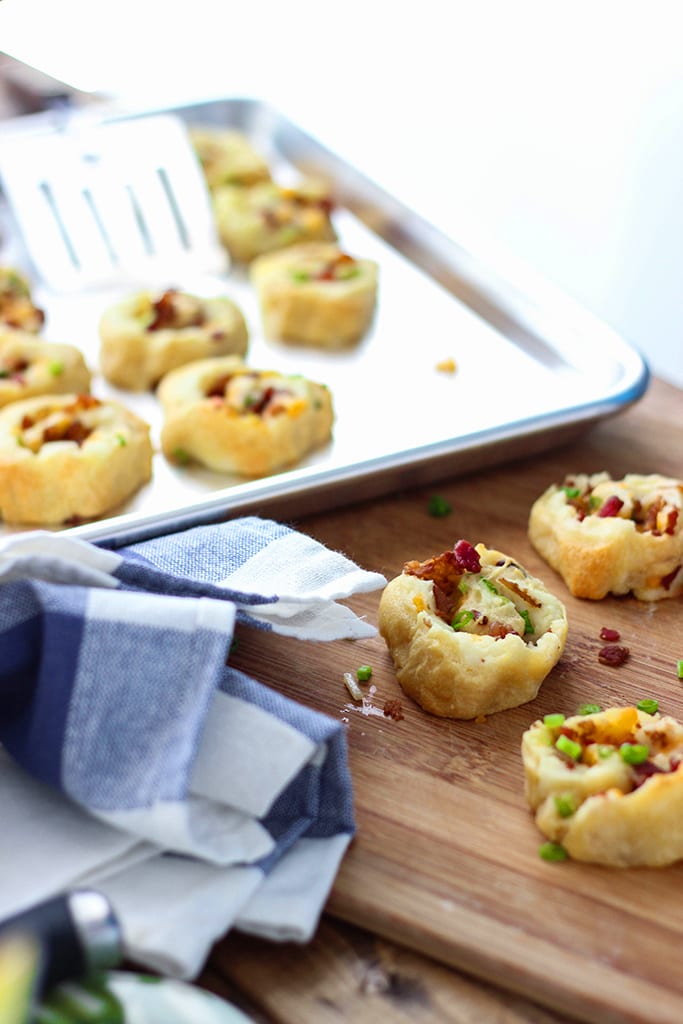 Cause we all love a fun way to use leftover mashed potatoes and I still can't get over mashed potato puffs and how it magically puffs up like that.
Turns out though, a potato-like spread had already been done. So much for great ideas! But I did make some changes to the recipe. I felt the pinwheels were a little too small for my taste so I used the whole crescent dough sheet for bigger pinwheels and made a few other changes. And I stuck to the idea of using leftover mashed potatoes. Now they aren't as perfectly shaped as I'd like them to be but they sure do taste great. So let's try it out!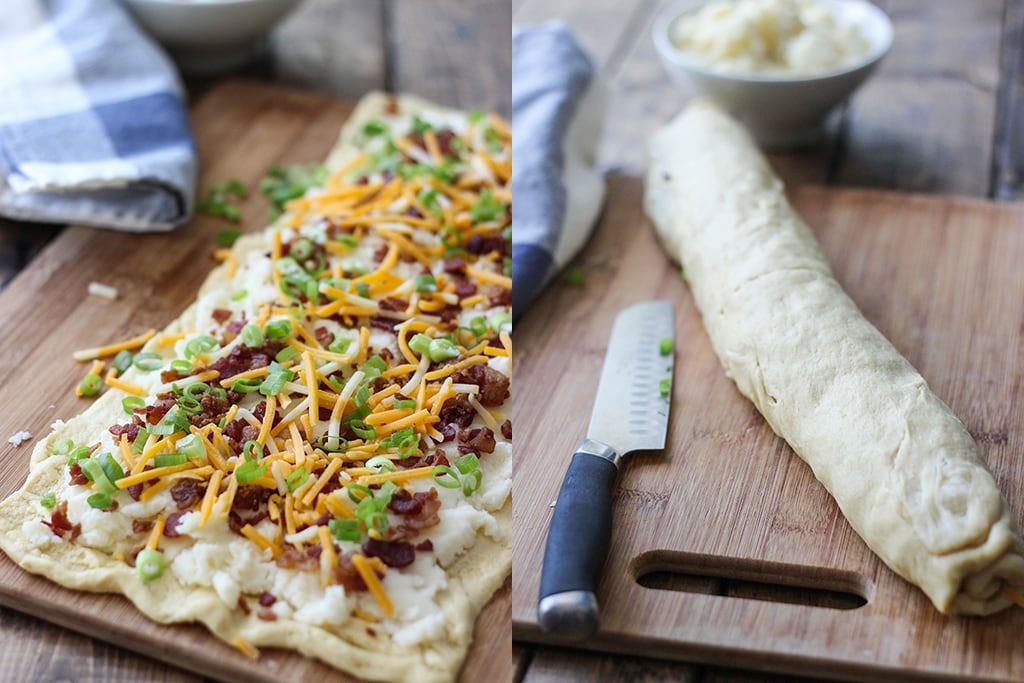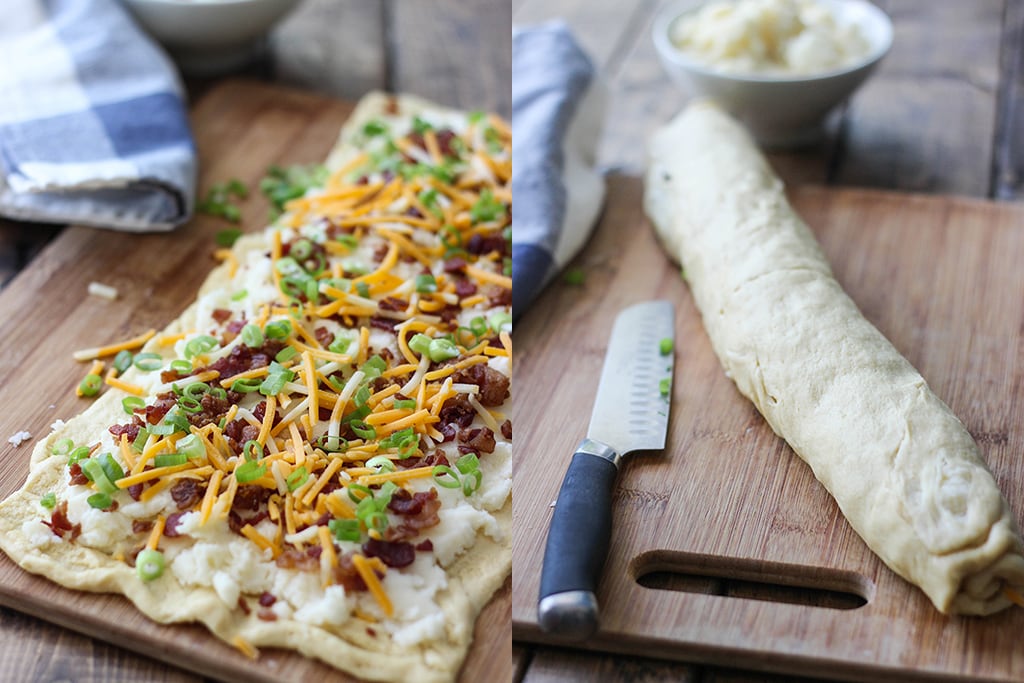 We start by unrolling the crescent roll and pinching the seams so you get one big rectangle sheet of dough. Make sure the dough is still cold so it's easier to handle.
Mix your leftover mashed potatoes with some sour cream. I used about two tablespoons but you can always use more. Keep in mind though that you'll be topping the pinwheels with more sour cream later.
Then spread an even layer of mashed potatoes along the dough sheet. Leave about 1/2″ of room along the edges so stuff doesn't fall out. Top with bacon bits, cheese and green onions or chives. I felt that topping it this way gave an even distribution of bacon and cheese goodness. More so than pre-mixing it with the potatoes. That way, it's fair for everyone. Everyone gets equal share of bacon bits and cheese!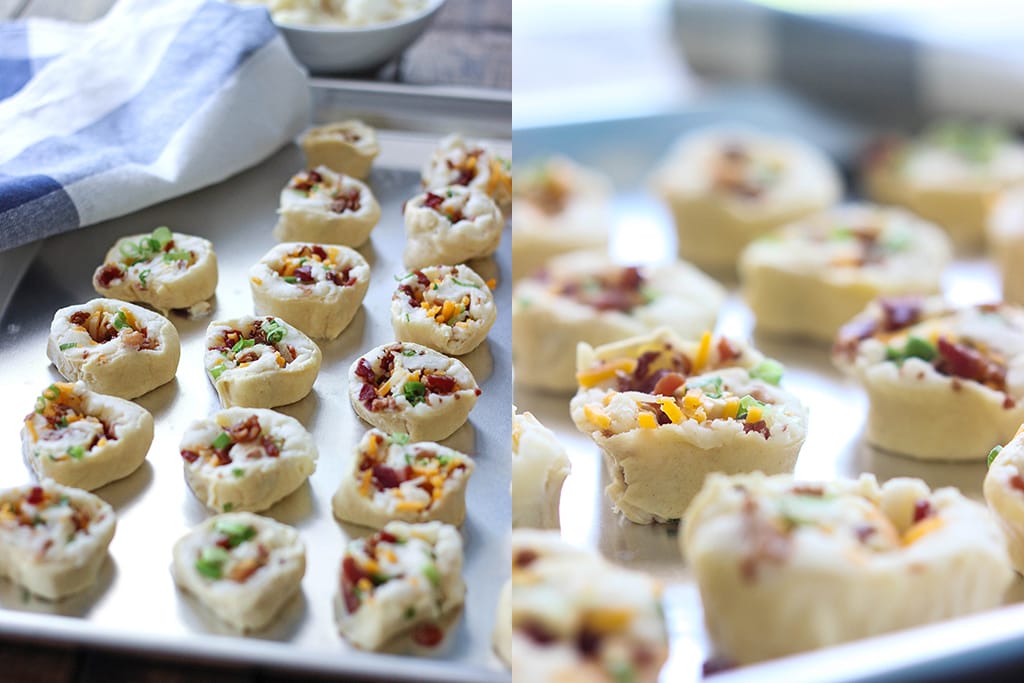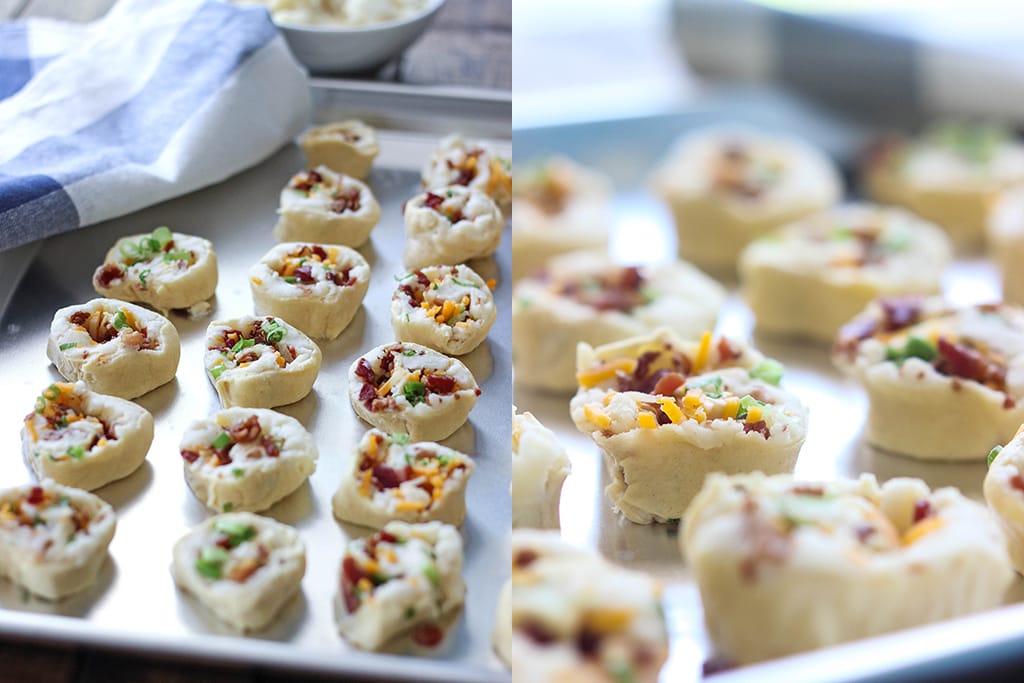 This is where we roll it up. Roll it up lengthwise so you get a long tube of dough. Then slice it into thin slices, about 1/2″ or so. I ended up with about 22 pinwheels, you could have more or less depending on how you slice. I used a normal knife, some suggest using a serrated one but it was tougher for me.
Be gentle but firm when slicing. This was the toughest part for me. If the bottom is stuck, use the end of the knife as a base to gently pry it up. The slicing is what will determine how perfectly round your pinwheels are. I think I did a shoddy job but I feel it's okay if it's messy. Don't worry too much about it. If you get the perfectly round pinwheels, then great! If not, lets just stick with how it adds character.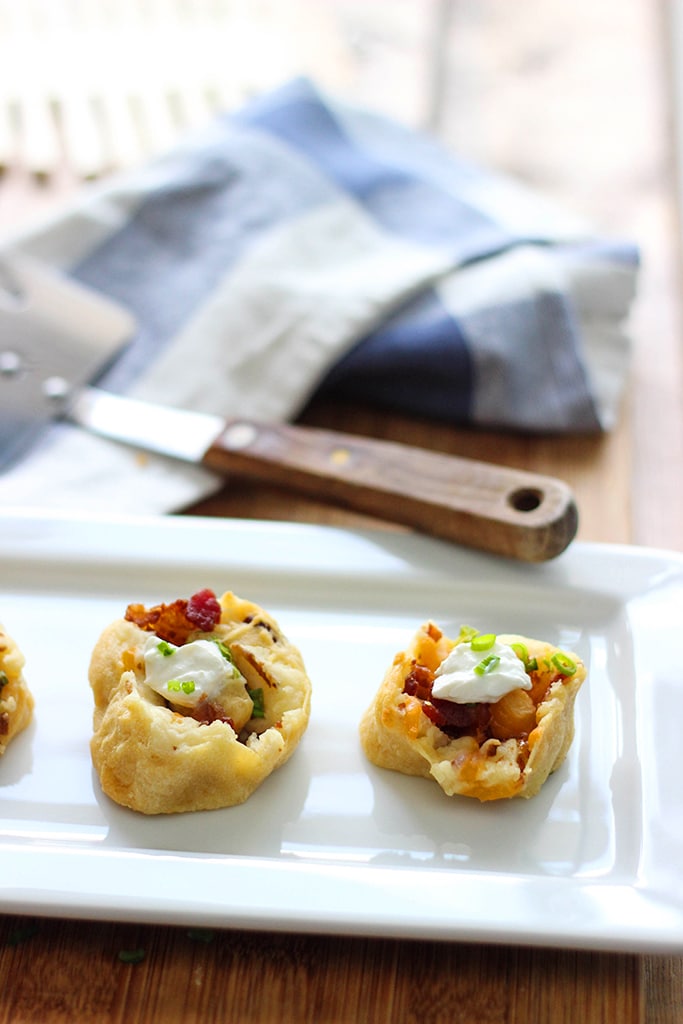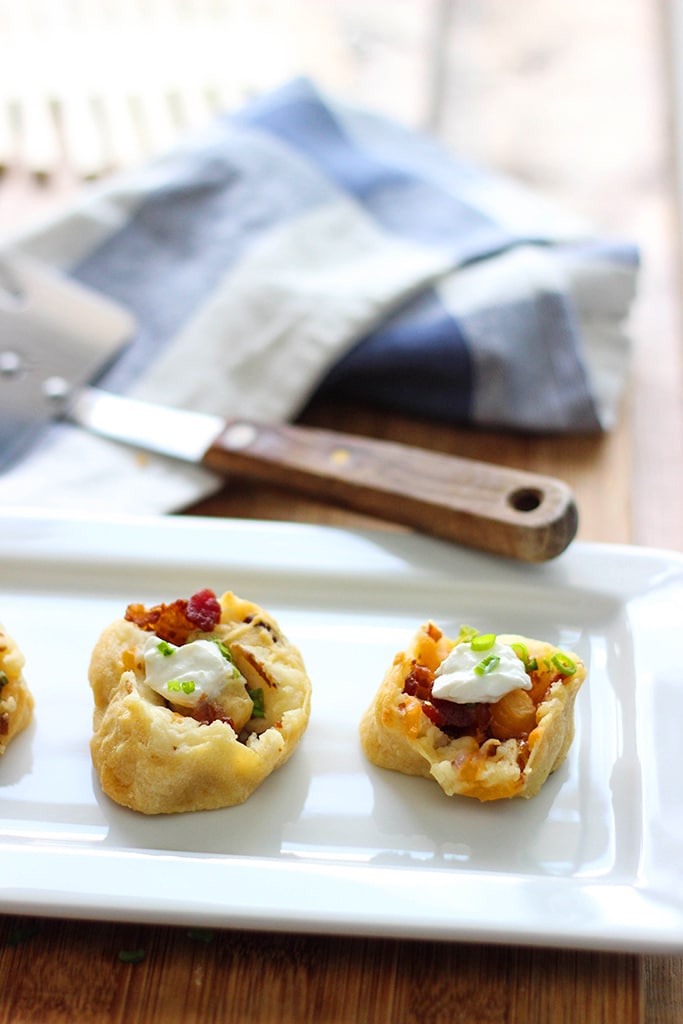 Bake it for 20 minutes or until golden brown and twiddle your thumbs. The pinwheels will expand a little while baking so make sure there's enough room between slices so they don't end up steaming against each other in the oven. Let it cool a little before serving so they don't stick to the pan and have a chance to firm up.
Now they could have been crispier, I'm not sure. I did make the mistake of leaving it overnight in the freezer and that could have changed the dough consistency a little. Let me know how it works out for you. These pinwheels might also work with pie crust.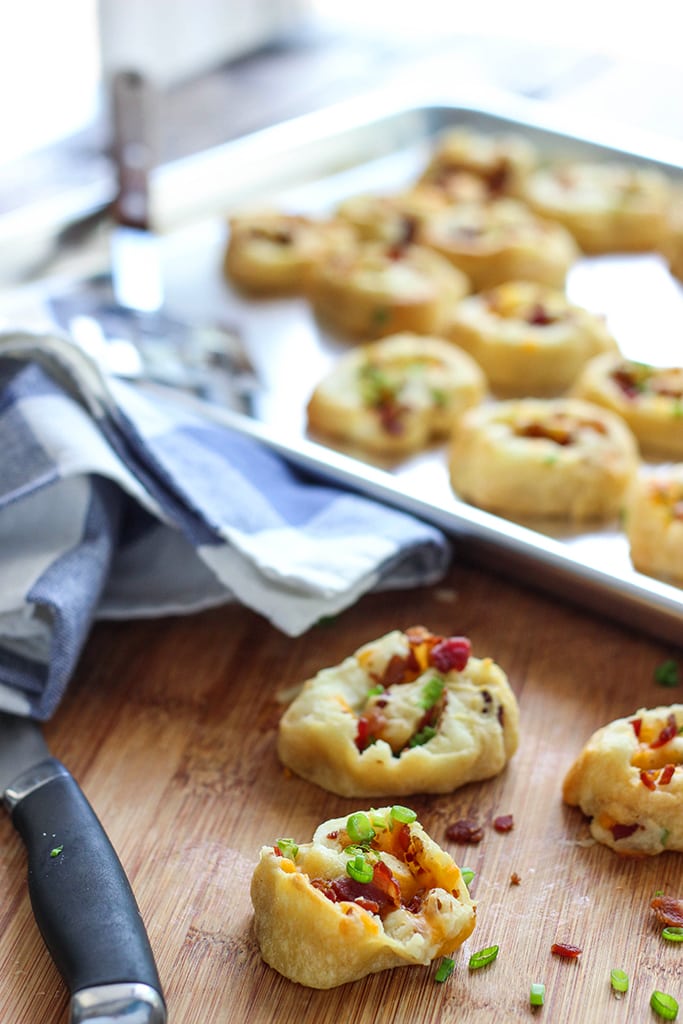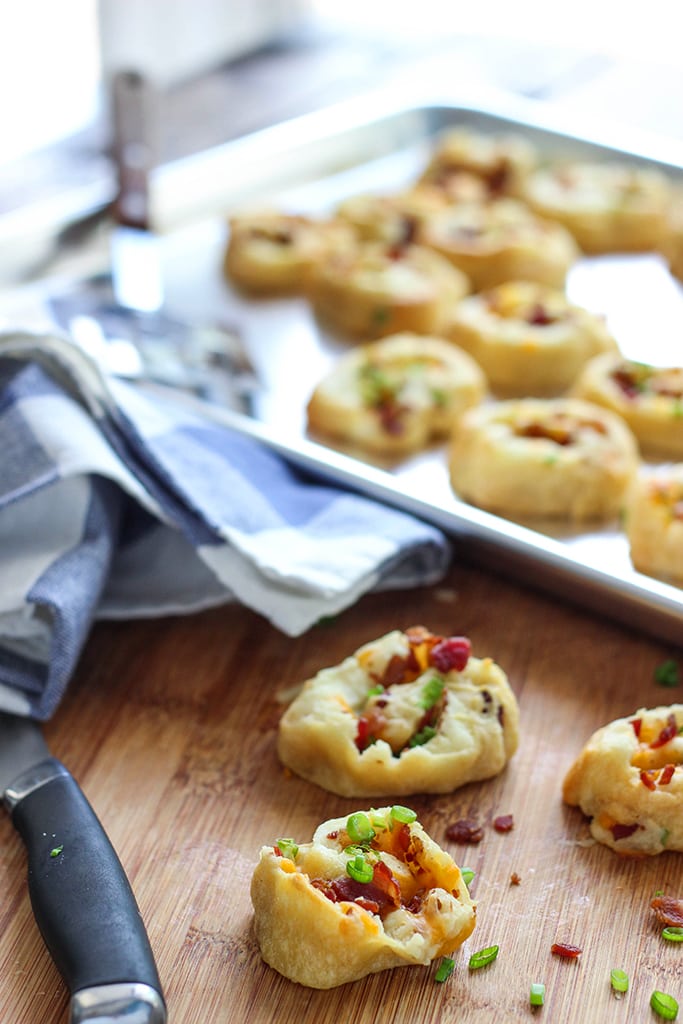 They're good on their own or topped with more sour cream, bacon and green onions or chives. Happy cooking!
PS: Hey I know my pinwheels aren't too pretty. If you end up making these and they turned out prettier, show them off! Tag your pic with #thecookingjar on Instagram and let me see your beauties!
Print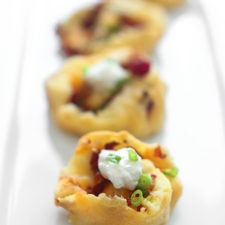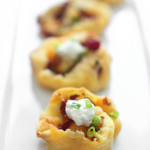 Loaded Potato Pinwheels
---
Author:

Total Time:

40 mins

Yield:

22

-

24

slices

1

x
1

box (8 oz.) frozen crescent rolls

2 cups

mashed potatoes

1 1/2 tablespoons

sour cream

1/2 cup

bacon bits

1/2 cup

cheddar cheese, shredded

1/4 cup

green onions/chives, thinly sliced
---
Instructions
Combine mashed potatoes with sour cream and stir to mix
Roll out the dough and pinch to seal perforations, leaving a 14×8 dough sheet
Spread out the mashed potatoes along the dough sheet, leaving about 1/2″ free on the edges
Top with bacon bits, cheese and green onions
Roll up the dough lengthwise and gently slice into 1/2″ rounds
Bake at 350 degrees F for 20 minutes or until golden brown
Serve topped with sour cream, bacon bits and green onions/chives
Prep Time:

20 mins

Cook Time:

20 mins
Nutrition for each pinwheel (22 total):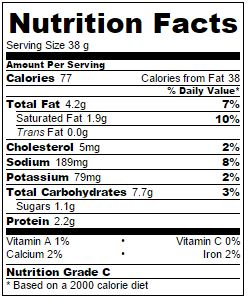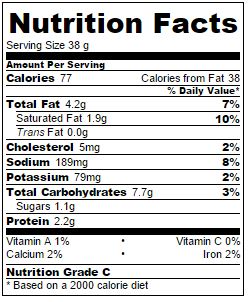 ♡ Affiliate disclosure: As an Amazon Associate, I earn commissions from qualifying purchases from Amazon.com. You can learn more about it here.