Maple glazed chicken is sweet, tangy and full of flavor. With a robust glaze to start your meal and ready in 30 minutes.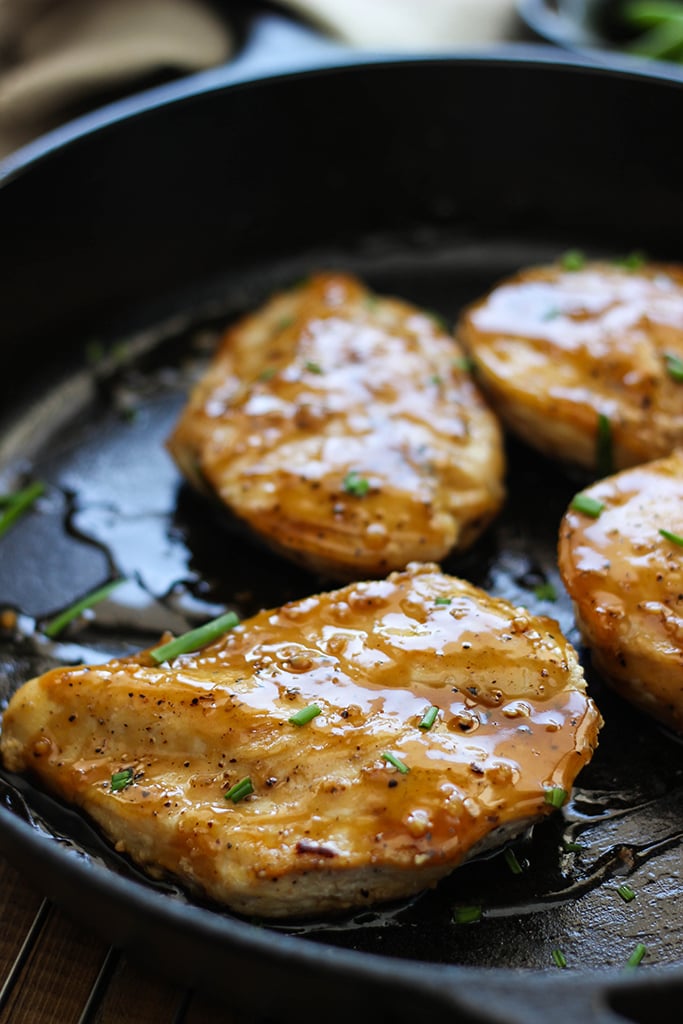 Chicken breasts can be pretty boring. I usually cook with boneless, skinless chicken breasts so there's no magical crispy skin that I get to steal from everyone later. They really don't look at good as thighs and certainly aren't as juicy. But they're cheap and easy to deal with in the kitchen, so we stick with it. Yes, chicken breasts can be boring. But that doesn't mean they can't be delicious.
Now that I've primed you and you're ready for deliciousness, today we're gonna make some maple glazed chicken breasts. Simple. Totally not sophisticated. But full of yum. If you've followed me long enough, you'll know I like depth of flavor. So instead of dumping a whole bunch of maple syrup in there and calling it a maple glaze, I've tweaked the flavor profile just a little to have notes of citrus and some soy sauce to balance it out.
So let's get cooking!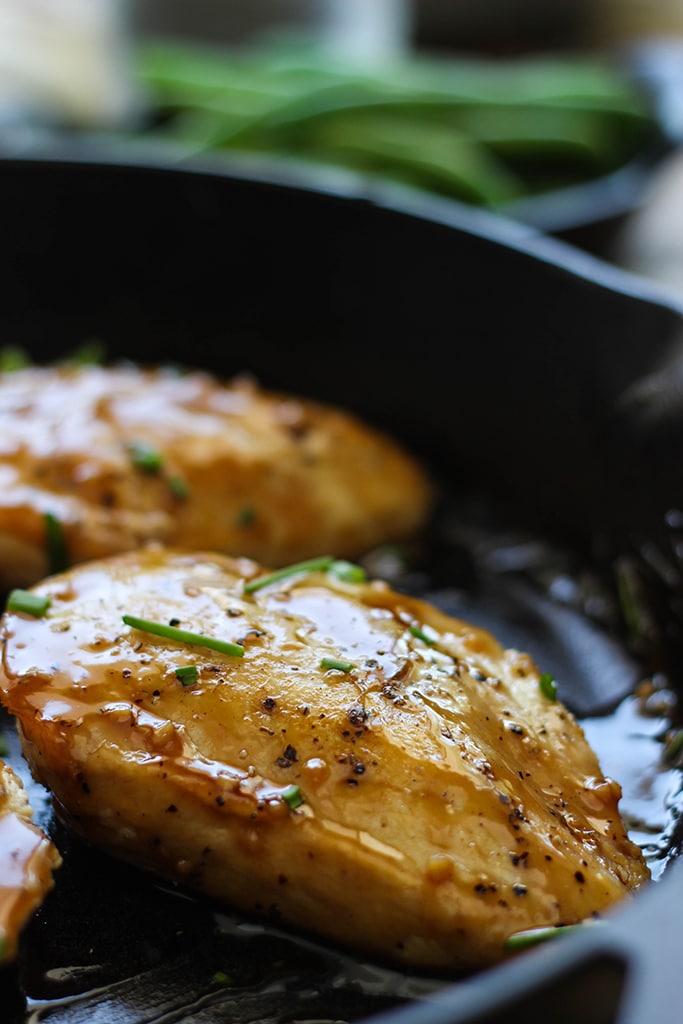 MAPLE GLAZED CHICKEN TIPS AND TRICKS:
Portions: This recipe is enough for four servings but if you want to halve the portions,  use two chicken breasts but keep the sauce proportions the same. You still want enough glaze to go around and more sauce is better than no sauce.
Sauce: There are two ways to deal with the sauce or glaze. You could do a reduction in a pan before baking or after baking by simmering until it thickens. Or you can cheat and add in a cornstarch slurry to save time. I always do this because it's fast, I can control the consistency and it's just easier overall. It's so much better than standing over the stove and waiting for the sauce to thicken. The sauce will turn whitish when you add the slurry. Bring it to a boil and wait until the color returns to normal. That's when you know the slurry has thickened it as much as it can.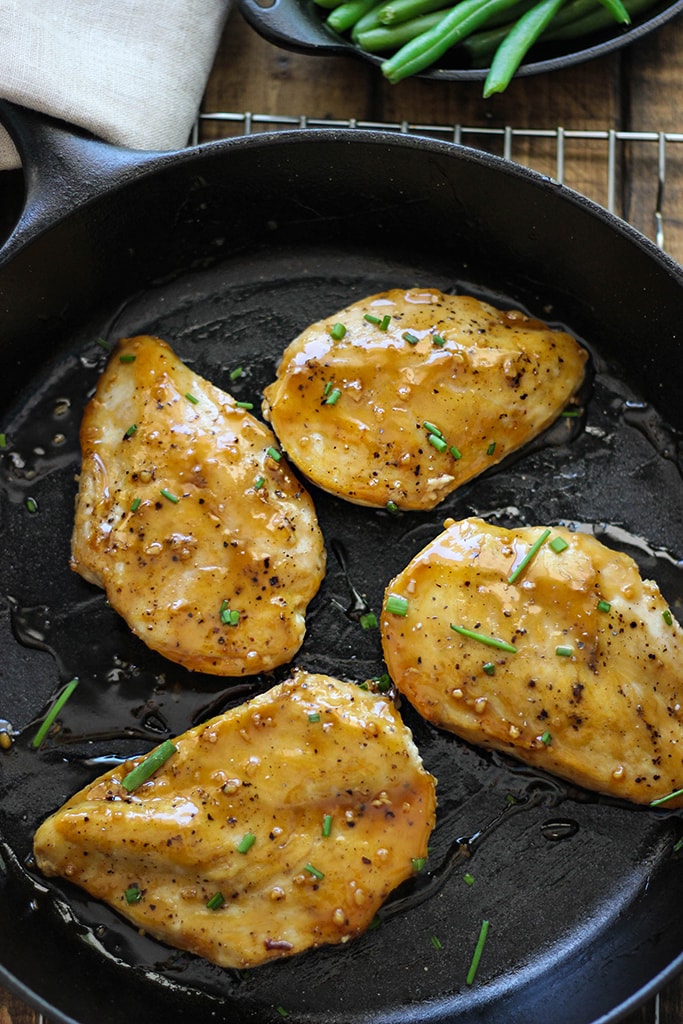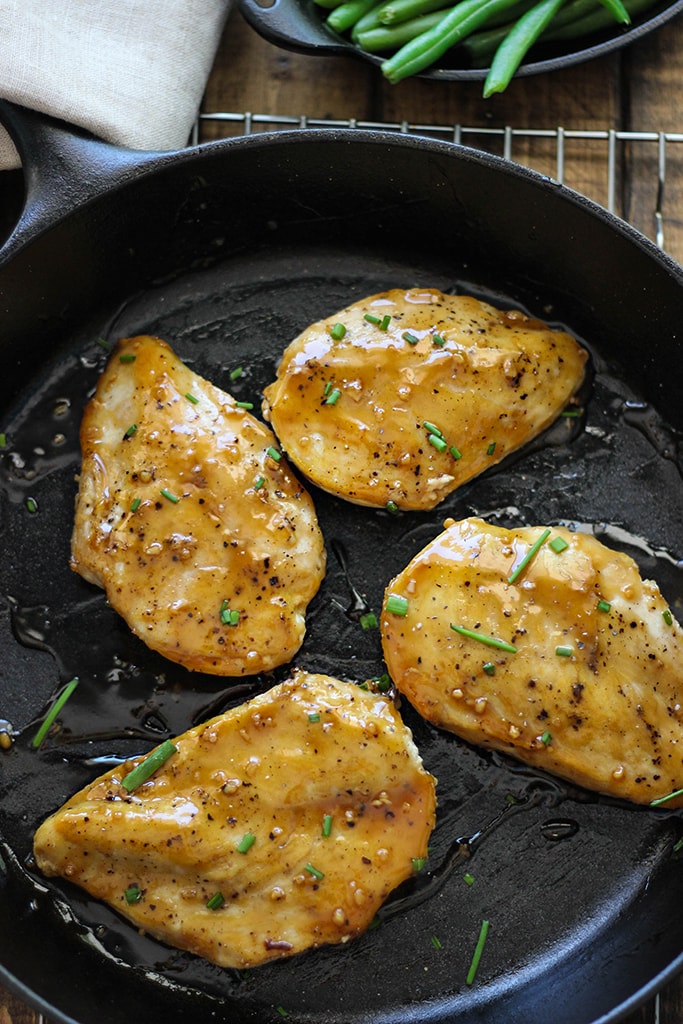 Baking:  I used a 12″ oven-safe skillet so that's about the size you're looking to fit 4 chicken breasts. Keep the chicken at a distance from each other so they don't steam instead of bake.
Alternatives methods: If you want to skip the baking part or simple want to do everything over the stove-top, reduce heat to medium and simmer the chicken in the sauce for about 5 minutes per side. Flip it and do the other side until the chicken is no longer pink or internal temperature reads 165 degrees F.  You can also do this over the grill by thickening the sauce before hand and then basting it onto the chicken every time you flip.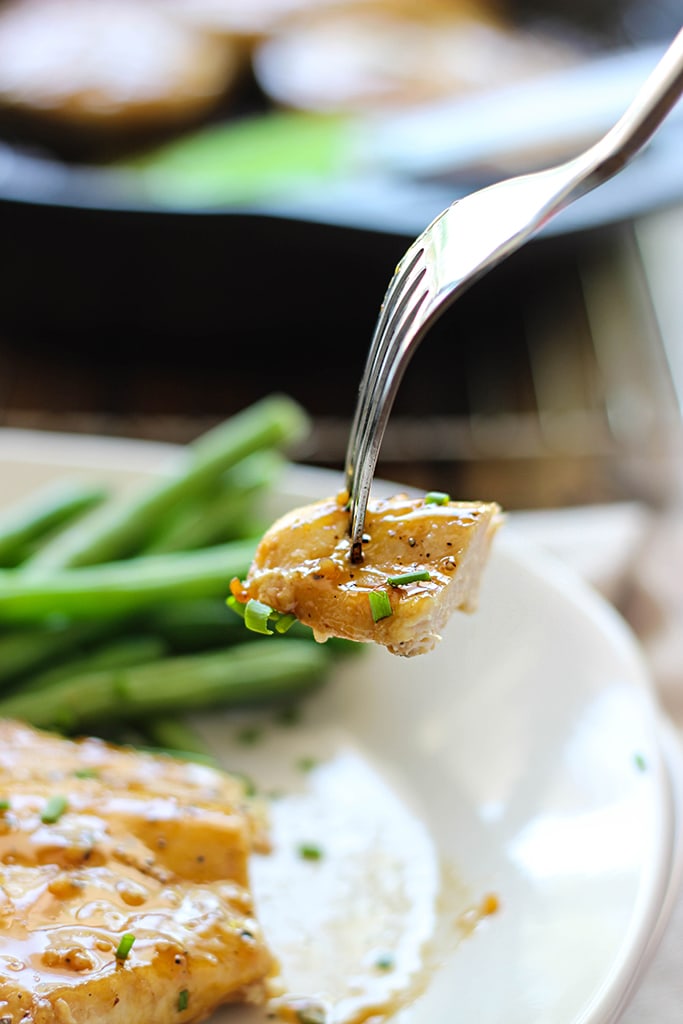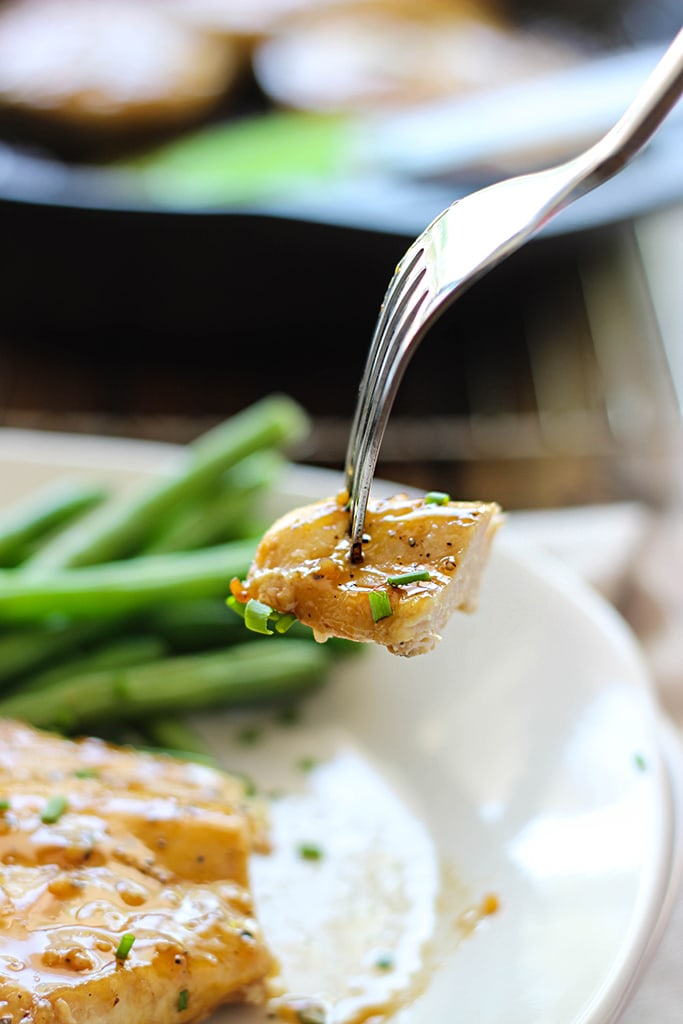 And that's about it. Enjoy it with a side of veggies to balance the meal out or some potatoes. If you're in the mood for a salmon version of this, there's a salmon bowl recipe I made awhile back.
Happy cooking!
Print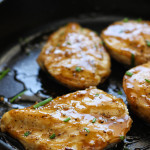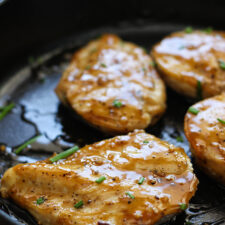 Maple Glazed Chicken
---
Author:

Prep Time:

10 mins

Cook Time:

20 mins

Total Time:

30 mins

Yield:

4

1

x
Description
Maple glazed chicken is sweet, tangy and full of flavor. With a robust glaze to start your meal and ready in 30 minutes.
---
Scale
Ingredients
4

boneless, skinless chicken breasts
Salt and pepper to taste
Sauce:
1/4 cup

chicken broth

1/2 teaspoon

garlic, minced

4 tablespoons

maple syrup

1 tablespoon

soy sauce

1 tablespoon

lime juice

1 teaspoon

cornstarch mixed with two teaspoons cold water (optional)
---
Instructions
Combine the sauce ingredients and stir to mix
Pat the chicken dry and season with salt and pepper to taste
In an oven-proof skillet over medium high heat, pan-fry the chicken on both sides until browned, about 2-3 minutes per side
Remove chicken from pan, drain any excess oil
Add sauce to pan and bring to a boil. Reduce heat to medium and simmer for 1 minute, stirring constantly
Return chicken to pan and spoon the sauce over it
Bake at 400 degrees F for 10 minutes or until chicken is cooked
Dish chicken and start reducing your glaze or use cornstarch slurry to thicken it. Simmer until sauce has thickened
Drizzle the sauce over the chicken and serve hot