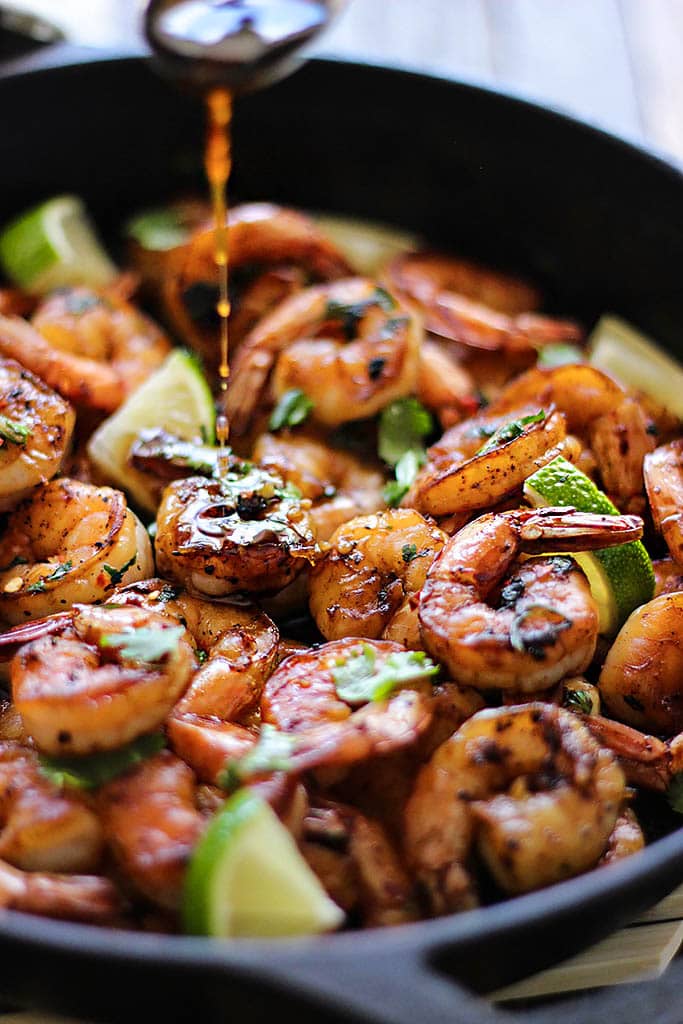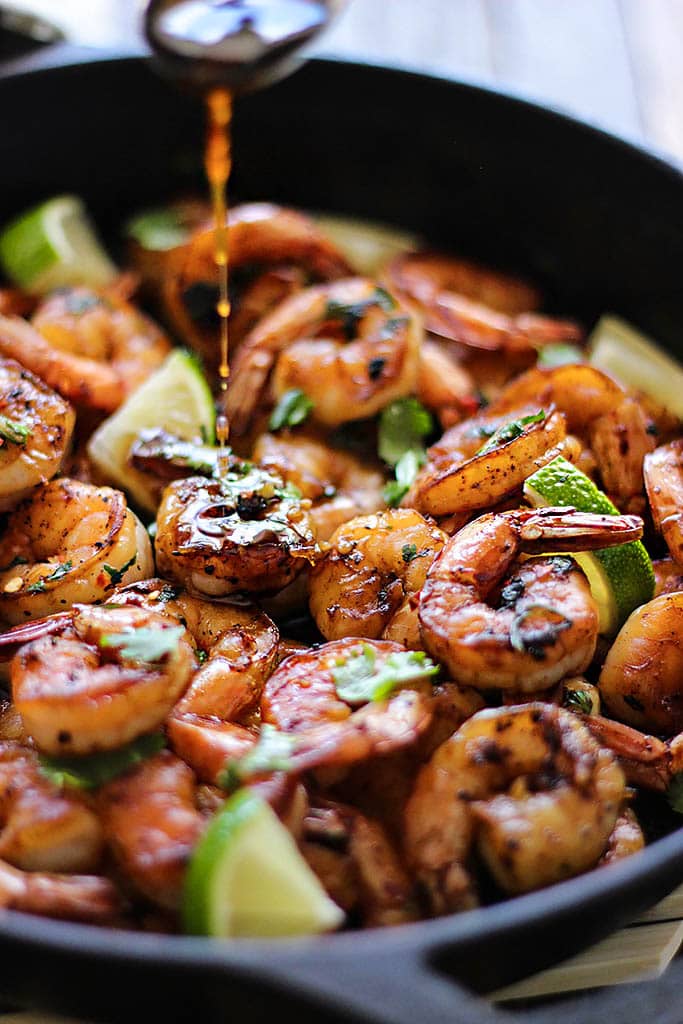 Today we'll be doing another quick shrimp skillet for those looking for a healthy weeknight meal. It's zesty, it's full of life. And dee-licious. Once I started sneaking a few in between shots, I couldn't stop. It's infused with the freshness of cilantro and lime, a little feistyness from sprinkles of red pepper flakes and marinated lovingly in a honey garlic sauce. And if you love the sauce, you'll get to drizzle more of it on later. And maybe more lime juice. Because I have to say the lime juice was the star of the show for me.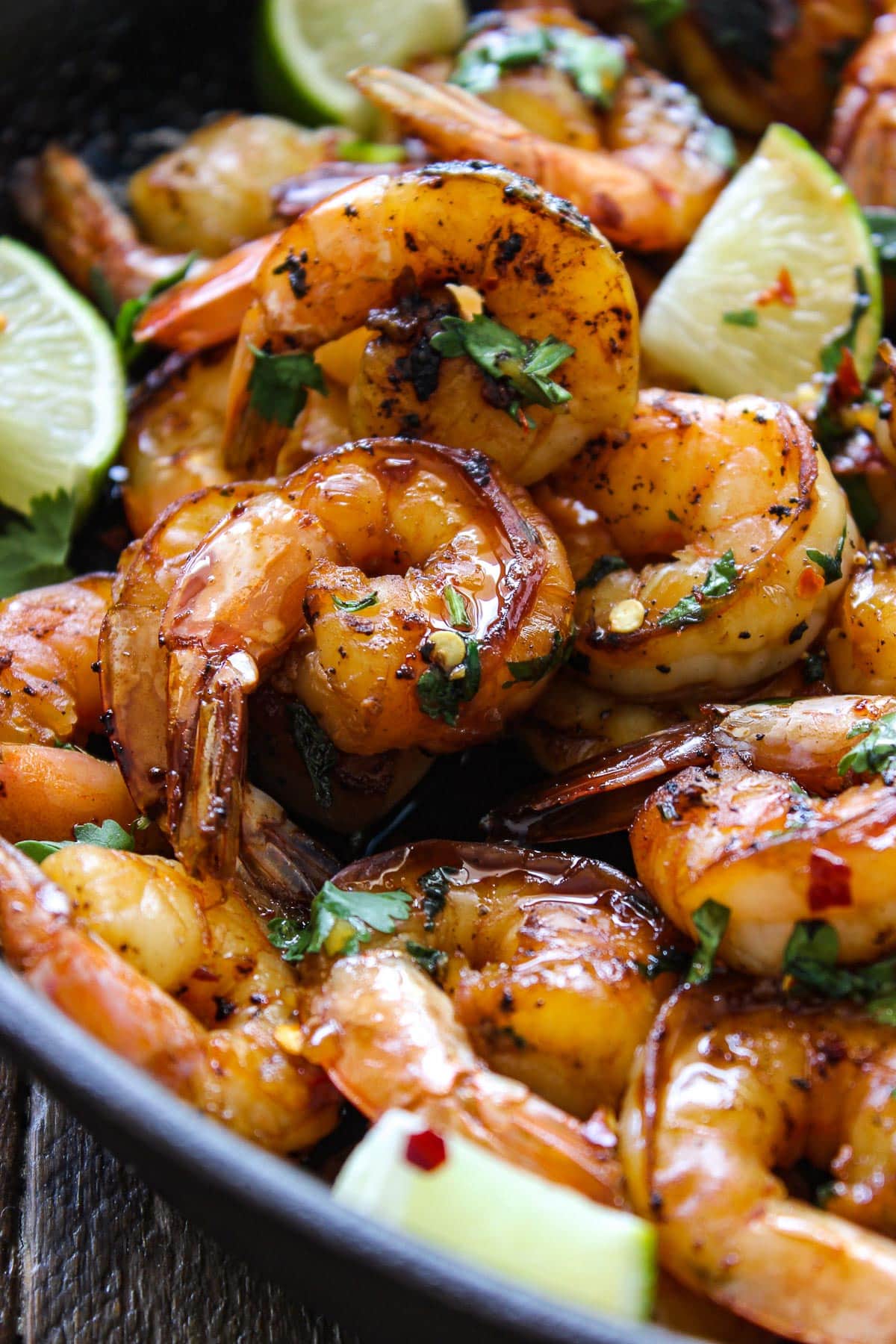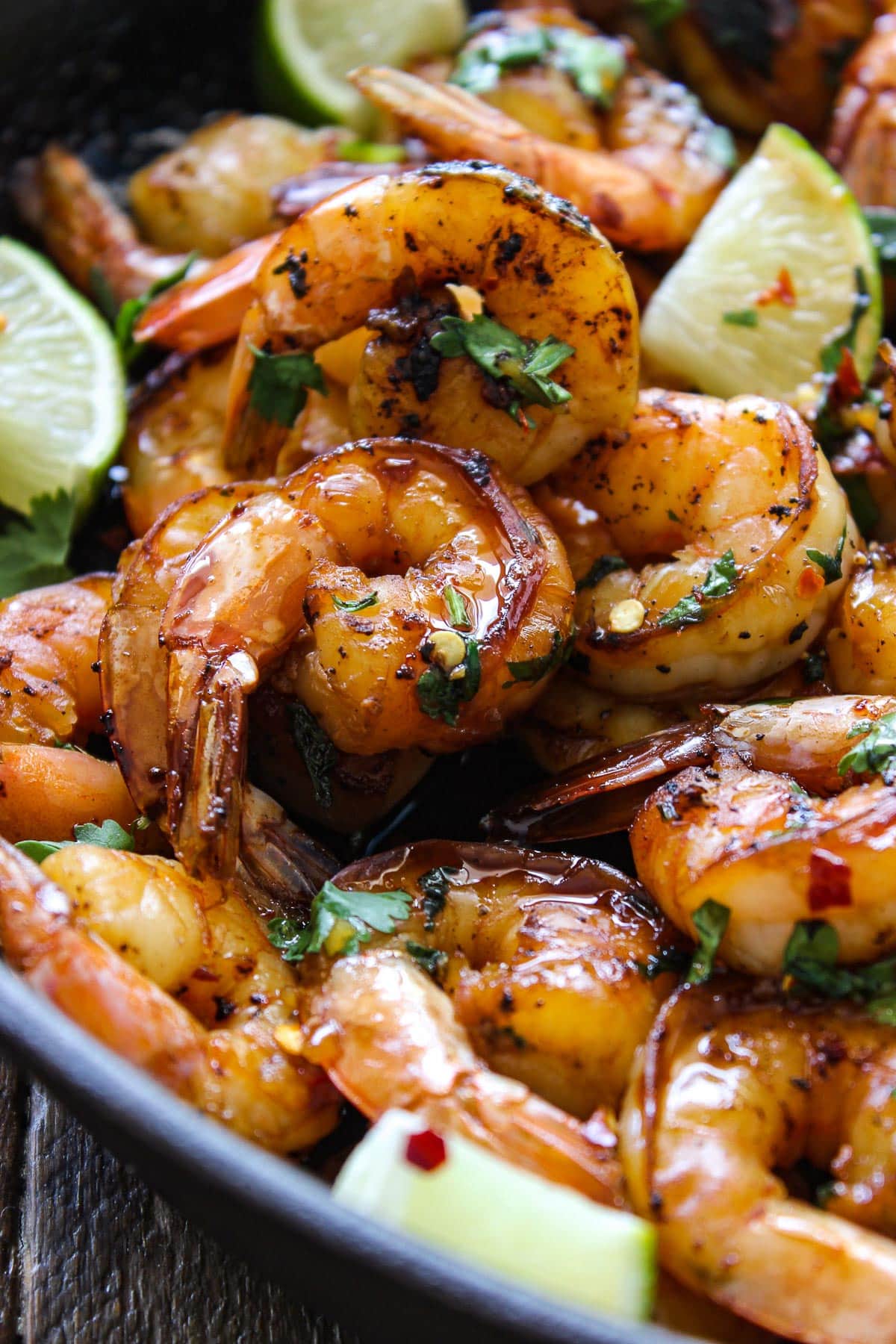 Now if you want, you can even skewer these and grill them. But for those that want to stay in front of the stove or have an aversion to sharp pointy objects, skillet this away! I'm doing this on a cast iron skillet so there's caramelized bits from the honey we can rub the shrimp into later to give it a blackened, smoky look. And if you want it smokier, feel free to sprinkle some smoked paprika into the sauce.
Interested? Let's cook!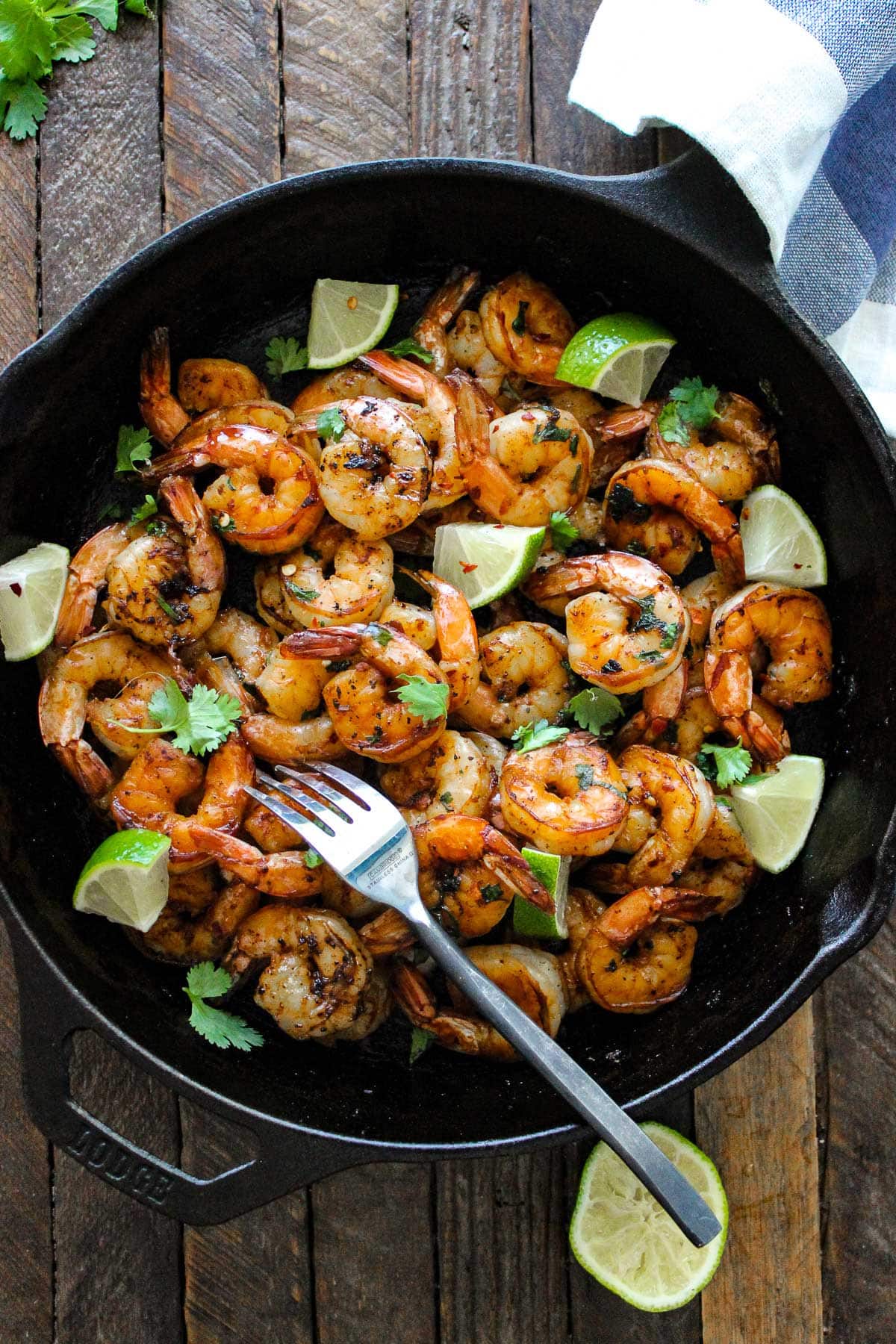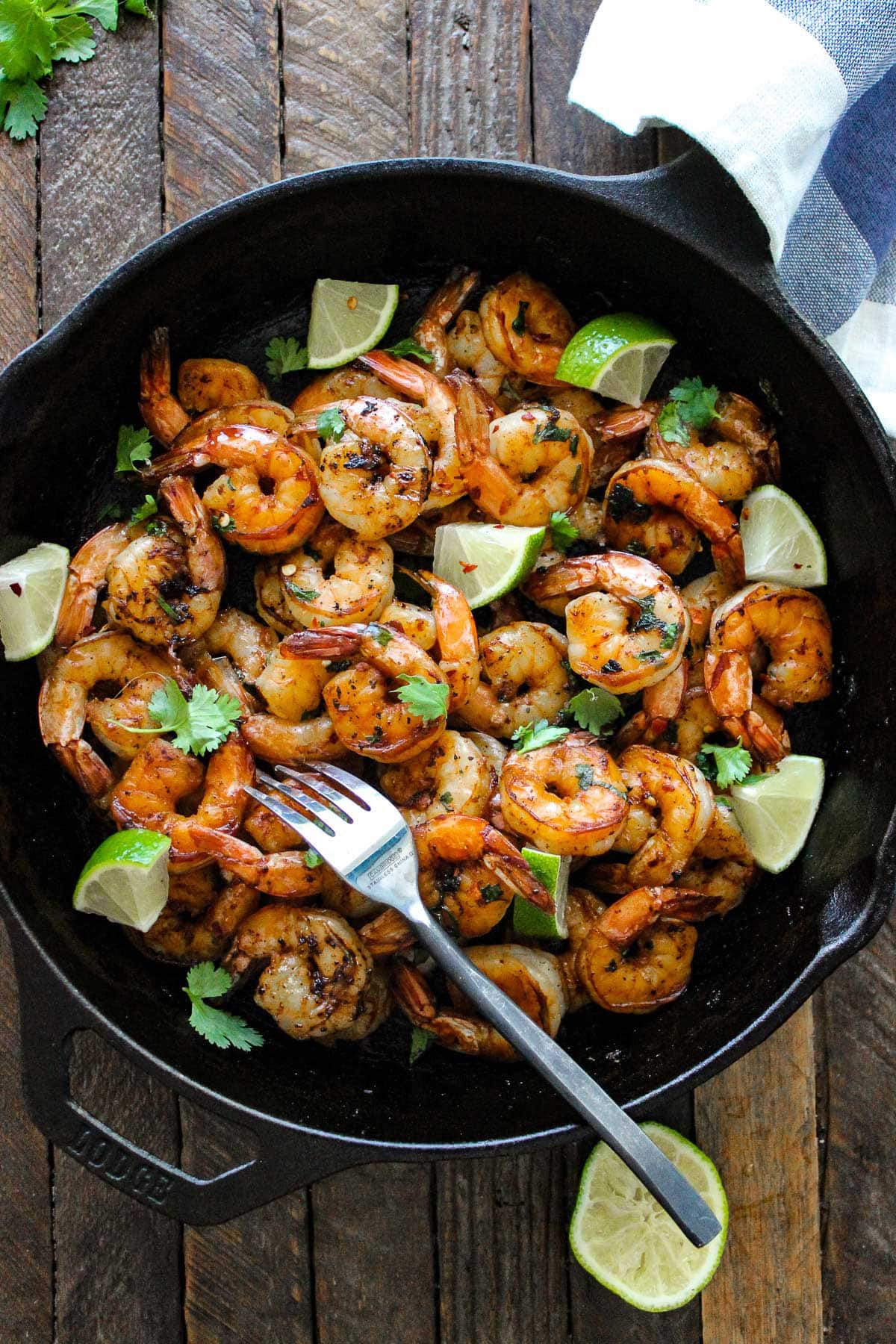 We start by chopping up whatever needs to be chopped up. Then make your sauce. It's super easy.  Add as much red pepper flakes or cayenne as you want. It can be as hot as you like or don't like it. Just tailor it to your taste buds or the tastes buds of the most vocal member of your family at the table. That way, everyone is happy. 😉 I went with large peeled and deveined shrimp with the tail on for looks, but you can go tail off or even go for jumbo shrimp. Marinate the shrimp in half the sauce for 15-30 minutes. By now, you'll be infused with a breath of fresh cilantro so you should be in a good mood during this idle time.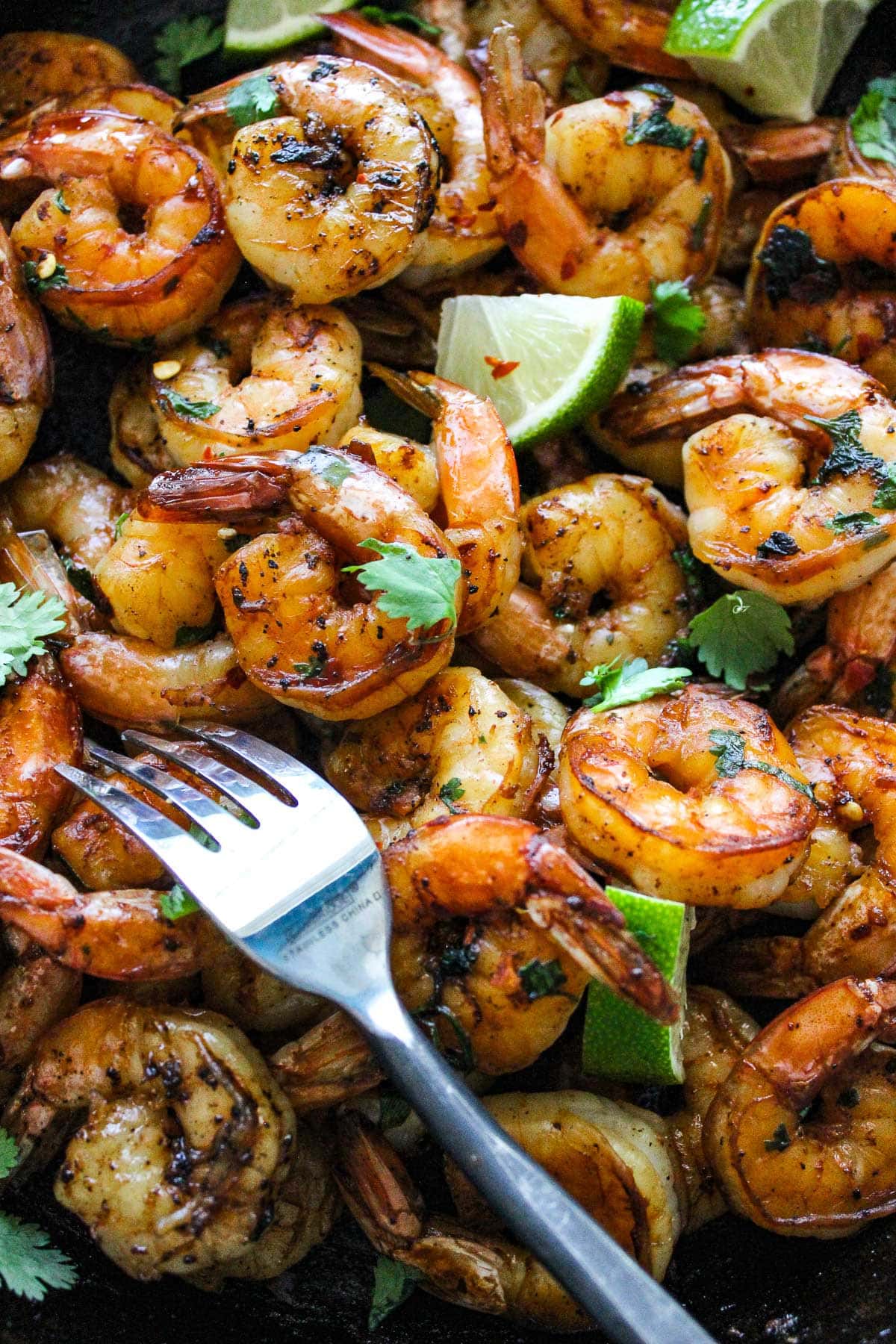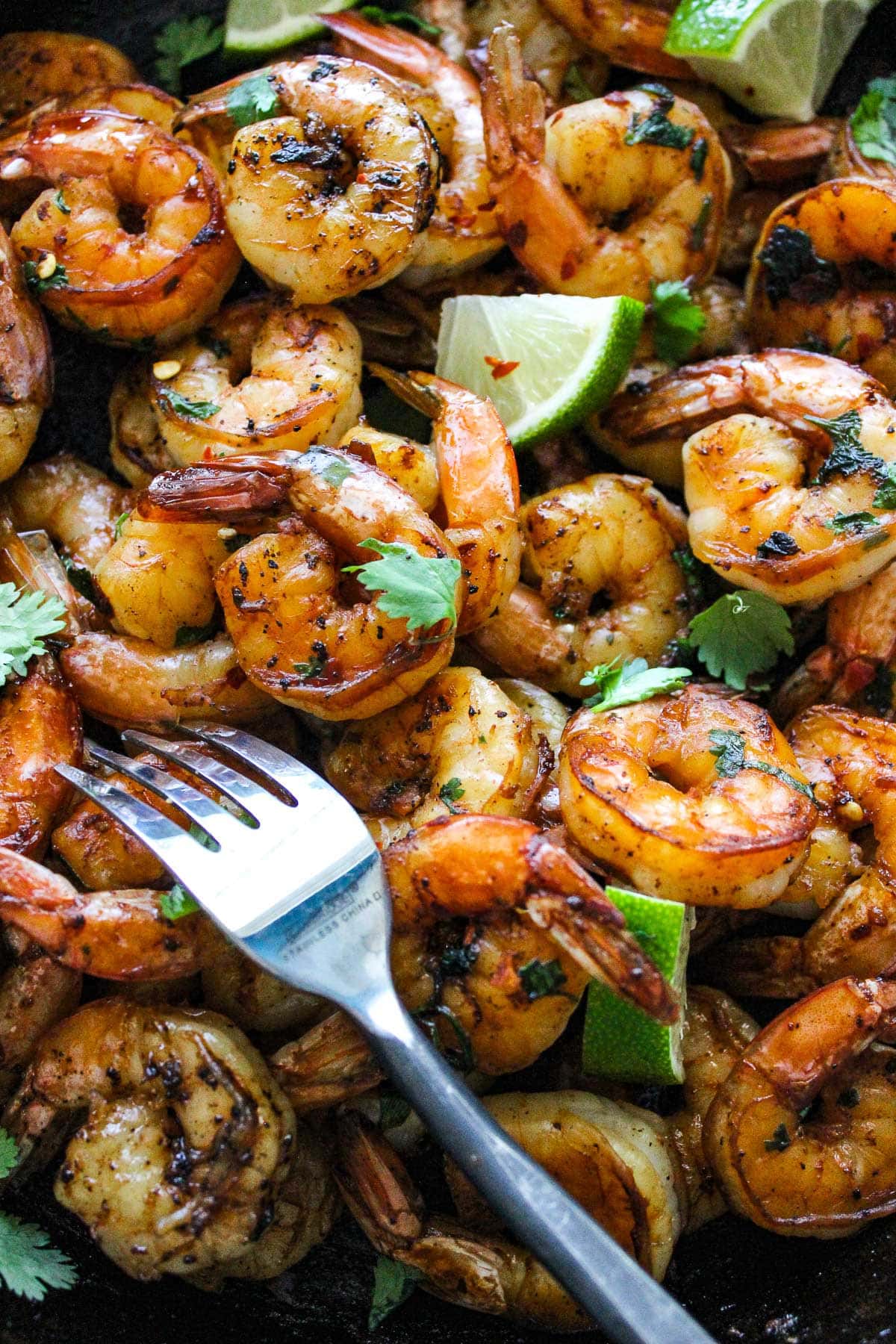 Then we heat up the skillet over medium high heat and start cooking the shrimp. Discard the marinade and cook your shrimp in batches. It won't take too long, about 1 minute per side. Just be sure not to overcrowd the pan so the shrimp doesn't steam instead of sear. Give it some room to breathe. Then rub it into any caramelized bits with your tongs in between batches to get it nice and blackened.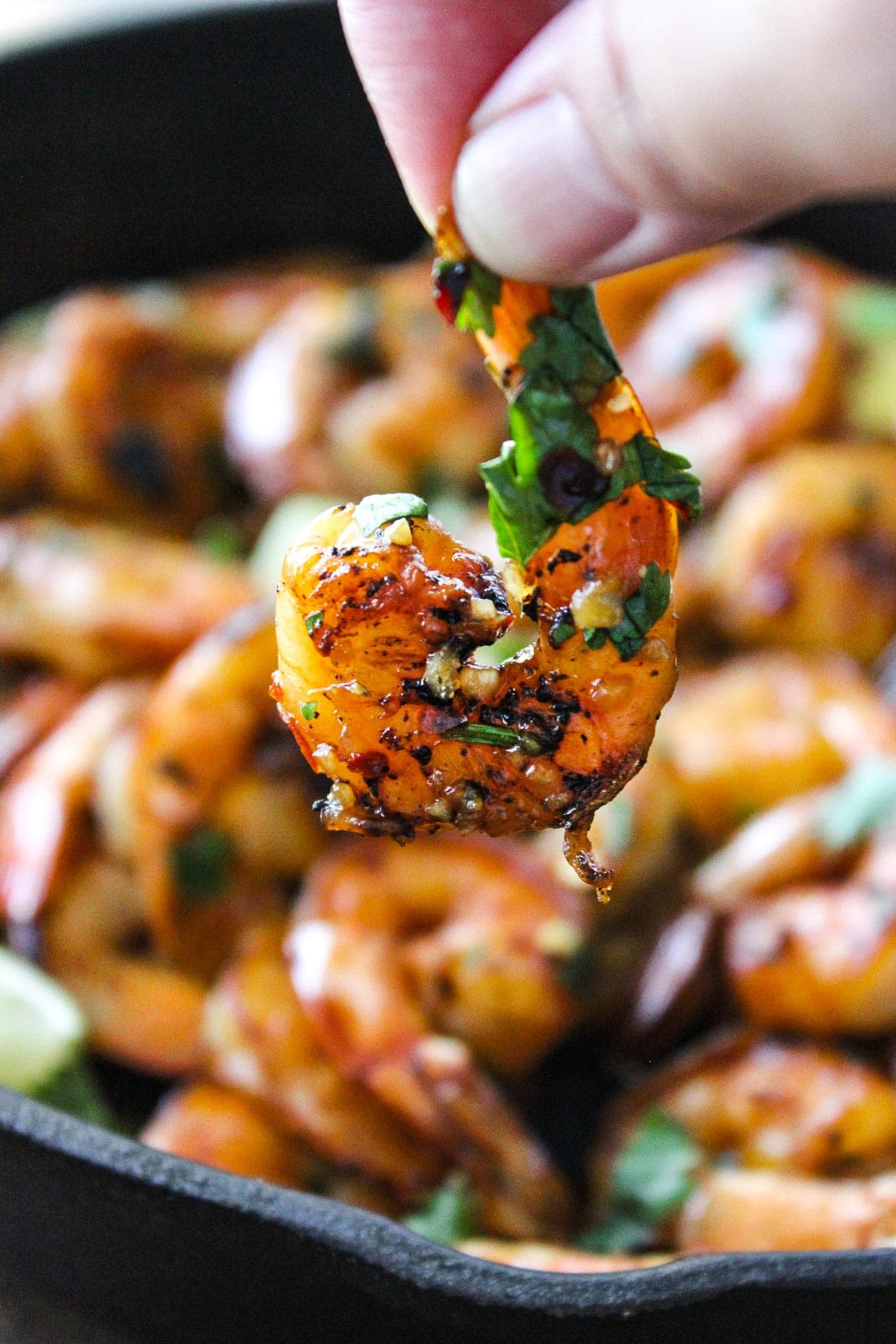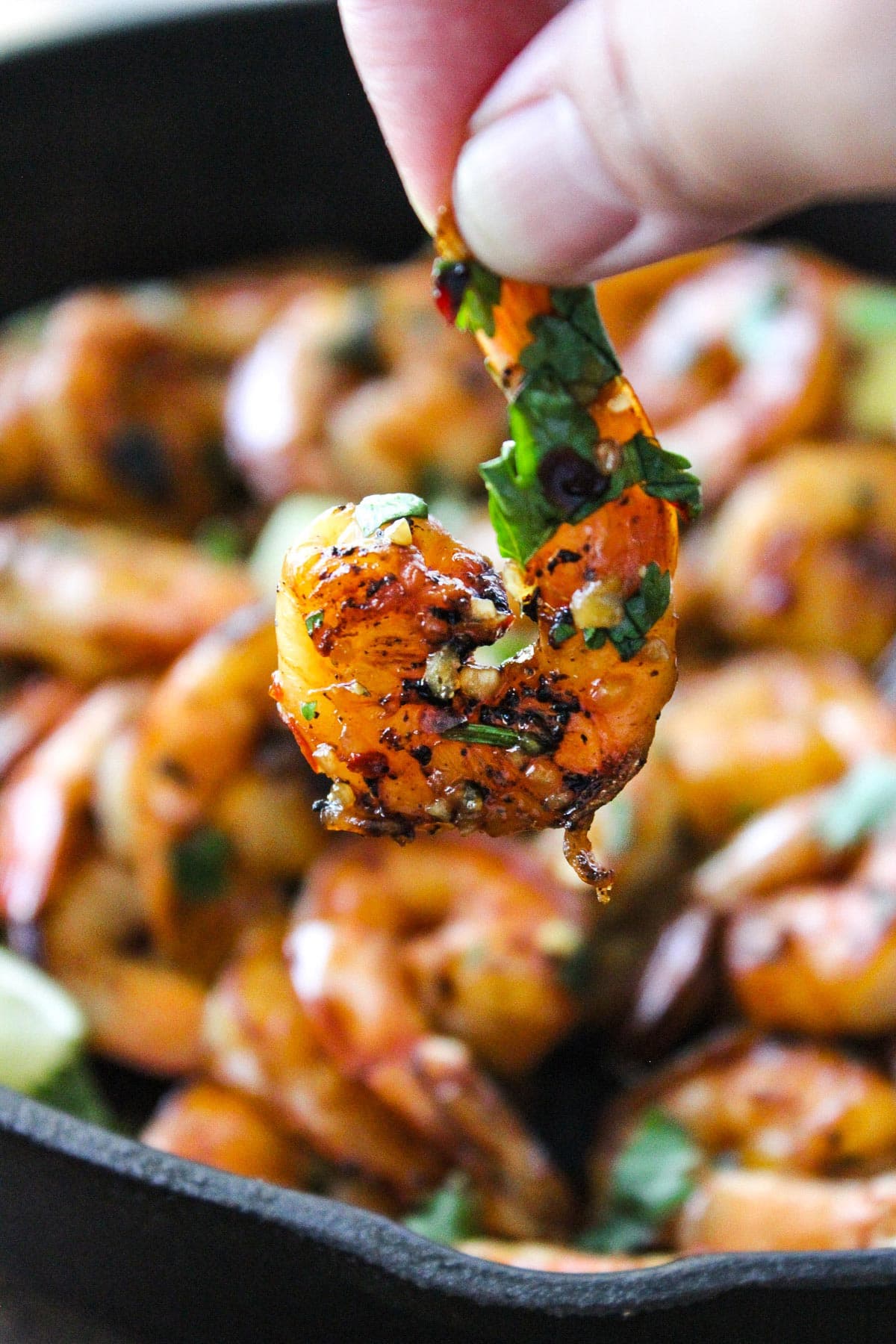 Once that's all done, you're ready to serve. Now you can drizzle with the remaining sauce as is, thicken the sauce over the stove top with a cornstarch slurry if you want it slightly more concentrated in flavor or double the sauce if you want more to go around. It all depends on how you like it. I've kept it a simple drizzle of the remaining sauce for now but feel free to adjust.
And that's it! Sprinkle with more lime juice and top with more cilantro if you want and serve.
Happy eats!
Print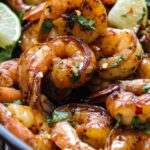 Cilantro Lime Honey Garlic Shrimp Skillet
---
Author:

Prep Time:

5 mins

Cook Time:

15 mins

Total Time:

20 mins

Yield:

4

1

x
1

lb. shrimp, peeled and deveined
Sauce:
1 teaspoon

garlic, minced

1/2 teaspoon

ginger, minced

4 tablespoons

honey

2 tablespoons

soy sauce

2 tablespoons

lime juice
Red pepper flakes/cayenne pepper to taste

4 tablespoons

fresh cilantro, finely chopped
Pepper to taste
---
Instructions
Combine the sauce ingredients and divide it into half
Marinate the shrimp in half the sauce for 15-30 minutes. Discard marinade
Over medium high heat in a 10″cast iron skillet, pan sear the shrimp in some oil
Sear them on both sides in batches until browned, about 1 minute per side
Using tongs, rub the shrimp into caramelized bits on the bottom of the pan
Dish and serve hot, drizzled with remaining sauce
Notes
15-30 minutes marination time