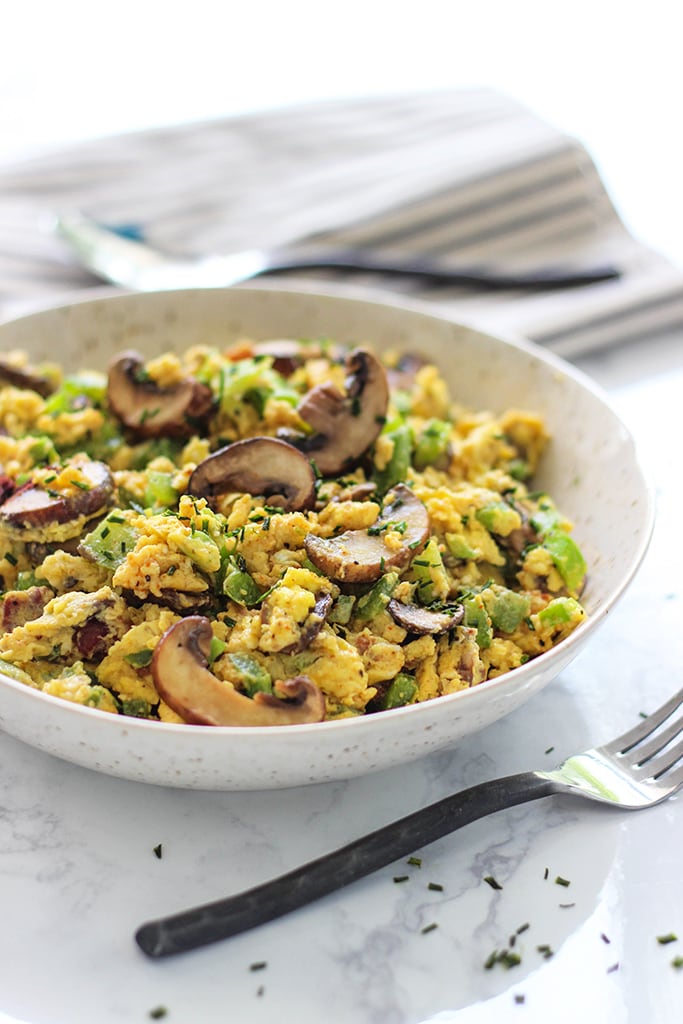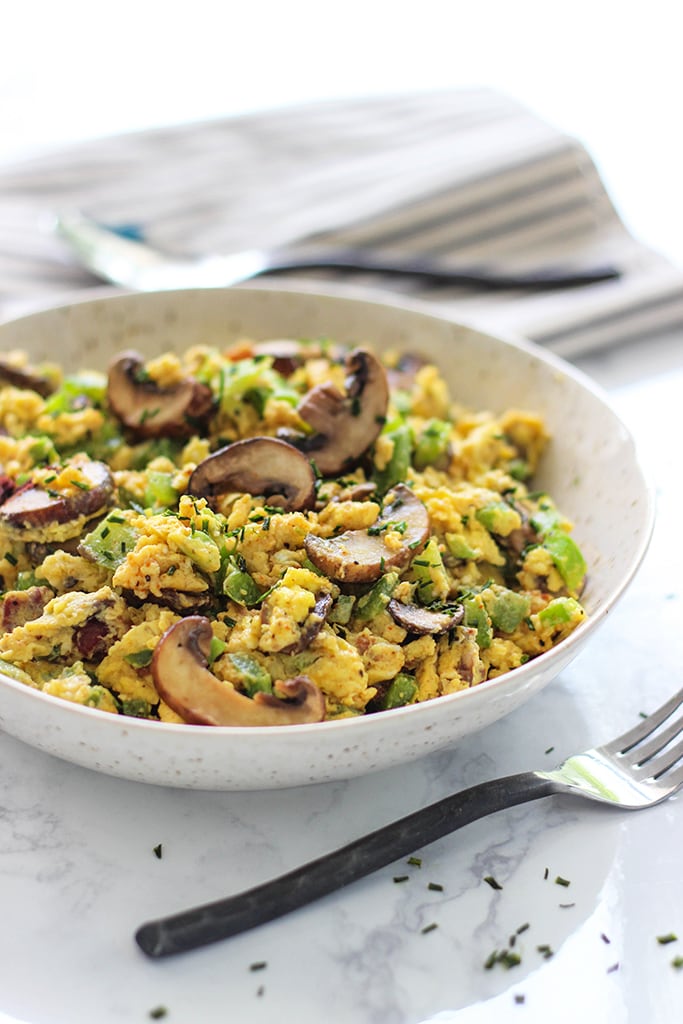 Today we'll be doing an easy recipe of smoky scrambled eggs. It's one of those things I threw together with whatever I had leftover in the fridge and it turned out so well, I decided to jot down notes for the blog. Scrambled eggs are usually taken for granted and one of those things that hardly needs a recipe. So use this one as inspiration if anything else.
It's smoky because we'll be tossing in some smoked paprika but one thing I really love about this is my last minute decision to spice it up some with some hot sauce like Cholula. It really brought the flavor together. I used green bell peppers and mushrooms for this version but again, scrambled eggs are so versatile so feel free to sub them with whatever veggies you like. Shredded zucchini, tomatoes, spinach, caramelized onions …whatever your little hungry heart desires.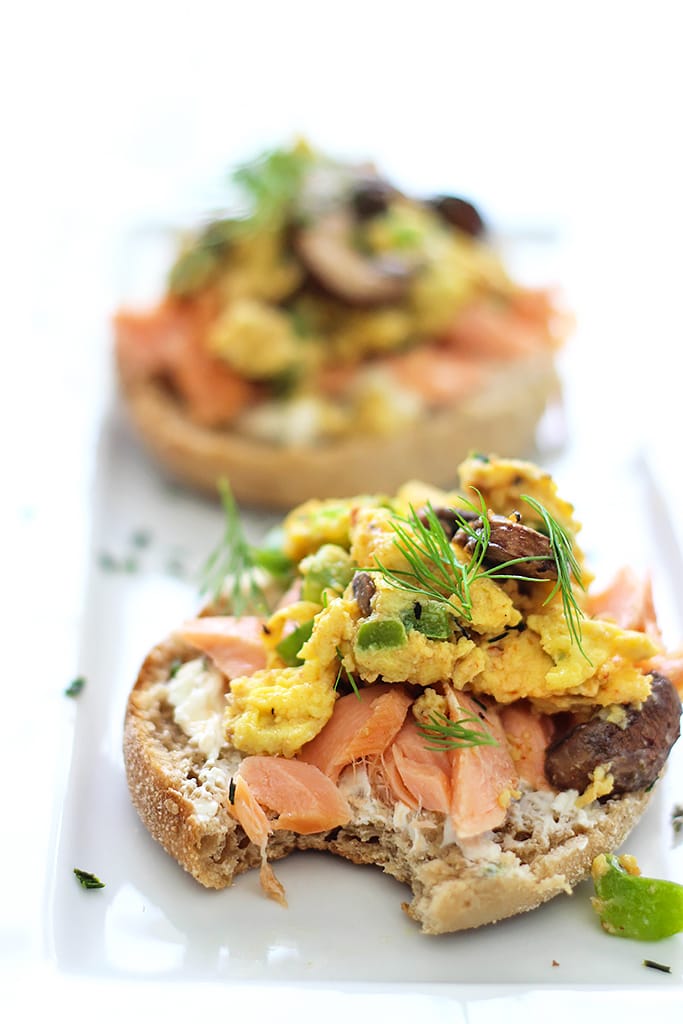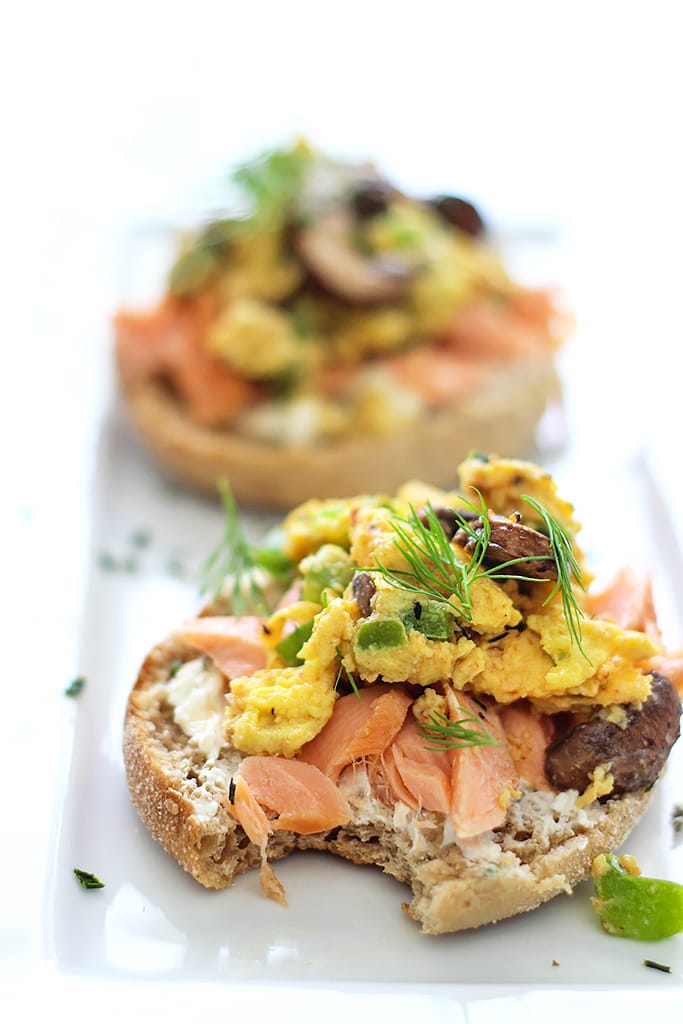 There's so many ways to enjoy this. Toss it on a bagel or English muffin. Wrap it up in a tortilla for some breakfast burritos and top with some fresh salsa and avocados. Serve it on the side with the usual breakfast suspects. I tried it out with an English muffin, some chive and onion cream cheese, smoked salmon and dill. Loved it, as you can see from that little bite I took.
So let's get started.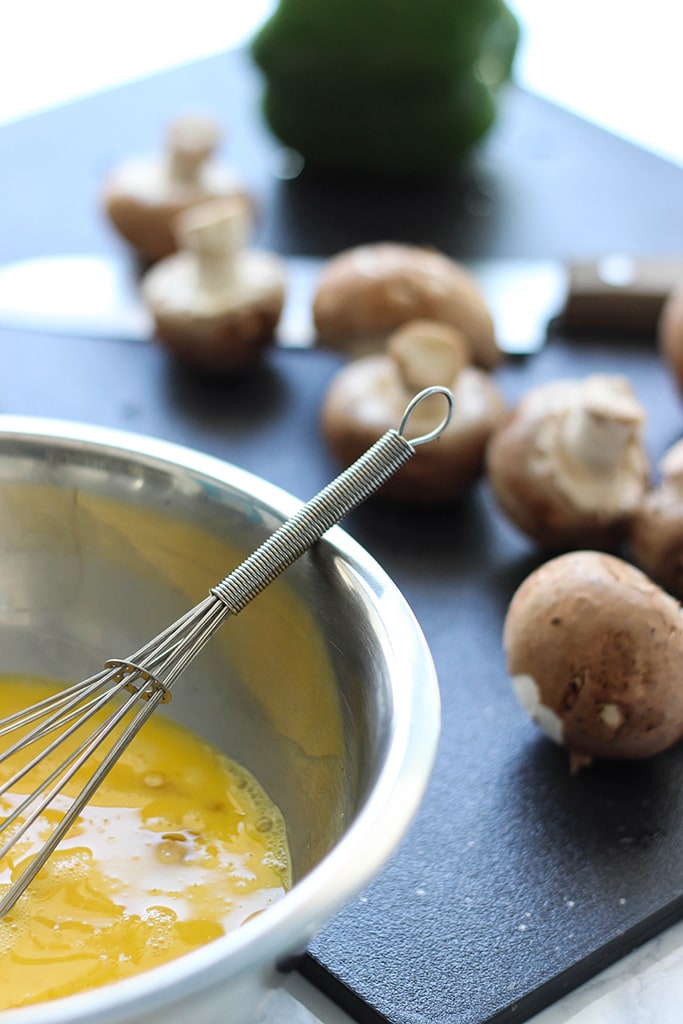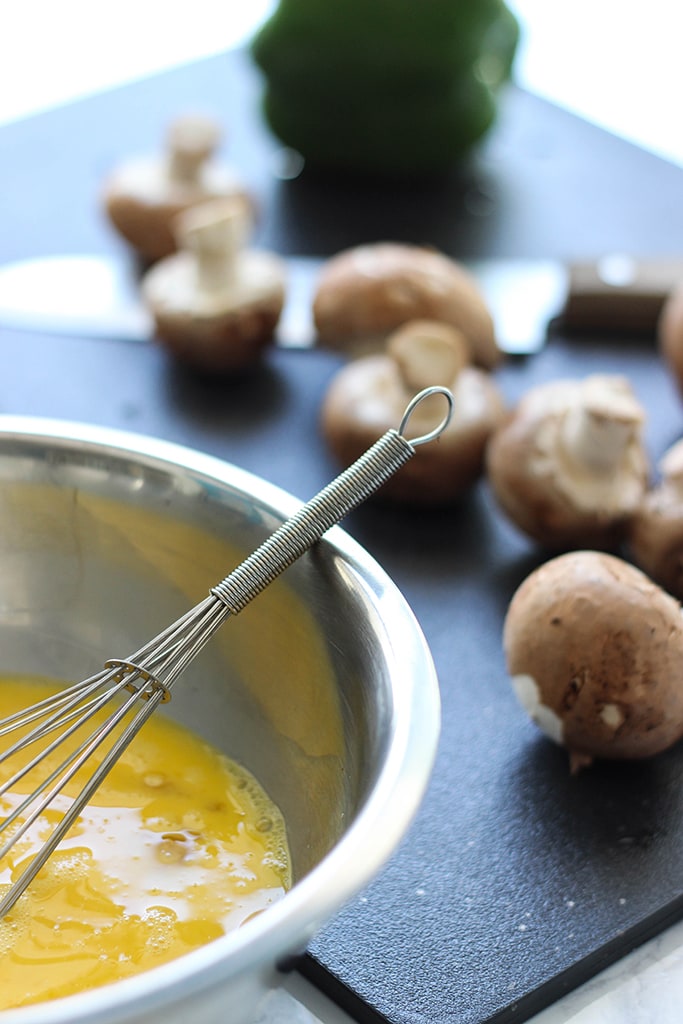 We begin by whisking the eggs, adding in some bacon bits and seasoning it with salt and pepper to taste. I used fresh baby Portobello mushrooms and sliced them up but you can buy them pre-sliced from the store. I just prefer to buy them whole cause I feel they stay fresher that way. Slice up your mushrooms and dice the green bell peppers. Don't fret over how big the mushrooms to egg ratio looks, it'll shrink and cook down.
Saute up the mushrooms in a pan and wait for them to release their juices and cook down then remove them and set them aside. Saute the bell peppers with some garlic until the peppers start to sweat. Add in the eggs and stir to mix. Toss the mushrooms back in the pan and season with smoked paprika and hot sauce. Now you can add more smoked paprika or hot sauce, depending on your tastes. The measurements are just a guideline.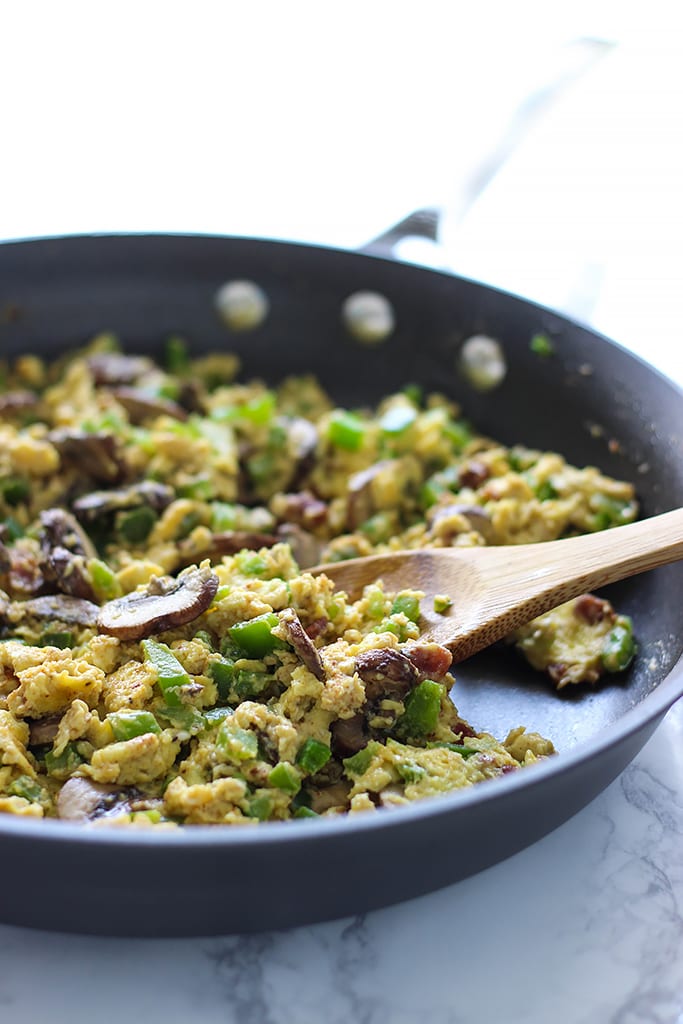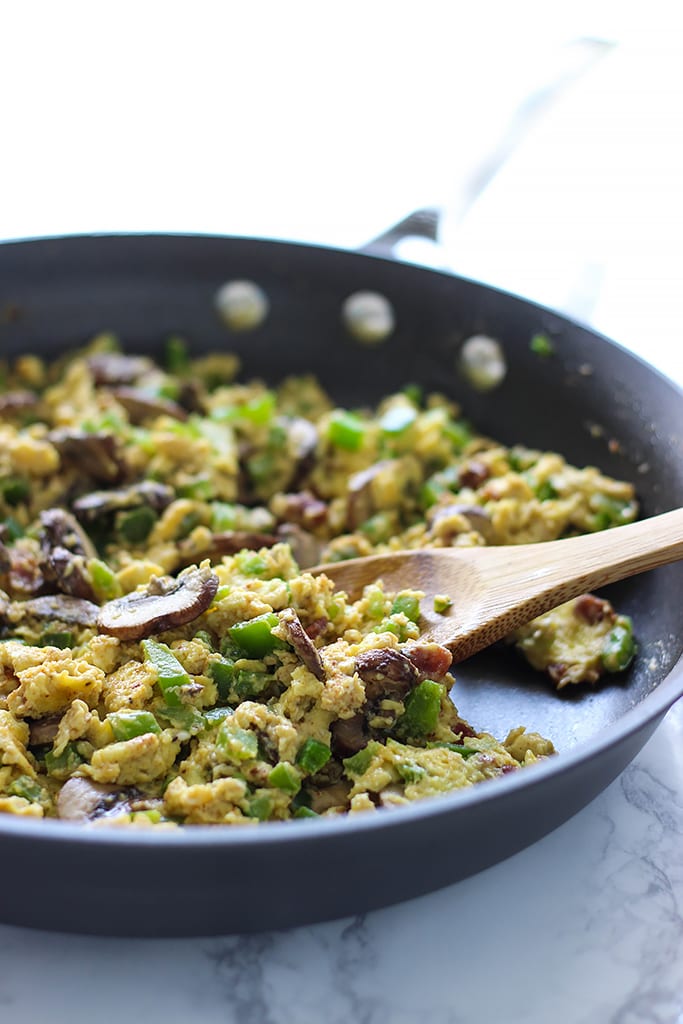 It's important to make sure to reduce the heat to medium after sweating out the bell peppers. You'll want the scrambled eggs to take their time cooking so you don't end up with dried eggs. Here's a great guide for good scrambled eggs from the folks over at Bon Appetit. This is where a silicone spatula really shines, to get around those hard to reach corners. I used one for cooking but didn't include it in the pics because mine is neon pink and really throws the mood off the pic. I decided to go ahead and buy a simple looking spatula today for future pics after realizing this. I wish I had it in time for the photo shoot but Amazon doesn't ship that fast!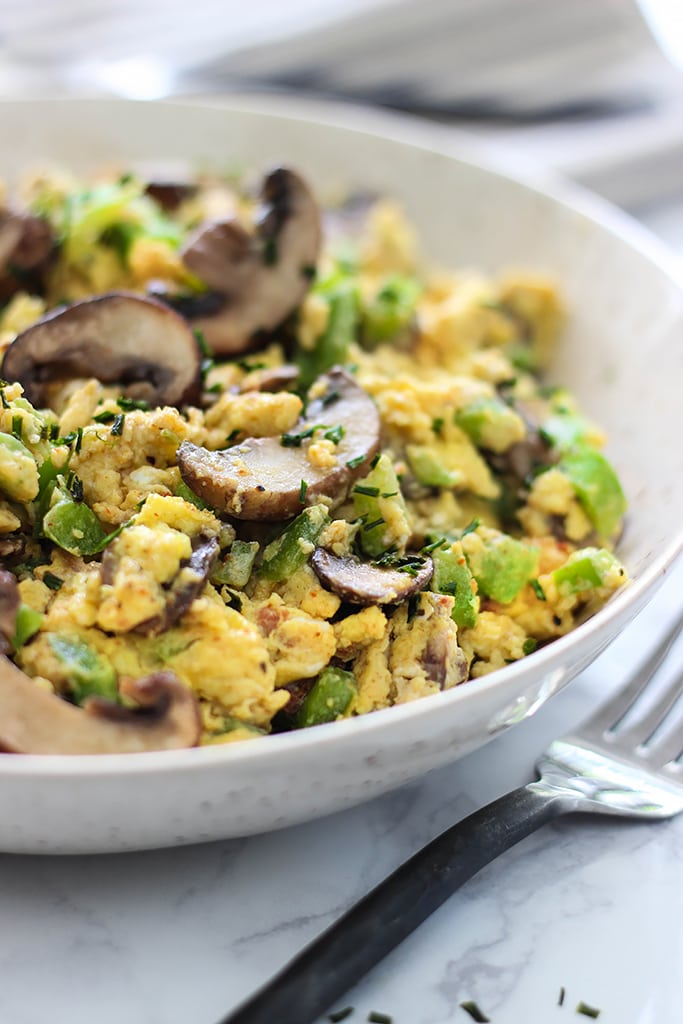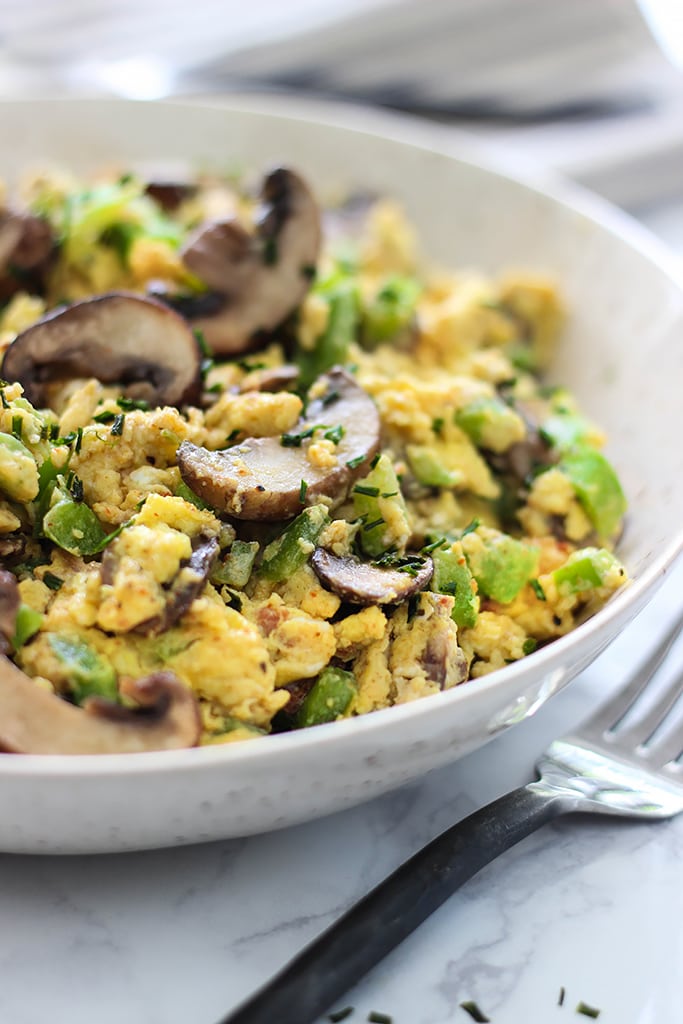 Once the eggs are almost cooked, add in the cheese. I was a bit indecisive about what kind of cheddar to pick at the store (they have so many kinds!) so I just grabbed a 4 state cheddar mix of Wisconsin, New York and Vermont sharp and California mild. But go with whatever you like, sharp or mild.
Now your eggs can be slightly softer and wetter by removing them from the heat a few minutes before it's done. It'll cook more from the residual heat and you can fold in your cheese then. Also less stirring will give them larger curds. I kinda went to town with the spatula and I like my eggs a little firmer so I cooked it longer. Just eyeball how you want it and go from there.
And that's it. Now it's time to get creative and pick how you want to enjoy it. Have fun!
Print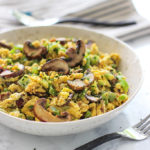 Smoky Scrambled Eggs
---
Author:
Total Time: 20 mins
Yield: 4-6 1x
6 large eggs, whisked
2 tablespoons bacon bits
Salt and pepper to taste
8 oz. baby Portobello mushrooms, sliced
1 green bell pepper, diced
1 teaspoon garlic, minced
1/2 tablespoon smoked paprika
1 tablespoon hot sauce
1/2 cup cheddar cheese, shredded
---
Instructions
Combine whisked eggs with bacon bits and salt and pepper to taste
Over medium high heat, saute the mushrooms in 1 tablespoon olive oil until cooked down, about 5 minutes. Remove and set aside
Add another tablespoon olive oil to the pan and saute bell peppers and garlic for 2 minutes
Reduce heat to medium and add eggs to the pan and stir to combine
Add the mushrooms back to the pan. Stir to mix
Season with smoked paprika and hot sauce
Continue stirring until the eggs are fully cooked, about 5 minutes
Remove from heat and fold in cheddar cheese
Dish and serve hot
Prep Time: 5 mins
Cook Time: 15 mins
Nutrition for serving size of 6: