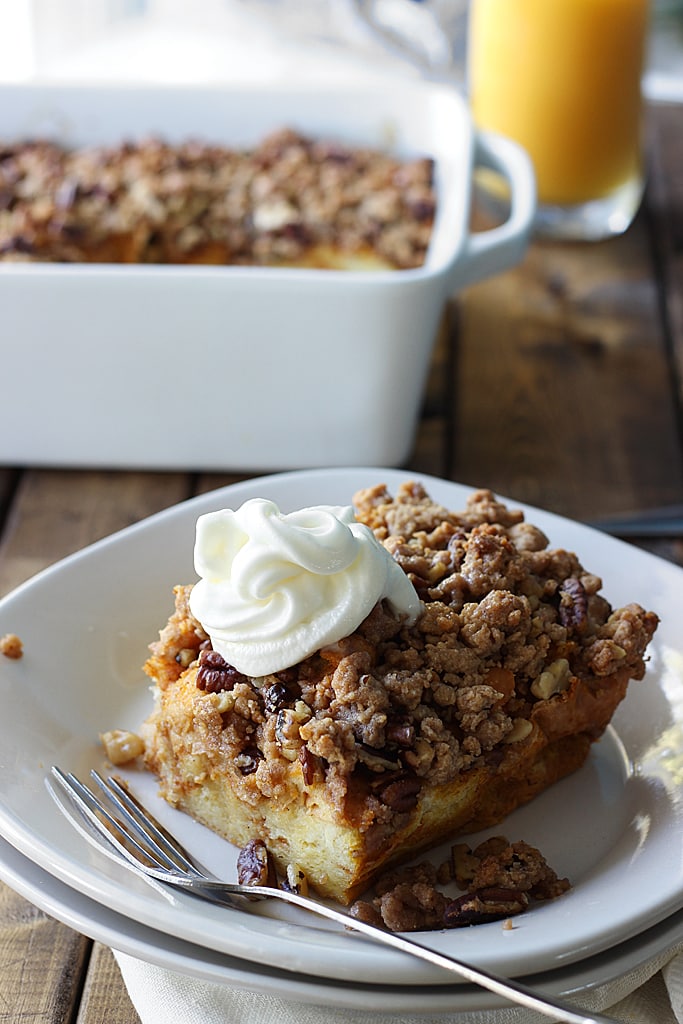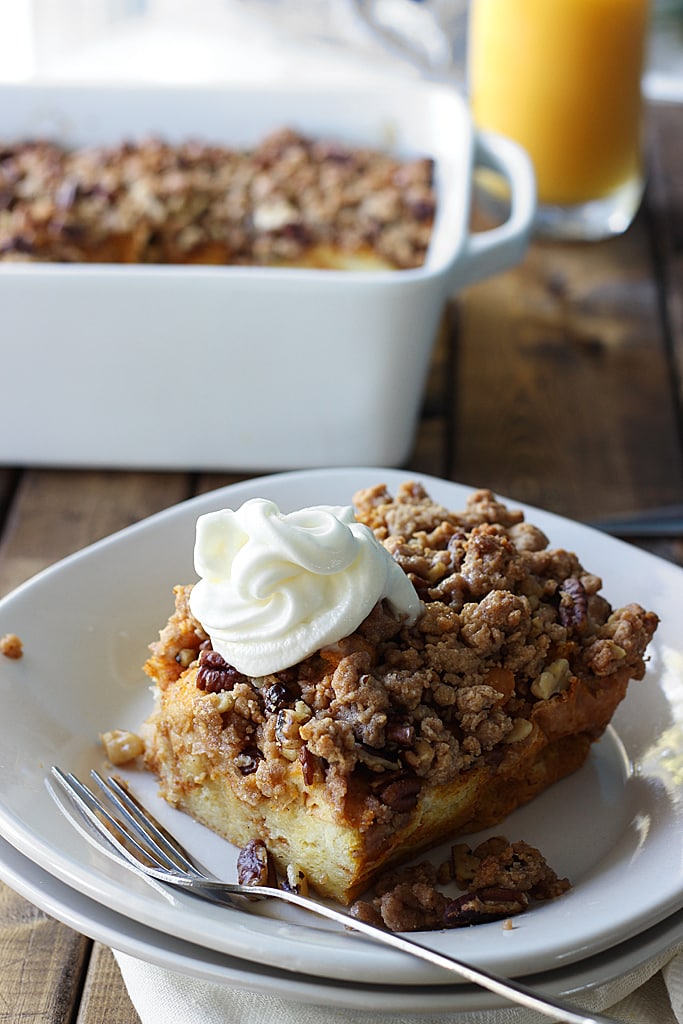 Sooo I have a confession. Amid the pumpkin-crazed fall thing, today is my first time playing around with pumpkin. I still have not had the experience of cutting into one to hollow it out and it's probably for the best. I'm a little afraid of losing control of the knife and having an early Halloween scene in my kitchen. Last year I went so far as to buy a huge pumpkin and the cutter. Then it sat there for months while I ignored it and ignored it hard. Maybe this year I'll deal with it.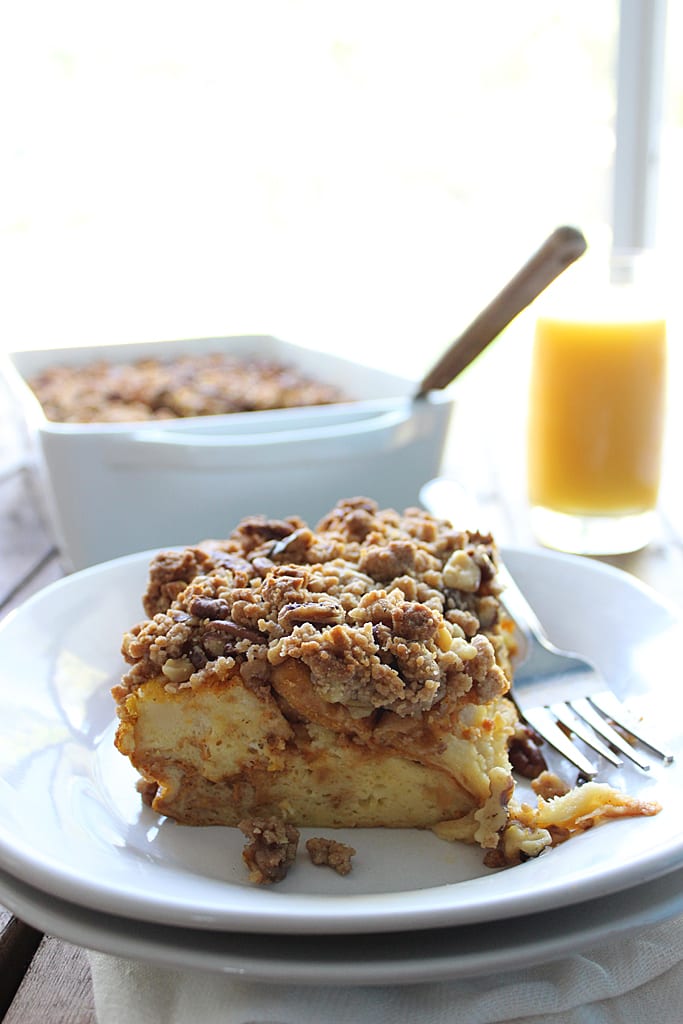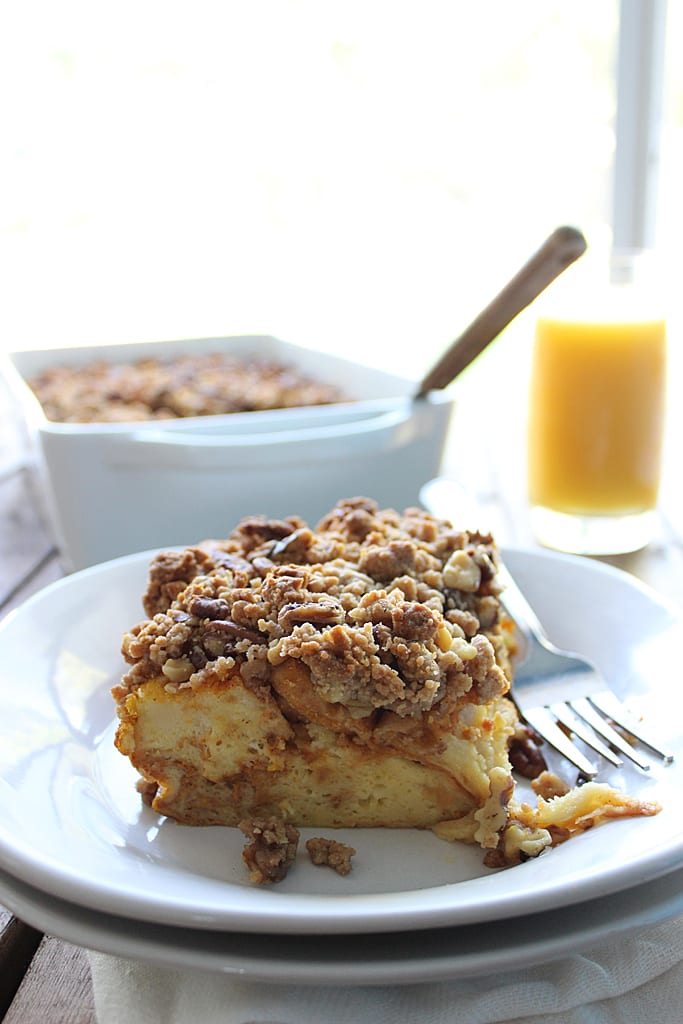 In the meantime, I'm cheating and using pumpkin puree that comes nice and safe in a can. For those that are pumpkin-cutting inept like me. Or those that just want the convenience. So today we have pumpkin spice french toast casserole. It's like bread pudding and french toast had a baby in Autumn. A baby that smells like pumpkin pie spice.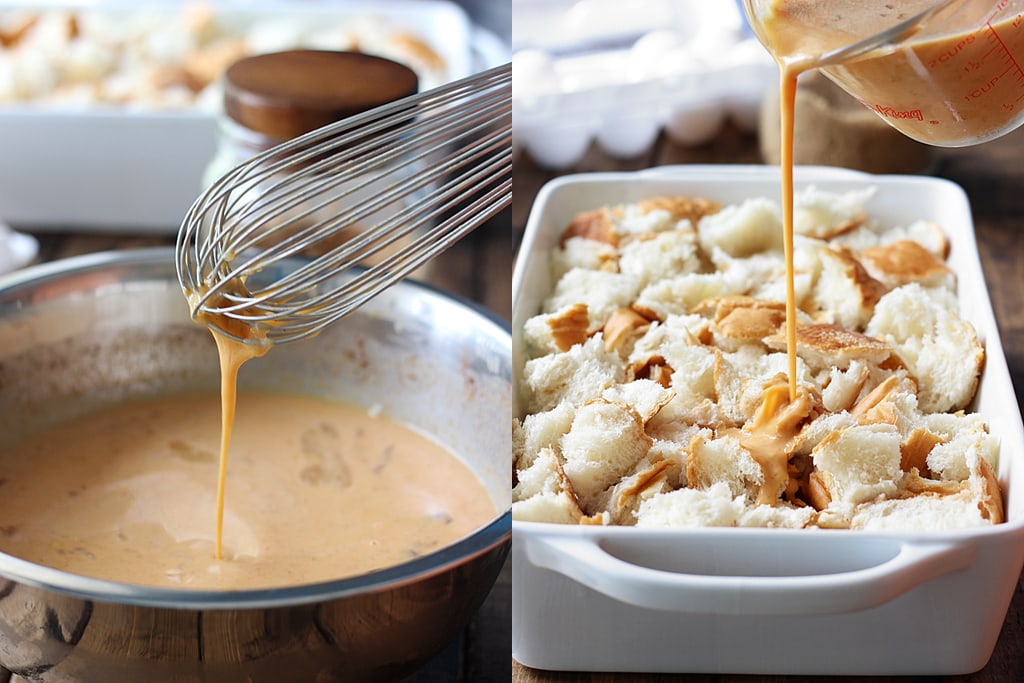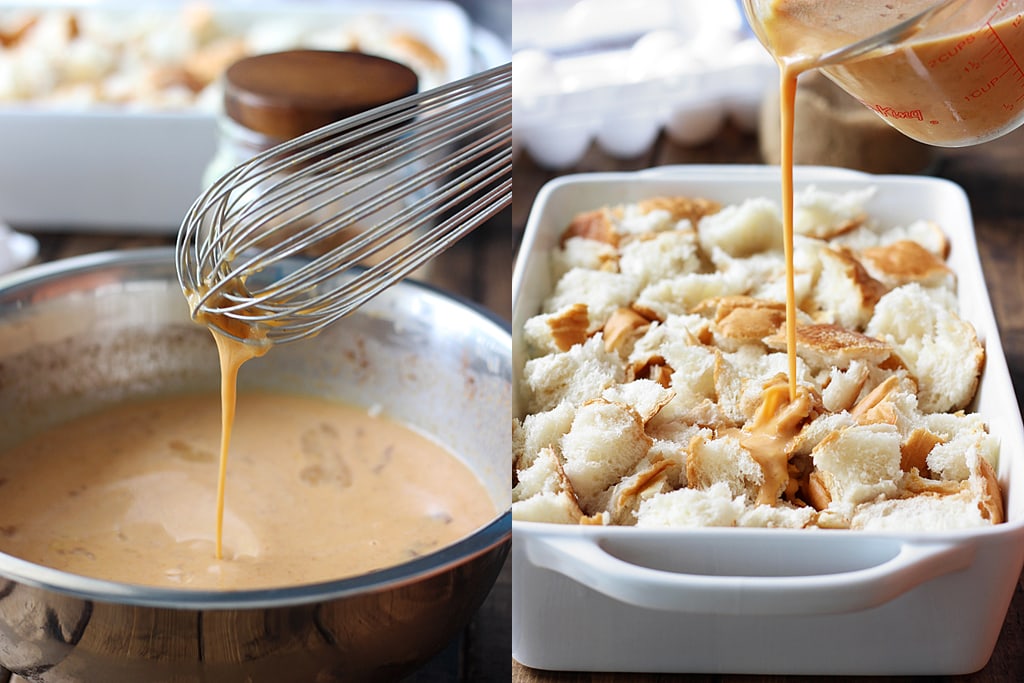 I've had some bad renditions of bread pudding before. I guess the recipes weren't all that great to begin with. Two failures. I was beginning to think I was bread pudding cursed, just like I'm lasagna cursed. It's one of those things my mother does so effortlessly and better than me. And there are a lot of those things. The key from what I've learned is to make sure there's enough custard to bread ratio and to make sure all the bread pieces are soaked through.
But this time was win! I combined three recipes together to get it the way I wanted it. Which in hindsight might have been a little risky with baking and how it needs precision (does this qualify as baking?) But it worked and my streusel was so yummy I had to stop myself from munching on it. After all, it's pure sugar and butter. So not good to eat by the spoonful!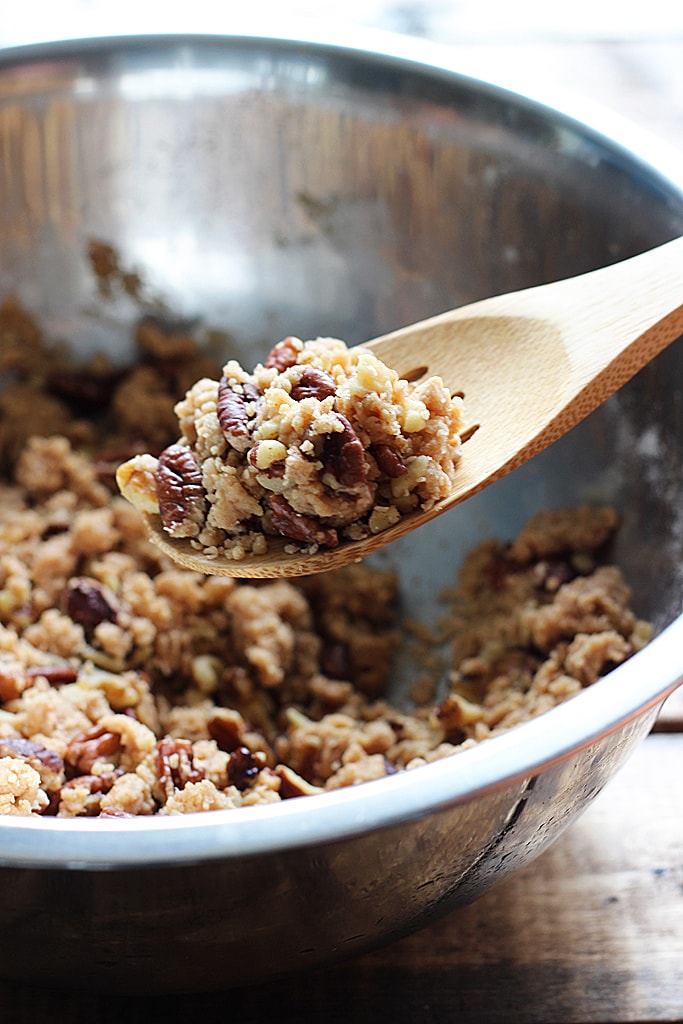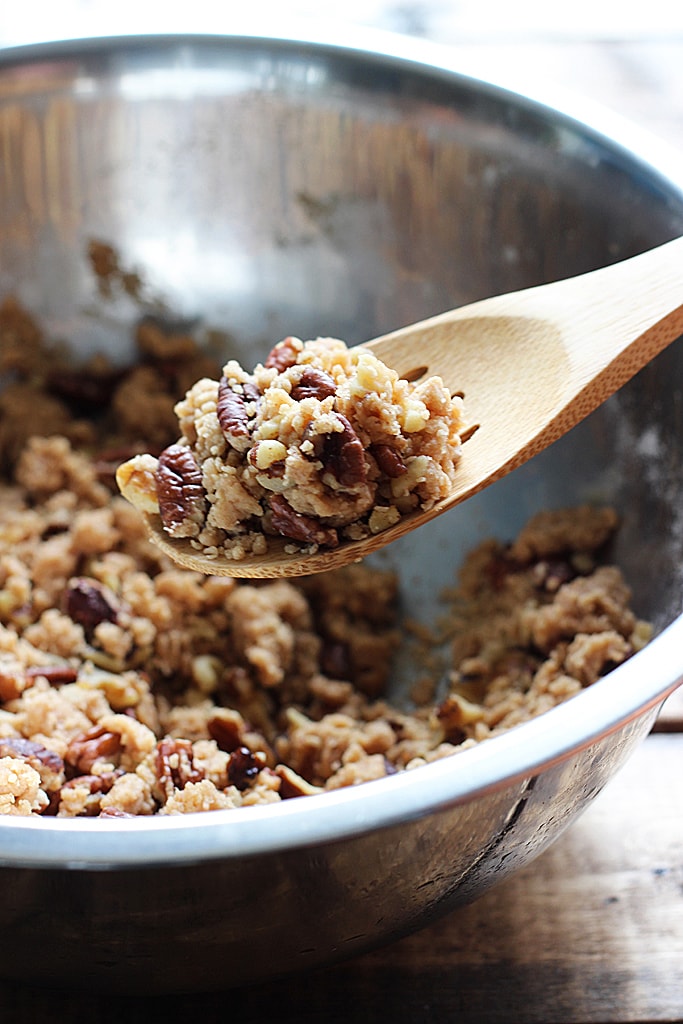 In the recipe, I gave the option for pecans or walnuts but I did half of both just to mix it all up and because I couldn't decide at the time which one I liked better. So why not. Half a cup of pecans and half a cup of walnuts!
And all this was so easy to do. Even for a baking newb like me. It was so easy I had time to have fun with the picture taking part of things. So I hope the fun shows. The only downside was trying to shoot quick enough before the whipping cream melted. And it did. A lot.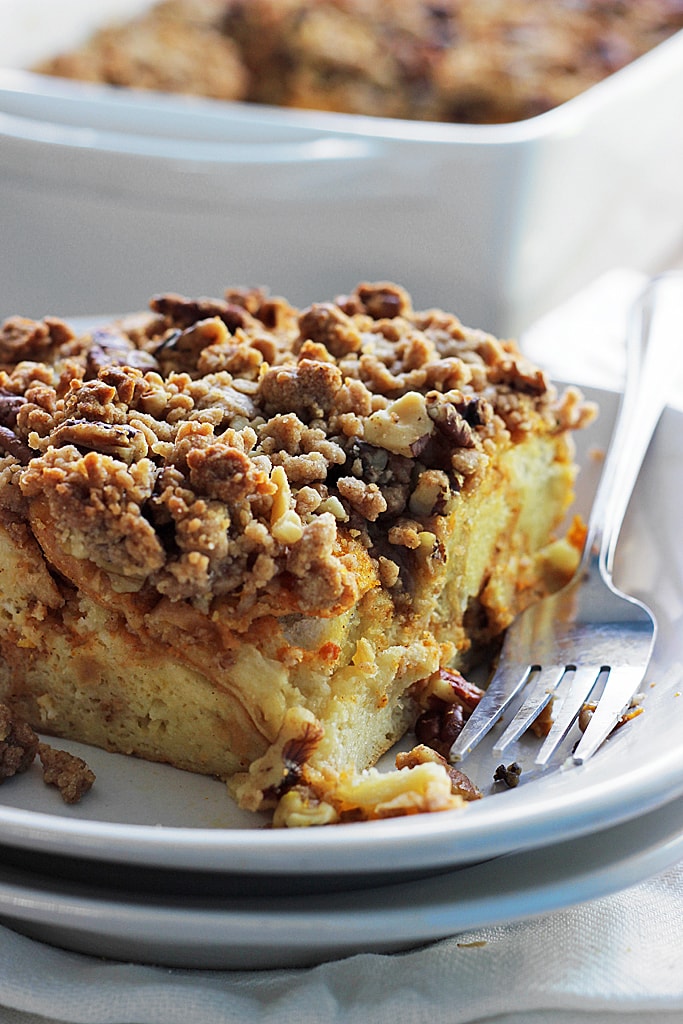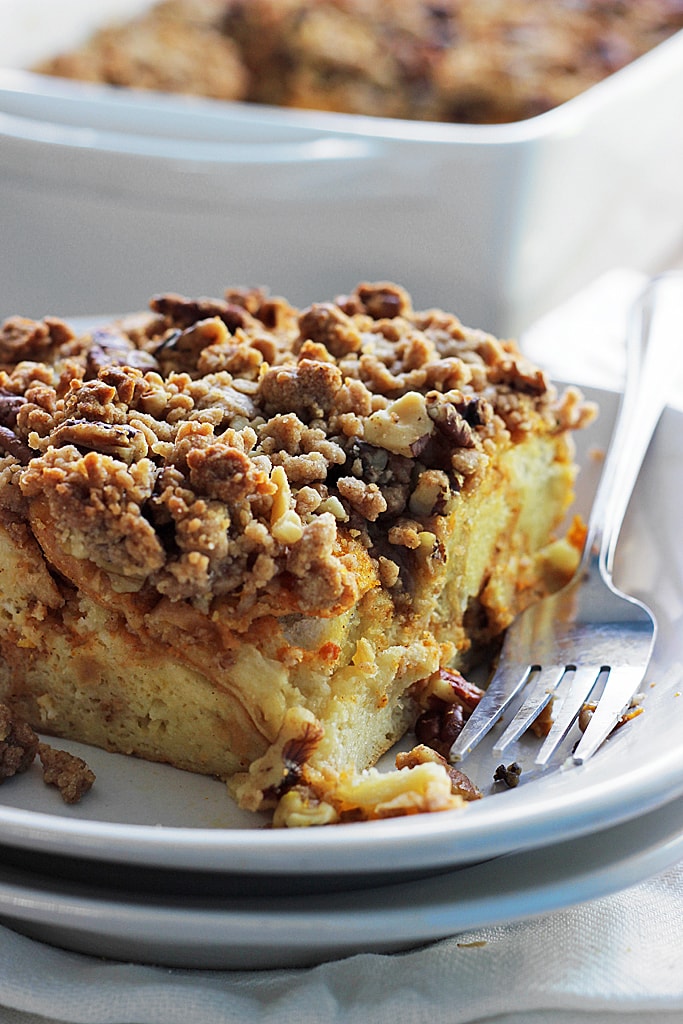 Oh and it's full of Autumn flavors. Mr. Cooking Jar asked me what I meant by 'it's so Autumny'. Well, it has pumpkin pie spice, pumpkin and the sweet scent of cinnamon. The house really smelled good while baking this.
Great for brunch or dessert and it's technically my first dessert recipe! One thing I love about it is it's not overtly sweet. I don't have much of a sweet tooth so I tend to stay away from rich, sweet desserts. This is just enough to sweeten your palate but not too sweet that adding maple syrup or whipped cream would take it over the top.
And as for my previous failures? Now I know the sweet taste of victory (pun intended)!
Print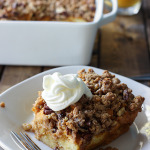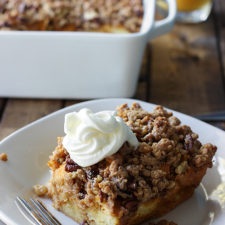 Pumpkin Spice French Toast Casserole
---
Author:

Prep Time:

20 mins

Cook Time:

45 mins

Total Time:

1 hour 5 mins

Yield:

8

-

10

1

x
Scale
Ingredients
1

loaf French bread, torn into chunks or cubed

6

large eggs

2 1/2 cups

milk

1 cup

pumpkin puree

3/4 cup

sugar

2 tablespoons

vanilla extract

1 1/2 teaspoon

pumpkin pie spice
Streusel:
1 1/4 cups

flour

3/4 cup

brown sugar

1 teaspoon

ground cinnamon

1/4 teaspoon

ground nutmeg

1/4 teaspoon

salt

8 tablespoons

butter

1 cup

pecans/walnuts, chopped
---
Instructions
Tear or cube the french bread and place in a greased 9×13 casserole dish
Combine eggs, milk, pumpkin puree, sugar, vanilla extract and pumpkin pie spice to form a custard. Whisk until smooth
Pour pumpkin mixture over the bread, making sure to gently press down on the bread to soak as much as you can
For the brown sugar crumble, mix flour, brown sugar, cinnamon, nutmeg and salt
Add butter and work it into a flour mix with your fingers or fork until crumbly with pea-sized bits of butter. Mix in the nuts
Cover both and refrigerate overnight
To bake, sprinkle the crumble over the top of the casserole and bake at 350 degrees F for 45 minutes or until set. A knife inserted in the center should come out clean
Let it rest 10 minutes before serving
Serve warm