This pumpkin cream cheese French toast is a fun way to celebrate pumpkin season! With a cheesy pumpkin filling and all French toast flavors you love.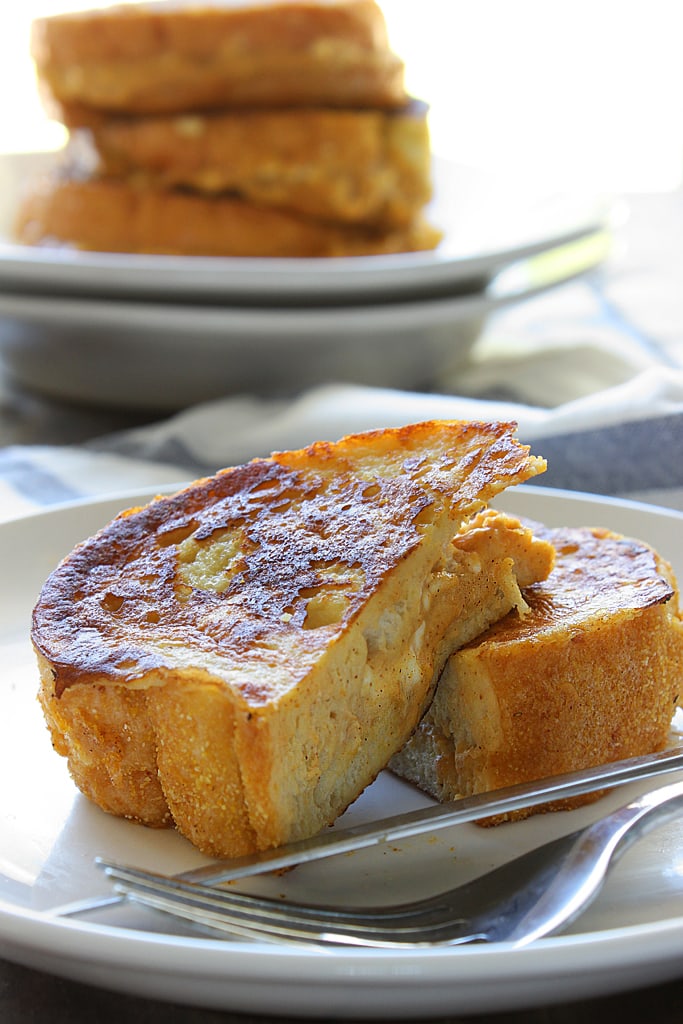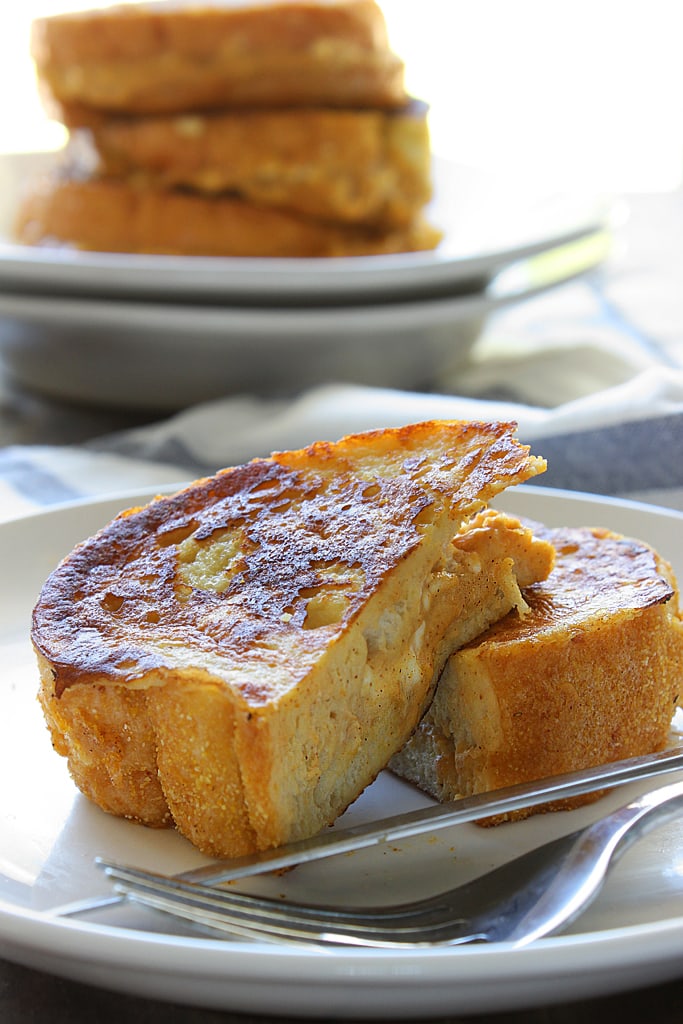 Today we'll be making a super stuffed French toast for your breakfast or brunch needs. The filling is cream cheese spiked with fall pumpkin flavors of pumpkin puree and pumpkin spice.
I used French bread for mine but you can also use the other classic types used for French toast like brioche or challah. Just slice them thick!
If you're not one for cream cheese but still want to celebrate pumpkin season, try out pumpkin spice French toast casserole instead. This one is popular for bigger gatherings with a delicious streusel layer on top.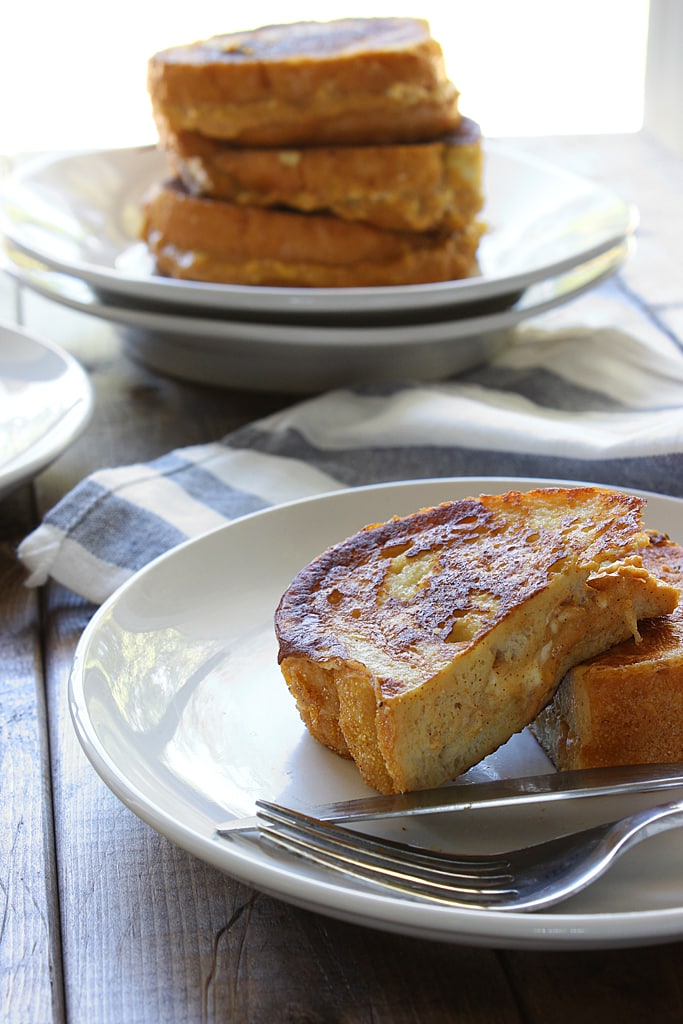 PUMPKIN CREAM CHEESE FRENCH TOAST RECIPE TIPS
I used crusty French bread that had been sitting out a couple of days so it was a little dried out. Because it's slightly tougher, it's easier to slice the middle and make a pocket. Start with cutting your bread into 1″ slices, then carefully slice a pocket into each one to stuff the cream cheese filling.
The stuffing part will be a little messy. It took me a couple of tries before I realized the best way was to spoon a mixture into the pocket and then spread it around.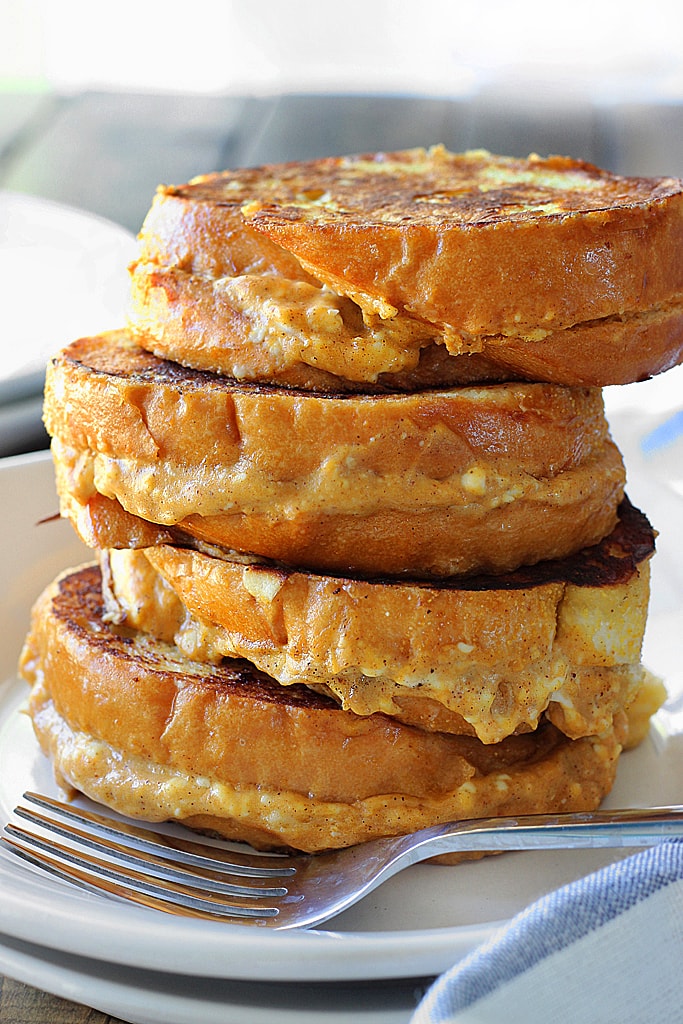 Then it's dunking the slices in an egg and milk mixture and pan-frying it until it's golden and slightly crispy around the edges. I used very little oil. Just enough to grease the pan and did it over medium-high heat for the first side and lowering it to medium-low heat once the pan was hot for the other sides.
One thing of note is to not soak the bread slices too long. You don't want them super soggy that it practically melts in your hand when you transfer them to the pan. You can feel a gradual change in the bread texture while it's soaking. It'll be very rough in the beginning and then soften up a little and gradually it gets super soggy. Fish it out in the middle when it softens up just a little and you're good to go.
And we're done. Enjoy your fall-themed brunch!
MORE FALL BRUNCH OR BREAKFAST RECIPES TO TRY
Did you make this recipe? Rate it!
♡ If you liked this recipe, giving it a star rating ★★★★★ in the comments below really helps! For more recipes, subscribe to my newsletter or follow me on Facebook, Instagram and Pinterest.
Print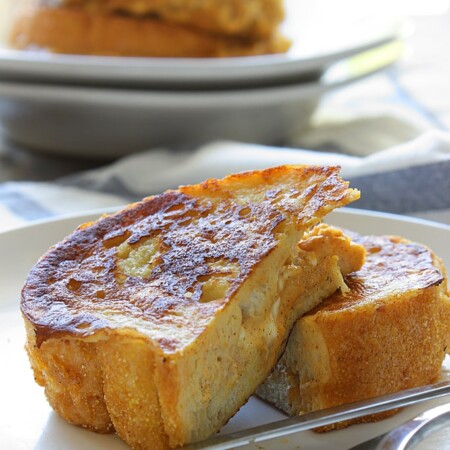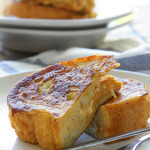 Pumpkin Cream Cheese French Toast
---
Author:
Total Time: 25 mins
Yield: 4 slices 1x
Description
This pumpkin cream cheese French toast is a fun way to celebrate pumpkin season! With a cheesy pumpkin filling and all French toast flavors you love.
---
Cream Cheese Filling:
4 oz. cream cheese
4 tablespoons pumpkin puree
2 tablespoons brown sugar
1 teaspoon vanilla extract
1/2 teaspoon pumpkin pie spice
Batter:
2 eggs, beaten
2 tablespoons butter, melted
1/2 cup milk
2 teaspoons vanilla extract
2 tablespoons sugar
2 tablespoons flour
Salt to taste
---
Instructions
Slice a pocket in the bread for the cream cheese stuffing.
Mix cream cheese, pumpkin puree, brown sugar, vanilla extract and pumpkin pie spice.
Fill the pockets with the cream cheese mixture.
To make the batter, mix eggs, butter, milk, vanilla extract and sugar.
Add flour and salt and whisk until smooth.
Soak the bread slices in the batter and and pan-fry in a skillet over medium high heat until golden brown on both sides.
Dish and serve hot.
Enjoy!
Prep Time: 15 mins
Cook Time: 10 mins