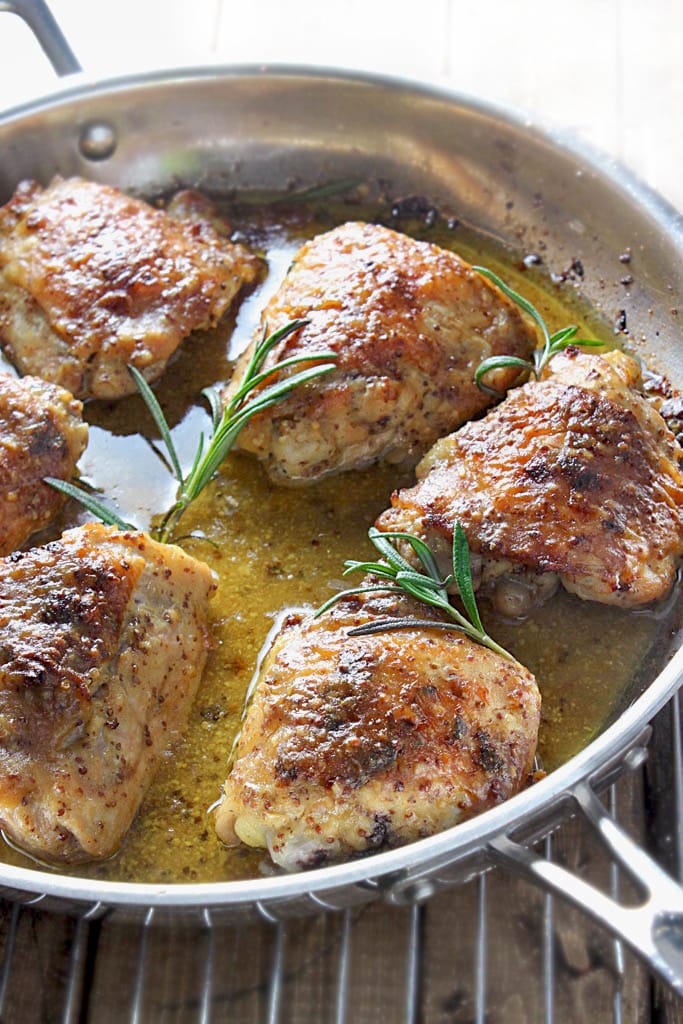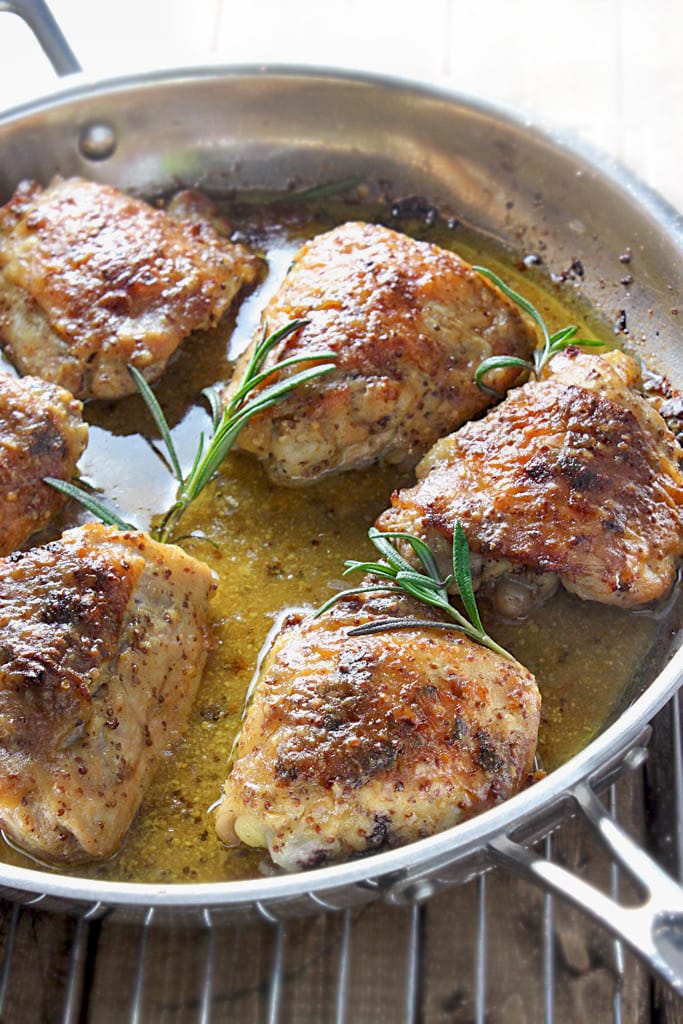 Remember how I said awhile back that this was the best chicken in the world? Well, this comes pretty close, especially warm from the oven. I seriously want to hog them all to myself. And get this, I'm really not a fan of mustard. Not at all. The only kind I can stomach is honey mustard although lately I've bravely sprinkling my mustard experience with some spicy ones when I'm feeling feisty. Pretty proud of myself.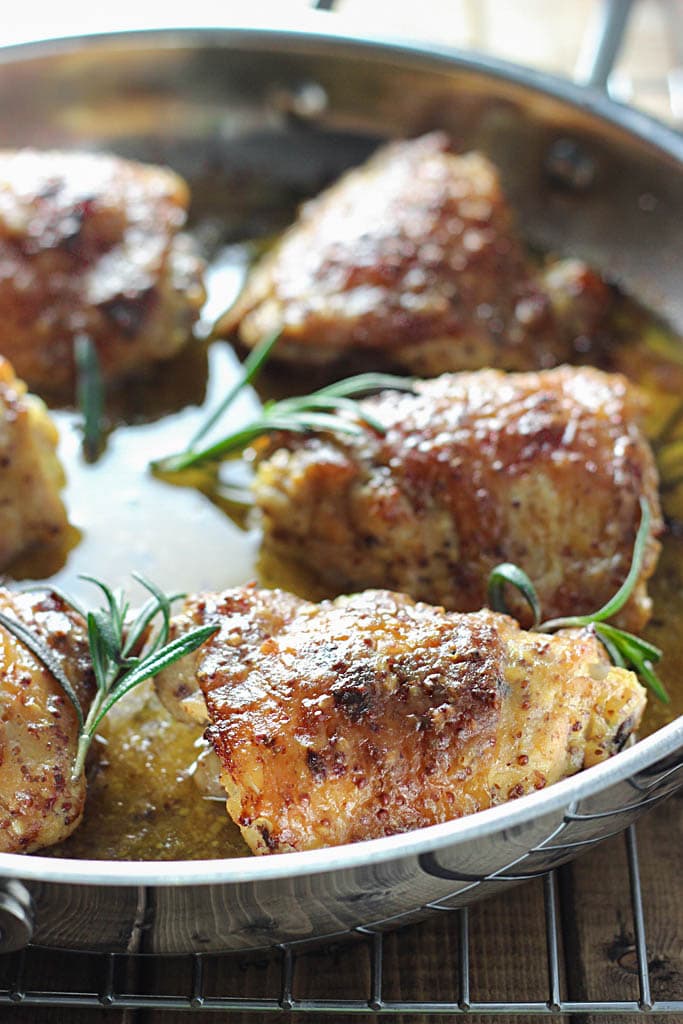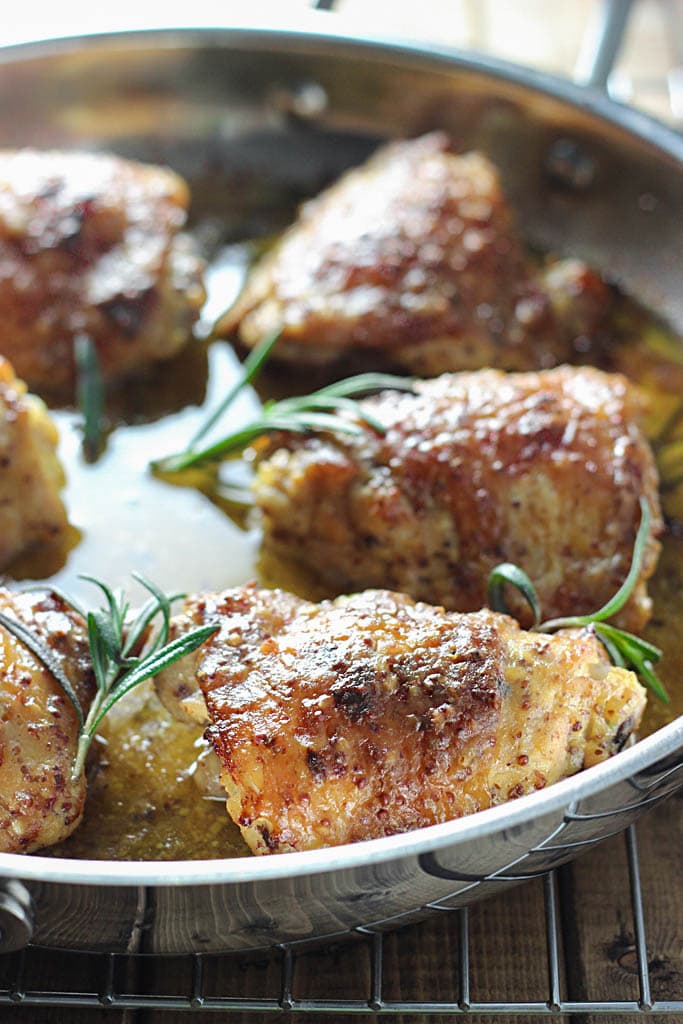 So it's good that this has the caramelized sweetness of honey in it because the flavor combo works so well.  I kid you not. I've just had a thigh to myself and I'm still pretty darned surprised how good it was. For something so simple. Honey, mustard, chicken, rosemary. That's the gist of it.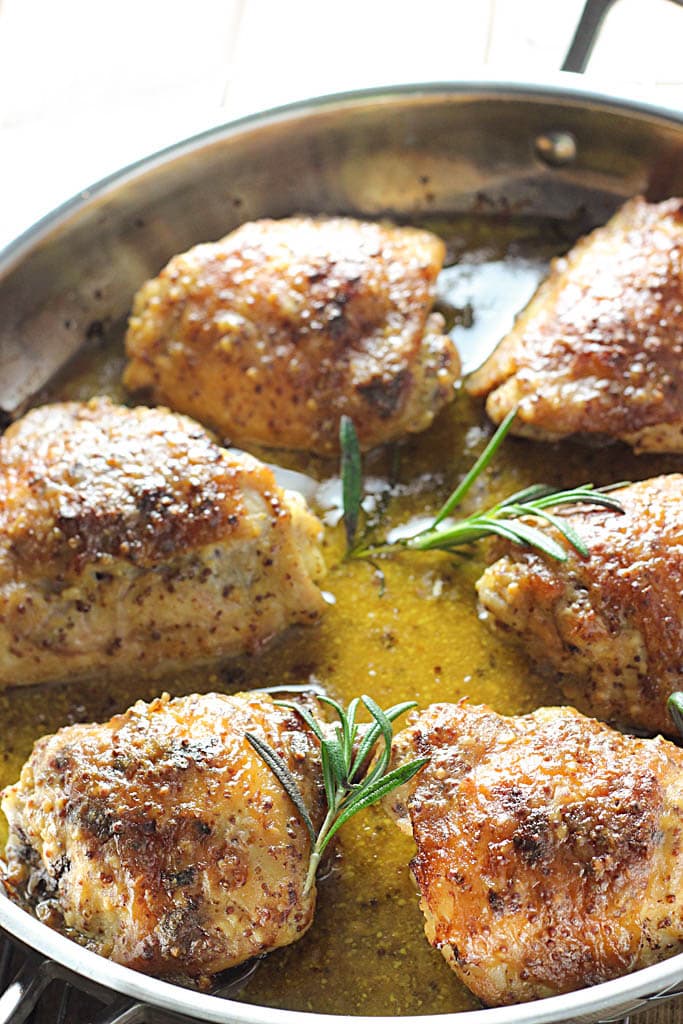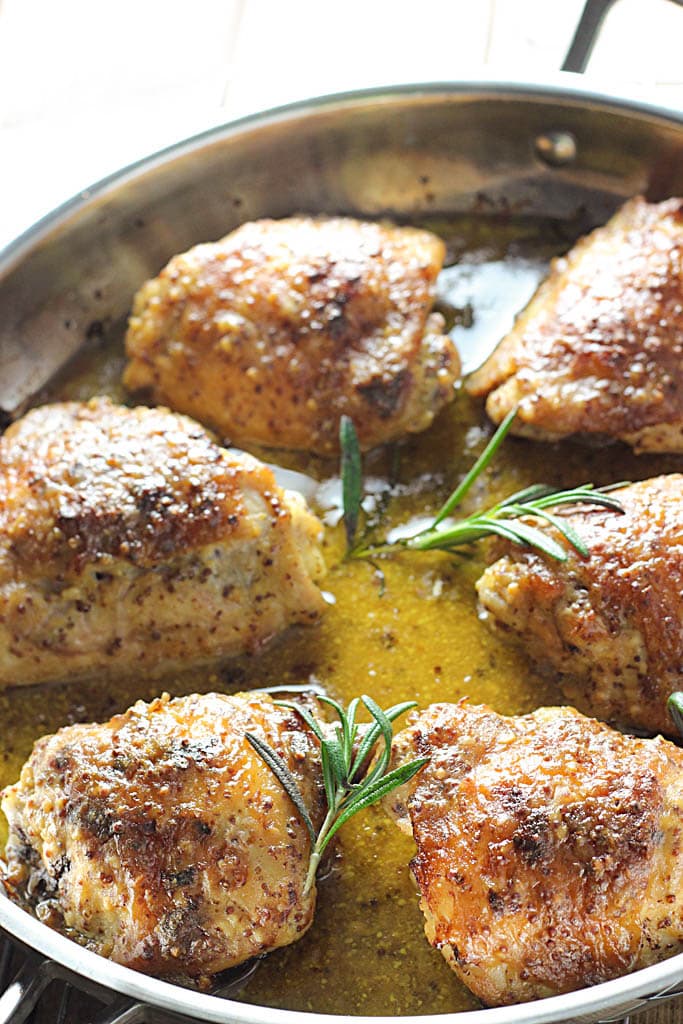 And it really is simple. Don't be put off by the long time it takes to cook this, it's just part and parcel of cooking chicken thighs. They need a little bit more time to cook than chicken breasts and wings but all the prep work is done in less than 5 minutes. The searing takes 10 minutes and then you bake for 45 minutes at which point, you can just walk away. Watch a 30 minute TV show. Prune your garden. Have a shower. Do whatever you want in this time because the chicken does not need baby sitting.
Using whole grain mustard on top of the regular mustard adds texture to the chicken. It's worth buying that extra jar. I used the Grey Poupon brand for both, just a couple of bucks each.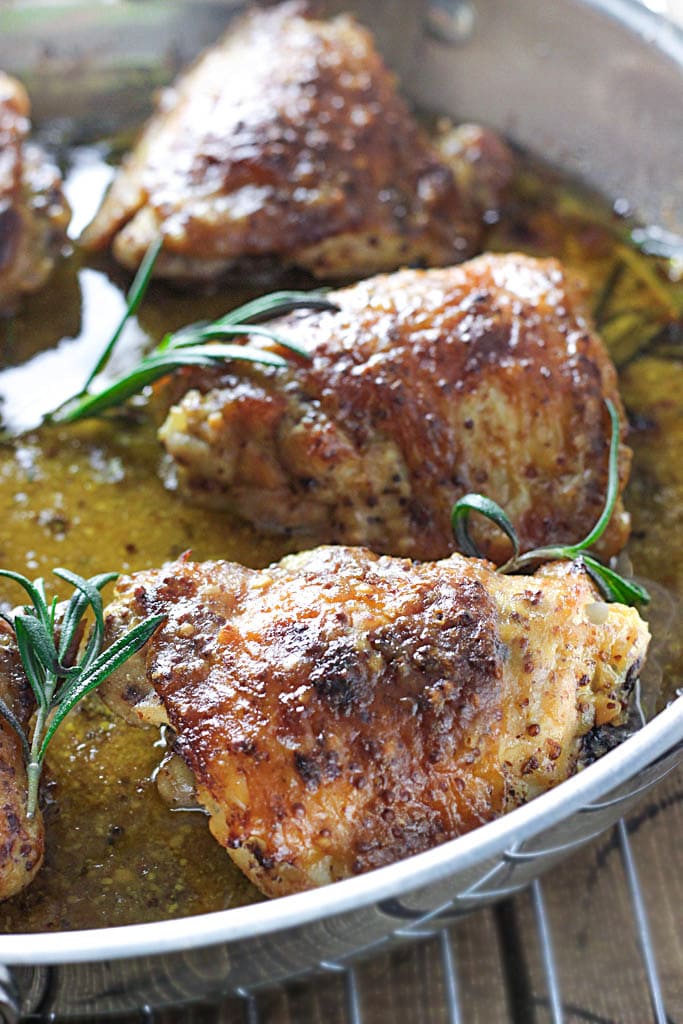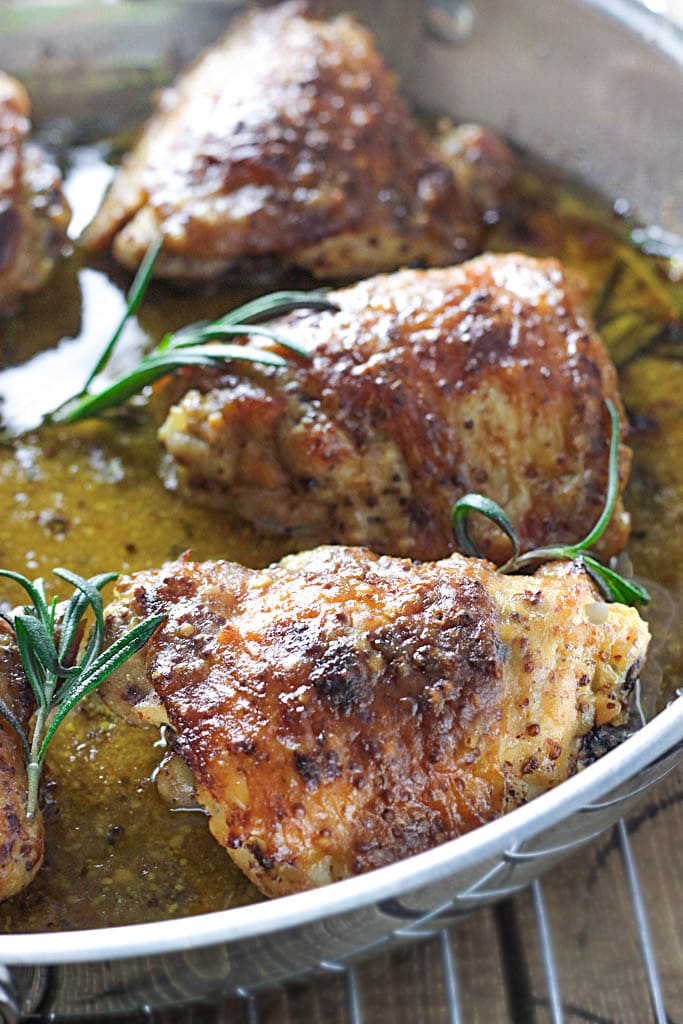 But let's talk about the searing for a bit. By the time you start searing the chicken, you'll be rewarded with an amazing smell. Searing the chicken gives the skin side a nice, crispy browned look, kinda like a roast. Be sure to use a splatter screen to keep your stove top tidy! I kinda forgot this part in the beginning and was rewarded with oil everywhere.
At this point, the fat from the chicken skin will have rendered and you don't need any more oil. Technically you don't even need oil during the searing as long as you start with the skins but I put some in just in case it sticks. This wouldn't be an issue at all with a non-stick skillet. But since I wanted to sear in the same skillet I'll be using to bake (and I'm glad I had an oven-proof skillet handy), I just added a tablespoon of oil. Six chicken thighs fit in my 12″ skillet just fine so that's about the size you're looking for.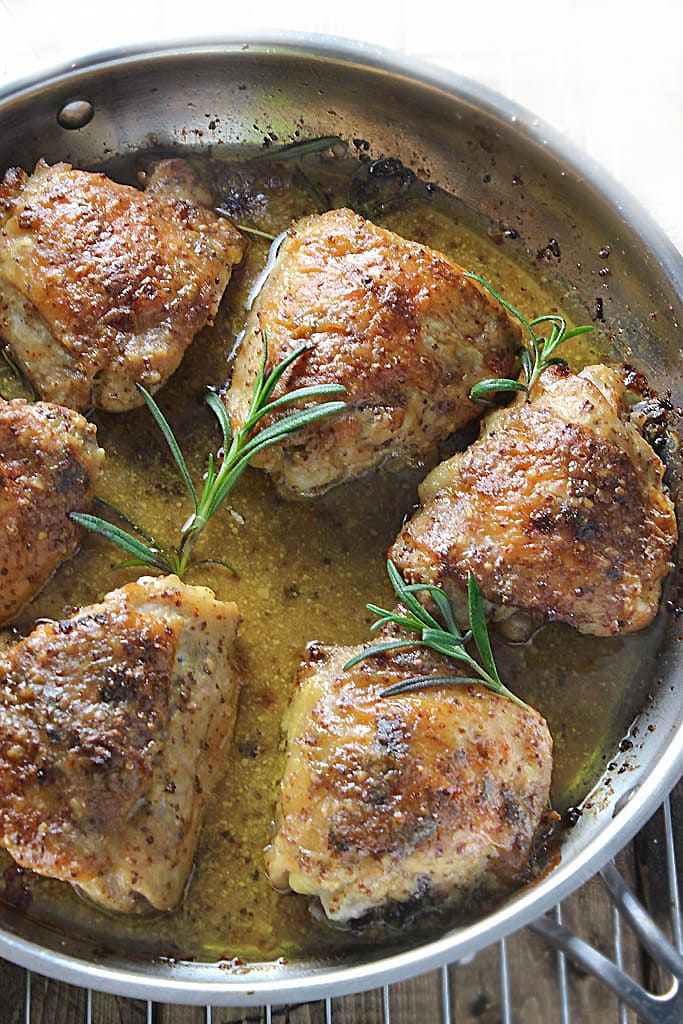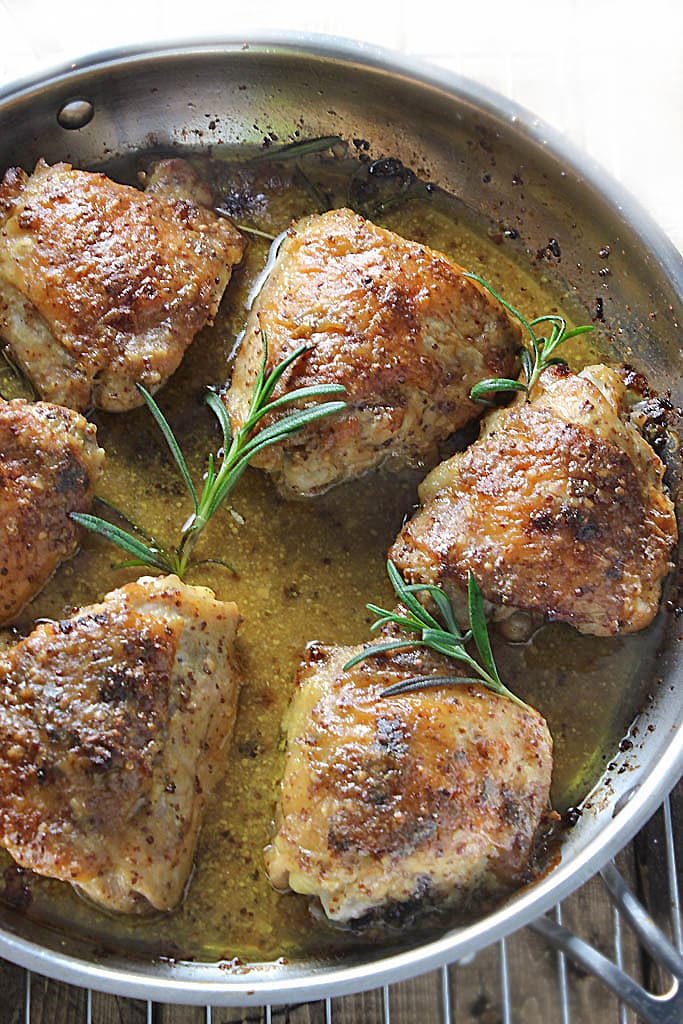 Any oil you see collecting in your skillet from this point forward is just fat rendered from the chicken. You can keep it or drain it, no biggie. Cooking this really made me recall my mom's valuable lesson on how you can pretty much cook chicken with skin in its own fat. But if you do drain it, you could use the sauce from the pan to dip all that thigh meat into. Yum.
Throw in some rosemary sprigs, I used about four. It gives just a hint of rosemary and isn't overpowering. And it makes it look all herby and stuff.
And then it's done! Enjoy 🙂
Print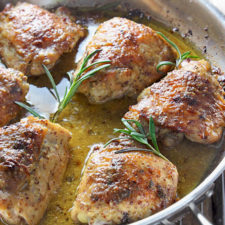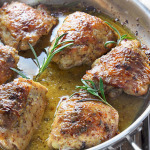 Baked Honey Mustard Chicken
---
Author:

Total Time:

1 hour

Yield:

6

1

x
6

bone in, skin on chicken thighs (about

2

lb.)
Salt and pepper to taste

4 tablespoons

Dijon mustard

4 tablespoons

honey

3 tablespoons

whole grain mustard, divided

1 teaspoon

garlic, minced

3

–

4

sprigs fresh rosemary
---
Instructions
Season the chicken thighs with salt and pepper to taste and 1 tablespoon whole grain mustard
In an oven-safe skillet over medium high heat, sear the thighs on both sides with 1 tablespoon oil until golden brown, about 5 minutes per side. Arrange chicken thighs skin side up
Mix mustard, honey, 2 tablespoons whole grain mustard and garlic
Spread the mustard mixture on the thighs. Wedge in rosemary sprigs in between the chicken
Bake at 350 degrees F for 45 minutes. A meat thermometer should read 175 degrees F or the juices should run clear when pierced with a fork
Drain off any excess fat before serving
Dish and serve hot
Prep Time:

5 mins

Cook Time:

55 mins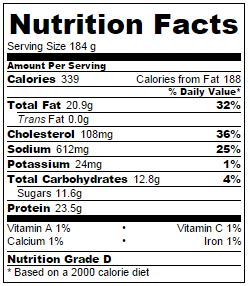 ♡ Affiliate disclosure: As an Amazon Associate, I earn commissions from qualifying purchases from Amazon.com. You can learn more about it here.