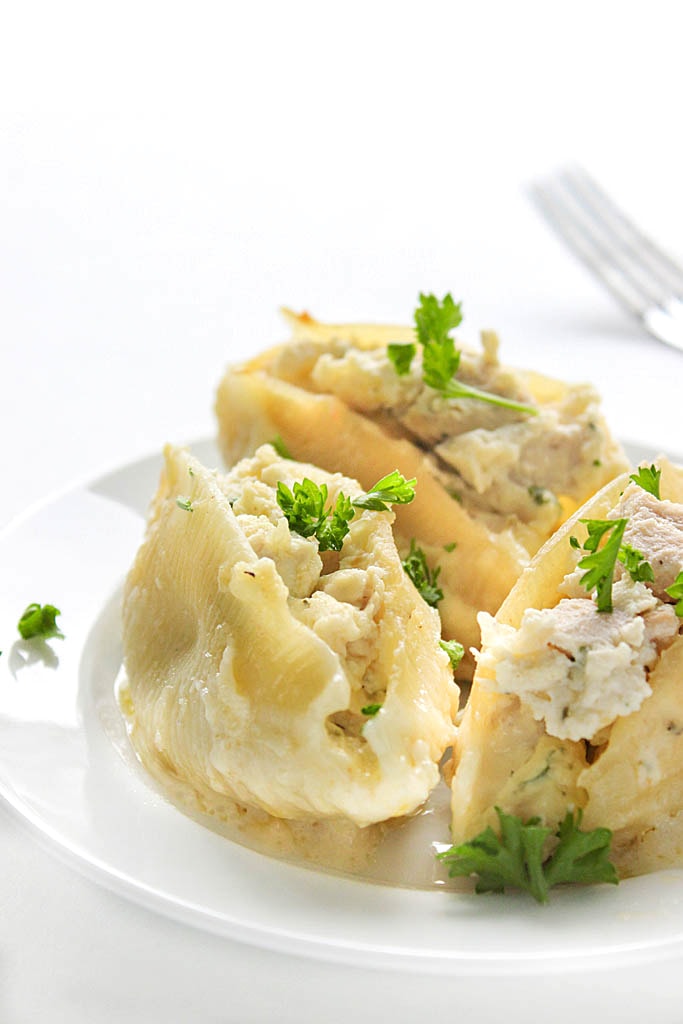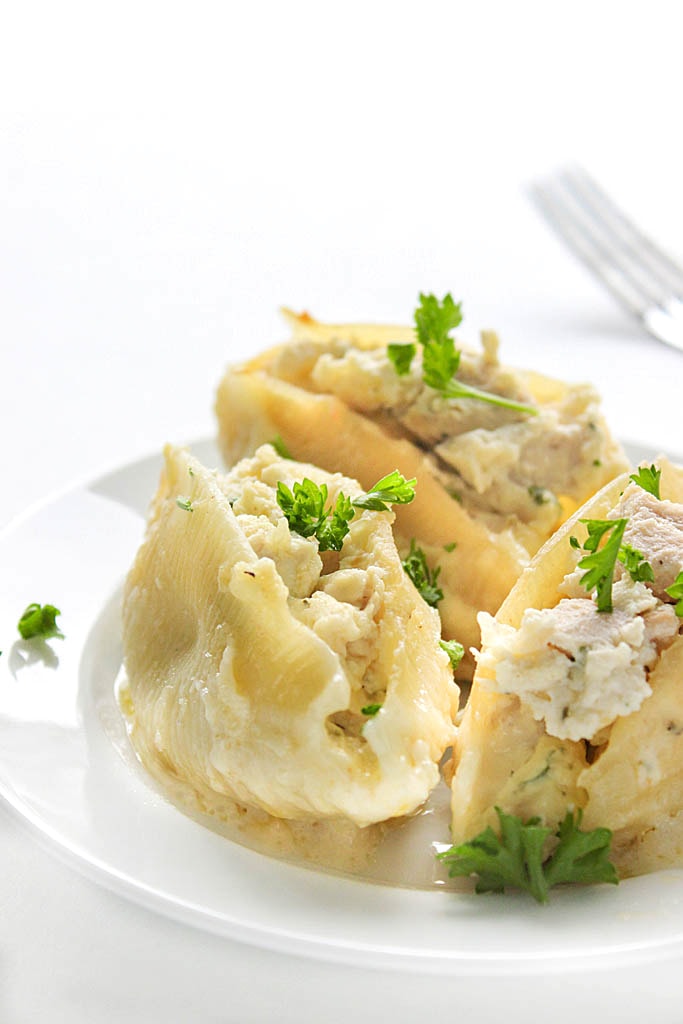 We all love a good Alfredo pasta. Even though it's insanely bad for you. Rich food in moderation I say. I mean my chicken alfredo pasta bake is pretty popular. So today I decided to make a stuffed pasta shell version of it. Yup, a shellfredo.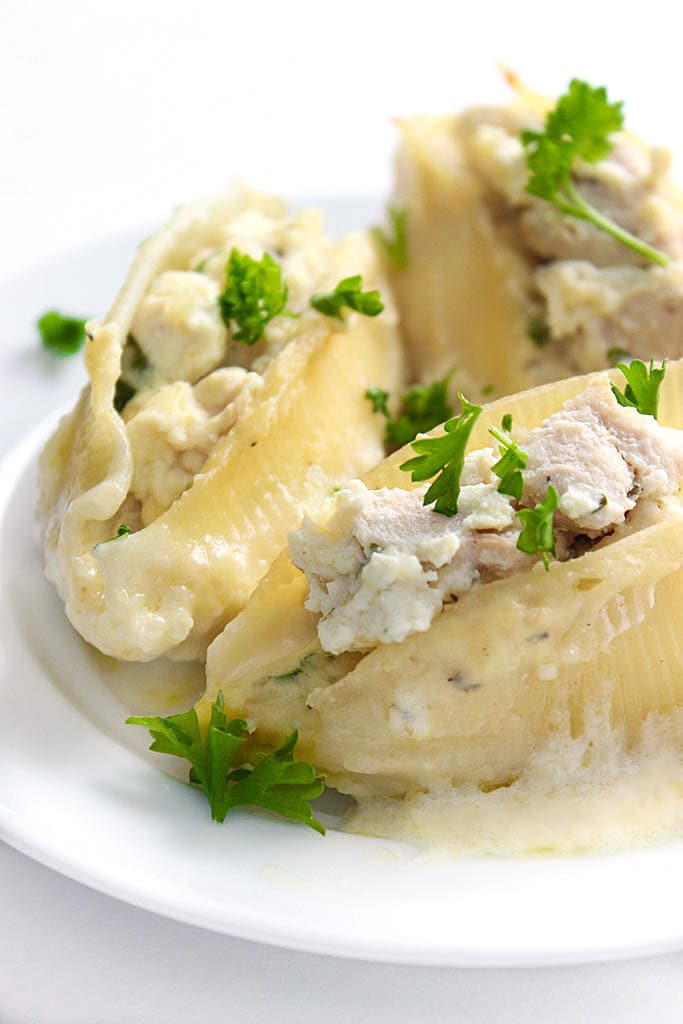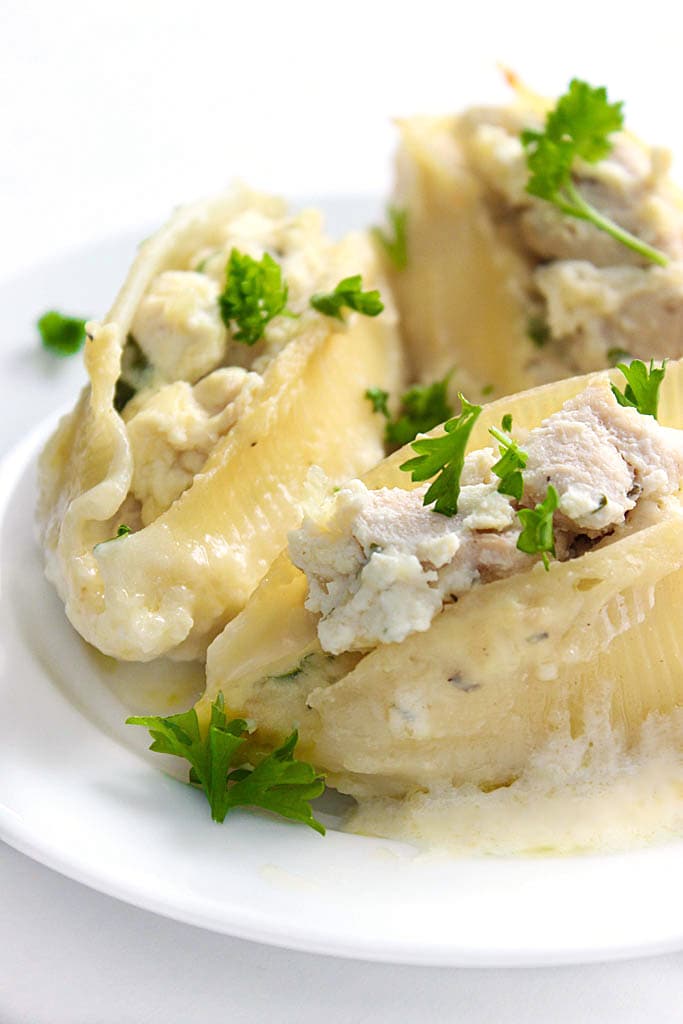 It's oh so creamy with two types of cheeses, a rich Alfredo sauce which you can either get store bought or make your own and some Italian herbed chicken. Delicious. Decadent. Dreamy. But despite being all that, they're sloppy and messy. Nope, it doesn't look good. But I tell you this, trust me when I say it's yummy and you should make it.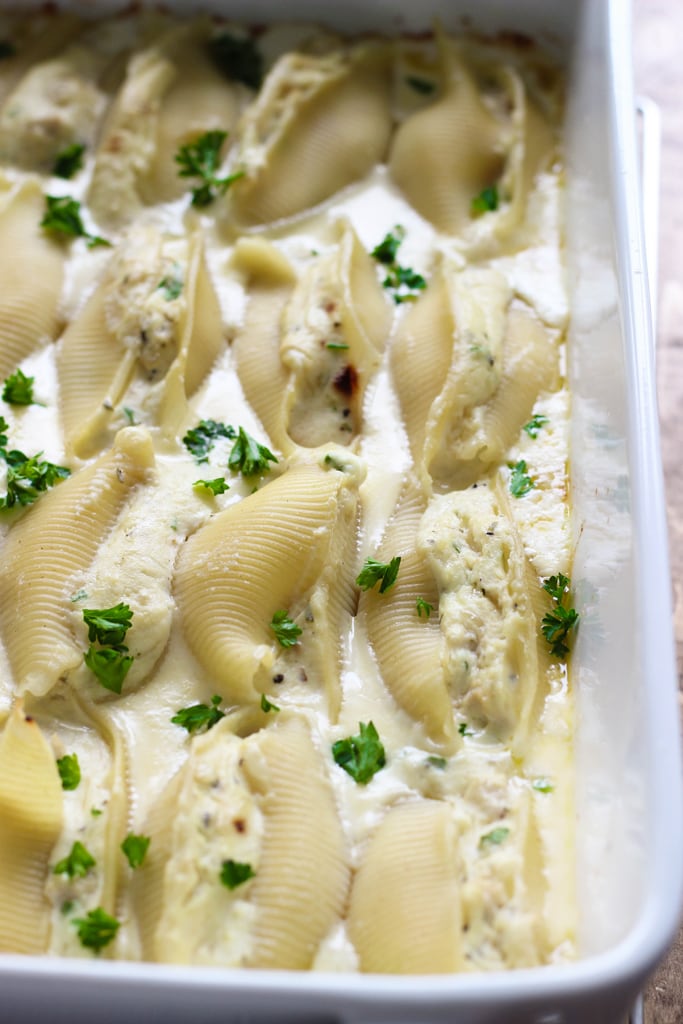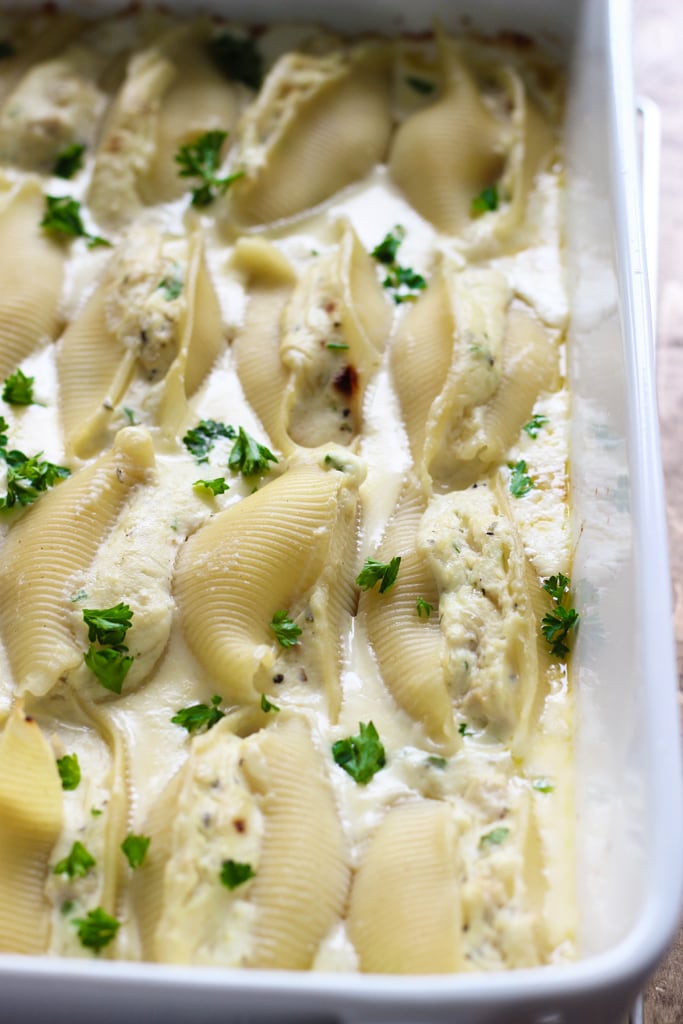 Here's what it looks like coming out of the oven, Pretty good, huh?
Anyway, Alfredo sauce. You can buy it, if you know a good brand. I couldn't find anything that wasn't in a jar and it didn't look all that great so I decided to make my own. I've included a simple recipe for it in the notes. One thing though, always always always use freshly grated Parmesan cheese. The bagged stuff just doesn't melt well and you'll end up with clumps. Something about preservatives interfering with the melty magic. I made that mistake a couple of times.
You won't need a whole lot of pasta shells to fit a 9×13″ casserole dish. I had just enough filling to properly stuff about 20 shells. Any more and your shells will be underwhelming. Once you've cooked them till they're al dente, rinse them off gently under cold water so they don't stick together. I make a practice of separating them around this time because the shells have a stupid habit of spooning each other while cooking.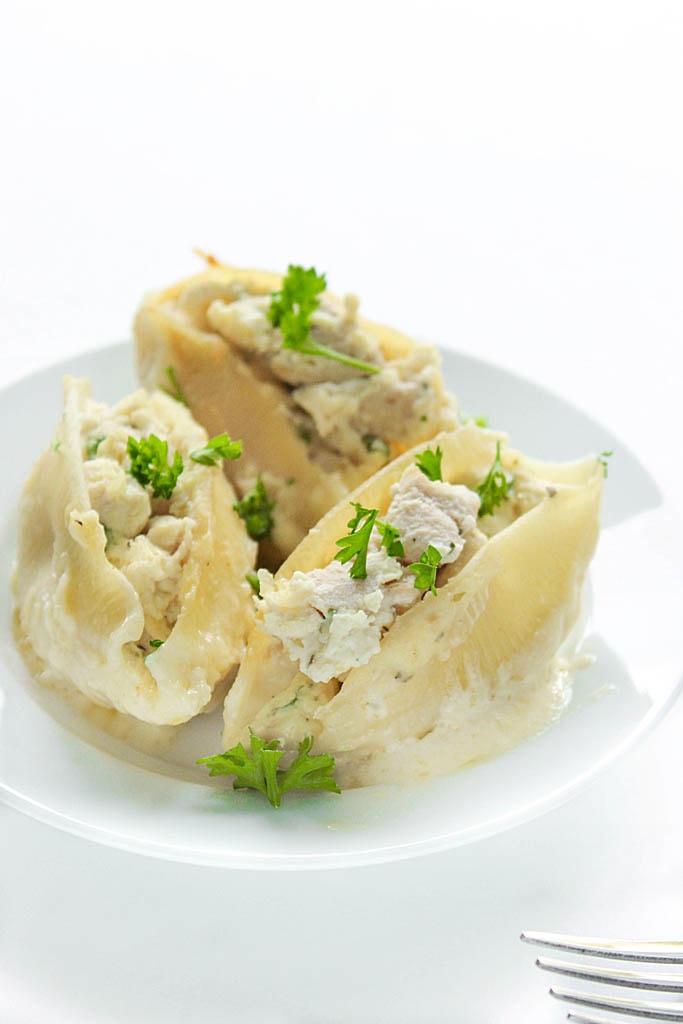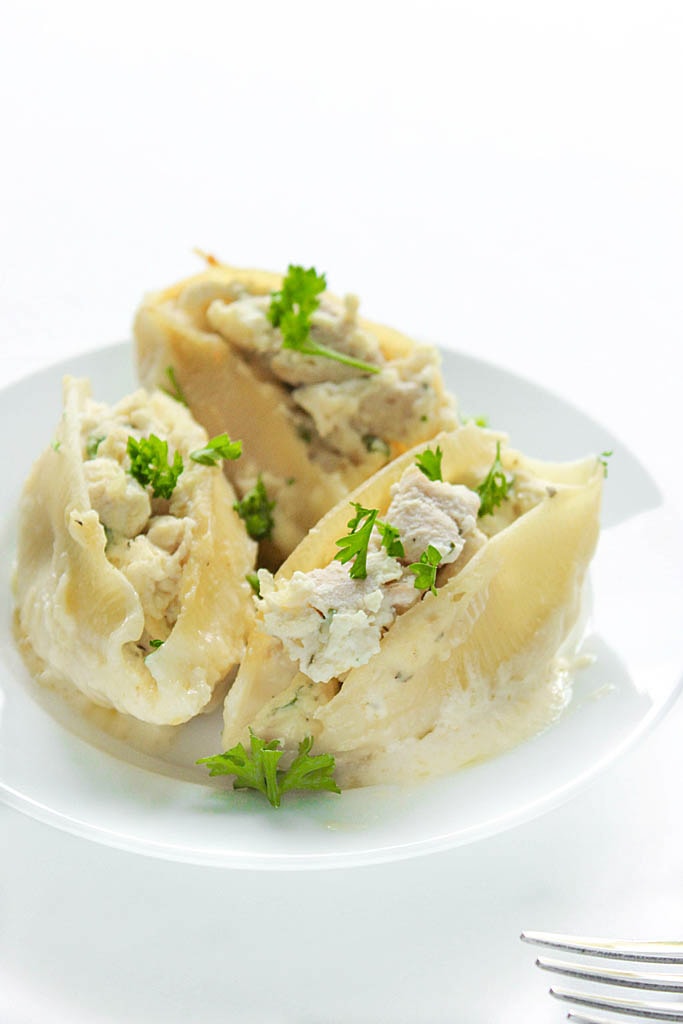 The sauteeing of garlic and chicken shouldn't take too long. Add some Italian herbs and brown the chicken nice and good. Then it's combining the ricotta mixture, adding in the cooked chicken and stuffing the shells. And onto baking!
At this point you can make a choice. Pour the sauce on the bottom of the casserole dish and line up your shells then bake it that way…or add some mozzarella to get a cheesy, crusty top. If you go the mozzarella route, broil it for 2-3 minutes or so at 450 degrees F or until you get molten lava cheese aka browned cheese. I decided to opt out of this step because I wanted the shells to still be visible enough for a shot so you can see what's underneath.
And that's about it! Enjoy your shellfredo (yes, I love saying that)!
Print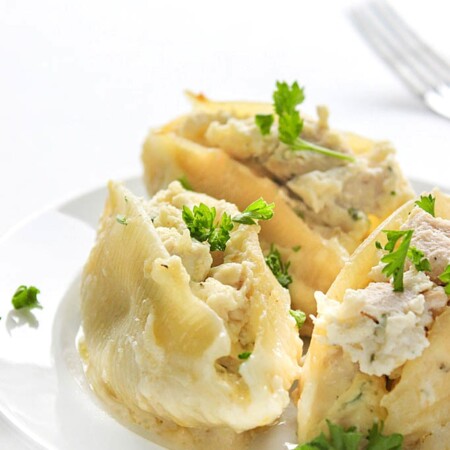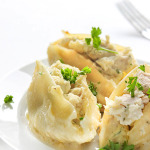 Chicken Alfredo Pasta Shells (Shellfredo)
---
Author:
Total Time: 50 mins
Yield: 8 1x
20 jumbo pasta shells
1 teaspoon garlic, minced
2 boneless, skinless chicken breasts, cubed
Salt and pepper to taste
1/2 teaspoon Italian seasoning
2 eggs, beaten
15 oz. ricotta cheese
1/2 cup Parmesan cheese, shredded
1 tablespoon fresh parsley, chopped
2 cups Alfredo sauce
---
Instructions
Cook the shells until al dente. Drain and gently rinse under cold water and set aside
Over medium high heat, saute garlic until fragrant
Add in cubed chicken, salt and pepper to taste, Italian seasoning and cook until browned and all the liquid has evaporated
Combine eggs, ricotta cheese, Parmesan cheese and parsley and mix well
Add in cooked chicken and stir to mix
Layer the bottom of a 9×13″ casserole dish with the Alfredo sauce
Stuff the shells with 1 heaping tablespoon of the chicken mixture and line them up in the casserole dish
Top with a thick layer of mozzarella cheese (optional)
Bake at 350 degrees F for 30 minutes
Broil at 450 degrees F for 2-3 minutes or until the mozzarella cheese has browned (optional)
Dish and serve hot
Notes
ALFREDO SAUCE:
Alfredo sauce (2 cups):
Ingredients:
8 tablespoons butter
1 cup heavy cream
2 cups Parmesan cheese, freshly grated
Salt and pepper to taste
Instructions:
Over medium low heat, melt the butter and pour in the heavy cream. Stir to combine
Season with salt and pepper to taste
Add the Parmesan cheese in portions and stir to mix
Prep Time: 5 mins
Cook Time: 45 mins