These air fryer maple chicken thighs are the BEST thighs you can make, with maple caramelized crispy skins and flavorful, juicy meat. Dig in and enjoy!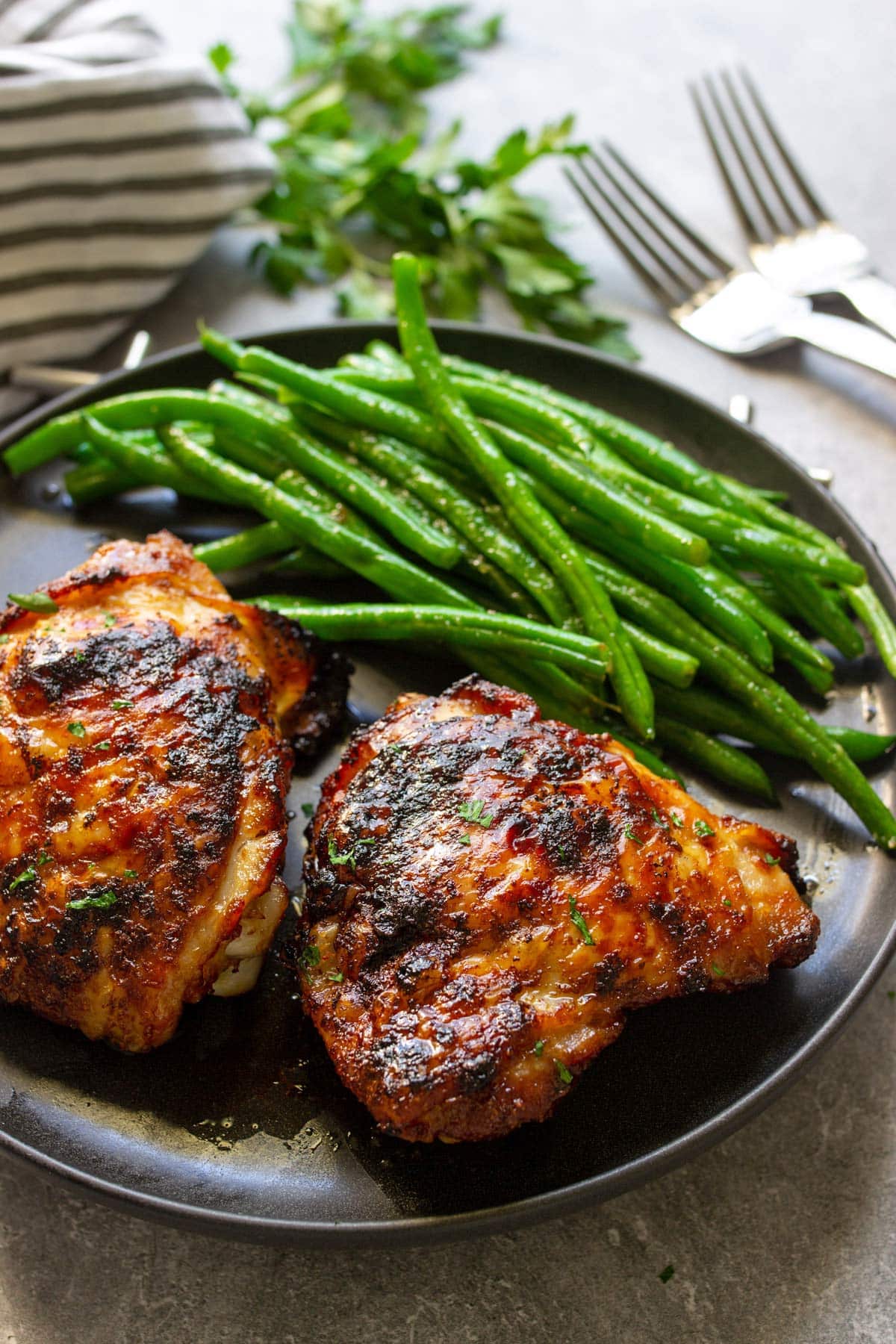 One of the greatest things that came out of buying an air fryer was getting to enjoy ultra-crispy chicken wings and chicken thighs. When I say crispy, I mean CRISPY. Like hearing a distinctive crunch one room away while picking up the chicken with some kitchen tongs kind of crispy. Now I've made a few chicken thighs in the oven but the air fryer takes the oven-baked method, scoffs at it, and gives you next-level juicy chicken.
I know these are easily the best chicken thighs I've ever made. Bite into the crispy, deliciously caramelized maple-glazed skin and feel it crunch in your mouth. The marinade permeates into the meat as well so once you get past the skin, the tender and juicy thigh meat is infused with the savory, sweet, and tangy sauce. It's pretty addicting and the best part is it's so simple to make. So let's get started.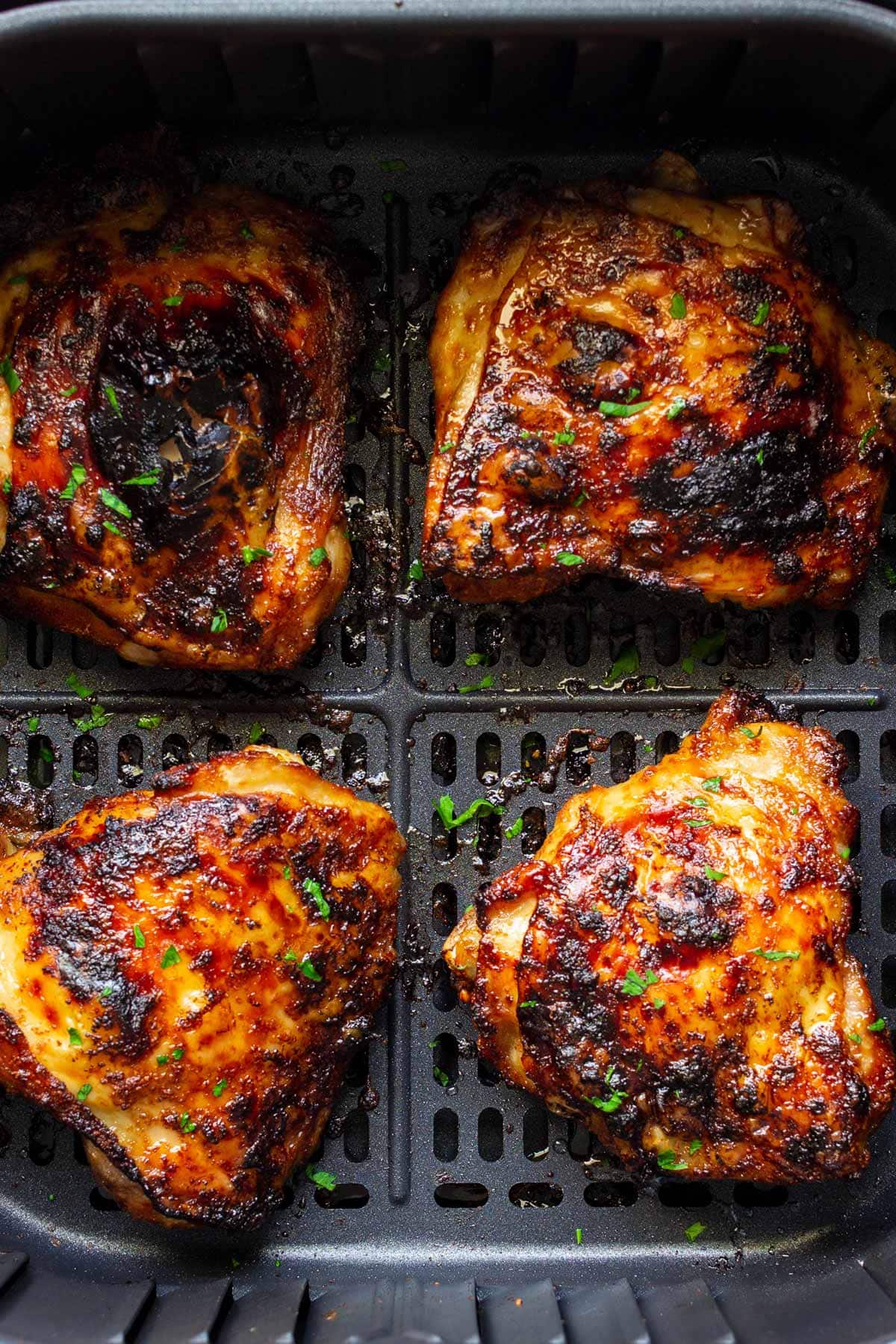 AIR FRYER MAPLE CHICKEN THIGHS RECIPE TIPS
Chicken thighs – I used bone-in, skin-on chicken thighs but you can go with boneless and/or skinless as well. Cooking times may change with boneless thighs, so check with a meat thermometer.
Air fryer- I have two types of air fryers. I use the 10 qt. oven-style air fryer for big meals with proteins on one tray and veggies on the other. For smaller meals, I use the egg-shaped air fryer.
Cooking time – Depending on the model of your air fryer and the size of your chicken thighs, cooking should take anywhere between 8-10 minutes per side.
Your best bet would be to check with a meat thermometer for your peace of mind. As for which side to start cooking on, I started with the thighs skin side down and had the skins crisp up during the second half of the cooking.
Marinating – I like to marinate my chicken for 30 minutes to give it time to absorb the sauce. If you're short on time you can skip this step but it is highly recommended!
While marinating, make sure the thighs are entirely coated in the sauce by using either a mixing bowl, a Ziploc bag, or massaging it in with your hands. If you want to use up every last drop of marinade, you can also baste the leftover marinade on the thighs before air frying.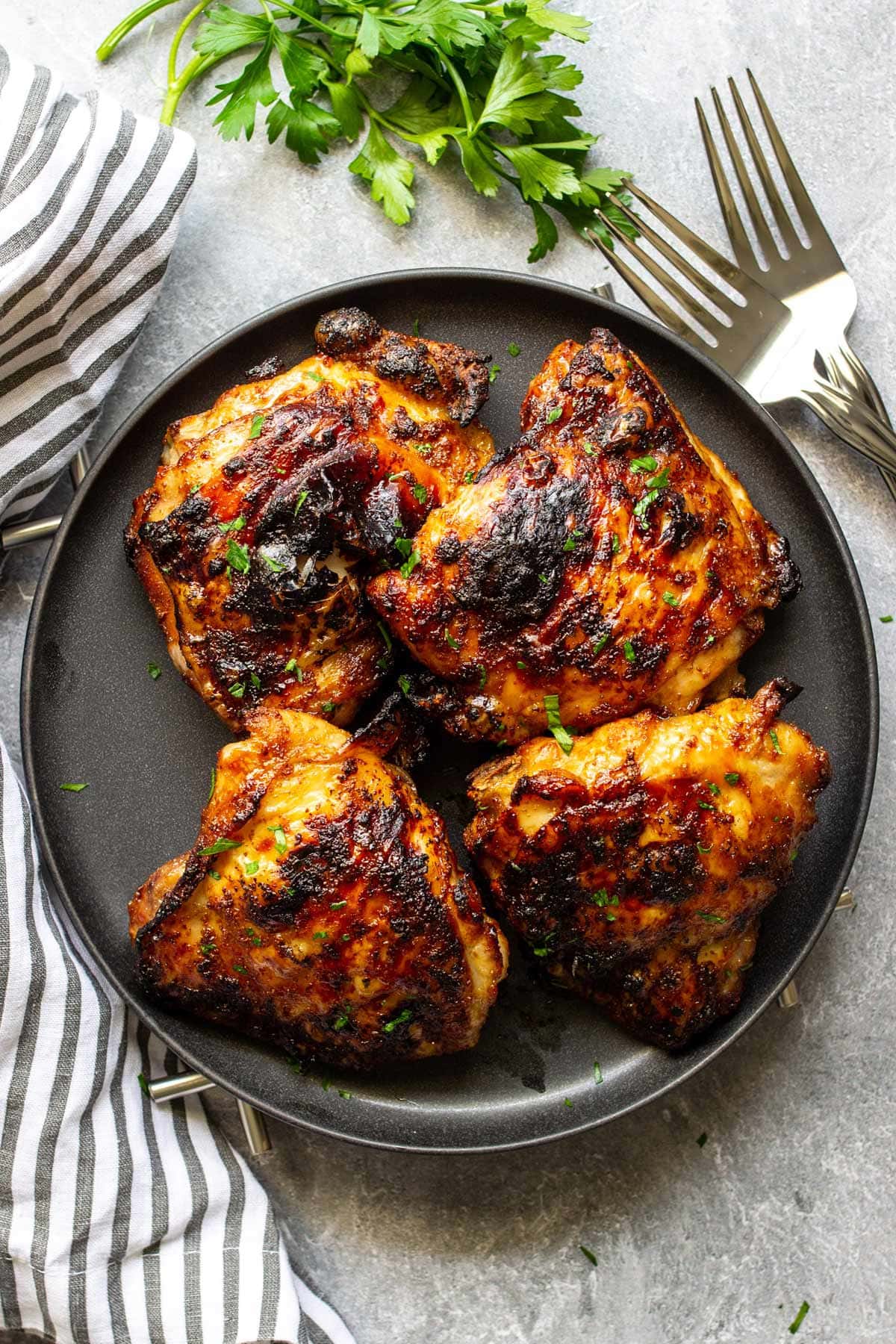 Sesame oil – I use the Kadoya brand of sesame oil. You can also use the Hokkan brand which I had no trouble finding in my local grocery store. If you don't feel like getting sesame oil but still want a smoky flavor, try 1/2 teaspoon of smoked paprika. It won't taste exactly the same but it works.
Soy sauce – You don't need any more salt in this marinade because there's enough sodium from the soy sauce. For the soy sauce, the brand I use is La Choy.
Maple syrup – You can use maple syrup or honey. I used the Maple Gold brand of maple syrup.
Garlic – You can use fresh garlic or garlic powder, whichever you have on hand, and whatever is easier for you. I find it easier to use a mini grater or garlic press when opting for fresh garlic.
Baking powder – Baking powder added to chicken with skins makes them crispier. It's a technique I've used since I made oven-baked buffalo wings.
Garnish – Because brown food tends to look unappetizing, I used some freshly chopped parsley to bring a pop of color. It's not part of the recipe but if you want to present your thighs the exact same way, use parsley.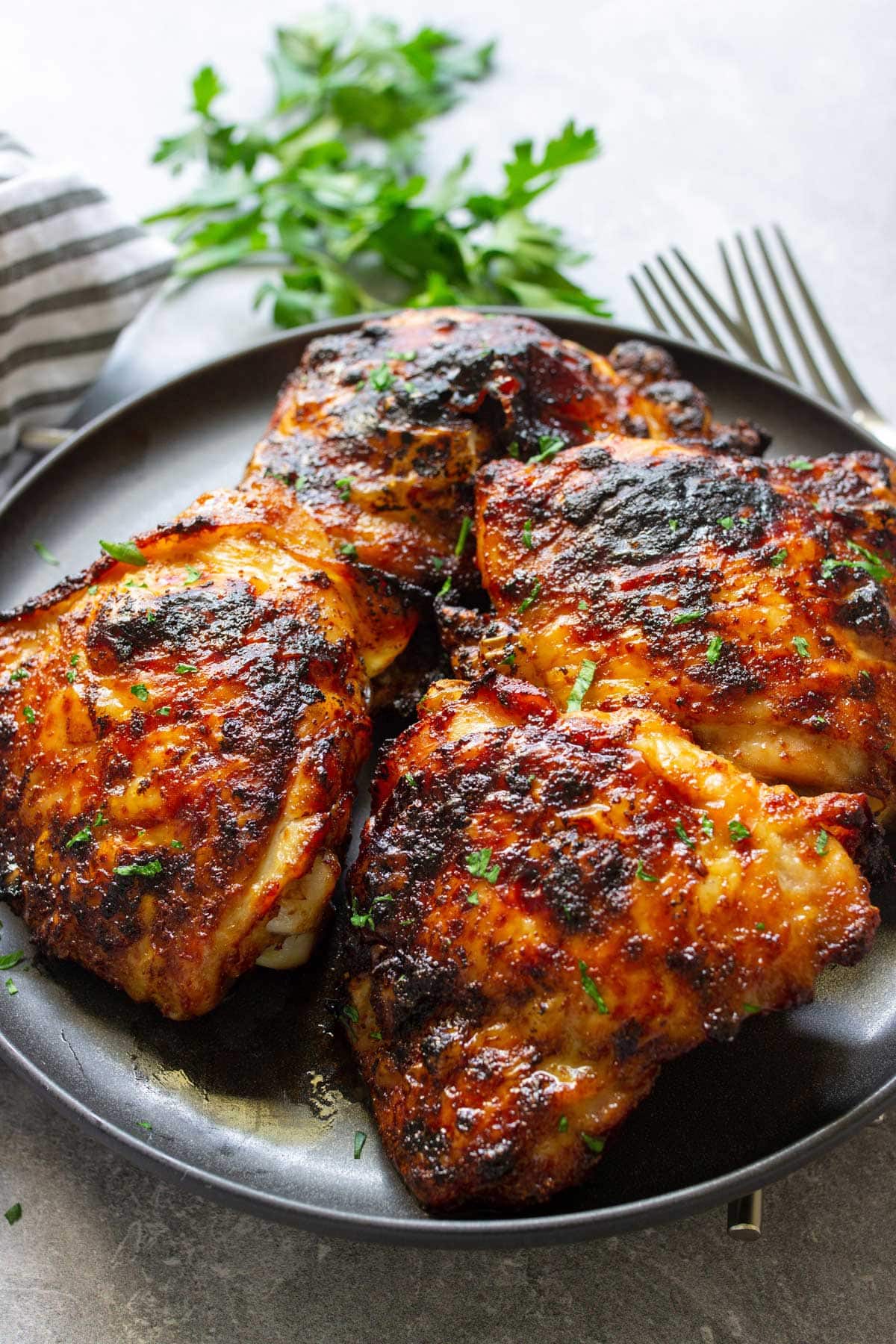 AIR FRYER VEGGIES
So far, I've only tested broccoli, zucchini and brussels sprouts at 400°F/5 minutes in the air fryer. I think green beans and asparagus would take about the same amount of time. Here are a few quick ideas on how to prep your veggies for the air fryer:
Garlic Parmesan Broccoli: Toss them with some olive oil, pepper, seasoning salt and shaker Parmesan cheese.
Zucchini: Add some olive oil, salt and pepper and a dash of sugar. I've also tossed it with olive oil and Johnny's garlic spread.
Brussels sprouts: I like to add some olive oil, garlic powder and garlic salt, then toss them in a balsamic reduction.
Green beans: Add some olive oil. smoked paprika, garlic powder and salt and pepper to taste for some smoky green beans.
Asparagus: Toss it with some olive oil, lemon slices or lemon juice, garlic powder and salt and pepper to taste.
And that's about it. If you like some sauce with your chicken and don't own an air fryer, try out this oven-baked maple-glazed chicken. Happy eats and enjoy!
MORE CHICKEN THIGH RECIPES TO TRY
Did you make this recipe? Rate it!
♡ If you liked this recipe, giving it a star rating ★★★★★ in the comments below really helps! For more recipes, subscribe to my newsletter or follow me on Facebook, Instagram and Pinterest.
Print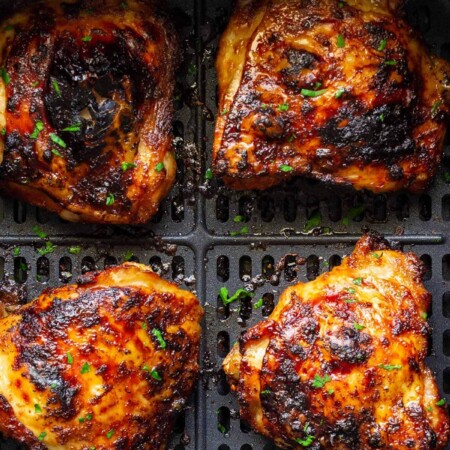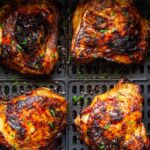 Air Fryer Maple Chicken Thighs
---
Author:
Total Time: 21 minutes
Yield: 4 1x
Description
These air fryer maple chicken thighs are the BEST thighs you can make, with maple caramelized crispy skins and flavorful, juicy meat.
---
4 chicken thighs (bone-in/boneless, skin on)
Sauce:
1 teaspoon olive oil
1 teaspoon sesame oil
2 tablespoons soy sauce
1 tablespoon lime juice
4 tablespoons maple syrup/honey
1 teaspoon garlic powder
1 teaspoon onion powder
1 teaspoon baking powder
---
Instructions
Combine the sauce ingredients and mix well.
Marinate the chicken thighs in the sauce for 30 minutes in the refrigerator.
Preheat the air fryer to 400°F and air fry for 8-10 minutes on each side, or until a meat thermometer reads 165 F.
Let the thighs rest for 5 minutes then dish and serve hot.
Enjoy!
Notes
This recipe assumes you have an air fryer with a preheat option. If you do not, run your air fryer for 5 minutes at 400°F to preheat it evenly before adding in the chicken and following the recommended recipe time.
Scroll up to RECIPE TIPS for more useful tips, suggestions and ingredient substitutions.
Prep Time: 5 mins
Cook Time: 16