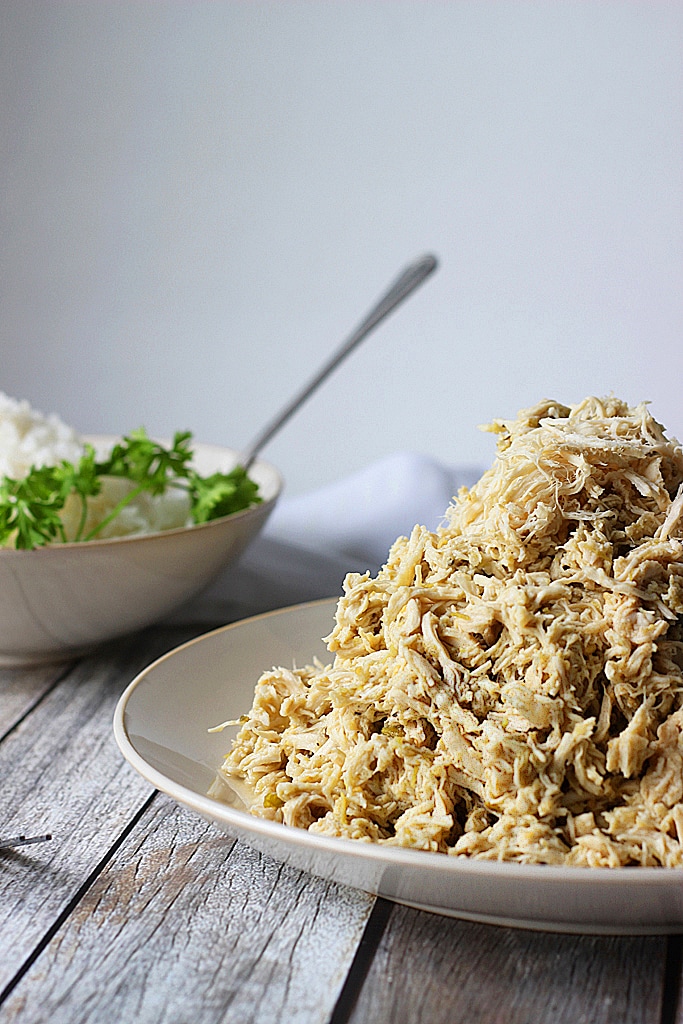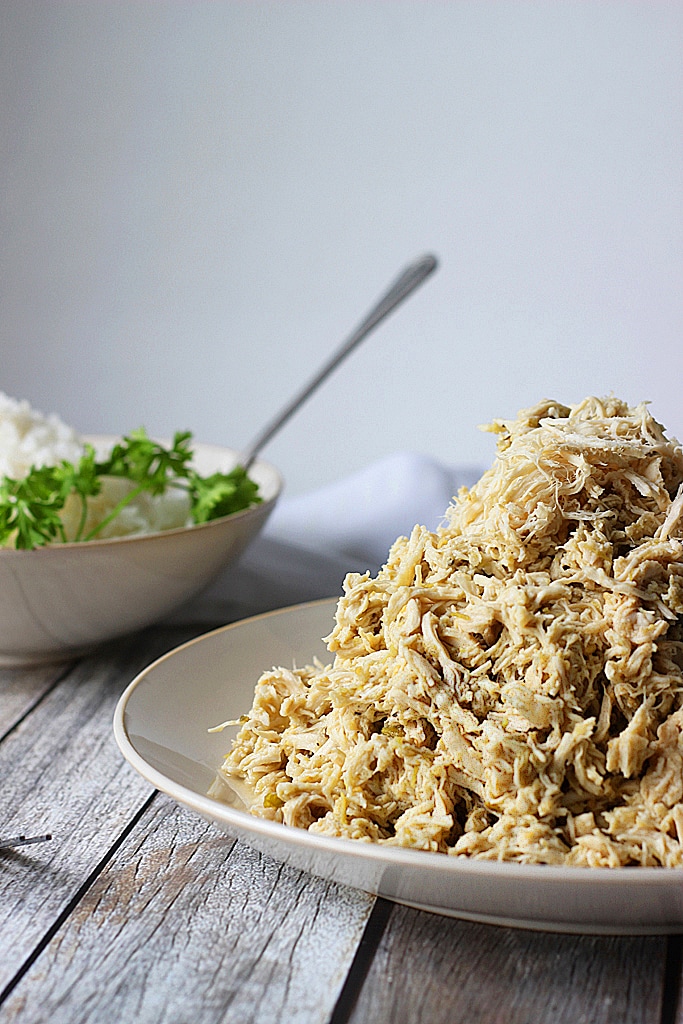 I wanted something simple and easy today. Something I could pop in the slow cooker and forget about. At least for the next 2 hours. Aren't slow cookers handy like that? After the pressure cooker, it's my next favorite gadget. If it is rightly called a gadget. Kitchen tool? Kitchen necessity. Kitchen wonder!
Simple food doesn't mean you have to compromise deliciousness. Just means you're cheating a little and winning. So today we're cooking salsa verde in the slow cooker and depending how you want to savor it, eat simple but well. I'm gonna put them in some tacos but tortillas or tostadas work too. Even rice!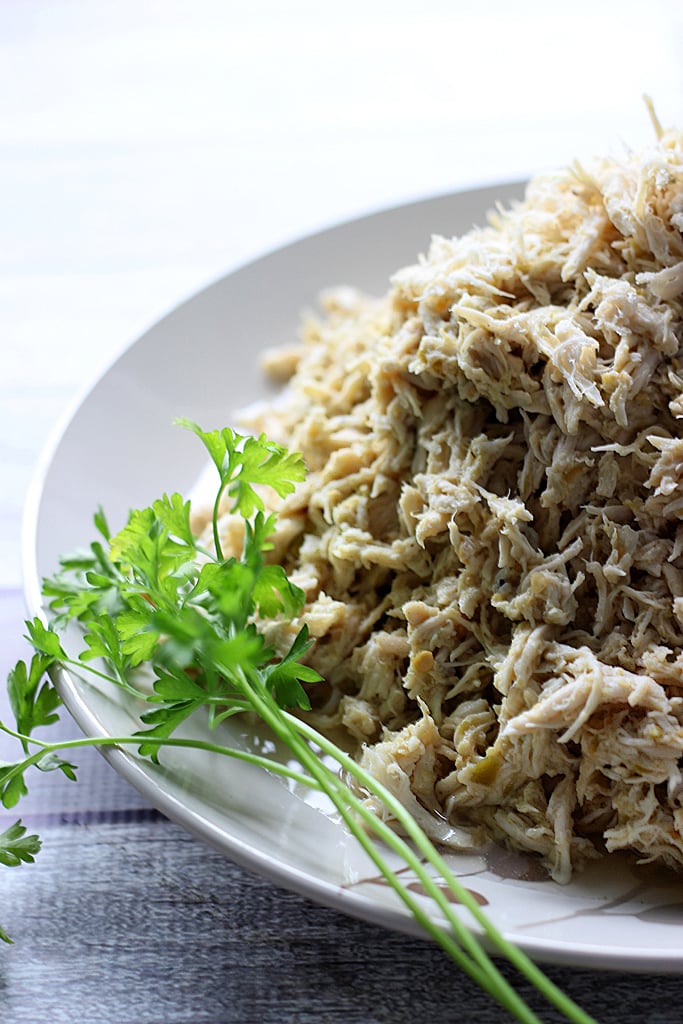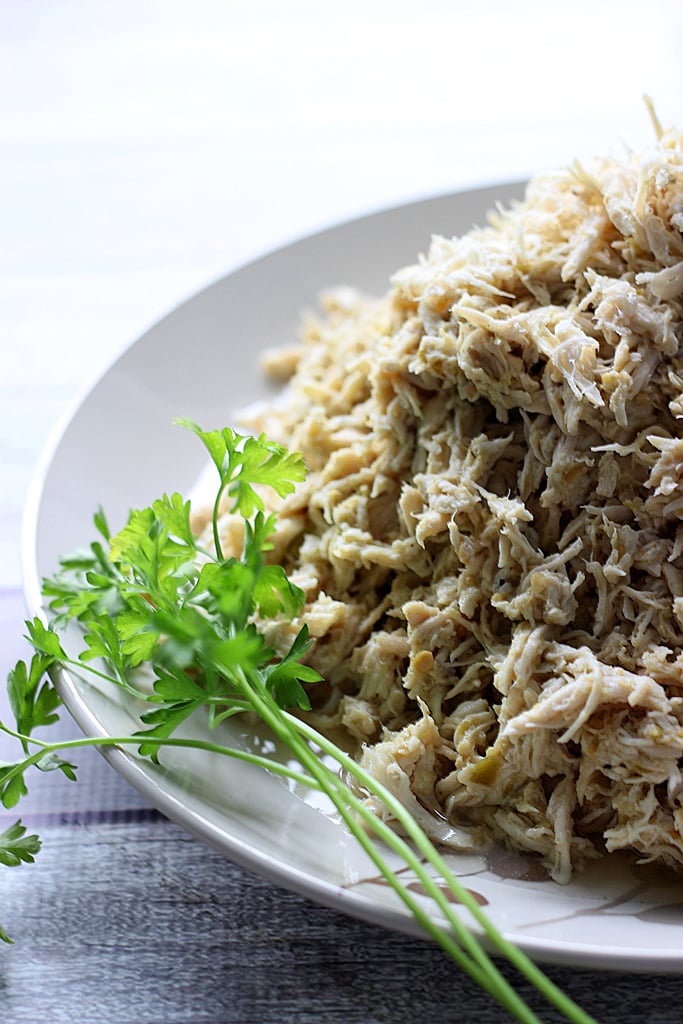 And we are gonna shred it. Because while chicken is good, shredded or pulled chicken is even better. I just love it. Come to think of it? I love pulled anything.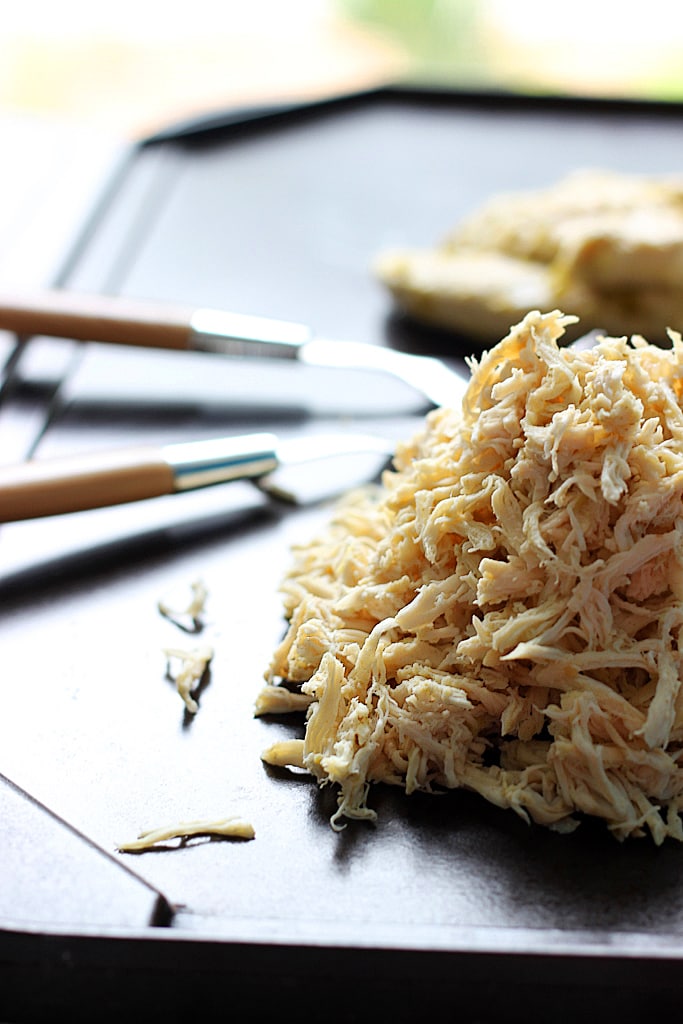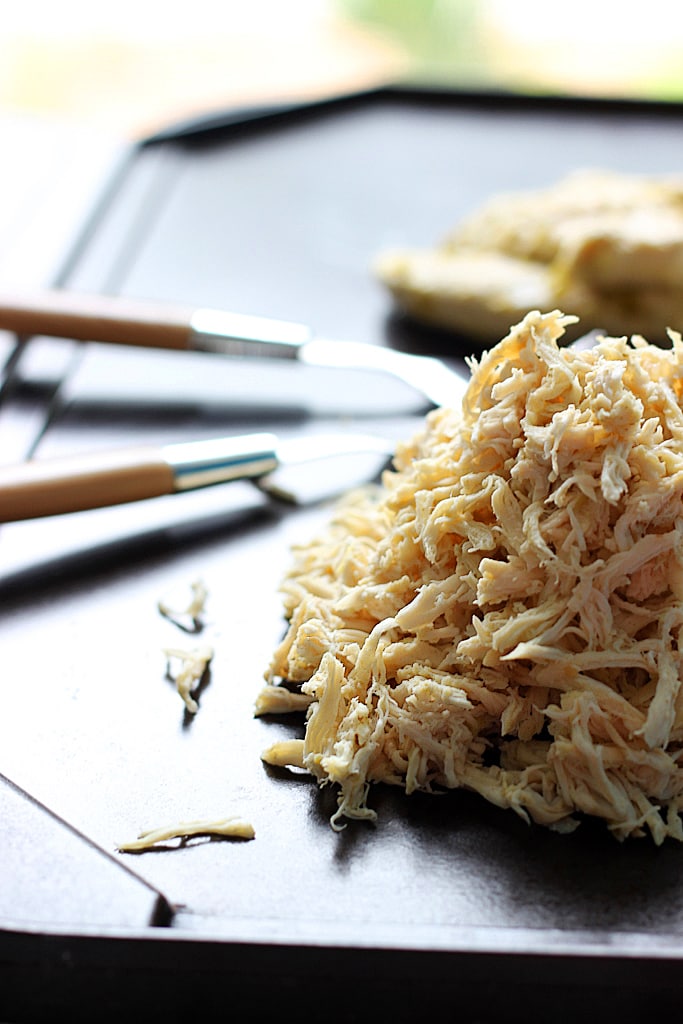 I loved the pulled beef in Cuban Ropa Vieja, even though I probably spent at least 15 minutes just shredding the whole thing. Didn't love it so much then, but later, all was forgiven. It must be the added texture. Because chicken is chicken is chicken. And beef is beef is beef. But when you pull it…BAM! Texture galore! Plus it makes it look like you're eating a lot more than you actually are.
It's a trick but it's a good one. I read somewhere that another way to fool yourself into thinking you're eating more and fooling your stomach is to eat slowly and in small bites. Probably why I love crab so much. Because it takes forever to crack open that shell and get to the meaty bits. But it's so much fun and you can do it for hours and never feel full.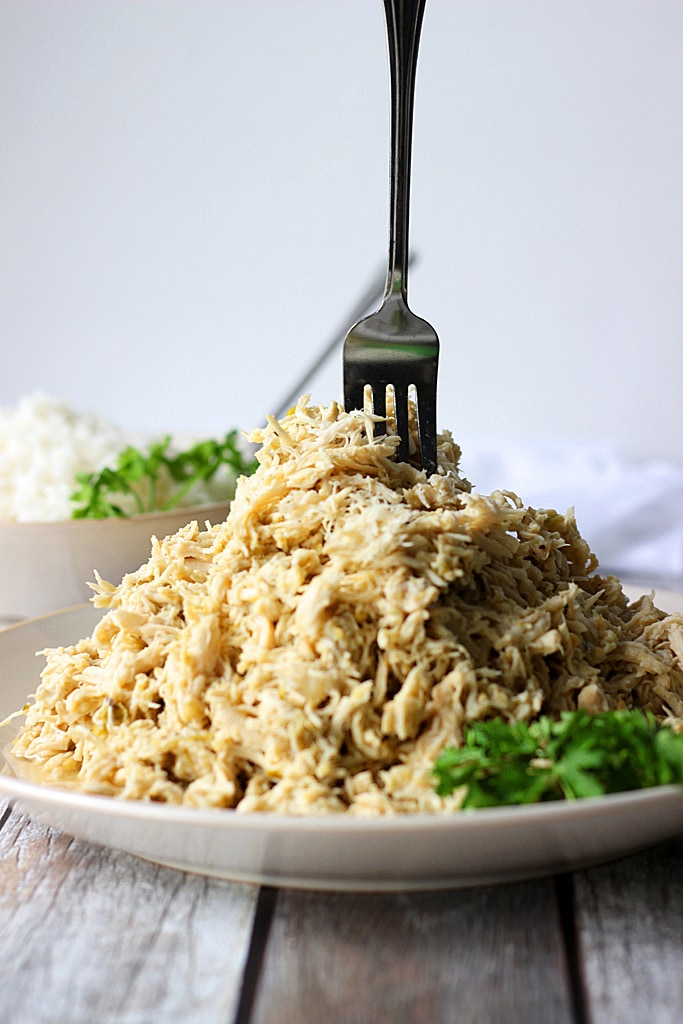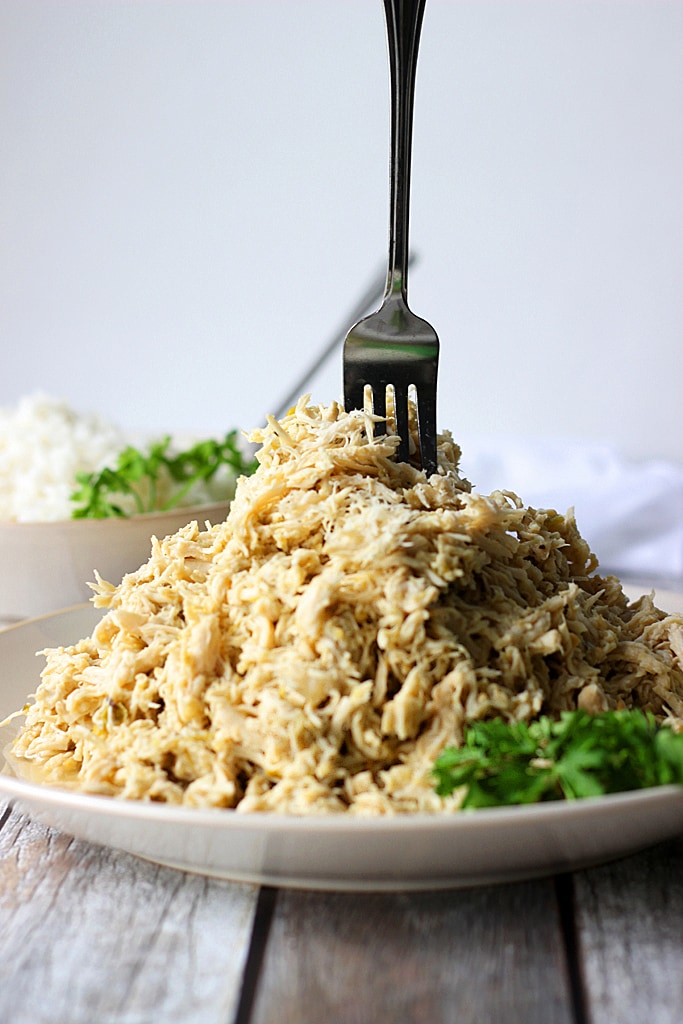 Well eventually you will but that's besides the point. Plop a ready made meal infront of you and you're done eating it and you're full in 10-30 minutes. But with crab, you can go at that thing for hours and just enjoy eating. Maybe I just like being able to eat and eat and eat. Maybe lim just greedy like that. It's a wonder I'm not the size of a house by now.
Anyway, I've been seeing so many plates piled mile high with some pulled meat or other. And they just look so good. So here I am jumping on the pulled meat mountain bandwagon. But sometimes things don't always go the way you planned. Halfway through shredding, it started raining. And that usually means crappy pictures. So I checked the hourly weather forecast hoping and praying for the rain to stop before sunset. Cloudy, rainy, MAYBE some sun at 5pm. There was nothing left to do but to go back to chicken shredding. I may or may not have taken out my frustration on the chicken. So I'm sorry if the pictures aren't all that great today.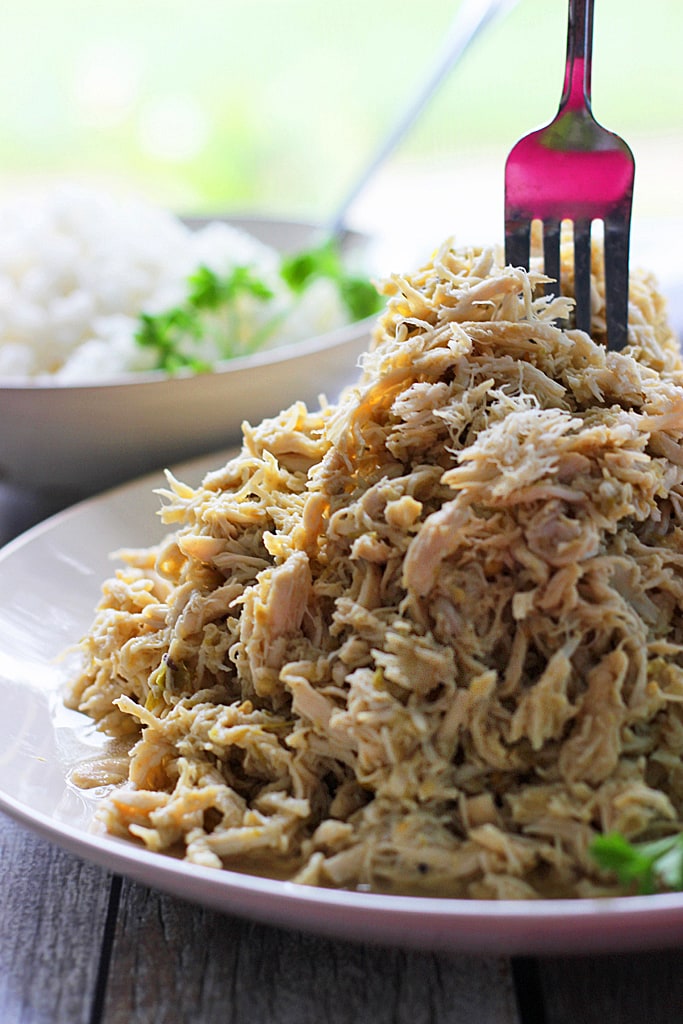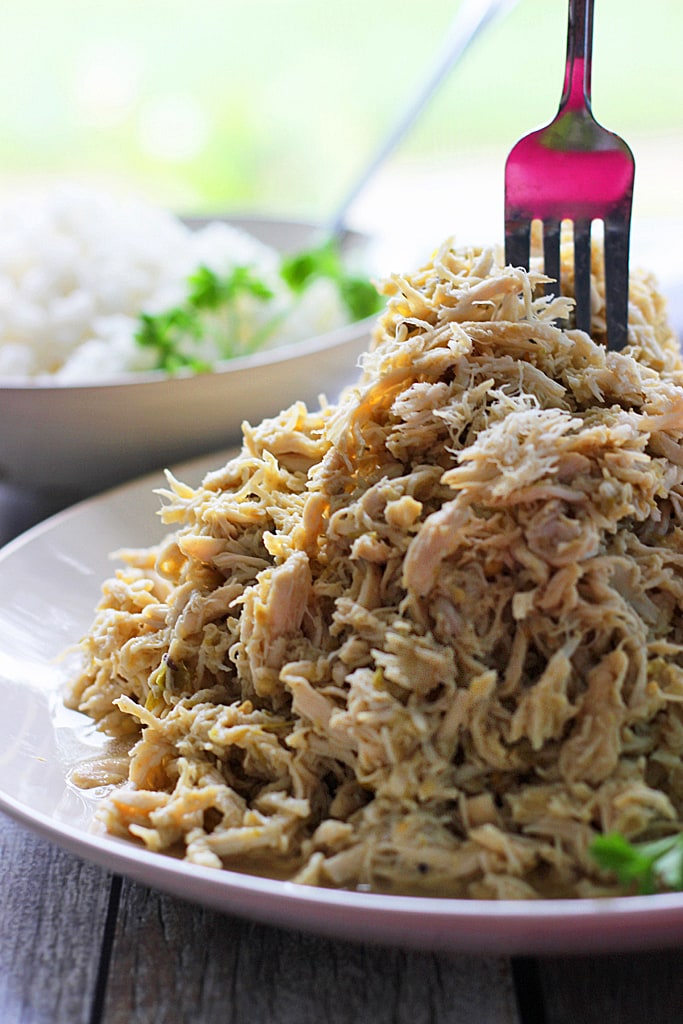 Talking about shredding, this will be the bulk of your preparation stage. So go put on some music while you do it. It helps to have an extra pair of hands. Also feel free to add in some jalapenos or green chilies if you want it spicier. And if you're wondering, salsa verde simply means green sauce. Made with tomatillos, jalapeños, chilies, onions, cilantro and lime juice, it's zesty. It's fresh. It's yummy.
Don't run away just yet. We're not going to be husking tomatillos and chopping and dicing. I did promise you a simple meal. So we're going with some store bought salsa verde. If you want to make some yourself, then great! If not, step over this lazy line Im drawing right here on my virtual kitchen floor and join me!
Staring contest, go!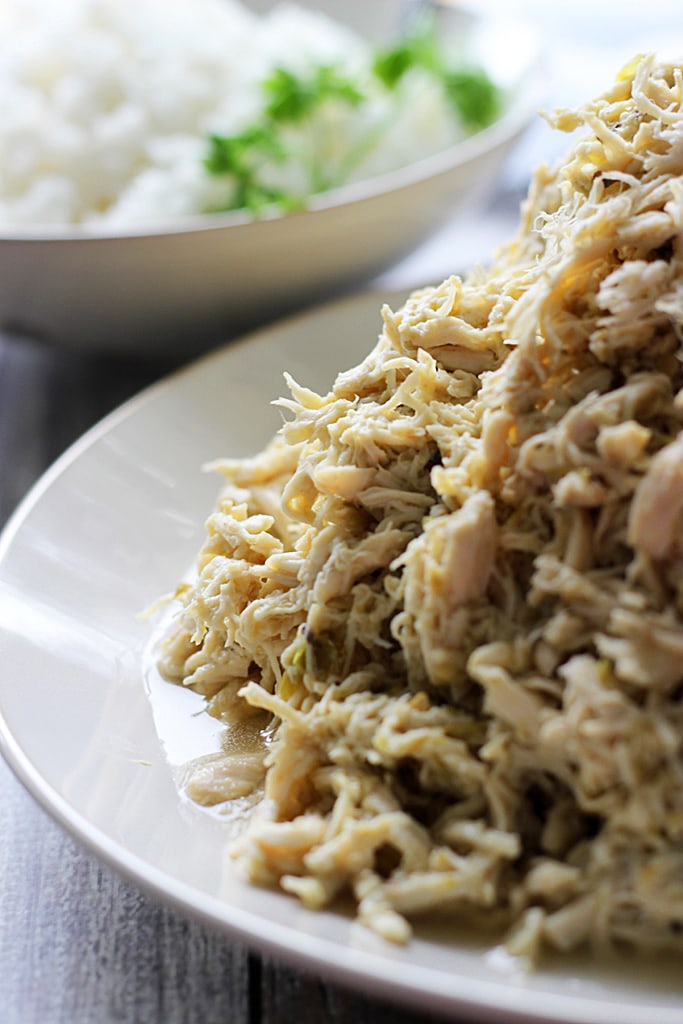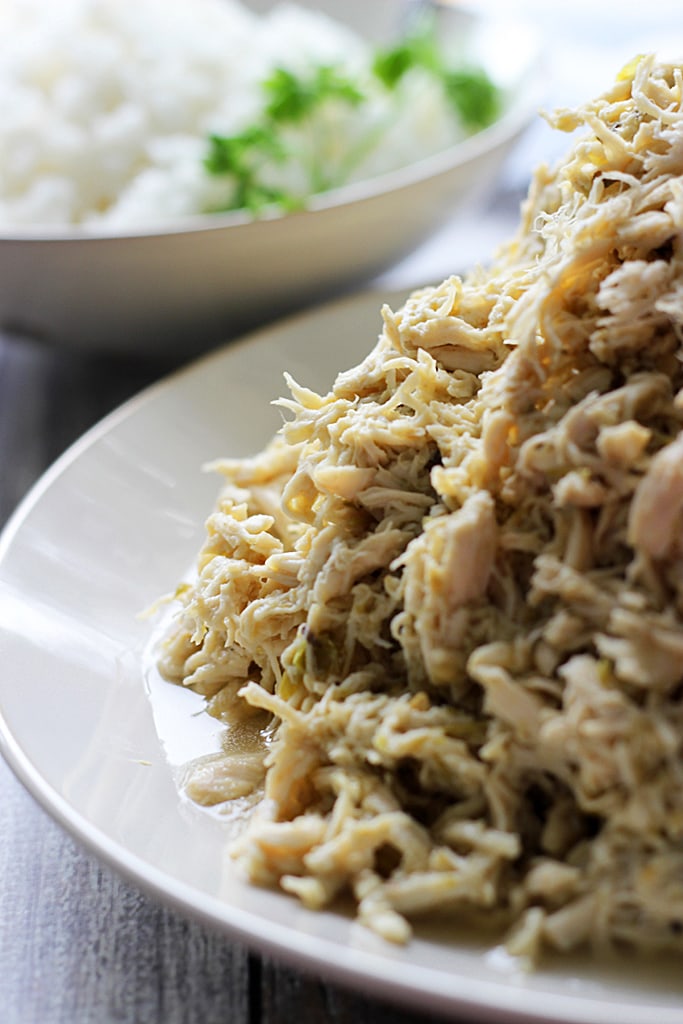 Okay, let's get cooking.
Print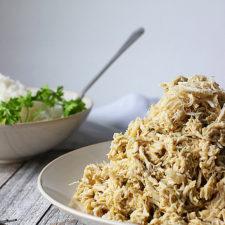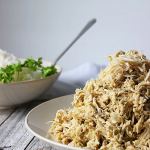 Slow Cooker Salsa Verde Chicken
---
Author:

Total Time:

2 hours 30 mins

Yield:

6

1

x
2

lb. chicken tenders
Salt and pepper to taste

1

bottle (16 oz.) salsa verde

1 teaspoon

garlic powder

1/2 teaspoon

oregano

1/2 teaspoon

ground cumin
Jalapenos/green chilies (optional)
---
Instructions
Season the chicken with salt and pepper to taste
Place chicken in a slow cooker and add salsa verde, garlic powder, oregano and ground cumin. Stir to combine
Cook on high for 2 hours
Shred chicken with two forks
Add shredded chicken back to the slow cooker, stirring to let the sauce absorb
Depending on how saucy you want it, spoon out some sauce or leave it be
Serve on tacos, burritos, tostadas or over rice
Prep Time:

30 mins

Cook Time:

2 hours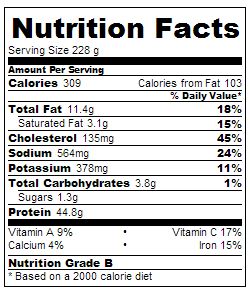 ♡ Affiliate disclosure: As an Amazon Associate, I earn commissions from qualifying purchases from Amazon.com. You can learn more about it here.