These easy slow cooker shredded chicken tacos take a handful of ingredients and just 5 minutes of prep time but are packed full of flavor. Try this crock pot chicken taco recipe for Taco Tuesday to go over tacos, taco bowls, enchiladas, burritos, nachos, or over loaded fries.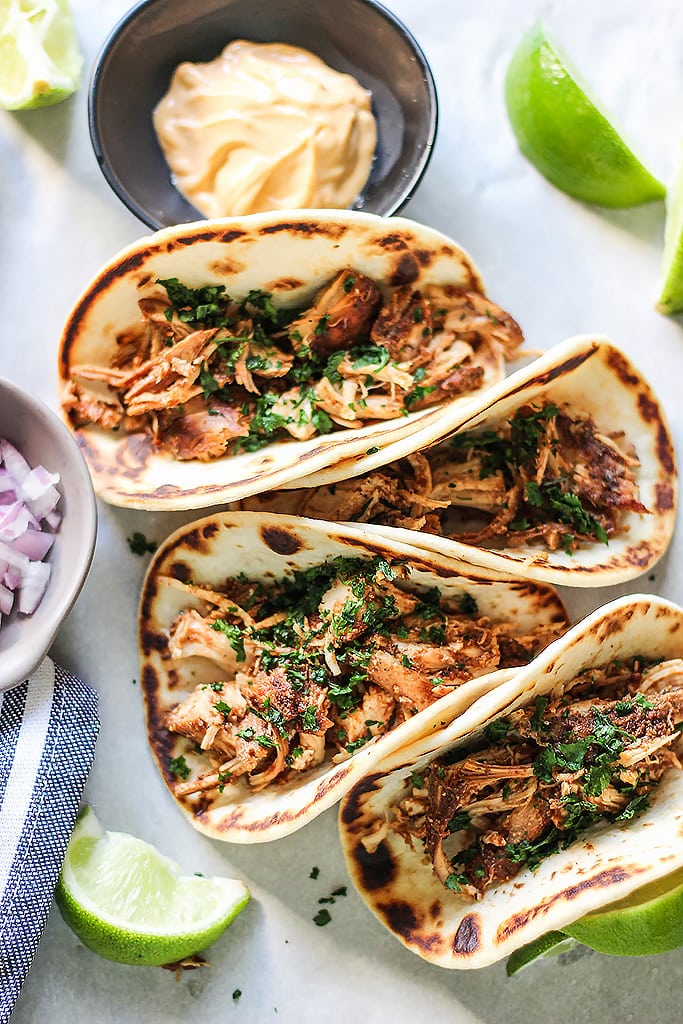 Today we're making some slow cooker shredded chicken tacos that is guaranteed to be a family favorite when you're craving some easy Mexican or Tex-Mex food. This crock pot chicken taco recipe takes the humble breast and transforms it into juicy and delicious taco meat through the magical pairing of tomato paste, brown sugar, lime juice, cumin and smoked paprika. There's so much flavor in these chicken tacos, you'd think they were straight out of your favorite taco truck.
Make them for Taco Tuesday, Cinco de Mayo, the Super Bowl, potlucks, parties, or cookouts. It makes a ton of shredded chicken to feed a crowd or you can freeze it for another day when you have a random taco craving. Top these chicken tacos with some avocado, tomatoes, red onions, jalapenos, cilantro, green onions, shredded lettuce, salsa, guacamole, or sour cream and dig in.
For more easy taco recipes, try these slow cooker shredded beef tacos, slow cooker Mexican shredded beef, Instant pot chipotle chicken tacos, or these cheesy baked chicken tacos. In the meantime, let's make some chicken tacos to enjoy!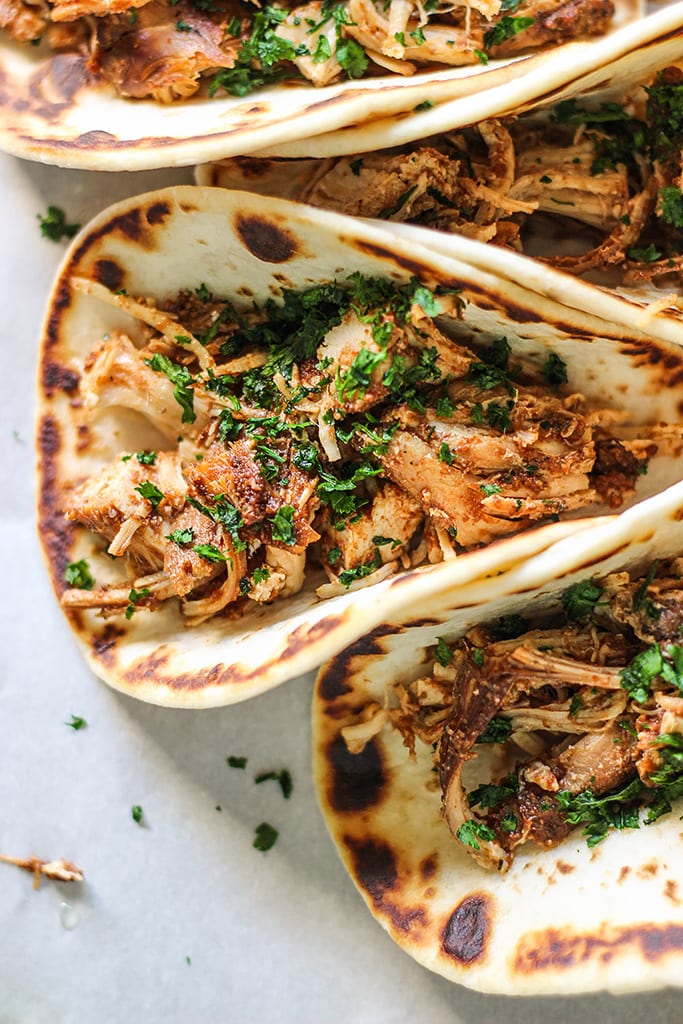 SLOW COOKER SHREDDED CHICKEN TACOS RECIPE TIPS
Chicken – I used boneless, skinless chicken breasts for this recipe and pre-seasoned them with salt and pepper to taste before slow cooking.
Salt – I like using coarse sea salt to season with because it's very forgiving. Once you've pre-seasoned the chicken, there is no need to add more salt to the sauce.
Searing – Sear the chicken breasts on both sides before putting them in the slow cooker. This step is optional but highly recommended since searing locks in the flavor and juices. However, if you are pressed for time or just feel a little lazy, feel free to skip this step. If you do decide to go the extra mile, do yourself a favor and invest in a splatter guard to save some time on the clean-up.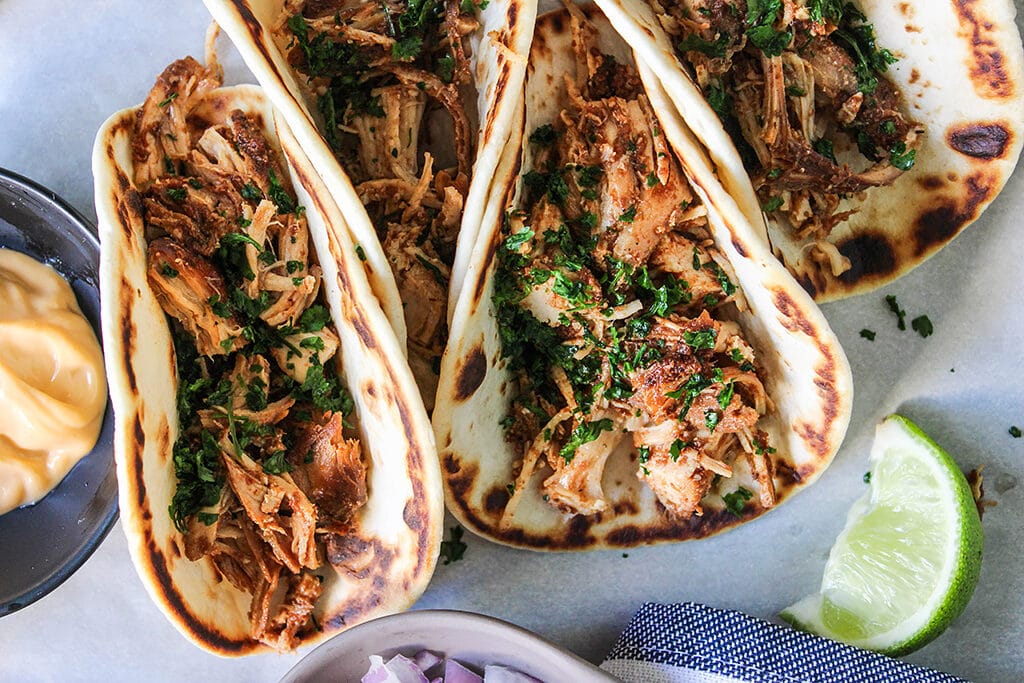 Lime juice – This adds a little zest to the chicken and also works to tenderize the meat.
Brown sugar – Brown sugar brings out more flavor by adding a hint of sweetness to the savory and zestiness of the sauce. There's not too much that you'll end up with overly sweet meat, but just enough to balance and round out the flavor perfectly.
Tomato paste – I like using the Cento brand of tomato paste in a tube because it keeps well. You can find these at most grocery stores near tomato sauce and diced tomatoes. A little goes a long way with tomato paste and since it's an ingredient you don't use all in one go, it makes more sense to get it in a squeezable tube rather than buying it in a tin and letting the rest go to waste. Squeeze and use as needed and don't worry about wasting ingredients.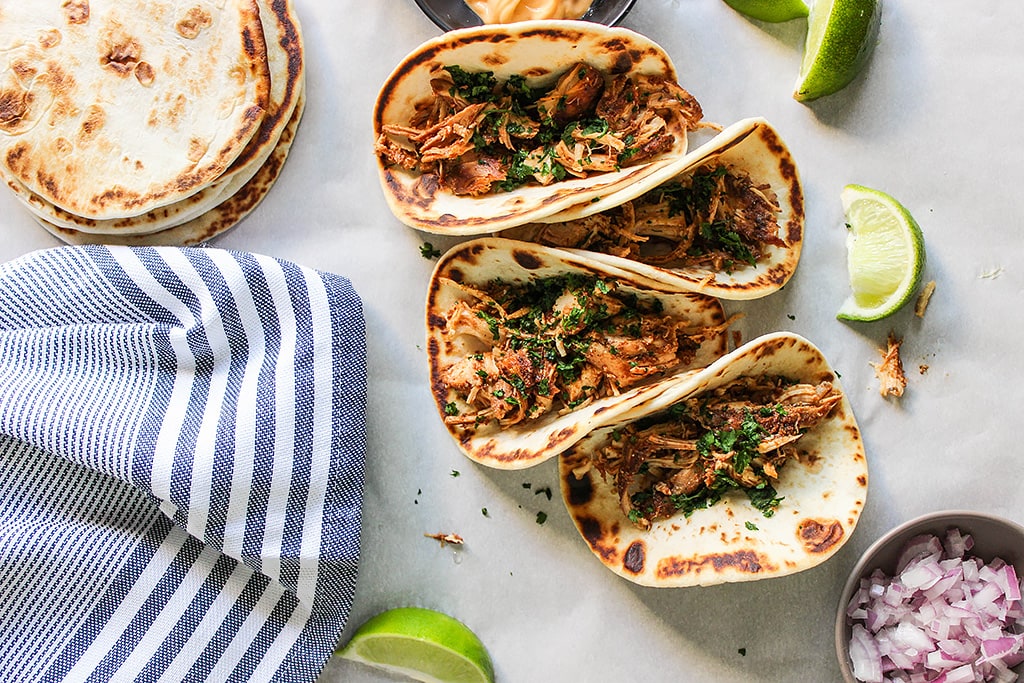 Cayenne – This adds a tiny bit of heat to the chicken. Skip this or leave it out if you don't like spice at all.
Garlic and onion powder – I used powders for the recipe but if you feel like having fresh onions and garlic, feel free to use some diced ones instead.
Smoked paprika – Smoked paprika adds some smokiness and is a great addition to these tacos.
Tortillas – Both flour and corn tortillas work. For this recipe, I used flour tortillas and toasted them over an open flame to warm them up a little and add some texture. If you don't have a gas stove, you can also toast them in a skillet with no oil until browned and crispy.
Taco Topping Ideas:
Sliced avocados
Diced red onions
Sliced jalapenos
Chopped cilantro
Shredded lettuce
Salsa or pico de gallo
Guacamole
Cotija cheese
Sour cream
And that's about it. Set and forget it then come back to claim your tacos. Enjoy and let me know how you liked them, what toppings you used or substitutions you made in the comments below!
MORE MEXICAN-INSPIRED RECIPES TO TRY
Did you make this recipe? Rate it!
♡ If you liked this recipe, giving it a star rating ★★★★★ in the comments below really helps! For more recipes, subscribe to my newsletter or follow me on Facebook, Instagram and Pinterest.
Print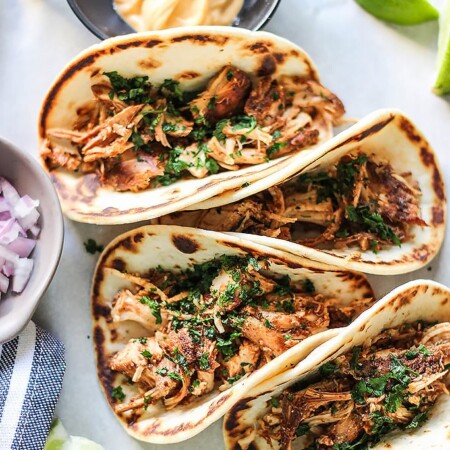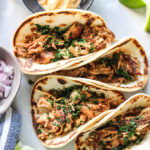 Slow Cooker Shredded Chicken Tacos
---
Author:
Total Time: 4 hours 5 minutes
Yield: 6 servings (24-26 tacos) 1x
Description
These easy slow cooker shredded chicken tacos take a handful of ingredients and just 5 minutes of prep time but are packed full of flavor.
---
2 lb. boneless, skinless chicken breasts
Salt and pepper to taste
1/4 cup chicken broth
1/4 cup lime juice
2 tablespoons brown sugar
2 tablespoons tomato paste
1 teaspoon cayenne (optional for heat)
1 teaspoon ground cumin
1 teaspoon garlic powder
1 teaspoon onion powder
1 teaspoon smoked paprika
1 teaspoon dried oregano
---
Instructions
Season chicken on both sides with salt and pepper.
[Optional step] Over medium-high heat, sear chicken on both sides until browned, about 2 minutes per side.
Arrange chicken breasts in a 6 qt. slow cooker.
Combine all other ingredients and blend into a smooth paste. Pour over chicken breasts.
Cook on HIGH for 3-4 hours or on LOW for 7-8 hours.
Shred the chicken with two forks and toss to coat with the juices.
Dish and serve hot with your favorite toppings.
Enjoy!
Notes
Leave out cayenne if you don't like things spicy.
Smoked paprika gives things a smoky taste and does not affect spice level.
Scroll up to RECIPE TIPS for more useful tips, suggestions and ingredient substitutions.
Prep Time: 5 mins
Cook Time: 4 hours