This chicken enchilada casserole takes all the fun flavors of chicken enchiladas and stacks them into a delicious, hot and cheesy casserole.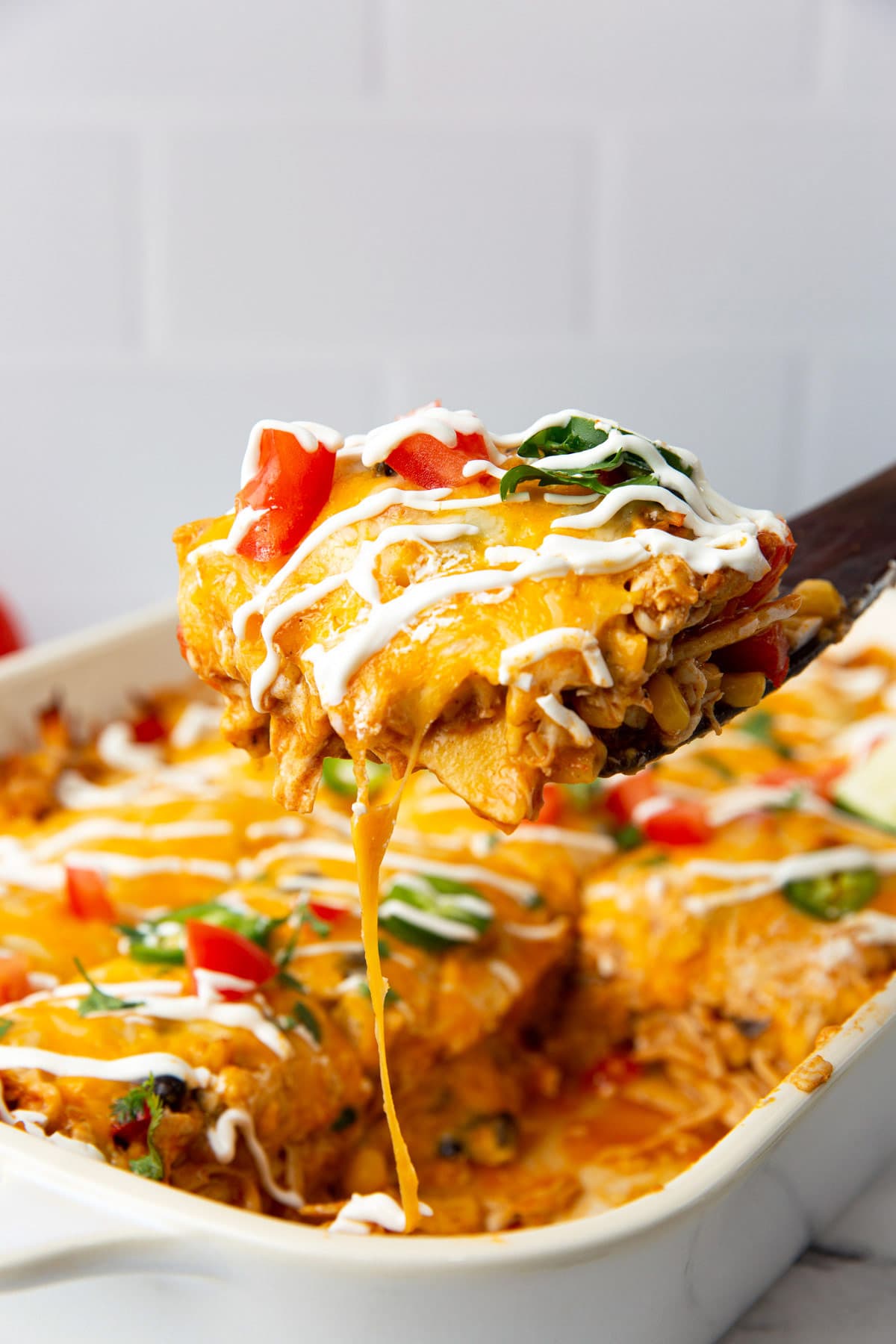 Today we're making a cheesy chicken enchilada casserole with layers of corn tortillas, shredded chicken, corn, green chiles and black beans simmered in enchilada sauce for maximum flavor with lots of cheddar and Monterey Jack cheese. It's even easier to put together with store-bought rotisserie chicken that is ready to be shredded.
This recipe takes away all the fuss of rolling up individual tortillas and stacks them into neat, deliciously flavorful and cheesy layers for a piping hot Mexican-inspired casserole. Top it with your favorite toppings like avocado, tomatoes, red onions, jalapenos, cilantro, shredded lettuce, green onions, or sour cream and you have a hearty, fun meal for the entire family. Even the leftovers taste great because they heat up so well.
Like most Mexican-style recipes, there's always the promise of fun and a belly full of flavor just like this Mexican ground beef casserole, these sheet pan chicken fajitas, or taco recipes like slow cooker shredded beef tacos, slow cooker Mexican shredded beef, baked chicken tacos, or instant pot chipotle chili tacos. In the meantime, let's start making a chicken enchilada casserole!
How To Make Chicken Enchilada Casserole (1 Min Video)
Ingredients in Chicken Enchilada Casserole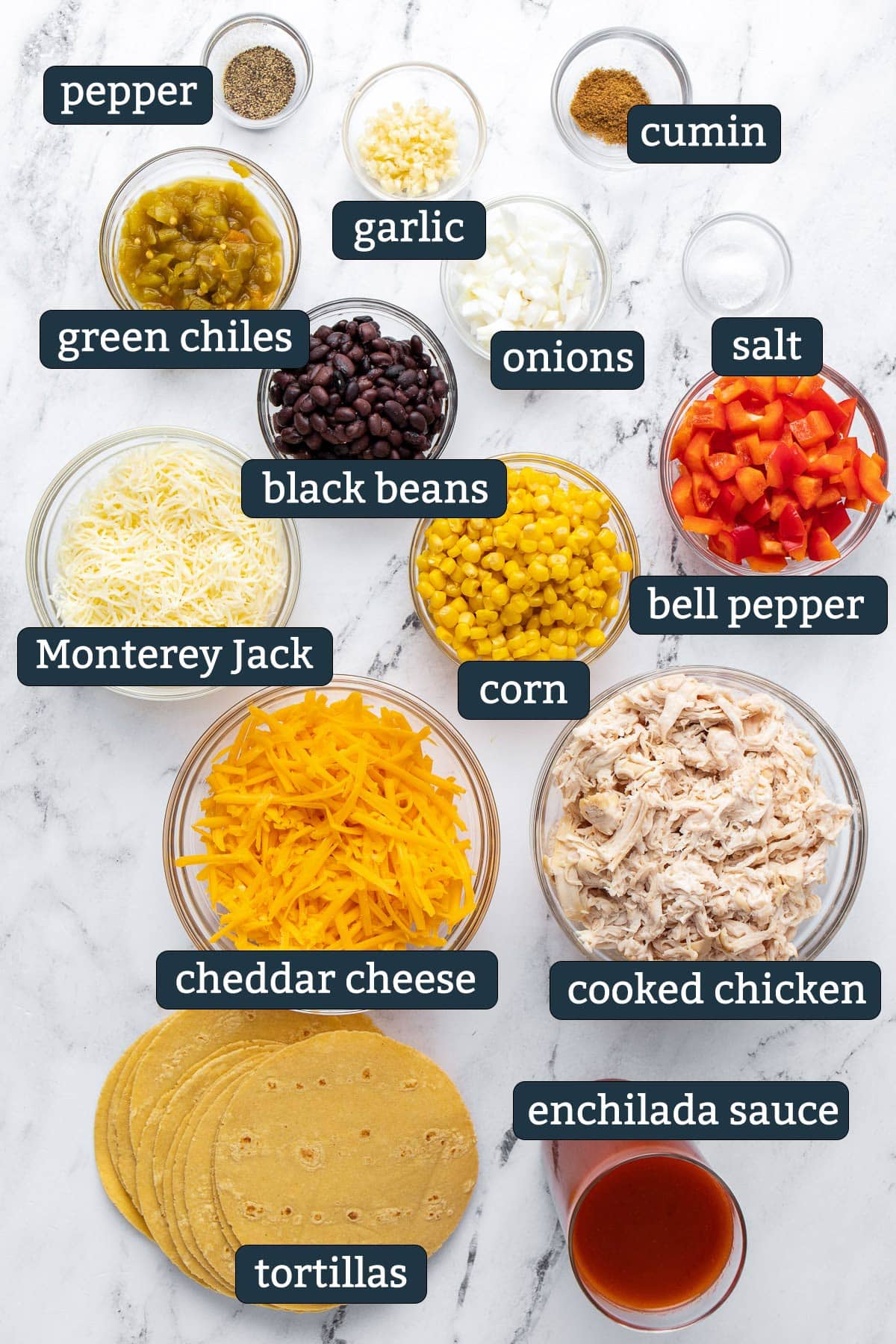 CHICKEN ENCHILADA CASSEROLE RECIPE TIPS
Onion and garlic – It's best to use fresh onions and garlic but you can substitute them with onion and garlic powder.
Bell pepper – Any color of bell pepper works for this recipe but I used a red bell pepper for the sweeter taste and color contrast. There are subtle differences in taste between the colors of bell peppers. Green peppers, which are considered not yet ripe, are slightly bitter and peppery. Yellow, orange and red bell peppers are fully ripened and taste sweet and fruity with red being the sweetest and juiciest.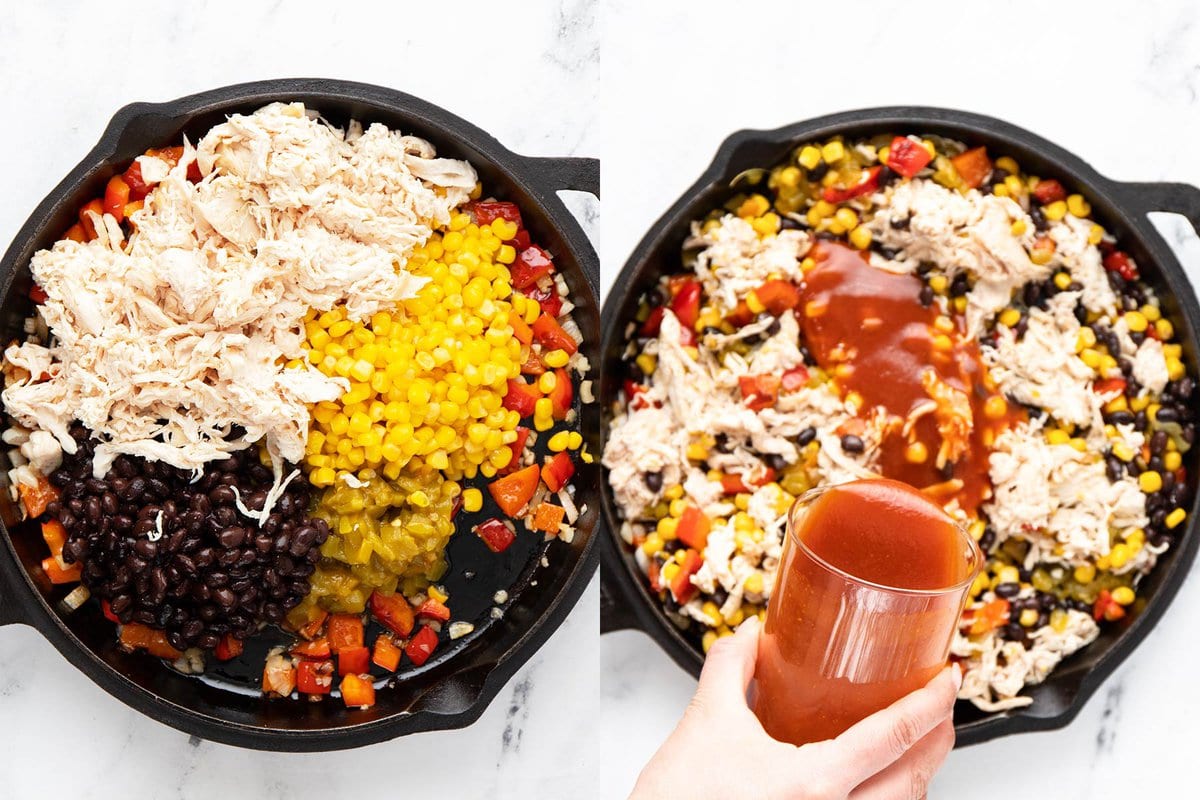 Corn – I used a can of regular whole kernel corn but you can substitute it with southwest corn, fiesta corn, or Mexicorn for more flavor.
Green chiles – The brand I went with was hot Hatch green chiles. If you prefer something fresher, try using diced fresh jalapenos.
Black beans – I used Bush's Best black beans for this recipe. Some recipes use pinto beans instead. Drain the cans fully before adding in the beans.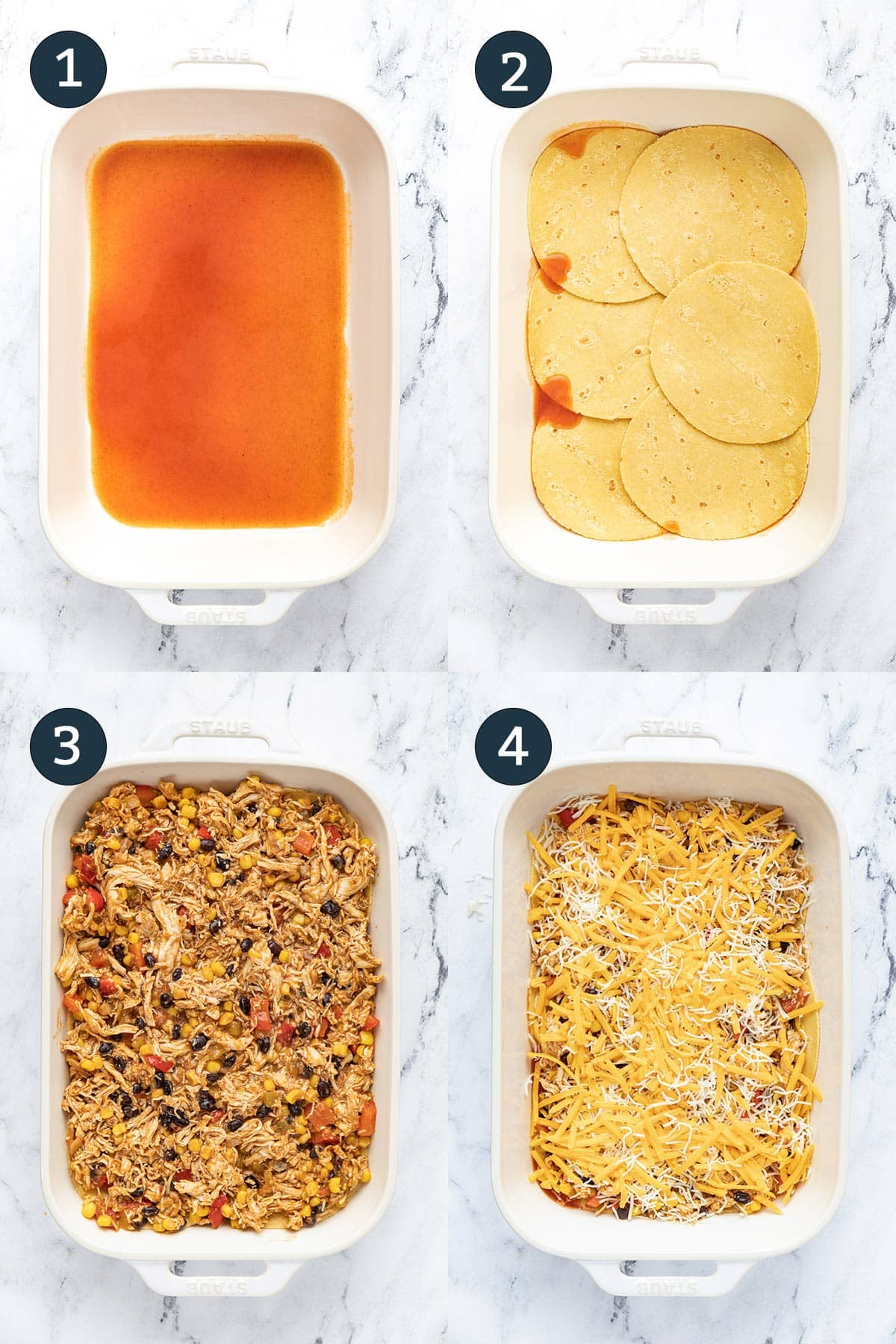 Chicken – I used deboned and shredded rotisserie chicken to make things easy, but you can use any kind of cooked chicken you have on hand. A whole rotisserie chicken should get you the 4 cups of shredded chicken you need for this recipe. Alternatively, you can cook about 2 lb. of boneless, skinless chicken breasts or thighs in the enchilada sauce and shred them.
Enchilada sauce – I went with Old El Paso's medium enchilada sauce. Try adding chili powder if you want more heat using the store-bought enchilada sauce. I jazzed up the canned enchilada sauce by adding some ground cumin.
Tortillas – This recipe works with both corn and flour tortillas.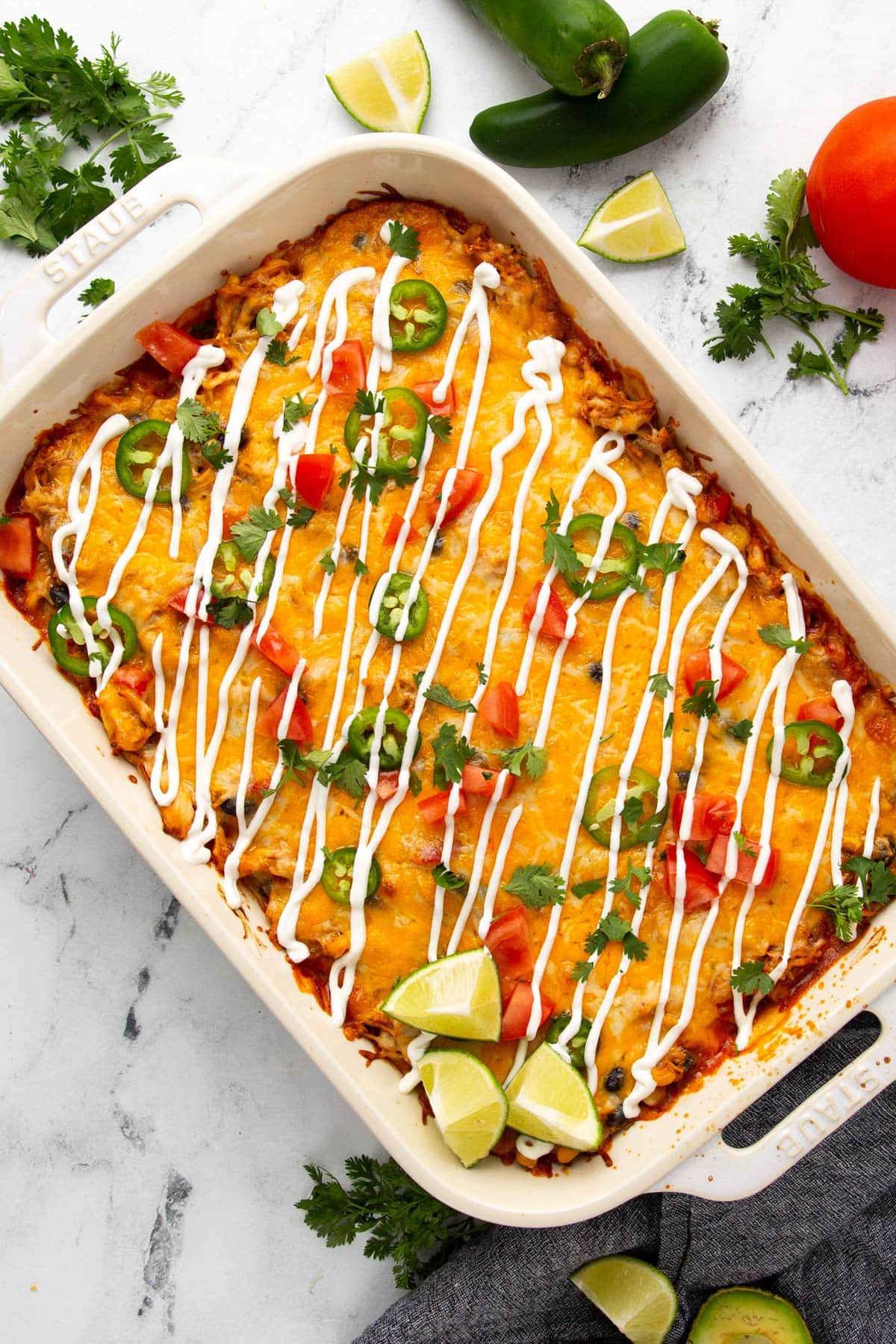 Cheese – Two 8 oz. bags or blocks of cheese is more than enough for the two layers in this casserole with some extra cheese for the topping. This recipe uses a mix of Monterey Jack and cheddar but you could also go for a Mexican cheese blend which is usually a mix of Monterey Jack, cheddar, Asadero, and Queso Quesadilla.
Storing – The casserole will keep up to 3-4 days in the fridge.
Reheat in the oven – Bake at 350°F for 20-30 minutes until warmed through.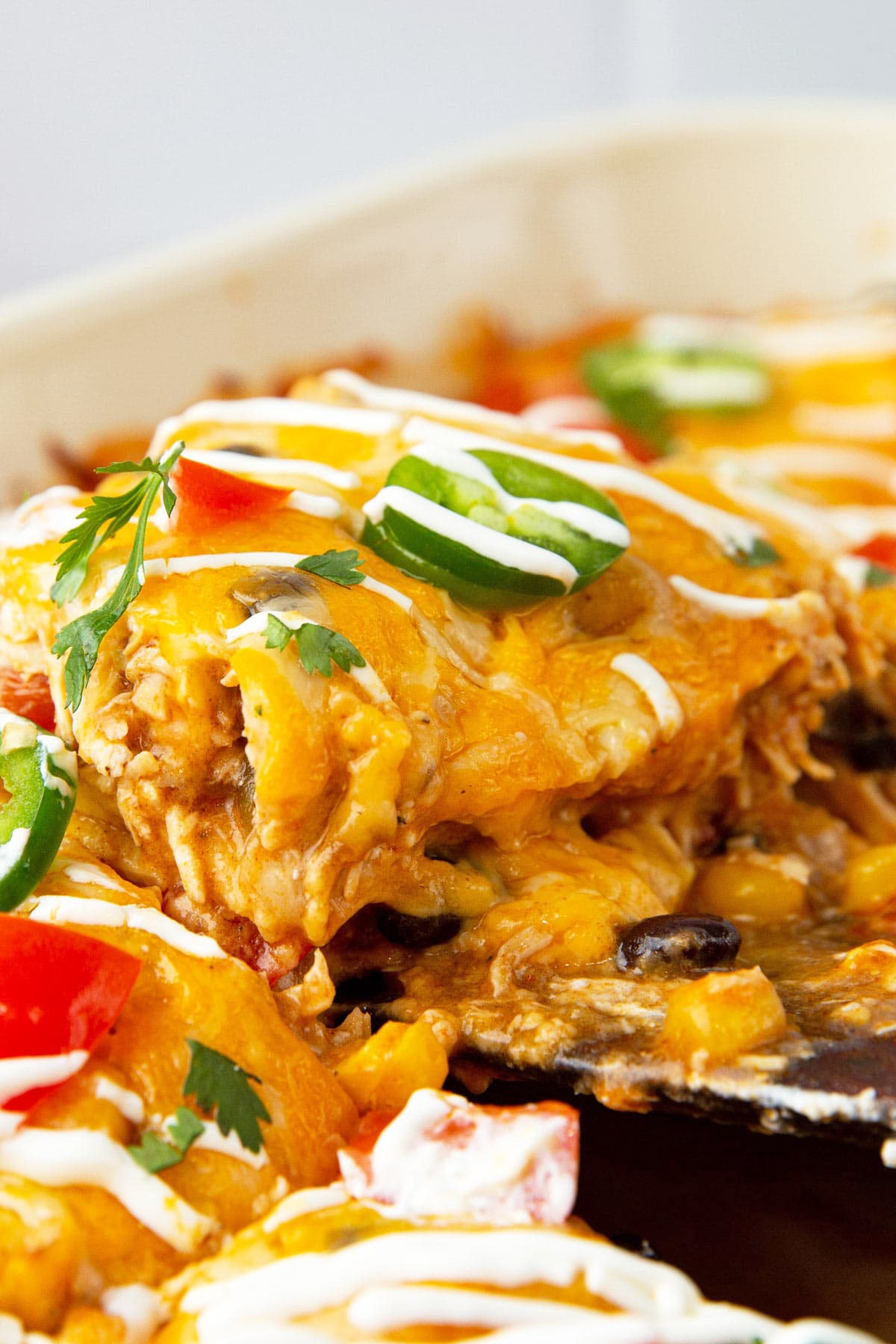 Enchilada Casserole Topping Ideas
Sliced avocados
Diced red onions
Sliced jalapenos
Chopped cilantro
Shredded lettuce
Sliced green onions
Sour cream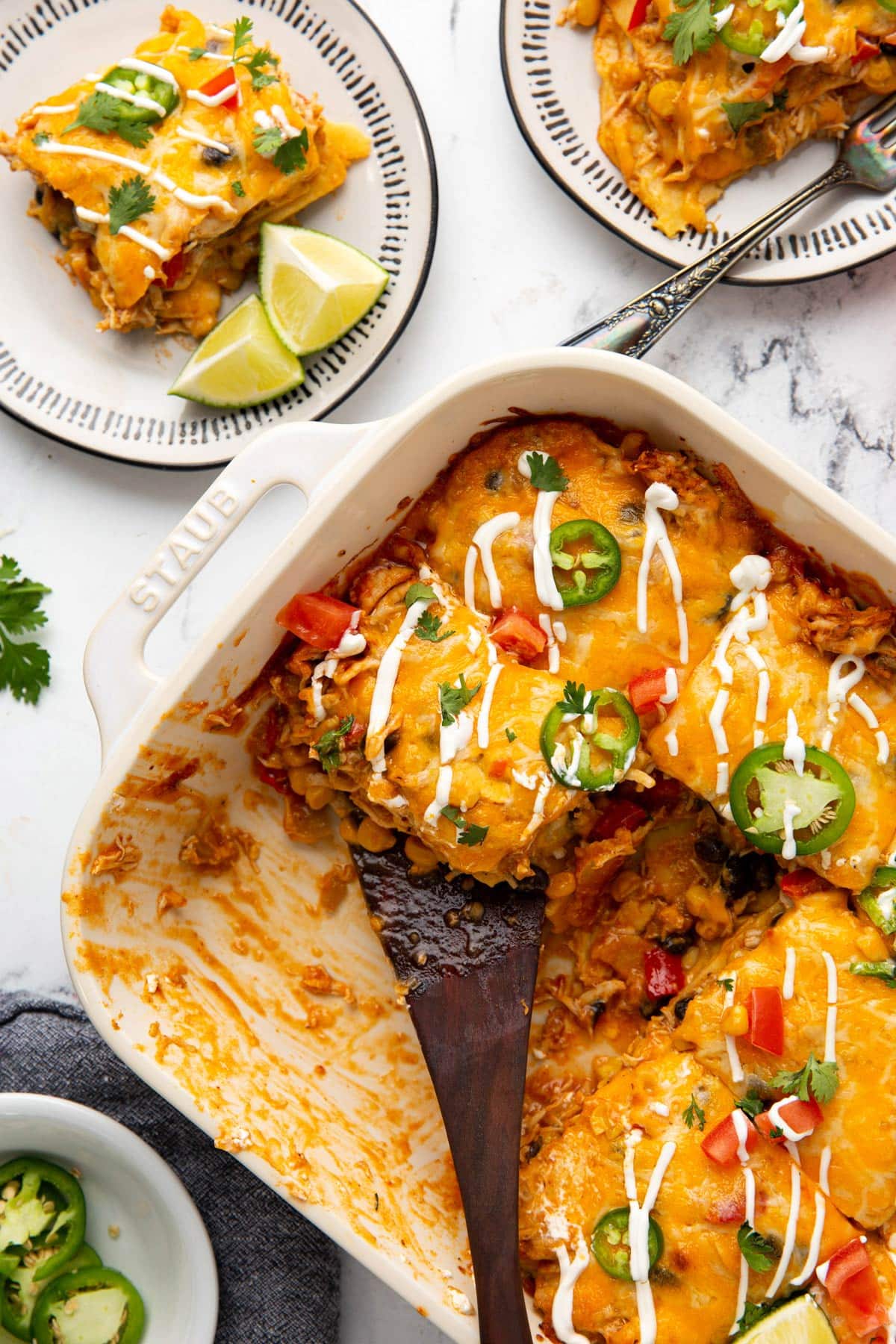 Customize It!
Meat – Try ground beef or turkey instead of chicken.
Add more flavor – Some chorizo will really add more flavor.
Make it spicy – Charge it up with fresh jalapenos, poblano, chipotles, or a few dashes of ancho or chipotle chili powder.
Add more veggies – Add diced tomatoes or Rotel to the chicken mixture.
And that's about it. Enjoy your chicken enchilada casserole and let me know how you liked it or any substitutions you made in the comments below!
This post was originally published on December 20, 2014 and updated on July 10, 2022.
MORE MEXICAN-INSPIRED RECIPES TO TRY
Did you make this recipe? Rate it!
♡ If you liked this recipe, giving it a star rating ★★★★★ in the comments below really helps! For more recipes, subscribe to my newsletter or follow me on Facebook, Instagram and Pinterest.
Print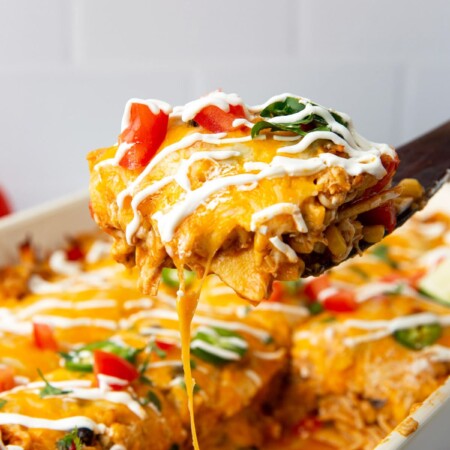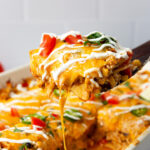 Chicken Enchilada Casserole
---
Author:
Total Time: 55 minutes
Yield: 6-8 1x
Description
This chicken enchilada casserole takes all the fun flavors of chicken enchiladas and stacks them into a delicious, hot and cheesy casserole.
---
1/2 medium yellow onion, diced
1 bell pepper (any color), chopped
3 cloves garlic, minced
1 (15 oz.) can whole kernel corn, drained
1 (4 oz.) can diced green chiles, drained
1 (15 oz.) can black beans, drained
4 cups cooked chicken, shredded (about 2 lbs.)
2 (10 oz.) cans enchilada sauce
1 teaspoon ground cumin
Salt and pepper to taste
12 corn tortillas
2 cups (8 oz.) Monterey Jack cheese, shredded
2 cups (8 oz.) cheddar cheese, shredded
TOPPING IDEAS
Avocado, tomatoes, red onions, jalapenos, cilantro, shredded lettuce, green onions, or sour cream.
---
Instructions
Over medium-high heat in a skillet, saute onions and bell pepper in some oil until soft, about 5 minutes. Toss in garlic and saute for another 30 seconds.
Add corn, green chiles, black beans, cooked chicken and stir to mix.
Reserve 1/2 cup of enchilada sauce and pour the remaining sauce into the chicken mix. Season with cumin and salt and pepper to taste and simmer for 5 minutes until the chicken is warmed through and the mixture has cooked down a little.
Combine the shredded Monterey Jack and cheddar cheese and mix well.
Spread the remaining 1/2 cup of enchilada sauce on the bottom of a 9×13 casserole dish and top with 6 tortillas, overlapping them to cover the entire surface.
Add 1/2 of the chicken mixture and top with 1/2 of the cheese. Repeat tortillas -> chicken -> cheese layers one more time, finishing with a final layer of cheese on top.
Bake uncovered at 350°F for 30 minutes or until the cheese top has melted.
Garnish with your favorite toppings and dish and serve hot.
Enjoy!
Notes
Layering cheat sheet – Spread the remaining 1/2 cup of enchilada sauce in a 9 x 13 casserole dish then layer in this order:  tortillas ->  chicken mixture -> cheese x 2 with the cheese top being the final layer. You will be using 1/2 of the chicken mixture and cheese for each layer.
I deboned and shredded some store-bought rotisserie chicken to make things easy but use any kind of cooked shredded chicken you have on hand.
Scroll up to RECIPE TIPS for more useful tips, suggestions and ingredient substitutions.
Prep Time: 15 mins
Cook Time: 40 mins