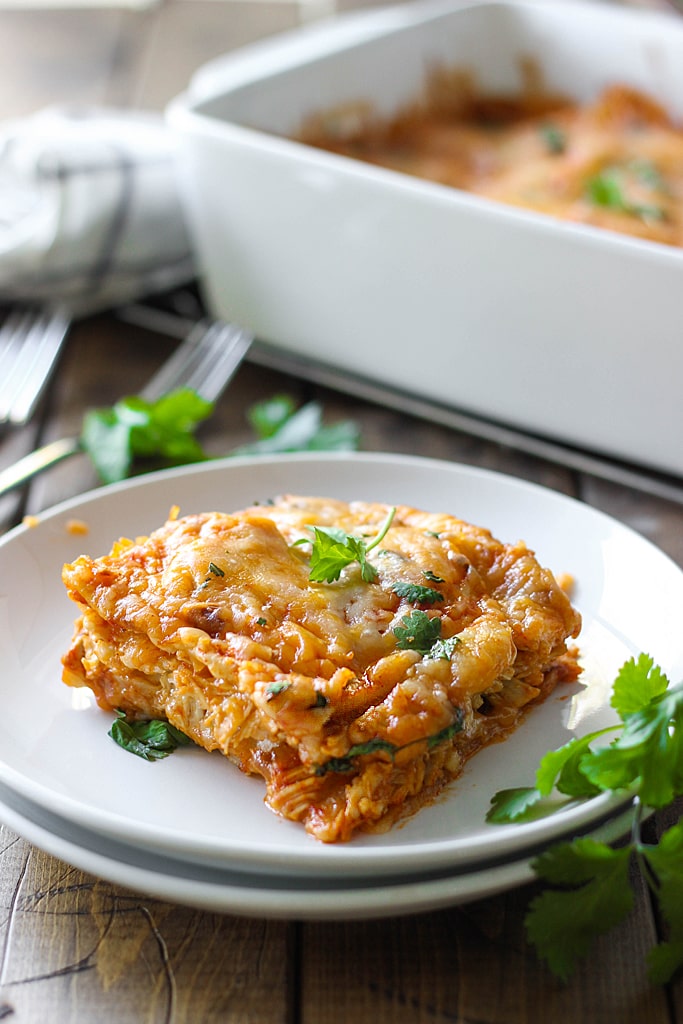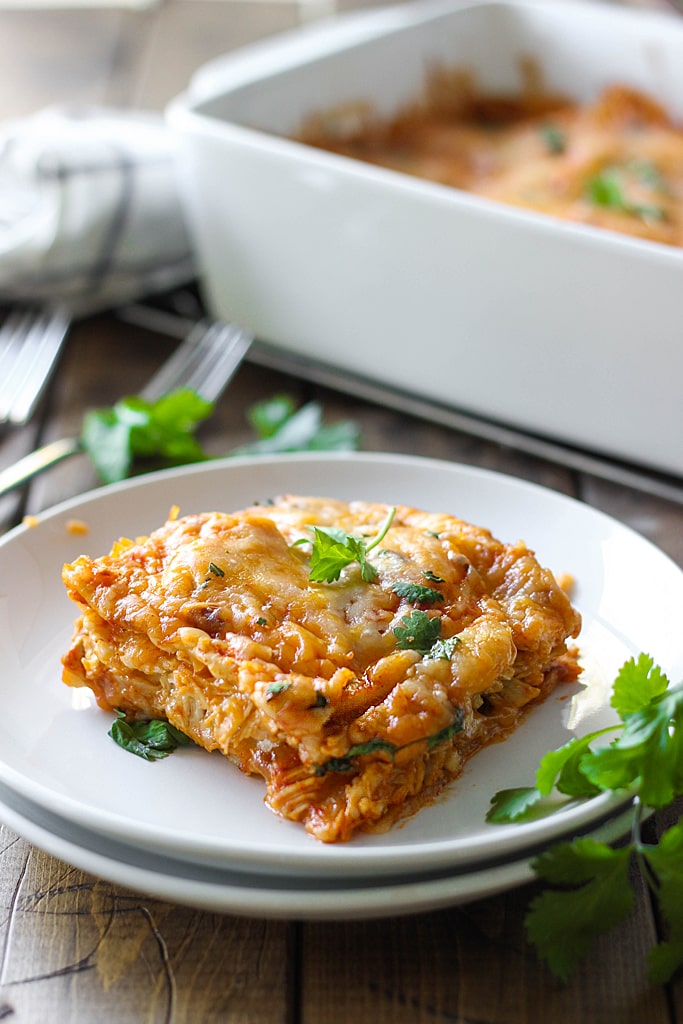 I'm not too adventurous when we go for Mexican food. I guess it's partially because I don't like refried beans all that much which pretty much rules a lot of stuff out. And I like my tortilla stuffed anything to be doused with a liberal amount of cheese. Which really leaves enchiladas. Some places just give you enchiladas topped with enchilada sauce sans melted cheese on top which gets me hangry. Some places give me what I want. I wish there was a standard! All I want is some meat in a tortilla with lots of cheese on top.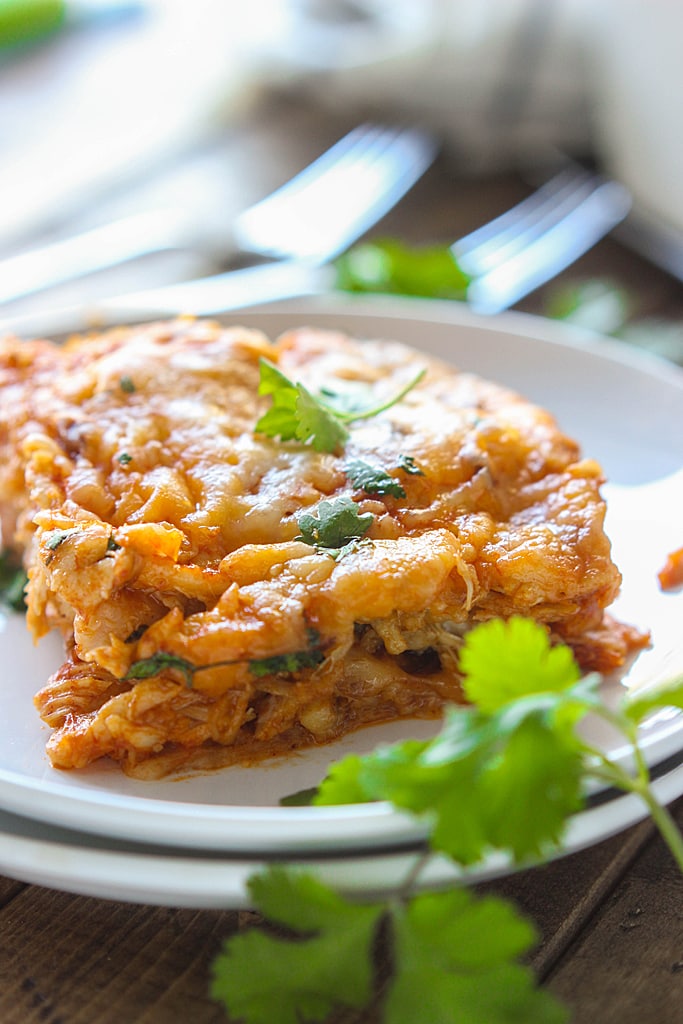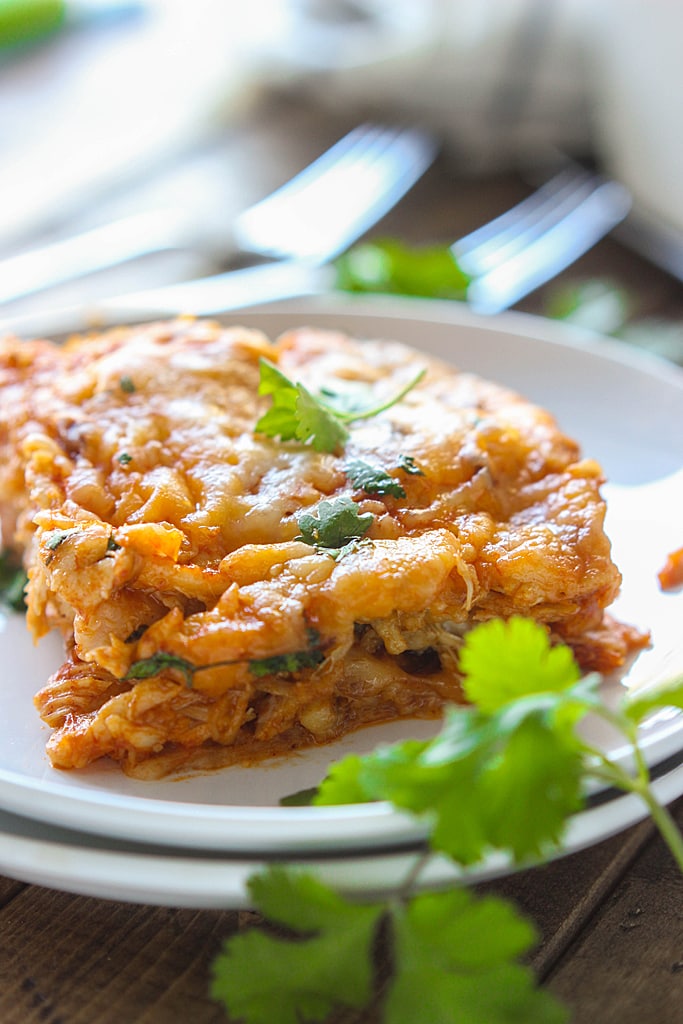 So this is my answer to the non enchilada cheese topping dilemma. A chicken enchilada casserole with layers and layers of cheese. It has enchilada sauce, tortilla, chicken, CHEESE. Tortilla, enchilada sauce, chicken, CHEESE. Add two more layers and you're there.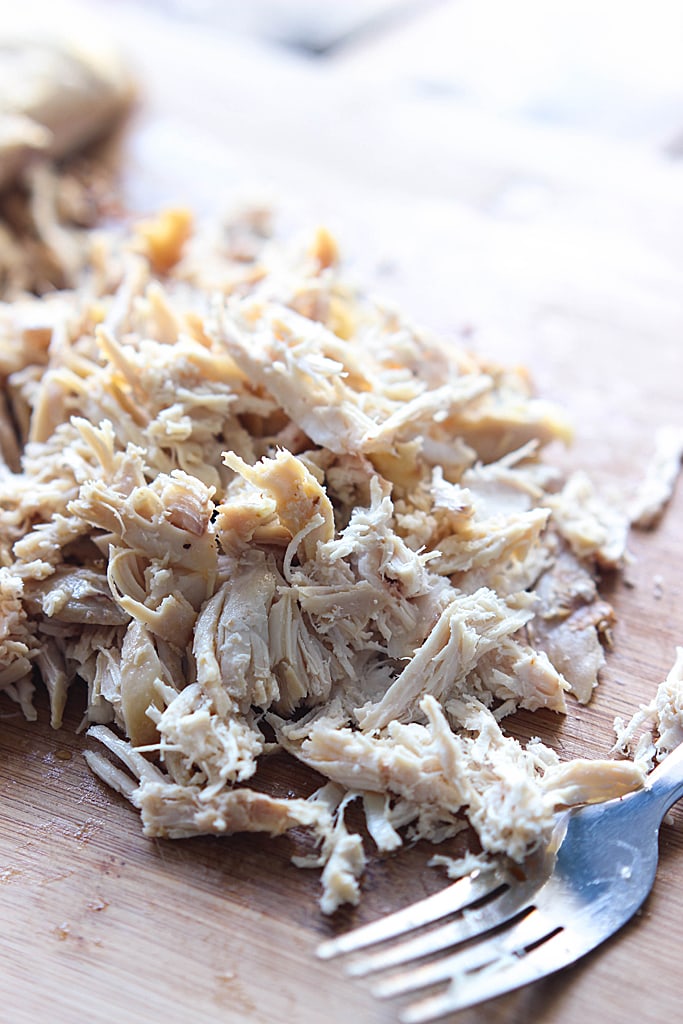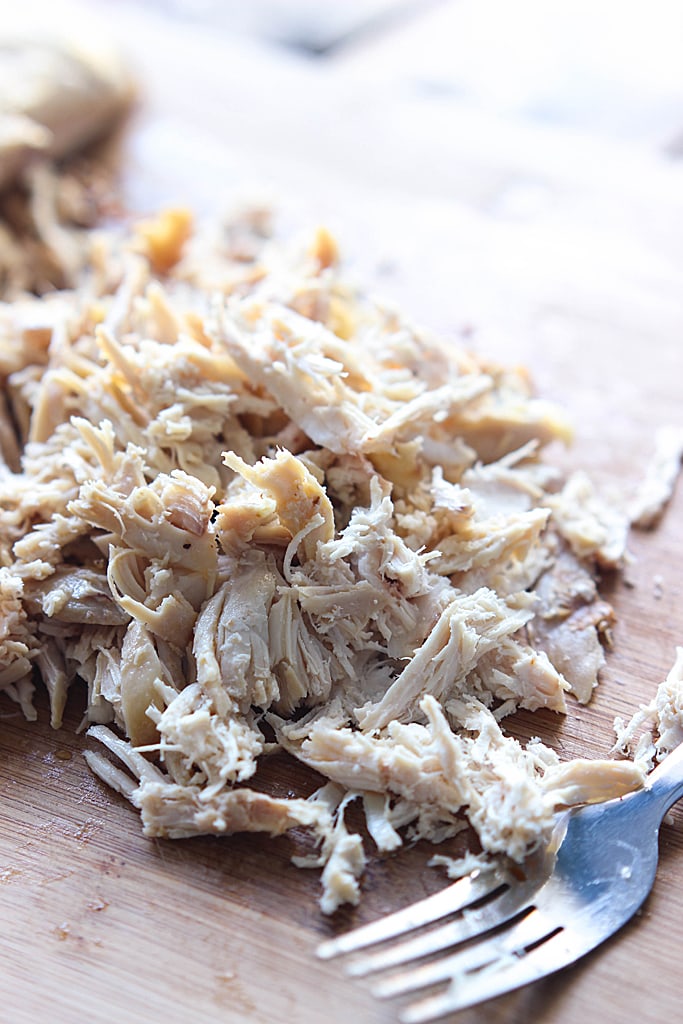 What I like about this is how it tastes like chicken enchiladas but it's so easy to put together. I've used some cheats like making the best of the existence of rotisserie chicken and canned enchilada sauce. But if you have your own recipe for enchilada sauce, go for it.
And if you want the rotisserie chicken to taste more authentic, toss it in a pan with some spices like cumin, chili powder, onion powder, garlic powder, paprika, cumin and cayenne. Or look for some Mexican seasoning mix to speed things up! And you can tweak it to your tastes by adding in corn, beans, green chilies and top it with avocadoes, cilantro, shredded lettuce or whatever you like. But for now here's the bare-bones version which you can build on.
So here's the gist of it. I always have great difficulty with layering so I'm going to break it down for people like me. First you spread a layer of enchilada sauce as a base. Then top it with two tortillas that are halved to get into the stubborn corners. Line up the cut side of the tortillas with the edges of the casserole dish like this: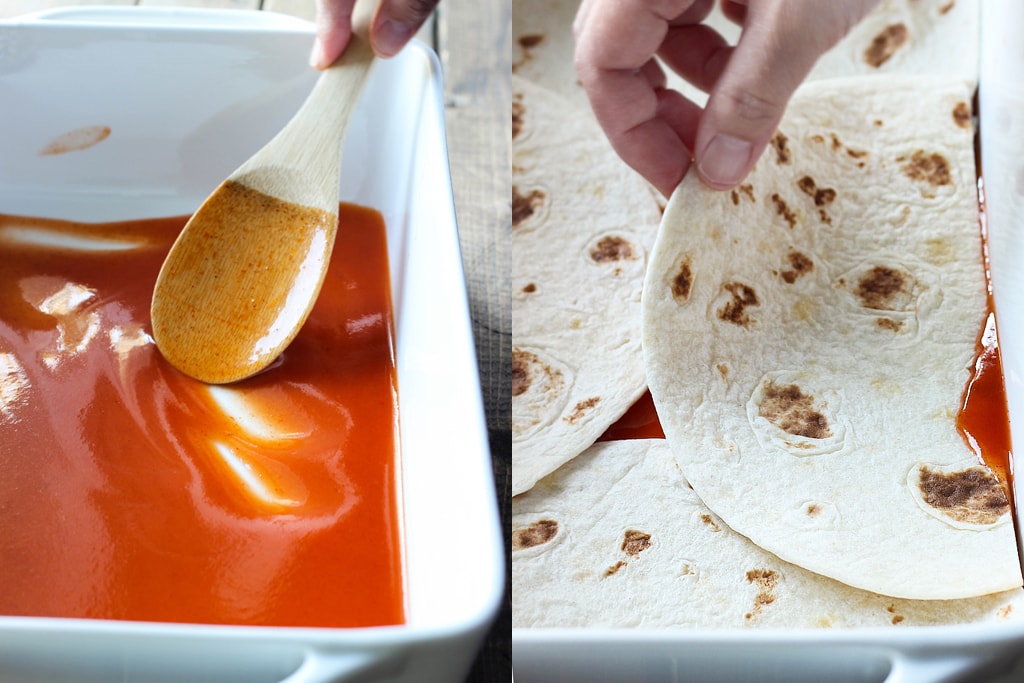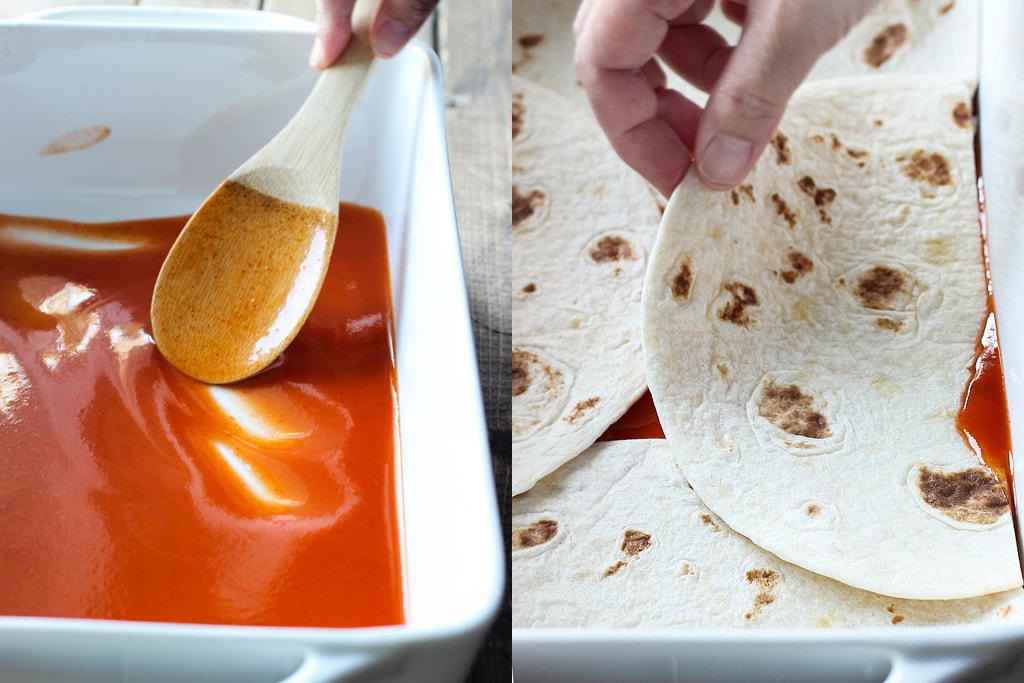 Then it's topping the tortillas with whatever extra toppings you like: beans, green onions or corn or if you want to keep it simple just add in the shredded rotisserie chicken. And top with a generous layer of cheese: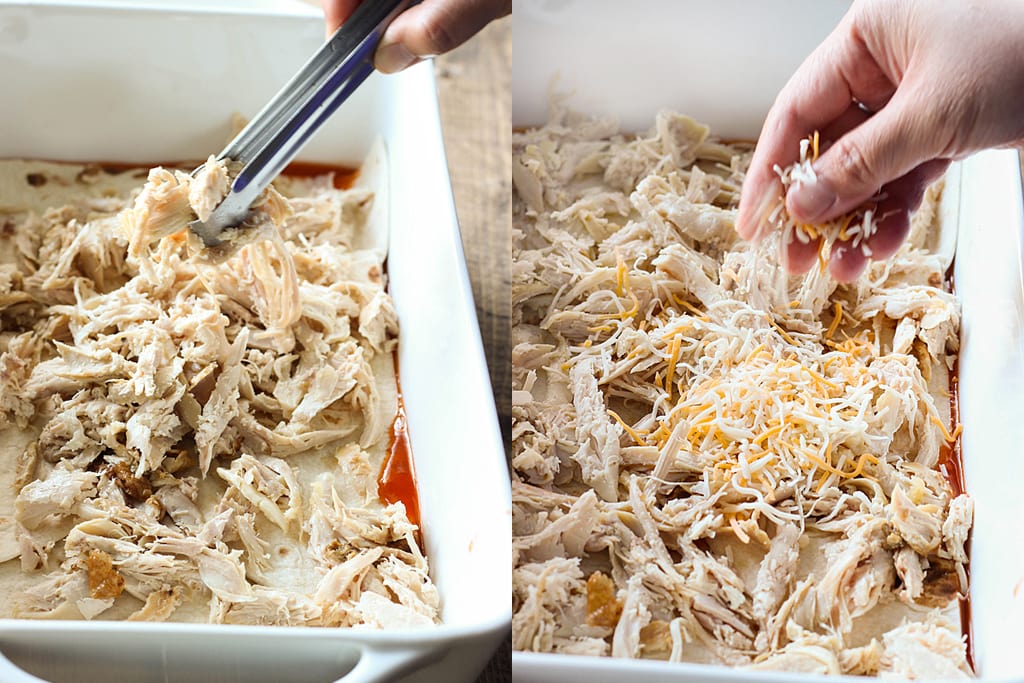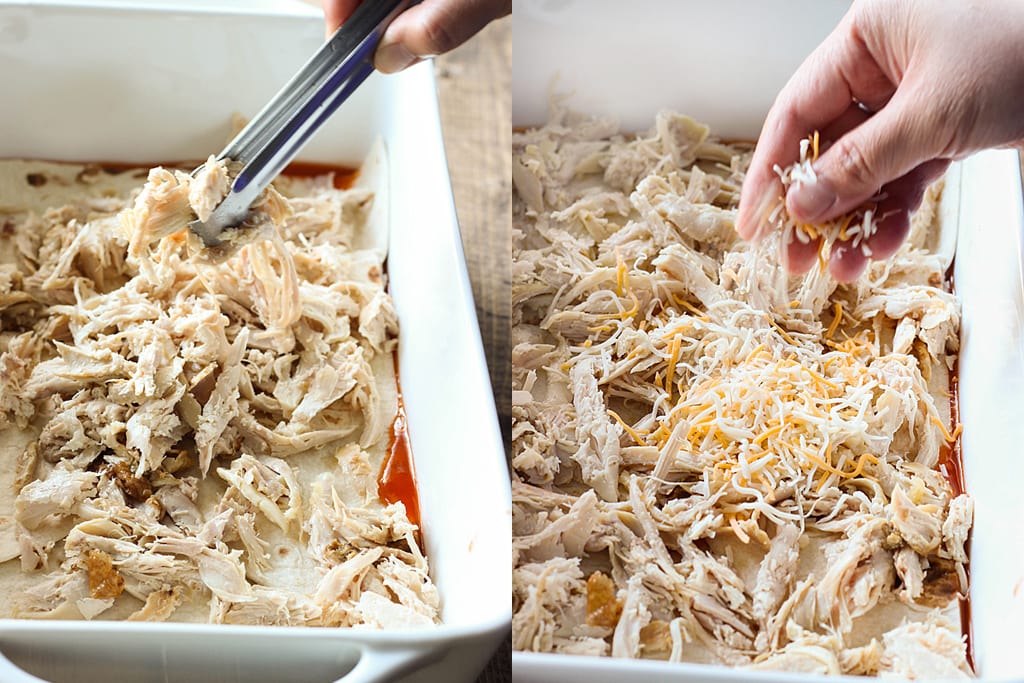 Start the second layer with a tortilla this time and then sauce, extras, chicken then cheese. Then a third layer. And finally the fourth layer with just the tortilla and enchilada sauce. Cover it with foil and bake for 30 minutes then uncover and top with the final layer of cheese and bake until it melts!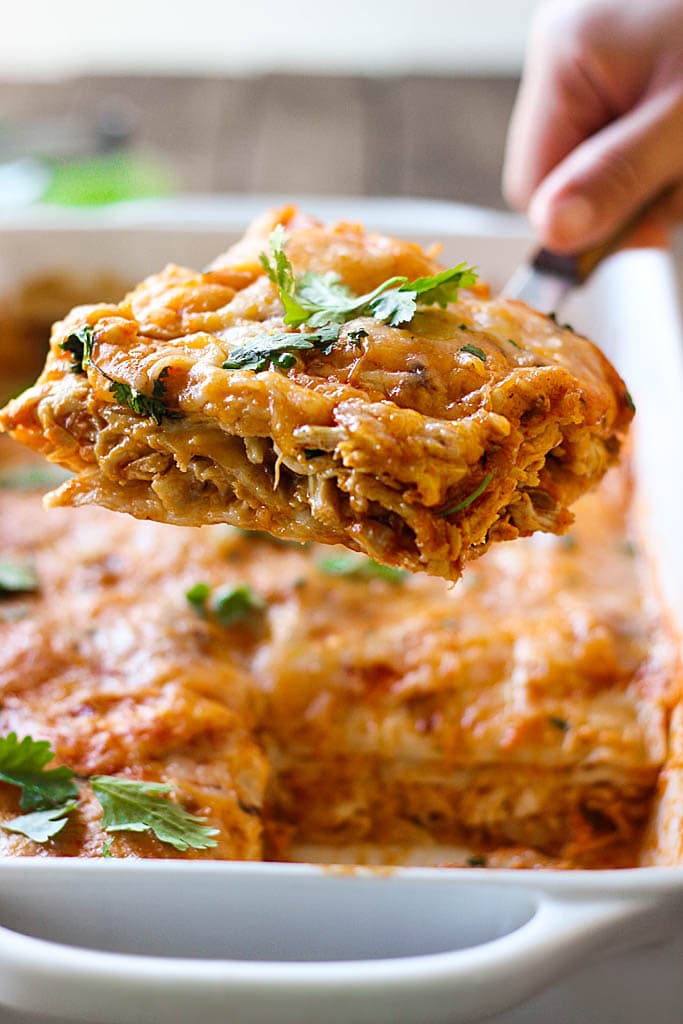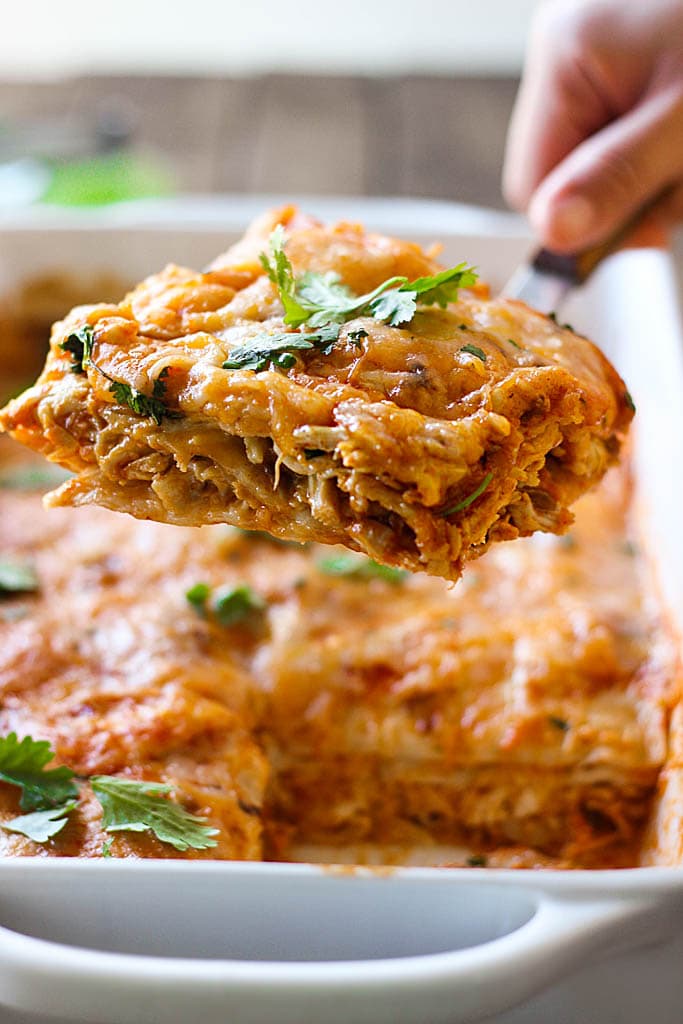 And that's a wrap. Happy eating!
Print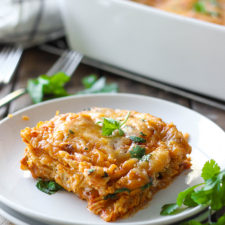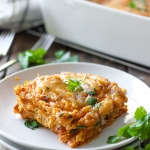 Chicken Enchilada Casserole
---
Author:

Prep Time:

20 mins

Cook Time:

30 mins

Total Time:

50 mins

Yield:

6

1

x
2

(10 oz.) cans enchilada sauce

8

tortillas, about

6

" each, halved

4 cups

Mexican-blend cheese, shredded

1

rotisserie chicken, shredded
Frozen or canned corn (optional)
Chopped green chilies (optional)
Beans (optional)
To serve:
Sour cream
Shredded lettuce
Avocados
Cilantro
---
Instructions
Spread 1/4 of the enchilada sauce in a 9X13″ casserole dish
Top with a layer of 4 tortilla halves
Add in 1/3 of any optional ingredients
Cover with 1/3 of the shredded chicken and top with 1 cup of cheese
Repeat with layers of tortilla, optional ingredients, chicken and cheese two more times for a total of three layers
Top with remaining tortilla halves and spread the last of the enchilada sauce
Cover with aluminum foil and bake at 375 degrees F for 20 minutes
Sprinkle remaining cheese and bake uncovered for another 10 minutes or until the cheese has melted
Dish and serve hot with accompaniments of sour cream, lettuce, cilantro or avocados
♡ Affiliate disclosure: As an Amazon Associate, I earn commissions from qualifying purchases from Amazon.com. You can learn more about it here.