These easy sheet pan chicken fajitas are a fun and flavorful meal with deliciously charred chicken strips, caramelized onions and vibrant bell peppers.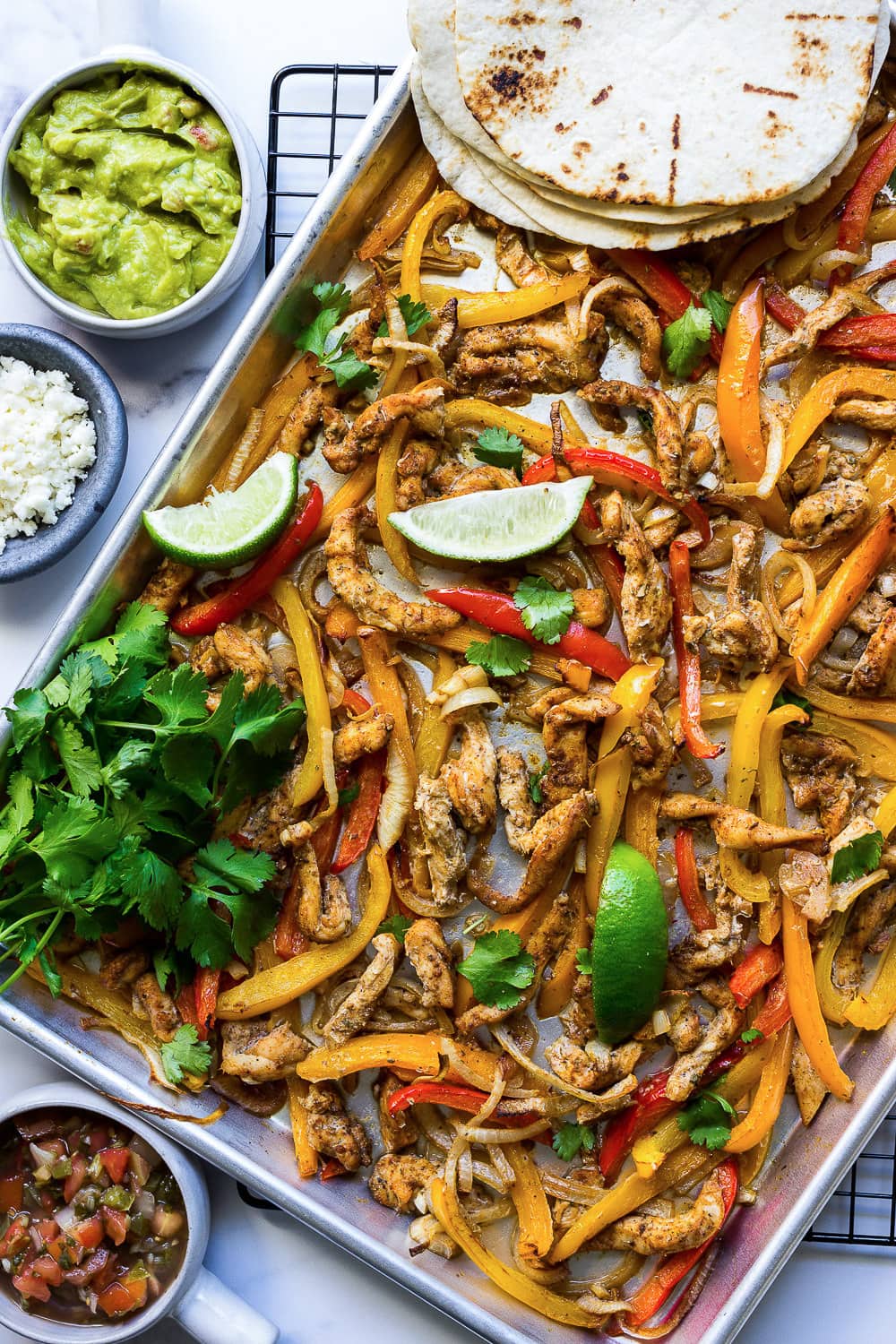 Today we'll be making some insanely delicious and easy sheet pan chicken fajitas. It has all the flavors you love from fajitas without the cost of eating out. And you can do a big batch of about 6-8 servings (2 fajitas each) in one pan so there's plenty to go around. Try it for a quick weekday meal or make a whole thing of it over the weekend with some company. It's easy cleanup but amazing food.
So pop this one in the oven, break out your tortillas and don't forget to be generous with your favorite toppings. I went with guacamole, pico de gallo, lime juice, cilantro and crumbled queso fresco. I also toasted the tortillas over an open flame to give them a little char because with fajitas, the more char the better. Let's make some chicken fajitas!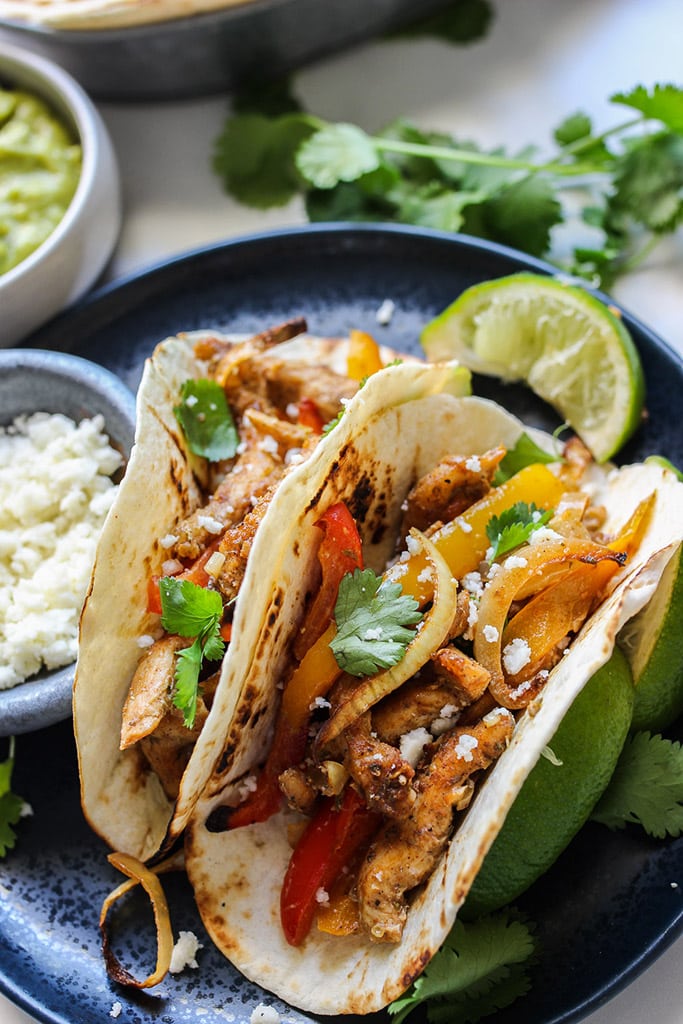 EASY SHEET PAN CHICKEN FAJITAS RECIPE TIPS
Chicken – I used boneless, skinless chicken breasts but you can also use boneless, skinless chicken thighs.
Marinating – This step is optional so feel free to skip it, but it doesn't hurt to let it sit and marry in the spice mix for 30 minutes.
Bell peppers – You might be able to buy a trio of pre-packaged bell peppers in the vegetable aisle at the grocery store. Either color combination works; mine was just a pack of yellow, red and orange so I went with that.
Garlic – Feel free to substitute this with about 1 teaspoon of garlic powder and add it to the spice mix. If you are using fresh garlic, the easiest way to mince garlic is to use a mini grater.
Broiling – Once it's done cooking, try broiling at 450°F for 2-3 minutes to get some extra charred bits on your chicken and peppers.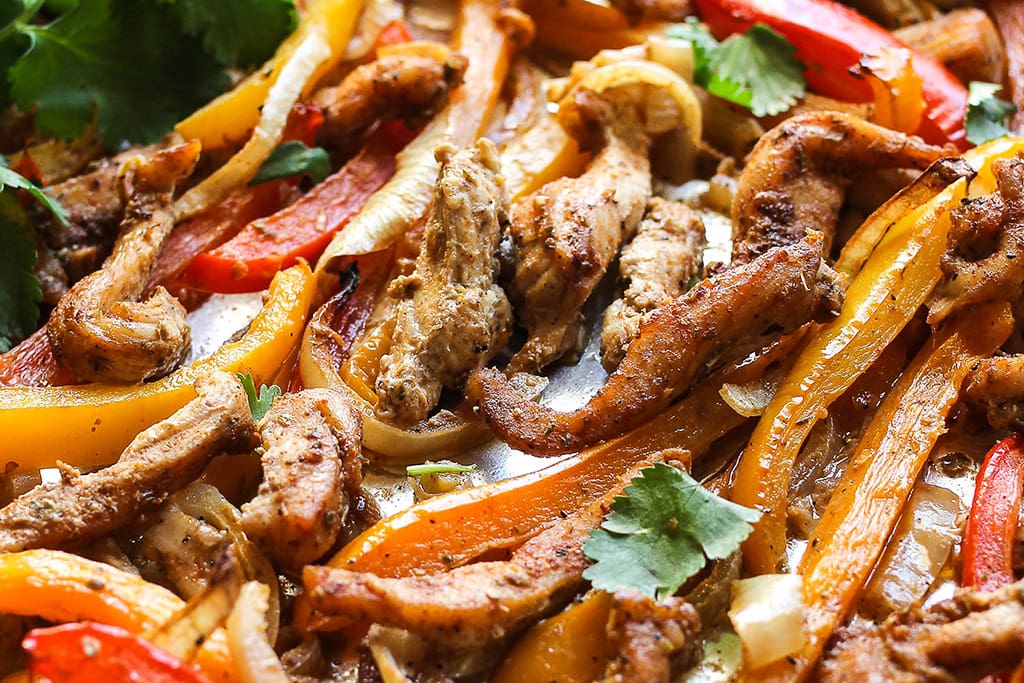 Toasting tortillas – I like toasting my tortillas over an open flame for about 5 seconds or so per side till it's slightly browned. If you don't have a gas range, you can do this in a pan with no oil needed.
Servings – This yields about 6-8 serving with two fajitas per serving. So this will end up getting you anywhere between 12-16 fajitas, depending on how well you stuff it.
Sides – Serve with some refried beans or black beans and Mexican rice.
Making ahead – You can make this ahead of time by putting everything in a Ziploc bag and freezing it until it's time to cook.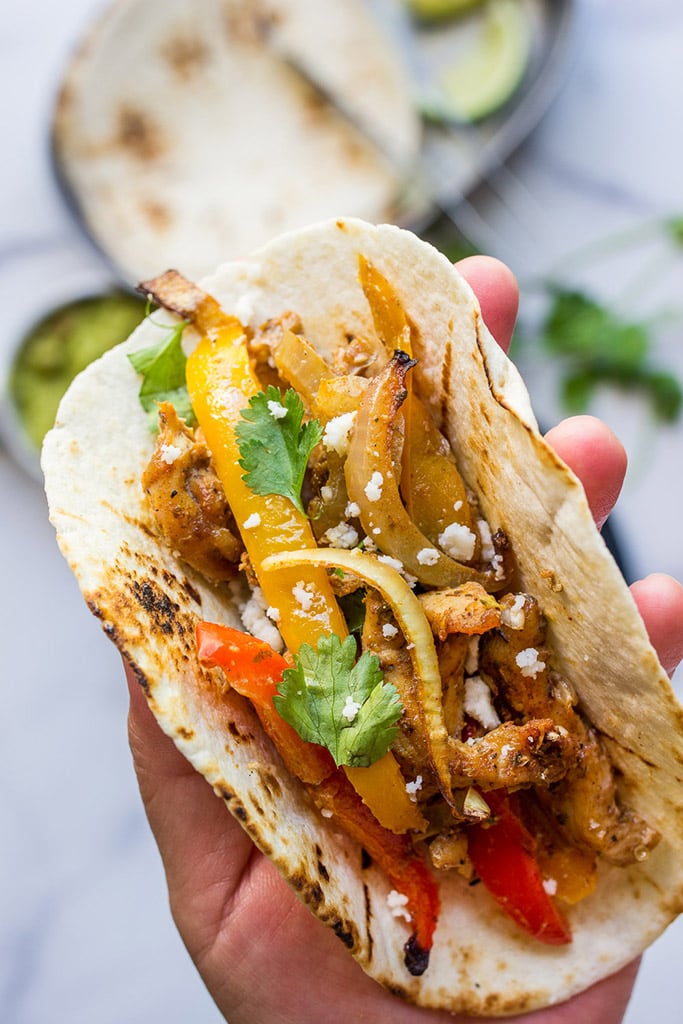 And that's about it. Enjoy the delicious Eau de fajitas wafting around your house while you're cooking and have fun assembling them later. Let me know how you liked them and what toppings you used in the comments below!
MORE MEXICAN-INSPIRED RECIPES TO TRY
Did you make this recipe? Rate it!
♡ If you liked this recipe, giving it a star rating ★★★★★ in the comments below really helps! For more recipes, subscribe to my newsletter or follow me on Facebook, Instagram and Pinterest.
Print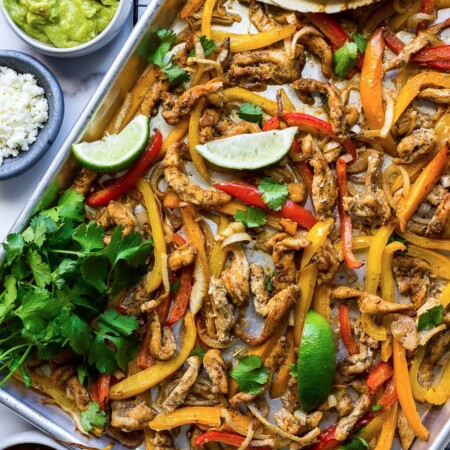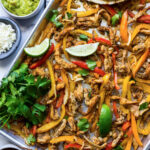 Easy Sheet Pan Chicken Fajitas
---
Author:
Total Time: 35 minutes
Yield: 6-8 1x
Description
These easy sheet pan chicken fajitas are a fun and flavorful meal with deliciously charred chicken strips, caramelized onions and vibrant bell peppers.
---
1 1/2 lbs. boneless, skinless chicken breasts, cut into thin strips
1 medium yellow onion, sliced
3 cloves garlic, minced
1 EACH red/yellow/orange bell pepper, cut into strips
3 tablespoons olive oil
SPICE MIX
2 teaspoons chili powder/ancho chili powder
2 teaspoons ground cumin
2 teaspoons dried oregano
1 teaspoon smoked paprika
Salt and pepper to taste
TOPPINGS
Fresh cilantro, chopped
Freshly squeezed lime juice
---
Instructions
Lightly grease a baking sheet with nonstick spray.
Combine spice mix and add chicken, onions, garlic, bell peppers and olive oil along with the spice mix to a large mixing bowl. Toss to coat everything thoroughly.
[Optional step]: Marinate the veggies and chicken in the fridge for 30 minutes.
Move everything to the prepared sheet pan and spread it out evenly in a flat layer.
Bake at 425°F for 25 minutes or until chicken strips are no longer pink.
[Optional step]: Broil at 450°F for 2-3 minutes to get some char going.
Top with fresh cilantro and lime juice.
Dish and serve hot with tortillas and your favorite toppings/fixings.
Enjoy!
Notes
Serve with:
– 12-16 (8 inch) flour/corn tortillas
– Sour cream
– Avocado slices/guacamole
– Salsa/pico de gallo,
– Mexican cheese blend/queso fresco/Monterey Jack cheese
Scroll up to RECIPE TIPS for more useful tips, suggestions and ingredient substitutions.
Prep Time: 10 mins
Cook Time: 25 mins