Try hibachi steak at home with a buttery sirloin steak in a rich Asian-inspired sauce that only takes 10 minutes from start to finish.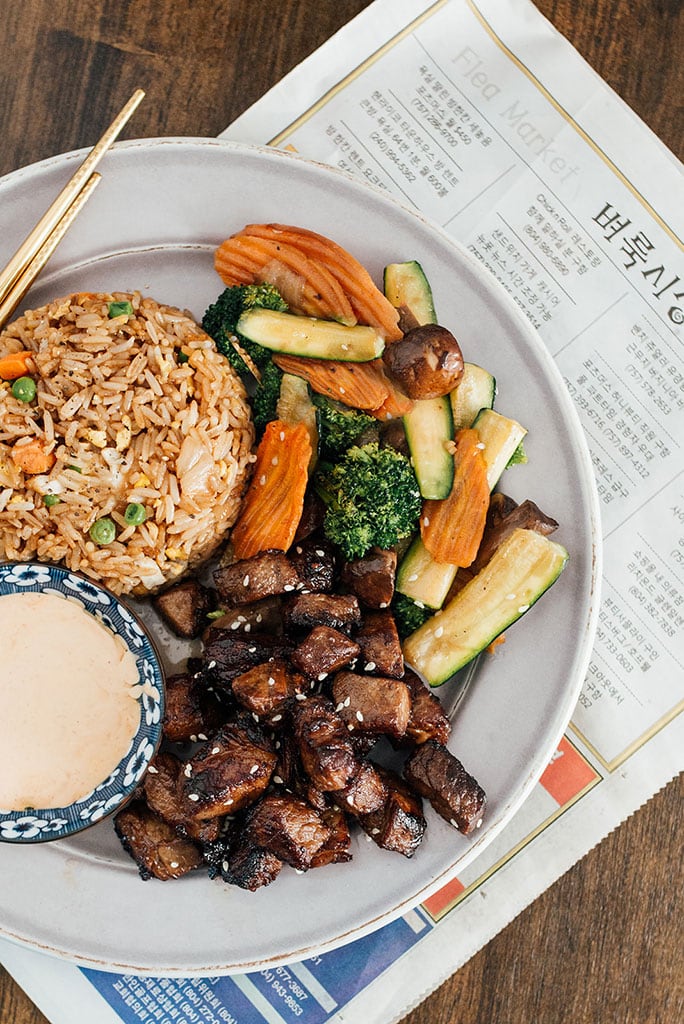 Today we'll be continuing the hibachi experience at home with some hibachi steak. Pair it with easy-to-make hibachi rice or noodles, hibachi veggies and some yum yum sauce and you have a well-balanced meal.
These delicious bite-sized pieces of steak are so easy to make in about 5 minutes of stir-frying to get that gorgeous sear. It has that signature creamy buttery taste mingling with a soy-teriyaki base you'll find in most Japanese Steakhouses. So let's get started.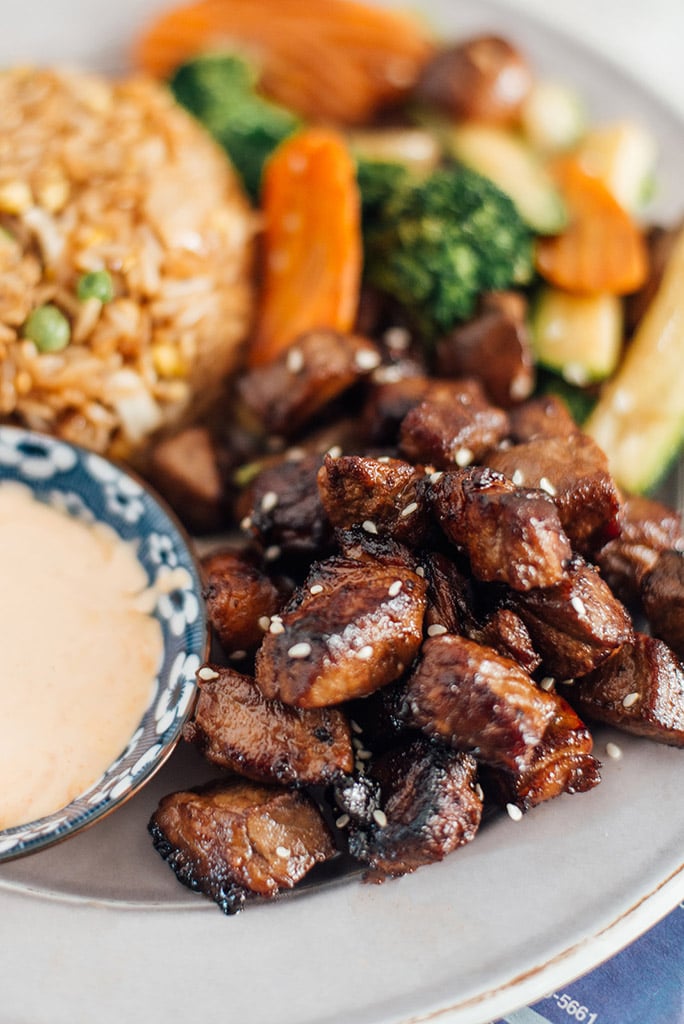 HIBACHI STEAK TIPS AND TRICKS
Meat: Use boneless steak cuts like sirloin or fillet and cut it into 1" bite-sized pieces.
Soy sauce: Feel free to substitute soy sauce for some low sodium soy sauce. There's no need to add more salt to the dish as there's enough sodium from the soy sauce to flavor everything.
Teriyaki sauce: Both teriyaki sauce or mirin works. What you want is a hint of sweetness to balance out the salt from the soy sauce.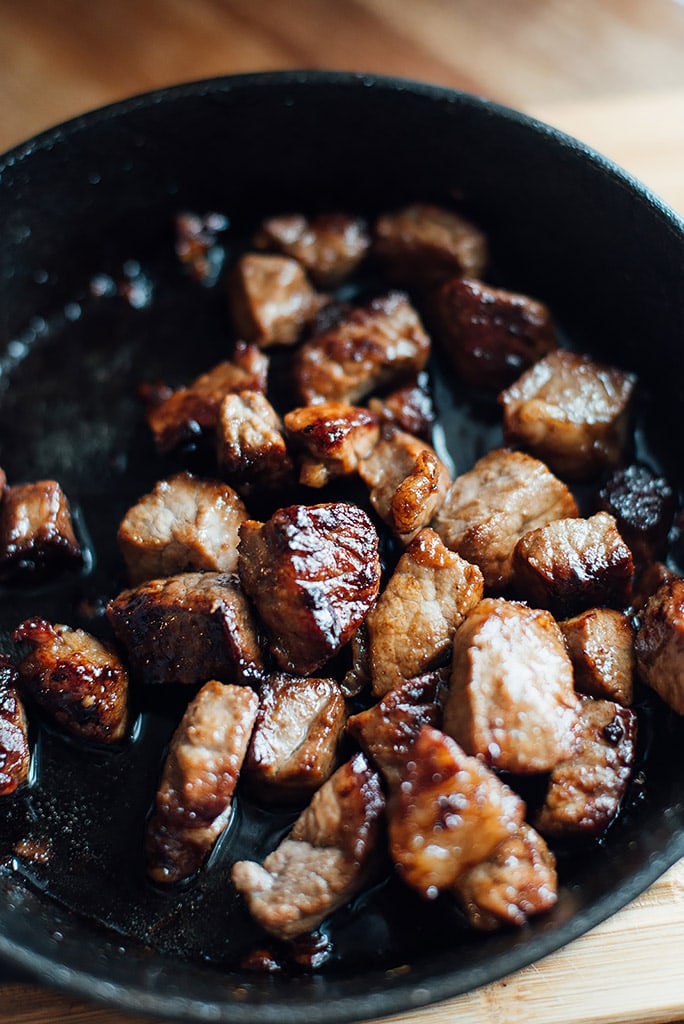 Sesame oil: A little bit of sesame oil goes a LONG way, so 1/4 teaspoon of it is more than enough. Sesame oil isn't so much a cooking oil but more of a finisher to add some flavor, so just drizzle a little bit of it at the end.
Sear: Stir-fry the steak until it is beautifully seared and the sauce has caramelized into the meat. You'll know it's done cooking and has fully absorbed all the sauce when the steak changes from a raw pink color to light gray, and finally to a nice dark brown. The trick to doing this without overcooking the steak is to do it over high heat and quickly.
Since you'll be using high heat, I recommend prepping everything in advance so you're ready to go. Keep everything moving in the pan until all the liquid has cooked off and the meat has a gorgeous sear.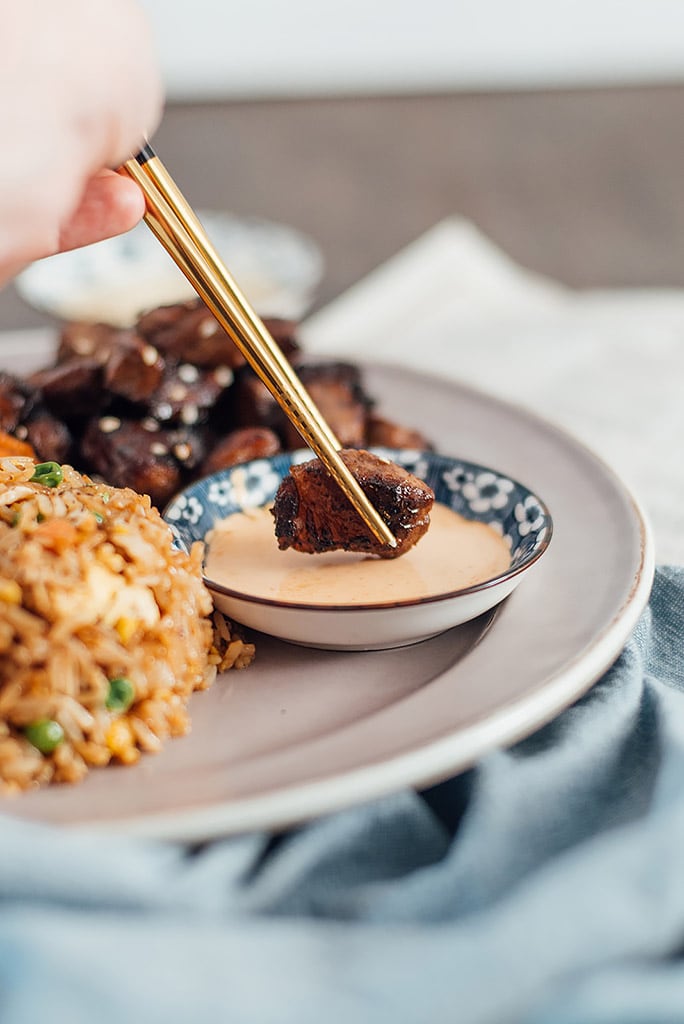 Pan: You can stir-fry this in a regular skillet, but a wok would be a better option. With a wok, there's just more room to toss things around to get the perfect sear. But a cast iron skillet also works.
Yum yum sauce: This creamy mayo-based sauce is the sauce they typically serve at Hibachi Steakhouses. I've included the recipe to make it from scratch in the notes. You can also buy it pre-made from Amazon or your local grocery store. I've tried the Terry Ho's brand before and it's pretty comparable to me. Check your local grocery store first before buying online though because it's much cheaper.
And that's about it. Don't forget to pair this with rice or noodles with a side of veggies for a complete meal. And happy dipping with the Yum Yum sauce!
♡ Did you make this recipe? Please give it a star rating below! For more quick & easy recipes, FOLLOW ME on Facebook, Instagram and  Pinterest.
Print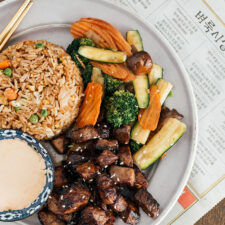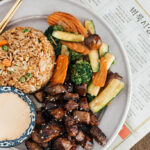 Hibachi Steak
---
Author:

Prep Time:

5 mins

Cook Time:

5 mins

Total Time:

10 minutes

Yield:

2

1

x
Description
Try hibachi steak at home with a buttery sirloin steak in a rich Asian-inspired sauce that only takes 10 minutes from start to finish.
---
1

lb. boneless steak like sirloin/fillet, cut into bite-sized pieces

1 tablespoon

butter

1 teaspoon

garlic, minced

1/4 teaspoon

sesame oil
SAUCE:
1 1/2 tablespoons

soy sauce

1 1/2 tablespoons

teriyaki sauce/mirin
Pepper to taste
---
Instructions
Combine the sauce ingredients and set aside.
Over medium-high heat, melt the butter and toss in the garlic. Saute until fragrant, about half a minute.
Add in steak bites and toss to combine.
Pour in the sauce and toss to coat the meat thoroughly.
Stir-fry for about 5 minutes until the sauce has cooked down and the beef is seared.
Finish with a drizzle of sesame oil.
Notes
Yum Yum Sauce
1 cup mayonnaise
1 tablespoon melted butter
1/2 tablespoon Sriracha sauce
1/4 teaspoon paprika
1/8 teaspoon cayenne pepper
1 tablespoon sugar
1/4 cup water
♡ Affiliate disclosure: As an Amazon Associate, I earn commissions from qualifying purchases from Amazon.com. You can learn more about it here.