This collection of Super Bowl party food recipes with dips, breads, wings, meatballs, tacos and more will keep your whole team happy.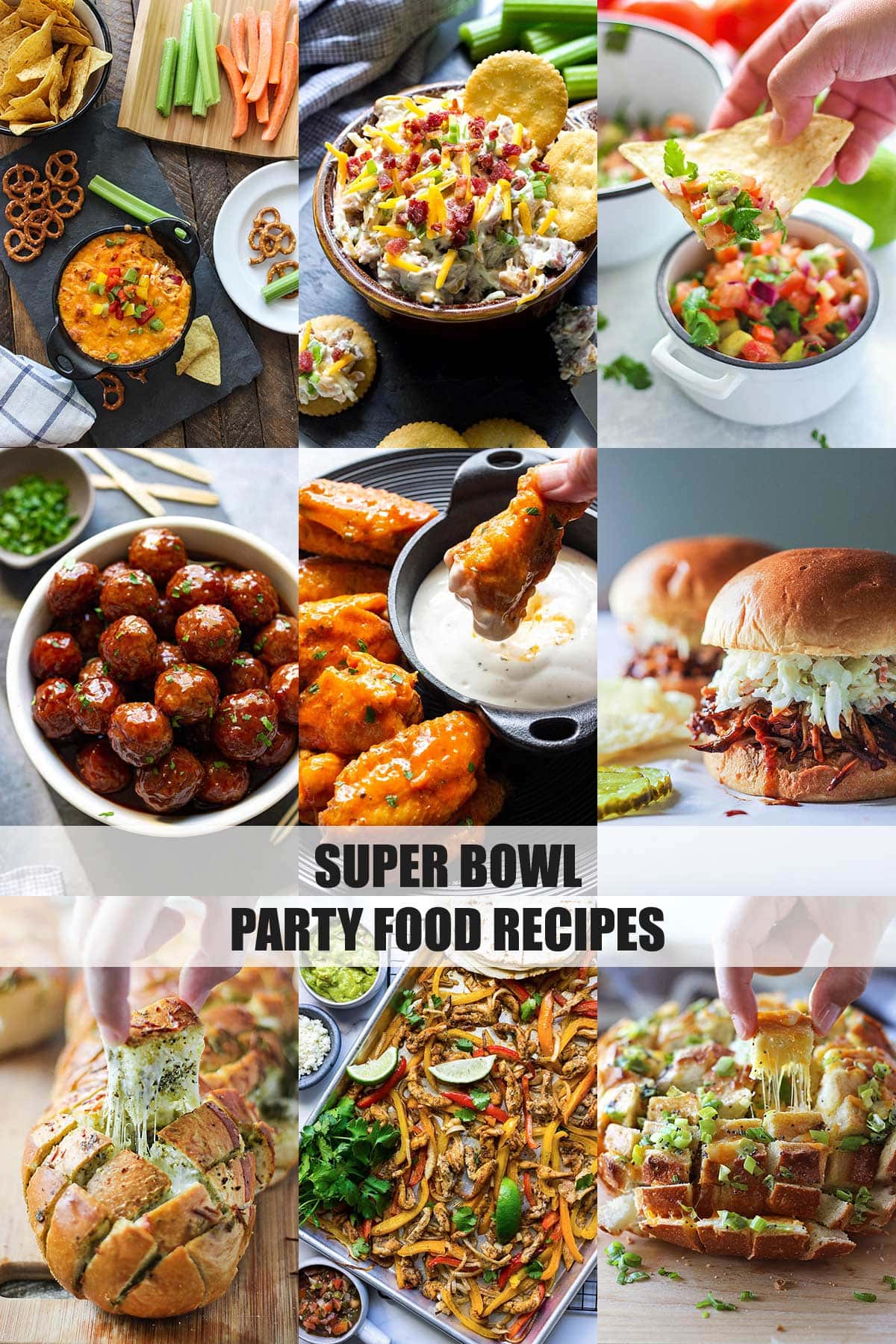 It's time to talk about some Super Bowl party food recipes, so here's a little roundup of things to chow down on and share with your family and friends this Super Bowl Sunday. Whether you're hosting a big Super Bowl party, keeping it small with just a few close friends, enjoying some game time with the family, or mixing it up with friends and rivals alike, these snacks should keep everyone happy.
With classic staples like buffalo wings and tons of dips to amazing pull-apart breads. Or cook big with lazy slow-cooked meats to compliment your taco bars, nacho plates, sandwiches and sliders. Or go even simpler with a big batch of meatballs. So let's get started!
SUPER BOWL DIPS
No game day is complete without a dip or two so here's a few ideas to try from super meaty dips for the meat lovers to vegetarian-friendly dips.
Million Dollar Dip – a chilled dip with toasted almonds, cream cheese, cheddar cheese, zesty green onions and chunky bacon bits.
Cream Cheese Sausage Dip – a quick and easy 3-ingredient dip with sausage, Rotel and cream cheese. It's ready to eat in 15 minutes from start to finish.
Buffalo Chicken Dip – with lightly shredded chicken, cream cheese, hot sauce and ranch dressing. Make it with or without the bubbling cheese top layer.
Jalapeno Popper Dip – with cream cheese, sour cream, bacon, a four-cheese Mexican blend and fresh jalapenos topped with a crispy panko bread crumb layer.
Pico De Gallo (Salsa Fresca) – with fresh avocado, tomatoes, red onions, lemon juice and cilantro. Use it as a dip, a topping for tacos, or paired with shredded beef to make some serious nachos.
Slow Cooker Spinach and Artichoke Dip– with cream cheese, sour cream, mayo, spinach, artichoke hearts, onions, garlic, Parmesan and mozzarella cheese. Keep it on the warm setting while serving this much-loved classic.
---
SUPER BOWL WINGS
What would a game be without a platter full of wings. Bake them or grill them and get ready for some messy eating.
Air Fryer Buffalo Chicken Wings – skip the calories and mess of deep-fried chicken with these crispy air fryer buffalo chicken wings tossed in restaurant-quality sauce. Tweak it to your spice level for mild, medium or hot wings.
Oven-Baked Old Bay Buffalo Wings – a spin on the classic buffalo wings with some Old Bay seasoning. But if you're not a fan, leave out the Old Bay and go with the classic Buffalo sauce.
Grilled Sriracha Hot Wings – these are spicy with a sweet and sour base and fresh lime to add some zest. Grill them or bake them.
---
SUPER BOWL BREADS
These are some simple biscuits/garlic knots or outrageously show-off bread to present to your guests and party. With lots of giddy cheese strings in the pull-apart bread and lots of flavor in the easy-to-make biscuits and knots.
Bloomin' Onion Pull-Apart Bread – this is the one you make when you're looking to 'wow' your guests. With gooey strings of cheese and crunchy, fresh green onions and poppy seeds! Make sure to strut a little when you're presenting it.
Cheesy Pesto Pull-Apart Bread – another jaw-dropping pull-apart bread to show off. This 4 ingredient appetizer has some serious amount of cheese action.
Cheddar Bay Biscuits – show off some homemade Red Lobster cheddar bay biscuits at the party. Using Bisquick and several other simple ingredients, this one is ready in under 30 minutes.
Easy Parmesan Garlic Knots– cheat with some refrigerated buttermilk biscuits to make these easy garlic knots.
---
SUPER BOWL MEATBALLS
Serve the classics with some meatballs! The slow cooker really shines here for making a big batch of meatballs for parties. Put some toothpicks on the side and let your guests serve themselves.
Slow Cooker Grape Jelly Meatballs – a quick and easy 3-ingredient recipe that only takes 5 minutes of prep to give you sweet and tangy homestyle meatballs.
Sweet Heat Meatballs – this one has a spicy and sweet glaze. Complete your party with meat on a stick.
---
SUPER BOWL TACOS & FAJITAS
For an easy-to-make crowd-pleaser, make a taco bar with these set and forget shredded taco meats.
Slow Cooker Shredded Beef Tacos – make these to start your taco bar at the party. Also great to make some loaded nachos.
Slow Cooker Shredded Chicken Tacos – these are seriously delish. With fork-tender, authentic tasting, flavorful chicken. Pair it with your favorite toppings.
Sheet Pan Chicken Fajitas – a fun and flavorful meal with 6-8 servings of deliciously charred chicken strips, caramelized onions and vibrant bell peppers.
Instant Pot Chipotle Chicken Tacos – these tacos pack a ton of smoky and bold flavors good enough to rival your favorite street tacos or taco trucks. Also works with pork shoulder for chipotle pork tacos.
---
SUPER BOWL SANDWICHES & SLIDERS
Wrapping up the roundup with a few more slow cooker meats to make sloppy sandwiches or party sliders for your guests.
Slow Cooker BBQ Pulled Chicken – an easy set and forget meat recipe to craft up some delicious BBQ pulled chicken sandwiches or sliders.
Slow Cooker French Dip Sandwich – make these into sloppy sandwiches or French Dip sliders. Don't forget to serve with the au jus dip!
---
And that's the end of the roundup. Don't forget your drinks and happy Super Bowl weekend!