This collection of Super Bowl party snack food recipes with dips, apps, wings, tacos and more will keep your whole team happy.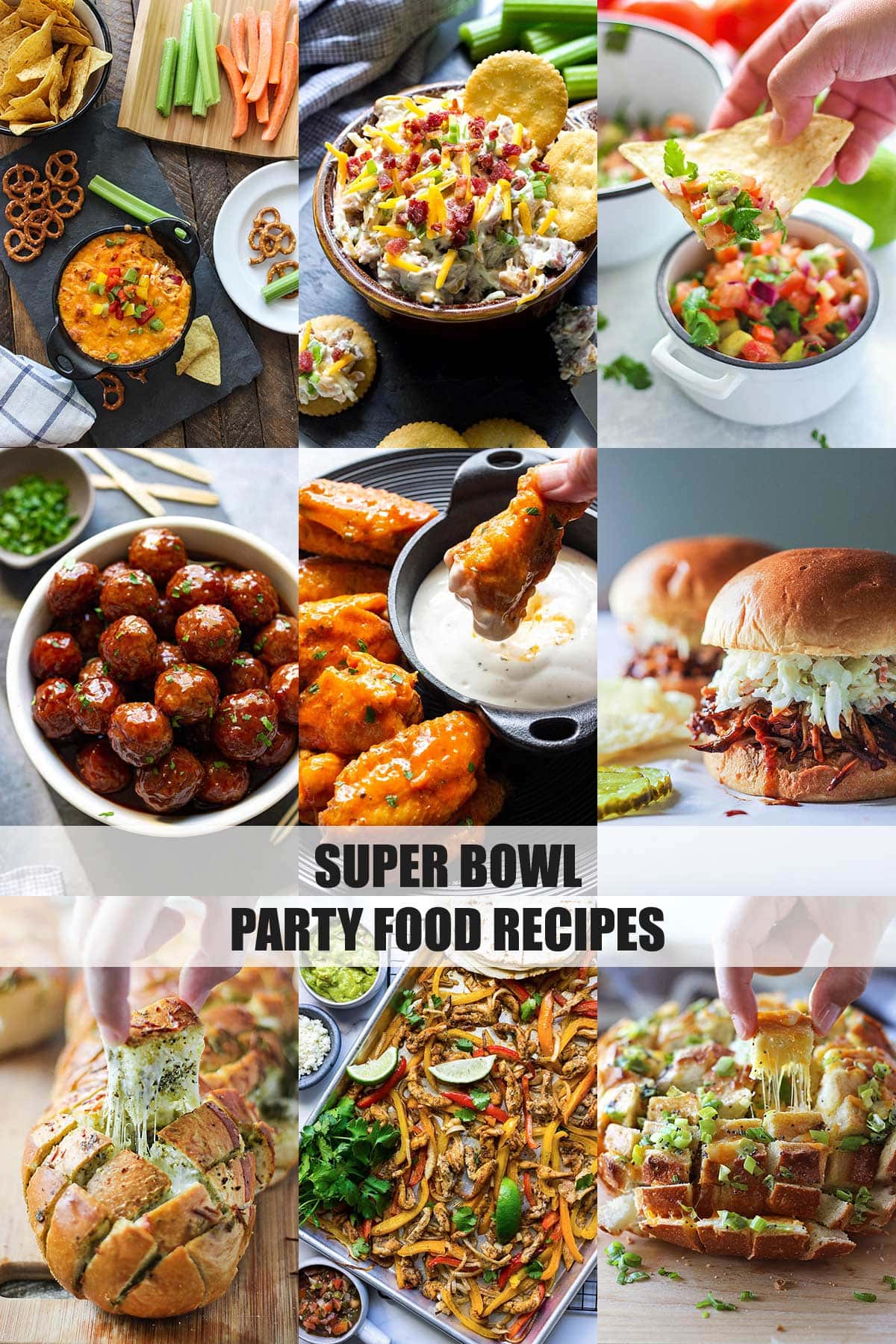 It's time to talk about Super Bowl party noms so here's a little round up of things to chow down on and share with your family and friends on Super Bowl Sunday. Whether you're hosting a big Super Bowl party, keeping it real with just a few close like-minded friends, enjoying some traditional family time or mixing it up with friends and rivals alike, these snacks should keep your tummy happy.
From your classic staples like wings and dips to cheese strings for days with pull-apart breads. And lazy slow cooked meats to compliment your taco bars, nacho plates, sandwiches and sliders to meatballs on a stick or cute little mini shepherd's pot pies. So without further ado, let's get started on some seriously delicious Super Bowl party snack food recipes.
SUPER BOWL DIPS:
No game day is complete without a dip or two so here's a few ideas from meaty dips for the meat lovers to vegetarian friendly dips.
Cream Cheese Sausage Dip – a quick and easy 3-ingredient dip with sausage, Rotel and cream cheese. It's ready to eat in 15 minutes from start to finish.
---
Buffalo Chicken Dip – with lightly shredded chicken, cream cheese, hot sauce and ranch dressing. Make it with or without the bubbling cheese top layer.
---
Pico De Gallo (Salsa Fresca) – with fresh avocado, tomatoes, red onions, lemon juice and cilantro. Use it as a dip, a topping for tacos or paired with shredded beef to make some serious nachos.
---
Slow Cooker Spinach and Artichoke Dip– seriously easy and seriously yummy. This dip should feed a crowd of ten.
---
SUPER BOWL WINGS
What would a game be without some serious wings. Bake them or grill them and get ready for some messy eating.
Oven Baked Old Bay Buffalo Wings – a spin on the classic buffalo wings with some Old Bay seasoning. But if you're not a fan, leave out the Old Bay and go with the classic.
---
Grilled Sriracha Hot Wings – these are spicy with a sweet and sour base and fresh lime to add some zest. Grill them or bake them.
---
SUPER BOWL PARTY BREAD IDEAS
These are some simple biscuits/garlic knots or outrageously show-off breads to present to your guests and party. With lots of giddy cheese strings in the pull-apart breads and lots of flavor in the easy to make biscuits and knots.
Bloomin' Onion Pull-Apart Bread – this is the one you make when you're looking to 'wow' your guests. With gooey strings of cheese and crunchy, fresh green onions and poppy seeds! Make sure to strut a little when you're presenting it.
---
Cheesy Pesto Pull-Apart Bread –  another jaw-dropping pull-apart bread to show off. This 4 ingredient appetizer has some serious amount of cheese action.
---
Cheddar Bay Biscuits – show off some homemade Red Lobster cheddar bay biscuits at the party. Using Bisquick and several other simple ingredients, this one is ready in under 30 minutes.
---
Easy Parmesan Garlic Knots– cheat with some refrigerated buttermilk biscuits to make these easy garlic knots.
---
SUPER BOWL PARTY APPETIZERS
Serve the classics with some other appetizers like mini pot pies or meatballs on a stick.
Mini Shepherd's Pot Pies – with a flaky, crumbly pie crust base, a hearty beefy filling and soft, fluffy mashed potato tops. This cute and insanely delicious spin on the classic cheats with refrigerated pie crusts.
---
Sweet Heat Meatballs – this one has a spicy and sweet glaze. Complete your party with meat on a stick.
---
SUPER BOWL PARTY TACOS
For an easy to make crowd pleaser, make a taco bar with these set and forget shredded taco meats.
Slow Cooker Shredded Beef Tacos – make these to start your taco bar at the party. Also great to make some loaded nachos.
---
Slow Cooker Shredded Chicken Tacos – these are seriously delish. With fork-tender, authentic tasting, flavorful chicken. Pair it with your favorite toppings.
---
SUPER BOWL PARTY SANDWICHES AND SLIDERS
Wrapping up the round up with a  few more slow cooker meats to make sloppy sandwiches or party sliders for your guests.
Slow Cooker BBQ Pulled Chicken – an easy set and forget meat recipe to craft up some delicious BBQ pulled chicken sandwiches or sliders.
---
Slow Cooker French Dip Sandwich – make these into sloppy sandwiches or French Dip sliders. Don't forget to serve with the the au jus dip!
---
And that's the round up. Don't forget your drinks and happy Super Bowl Weekend!
♡ Affiliate disclosure: As an Amazon Associate, I earn commissions from qualifying purchases from Amazon.com. You can learn more about it here.