This warm German potato salad has tender red potatoes in a sweet and tangy bacon vinaigrette flavored with red onions, mustard and parsley. Bring this flavor-packed side to your next backyard grill, BBQ, picnic, or Oktoberfest gathering.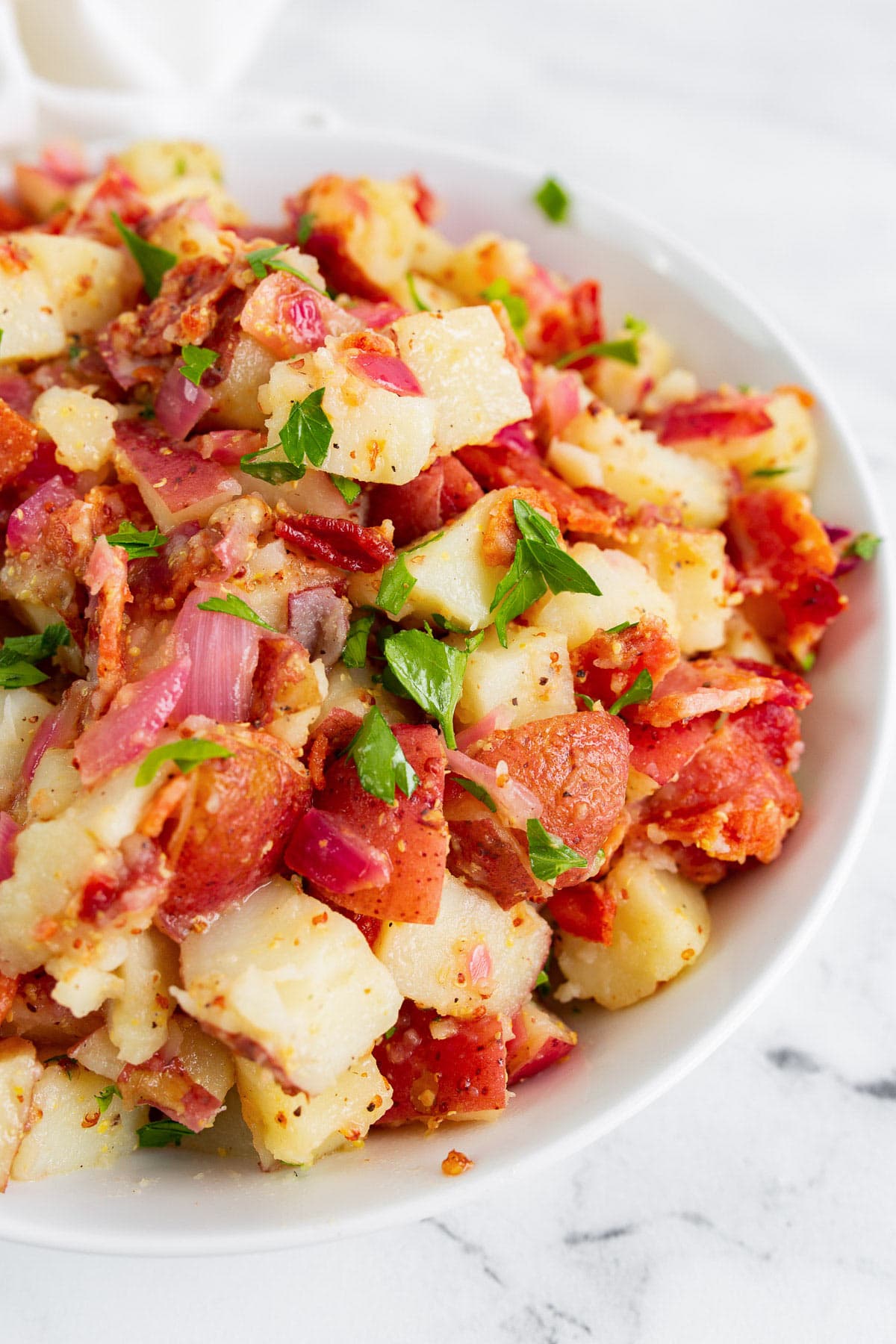 Today we're making some German potato salad, or what Americans have come to identify as the German potato salad. Unlike the usual chilled and creamy mayo-based potato salads, this potato salad is tossed generously in a hot bacon vinaigrette, a unique dressing made from bacon fat and a guaranteed flavor-packed treat.
Serve it hot or chilled – it tastes great either way. I had it both ways; hot off the pan and as chilled leftovers, which tasted just as great. For more great pasta salad ideas to bring to your next cookout, try the classic creamy potato salad, the boldly flavored bacon ranch pasta salad, or the vibrant Italian pasta salad. In the meantime, let's make some bacon vinaigrette.
Ingredients in German Potato Salad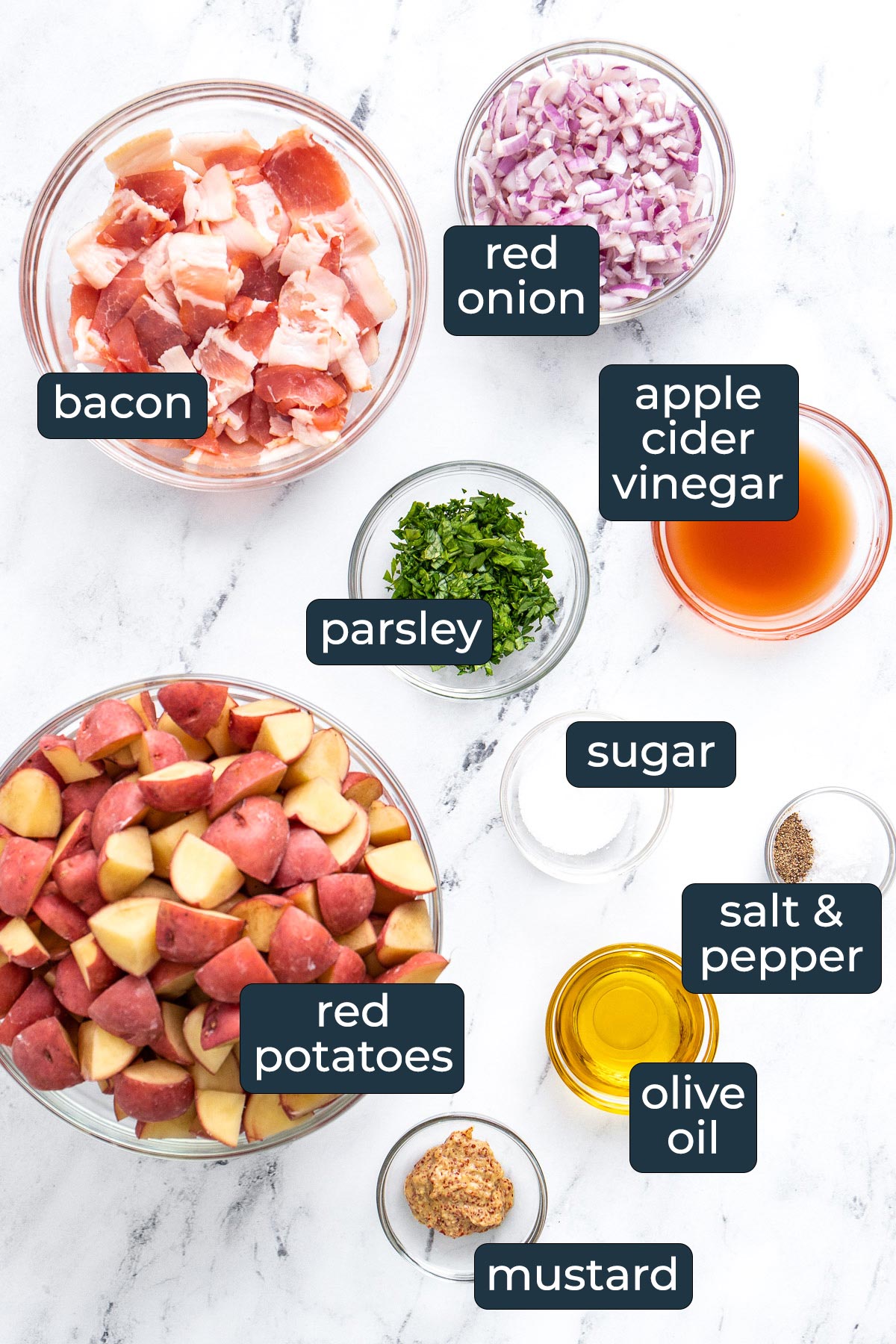 GERMAN POTATO SALAD RECIPE TIPS
Boiling with salt – Boiling the potatoes in salted water will season the potatoes while they cook for more flavor. Add about 1 teaspoon of salt to the pot for about 2 lbs. of potatoes.
Potatoes – I used red potatoes and kept the skin on for more texture. You can also use baby Yukon gold or any other waxy potatoes if you prefer. Cut the potatoes into chunks of similar size so they cook evenly. To check if the potatoes are done cooking, pierce them with a fork. A cooked potato will pierce easily.
Recipe Tip
Since this potato salad is usually served hot or warm, we won't rinse the potatoes after they are done cooking so the vinaigrette can absorb and cling to them.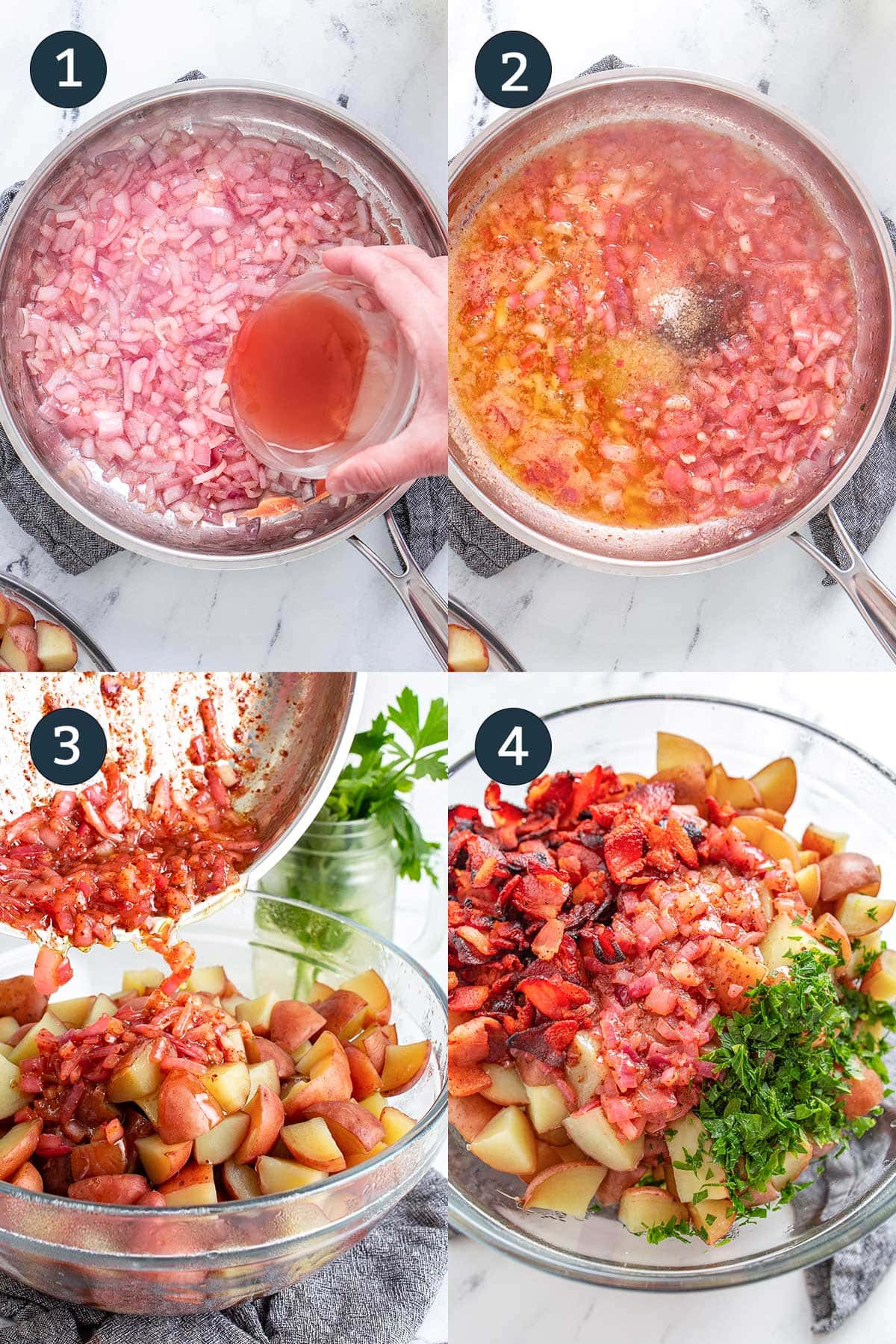 Bacon – I used 12 oz. of bacon, which is about 12 slices. Some brands package theirs at 16 oz. and those will work as well. You cannot substitute the bacon with prepackaged bacon bits because we need the rendered bacon fat to make the vinaigrette.
What is bacon vinaigrette?
Diced red onions are sauteed in the fat rendered from the cooked bacon bits then apple cider vinegar, olive oil, mustard and sugar are added to make a warm and delicious vinaigrette. It's a combination of tangy flavors you'd expect from a classic vinaigrette coupled with a little bit of sweetness and the smokey taste of bacon.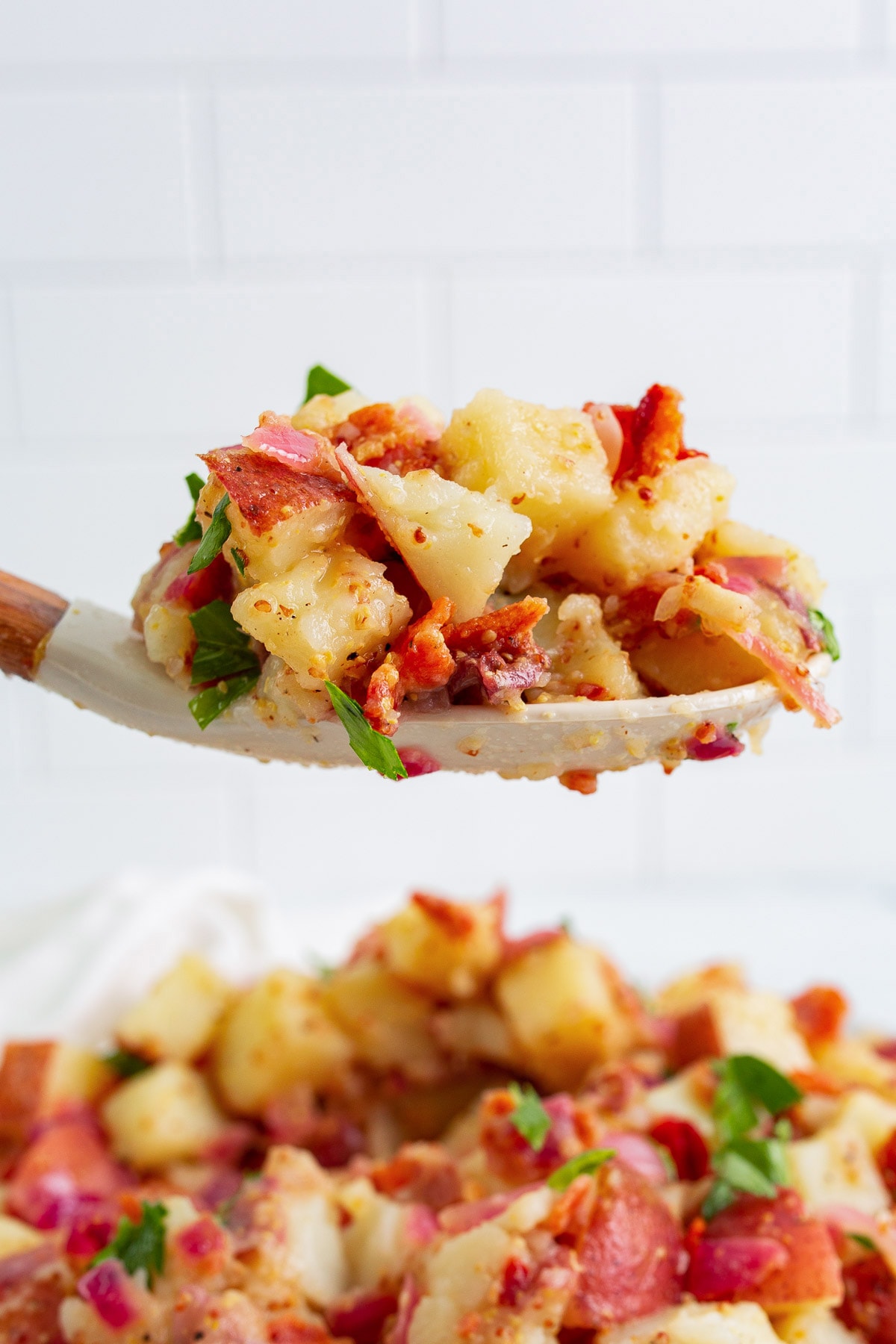 Apple cider vinegar – Apple cider vinegar gives the vinaigrette its tart flavor. You can substitute this with white wine vinegar.
Mustard – This adds a little bite to the vinaigrette. Add more mustard, if needed.
Sugar – The sugar balances out the smokiness of bacon and tartness of the vinaigrette with a subtle sweetness. If you want to keep it tart, leave this out. Otherwise, start with 1 tablespoon of sugar first and build from there.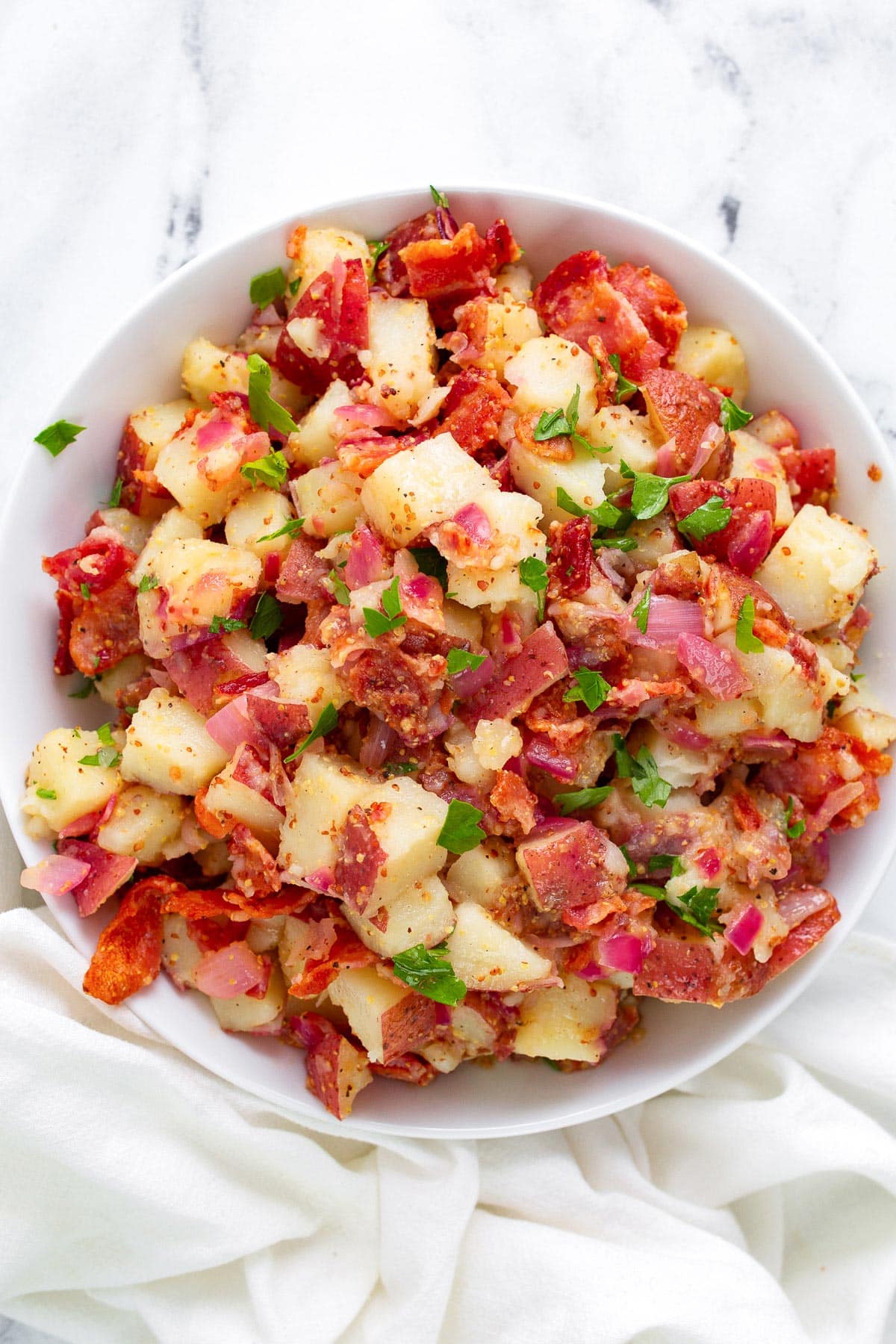 Parsley – I used flat leaf Italian parsley but you can substitute this with chopped green onions.
Mixing – Be gentle when mixing the potato salad so you don't end up with mashed potatoes. Toss the salad with the vinaigrette until you reach the 'creaminess' level you want; a little mixing will leave you with pristinely cut potatoes. Tossing it a little more with the vinaigrette will give you potatoes with slightly jagged edges and a thicker 'creamier' salad because some of the potatoes have broken down to mix with the vinaigrette.
Leftovers – Can be stored in the fridge for up to 3-4 days.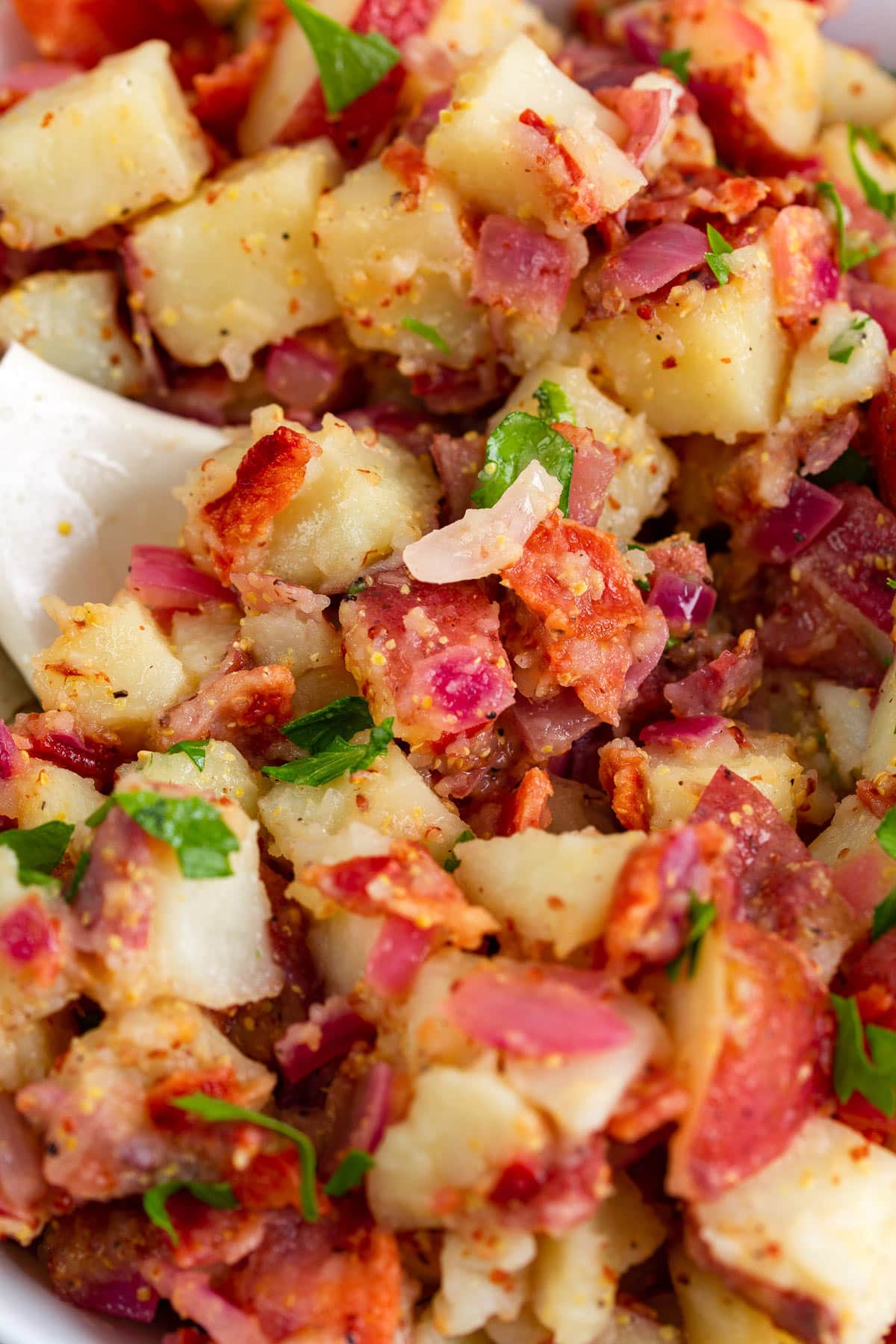 Customize It!
Green onions – Substitute parsley with chopped green onions for a stronger flavor and some added bite.
And that's about it. Enjoy this potato salad warm or chilled, the choice is yours. Let me know how you liked it, what substitutions you made and what you paired it with in the comments below!
MORE SALAD RECIPES TO TRY
Did you make this recipe? Rate it!
♡ If you liked this recipe, giving it a star rating ★★★★★ in the comments below really helps! For more recipes, subscribe to my newsletter or follow me on Facebook, Instagram and Pinterest.
Print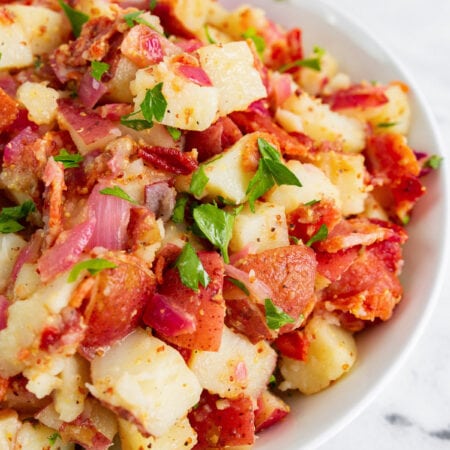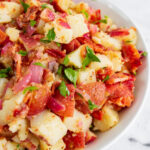 German Potato Salad
---
Author:
Total Time: 45 minutes
Yield: 6-8 1x
Description
This warm German potato salad has tender red potatoes in a sweet and tangy bacon vinaigrette flavored with red onions, mustard and parsley.
---
2 lbs. red potatoes, cubed
12 oz. bacon, chopped
1 medium red onion, diced
1/3 cup apple cider vinegar
1 tablespoon Dijon mustard
1/4 cup olive oil
1–2 tablespoons sugar, to taste
1 teaspoon coarse sea salt
1/2 teaspoon pepper
1/4 cup fresh parsley, chopped
---
Instructions
Over medium-high heat, bring a pot of salted water to a boil and cook the potatoes until tender, about 15-20 minutes. Drain and remove cooked potatoes to a large mixing bowl.
Over medium heat in a skillet, cook the chopped bacon in its own fat until crisp. Remove with a slotted spoon to a paper towel-lined plate.
To make the hot vinaigrette, reduce heat to medium and add the diced red onions to the leftover bacon fat in the skillet. Cook until the onions are soft, about 3-4 minutes.
Pour in the vinegar, add mustard and bring to a gentle simmer.
Add olive oil and season with sugar and salt and pepper to taste. Stir the vinaigrette until smooth.
Pour the warm vinaigrette over the potatoes, add the cooked bacon bits and parsley and fold gently until well combined. Do a taste test and add more seasonings if needed.
Dish and serve hot or chilled.
Enjoy!
Notes
Green onions – Substitute parsley with chopped green onions for some added bite.

Scroll up to RECIPE TIPS for more useful tips, suggestions and ingredient substitutions.
Prep Time: 15 mins
Cook Time: 30 mins