Carrot souffle makes a great side dish for any Thanksgiving or Christmas dinner. Enjoy some sweetened fluffy magic this holiday!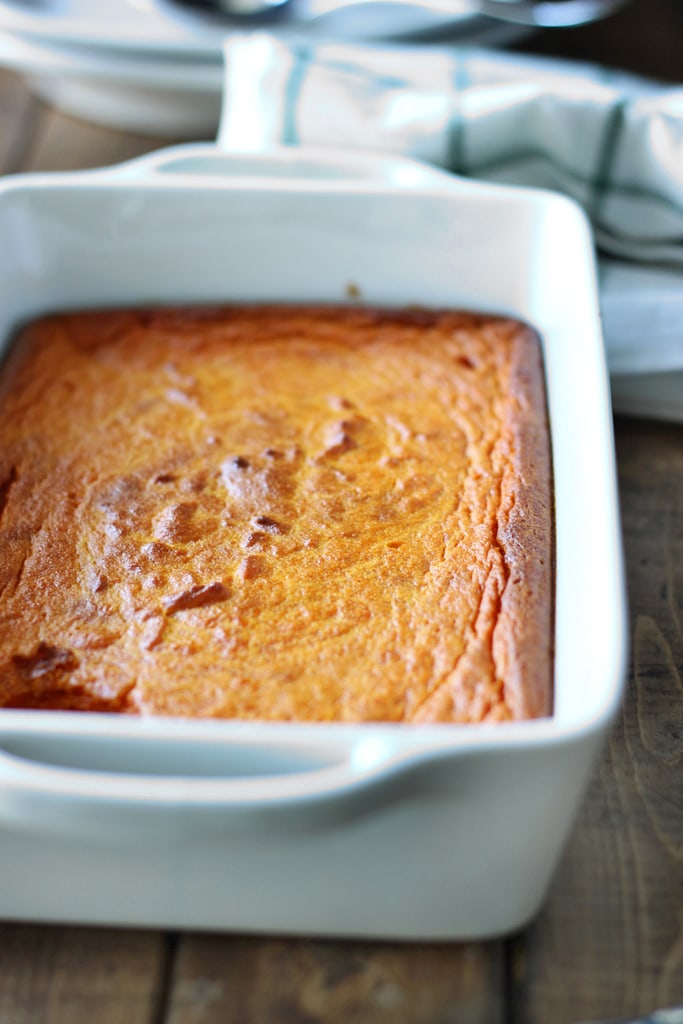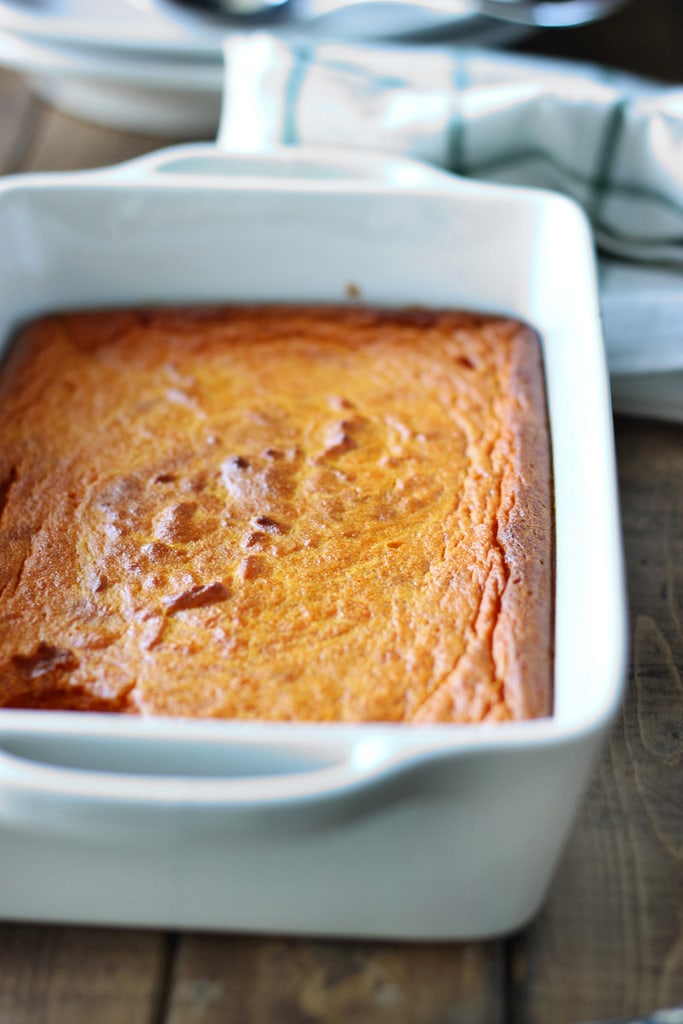 Today is one of many recipes I'll be posting for Thanksgiving. I may have started a little late. My timing for holiday posts is a little abysmal. But at least this year, I'll actually get them done. Last year, I had this naive idea that I could snap a few quick shots while the whole family was cooking and squeeze in a couple more just before dinner. That so didn't happen. Then I thought about taking pics of leftovers. That didn't happen either.
So this year I'm doing it well in advance. Probably not good enough in advance for some, but well enough in advance for me. We'll be eating Thanksgiving stuff a week early while I go through my posts. Such is the life of a food blogger!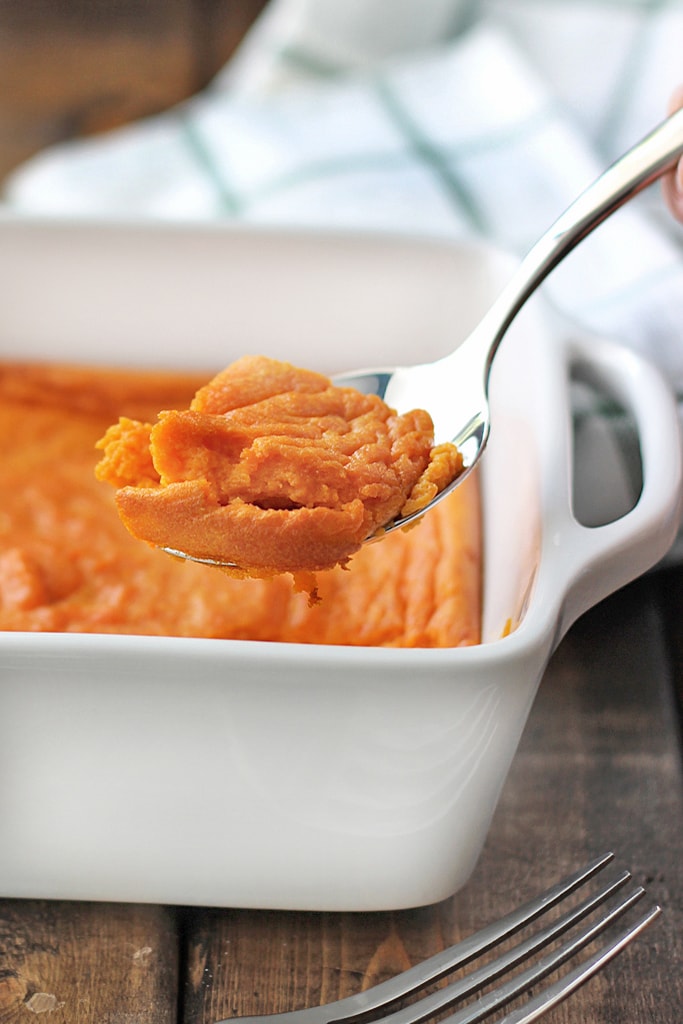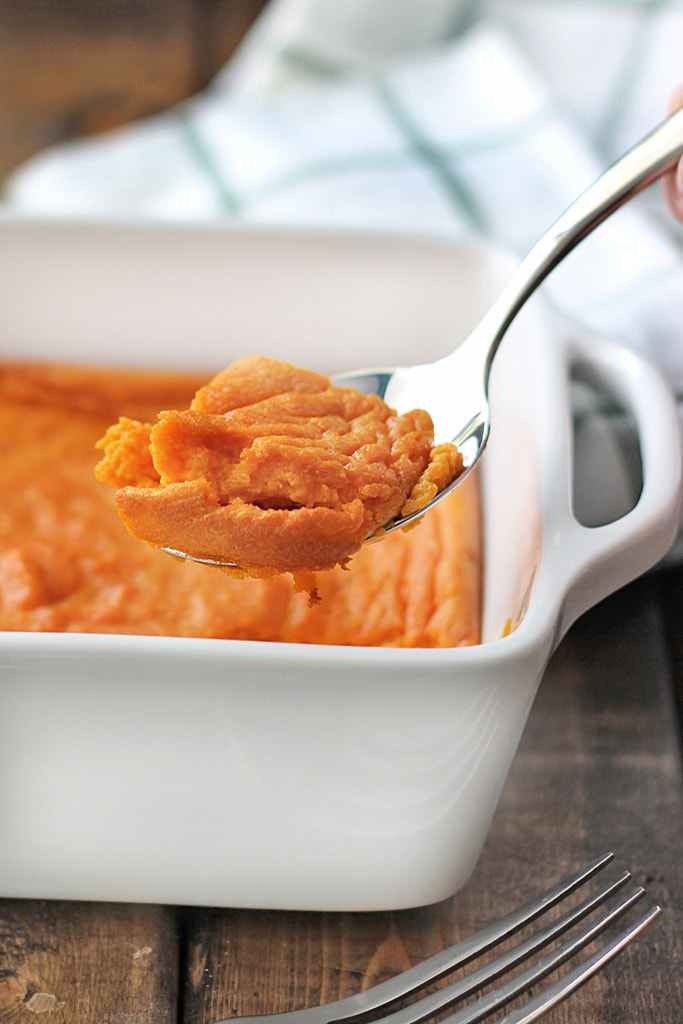 So today I'll be showing you how to make a carrot souffle. It's orange, it's moist, it's fluffy. This is one of two dishes my mother-in-law taught me and it's super yummy. Not too shabby for carrots too. It's basically a sweetened carrot puree of sorts and this puree will rise with fluffy magic into a delicious souffle after it's baked.
Yum! So let's get started.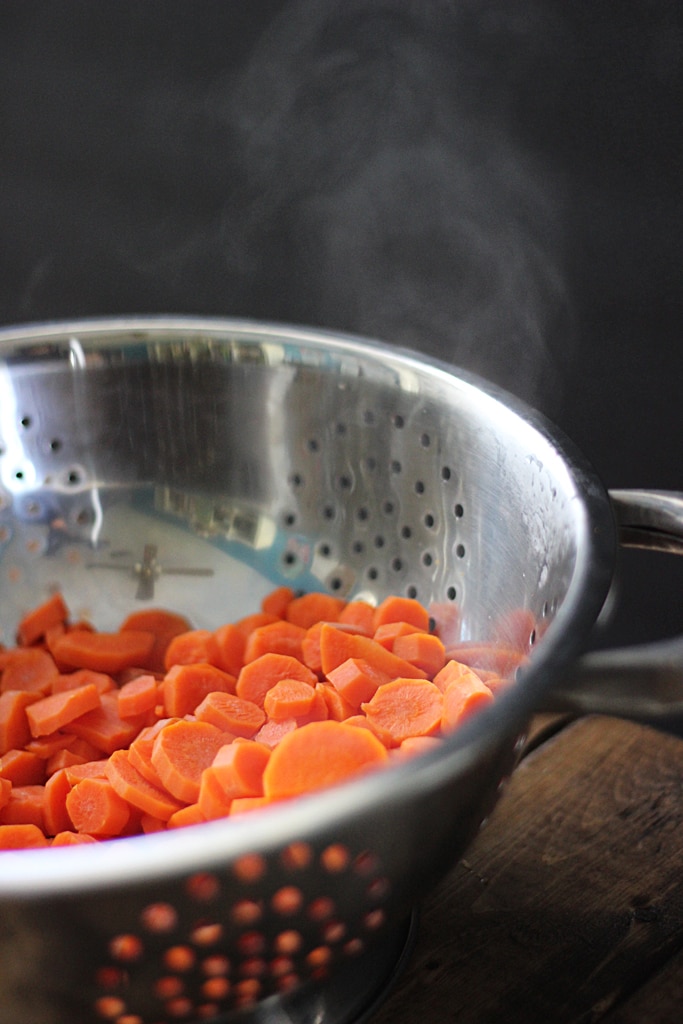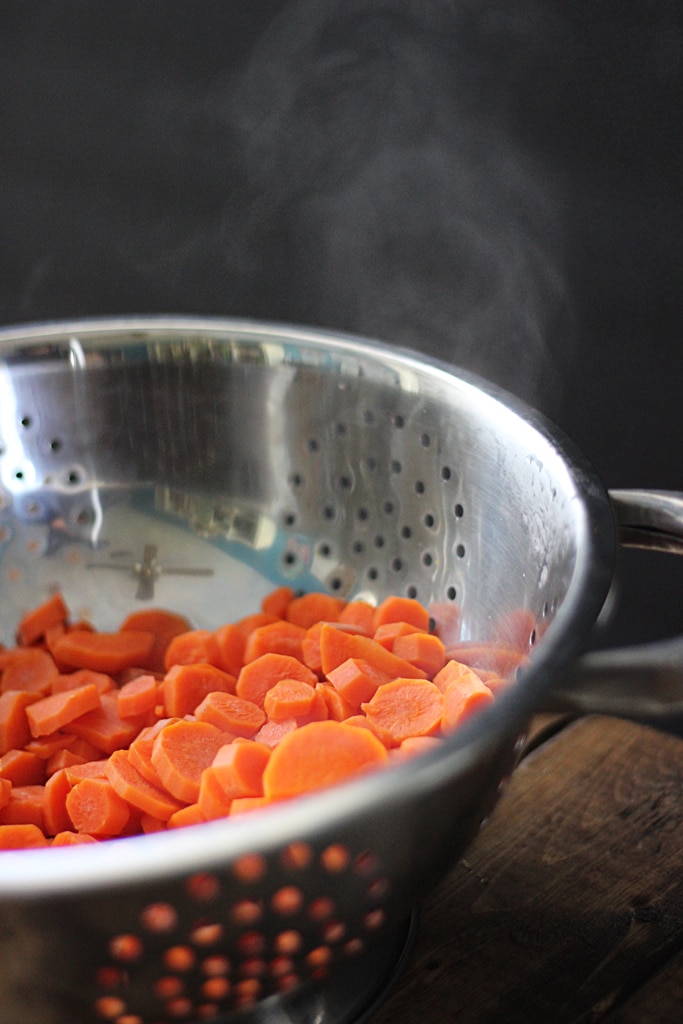 CARROT SOUFFLE RECIPE TIPS
You'll want to slice your carrots relatively thin so they cook faster. Or you can save time and buy pre-sliced carrots. It should take ten minutes to be tender enough to puree once you get the boiling water started. So what I did was get the boiling water started while I peeled and sliced. The timing worked out well.
Puree the carrots with some melted butter until smooth then toss in the rest of the ingredients. It's as simple as that. The time-consuming part is waiting for it to rise in the oven.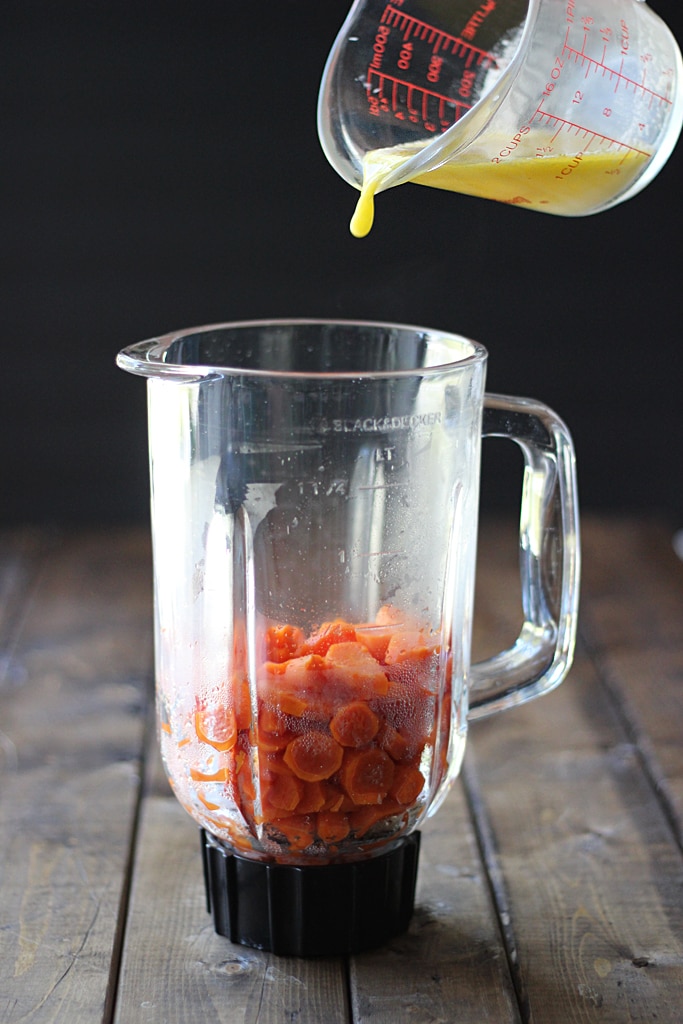 Also, feel free to double the portions for more. This should yield about four servings but with how delicious it is, you might want to make plans for more, just in case. I don't normally like carrots, but I love this. I'm guessing other carrot haters might too. Pretty sure my mother-in-law doubled the portions when we made it together but we did have plenty of leftovers. And since leftovers are one of the things to look forward to, double it up!
I used a 1 1/2 quart casserole dish which might have been a little too big for four servings but you could also serve these in individual ramekins which will look tons cuter.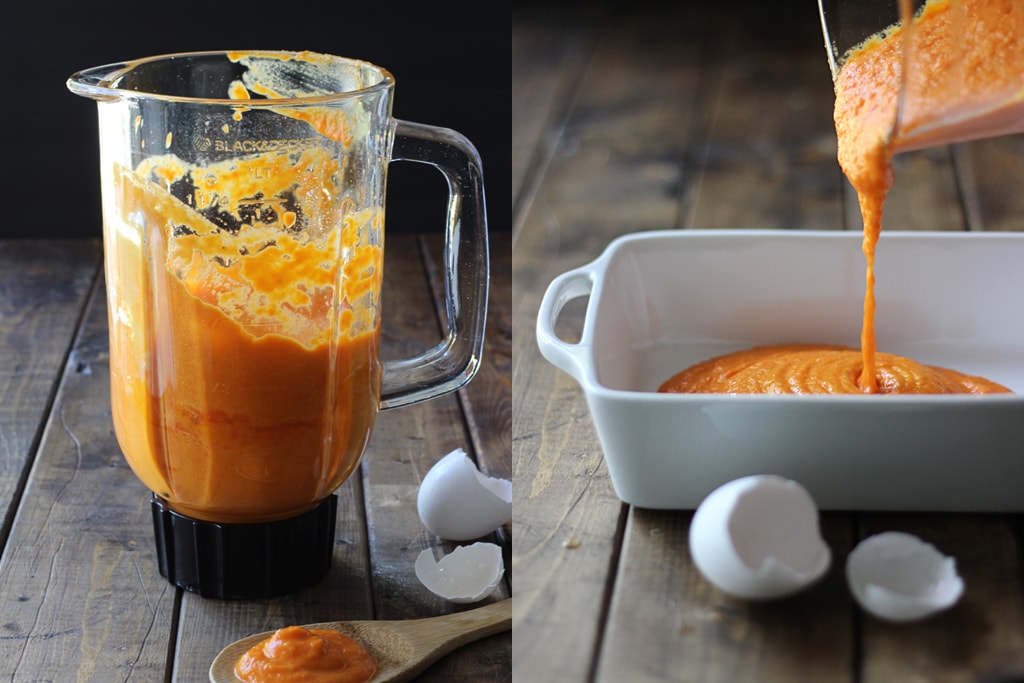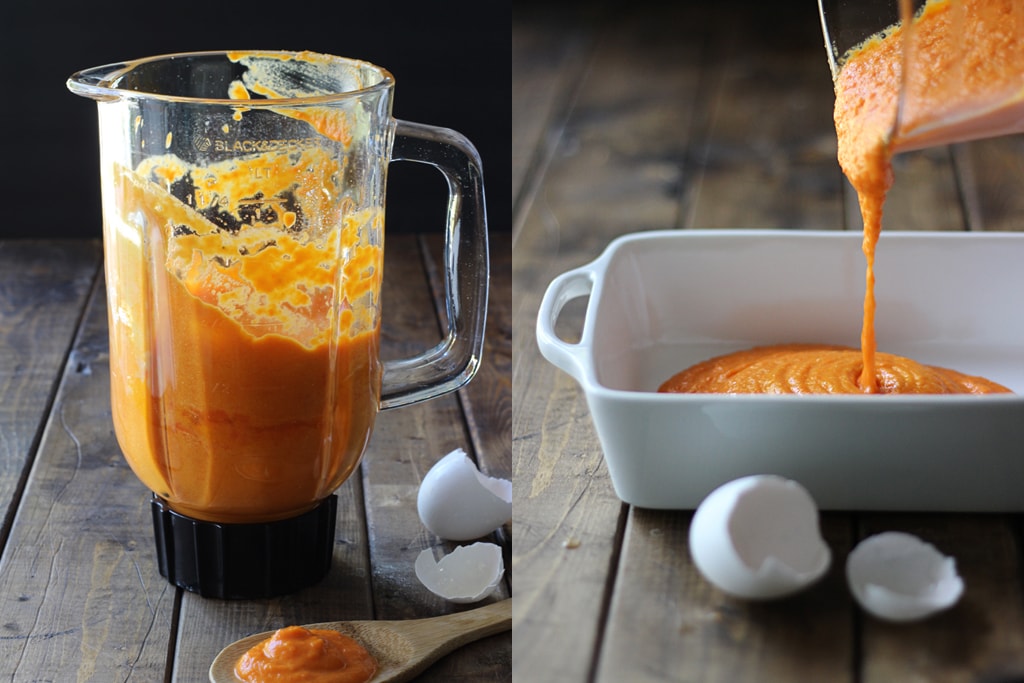 The souffle will rise beautifully in the oven and shrink once it has time to cool down. This is normal. I waited for it to cool down before taking pics which I regret now. Lesson learned. So plan your souffle to be served immediately in all its puffed-up majestic glory!
Some say you can puff them up again by reheating at 400 degrees F for ten minutes, depending on your oven. So I tried this and it worked although it didn't puff up as much the second time around. I've also heard it will deflate faster the second time around so serve the reheated souffle immediately.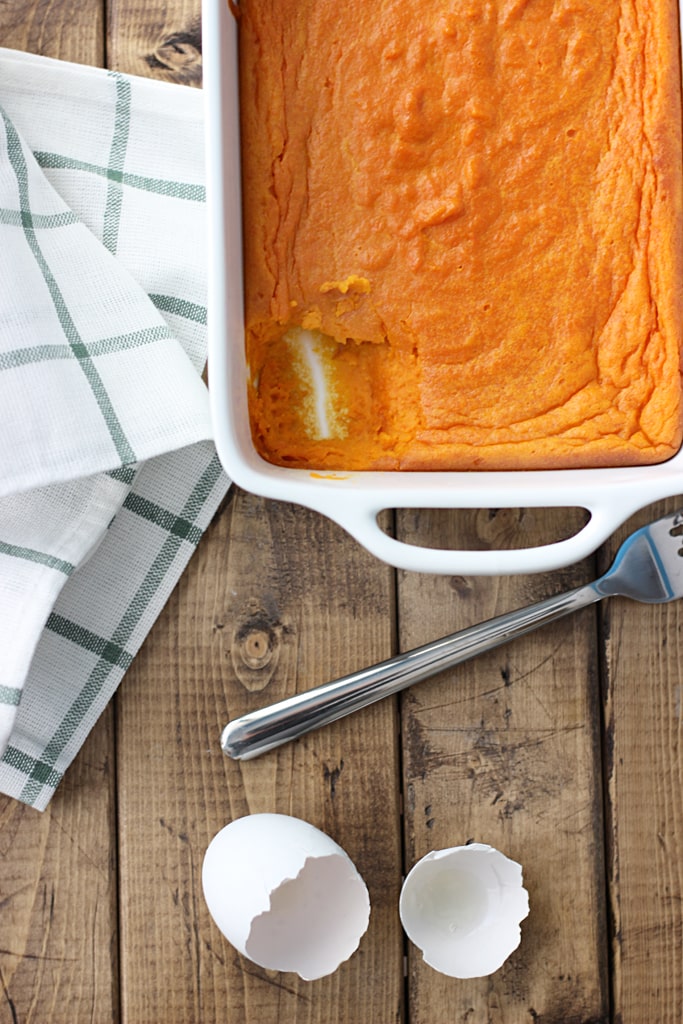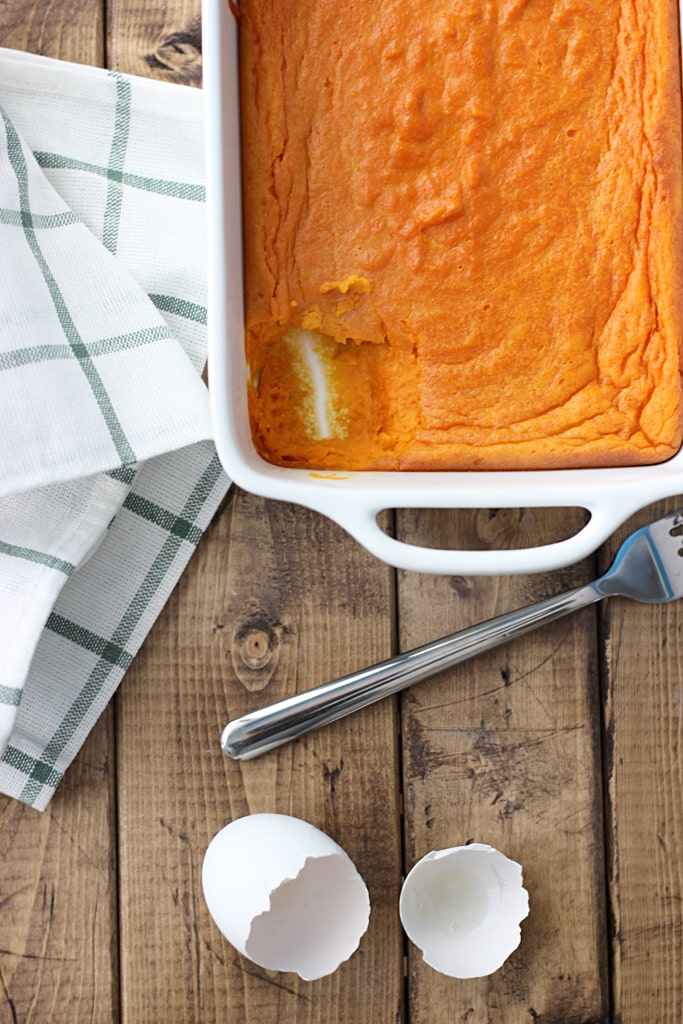 Here's what it looks like after it's been reheated. I actually liked the crunchy and caramelized edges but that's me. I suppose this technically means you can make these ahead of time and freeze them, then puff them up again but keep in mind that the first puff is the puffiest!
Happy cooking!
MORE HOLIDAY RECIPES TO TRY
♡ If you liked this recipe, giving it a star rating ★★★★★ in the comments below really helps! For more recipes, subscribe to my newsletter or follow me on Facebook, Instagram and Pinterest.
Print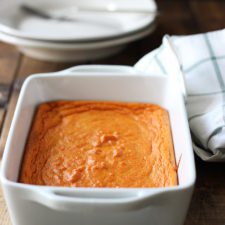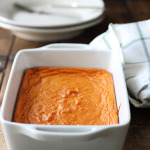 Carrot Souffle
---
Author:

Total Time:

1 hour 5 mins

Yield:

4

1

x
Description
Carrot souffle makes a great side dish for any Thanksgiving or Christmas dinner. Enjoy some sweetened fluffy magic this holiday!
---
1

lb

. carrots peeled and sliced

1/2

cup

butter, melted

1 teaspoon

baking powder

1/2

cup

sugar

1 teaspoon

vanilla extract

2 tablespoons

flour

3

eggs
---
Instructions
Over medium high heat, bring a pot of water to a boil.
Boil carrots until tender, about 10 minutes.
Drain and transfer carrots to a blender.
Add melted butter and pulse until smooth.
Add remaining ingredients and pulse into a puree.
Transfer puree to a 1 1/2 quart casserole d.ish or 4 ramekins placed on a baking sheet.
Bake at 350 degrees F for 45 minutes
Dish and serve hot.
Enjoy!
Prep Time:

10 mins

Cook Time:

55 mins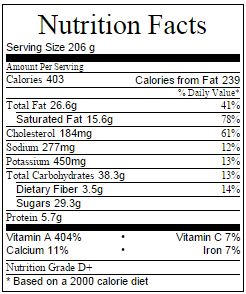 ♡ Affiliate disclosure: As an Amazon Associate, I earn commissions from qualifying purchases from Amazon.com. You can learn more about it here.