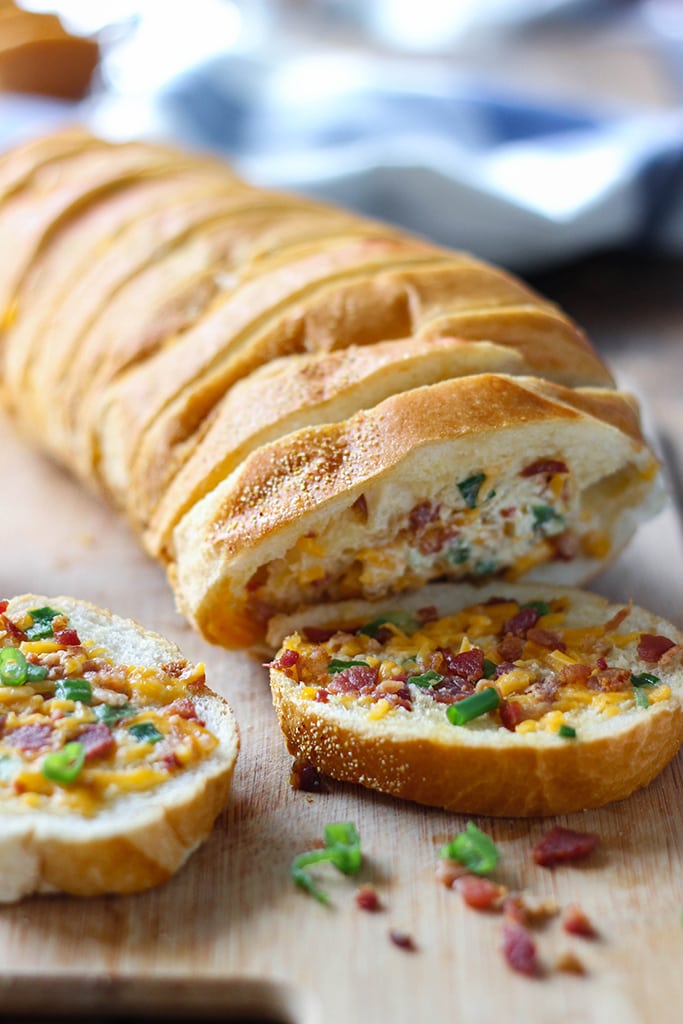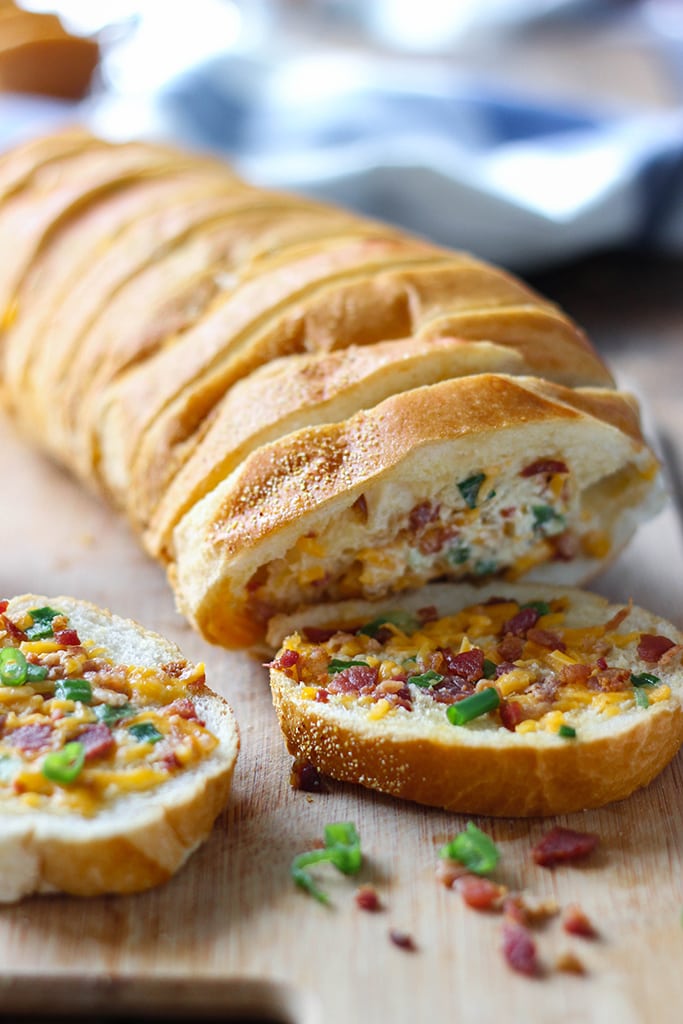 So how about a great starter? It's kinda in the same vein as bloomin' onion bread but this one uses a baguette instead of sourdough and it has bacon. Which makes everything better. I figure this one is easier to do. There's no fancy action scenes of cross-cutting your bread for those that aren't really all that gifted in the bread cutting scene. Such as me. I generally pass that torch on to Mr. Cooking Jar who also holds the title of burrito folding king.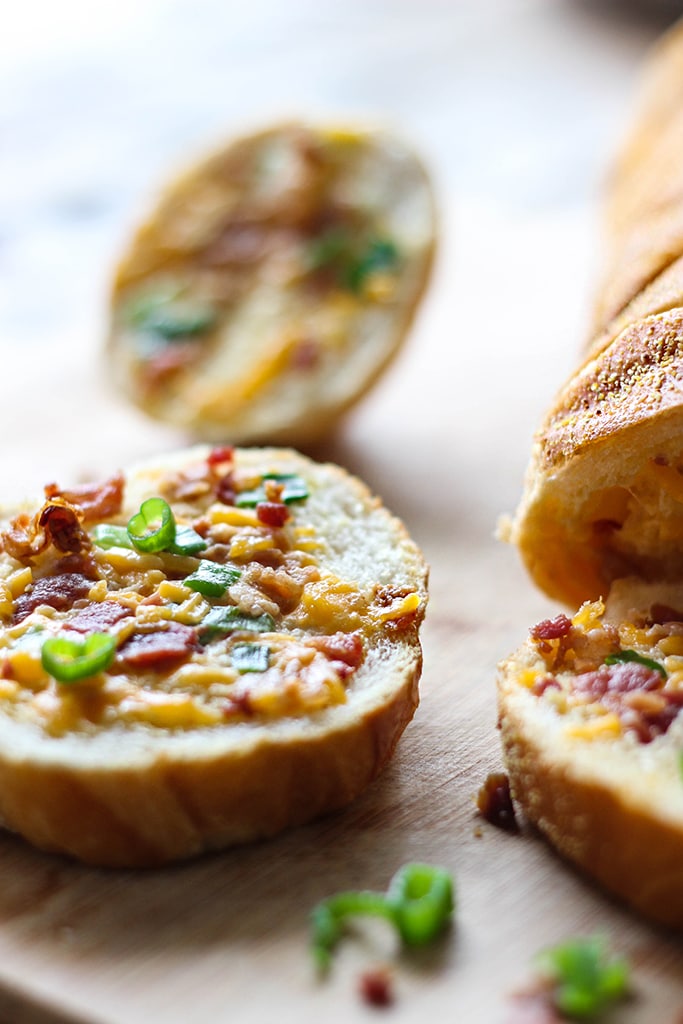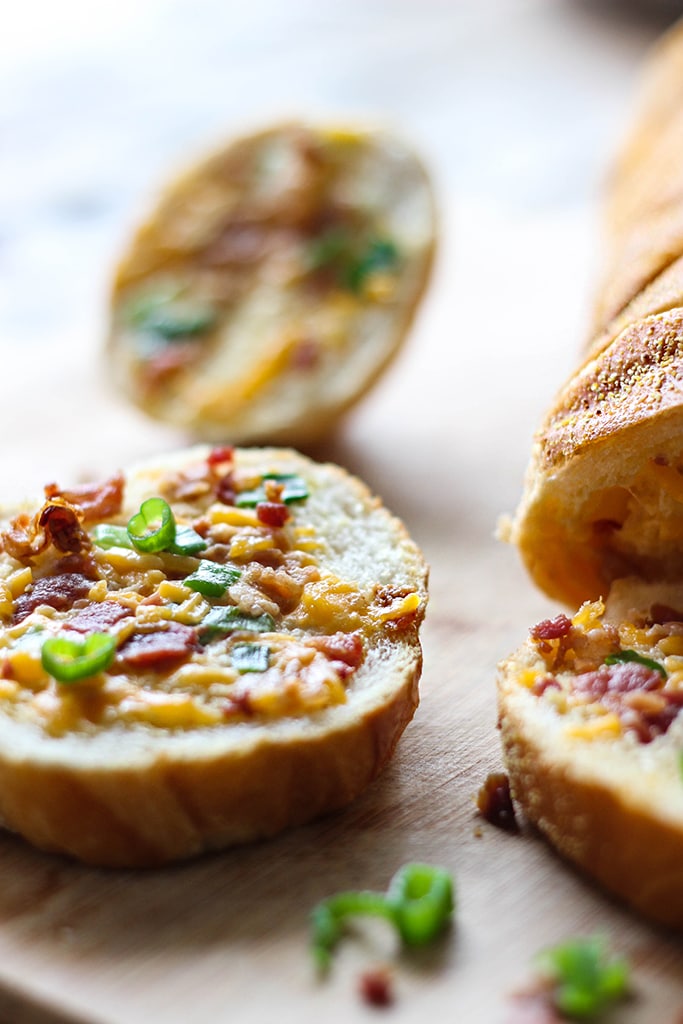 Since a baguette is hoooge, this will go a long way. I would say anywhere between 6 to 12 servings, depending how many ambitious eaters you have in your group. And it's really, really easy to put together. So how about it? Let's make some cheesy bacon bread!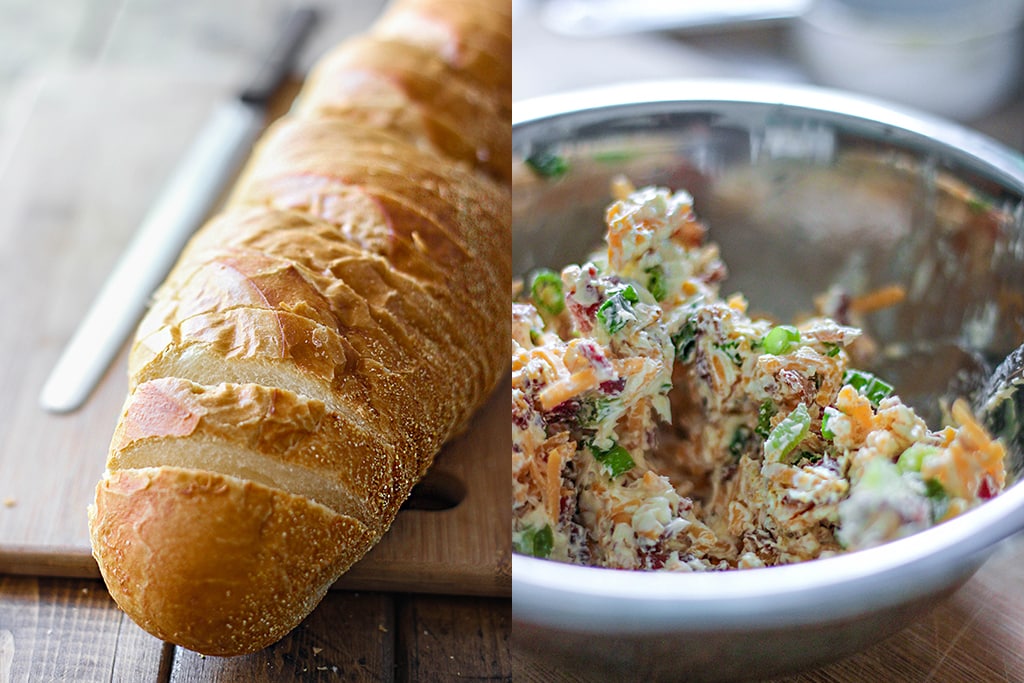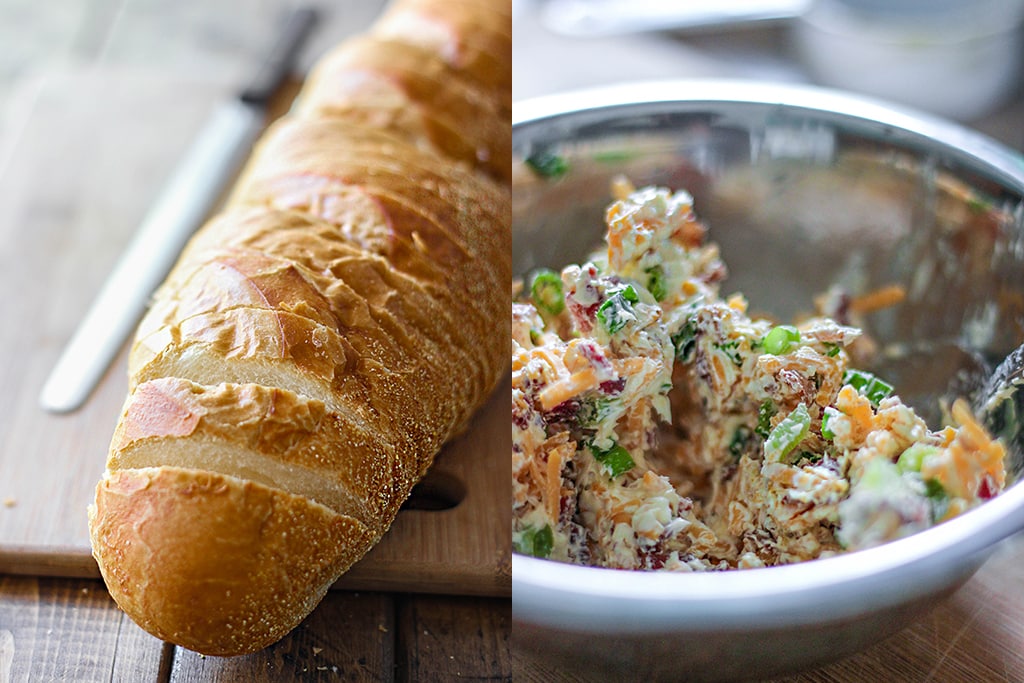 So first thing to do is to slice your baguette crosswise into one inch slices. Stop just before you reach the bottom. It's gonna be easier to hold the loaf together when they still have some form. This was easy, even for me. I used a serrated bread knife and life was good. I ended up with about 24 slices when all was said and done.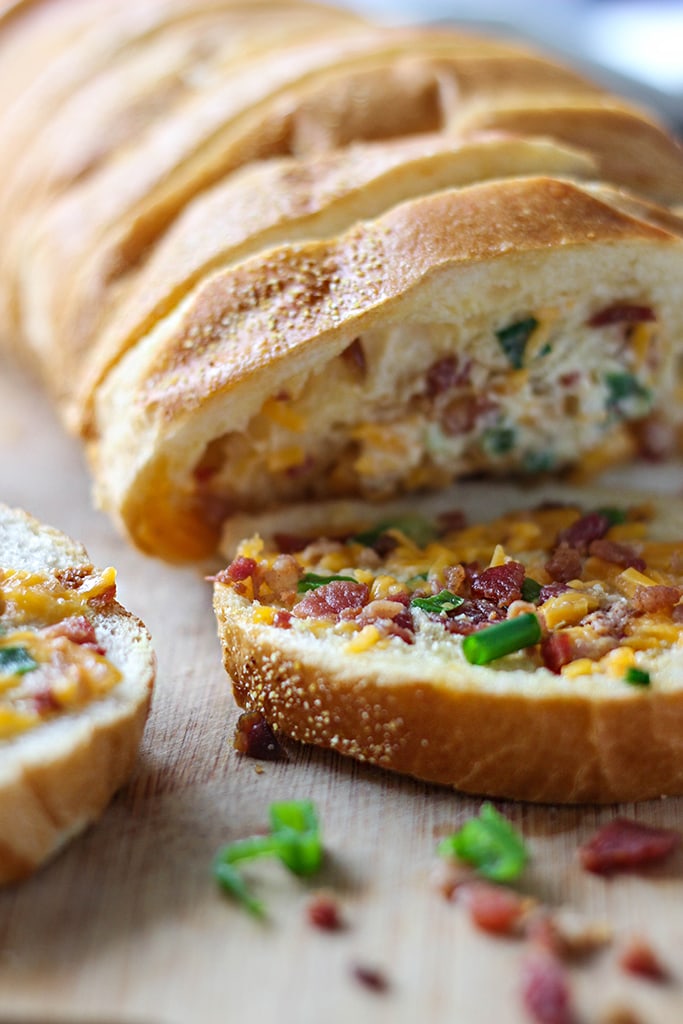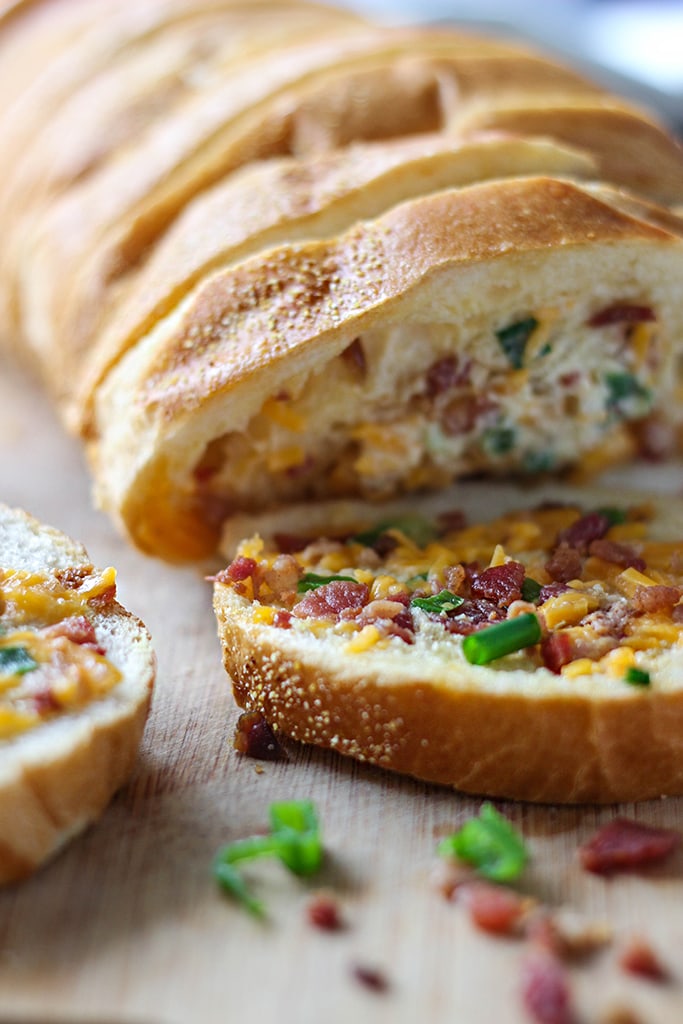 Now the first thing I obsessed about was how on earth will all that stuff stick to the slices spread on vertically without falling off? I mean it's a lot of bigger bits like bacon pieces and green onions. The answer is glue. The butter should be softened, not melted and this is your glue that holds everything together. I took a pic just to show you. No more worries!
So after we slice the bread, it's mixing time. Butter, bacon pieces or bits, cheddar cheese and green onions. Use the green parts of the onions for this. If you don't happen to like green onions, you can sub chives. That'll work too.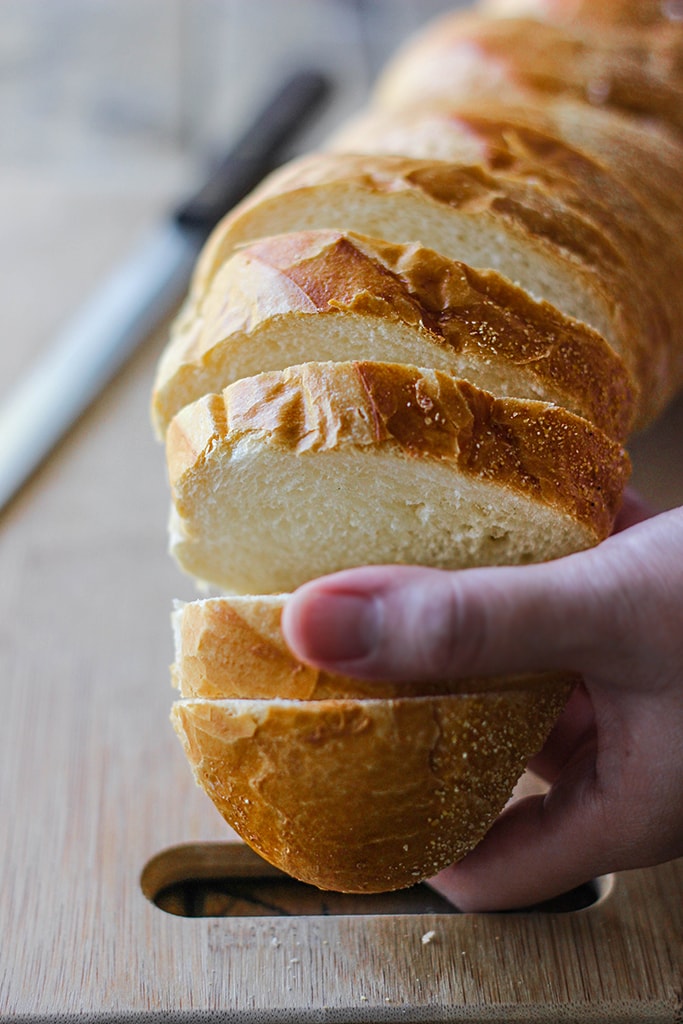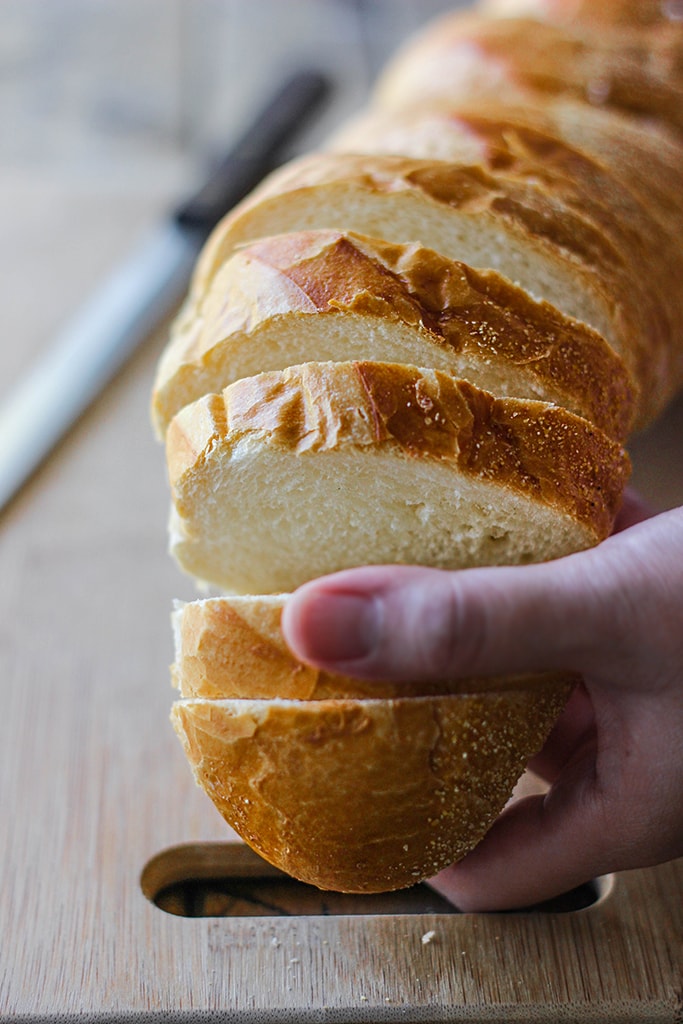 And it's spreading time. When I first started this part, which is the most time consuming, I had a hard time trying to squeeze in the knife and butter mixture and spread well. Then I figured out a better way. Just lift up the loaf from the bottom and the slices will part beautifully like an accordion. Now you can spread easy!
Don't worry too much about using too much butter mixture in the beginning. I was skimping in the beginning then had about two heaping tablespoons left after buttering all the slices. I'd say use about a heaping teaspoon per slice. And hopefully you'll do a better job buttering than I did! Spread it to the edges!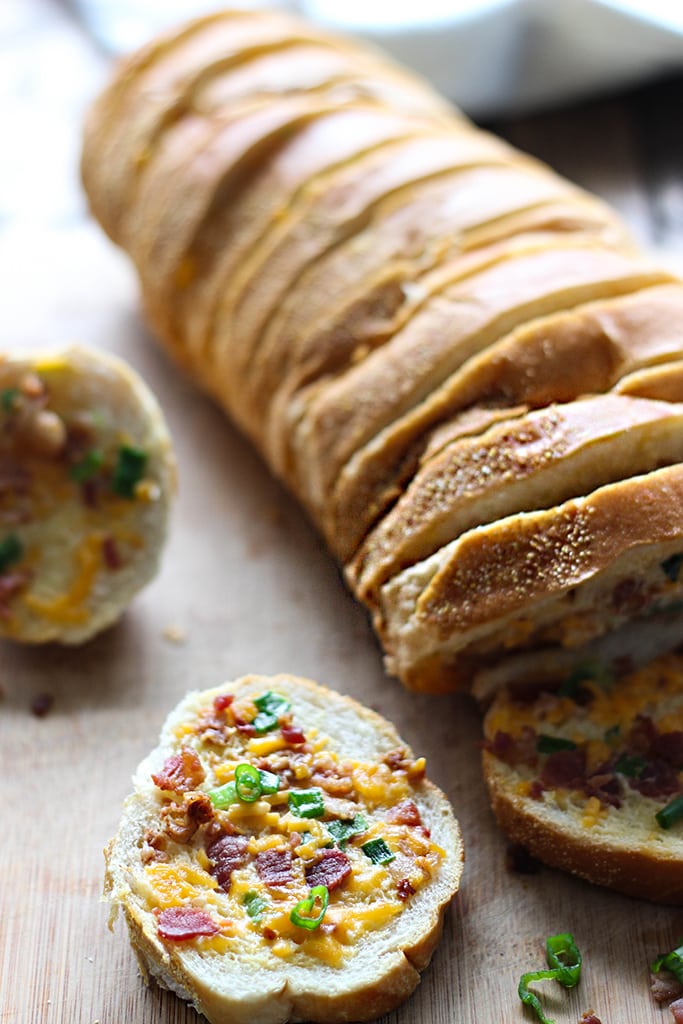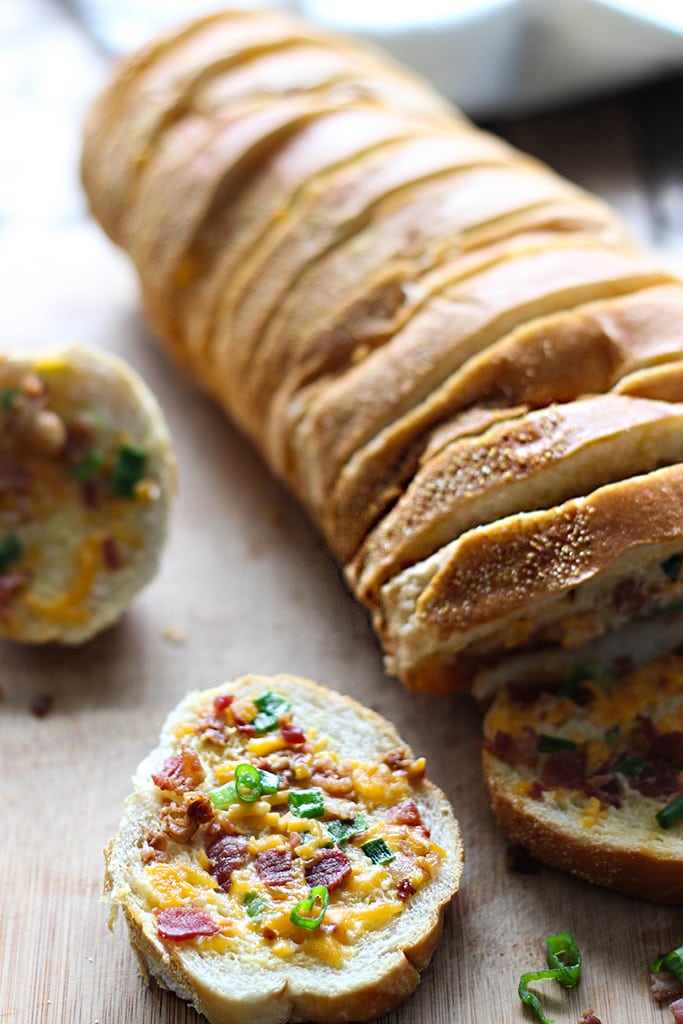 Then we wrap it up in foil so the bread doesn't brown up before the cheese or butter has a chance to melt. Bake it for 15 minutes and that's it. At this point you can start gathering your group and announce your spectacular appetizer. Use hyperboles. Gesture madly. Get them hungry and hyped up before you run away with the loaf to your secret hiding place and keep it all to yourself. No? Okay, let's share.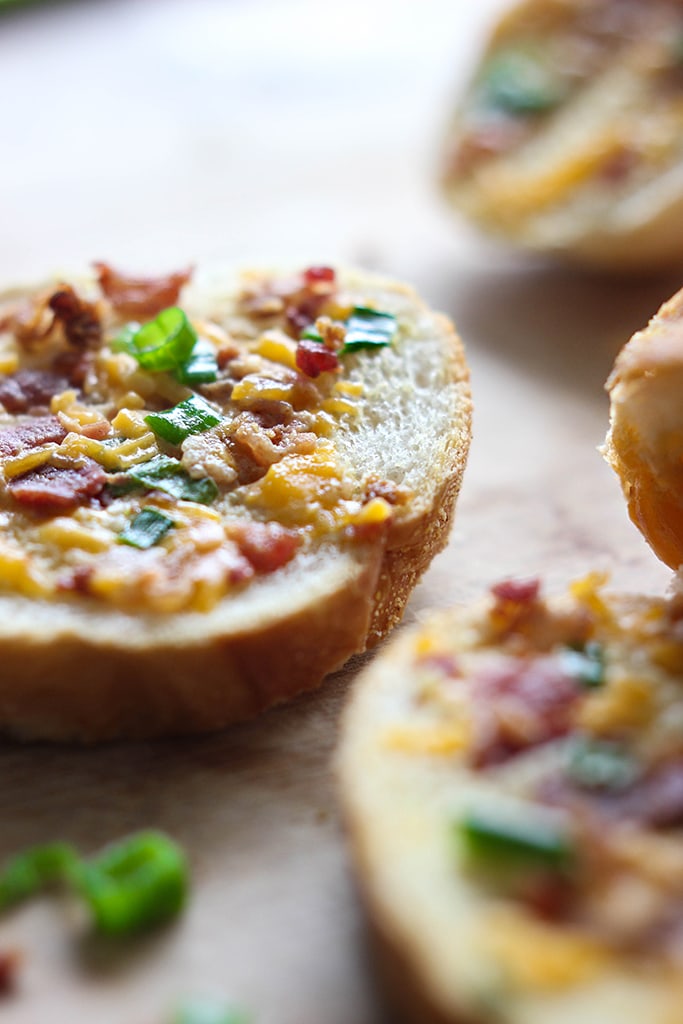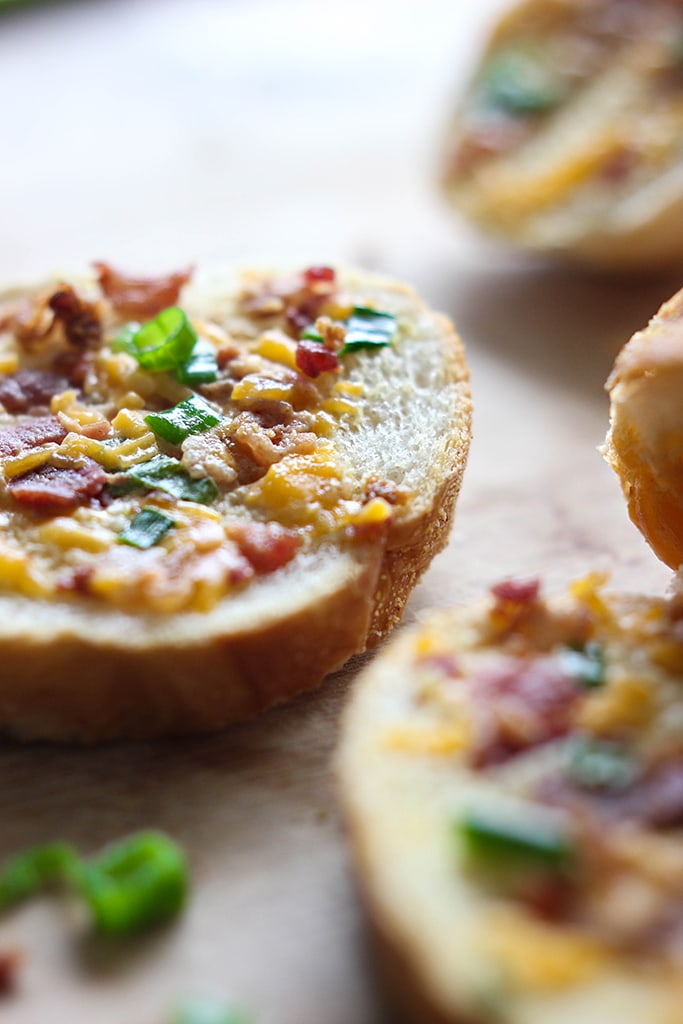 Once it's out of the oven, it's just a matter of serving. You can slice the bottoms to get your slices or jusst tear it off. Serve it warm cause that's the best way. And seriously, this is good. It's warm and melty and crusty and bacony. Hooray for easy appetizers! Happy cooking!
Print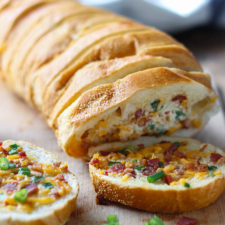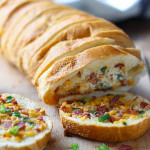 Cheesy Bacon Bread
---
Author:

Prep Time:

10 mins

Cook Time:

15 mins

Total Time:

25 mins

Yield:

24

slices

1

x
1

French baguette

1/2 cup

butter

1/2 cup

bacon pieces

1 cup

cheddar cheese, shredded

2

green onions, sliced
---
Instructions
Cut the baguette crosswise into 1″ slices without cutting through to the the bottom
Combine butter, bacon, cheese and green onions. Mix well
Spread the butter mixture on each slice
Wrap the baguette in foil and bake at 350 degrees for 15 minutes or until the cheese has melted
Dish and serve hot
 Nutrition per slice (24 slices per baguette)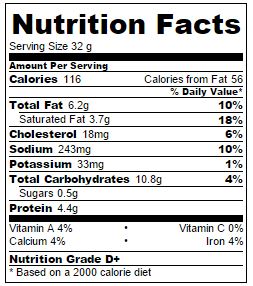 ♡ Affiliate disclosure: As an Amazon Associate, I earn commissions from qualifying purchases from Amazon.com. You can learn more about it here.