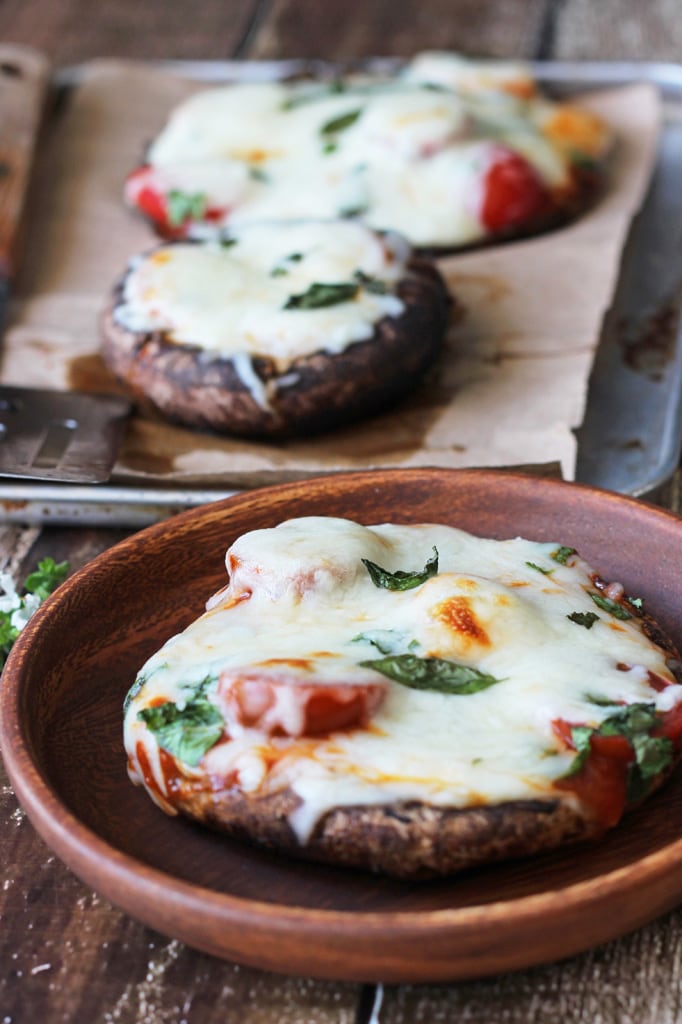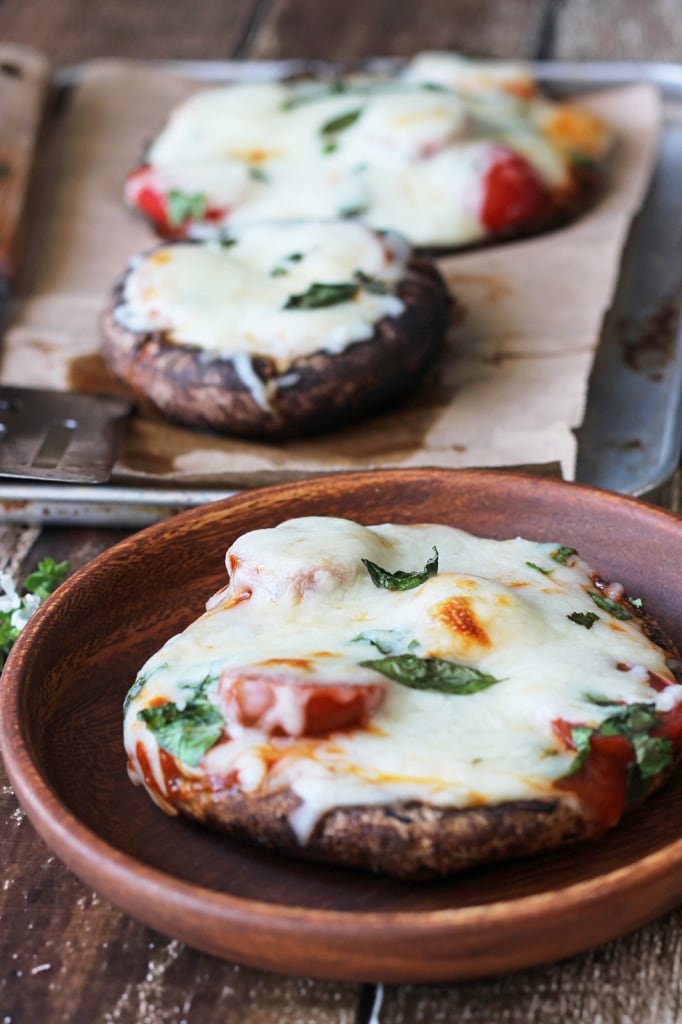 Want some cheese? Or how about whole lot of cheese? And how about some mushrooms to go with it? Stuffed mushrooms, mushroom pizza. Whatever you want to call it. Point is, there's giant Portobello mushrooms hollowed out with delicious stuffing and toppings heaped inside. A reinvented way of delivering all the toppings that makes pizza great, minus the carbs.
Margherita pizza is the simple one. Marinara sauce, mozzarella cheese and basil leaves. That's about it. On top of a lovely, meaty, protein packed mushroom. YUM.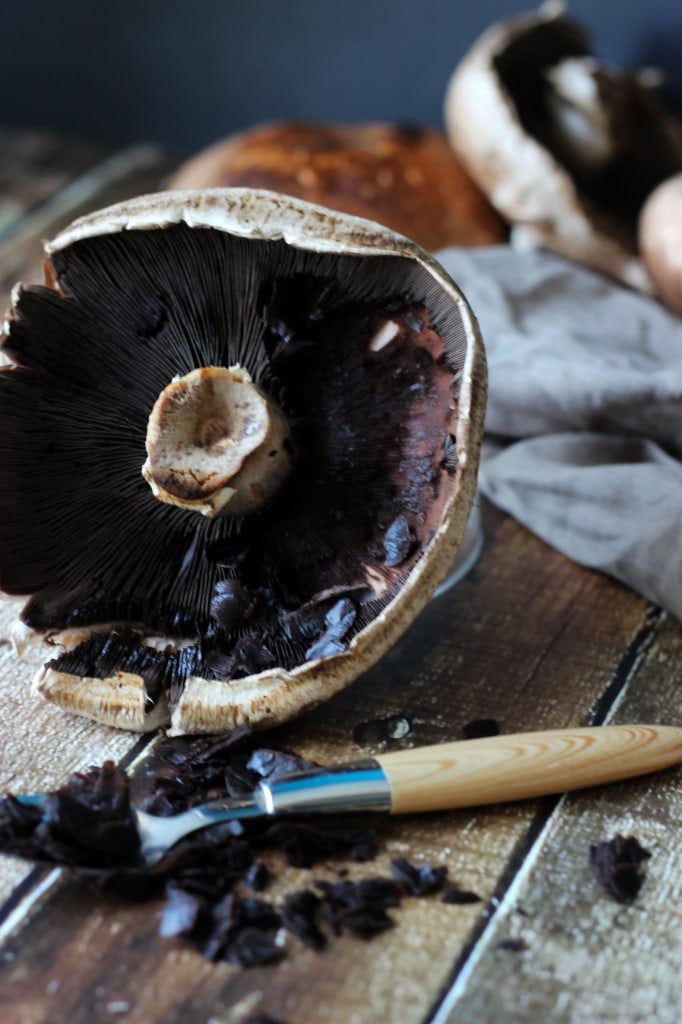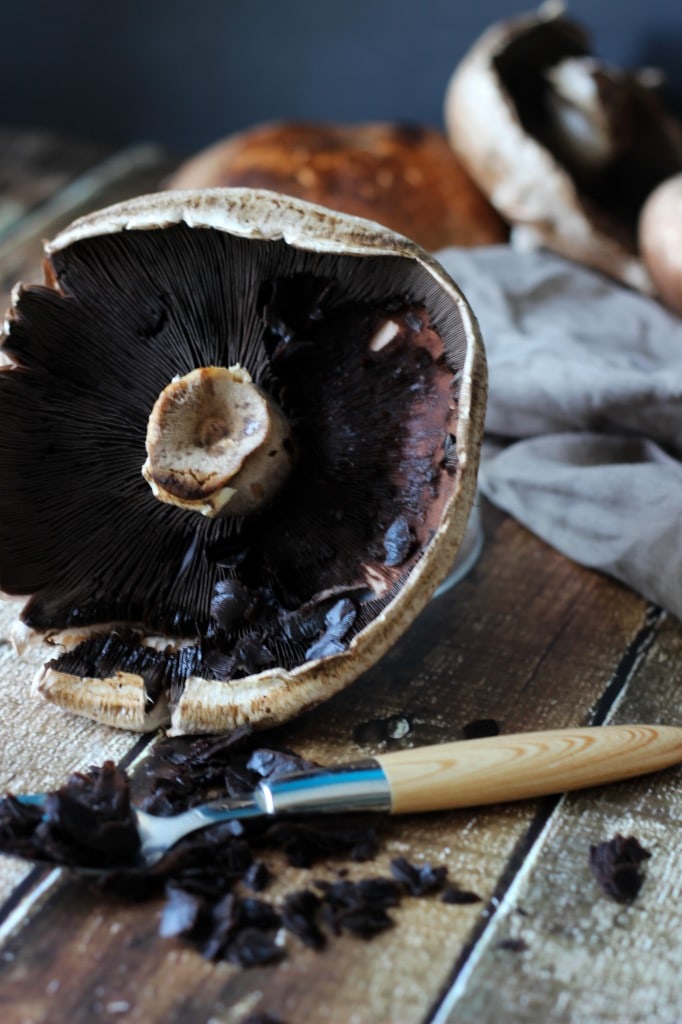 I made something similar last year although I was rather fancy pants about it and called it Portobello Parmesan Au Gratin. Which basically translates to breadcrumbs and cheese toppings. It's a way of making your regular mushroom sound like a five star meal. Something you can pick up a snowy white napkin to and delicately lay it across your lap while you eat. Jokes aside, it was pretty freaking delicious and I wouldn't mind getting my daily serving of protein this way.
But this time round, I'm gonna call it a pizza because one, there's no breadcrumbs and two, pizza is just plain fun. And it sounds like something most people can cook at home. Unlike an Au Gratin. "What is this Au Gratin thing you speak of and why do I want to eat it?" *runs away*.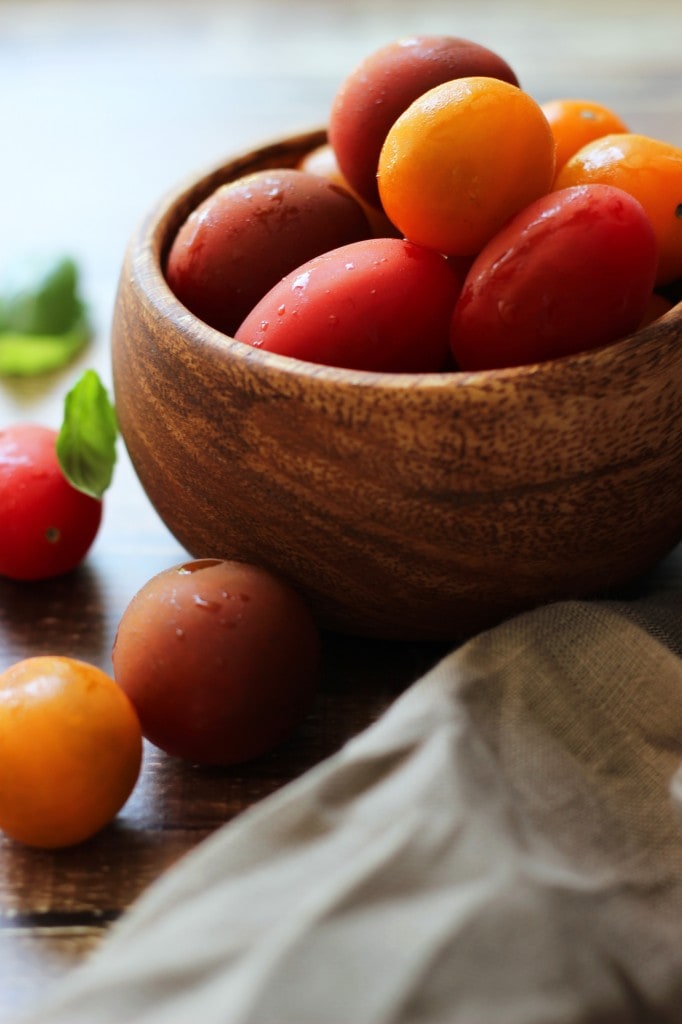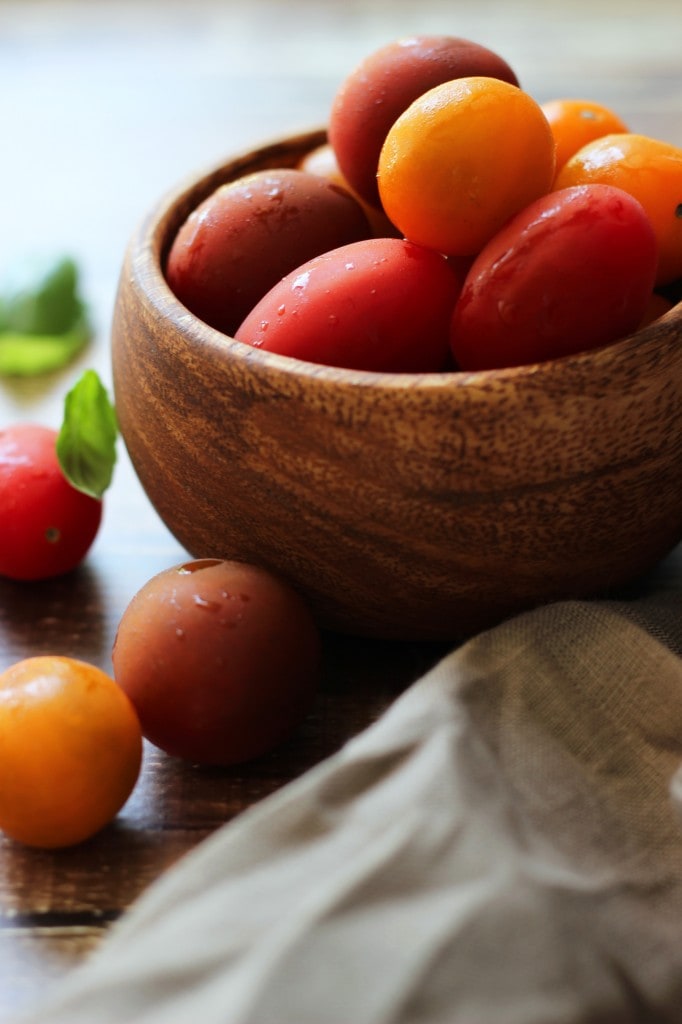 So here we have the humble mushroom pizza with three basic toppings. I beefed it up a little with some grape tomatoes before the cheese topping. Because tiny tomatoes stuffed into a mushroom, how cute is that? All this ready on your table in less than 30 minutes. And none of the hassle of having to toss away those pizza boxes.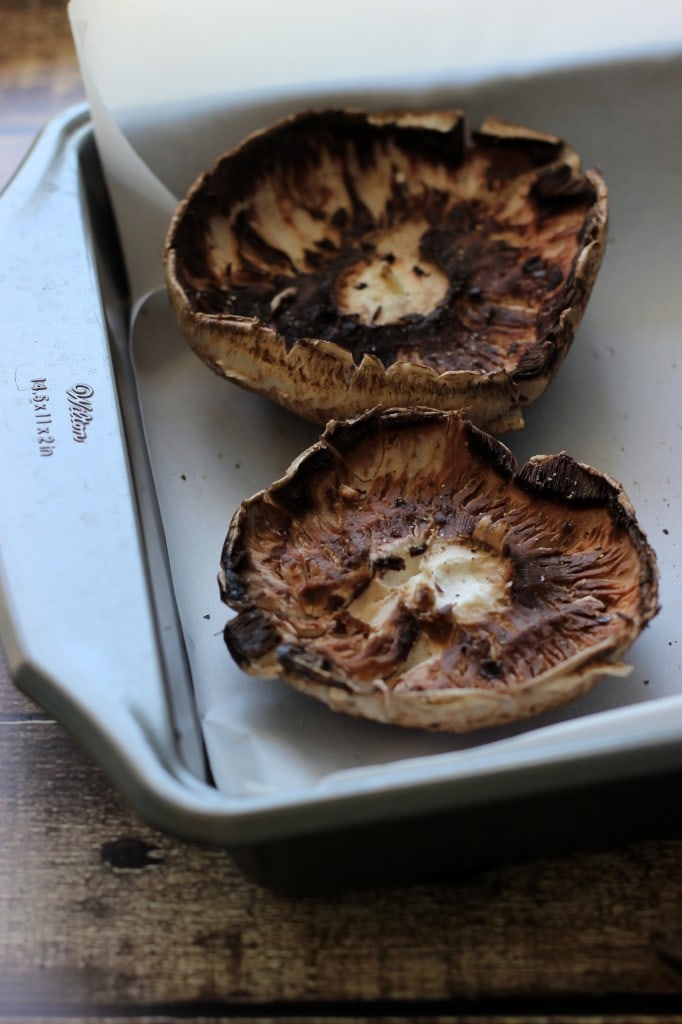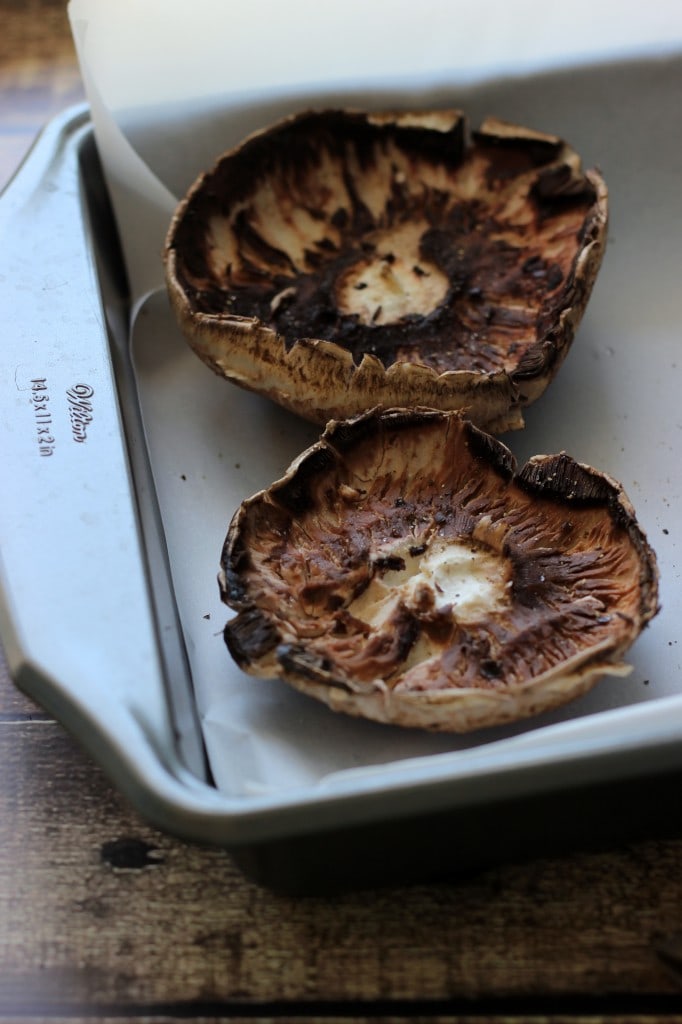 All you gotta do is find the biggest Portobello mushrooms you can find, remove the stem, use a spoon to scrape off the inside gills, bake it, fill it to your hearts content and broil it to make that cheese top melt. Done and done. Oh and if you're looking for a sweet roasted marinara sauce recipe to go along with it, I have that too!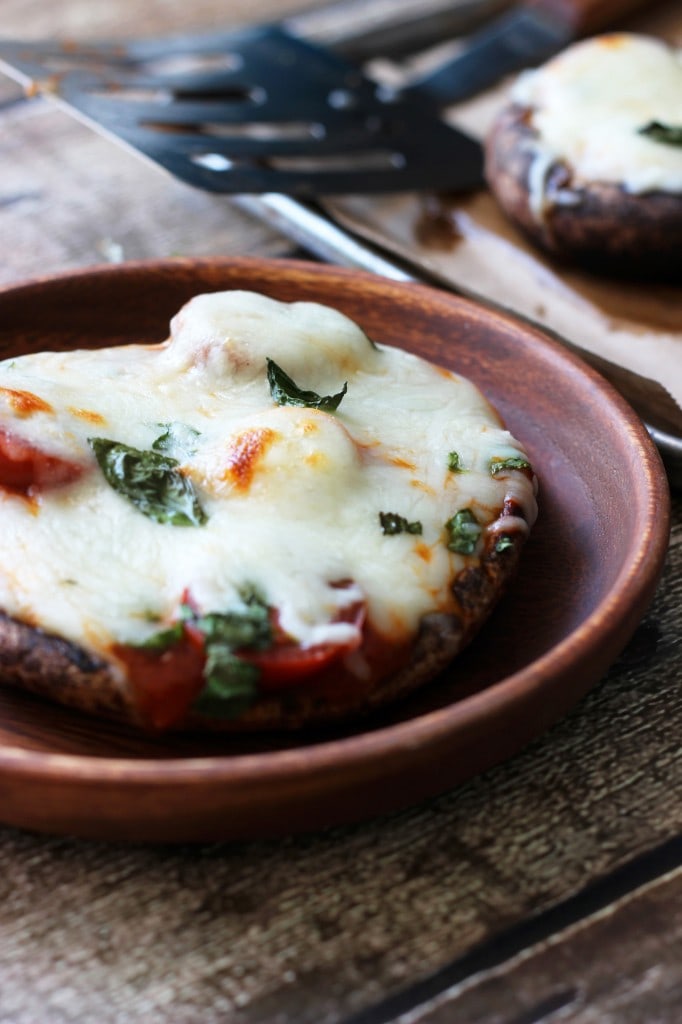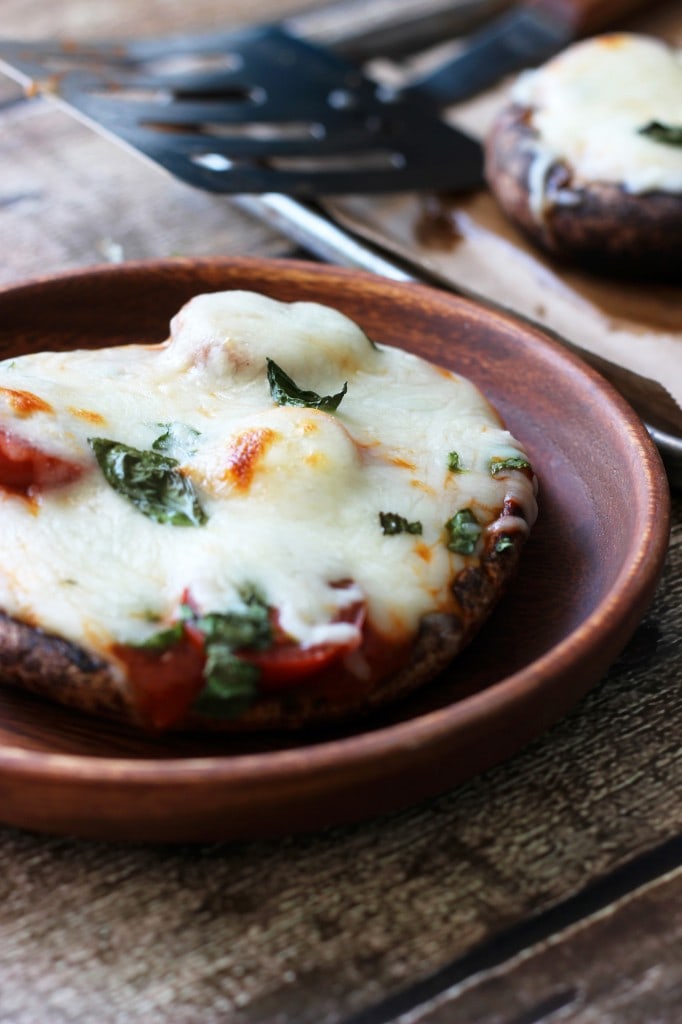 As with most stuff with a lot of cheese, this is gonna look and be messy. It's not meant to woo you with your eyes. Aside from the liberal amount of cheese that is (that's all it takes to woo me). It's just a vessel for fulfilling your cheese fix while skipping the carbs from normal pizza.
And if you happen to love Portobello mushrooms like I do, then all the better. Juicy, meaty, earthy, chewy mushroom bites filled with gooey cheese and the sweetness of cherry tomatoes. Yes, please.
Print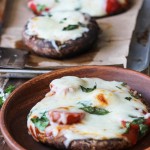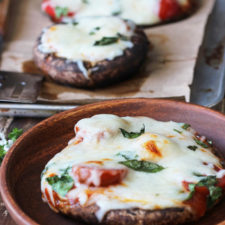 Margherita Mushroom Pizza
---
Author:

Prep Time:

10 mins

Cook Time:

20 mins

Total Time:

30 mins

Yield:

4

1

x
Scale
Ingredients
4

large Portobello mushrooms, stems removed
Olive oil

8 tablespoons

marinara sauce

1/2 cup

cherry tomatoes

1/4 cup

fresh basil leaves

2 cups

Mozzarella cheese, shredded
Salt and pepper to taste
---
Instructions
Wipe down the mushroom caps with a damp paper towel to remove any dirt
Gently scrape off the gills inside the mushrooms caps with a teaspoon
Brush the caps with olive oil and sprinkle with salt and pepper
Line a baking sheet with foil, arranging the mushrooms on it stem side up
Bake at 400 degrees F for 10 minutes until they release moisture and get juicy. Drain any excess moisture from the caps
Spoon 2 tablespoons of marinara sauce into each mushroom
Add some cherry tomatoes and basil leaves
Top each cap with mozzarella cheese
Broil at 425 degrees F for 5 minutes or until the cheese starts bubbling
Dish and garnish with freshly chopped basil