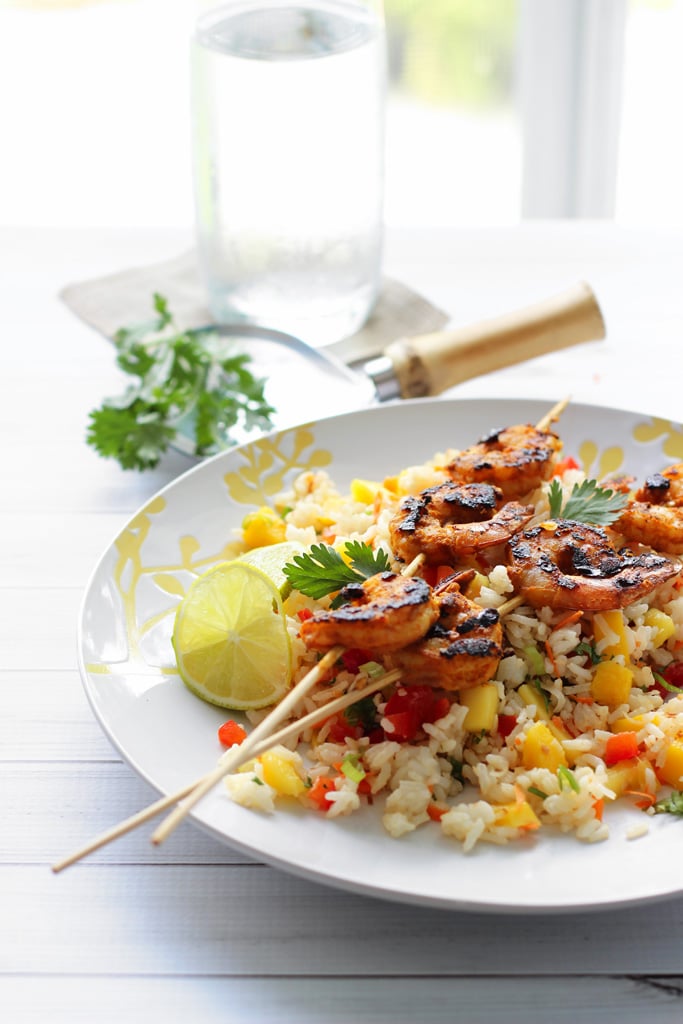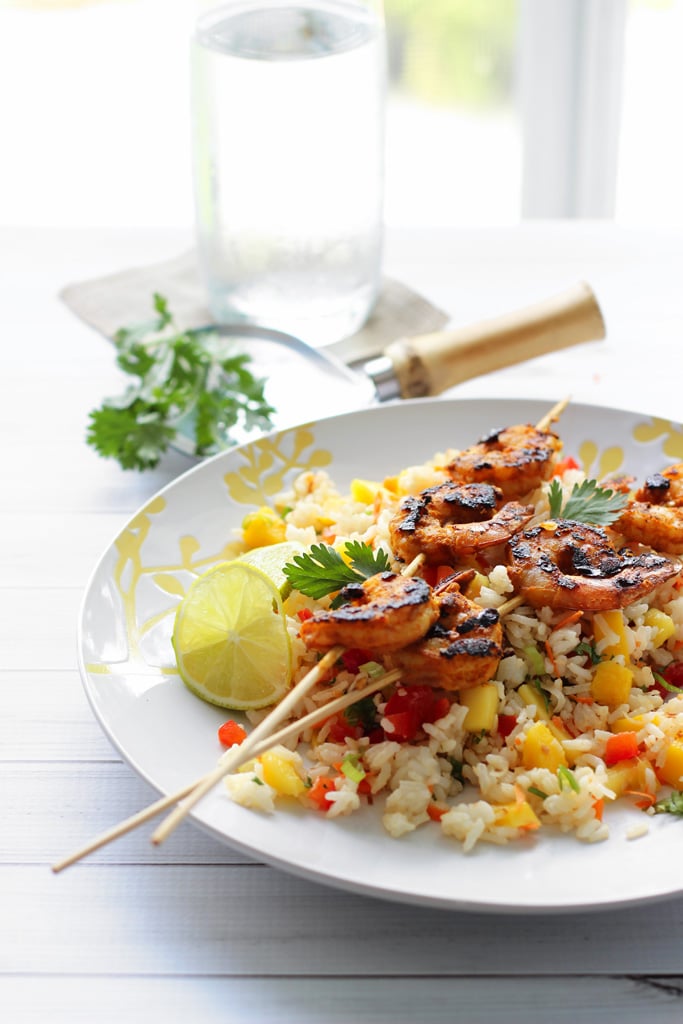 I've got to say something here. This stuff is great. Right, I know you're so used to hearing that, the word has become somewhat meaningless these days. But when I say great now, I mean GREAT. It doesn't smell or taste as great as it is when you read the recipe. Or look at the pics. But believe you me, when you're making it you'll suddenly get this epicurean epiphany on just how great it is. It first happens when the scents assault you. You'll get the zest from freshly cut bell peppers and carrots. And if that isn't enough for your senses, suddenly there's fresh parsley and cilantro.
I didn't get it when I was chopping and dicing away. But once everything was cooked and it was time to break out the gigantic mixing bowl to mix the salad together, it suddenly hit me how utterly fresh and happy this salad is. So much so, I had to take a picture. And then several more. I really hope they show you the feeling I felt when I started mixing it all together. Yay for trying to convey feelings through photography!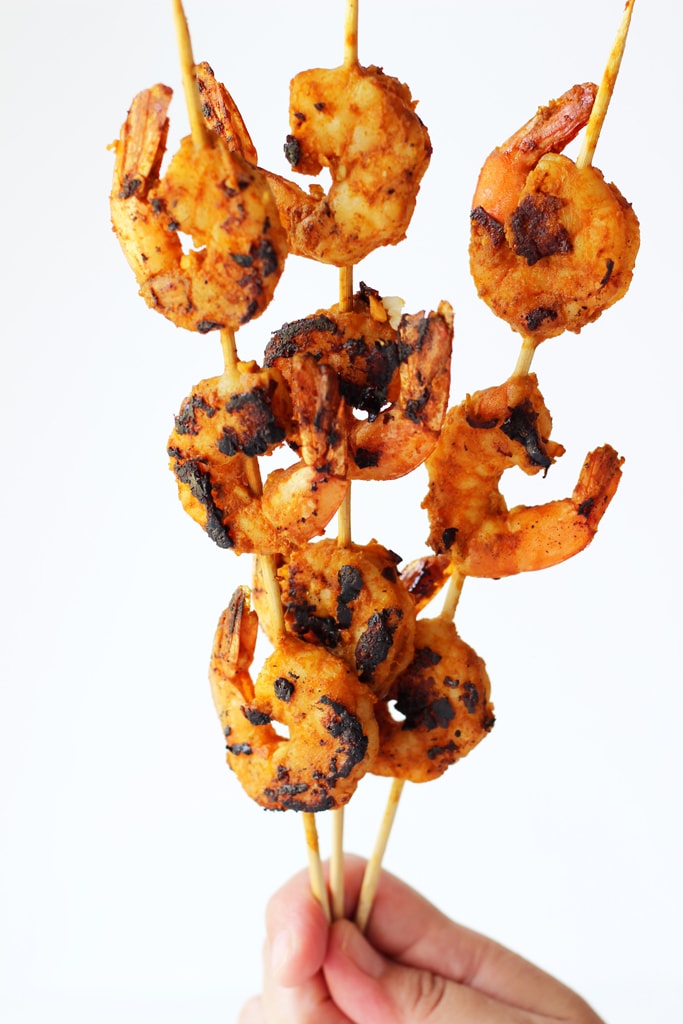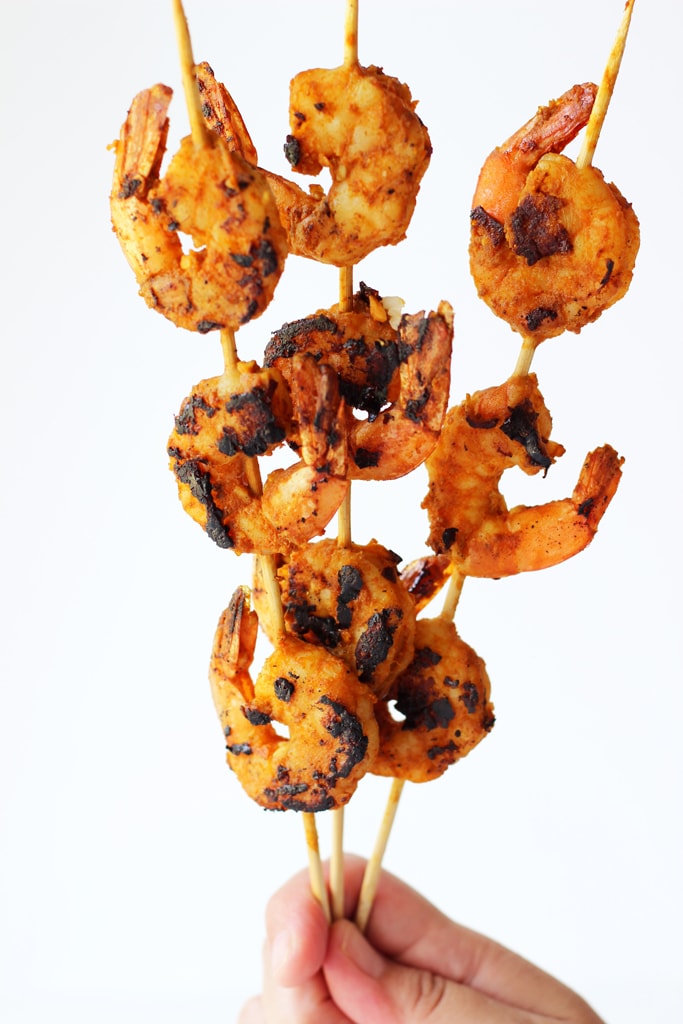 Now how about this shrimp…it really rocked my world. It took a GREAT amount of restraint to not eat it all straight from the grill before taking pics. But my god was it good. I'm just sorry I didn't make enough of it. Spicy, spicy, earthy tasting shrimp is the best way I can describe it. I want to eat it for breakfast, lunch and dinner everyday.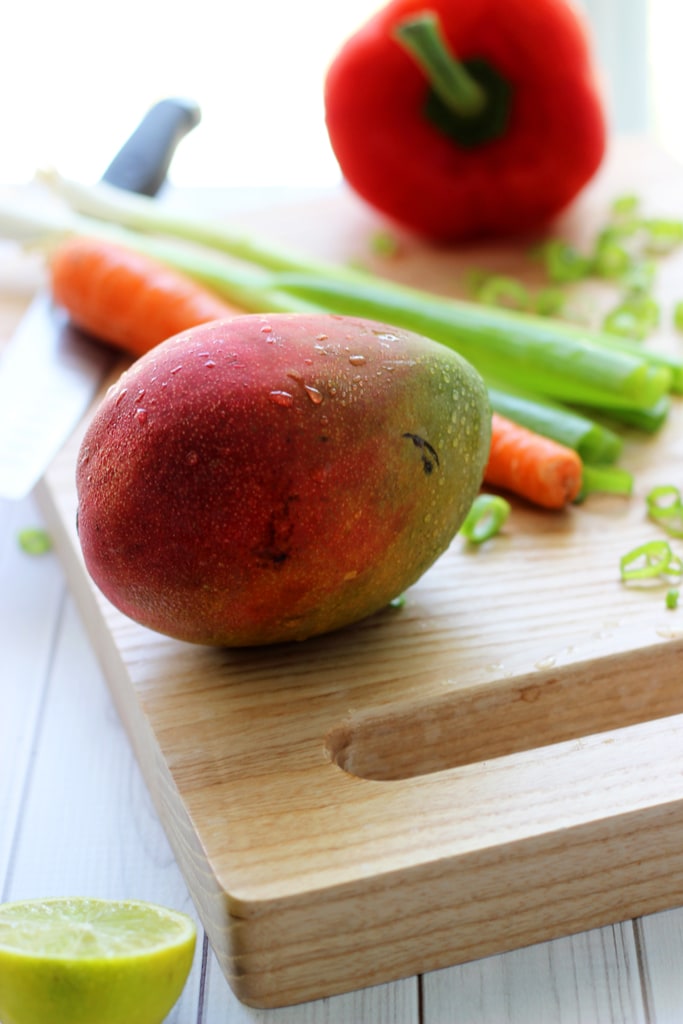 Apparently I'm all about mangoes this summer. The good thing about it is I've learned how to cut them without too much mango massacre going on. It's usually one big messy affair. But now I like to think I can cut them like a pro. All the flavors of the salad reminds me a little of my grilled salmon with mango salsa. I was all over that last year. It was seriously like a tropical vacation in your mouth.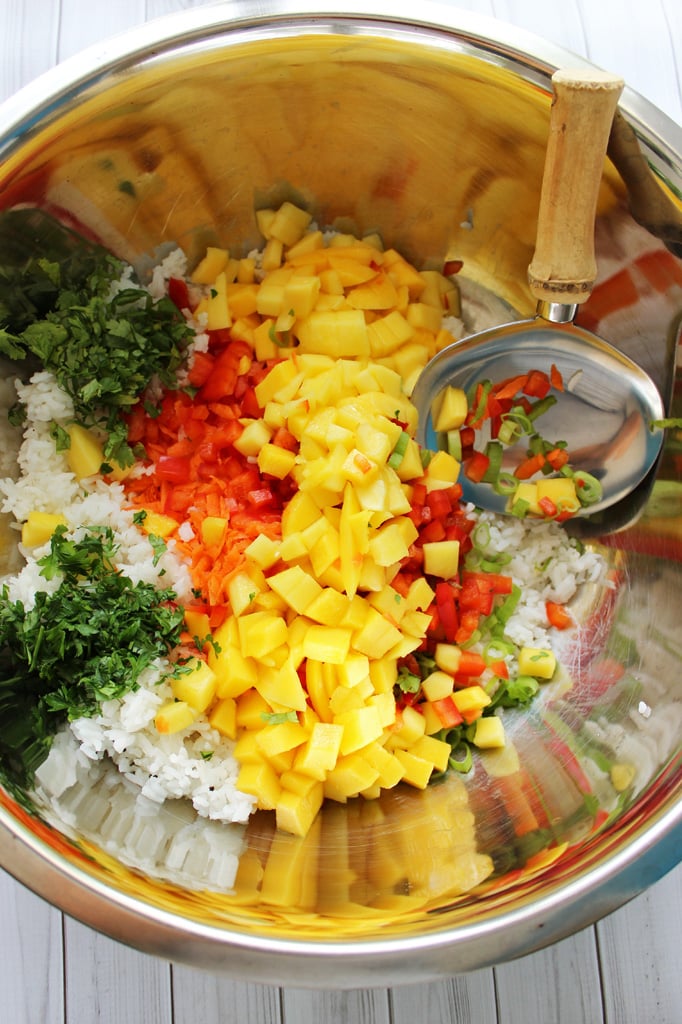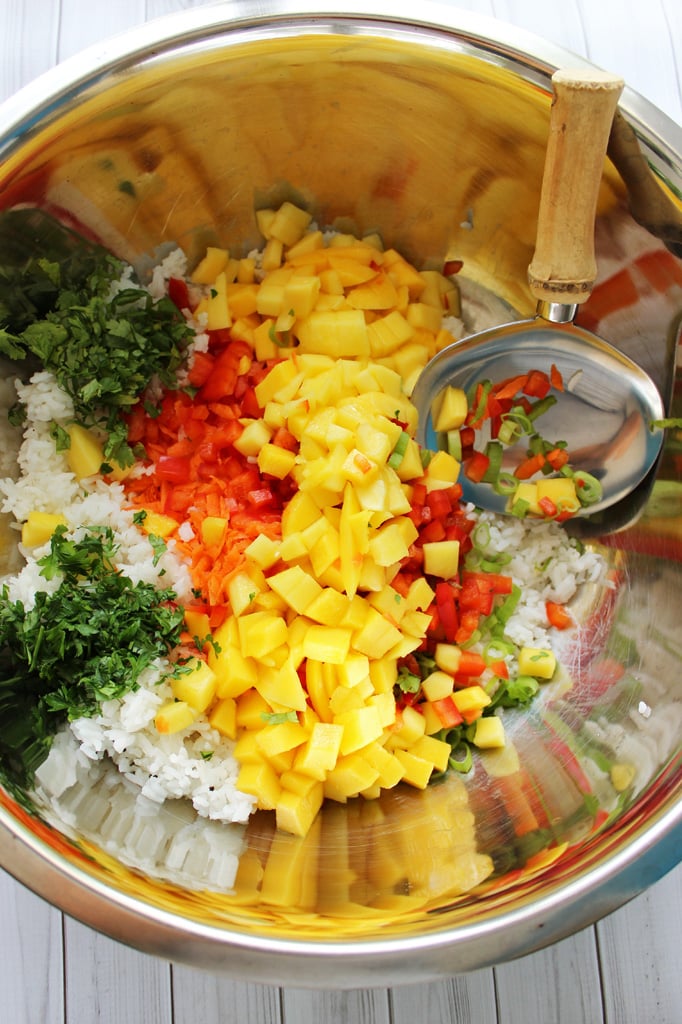 But back to the salad. It's not your typical salad either. There's none of the obligatory leafy greens but instead we're using rice. Or quinoa. Or cauliflower rice. Or couscous. So many possibilities for a filler! You choose.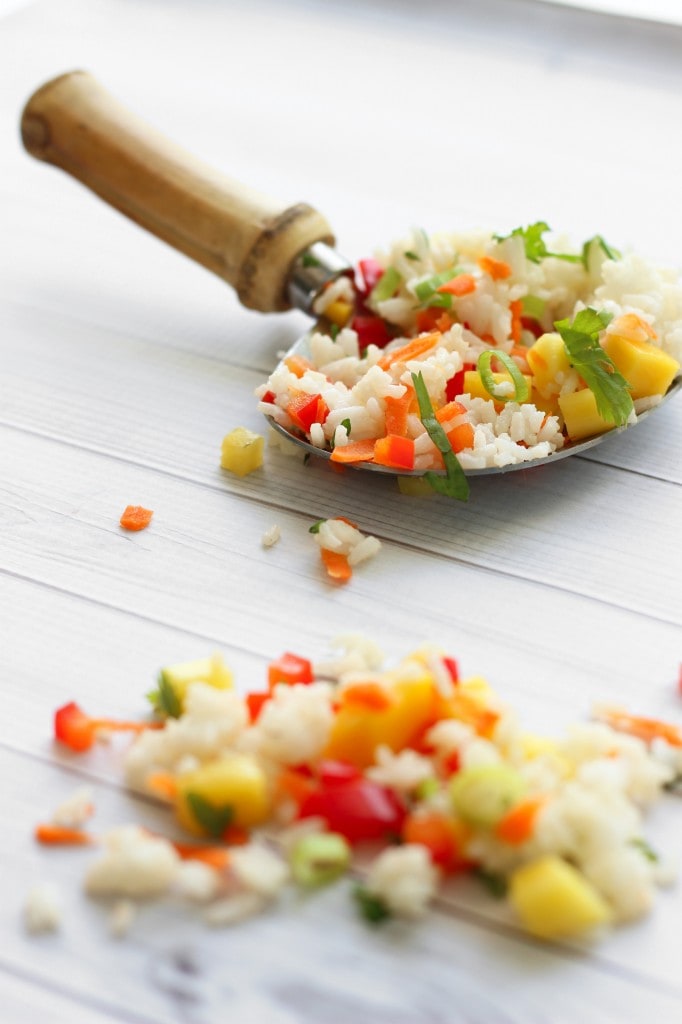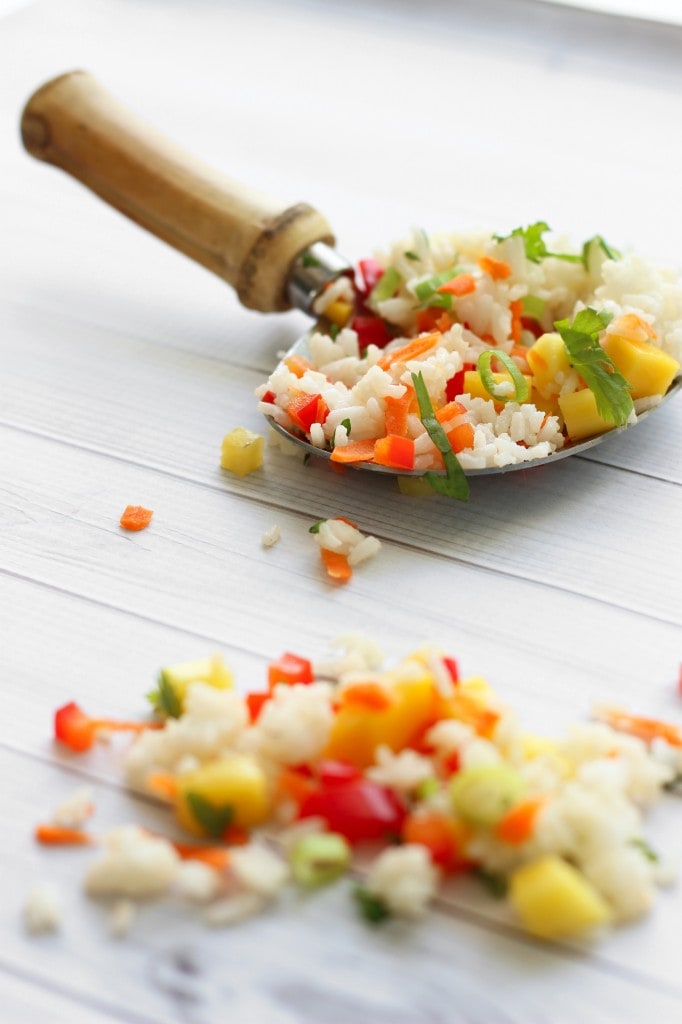 I'll be including instructions for long grain white rice but cook your filler according to the directions with some coconut milk and you're set. If you're lost about the water to grain ratio, here's a really handy guide for it. So technique. If you have a rice cooker, go ahead and cook the rice with coconut milk in there before mixing it with the rest of the stuff. Otherwise, it's done over the stove. Once it's all cooked, you'll want to air out the rice for a little so it isn't sticky. Give it some breathing room for the steam to release. I usually just stir it up a few times and let it release steam for 10 minutes and that works.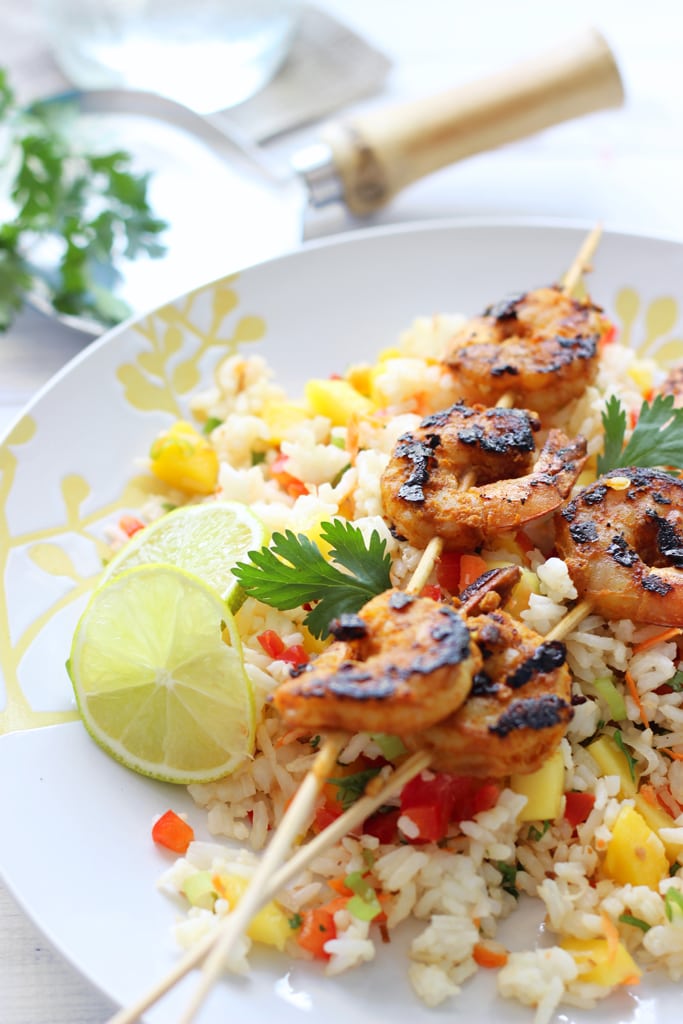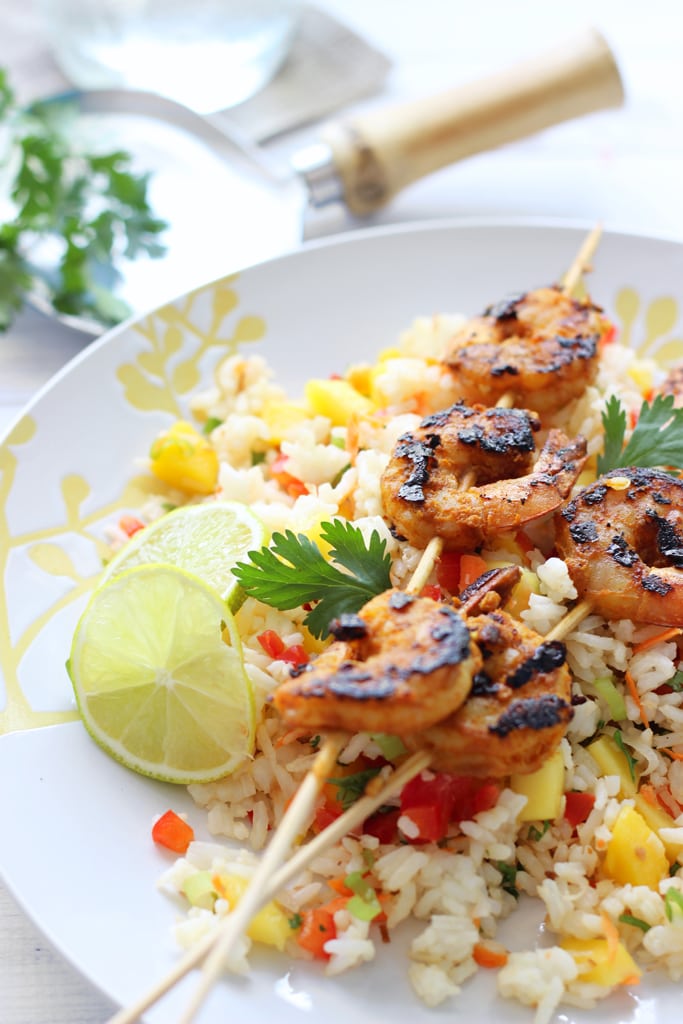 The shrimp part is pretty easy. Just marinate it for awhile, skewer and grill! It's that easy. You'll want to have about 3 jumbo sized shrimp per skewer. If you're picky about not staining your hands while skewering (curry powders typically have turmeric which stains), wear some gloves. Me, I don't mind. I wash it all off and the stains wear off in a couple of days.
This is such a great alternative to usual salads for summer. I was inspired by a recipe from Cooking Light but one thing that was missing for me was some sweetness. Even though the mango salad was good on its own, it needed something more. So I added some toasted sweetened coconut flakes just to balance out the flavor profile and make it that much better.
As for the grilled curry shrimp, I promise you, the flavors work so well together. So much so I decided to make a bouquet of the shrimp just to show you! A shrimp bouquet, just for you.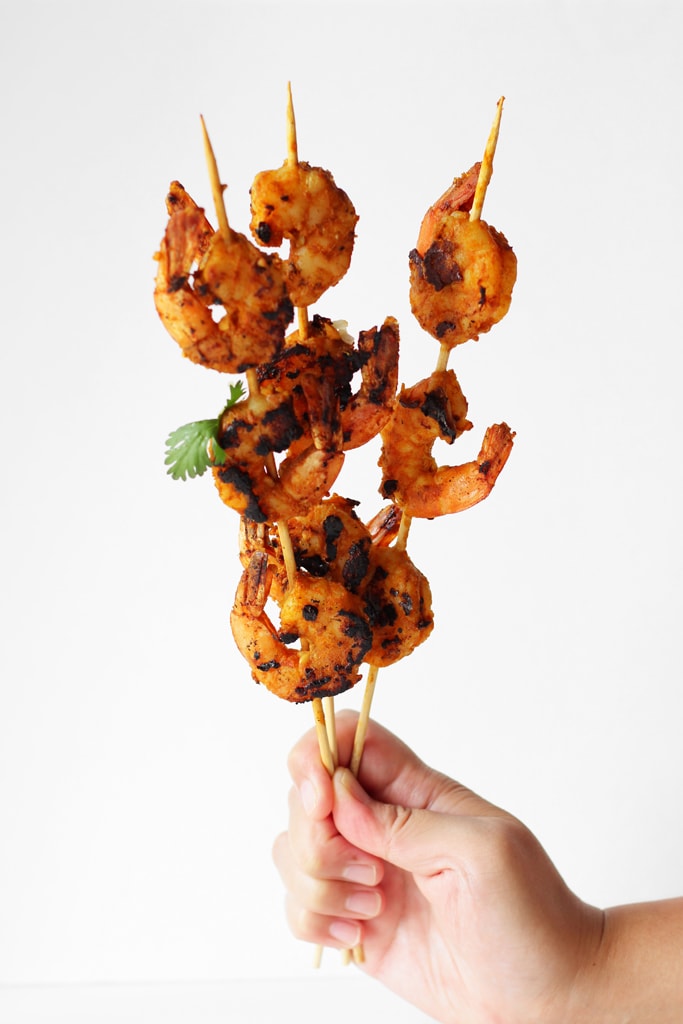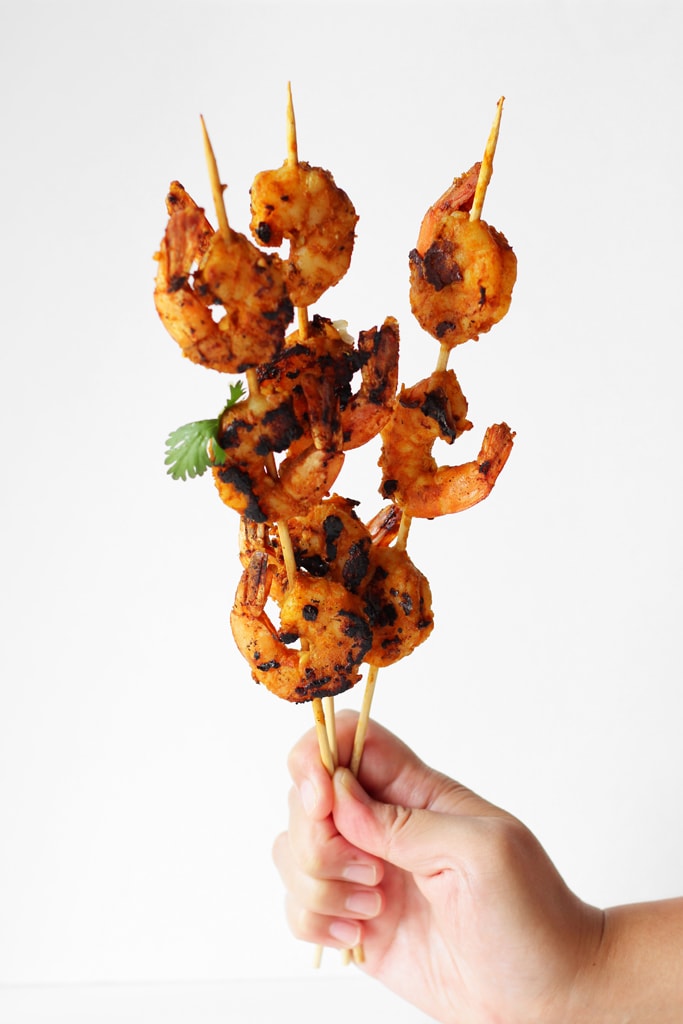 One last thing. I wish I'd thought of alternating the shrimp with pineapple chunks on the skewers but grocery trip done. It's not too late for you though, so try that out if you want to!
PS: The degree of deliciousness of the curried shrimp will depend on how good your curry powder blend is. I've tasted some good ones and some horrible ones. The one I used specifically for this recipe is from a brand my family swears by. It's a meat based curry powder by Babas. Now I'm not completely sure what makes or breaks a curry powder but you can definitely taste the difference. So if you want to curry in style, check it out (this not a sponsored post or a review but just my general opinion. I want people to be able to enjoy the food like I did! ).
Print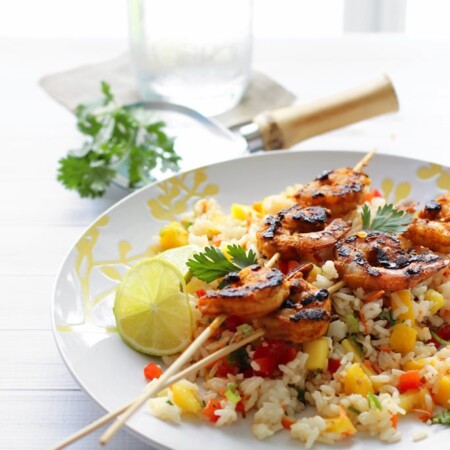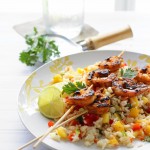 Mango Salad with Grilled Curry Shrimp
---
Author:
Total Time: 45 mins
Yield: 6 1x
12 oz. jumbo shrimp, peeled and deveined
Shrimp marinade
1 tablespoon garlic, minced
1 teaspoon ginger, minced
1 tablespoon thin soy sauce
4 teaspoons curry powder
1/8 teaspoon red pepper flakes
1/8 teaspoon ground cumin
Mango rice
1 1/4 cups uncooked long grain rice
2 cups water
1/3 cup coconut milk
3/4 cup carrots, shredded
2 cups mangoes, diced
1 red bell pepper, diced
2 green onions, sliced
1 tablespoon cilantro, chopped
1 tablespoon parsley, chopped
2 tablespoons lime juice
4 tablespoons toasted sweet coconut flakes
Salt and pepper to taste
---
Instructions
Combine the shrimp marinade and marinate shrimp for 1 hour
Over medium high heat, bring the water and coconut milk to a boil and add rice
Reduce heat to medium, cover and simmer for 15 minutes or until the liquid is absorbed (do it in a rice pot if you have one)
Thread 3 shrimps per skewer and grill for 3 minutes on each side or until done. It should yield 7 skewers
When the rice is cooked, add carrots, mangoes, bell pepper, green onions, cilantro, parsley, lime juice and toss to combine
Season with salt and pepper to taste
Dish and serve hot with skewers served over the mango rice
Prep Time: 20 mins
Cook Time: 25 mins