Try out the much-loved sauce with over 2 million shares. This sweet and savory honey garlic shrimp skillet is super easy with only FIVE ingredients and cooks in less than 15 minutes!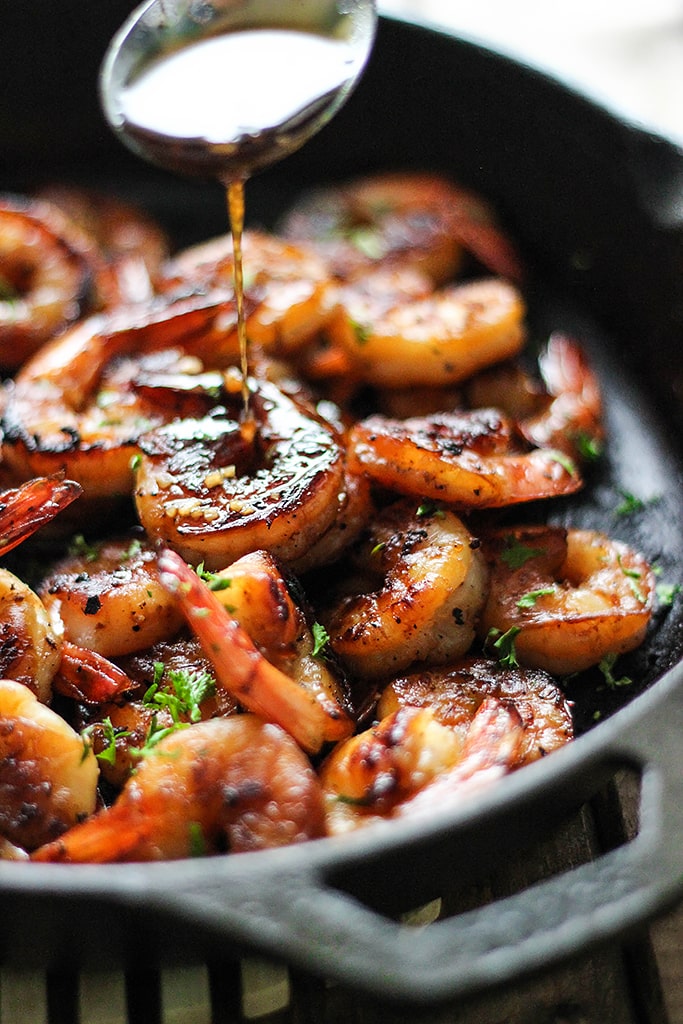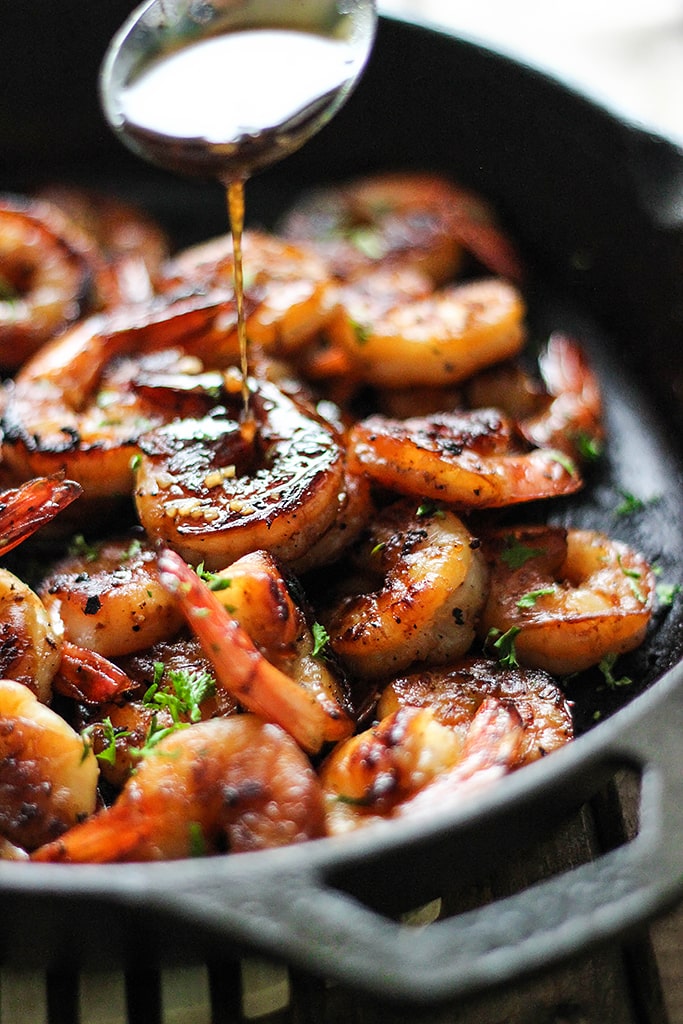 Today we're making some honey garlic shrimp skillet which is a reader favorite and one of the more popular recipes on the blog. It's so easy to make but delivers big on flavor despite its simplicity. All you need are shrimp, garlic, ginger, soy sauce and honey to make this quick and easy recipe. These five ingredients reward you with a sweet and savory flavor combo and delicious caramelized bits of honey and garlic.
It's such a great, fast fix for a quick weeknight meal with a side of veggies and some rice, or on a bed of pasta/noodles. And if you're not a fan of shrimp but just love the honey garlic sauce, try making some honey garlic chicken instead. Or try some honey garlic salmon. There are so many ways to enjoy this sauce! So let's start cooking.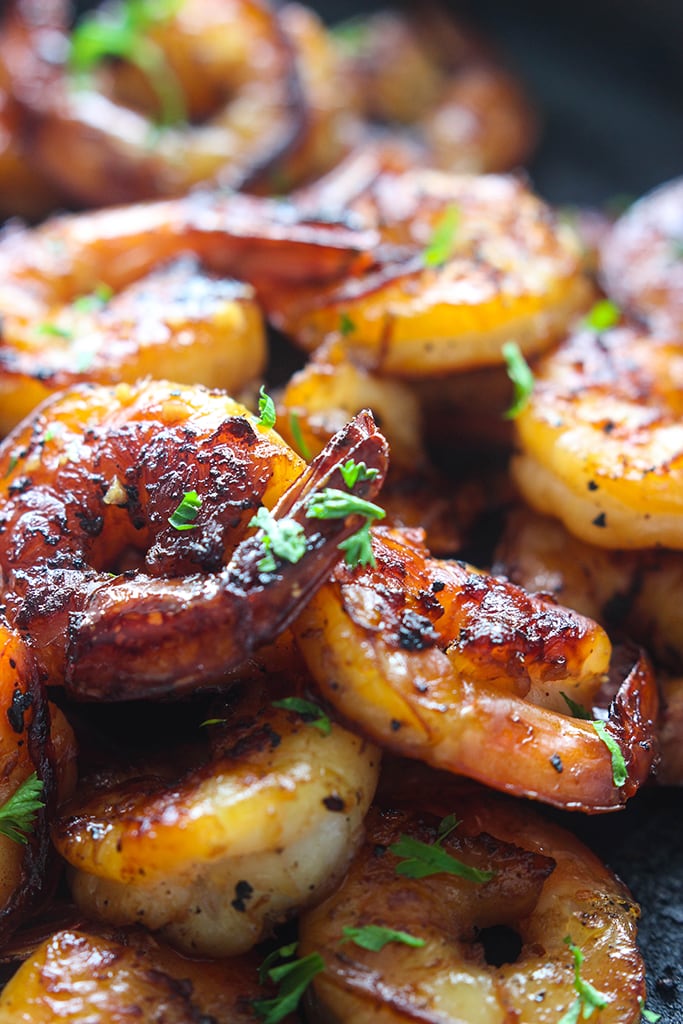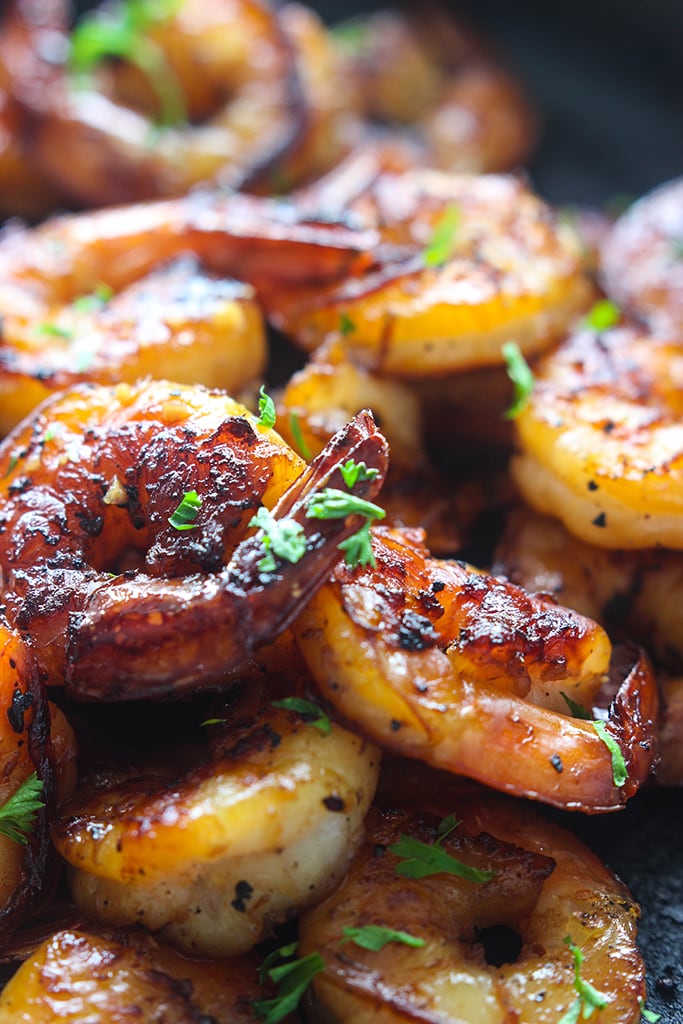 The Best Shrimp Recipe
It's easy to understand why the honey garlic sauce is much-loved and super popular. It uses just a few pantry staples to create a sticky-sweet and savory Asian-inspired sauce that goes well with pretty much everything. I first discovered the beauty of the sauce with this crispy honey garlic chicken and adapted it to a shrimp recipe in 2015. It's still going strong even now and I have adapted it many other ways.
The sticky sauce will eventually build up in the pan when cooking the shrimp. If you rub the shrimp into the stuck-on yummy bits (aka fond), you get even more flavor. The recipe is so versatile, you can use it as a base and build on it with red pepper flakes, lime juice, cilantro, smoked paprika, or sesame oil. You can also make it super saucy and smother some rice or noodles in it. And it goes great with greens like broccoli, green beans and asparagus.
What Is The Honey Garlic Sauce Made Of?
Honey garlic sauce is made with honey, soy sauce, garlic and the optional fresh ginger. Honey gives the sauce a sweet and sticky flavor which balances out the savoriness of salty soy sauce. Garlic adds the typical pungent flavor associated with most Asian sauces and while ginger is optional, it is highly recommended to add an undertone of warm and peppery flavor. Ginger and garlic are your typical paired aromatics when stir-frying in Asian cuisine.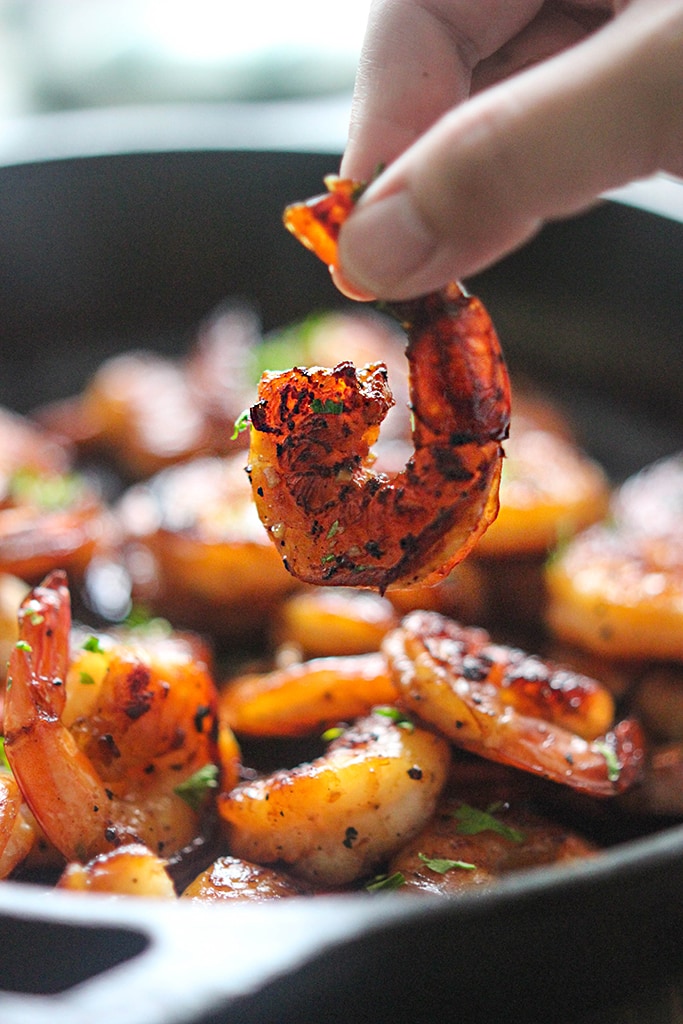 How Long Does it Take To Cook Shrimp?
Shrimp cooks REALLY quickly, about 2 minutes per side in a hot pan. Depending on the size of your shrimp and how big your pan is, shrimp will cook in 4-5 minutes total. It's really easy to tell when the shrimp is fully cooked by looking at the color and shape. Raw shrimp will start off translucent and gray. Once it starts cooking, it will turn opaque and pink. The key to not overcooking it is to remove it from the heat once it is fully pink, with no grey bits left. Perfectly cooked shrimp will curl into a loose "C" shape while overcooked shrimp will curl into a tight "C" shape.
How To Make Honey Garlic Shrimp Skillet (1 Min Video)
HONEY GARLIC SHRIMP SKILLET RECIPE TIPS
Shrimp – I used jumbo, peeled and deveined shrimp with tails on because they just tend to look better in pictures. However, you can use whatever kind of uncooked shrimp you like: peeled and deveined with tails off or unpeeled shrimp.
If you use frozen shrimp, make sure to thaw it out beforehand and pat it dry so the sauce isn't diluted. You could technically use a bag of cooked shrimp with this recipe, just cut the cooking time to where you're basically just reheating up the cooked shrimp in the pan and tossing it in with the sauce.
Sauce – Combine the ingredients for the sauce then divide it in half. Half is for the marinade and the other half is for the finishing drizzle. This recipe does not yield much sauce so if you want it super saucy, try adding in an extra tablespoon of honey and soy sauce. Or you could double it and thicken it with some cornstarch slurry later.
Soy sauce – I used reduced-sodium soy sauce for this recipe and my go-to brand is La Choy. If you want to make honey garlic shrimp without soy sauce, you could try using tamari instead.
Garlic – You can use fresh garlic or garlic powder, whichever you have on hand, and whatever is easier for you. If substituting to garlic powder, try using 1/2 teaspoon to start. For freshly minced garlic, I find it easier to use a mini grater or garlic press rather than chopping it up.
Ginger – Ginger gives the sauce a warm, peppery taste but if you don't like ginger, you can leave it out. Most households don't keep ginger as a pantry staple so an easier way to do this is to buy ginger paste in a tube. It keeps well in the fridge and is easy to use. I used Gourmet Garden's ginger paste for this recipe.
Searing – Shrimp tends to cook quickly so you'll want to get your pan nice and hot before starting so they have a gorgeous sear. One to two minutes per side and your shrimp is cooked! You know the shrimp is cooked when the color changes from translucent to opaque (see-through gray to solid pink). You'll know the shrimp is overcooked when it starts to shrink in size into a tight C-shape and is rubbery.
If you're using a 10″ skillet, try searing in batches of two so you don't overcrowd the pan. If the shrimp are too close together, the heat buildup between them will steam them instead of searing them.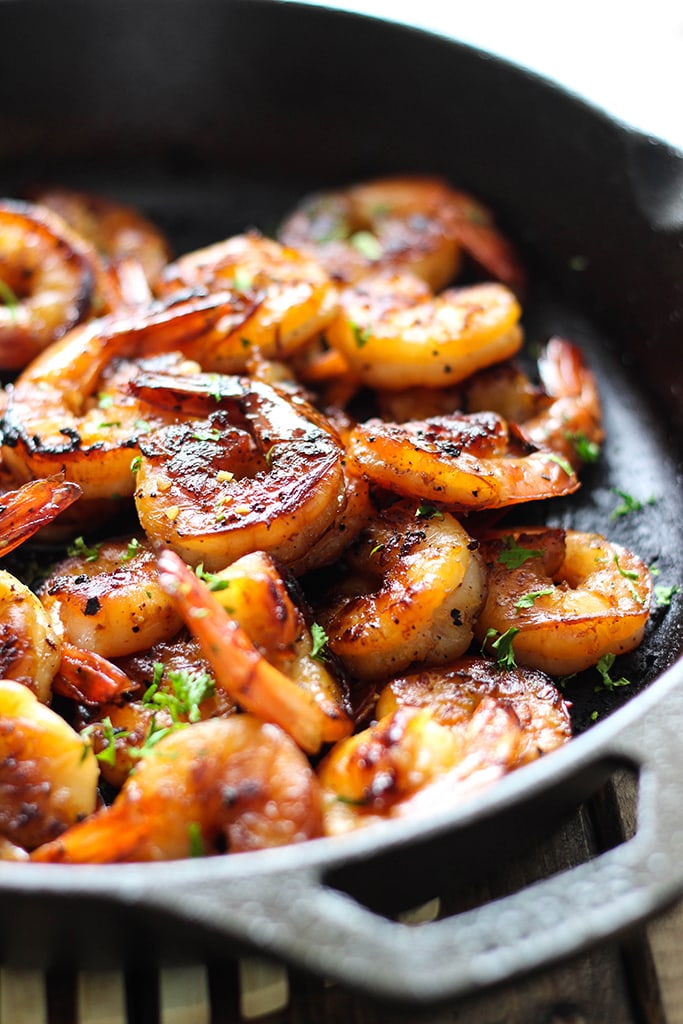 Sticky bits – The honey will caramelize a little and stuff will get stuck to the bottom of the pan. There will be more fond (the caramelized sticky bits) on a cast iron pan vs a non-stick pan but you should still see some on a non-stick. Use some tongs and gently rub the shrimp into the stuck-on bits to get them nice and blackened. Here's where you get the smoky aftertaste.
Thickening the sauce – You can thicken the leftover drizzled sauce with a cornstarch slurry. If you prefer more sauce to soak your rice, you also double the sauce and thicken it with some cornstarch for a typical sticky Asian sauce.
Add more flavor – Add more flavor with some red pepper flakes to taste. Or drizzle some lime juice to add some citrus to the sauce. You can also season with some smoked paprika or do a finishing drizzle with some sesame oil.
Garnish – Garnish with some freshly chopped parsley or green onions.
What Goes With Honey Garlic Shrimp?
Serve your honey garlic shrimp with some white rice or coconut rice and some greens on the side like broccoli, green beans, or some asparagus. You can also serve it over some mashed potatoes or mashed cauliflower. It also goes great with noodles like these buttery Hibachi noodles.
And that's it! It's an easy, fuss-free way to enjoy a sticky-sweet and savory sauce with juicy, succulent shrimp. Good luck and happy cooking!
MORE SHRIMP RECIPES TO TRY
♡ If you liked this recipe, giving it a star rating ★★★★★ in the comments below really helps! For more recipes, subscribe to my newsletter or follow me on Facebook, Instagram and Pinterest.
Print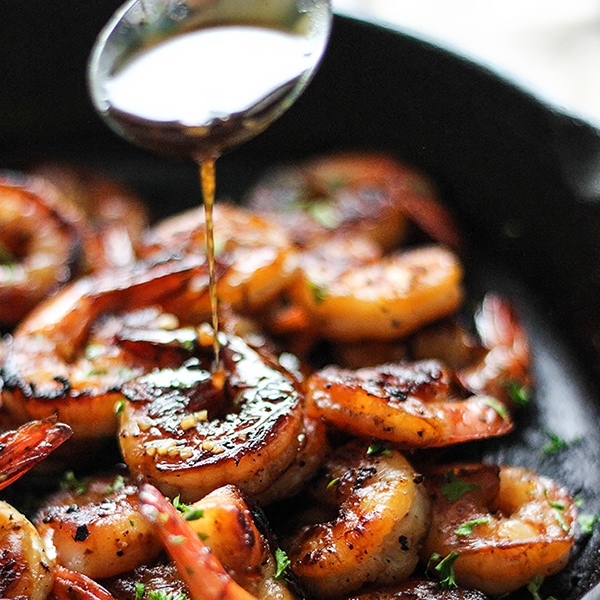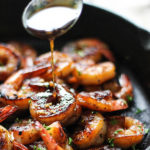 Honey Garlic Shrimp Skillet
---
Author:

Total Time:

15 minutes

Yield:

4

1

x
Description
Try out the much-loved sauce with over 2 million shares. This sweet and savory honey garlic shrimp skillet is super easy with only FIVE ingredients and cooks in less than 15 minutes! 
---
1

lb

. jumbo or large raw shrimp, peeled and deveined
SAUCE
2

medium garlic cloves, minced / 2 teaspoons garlic, minced

1/2 teaspoon

fresh ginger, minced (optional)

4 tablespoons

honey

3 tablespoons

reduced-sodium soy sauce
---
Instructions
Combine the sauce ingredients and divide the sauce in half.
Marinate the shrimp with one-half of the sauce for 15-30 minutes. Discard marinade.
Over medium-high heat in a skillet, pan-sear the shrimp in some oil. Sear them on both sides until cooked, about 1-2 minutes per side.
Dish and serve hot, drizzled with the remaining sauce and fresh parsley or green onions as an optional garnish.
Enjoy!
Notes
Rubbing the shrimp onto the stuck on bits (fond) blackens the shrimp and gives it a charred look and smoky taste.
This recipe sears better in a cast iron pan and may not perform as well with caramelized bits in non-stick pans.
Add more flavor – Add more flavor with some red pepper flakes to taste. Or drizzle some lime juice to add some citrus to the sauce. You can also season with some smoked paprika or do a finishing drizzle with some sesame oil.
Scroll up to RECIPE TIPS for more useful tips, suggestions and ingredient substitutions.
Prep Time:

5 mins

Cook Time:

10 mins
♡ Affiliate disclosure: As an Amazon Associate, I earn commissions from qualifying purchases from Amazon.com. You can learn more about it here.