Here's a no fuss recipe for quick and easy coconut rice. Warm, fluffy tropical rice ready in just 20 minutes!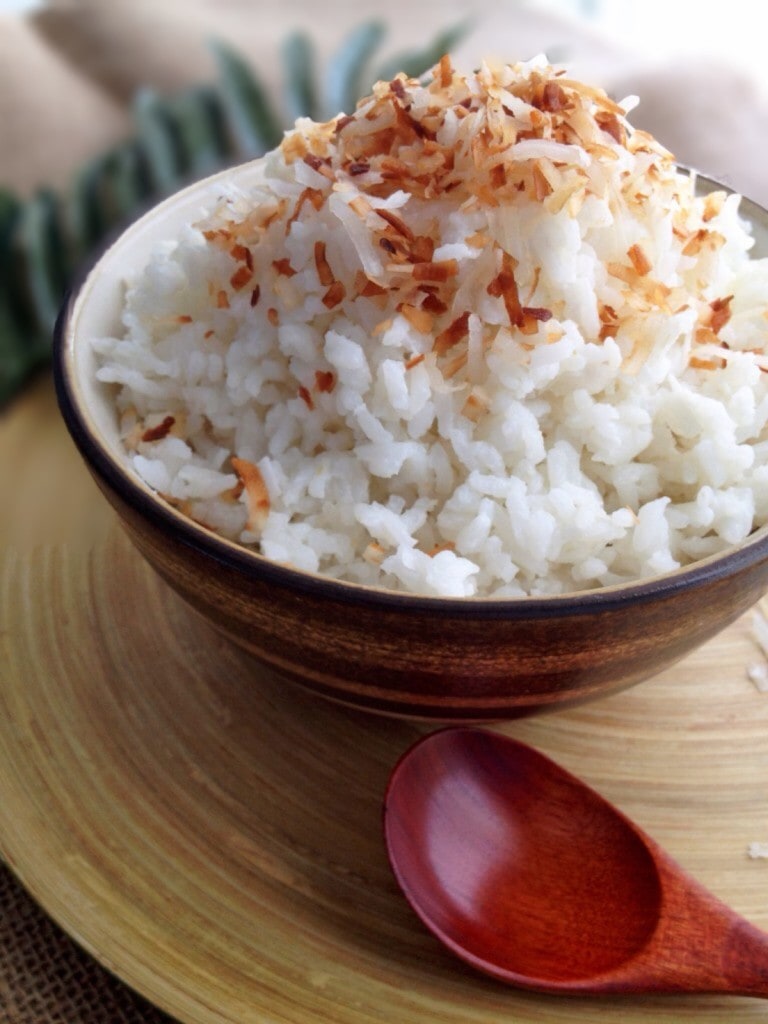 Here's a quick and easy, set and forget easy coconut rice recipe that goes great with other tropical themed food like salmon with mango salsa. We'll be using a rice cooker for this recipe and while most households don't own one, it's relatively cheap and easy to get one these days. It really saves time and it's a worthwhile investment if you see yourself eating a lot of rice.
Paired with a protein and some veggies, you're always guaranteed a well-balanced meal. So with spring in full bloom, let's celebrate the warm, balmy weather with some delicious coconut rice. Let's get started.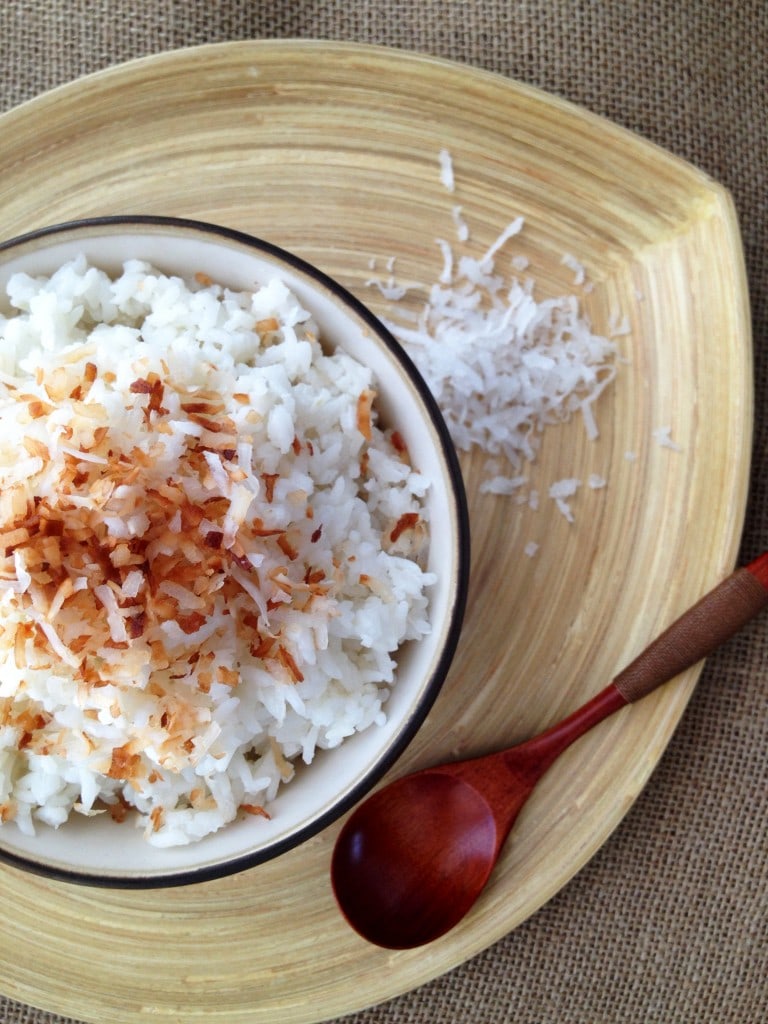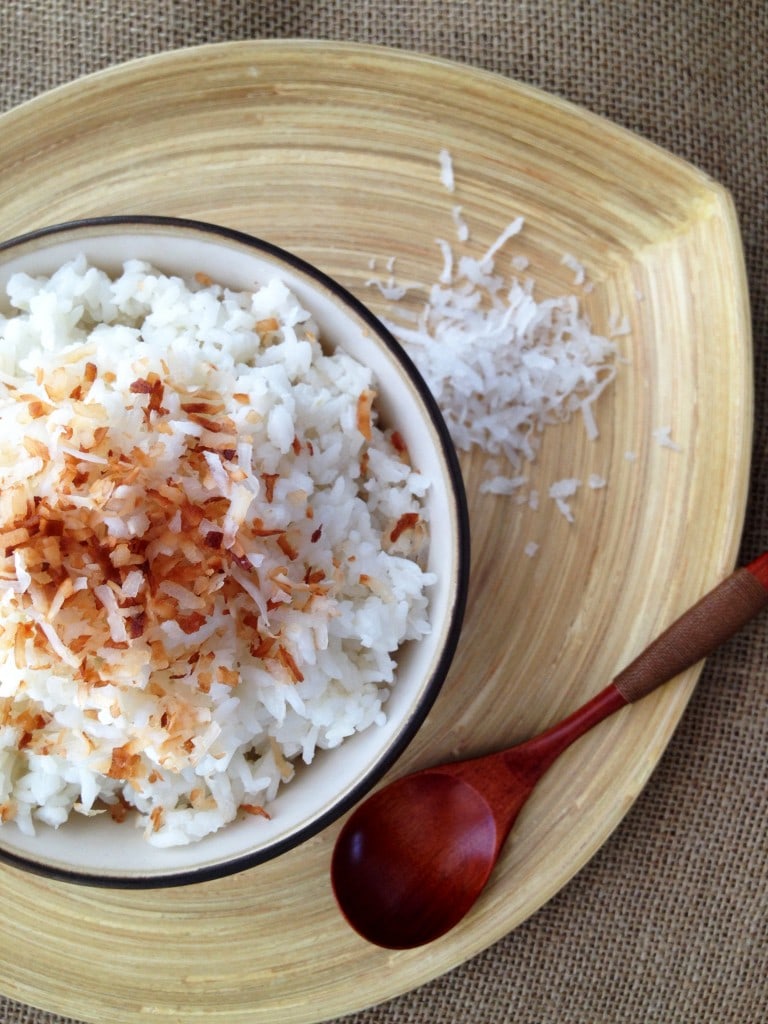 Spring is also the season for fresh foods, bright colors and overall happiness. People are hanging out on their porch more, sipping margaritas and beer while enjoying the lazy afternoon sun. Gardening is at an all time high with annuals selling like crazy and blooms popping up in people's yards. And people are just generally more cheerful overall.
What I personally associate with nice, balmy weather are coconuts. Where I grew up, there used to be coconut stalls by the beach with fresh coconuts for sale. You'd pick your coconut and then sit down on a weathered picnic table while the stall owner grabbed a machete and hacked away at the top of the coconut to create a small opening to stick your straw in.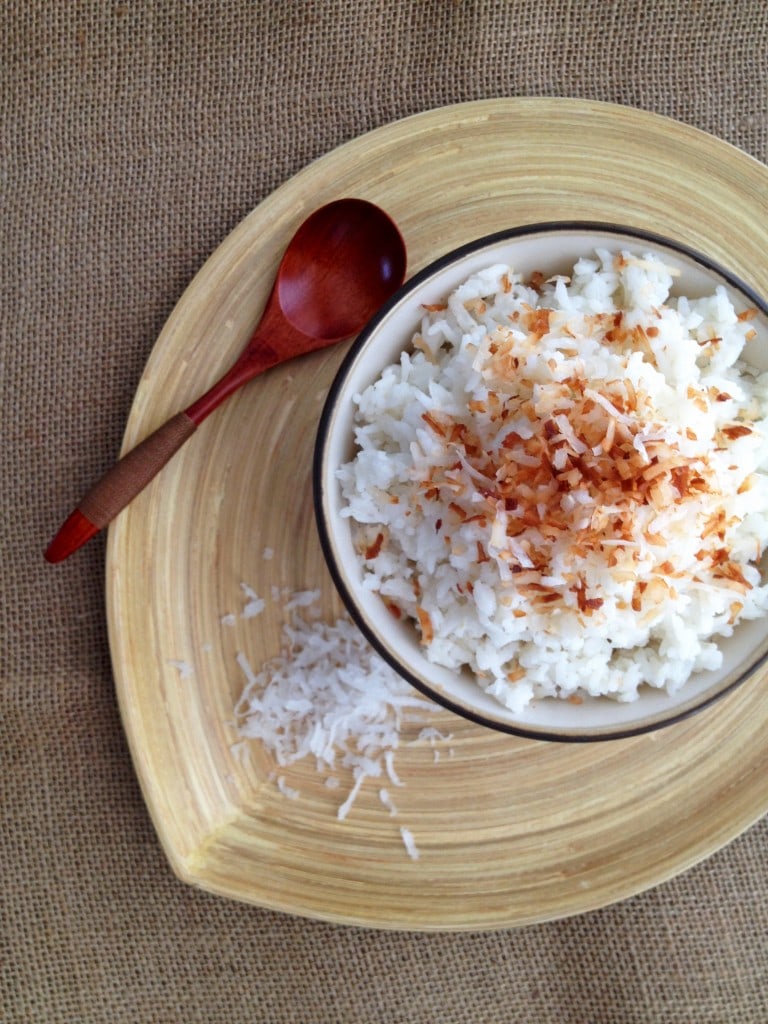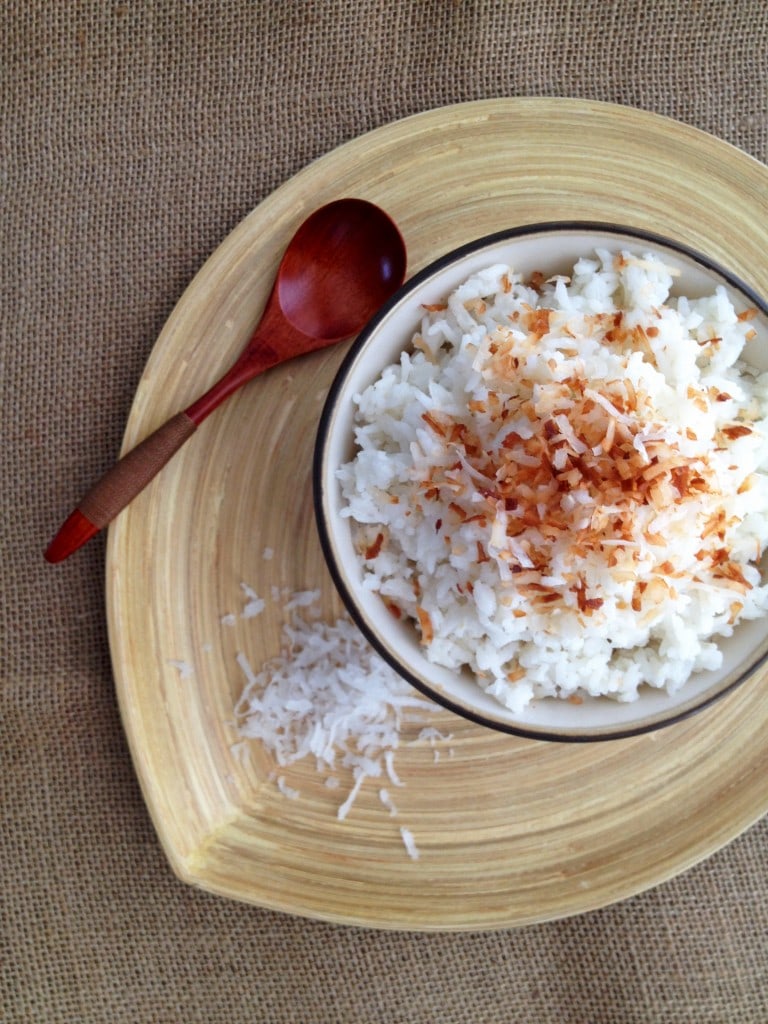 It was nice just sitting there, sipping on your coconut and passing the time enjoying the salty air and the scenery, which also included roadside stalls selling all manner of food: from steamed corn on the cob slathered in butter and salt, steamed peanuts, sugar cane drinks freshly pressed in front of you, dried squid strips seasoned with soy sauce, chili and crushed peanuts (this was yummy, despite how bad it sounds) and all manner of snacks you could dream up.
And the fun didn't end there! Once you were done with your coconut, the machete would come out again and this time, split it into two, then shape some part of the coconut into a make-shift spoon to scoop up the succulent, white flesh. It really was a beachy experience, eating fresh coconut with a husky spoon. All this for a dollar! I'm not sure what the right thing to call it is, meat or flesh but that white stuff is delicious. Sometimes you'd get the really young ones and their thin flesh would practically slide off in one smooth movement and other times you'd get a slightly older one where you'd have to put in a little more effort but was rewarded with thicker hunks of meat.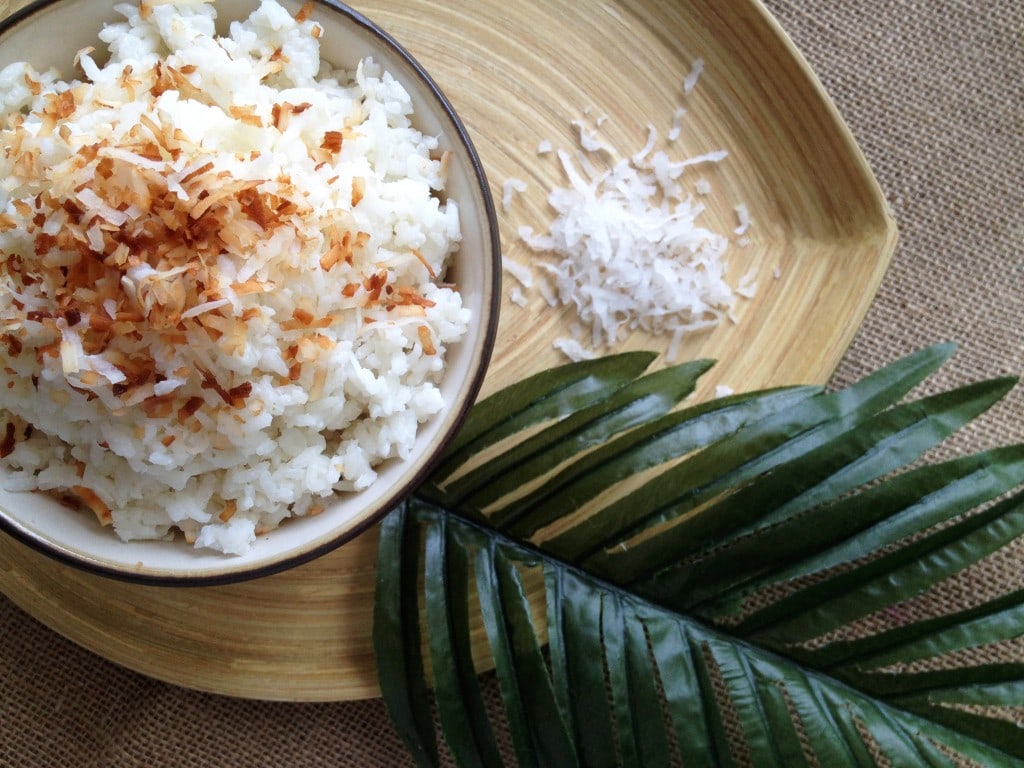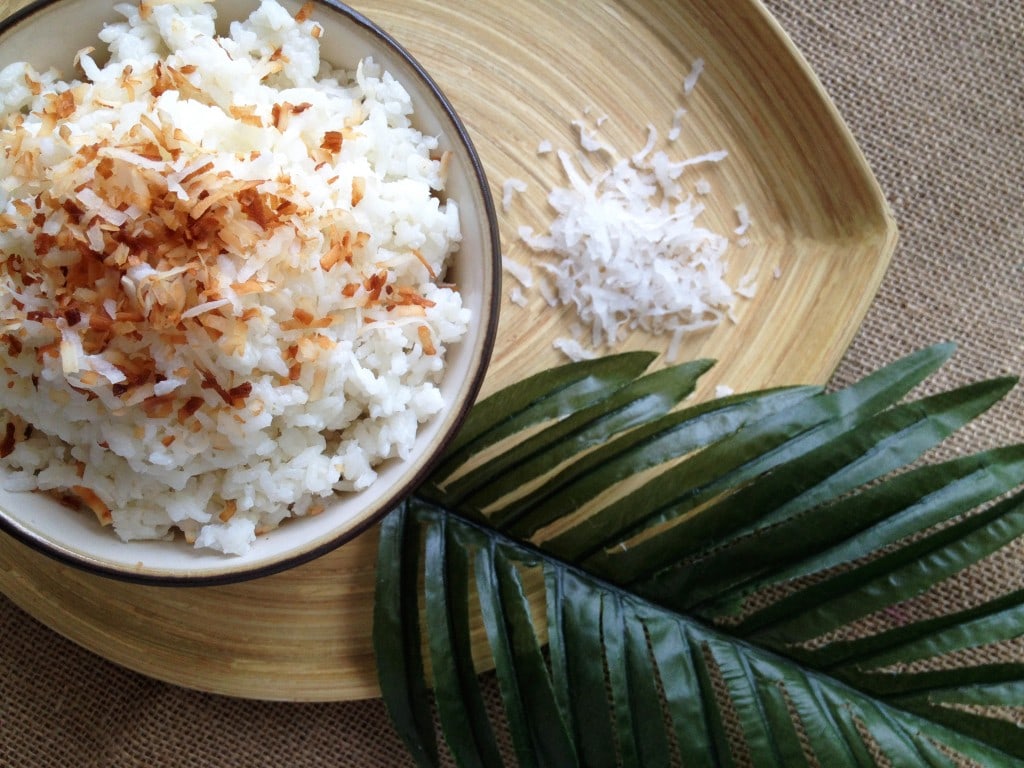 Fresh coconuts were something I grew up with; brown, old coconuts were shredded in front of you upon request in the open air market and the fresh, desiccated coconut was packed up nicely for you to bring home. So coconut in whatever form, was always a staple in my kitchen, both growing up and now.
With that in mind, today I'll be making a pretty simple recipe using coconut flakes, coconut milk and rice. You can use brown rice too if you prefer, just add a little more coconut milk. What I love about this recipe are the sweet toasted coconut flakes you sprinkle on top. Toasting them dries them out and makes them golden and crispy and with its natural sweetness, it's just a great addition to the yummy coconut rice. Make more if you want! You can even snack on them (which I did).
EASY COCONUT RICE TIPS AND TRICKS
Rice types: You can use jasmin rice or long grained white rice, either one works.
Rinsing: Rinse the rice thoroughly before cooking it. Ideally, you'll want to give it two to three rinses to wash off all the starch (white stuff) so your rice doesn't end up gummy. Once the water runs clear, you're done.
Coconut milk: Coconut milk is not the same as coconut cream. Coconut milk is thinner while the coconut cream is thicker and usually used in baking. For coconut milk, there's two kinds; canned and powdered. I grew up using coconut milk powder because it keeps well and longer than the standard canned coconut milk. Simply add cold water to it, mix it up and it's ready. You can also usually find these in the ethnic grocery aisle of your local supermarket. However, f you have trouble finding it or are more used to canned coconut milk, go for it!
Cooking rice: Think of investing in a rice cooker to set and forget. It cuts out all the guesswork and you won't have to babysit rice over a stove.
And that's about it. If you're a super fan of coconut-y things, be sure to try out coconut shrimp with chilled pineapple sauce. It's insanely delicious!
♡ Did you make this recipe? Please give it a star rating below! For more quick & easy recipes, FOLLOW ME on Facebook, Instagram and  Pinterest.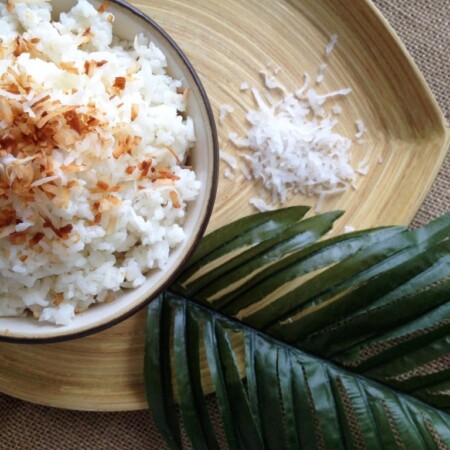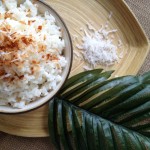 Easy Coconut Rice
---
Author:
Total Time: 25 mins
Yield: 2 1x
Description
Here's a no fuss recipe for quick and easy coconut rice. Warm, fluffy tropical rice ready in just 20 minutes!
---
1 1/2 cups uncooked jasmin rice/ long grain white rice
1 can (13.5 oz.) coconut milk/1 3/4 cups coconut milk
4 tablespoons sweet coconut flakes, divided
1/4 teaspoon ginger, minced
1 teaspoon sugar
1/2 teaspoon salt
---
Instructions
Run the rice under cold water, rinsing it until the water runs clear.
Combine all the ingredients and 2 tablespoons of coconut flakes in a rice cooker. Stir and set to cook.
Over medium heat, toast 2 tablespoons of coconut flakes in a pan. Stir continuously to prevent it from burning. Remove from heat and set aside.
Once the rice is cooked, remove the cover and allow the steam to slowly release and the rice to cool for about 5 minutes.
Fluff the rice with a fork, dish and serve warm, sprinkled with toasted coconut flakes.
Prep Time: 5 mins
Cook Time: 20 mins