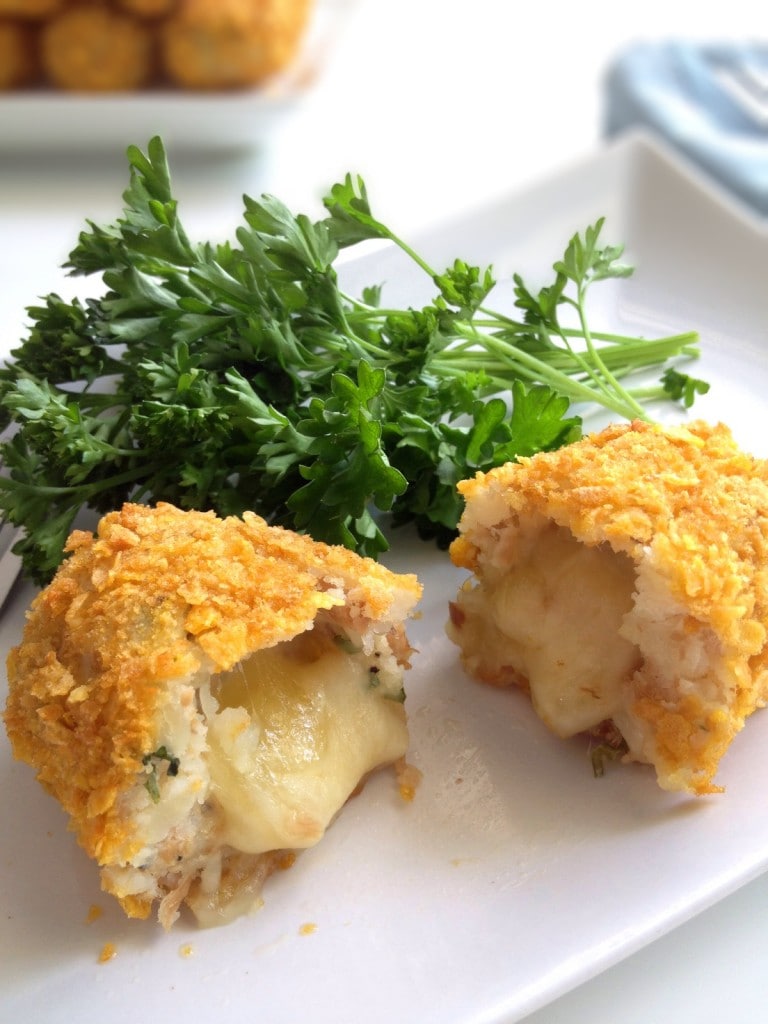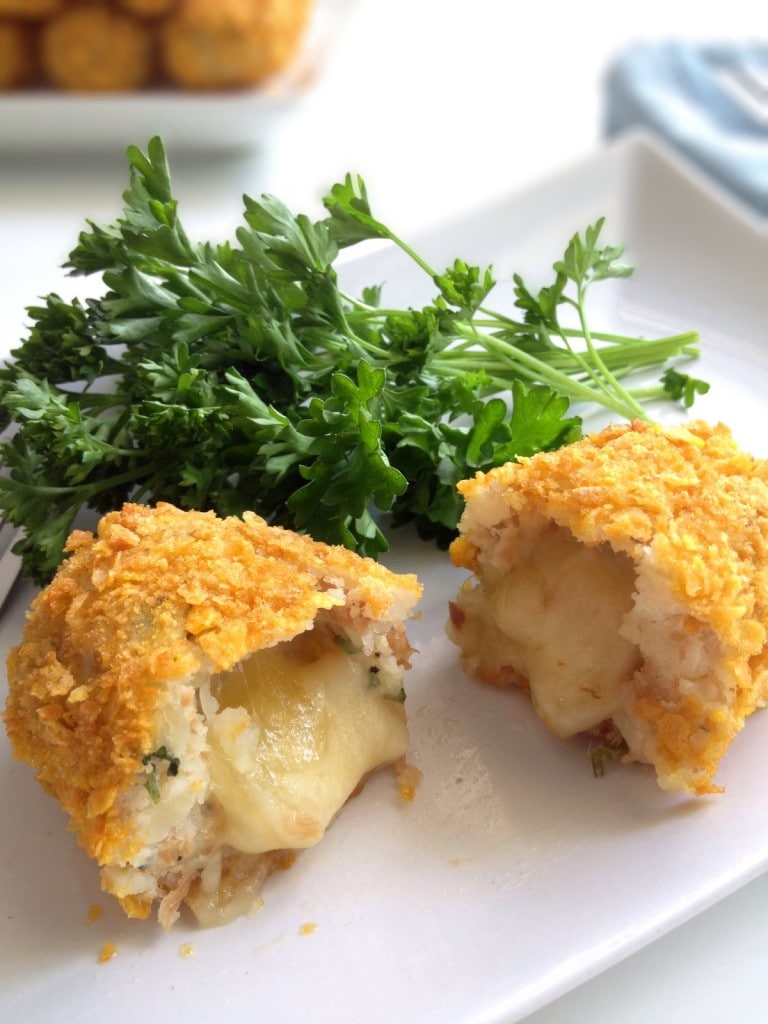 Ever had a croquette? If you haven't, they're basically a breaded fried food roll with a crusty exterior and soft mashed insides. But what's so great about a croquette, you might ask. Well, here we go:  a golden, crispy outer layer and a soft mashed filling. But that's not all! Inside, at the very heart of the croquette is a tiny cube of cheese. It's like the Ferrero Rocher of appetizers. The croquettes I'll be making today once earned me the compliment of being 'better than my mother's'. You can't get a better compliment than that!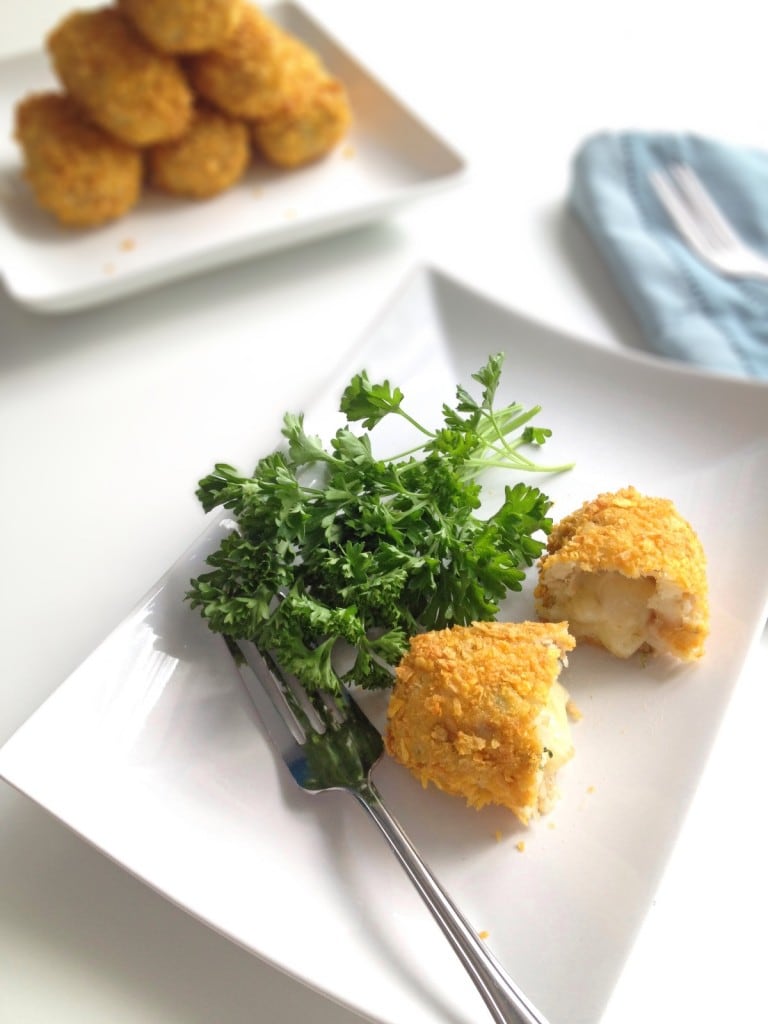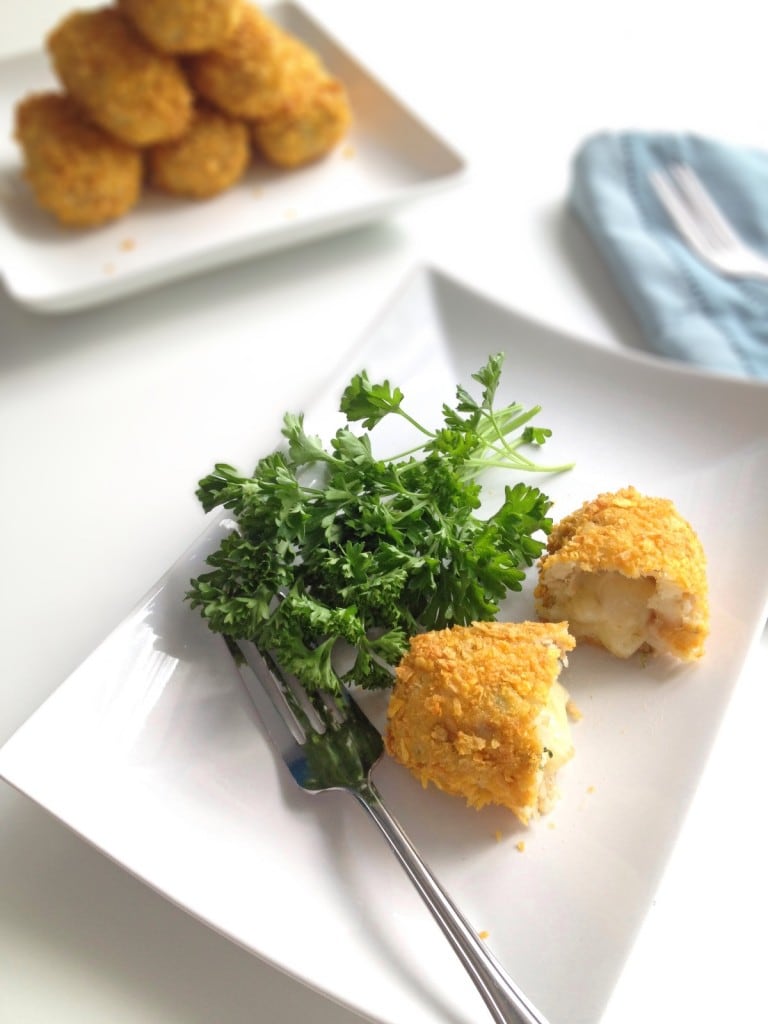 I have a secret ingredient though that may or may not be a little unconventional. Instead of using breadcrumbs to form that crispy outer layer, I use crushed corn flakes. Yes, crushed corn flakes.
I'm not entirely sure how common this is but once upon a time, I had difficulty getting my hands on breadcrumbs. So I thought and thought and thought and came up with this brilliant idea of substituting breadcrumbs with crushed corn flakes. And even though I now have easy access to breadcrumbs, I can't imagine it any other way.
So there's my secret. It's out in the open now. Gather your shopping carts and buy your corn flakes by the dozen because breading will never be the same! Unless of course you already do this. If so, ignore me.
I've given you all the reasons why I love my croquettes. There is one thing though that I really don't look forward to. Have you ever tried doing the triple breading technique with a sausage of mashed potatoes? Because that's basically what it is; mashed potatoes mixed with tuna and a bunch of other things but for the most part, it's mashed spuds.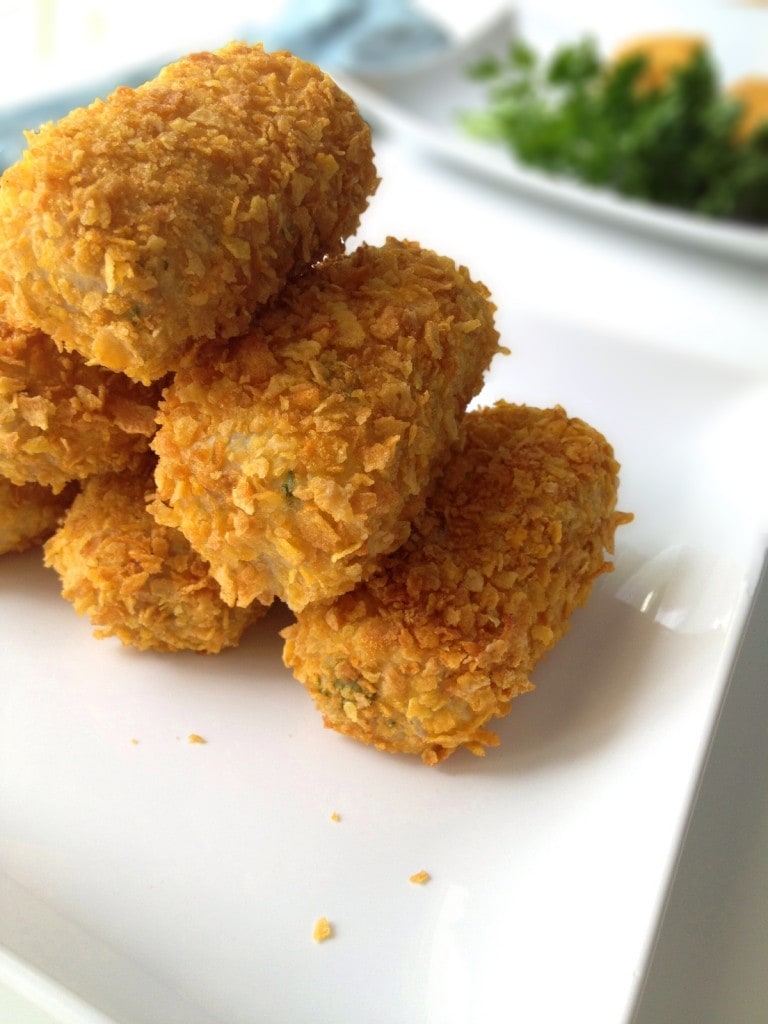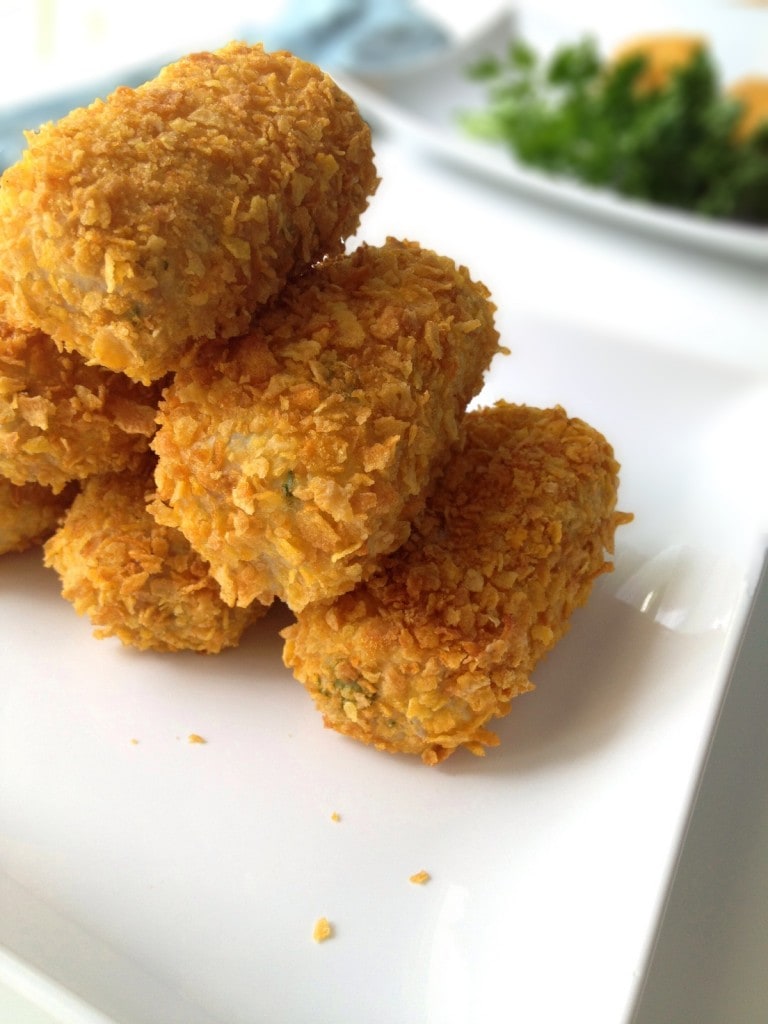 Imagine first rolling them in flour (not a big deal), then dipping them in egg (it's meeeeeelting!) and then rolling them in breadcrumbs/crushed corn flakes. It's the second part that needs gentle and persevering hands because if you squeeze too hard during the egg part, your beautiful croquette will die before your very eyes.
So that's the part that always gets me. After all that, it's easy peasy cause you refrigerate it for some hours which sorta solidifies them and makes it easier to handle later. So beware the eggy part!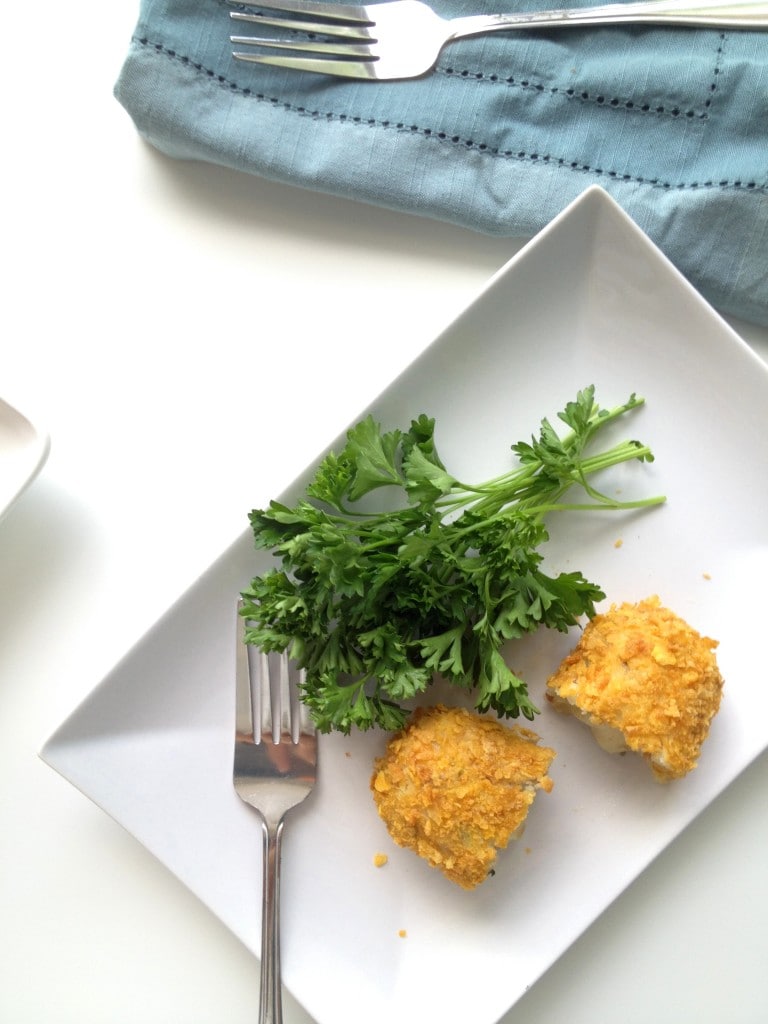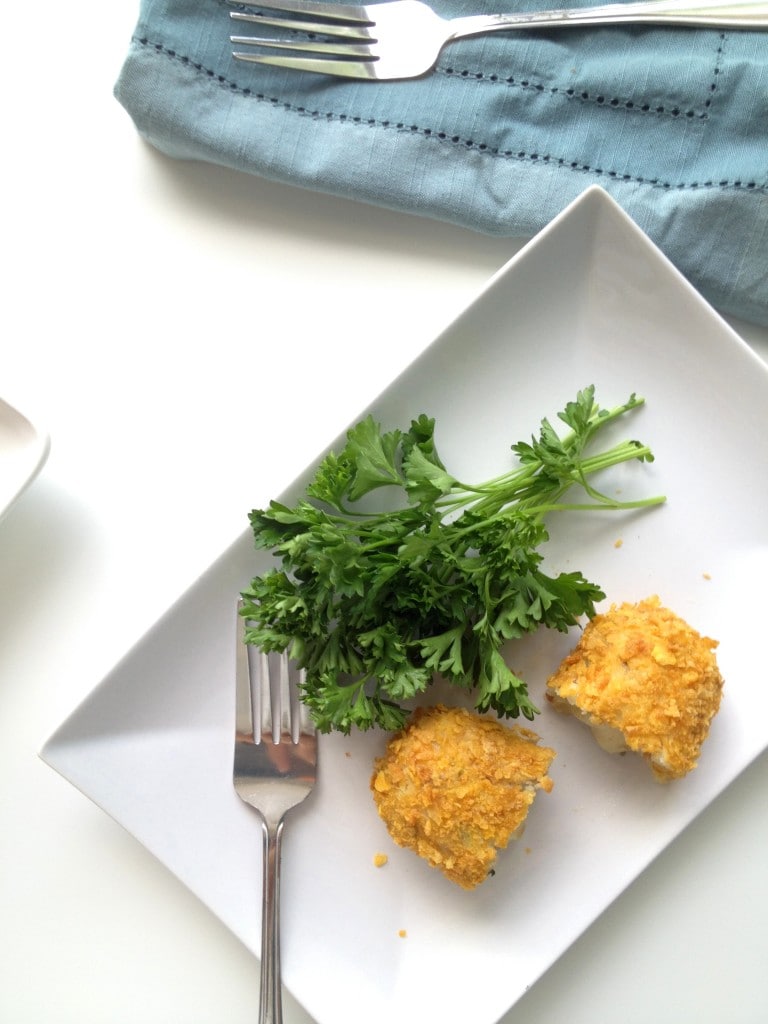 I've used canned tuna here but you can be more fancy and go for flaked salmon if you like. Also if the idea of using crushed corn flakes weirds you out, go for your regular breadcrumbs. As for that little cube of cheesy heaven in the middle, it's supposed to be a soft cheese like Camembert or Brie but it's pretty forgiving with any other types of cheese, I think. As long as it's cheese.
Now if you're looking at the recipe and going 'One HOUR?', the majority of the time was spent on the breading. At least for me. Maybe I'm just horribly inefficient at it but it took me that long. Most of it was spent babying the croquettes during the egg breading stage. Let me know how long it took for you.
Tips and tricks:
Use your hands to bread the croquettes.
Be VERY gentle handling the croquettes during the egg breading stage. Try not to squeeze too hard when you grip it or it will lose form.
Wash your hands after the egg breading stage or you'll end up with a million layers of breaded fingers and you'll clump the corn flakes breading.
Pat in excess crushed corn flakes to get maximum crispiness!
Use a food processor to grind the corn flakes.
If you prefer frying them, deep-fry the croquettes in batches over medium heat until golden brown.
And with that, let's get croquetting!
Print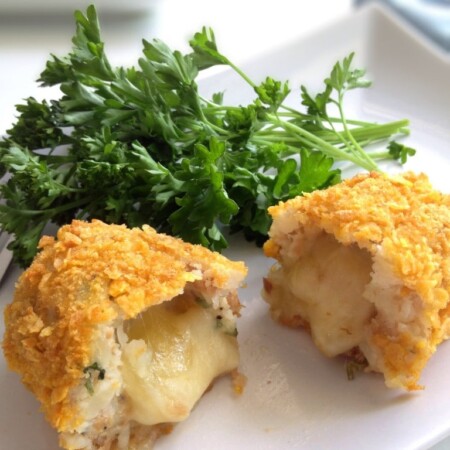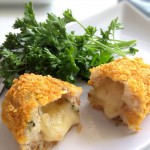 Tuna and Cheese Croquettes
---
Author:
Total Time: 1 hour 15 mins
Yield: 15 Croquettes 1x
2 lb. russet potatoes, peeled and chopped
1 small onion, diced
2 cans tuna (5 oz.), drained
1 tablespoon parsley, chopped
1/4 cup lemon juice
1 tablespoon apple cider vinegar
1 large egg, beaten
1/4 teaspoon ground black pepper
1/2 block cheese (4 oz.), cubed into fifteen 1″ cubes
Breading
1/2 cup plain flour
Pepper to taste
3 large eggs, beaten
1 1/2 cups crushed corn flakes
---
Instructions
Over medium high heat, cook the potatoes in boiling water until fork tender
Remove from heat, drain and mash potatoes in a large mixing bowl
Add onion, tuna, parsley, lemon juice, vinegar, egg and pepper. Mix well and combine
Divide mixture into 15 equal portions. Form about a 3″ sausage with each portion
Work a cheese cube into the center of each croquette
Combine flour and pepper and form a three stage breading station
Toss the croquettes in the seasoned flour, dip into beaten eggs and roll in crushed corn flakes
Refrigerate for a minimum of 3 hours
Line the croquettes up on a baking sheet and bake at 450 degrees F for 15 minutes
Allow 5-10 minutes for them to cool down slightly
Dish and serve warm
Prep Time: 1 hour
Cook Time: 15 mins