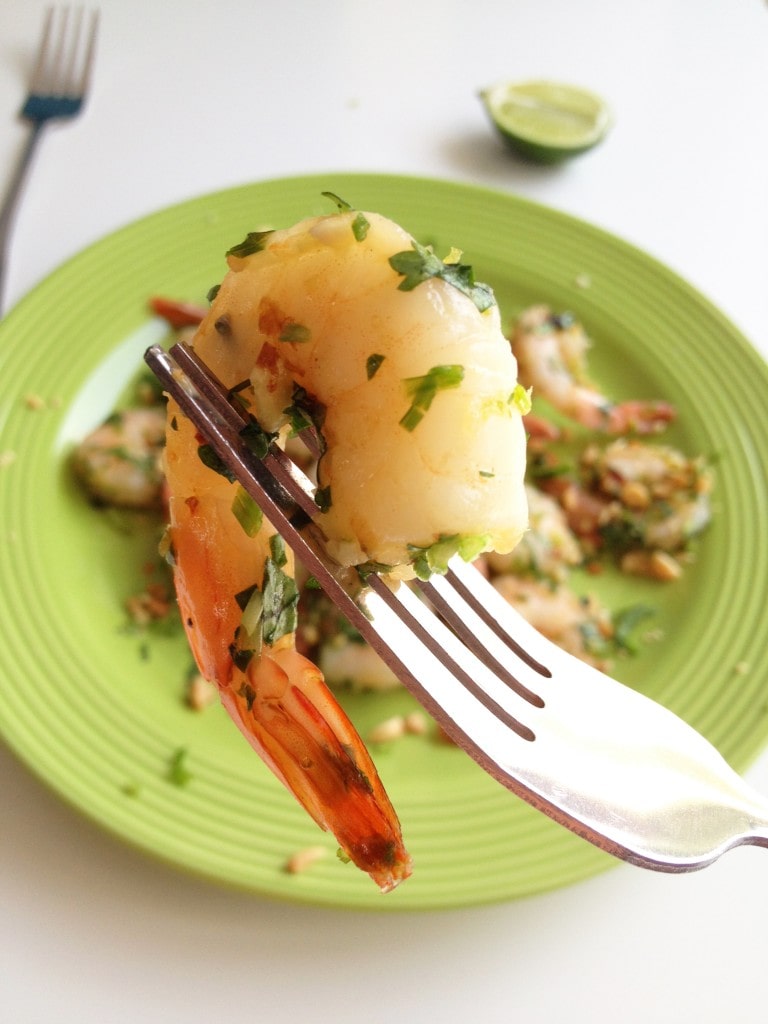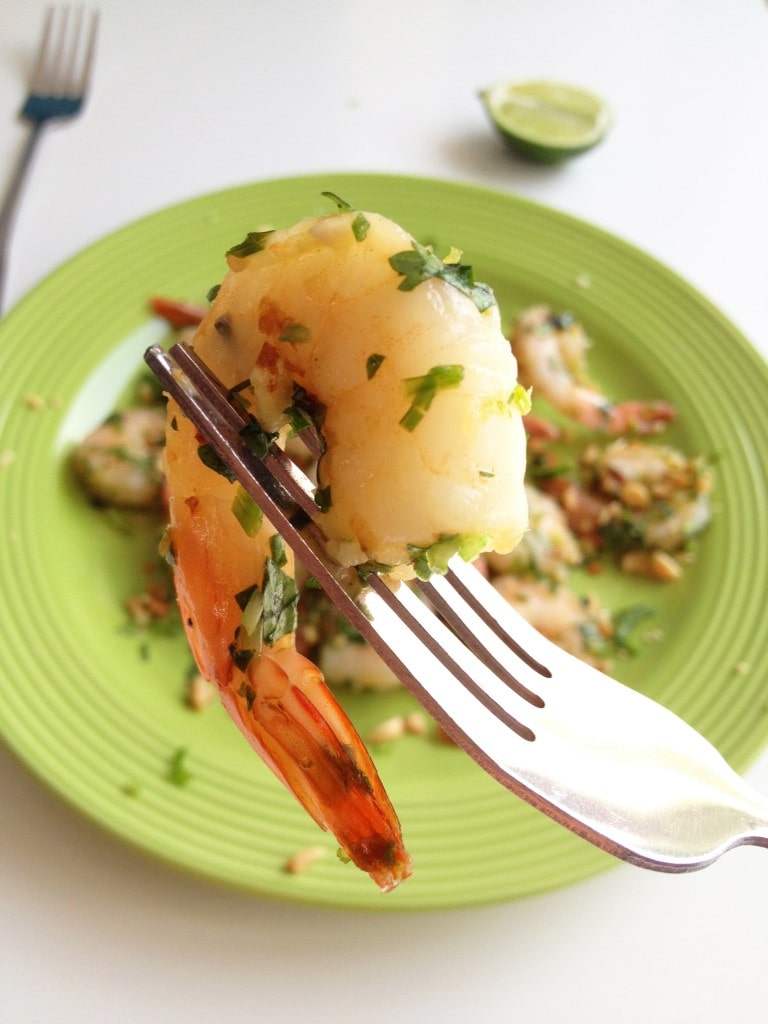 If you're as forgetful and sometimes as oblivious as I am, you'd understand my predicament last Friday when I had the sinking realization that Memorial Day was coming up and that I had somehow yet again managed to have another holiday sneak up on me without planning some celebratory recipe meal post. I seem to have a bad track record with this, first with Thanksgiving last year and then with Christmas. Thanksgiving: I thought I could somehow squeeze in picture taking and recipe posting in between the chaos in the kitchen. That failed so hard. Not only was I glad to get off my feet after six hours of continuous cooking, I was also completely out of my element to even think about reaching the happy place I usually need to be in when I make a post. Not to mention everyone was hungry, tired and hungry. That food disappeared really fast. At Christmas, I was just happy we kept it simple and stress free.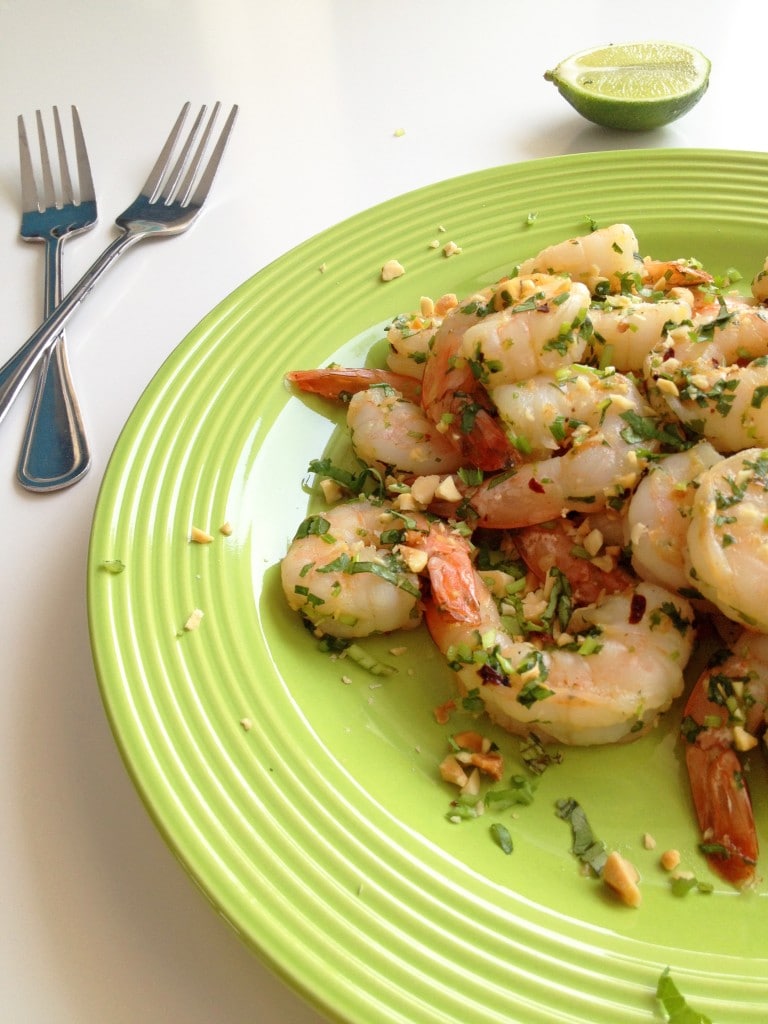 So, you'll understand how much I wanted to flip the table when I realized I was about to do this yet again. Not if I can help it! So even if this recipe is a bit unplanned and rushed, I hope you'll find it yummy.  What we're having this Memorial Day are grilled shrimp with peanuts, cilantro and lime. A very, very long descriptive name but I think it's specific enough to give you an inkling of how it should taste.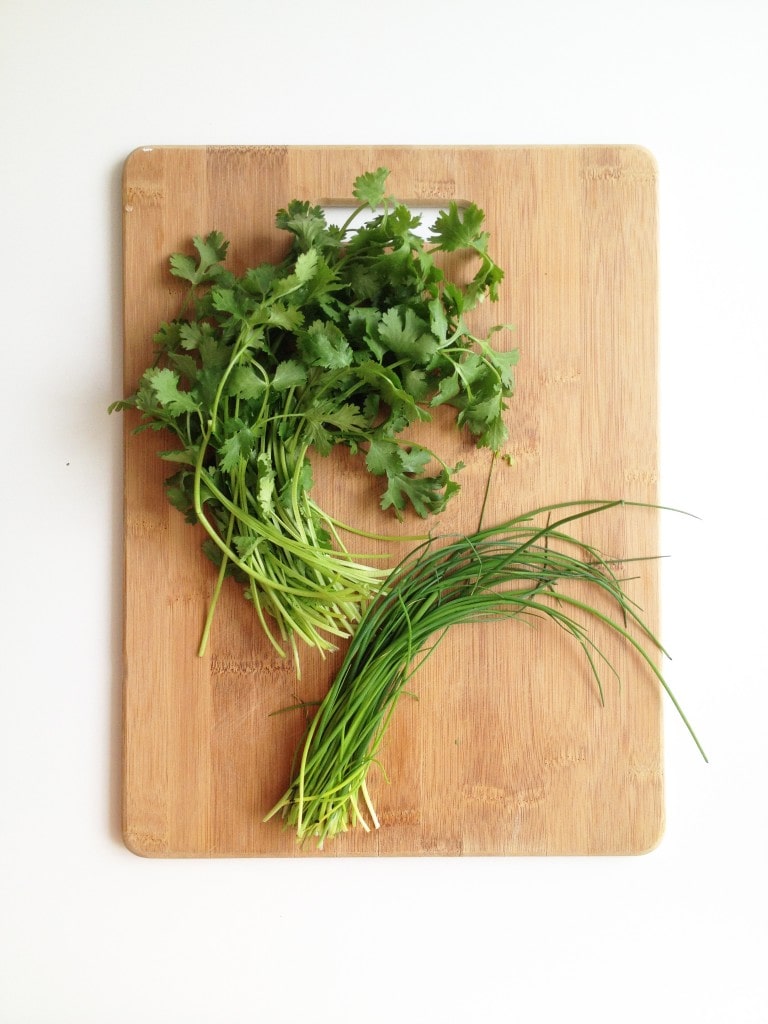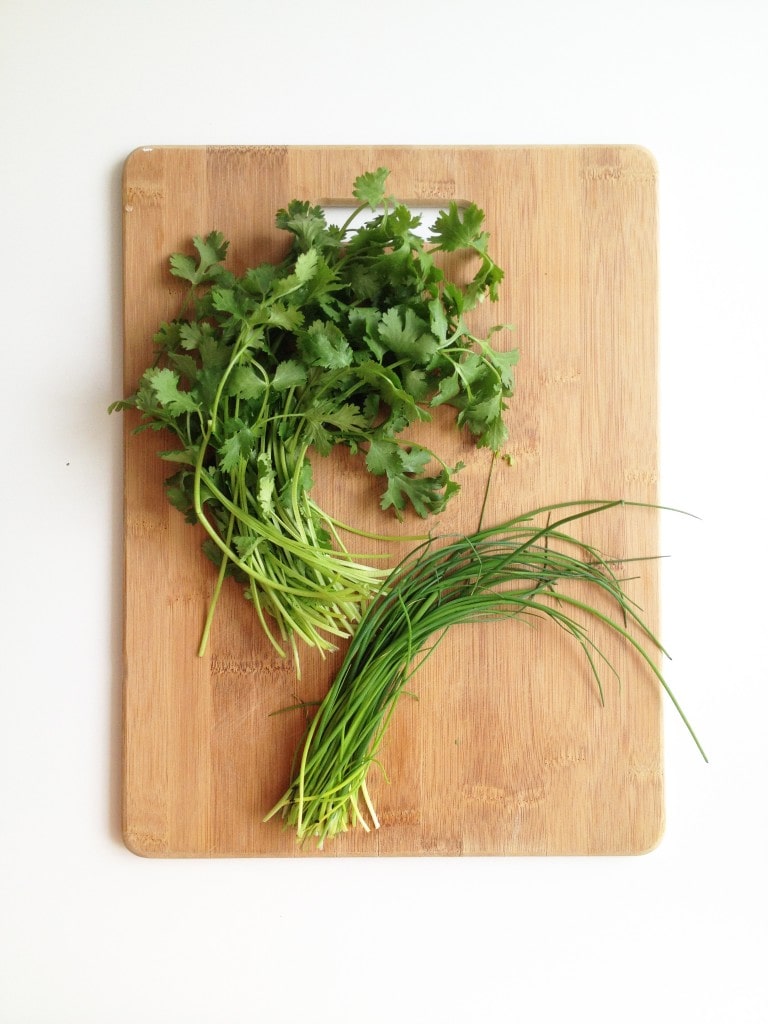 You have the freshness of spring in the cilantro and chives, the promise of summer with the grilling and my love of Asian food with the peanuts, fish sauce and lime combo. Don't forget the sugar! One of my favorite combinations is mixing saltiness, sweetness and tartness, all rolled into one big happy flavor marriage. I did it with my Cucumber and Pineapple Salad, which is a great chilled salad for hot days, or if you're eating something spicy.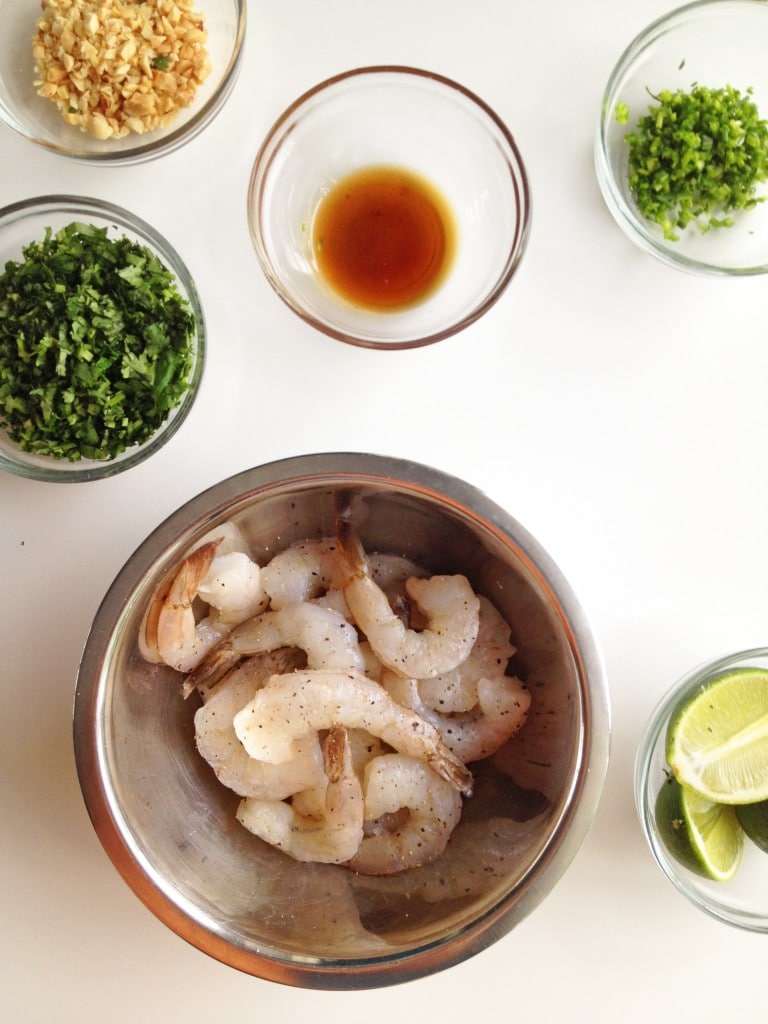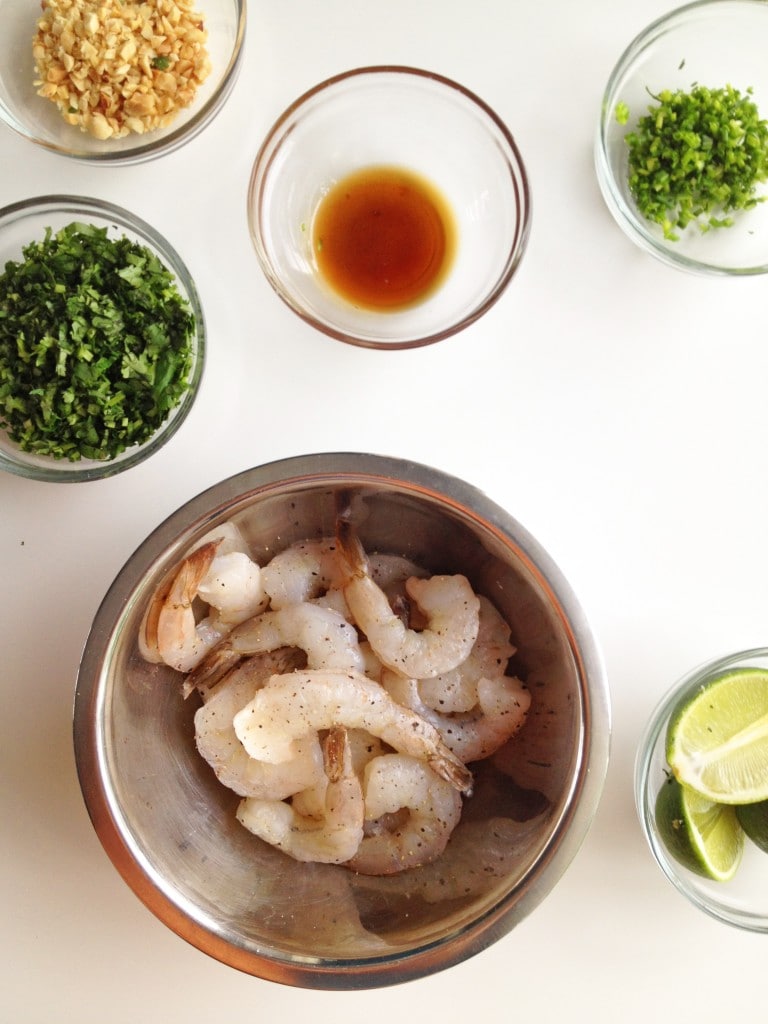 Onto the recipe, found this one from Martha Stewart and I thought it was worth trying. Although I've never grilled shrimp before, there's a first time for everything. What cooking experience I do have with shrimp has taught me that it really doesn't take that long to cook and they shrink to horrible proportions when you overcook them. So I'll be taking extra, super special care not to overcook these on the grill to keep them fat and happy. You can pan fry them as well if you like. I took the liberty and made some major changes to the amount of cilantro and lime zest. There was just too much cilantro for me. Also switched out the sugar for brown sugar and added some red pepper flakes for a teensy bit of kick.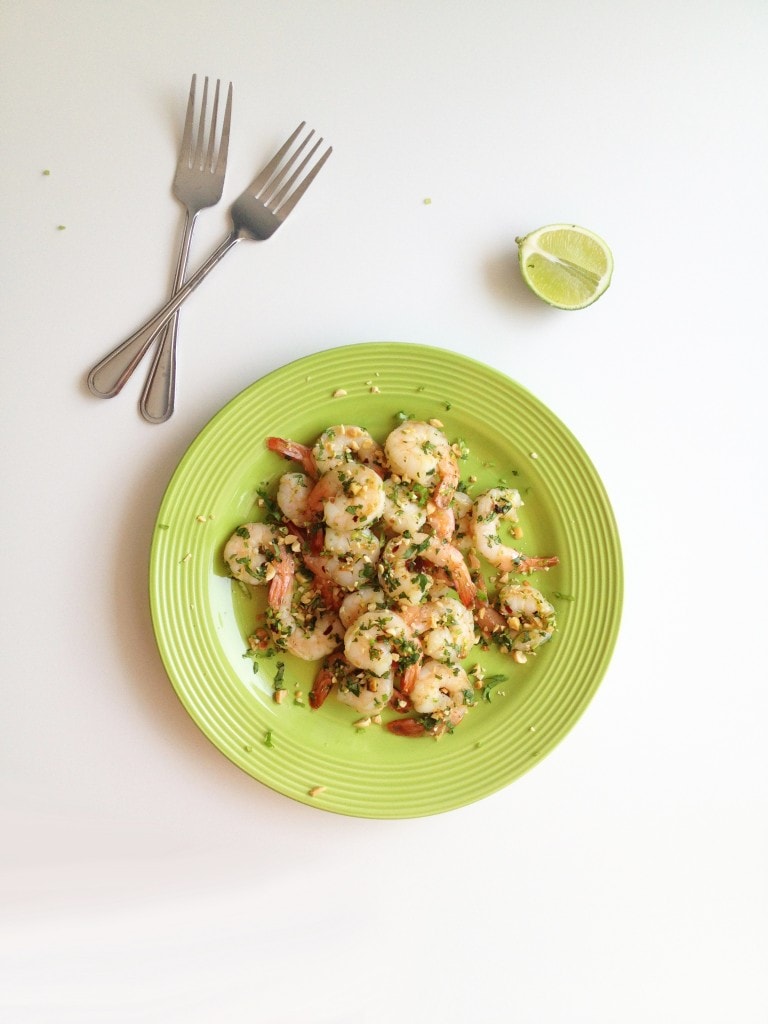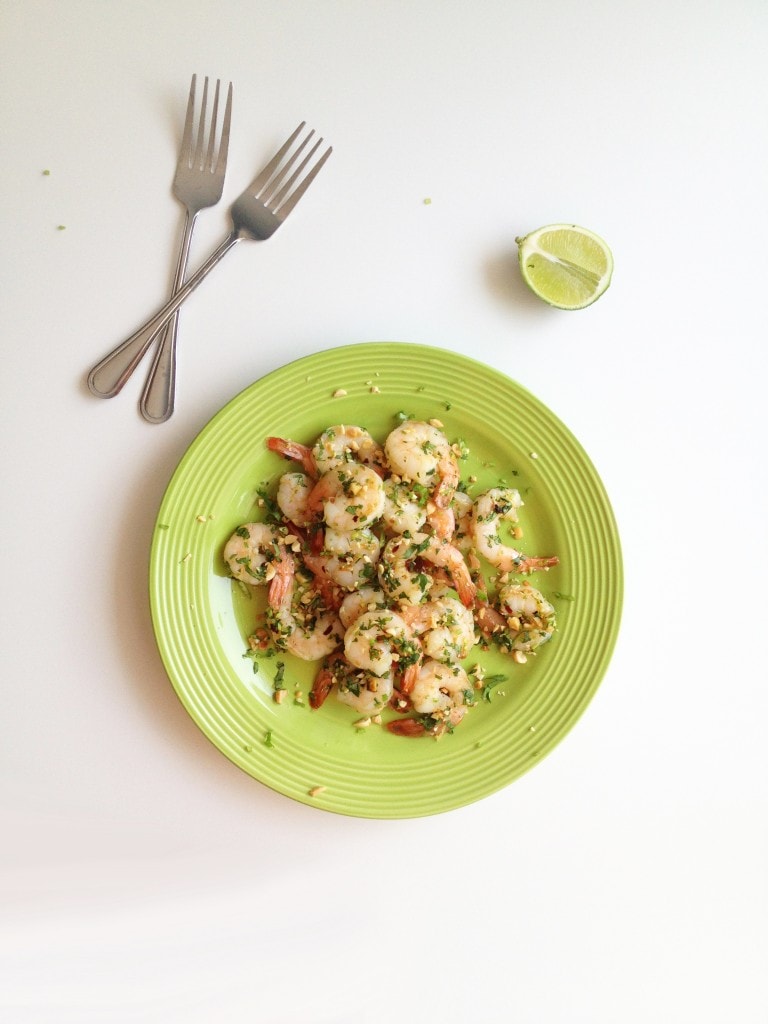 One thing that caused me a lot of grief was the recipe asking for scallions. Now I know them as green onions but also knew them to sometimes be called scallions, although if you google it enough some say there's a difference and some say there's none. So I put them down on my grocery list as green onions, but when we got to the grocery store I suddenly thought I needed chives instead and got those. Came home and Googled scallions again and realized, no, I did need the green onions.  And although I do have green onions on standby, since it's almost always a staple for me, now I'm curious about chives, having never tried them before. So I'll be using them today. Plus they look so itty bitty and cute compared to green onions. If you want to follow the original recipe, go for green onions although the difference between them seems to be mildness of flavor and shape. Correct me if I'm wrong!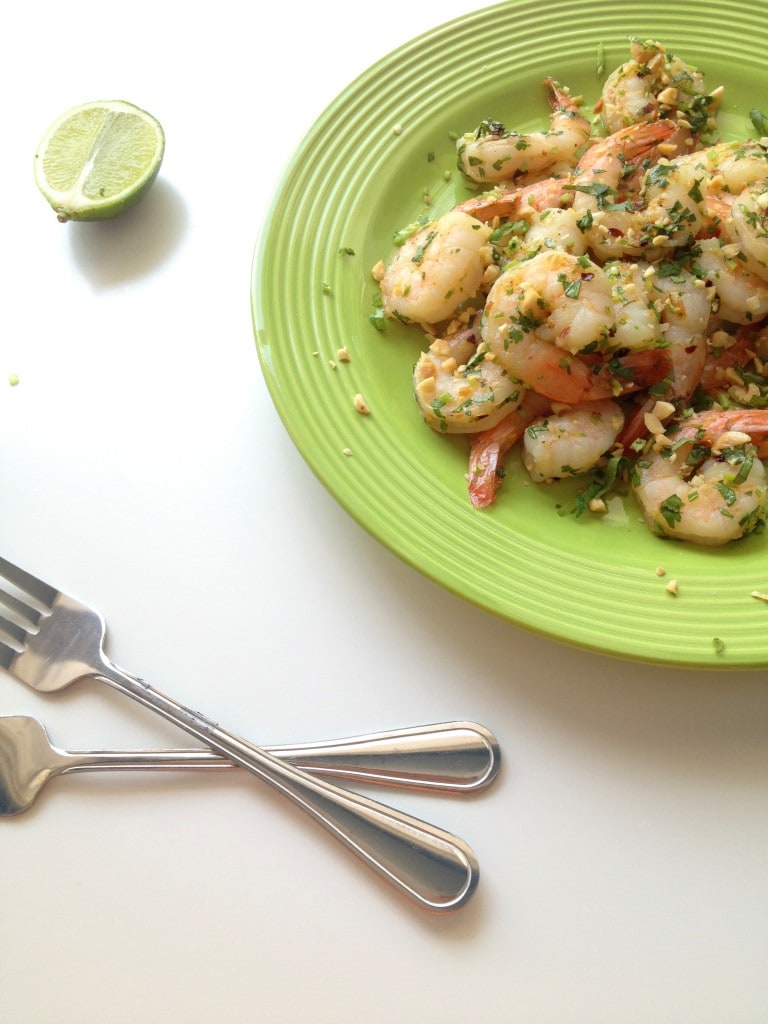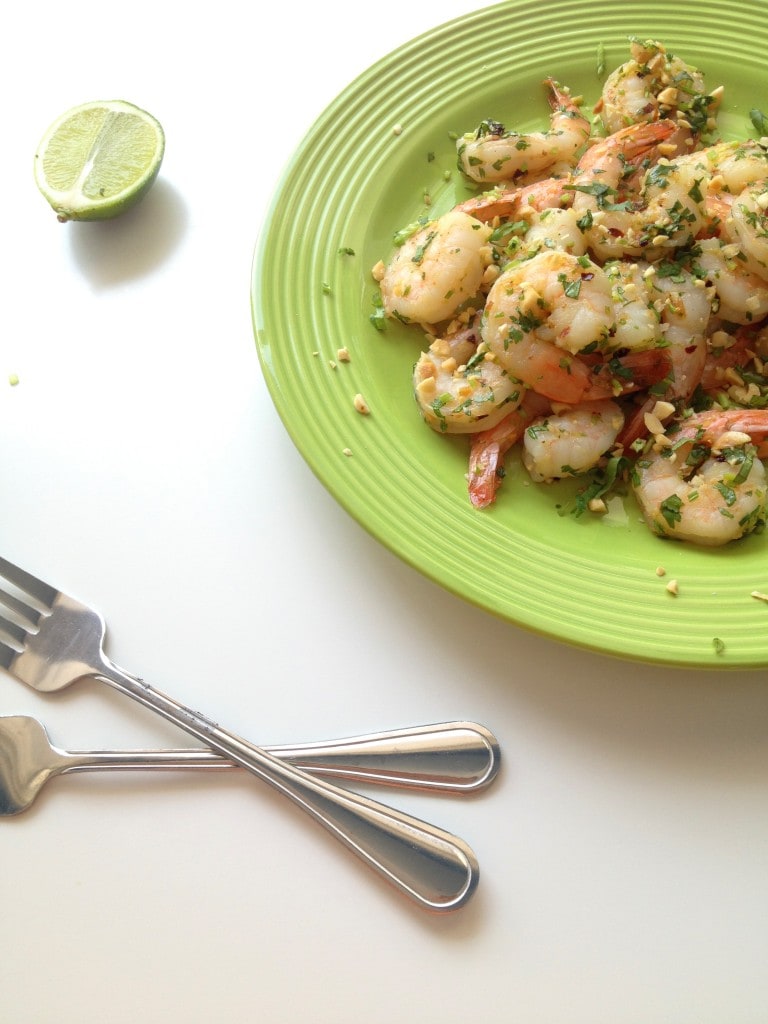 As a little side note, I was so happy with the action shot I managed to take. Seeing as I have no helper, no tripod and just an iPhone to take the pic, balancing a fork and shrimp in one hand and a phone in the other to take that shot was hard. Either arm kept shaking and I had to hold my breath. This must be how snipers feel, I was thinking while turning blue in the face. If you're also wondering why I've included some behind the scenes footage, well, I just decided to try something new on a whim. Also, I'm trying out a new nutritional label after the recipe to see the response for those that like clean eating. Hope you enjoy this recipe and Happy Memorial Day.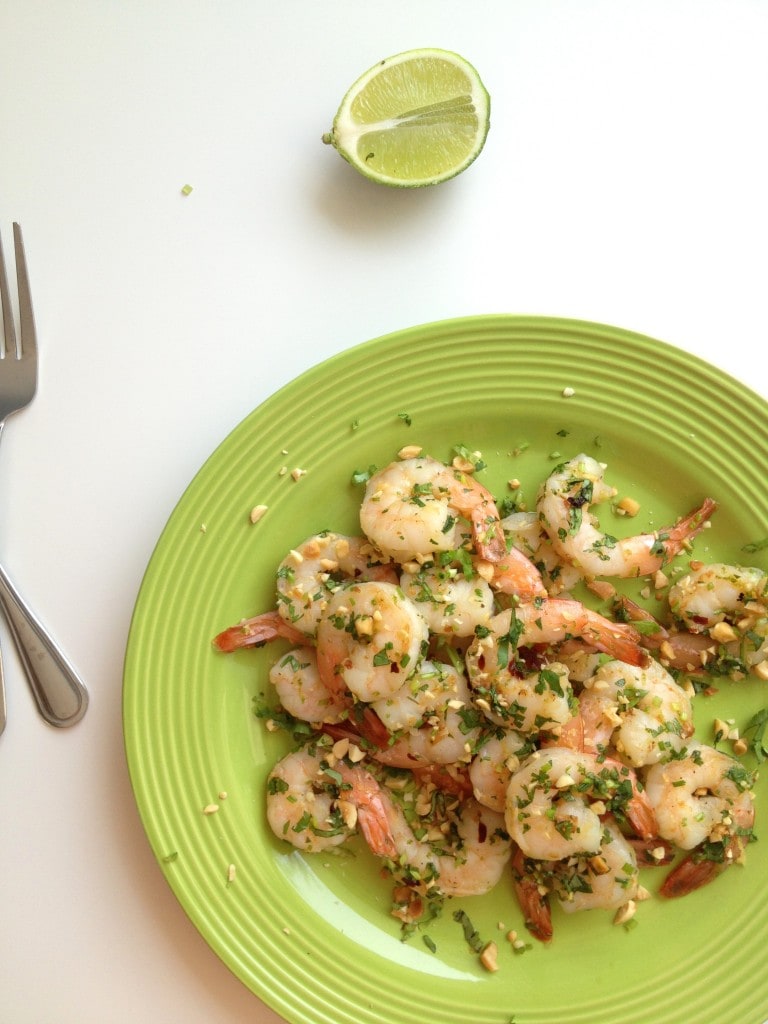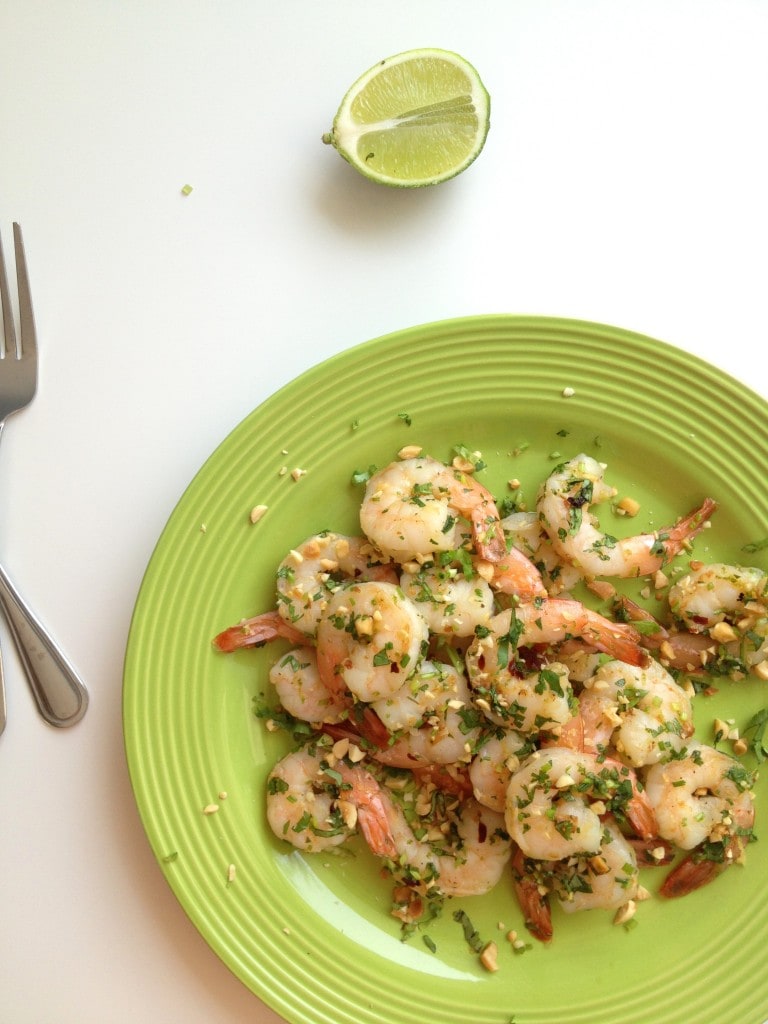 Print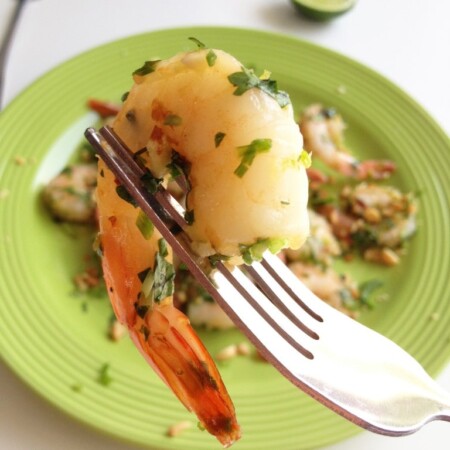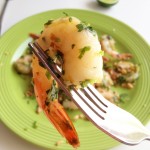 Grilled Shrimp with Peanuts, Cilantro and Lime
---
Author:
Total Time: 20 mins
Yield: 4 1x
1 lb. jumbo shrimp, peeled and deveined with tails on
Salt and pepper
2 limes
1/2 teaspoon lime zest
2 teaspoons fish sauce
2 tablespoons brown sugar
1/2 teaspoon red pepper flakes
2 tablespoons cilantro, minced
2 tablespoons chives, minced
1/2 cup peanuts, chopped
---
Instructions
Combine lime zest, juice of 1 lime, fish sauce, brown sugar and red pepper flakes, mixing well
Season shrimp with salt and pepper
Grill the shrimp until cooked, about 2 minutes per side while lightly brushing with oil
Toss the shrimp with the lime mixture, also combining the cilantro, chives and peanuts
Serve warm or chilled with the remaining lime (optional), cut into wedges
Prep Time: 10 mins
Cook Time: 10 mins