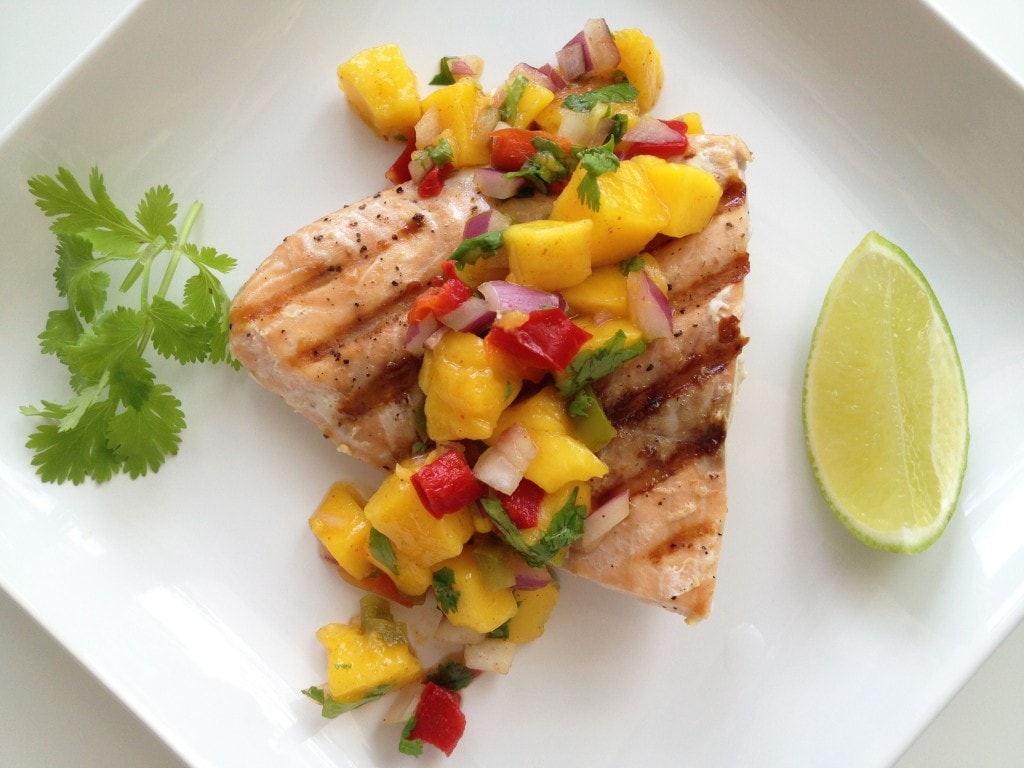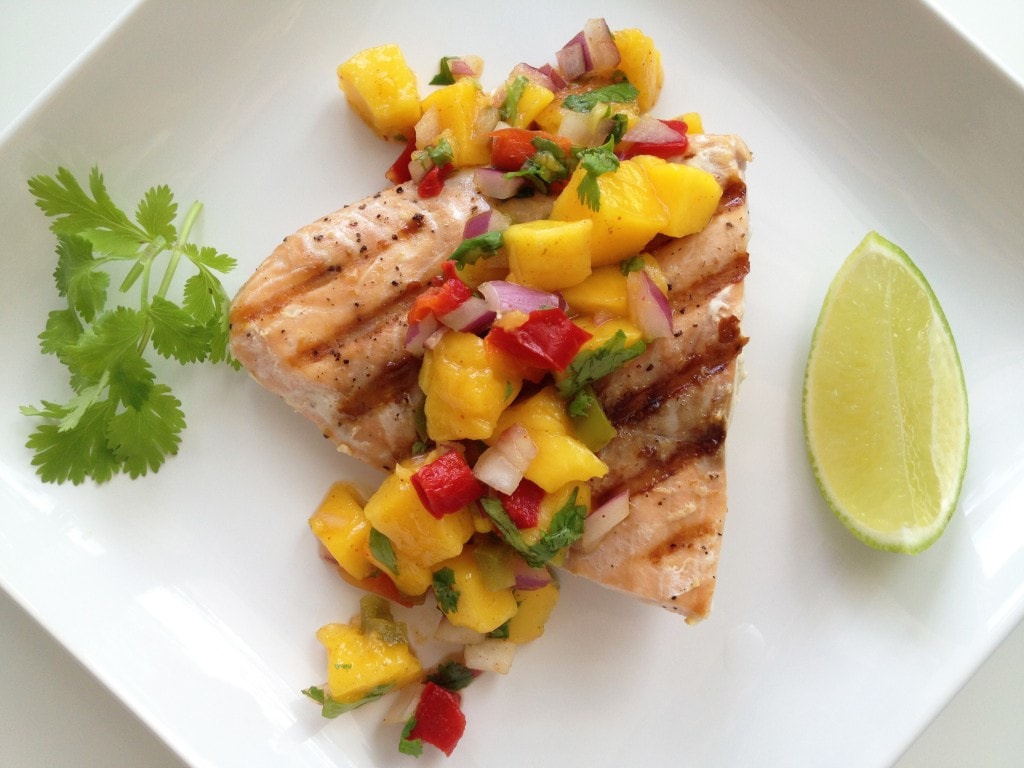 This has to be the best thing I have tasted in awhile. The mango salsa is like a rainbow in your mouth with a heavenly combination of juicy sweetness, spicy undertones, fresh herbs and a splash of tartness. All this balances off the strong taste of salmon cooked in a simple rub of salt and pepper.  And it tastes as good as it looks!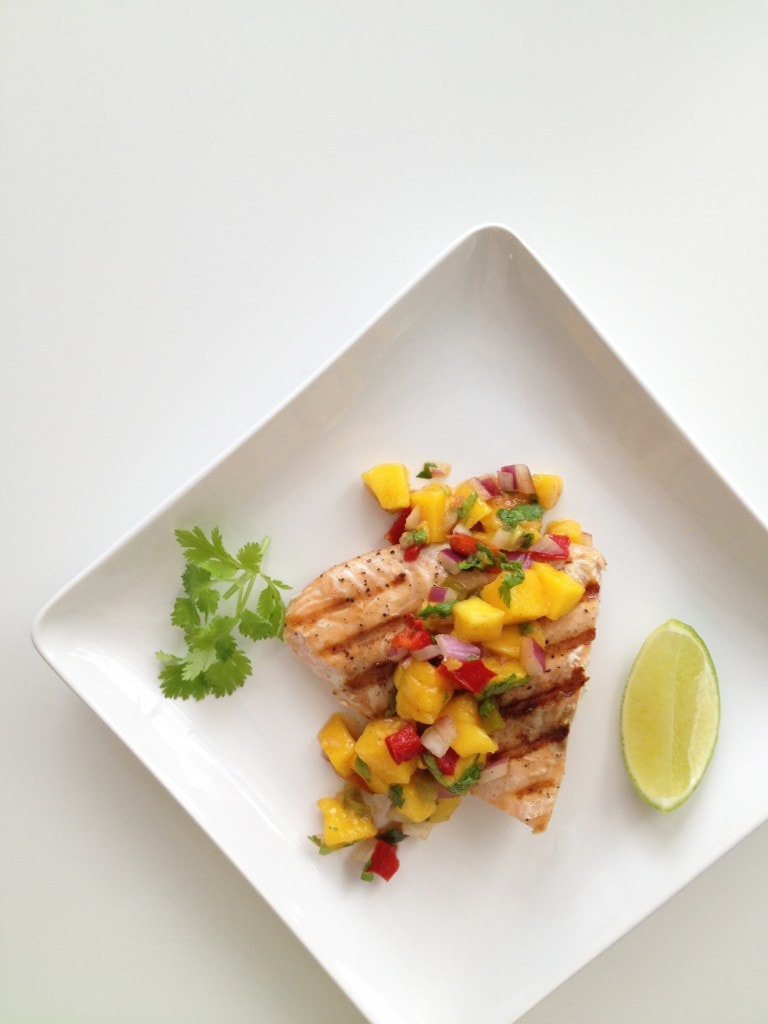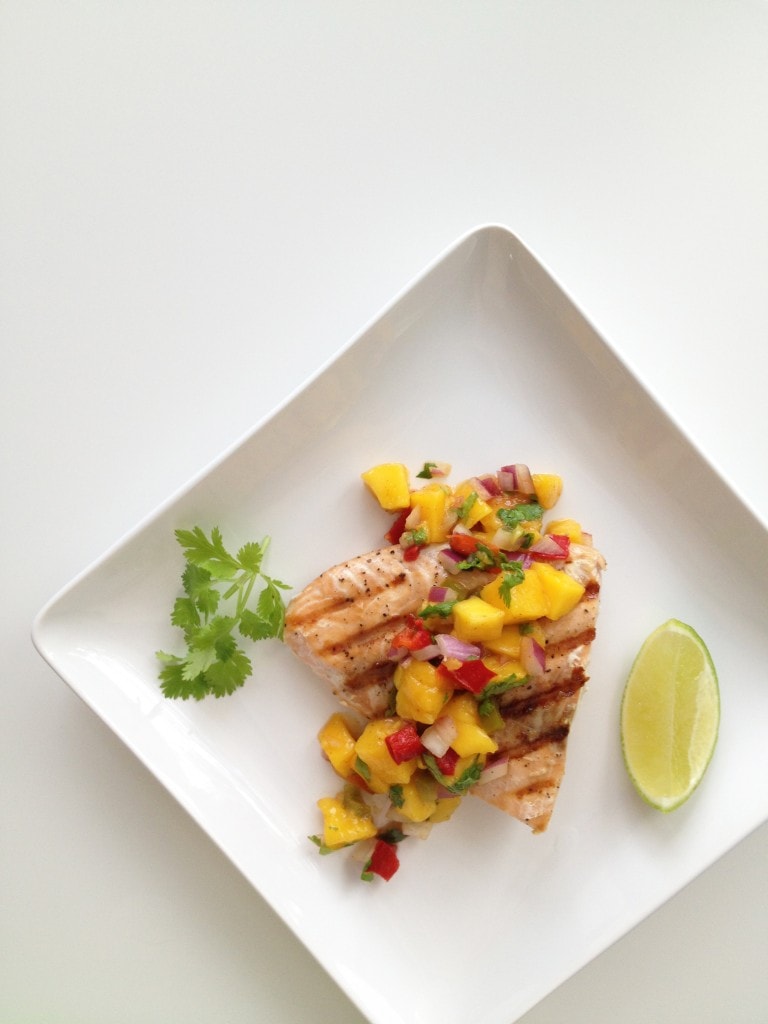 If the flavor alone doesn't win you over, there's also the colorful eye candy to feast your eyes on. I don't know about you, but seeing this made me feel like I was on vacation somewhere tropical.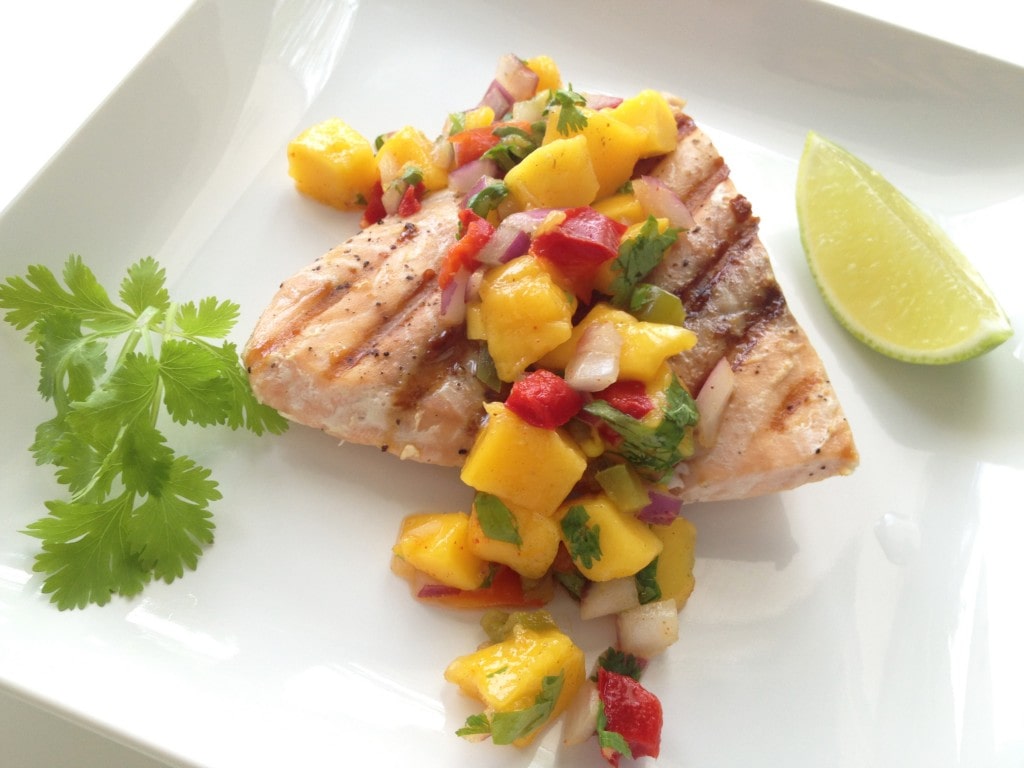 If you're unfamiliar with handling mango, ripe mangoes are the ones that give a little when you squeeze gently. You can cut the mango several ways but I found it easier to cut long slices around the seed, make several slits on the flesh and scoop it out with a spoon.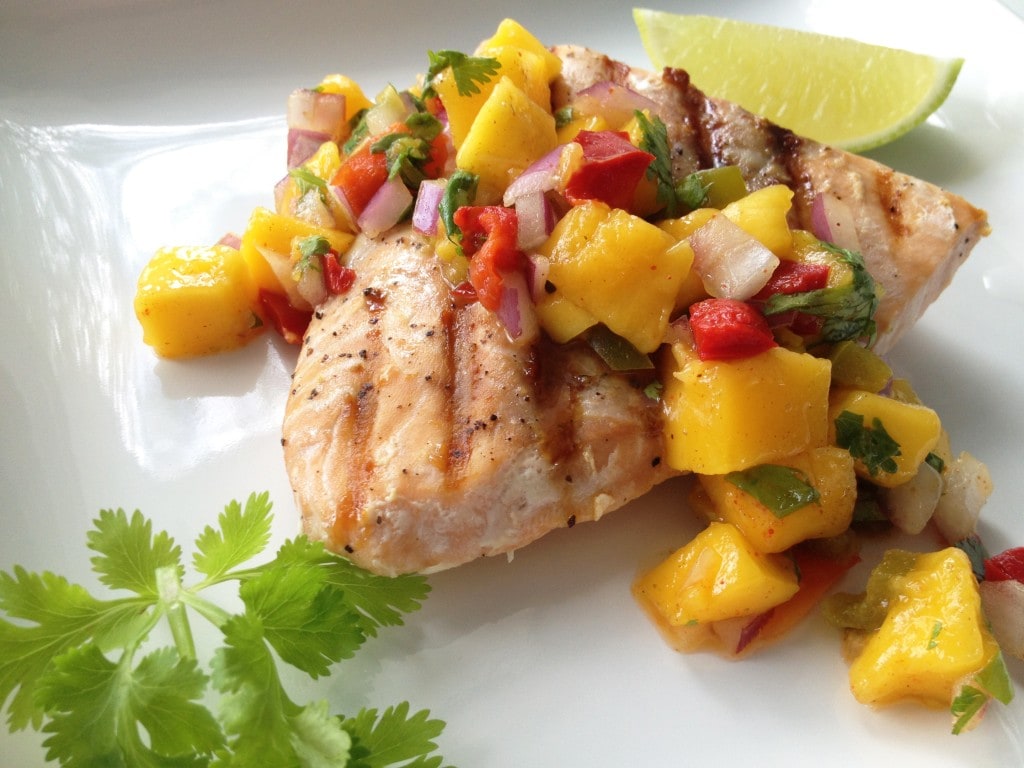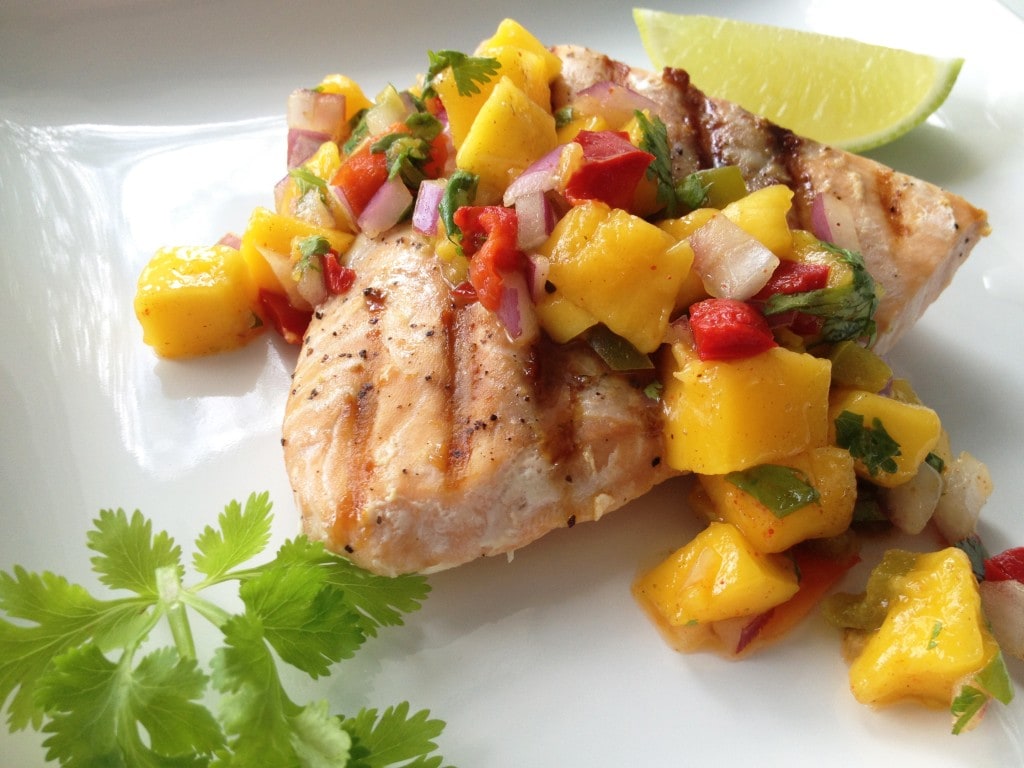 If you don't have a grill, you can bake the salmon at 450 degrees F for 15 minutes. This is how I usually cook salmon but I decided to grill it this time for the beautiful grill marks. Enjoy!
Print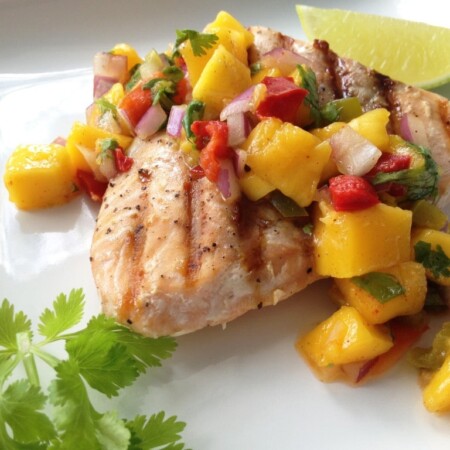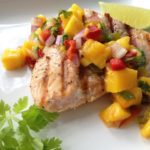 Grilled Salmon with Mango Salsa
---
1 lb, salmon fillet
Salt and pepper to taste
1 teaspoon oil
1/2 lime, cut into wedges
Mango Salsa
1 ripe mango, diced
1 tablespoon red bell pepper, diced
1 tablespoon red onion, diced
1/2 tablespoon pickled jalapeno, diced
1 teaspoon lime juice
2 teaspoons cilantro, chopped
1 teaspoon fresh mint, chopped
1/4 teaspoon cumin powder
1/8 teaspoon cayenne powder
1/2 teaspoon brown sugar
Salt to taste
---
Instructions
Combine all the salsa ingredients and mix thoroughly
Preheat the grill to medium heat
Brush the salmon lightly with oil, salt and pepper to taste on both sides
Grill the salmon for 5 minutes on each side
Dish and top with mango salsa and garnish with lime wedges