Enjoy summer with a delicious, panko-crusted crispy and sweet coconut shrimp with spicy chilled pineapple sauce.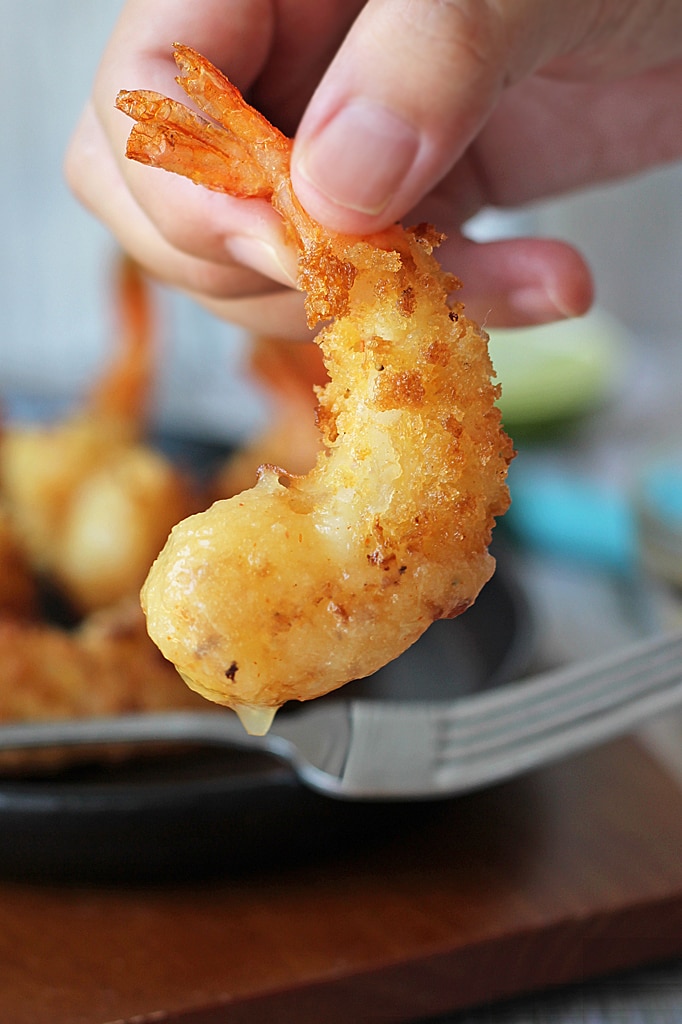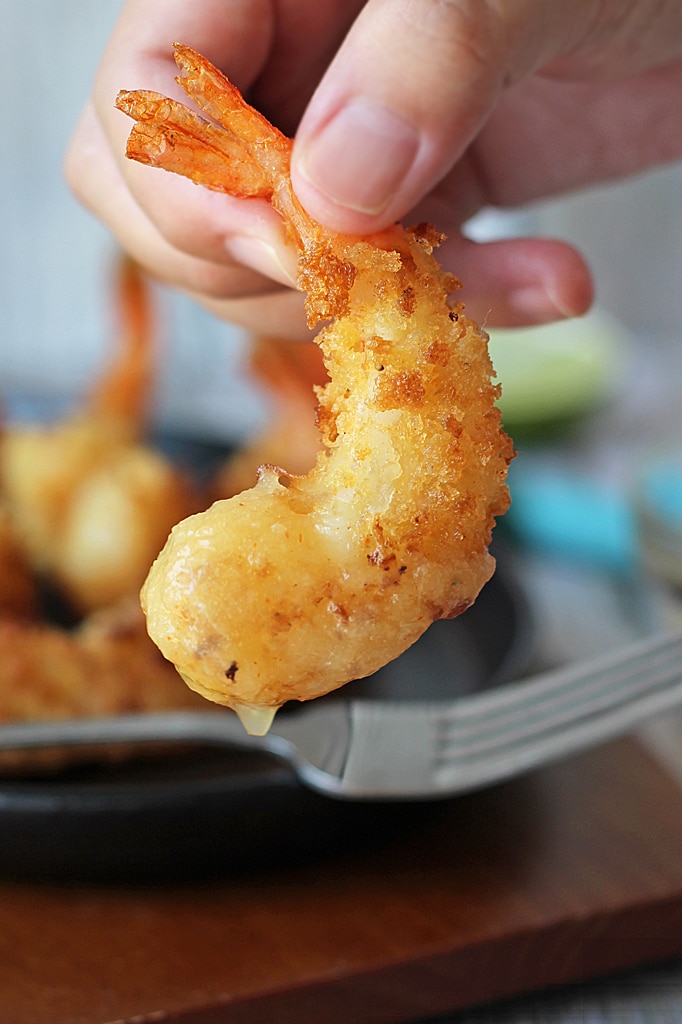 I've been promising this one for a while. And it's the perfect time for it too. Coconut shrimp with spicy chilled pineapple sauce is going to make its debut today! Think of the flavors of Piña Colada in food form and you're right on track.
I see these all the time at restaurants here in Florida but never get them because one, there's too few servings of shrimp vs the cost and vs my hungry stomach, and two, why buy them when I can make them at home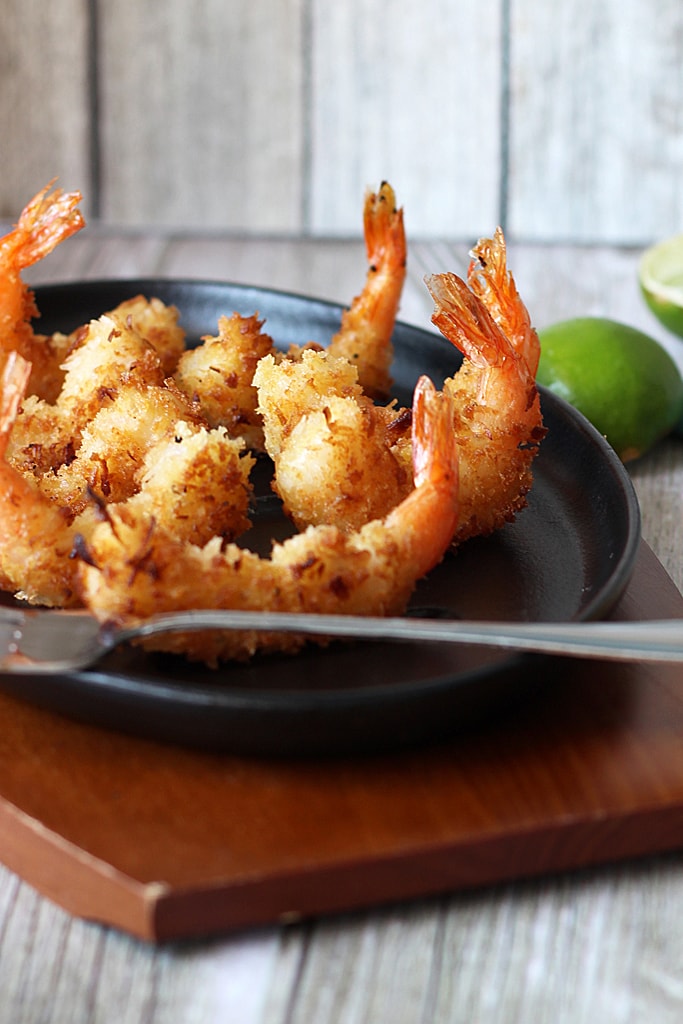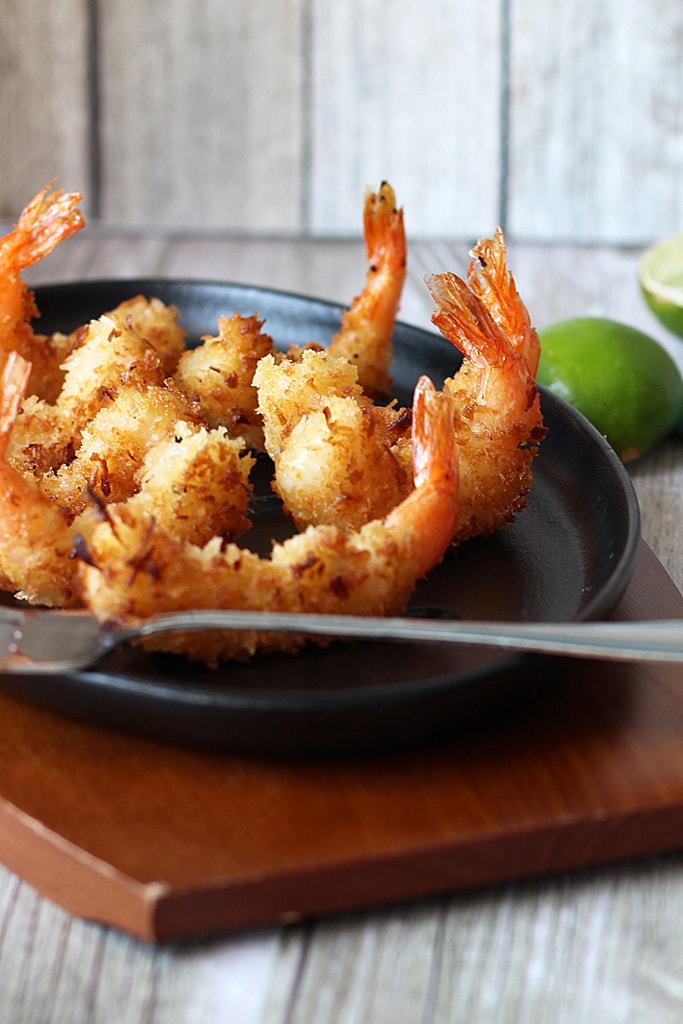 That's kinda my running philosophy that determines what I order when I eat out. Sure I have my favorites at my favorite restaurants but for the most part if I can cook it, I won't order it. And since I've started this food blog, the selection of food to choose from is shrinking more and more.
On the positive side, I save money. On the but-I-want-to-spoil-myself-and-eat-outside side, it sucks! Let's order some green curry chicken, wait…why pay 8 bucks for it when I can make it at home? How about Panang chicken curry….gah, spaghetti and meatballs? Nooooo. Curse me and my miserly cheffy self!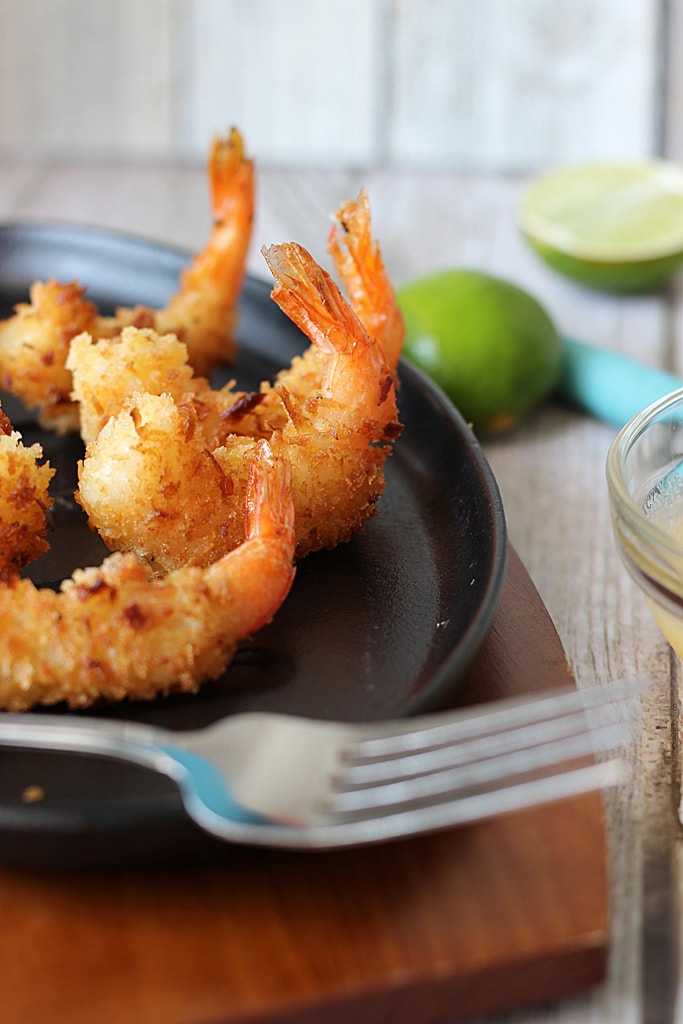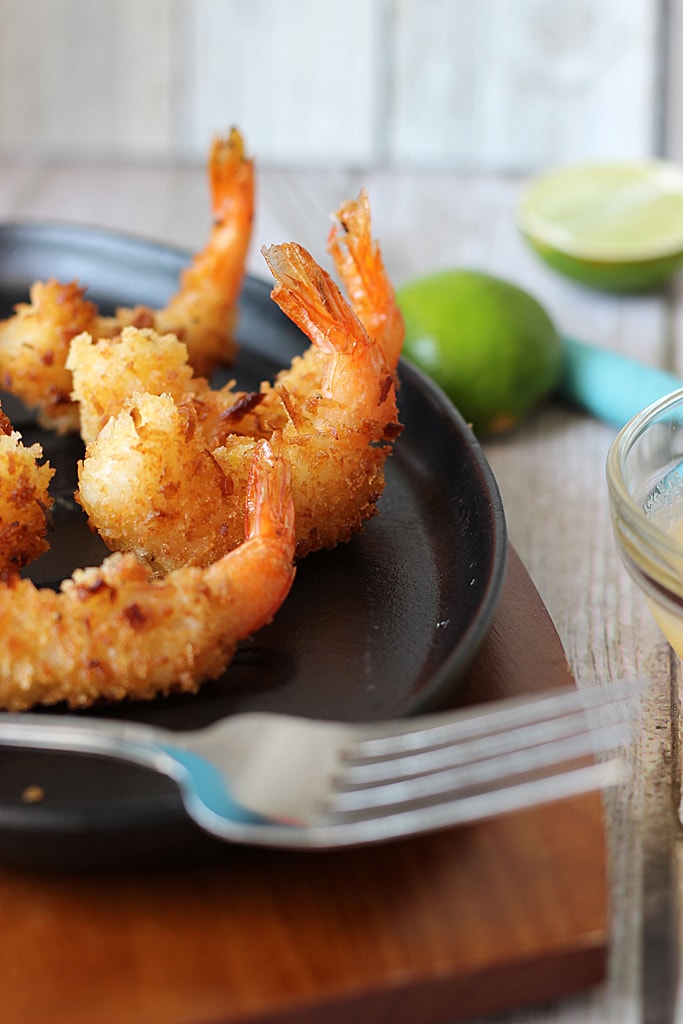 Let's move on to tips and tricks like breading: three breading stations needed, as usual. Flour dusting is station number one, egg dipping is station number two and coconut and panko deliciousness is station number three. Ready? Set…go! On a side note, this is much, much easier to bread because of the shrimpy tail handle thingies. Your fingers don't wind up as a clump magnet where you end up breading them more than the food. So rest easy knowing you can swish that shrimp in the egg and not get messy!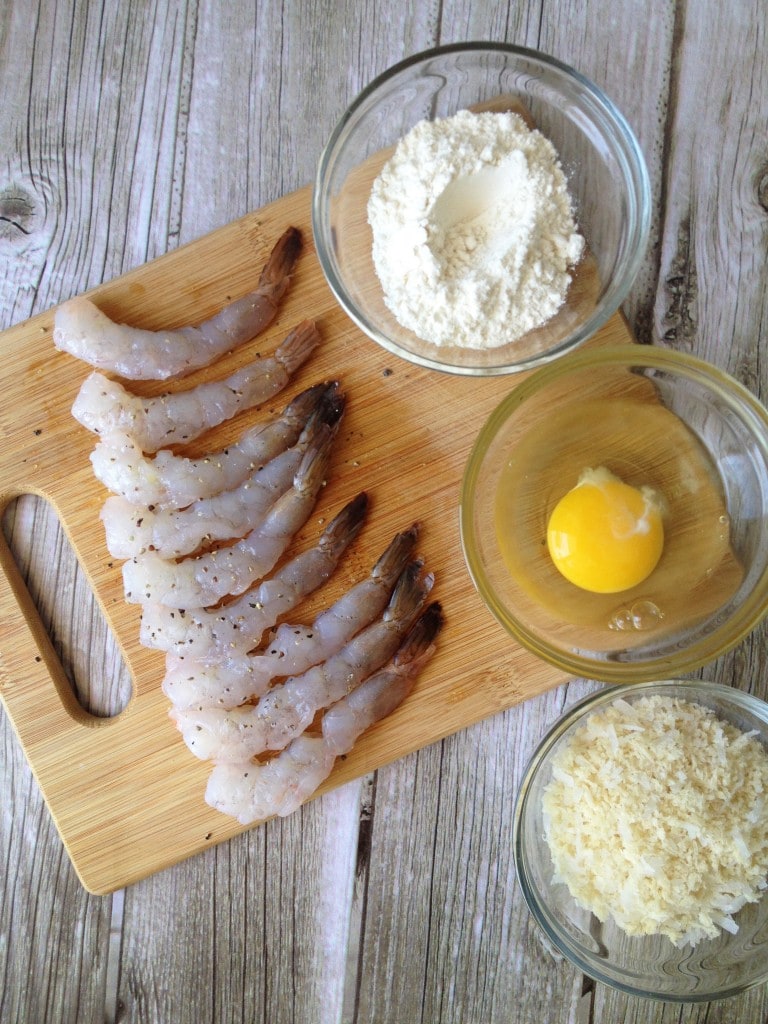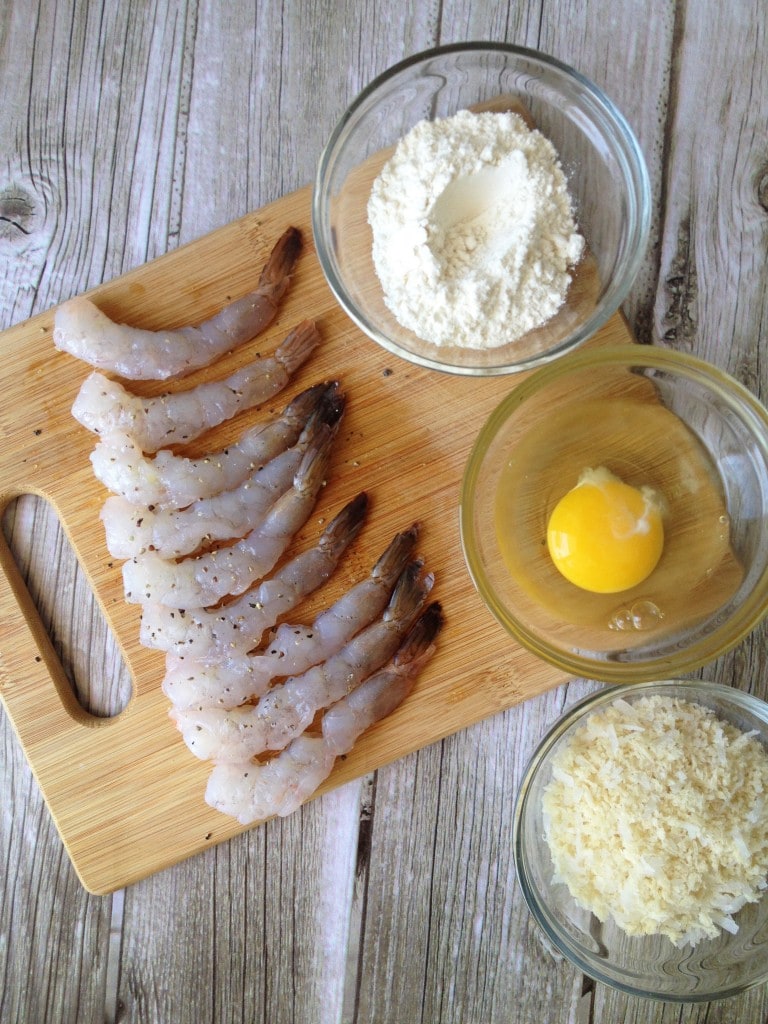 Also, you'll want to shake off any excess flour before dipping into the egg and likewise, let the egg drip off fully before rolling it in the coconut mixture. I like to use a spoon to heap on flour in the first stage so I don't get my fingers messy.
As for the cooking, one thing I will have to point out here is shrimp cooks fast. Panko and coconut burn even faster. So don't blast your kitchen with super high heat and wonder why you have blackened charcoal shrimp. Heat up the oil nice and slow and wait for it to be ready. If you're wondering what ready is, ready is when you dip a shrimp end in it and the oil gets all excited. If the oil sits there and doesn't even acknowledge your shrimp, it's not ready.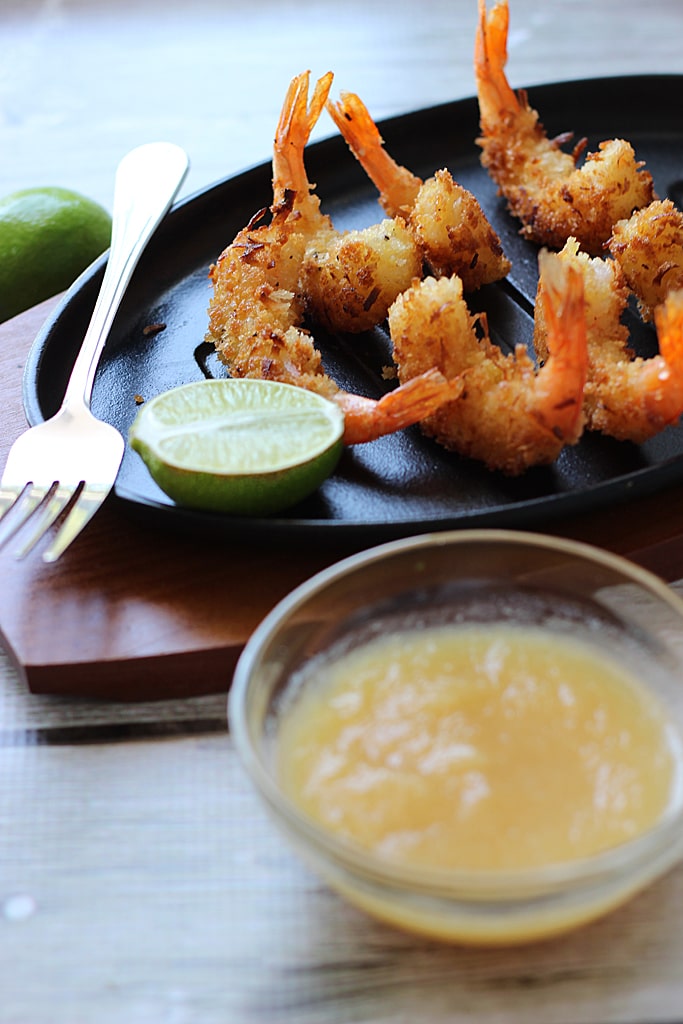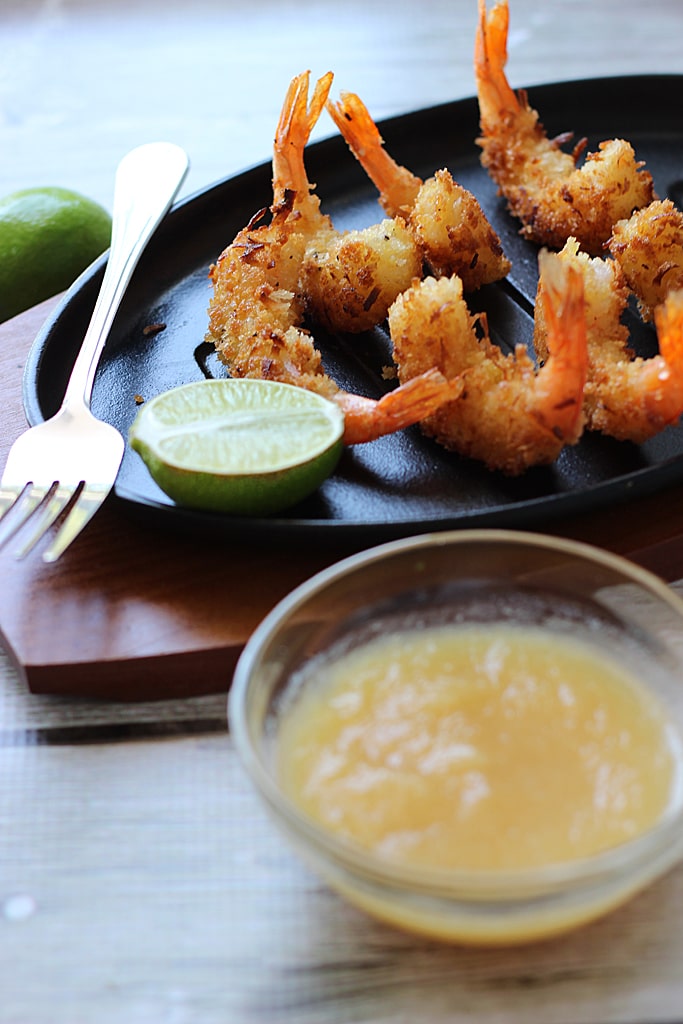 Then watch the shrimp cook, it shouldn't take too long. Once my oil was nice and hot, it took 30 seconds per side. If you don't have a deep fryer, you'll need to do both sides. I pan fried this and flipped sides. Once the coconut and panko turns a nice light brown, it is done. Once it starts turning a dark orange brown, is it a little overdone. You don't want it to look like someone with a bad sun tan. I don't need to tell you what it looks like when it's gone way past the overdone stage.
If oil makes your arteries scream for mercy, you can probably bake these too. Just like I had success baking my tuna and cheese croquettes, these are bake-friendly as well. I did the croquettes with cornflakes breadcrumbs on 450 degrees F for 15 minutes. I suggest 450 degrees F for about 5-10 minutes, check to see how long it takes to get a light golden brown. If you do bake it, let me know what settings you used!
And now it's time to eat. I spent about an hour taking pics of these. By the time I was ready to eat, it had cooled down but was still crispy. Oh and that pineapple sauce. Just a little bit of heat to it and with it being chilled and all, it was great! The first thing I thought when I took my first bite was 'How do I tell them how awesome this is without using hyperboles?'. Well, I hope I just did.
Print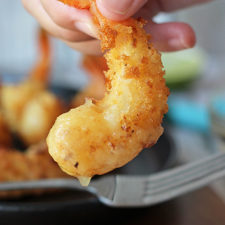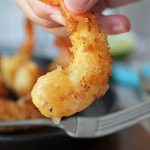 Coconut Shrimp with Spicy Pineapple Sauce
---
Author:

Prep Time:

30 mins

Cook Time:

10 mins

Total Time:

40 mins

Yield:

2

–

4

1

x
Description
Super crispy and sweet coconut shrimp with a spicy chilled pineapple sauce.
---
Shrimp:
12 oz

. jumbo shrimp, peeled and deveined with tail on
Salt and pepper to taste

3/4 cup

flour

1

egg, beaten

1 cup

panko breadcrumbs

1/2 cup

sweetened coconut flakes
Sauce:
1

can (8 oz.) pineapple chunks, with juice

2 teaspoons

brown sugar

1 teaspoon

lime juice

1/8 teaspoon

ground cayenne
---
Instructions
Blend all the sauce ingredients and chill in the refrigerator for 30 minutes.
Pat the shrimp dry and season with salt and pepper to taste.
Combine the panko with coconut flakes and mix well.
Dust the shrimp in the flour, dip it in the egg and then coat fully with the coconut mixture.
Repeat with remaining shrimp.
Over medium heat, heat up the oil until hot and fry the shrimp in batches until a light golden brown. Drain on paper towels.
Let it rest for 10 minutes then dish and serve with chilled pineapple sauce.
♡ Affiliate disclosure: As an Amazon Associate, I earn commissions from qualifying purchases from Amazon.com. You can learn more about it here.