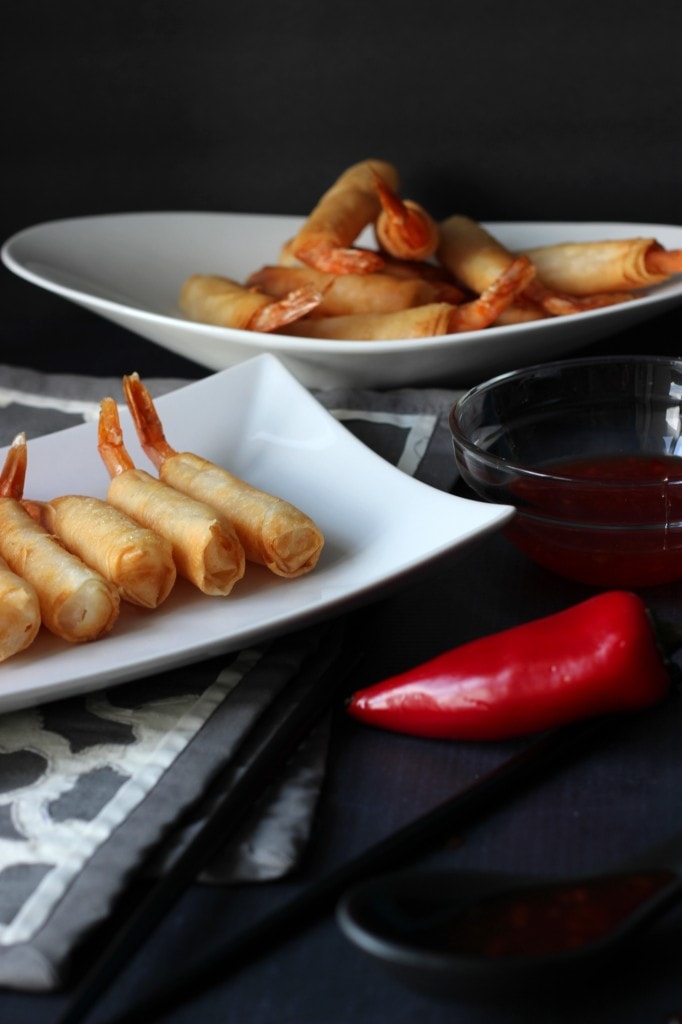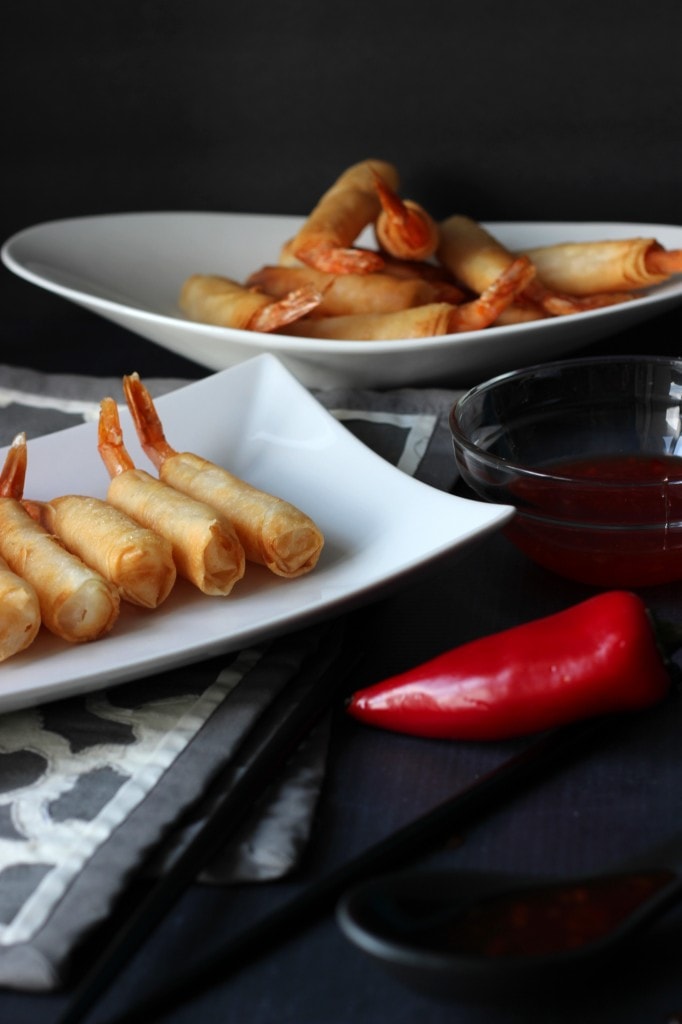 Happy 4th of July everyone! If some of you are getting a sense of deja vu, you're spot on. I posted this recipe around a year ago about the same time in rushed frenzy and it didn't quite live up to what I hoped for, so here I am again doing this right. As a general rule, I never repost anything. But having trashed the original Thai firecracker shrimp post because the visuals sucked, I thought of redoing it instead because the recipe really deserves to be out there. And since it's 4th of July, fireworks and all, now is the perfect time to bring it to the spot light. So here we are again, round two!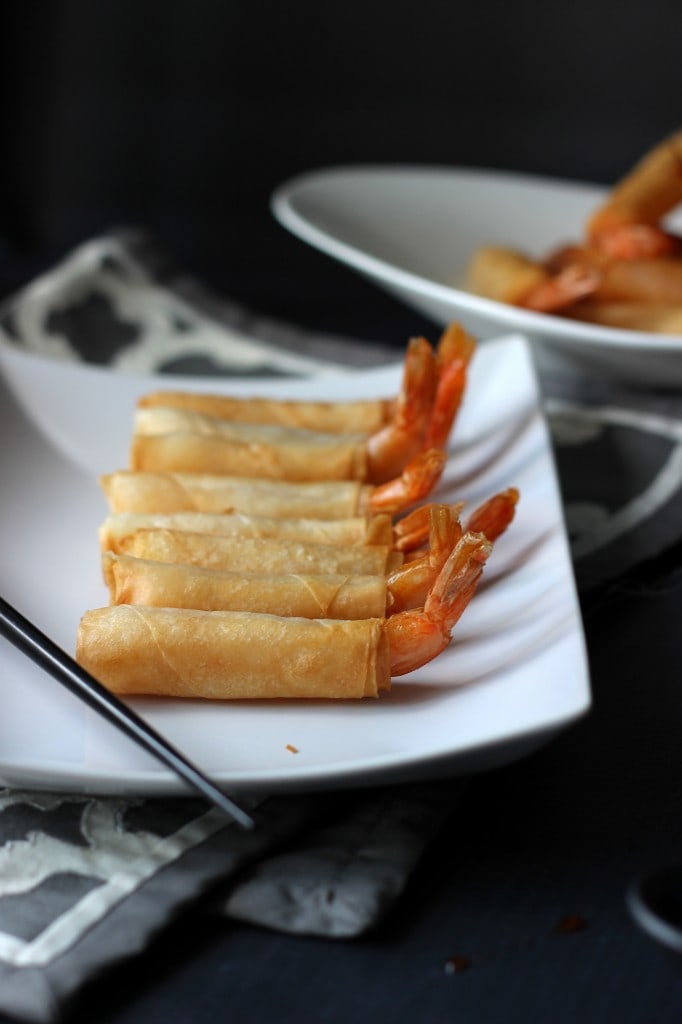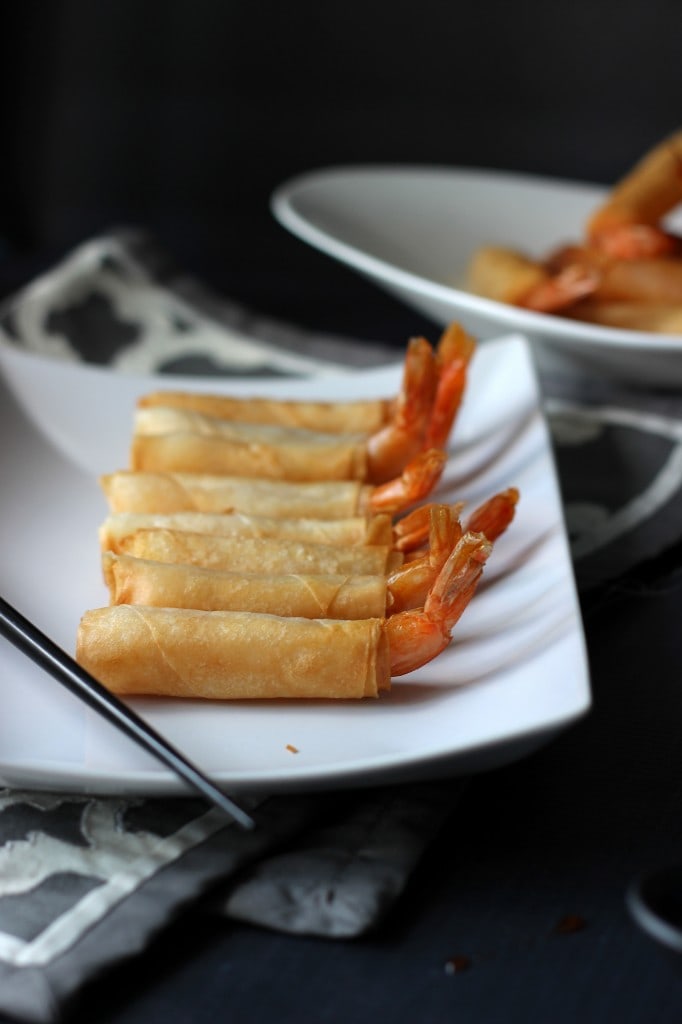 Speaking of fireworks, I'm not one for fireworks really. We went a few years ago and watched the fireworks explode in tandem with music over the water. It was a great experience and both of us were filming the whole thing with excitement and big grins on our faces. But it's not something we'd do every year. Once is enough for me. Is that bad?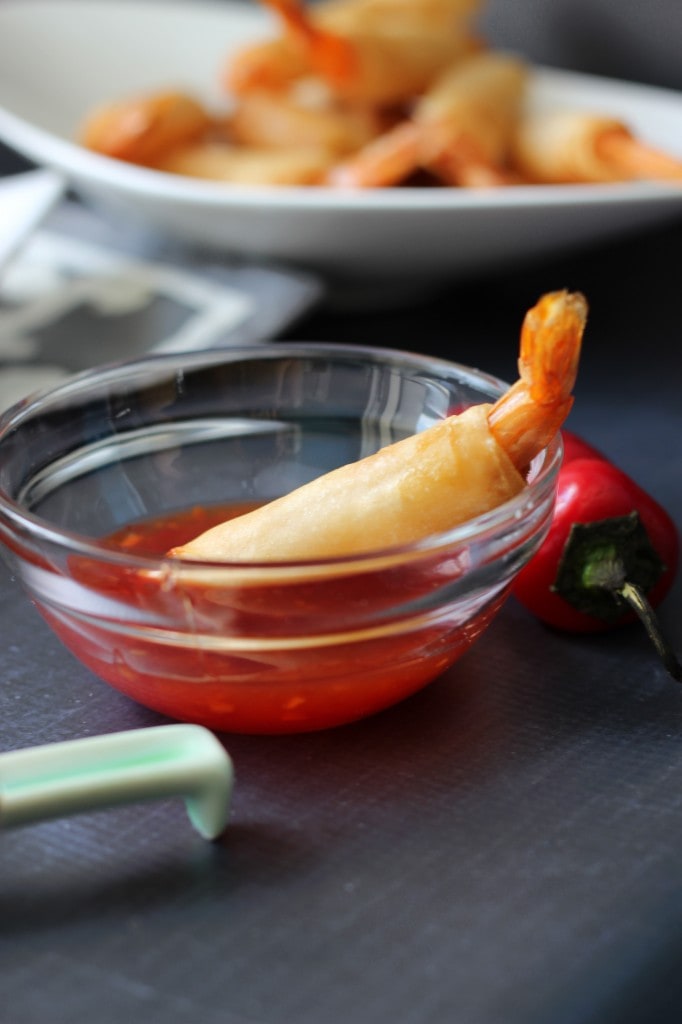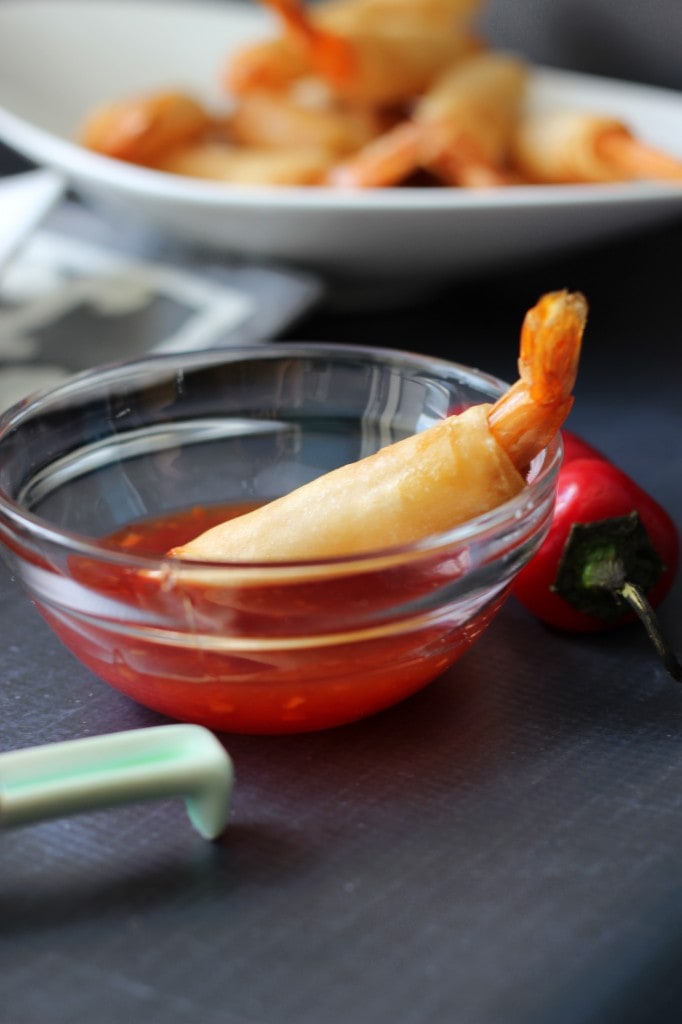 With the lack of love for fireworks, I'd at least like to get into the mood of things in some way, so celebrating with food sits better with me. And while fireworks and firecrackers are a little bit of a stretch, here goes. As for the name, I have no idea why they're called firecracker shrimp. They don't explode in your face or anything. It's not spicy either, if you don't count the dipping sauce. All I know is it's of Thai origin and usually dipped with a sweet chili sauce.
Crunchy on the outside, shrimp on the inside with a cute little shrimp tail to act as a handle. I always have a bottle of sweet chili sauce handy but if you have trouble finding it, you can make your own. I should be posting a recipe to make it yourself at home soon.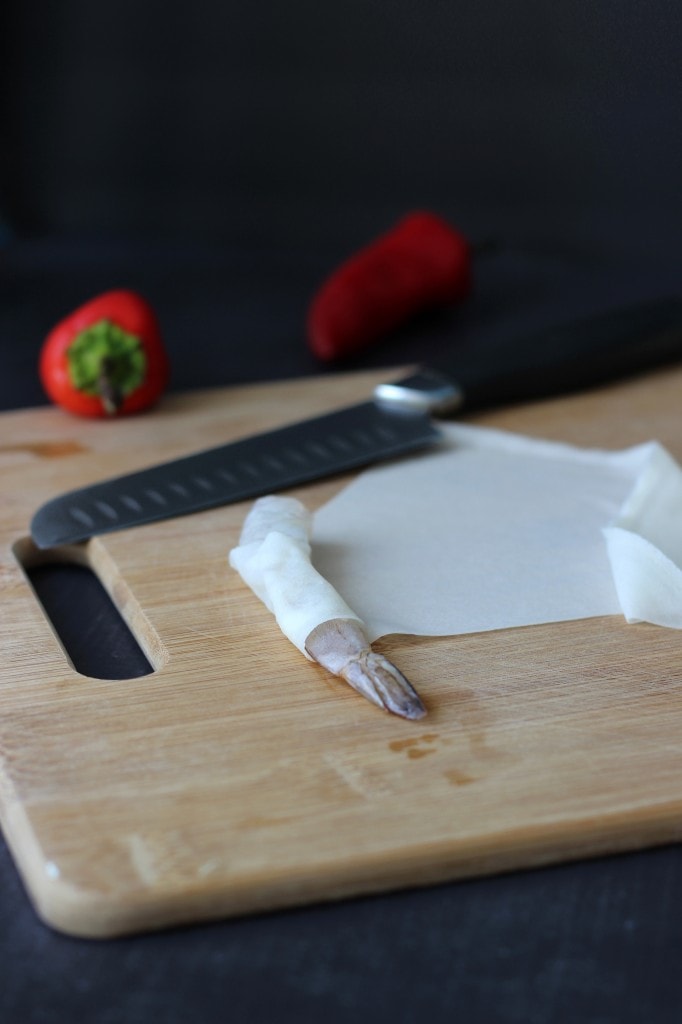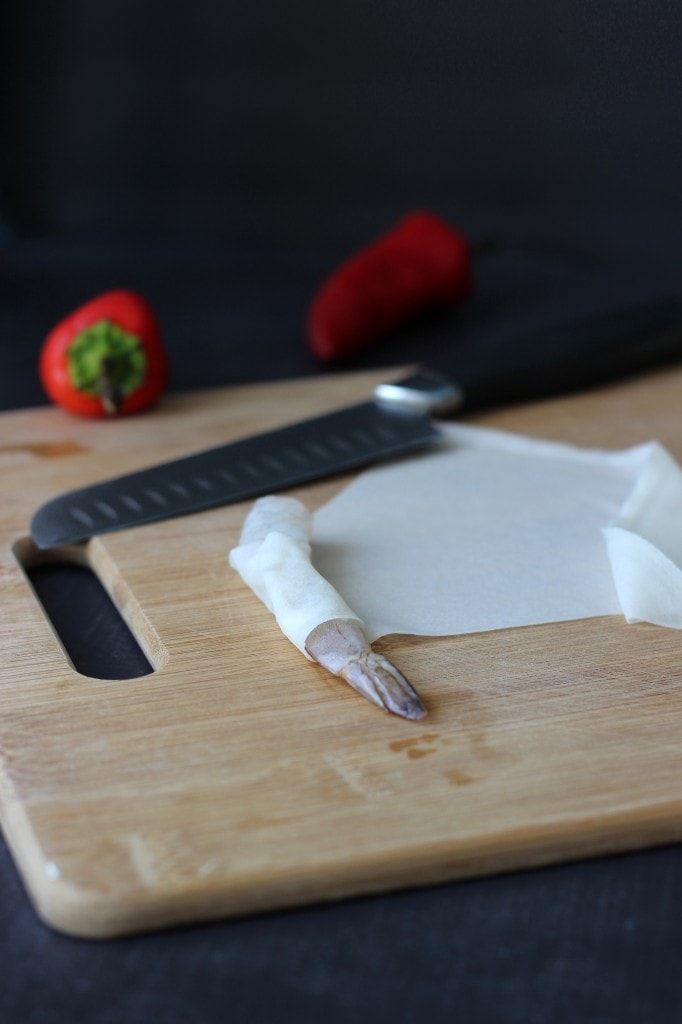 Back to the shrimp, they are relatively easy to make once you get the folding and wrapping part down. If you're a burrito wrapping king, you should feel right at home. I've included some visuals to help you figure out what goes where. You can find the egg roll wrappers at any Asian grocery store, usually in the frozen section. It's about 2 bucks or so for a pack of 25.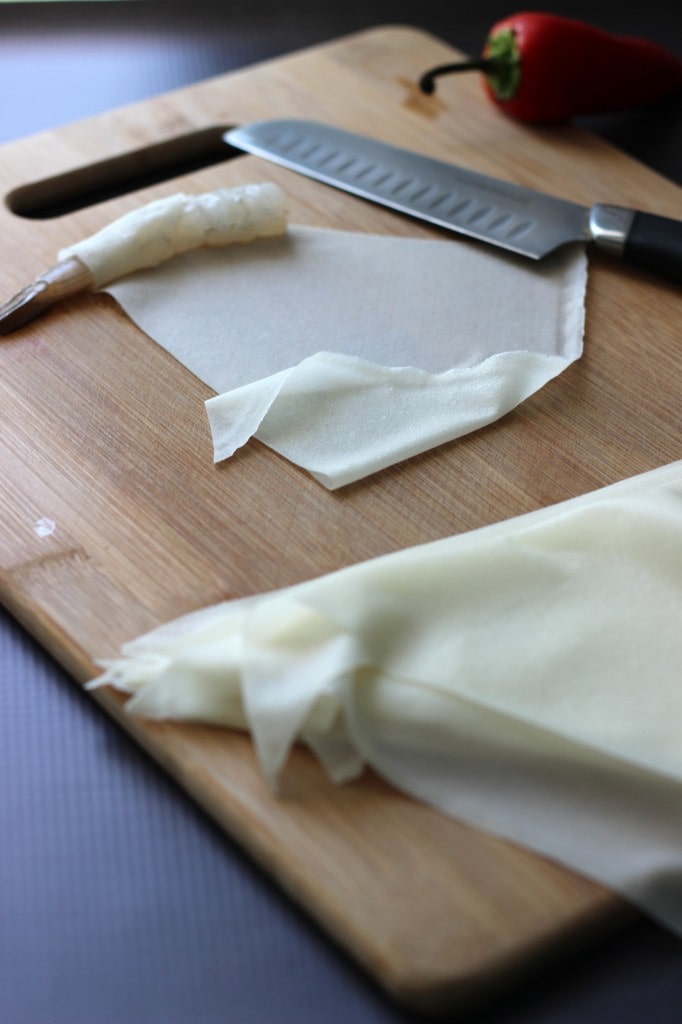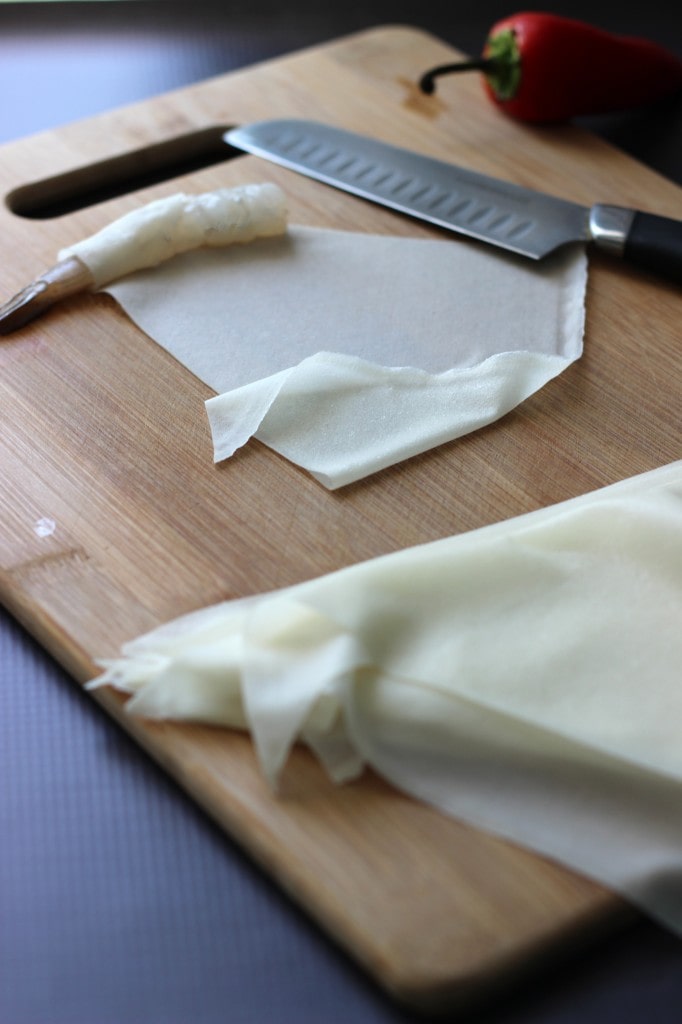 Thaw them out first then strip them apart one by one. I was careful and gentle while stripping the first wrapper but after the third or so I was stripping like a pro. This doesn't mean you should go on a stripping rampage though!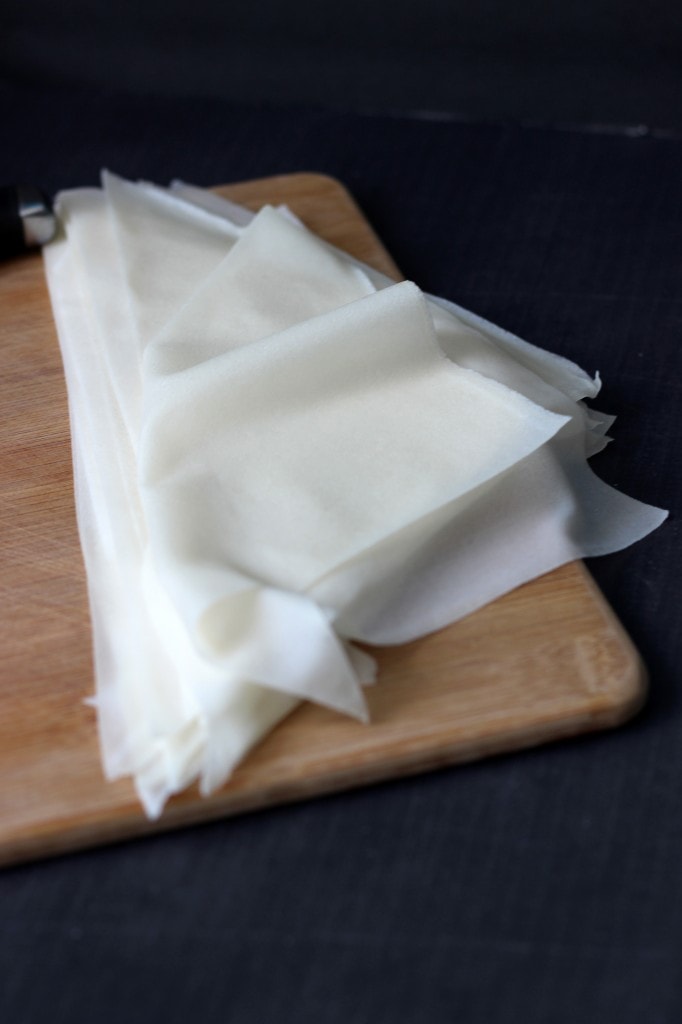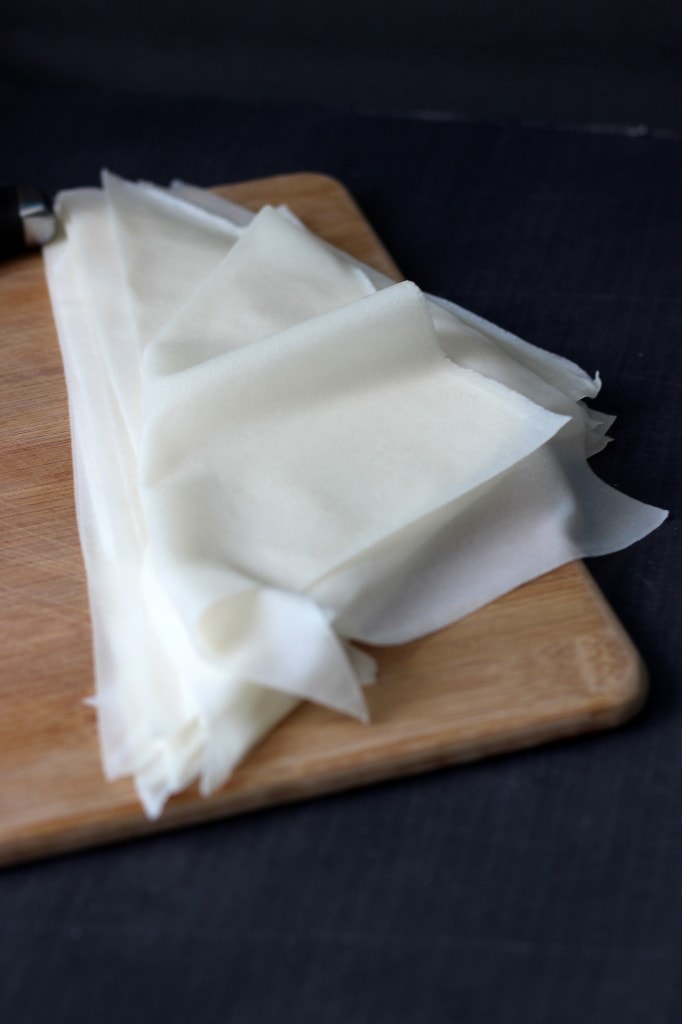 They're pretty neat too. Like little edible tissues. Once they're stripped, they don't stick together anymore. If I was the type to play with my food, I'd play with it.
As usual, a little warning about shrimp cooking. You're probably tired of me chanting the same mantra again and again. Shrimp cooks fast, shrimp cooks fast! Aaanyway…the shrimp cooks pretty fast and you don't want to overcook them so make sure the oil is nice and hot before dropping them in and babysit! Let them air out and cool down before digging in. Happy dipping!
Print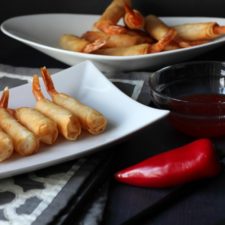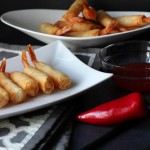 Thai Firecracker Shrimp
---
Author:

Total Time:

30 mins

Yield:

2

-4

1

x
20

large shrimps, shelled and deveined with tails on

10

egg roll wrappers

1

egg, beaten / 1 teaspoon cornstarch mixed with 1 tablespoon cold water
Marinade:
1 teaspoon

garlic, minced

1/4 teaspoon

ginger, minced

1/4 teaspoon

sesame oil

1/4 teaspoon

chili flakes

1 teaspoon

thin soy sauce

1 teaspoon

honey

1/2 teaspoon

lemon juice
---
Instructions
Cut three nicks on the underside of each shrimp and bend them backwards to straighten them out
Pat the shrimp dry with paper towels and marinate in the fridge for 30 minutes
Cut 10 egg roll wrappers in half diagonally then start with one half of a wrapper laid out in a triangle
Place one shrimp on the bottom left corner with the tail outside the wrapper
Fold the left corner over the shrimp and roll it a few times before folding the top part of the wrapper down to seal it from the top
Roll the shrimp up tightly in the wrapper leaving the bottom right hand corner open
Brush the corner with the beaten egg or cornstarch slurry and roll it up completely. The egg will act as a seal
Repeat the process for the rest of the shrimp
Over medium high heat, deep-fry the shrimp in batches until golden brown and drain on paper towels
Let it sit for 10 minutes and serve with sweet Thai chili sauce
Prep Time:

20 mins

Cook Time:

10 mins
♡ Affiliate disclosure: As an Amazon Associate, I earn commissions from qualifying purchases from Amazon.com. You can learn more about it here.