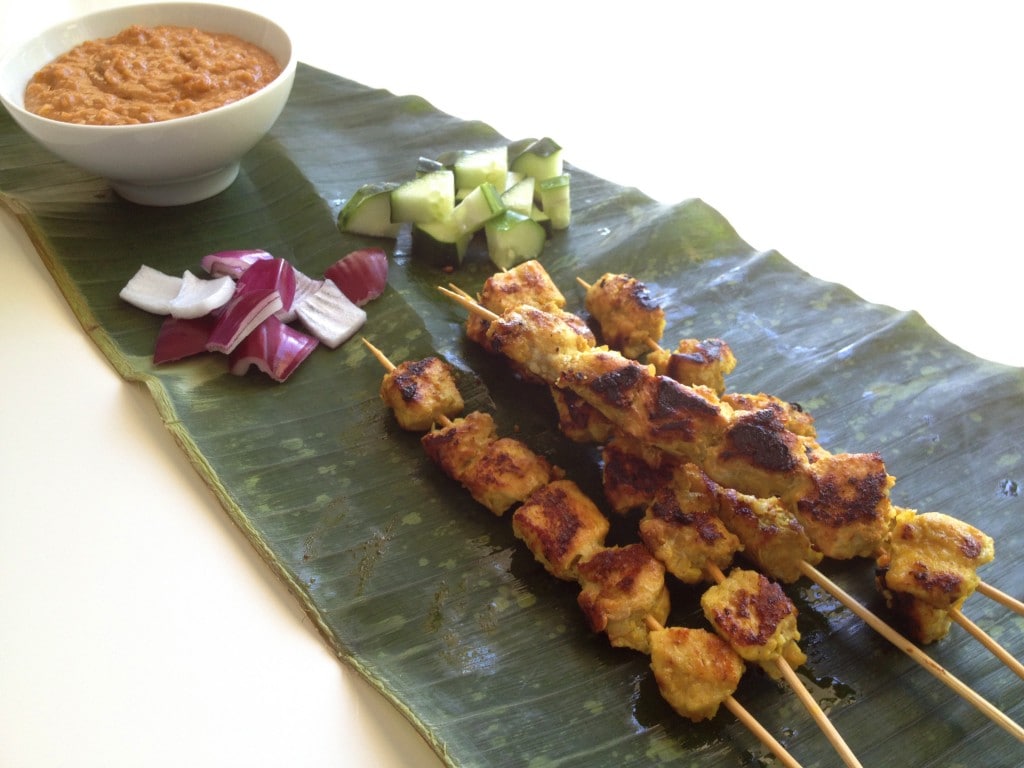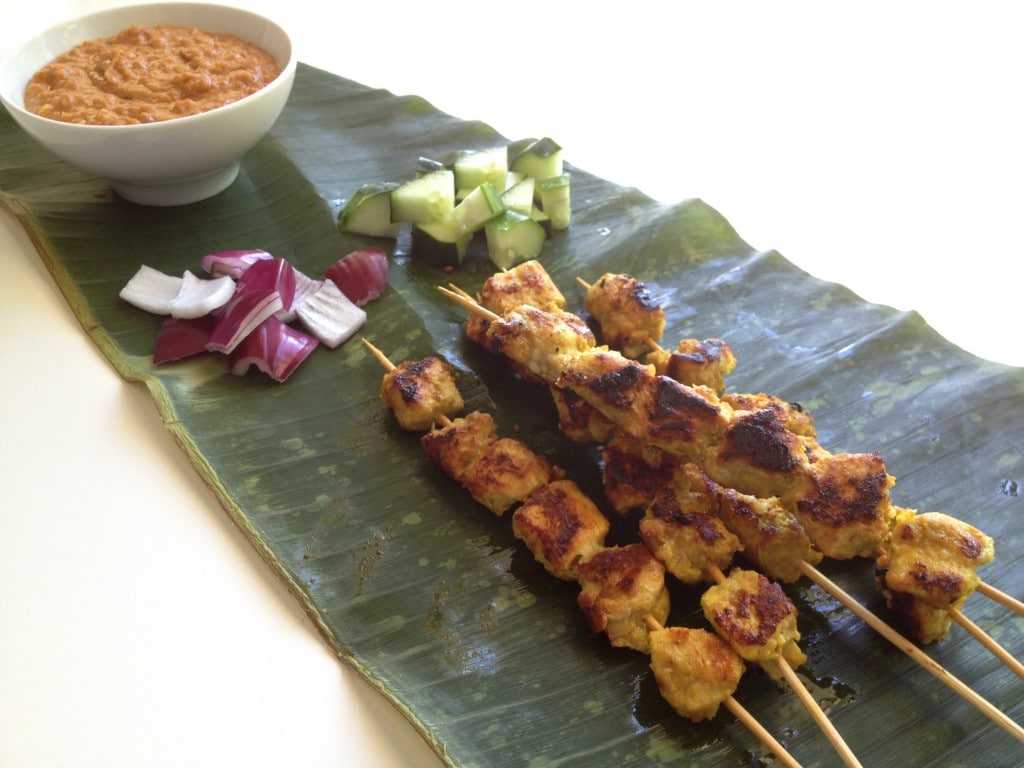 Satay brings back memories of sitting in an open air food court at night surrounded by a million and one types of food you can eat to your hearts content. Cause that's what food courts are to me, having at least 20 choices of food, far too many choices of food, that your brain shuts down and you end up letting your stomach decide. And the stomach normally decides through smell first. In that criteria, satay beats all the other offerings hands down. The smell of marinated and constantly basted meat being grilled over charcoal fire is hard to ignore. Reaaally hard. So if you went there not even planning to order satay, you ended up ordering satay.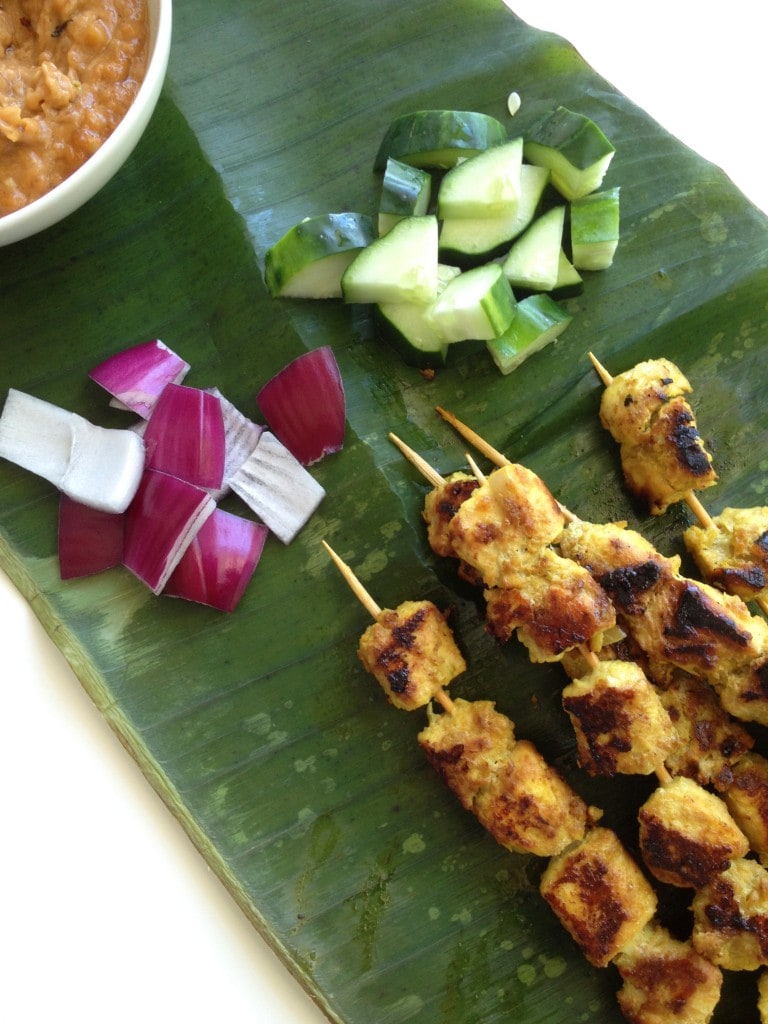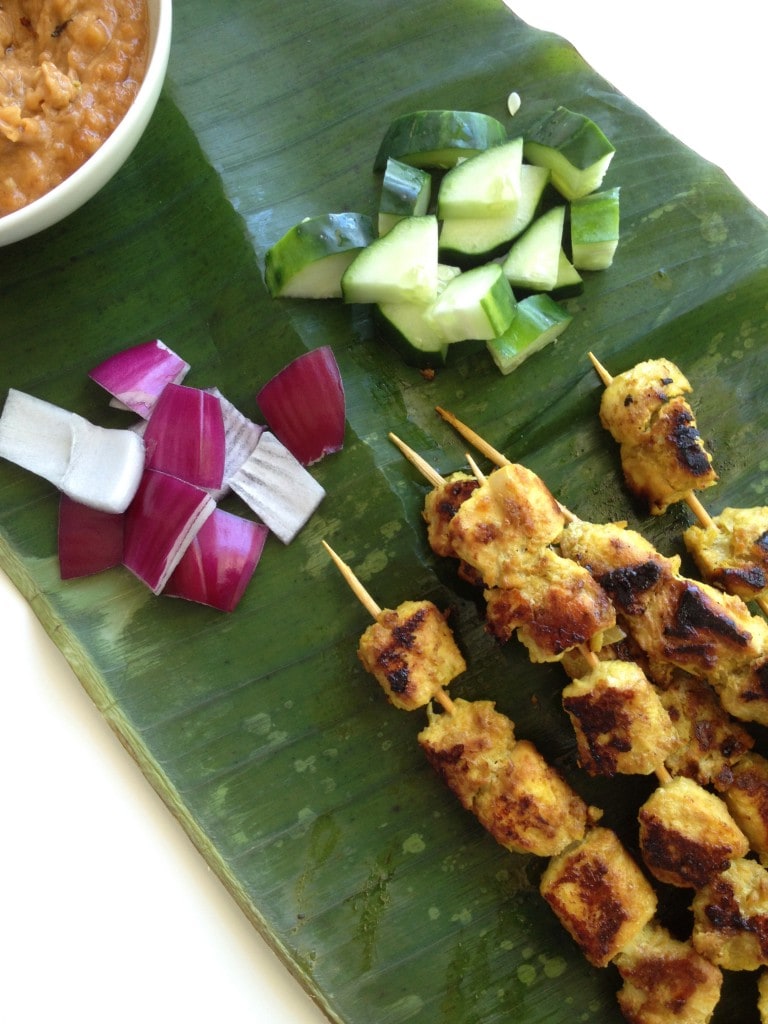 They're pretty pricey too but oh so worth it. When you get your beef or chicken satay skewers, there's the expected peanut sauce you can't do without BUT there's also three other things: raw red onions (which were always meh to me), cucumber wedges (getting a little bit excited) and cubes of compressed rice (ding ding ding!). Because cubed rice is just so good slathered in peanut sauce. If you're wondering what compressed rice cubes are, it's basically just that…freshly cooked rice dumped in a container with another container pressed down on top of it and weighed down with all manner of heavy things to make it compact and smush it into oblivion. What you end up with is compressed rice. Cut it into cubes and viola! Dense, cute rice cubes that peanut sauce just clings to.
I won't be featuring those rice cubes in this recipe or my pictures because I probably don't have enough heavy stuff to weigh it down with and I'm not creative or daring enough to bring in non kitchen objects. Sure you could put a piece of furniture on it but that doesn't mean it's the right thing to do!
Anyway, the experience of eating satay isn't complete unless you have the cook standing over his grill with a bamboo fan, fanning away furiously at it while the other hand is basting every now and then. That fanning part is important. I'm not sure if it affects the cooking process in any way but having someone fan down your food just makes it that much more authentic and desirable. My food was fanned, was yours? I didn't think so.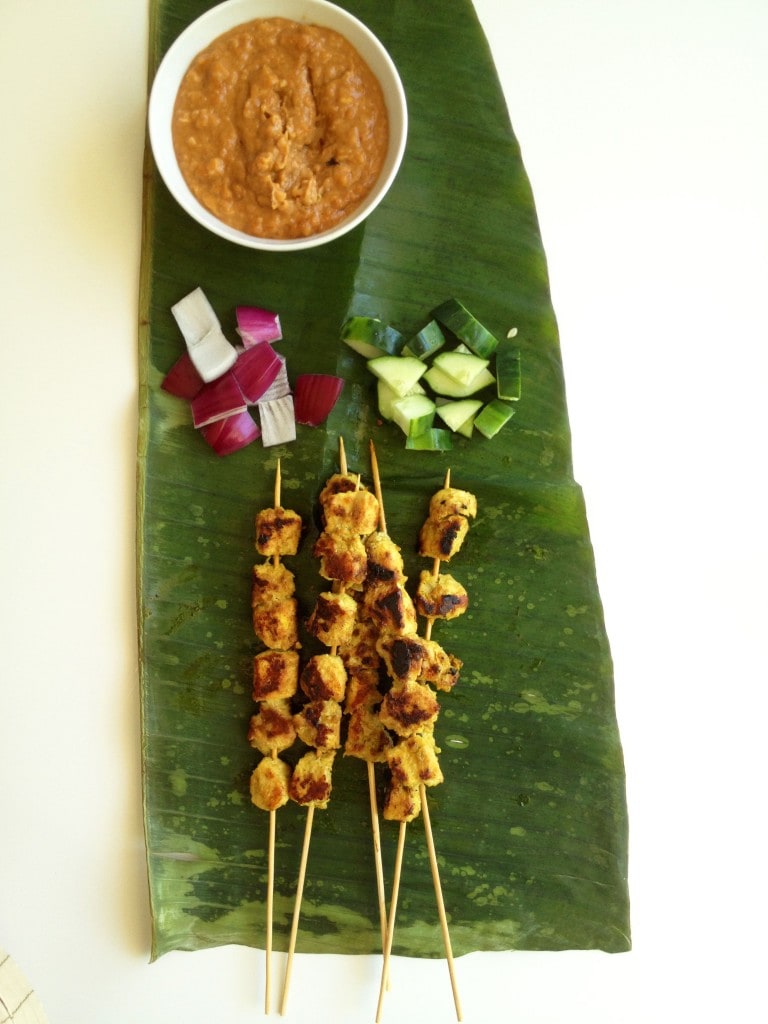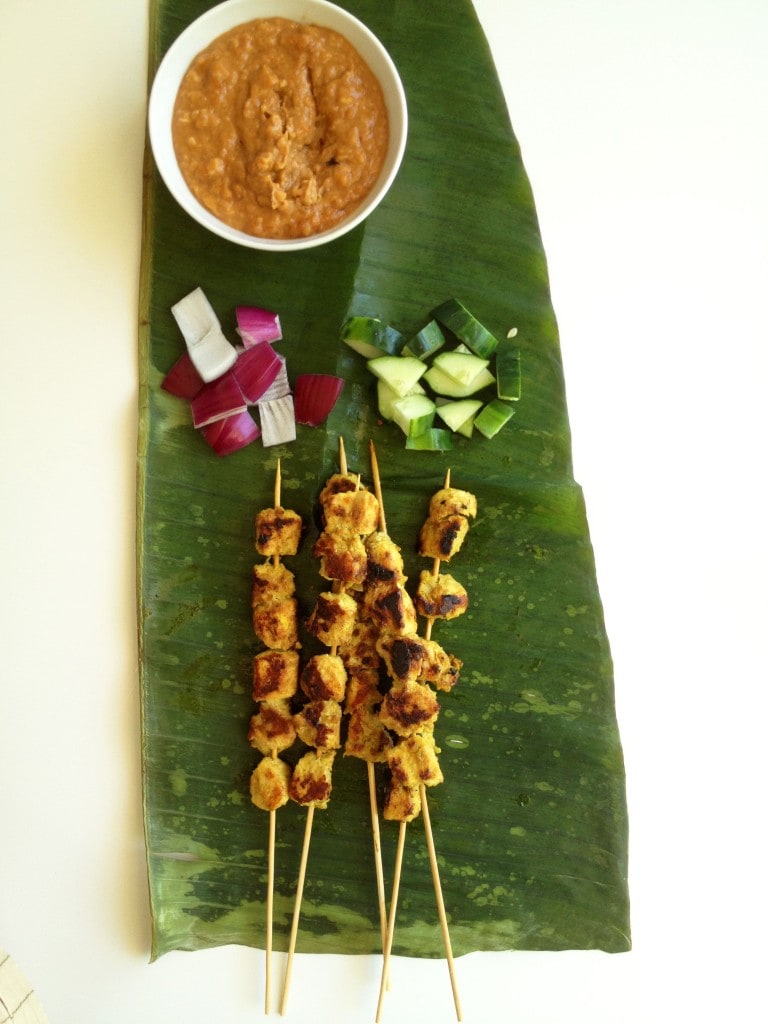 Another important part of eating satay (for me) is the ever present danger of accidentally skewering your mouth. It happens when you're reaching for that last piece of meat all the way at the end of the stick. I've seen people eat skewers by pushing all the stuff off it and eating it one by one, but that's no fun.
The fun thing about skewers is ripping off the food with your teeth like a barbarian.
I don't know about you but that's how I eat it. So there's always the dilemma of the last chunk of meat at the end of the stick. Do I push it all the way to the top with my fingers? I normally end up gripping one side of the meat with my teeth and using it to force the meat all the way to the top where I could then enjoy my little win safely. It's a little tricky sometimes though. A few times I'd grip too hard and end up effectively biting that side off. Other times I'd lose my grip and only make it halfway up the stick. But it's fun, really it is. If you don't have that element of danger and the tricky navigation of that last piece of meat all the way to the top, your satay experience is only sub par!
I've always loved beef satay over chicken. I know I had a reason for ultimately choosing chicken satay to post about instead of beef but for the life of me, I can't remember it now. So we'll just stick to the plan. I trust past me. Ignore the water-spotted banana leaf…I could only get my hands on the frozen kind here so my banana leaf is vintage!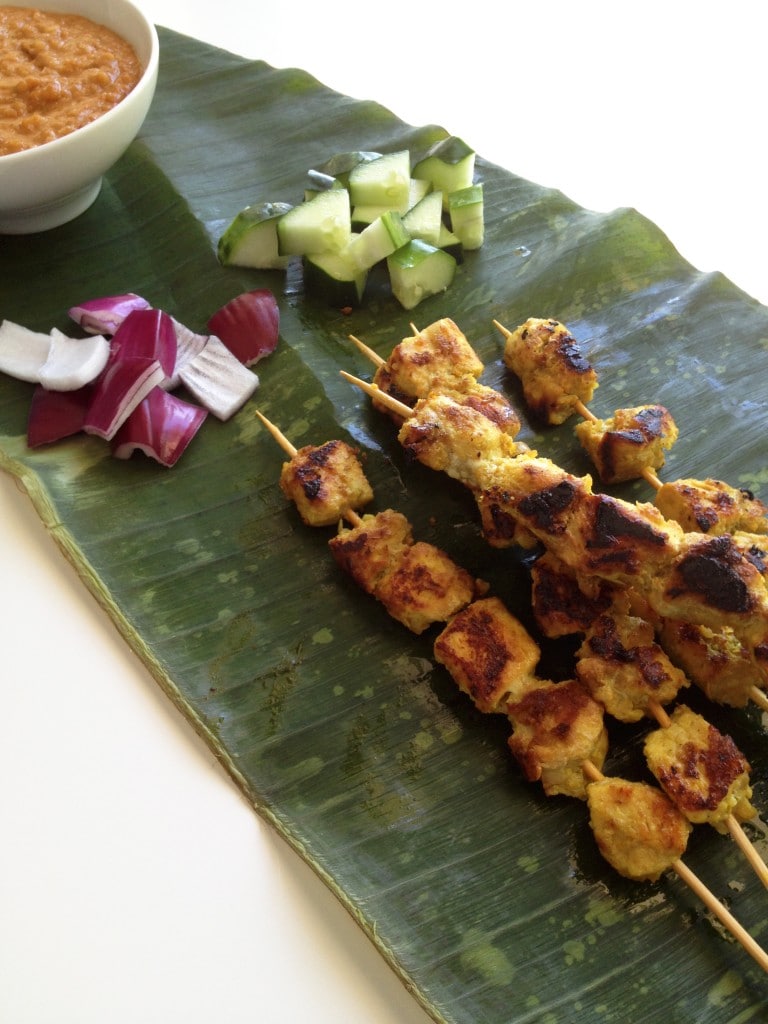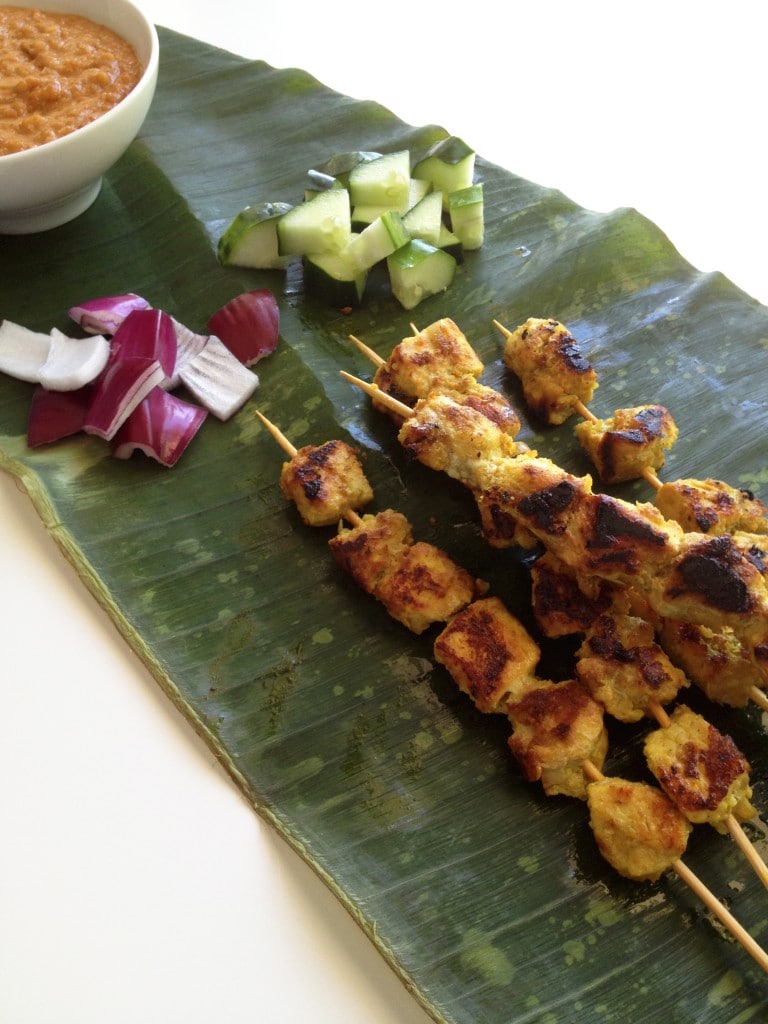 I was a little intimidated by the idea of making this for the first time because well, it's the first time. Also I'm doing it over the stove since we don't have a grill yet (I know, I'm missing out and I've been having backyard blues). But if you have a grill and some charcoal ready, fire it up after marinating these babies cause it will make your neighbors drop by (the ones who know you) and make your neighbors introduce themselves (the ones who don't know you). It was so delicious, I made happy nom nom sounds.
Talking about the recipe though, one thing I'd like to stress is not to skimp on the shallots. They are there not only as an aromatic and for the flavor but also to provide texture. Once it's blitzed with the other stuff, you have a sort of rough paste that adds a unique texture to the meat. As for the meat, the meat is marinated in a spice paste preferably overnight to soak up all the juicy yumminess. The bamboo sticks are soaked in water so they won't burn up. Thread the skewers, slap them on a grill and grill, baste, grill. Have your peanut sauce ready with the accompaniments of red onions, cucumbers and/or rice cubes and dig in while it's hot. And don't skewer yourself!
This author will not be liable for any event of skewering or being skewered with a bamboo stick while following this recipe.
Print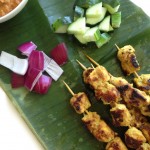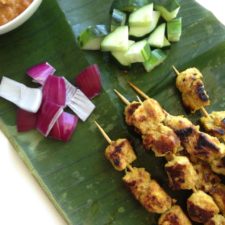 Authentic Chicken Satay
---
Author:

Prep Time:

15 mins

Cook Time:

30 mins

Total Time:

45 mins

Yield:

4

-

6

1

x
2

lb. chicken tenders, cut into bite sized pieces

1

red onion, cut into bite sized wedges

1

cucumber, cut into bite sized wedges
Marinade:
10

shallots, minced

3 teaspoons

garlic, minced

1 teaspoon

ginger, minced

1/2 tablespoon

lemongrass, minced

2 teaspoons

ground fennel

2 teaspoons

ground cumin

1 teaspoon

ground coriander

1 teaspoon

turmeric powder

1 teaspoon

shrimp paste

4 tablespoons

brown sugar
Basting
2 tablespoons

oil mixed with 1 teaspoon sugar
Satay Sauce
---
Instructions
Blend the marinade ingredients into a coarse paste and marinate with the chicken overnight
Soak the bamboo skewers in water for 10 minutes
Skewer the meat onto the sticks, starting 4 inches away from the bottom. Roughly 6 pieces per stick.
Grill until both sides are cooked, about 5 minutes each side and baste each skewer once with sugar oil
Dish and serve hot with peanut sauce and accompaniments
 Nutrition for serving amount: 6