An easy, cheesy rich and creamy spinach and artichoke ravioli bake. Easy to make with regular pantry items from grocery stores!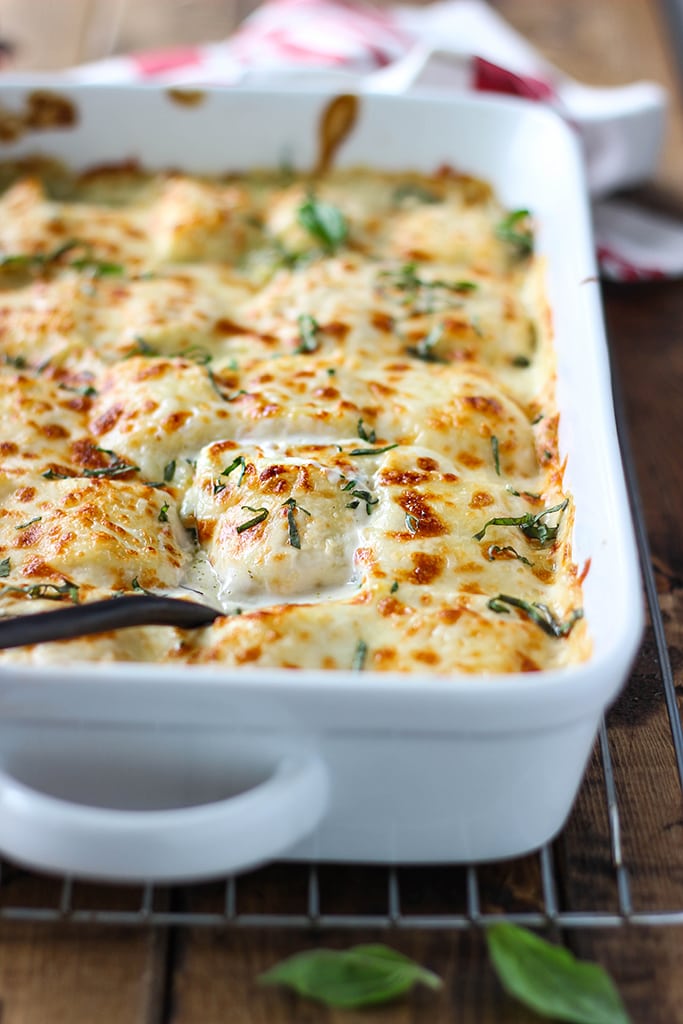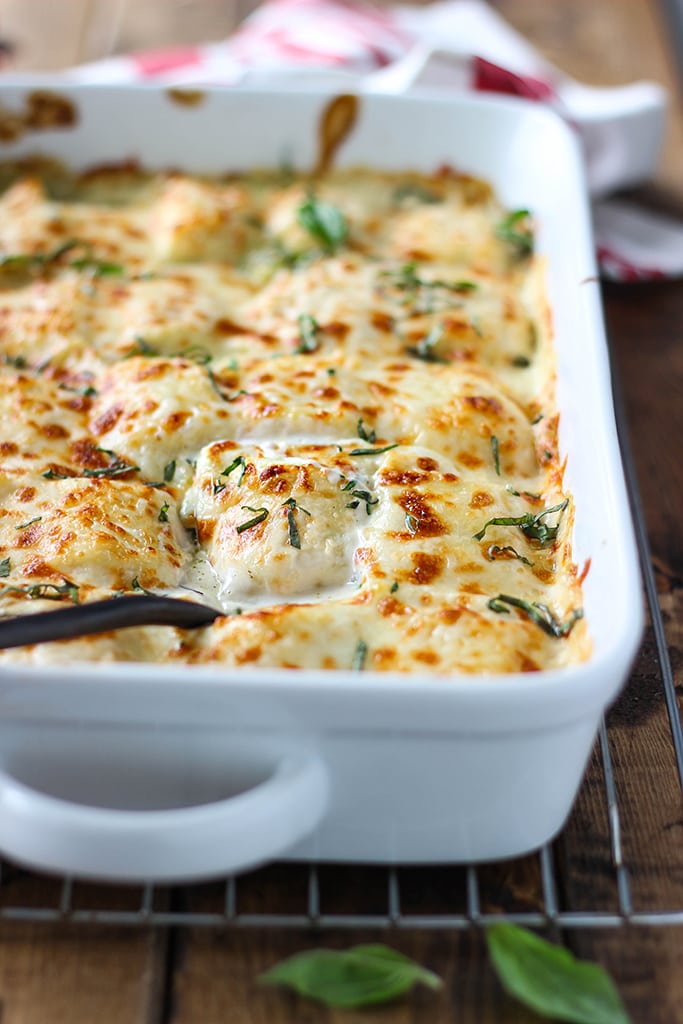 The first time I had ravioli I likened them to fluffy meaty pillows. They're so much fun! So today we're going to have ravioli in a pasta bake of sorts, smothered in rich, creamy Alfredo sauce and layered with a spinach and artichoke pesto mix.
Oh and there's cheese. A six Italian cheese blend of mozzarella, smoked provolone, romano, fontina, asiago and Parmesan cheese. And don't be put off by all the fancy names, you can find a packet of this pre-mixed shredded cheese right in the dairy section of a grocery store. No need to visit the deli aisle!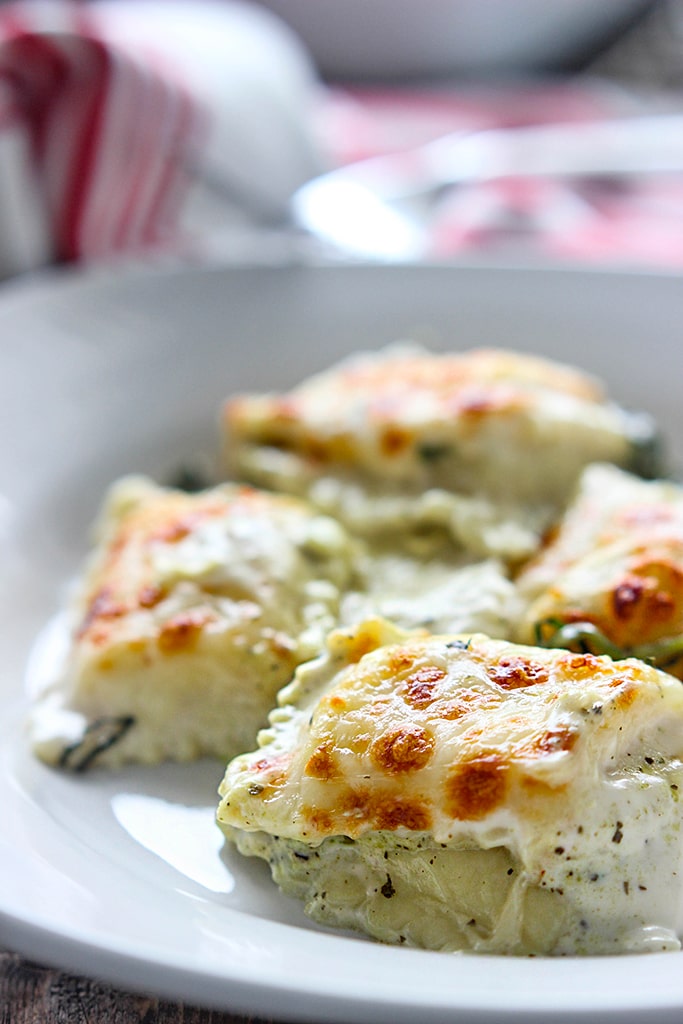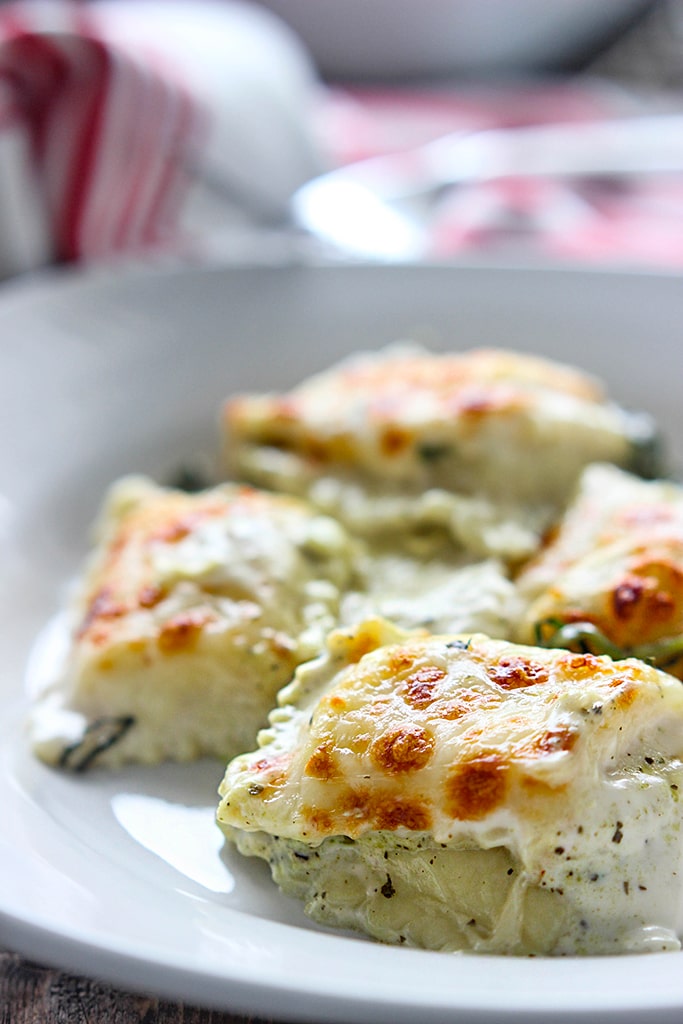 What's great about this is despite sounding like a lot of work, it really isn't. Most of the stuff can be bought pre-made. From frozen ravioli, jarred Alfredo sauce (although I've included how to make Alfredo sauce from scratch in the notes) and artichoke hearts in a can that just need some dicing. Really easy.
So let's get started.
SPINACH AND ARTICHOKE RAVIOLI BAKE RECIPE TIPS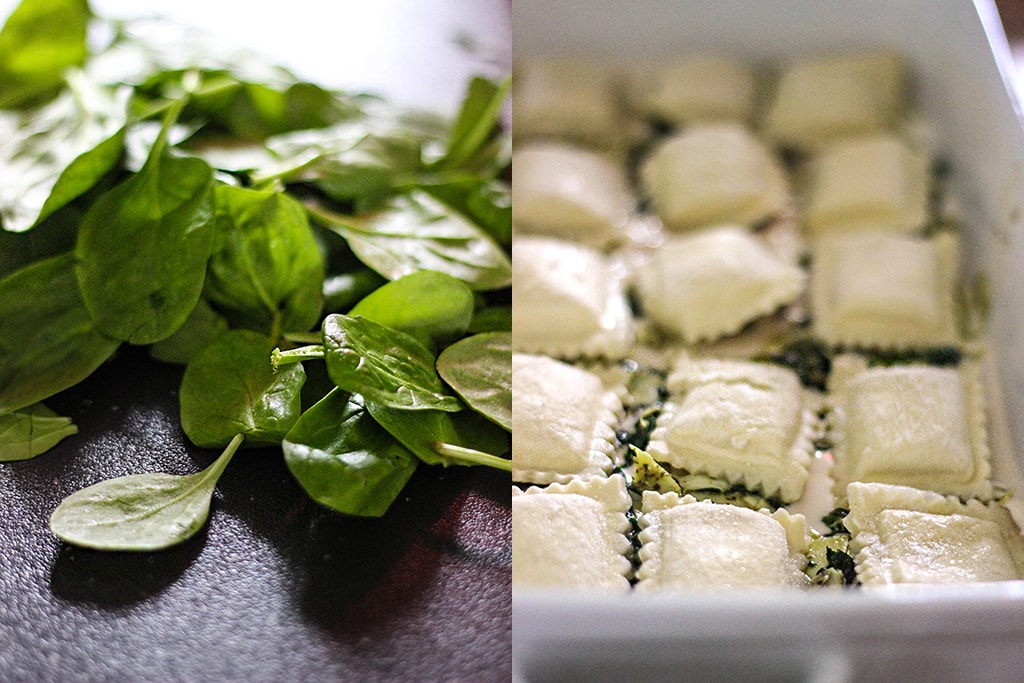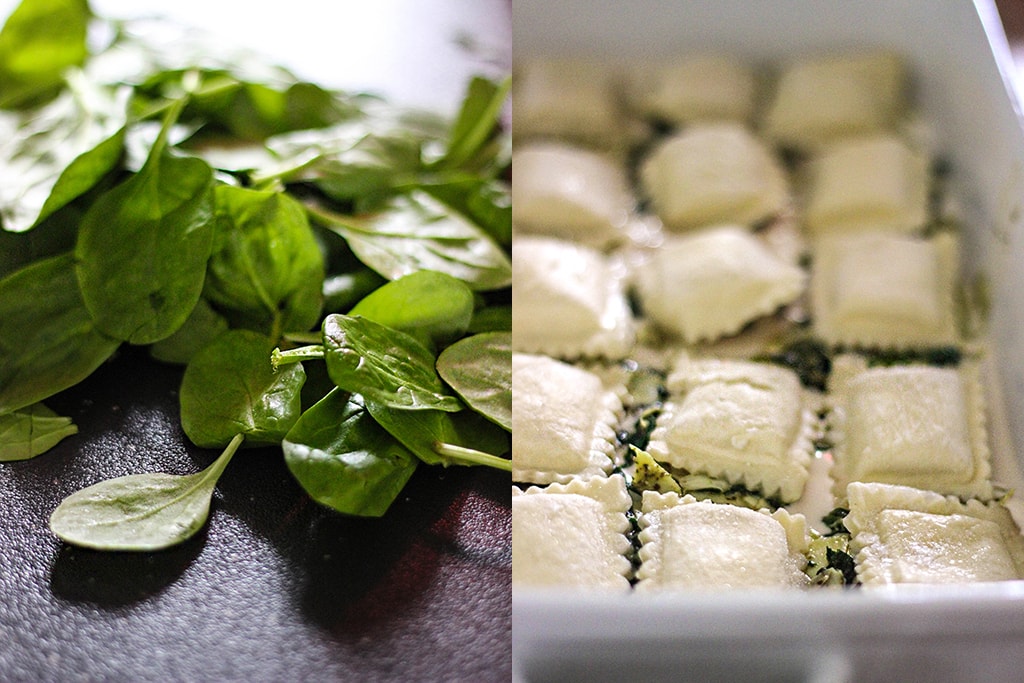 I let the frozen ravioli thaw out a little to separate easier. Some of them clumped up together so it was necessary. As a precaution, since spinach has high water content and I didn't want my bake watery, I sautéed them over the stovetop till they cooked down.
Not much to it. Saucepan, some heat and some baby spinach. You can choose to chop your spinach or leave them as is. It turned out my fears were unfounded as there was very little water released. So you could opt to cook them down or use them as is.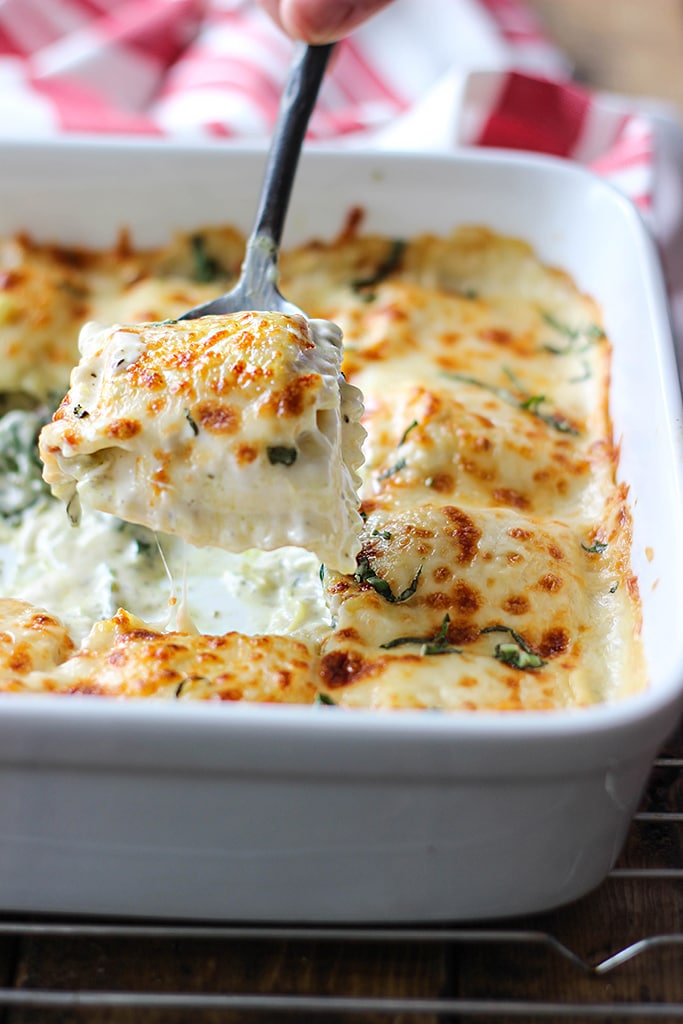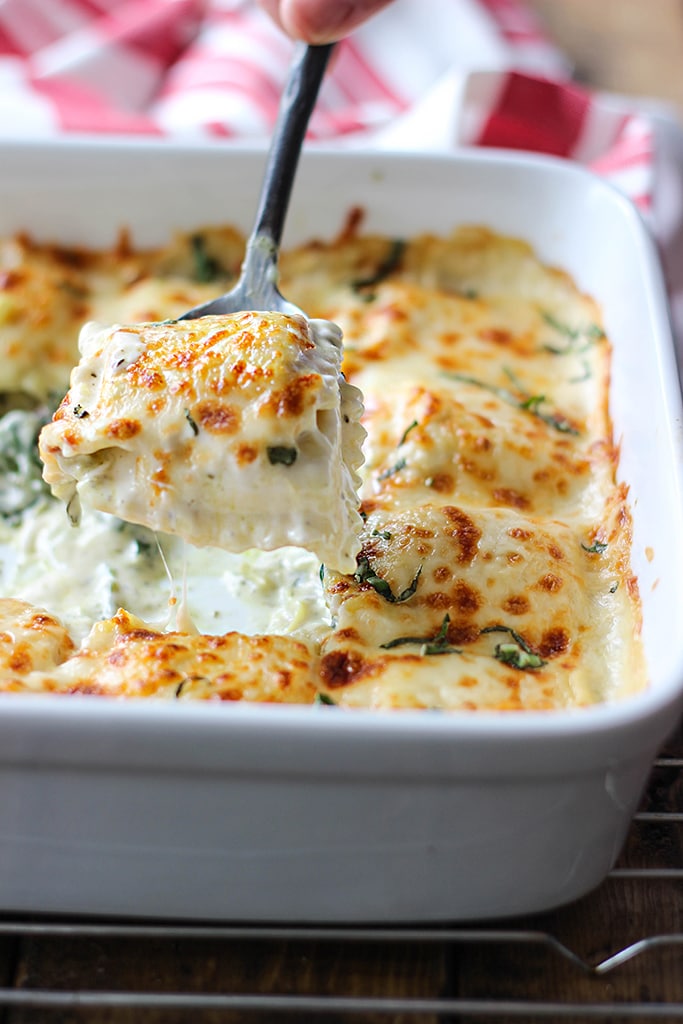 The spinach is then mixed with chopped artichoke hearts and some pesto. This part is pretty simple. Water down the Alfredo sauce a little with some broth, vegetable broth to keep it vegetarian, or chicken broth for those who don't mind. It's so the sauce can spread easier in the casserole. Then it's layering time!
Sauce, spinach mix, ravioli. Rinse and repeat once more and top with a final layer of Alfredo sauce. Bake for 30 minutes then cover with all that cheese I mentioned earlier and broil until melted, about 3 to 5 minutes.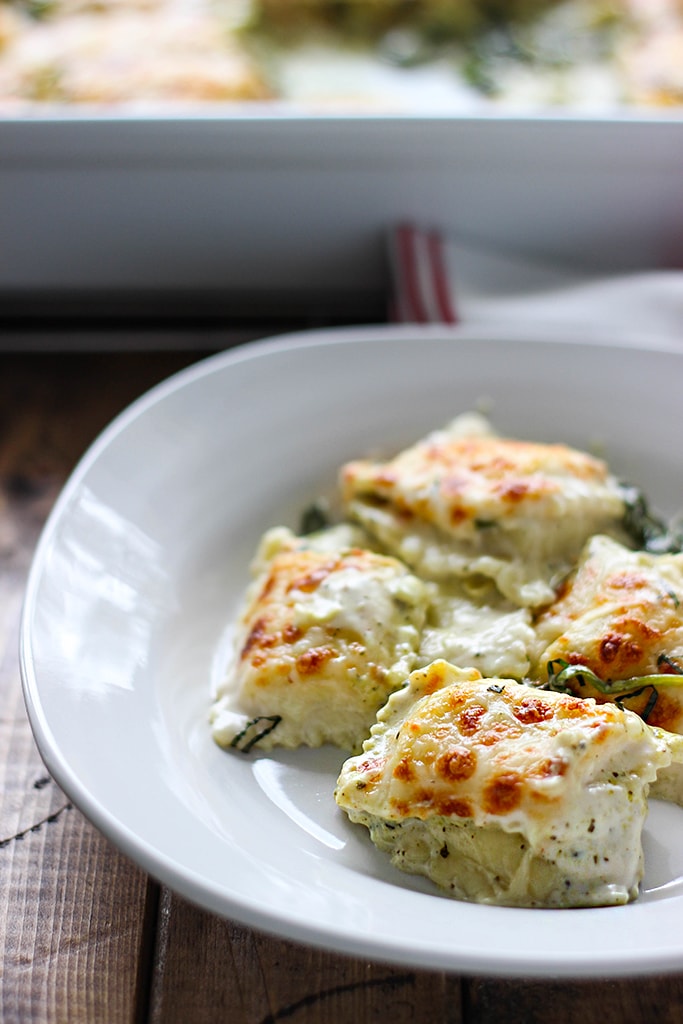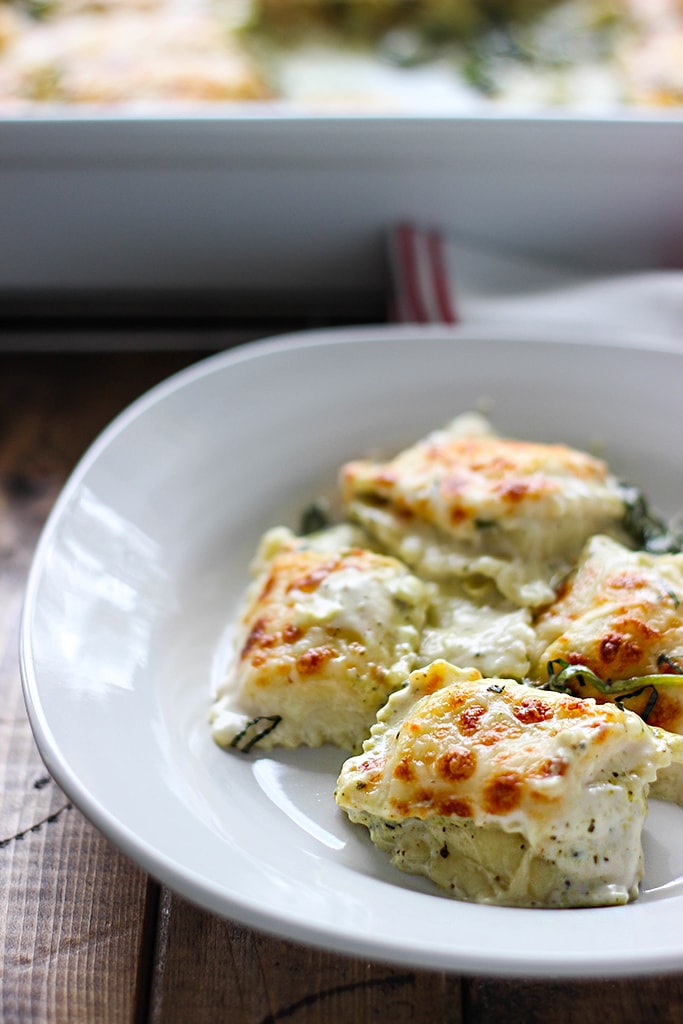 And that's all there is to it. This should yield 6-8 servings of pure comfort food. Now as I've mentioned, you can do this with store-bought Alfredo sauce or you can try and make your own. Check the recipe notes for instructions on making your own.
And if you've had success with this recipe and a store-bought Alfredo, please list the brand of Alfredo sauce you used in the comments to help others shop for it!
Happy eating and enjoy!
MORE SPINACH RECIPES TO TRY
Did you make this recipe? Rate it!
♡ If you liked this recipe, giving it a star rating ★★★★★ in the comments below really helps! For more recipes, subscribe to my newsletter or follow me on Facebook, Instagram and Pinterest.
Print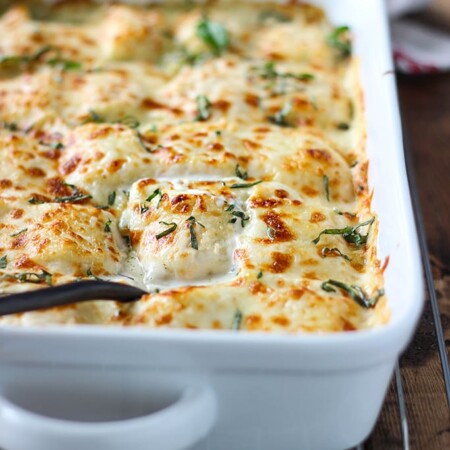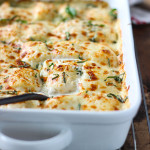 Spinach and Artichoke Ravioli Bake
---
Author:
Total Time: 45 mins
Yield: 6-8 1x
Description
An easy, cheesy rich and creamy spinach and artichoke ravioli bake. Easy to make with convenience items from grocery stores!
---
5 oz. fresh baby spinach, chopped
1 can (16 oz.) artichoke hearts, diced
2 tablespoons pesto
2 cups Alfredo sauce
1/4 cup vegetable/chicken broth
25 oz. frozen ravioli
1 cup Italian cheese blend, shredded
---
Instructions
Combine spinach, artichoke and pesto and mix well.
In a separate bowl, combine Alfredo sauce and broth.
Spread 1/3 of the Alfredo sauce on the bottom of a 9×13 baking dish.
Top with half of the spinach mixture.
Lay half of the ravioli in a single layer over the spinach.
Repeat layers once more.
Finish up with the remaining 1/3 Alfredo sauce.
Bake uncovered at 375°F for 30 minutes.
Sprinkle with cheeses and broil at 450°F for 3-5 minutes or until cheese has melted and browned.
Dish and serve hot.
Enjoy!
Notes
Homemade Alfredo Sauce (2 cups)
INGREDIENTS:
8 tablespoons butter
1 cup heavy cream
Salt and pepper to taste
2 cups Parmesan cheese, freshly grated
INSTRUCTIONS:
1. Over medium low heat, melt the butter and pour in the heavy cream. Stir to combine
2. Season with salt and pepper to taste
3. Add the Parmesan cheese in portions and stir to mix
Prep Time: 10 mins
Cook Time: 35 mins