This creamy ranch chicken recipe is comforting and delicious with juicy pan-seared chicken breasts in a zesty and flavorful cream sauce. Serve it with some mashed potatoes, rice, or egg noodles to soak up all that rich gravy.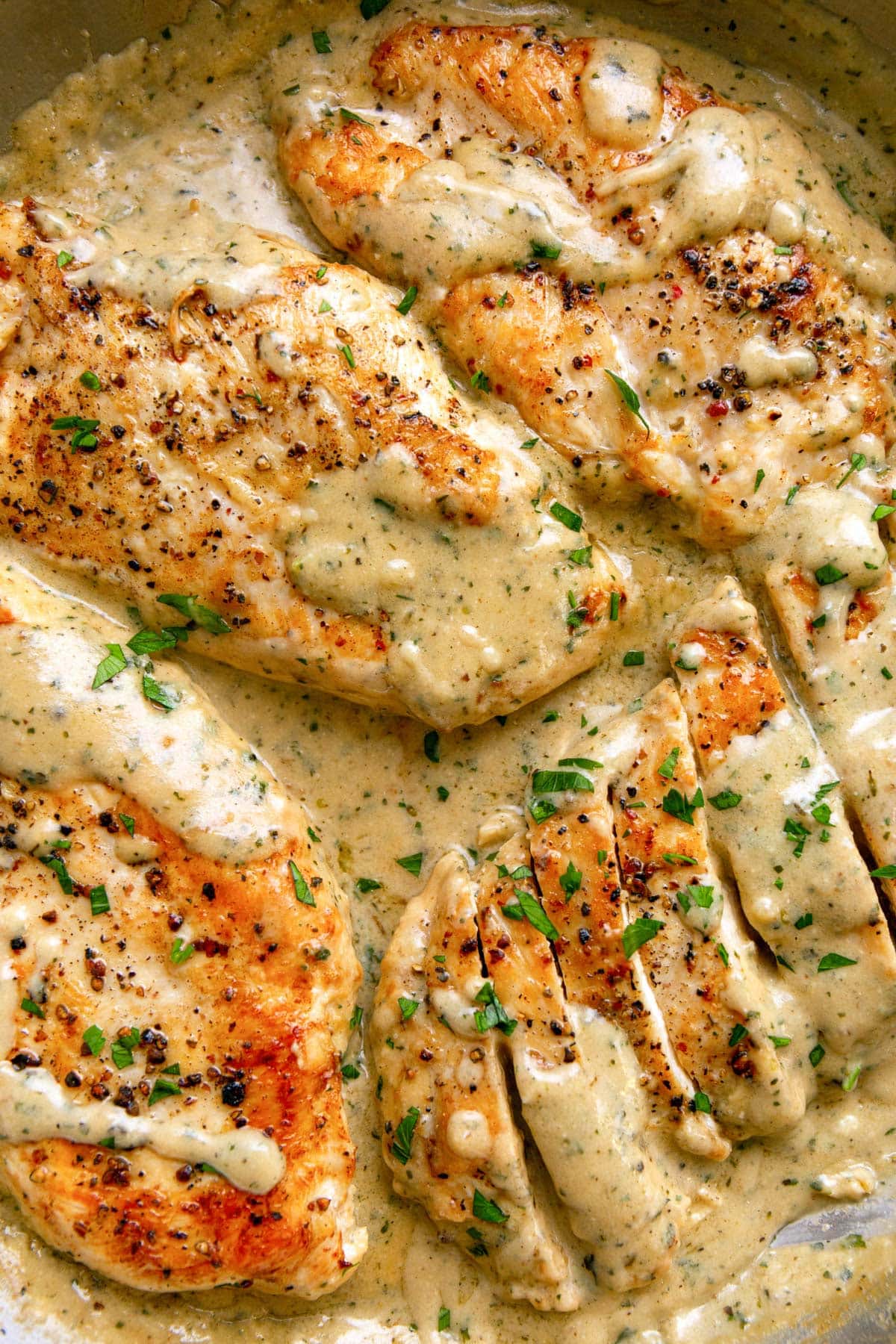 Today we're making some creamy ranch chicken that's an easy skillet meal with simple ingredients but incredible flavor. Ranch seasoning is the star of the show and elevates the humble chicken breast giving you savory comfort food with a ton of sauce to go around. Spoon it over mashed potatoes, serve it on a bed of white rice, or ladle it generously over a bowl of warm buttered egg noodles.
It's a simple, must-try recipe if you're looking for a way to dress up plain chicken. The chicken is seasoned and pan-seared in some butter until crisp and golden. A creamy ranch sauce is made from a combination of chicken broth, milk, ranch, sour cream, onion and garlic powder, and Italian seasoning. Serve this at the dinner table for a ranch-flavored meal the whole family will enjoy, like this well-loved bacon ranch pasta salad.
For more chicken recipes with a delicious sauce, try this chicken Lazone, creamy mushroom chicken, honey garlic chicken, or slow cooker chicken and gravy.
How To Make Creamy Ranch Chicken (1 Min Video)
Ingredients in Creamy Ranch Chicken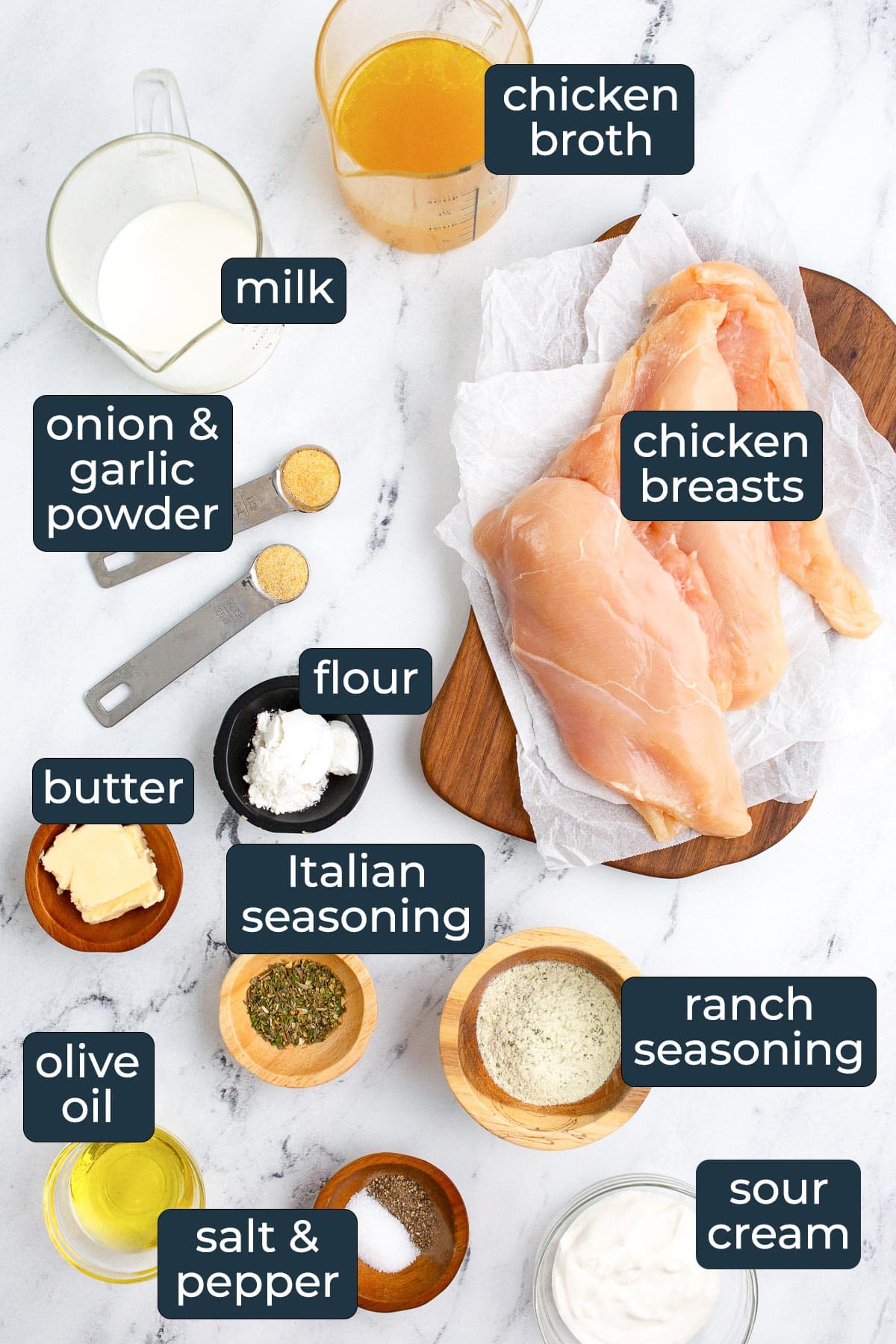 CREAMY RANCH CHICKEN RECIPE TIPS
Chicken – Pound the chicken breasts to an even thickness so it cooks evenly. A mounded center usually means the ends will be drier by the time the thicker part finishes cooking. You can use a meat mallet and place the chicken breasts between some plastic wrap, parchment paper, or in a Ziploc bag.
Two-hand seasoning method – The easiest way to minimize hand washing while seasoning meat is to use the dry and wet hand method. Use your dominant hand to sprinkle seasoning onto the meat and use your other hand to pat in seasonings and flip the chicken.
Seasoning – Work the salt and pepper into the chicken breasts by massaging them in.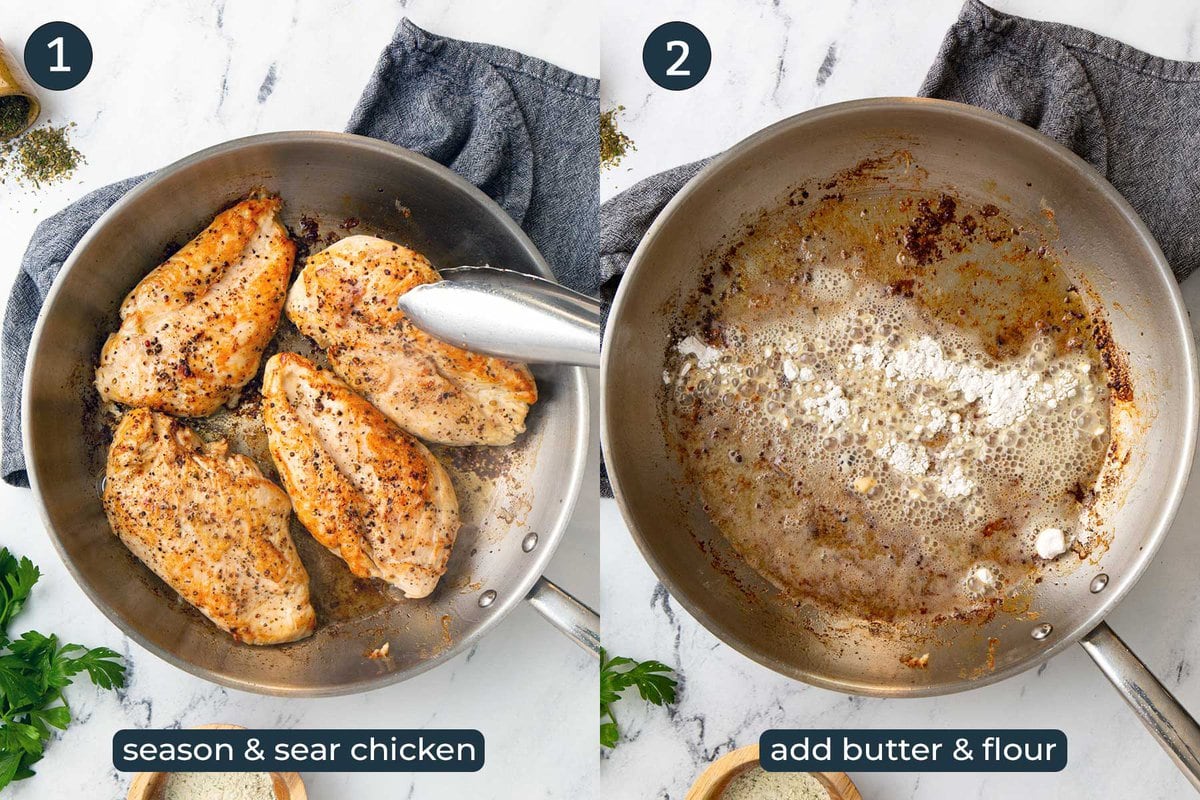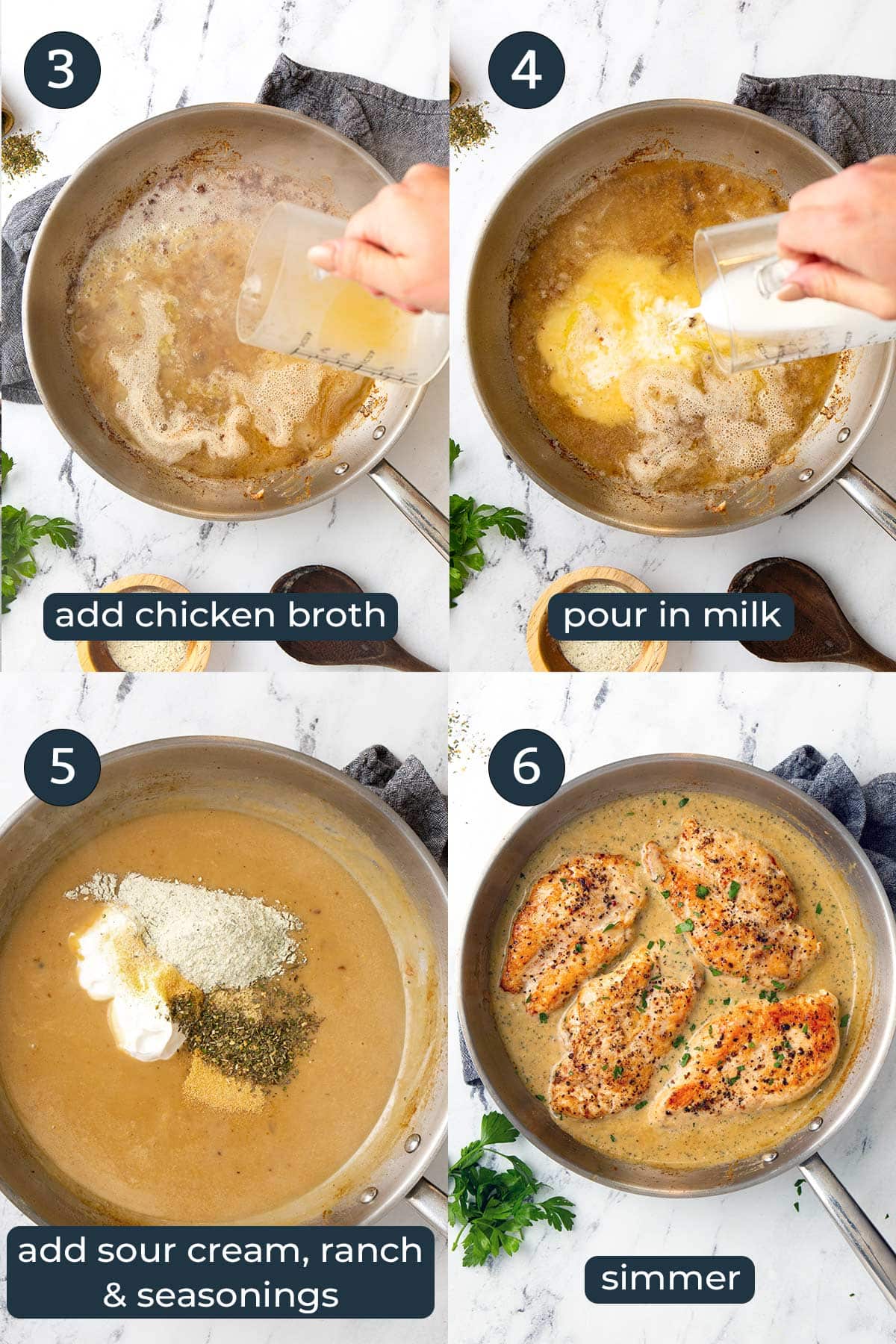 Butter – I like using Land O Lakes butter. The half sticks are perfect for slicing off into cubes and they come with measurements by the tablespoon or cup written onto the packaging so you can skip measuring spoonfuls of butter.
Flour – This helps thicken the sauce. After adding it to the melted butter, the mixture will bubble a little while cooking.
Chicken broth – Use low-sodium chicken broth since there's already enough sodium from the ranch seasoning packet.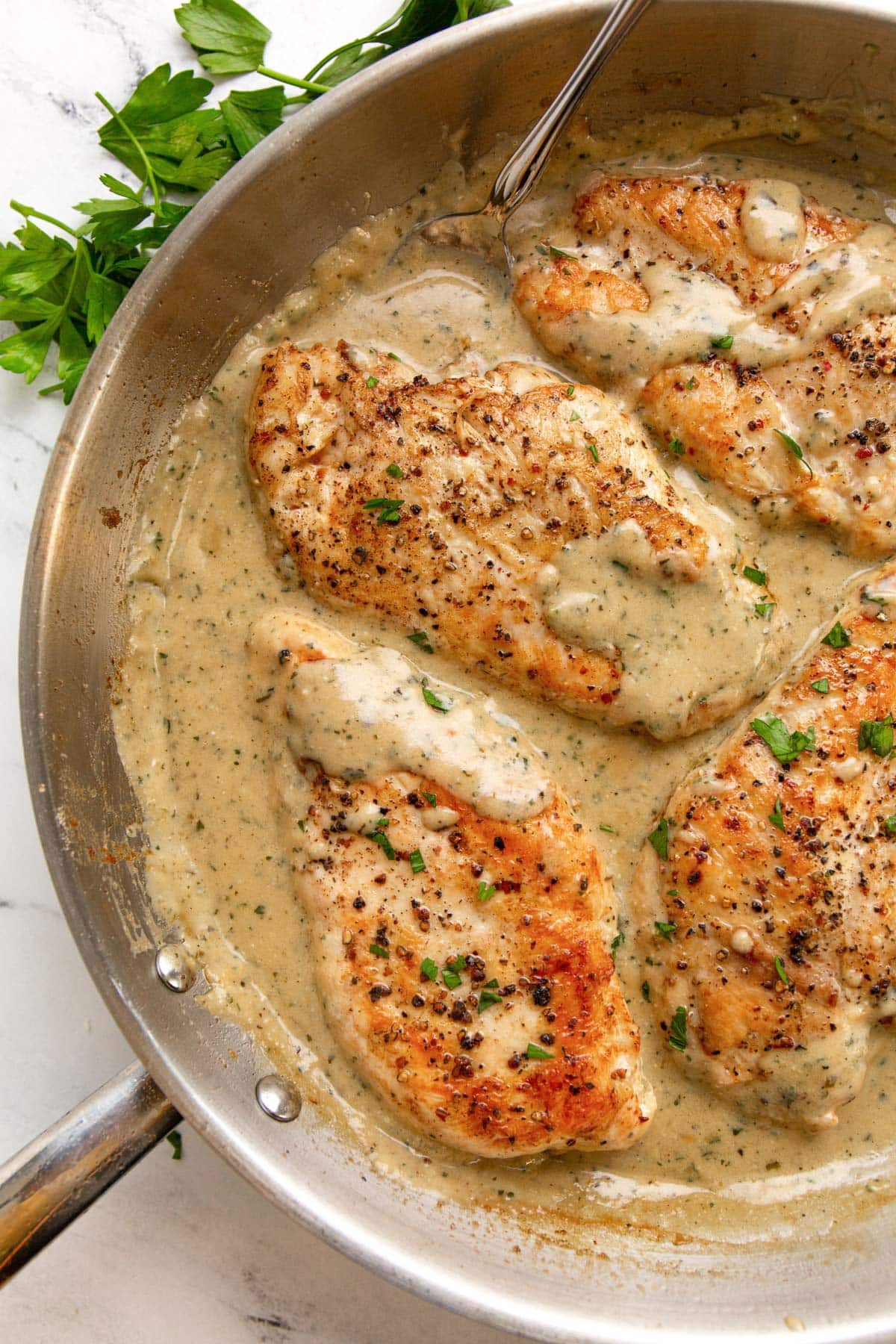 Sour cream – This adds more flavor and thickens the sauce a little. I used 1/4 cup of sour cream to balance out the flavors so it tastes more like ranch dressing than sour cream. If you prefer a stronger sour cream flavor, feel free to increase this amount to about 1/2 cup. Use full-fat sour cream so it doesn't curdle in the sauce.
Ranch dip seasoning mix – I used one (1 oz.) packet of Hidden Valley Ranch dry seasoning. If you're uncomfortable with the amount of sodium, try using half a packet of ranch seasoning instead. You might also be able to substitute the dry mix with regular ranch dressing from the bottle but I have not personally tested this.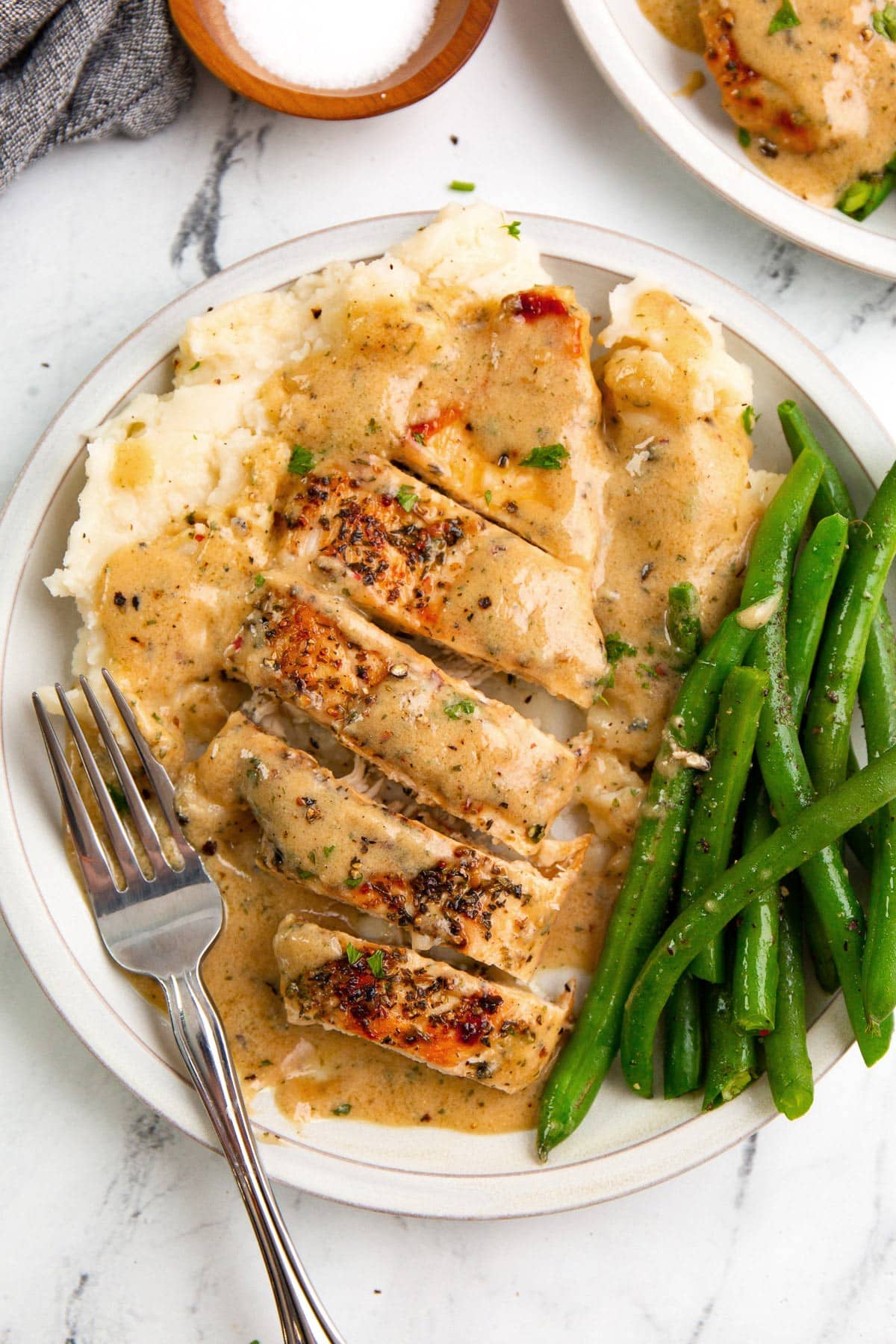 Leftovers – Leftovers will keep in the fridge for up to 3 days.
Reheat – Reheat this in the microwave or in a pan over low heat. Add a splash of milk if needed to loosen up the sauce when reheating.
Customize It!
Add more flavor – Top the chicken with some chunky bacon bits before serving or add them into the sauce.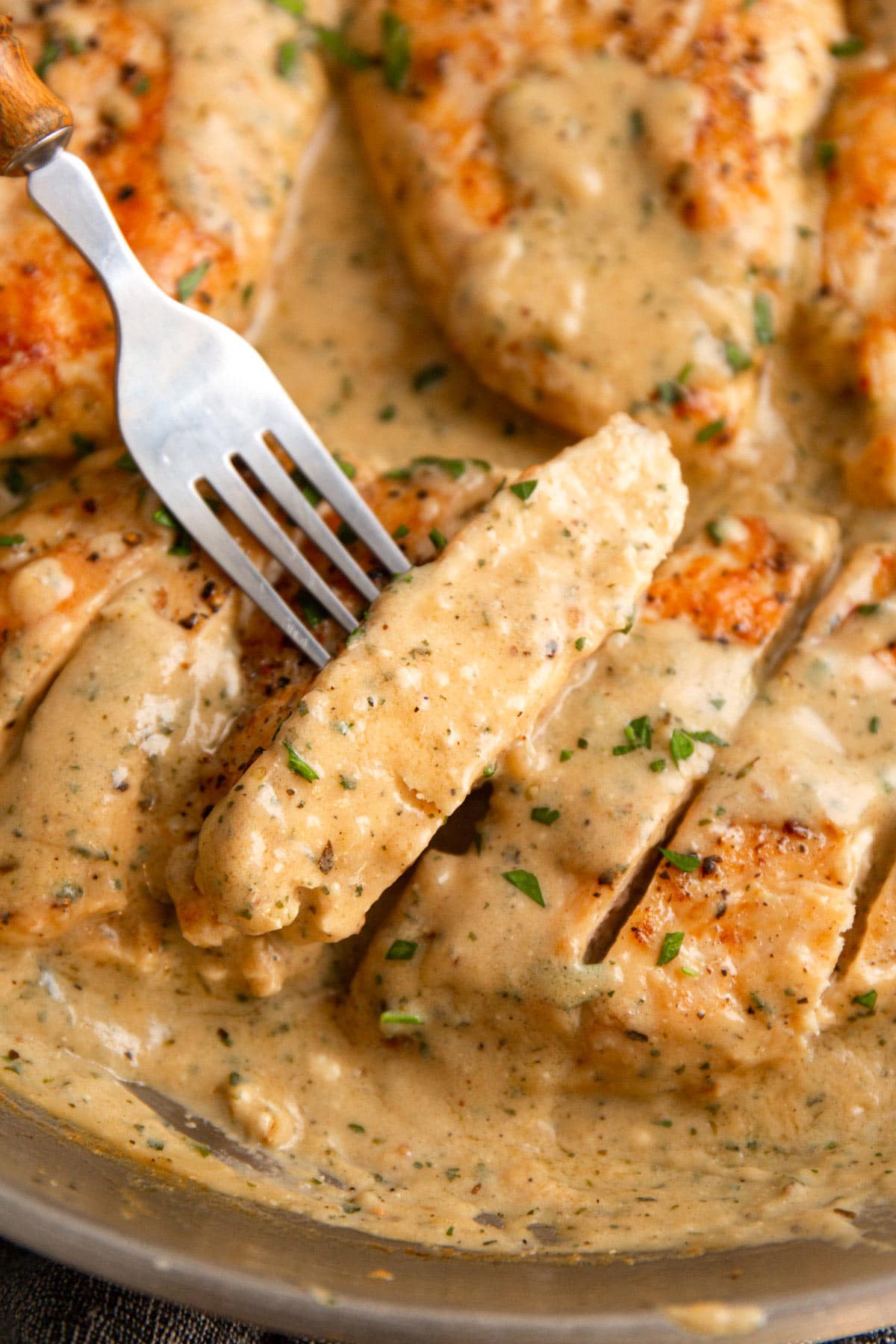 What to Serve with Creamy Ranch Chicken
Serve this creamy chicken with some starch that will absorb all that yummy sauce. The chicken pairs wonderfully with mashed potatoes, rice, or noodles. Add some veggies to balance out the meal like green beans, garlic Parmesan roasted broccoli, lemon pepper asparagus, or some garlic butter mushrooms.
And that's about it. Enjoy your meal and let me know how you liked it, what substitutions you made and what you paired it with in the comments below!
This post was originally published on November 19, 2017 and updated on September 25, 2022.
MORE CHICKEN BREAST RECIPES TO TRY
Did you make this recipe? Rate it!
♡ If you liked this recipe, giving it a star rating ★★★★★ in the comments below really helps! For more recipes, subscribe to my newsletter or follow me on Facebook, Instagram and Pinterest.
Print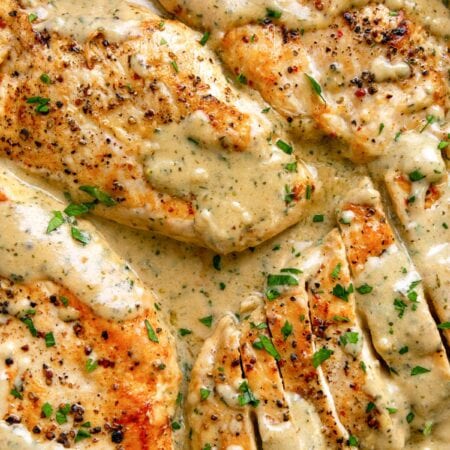 Creamy Ranch Chicken
---
Author:
Total Time: 40 minutes
Yield: 4 1x
Description
This creamy ranch chicken recipe is comforting and delicious with juicy pan-seared chicken breasts in a zesty and flavorful cream sauce.
---
4 boneless, skinless chicken breasts (5–8 oz. each)
Salt and pepper
3 tablespoons butter, divided
1 tablespoon olive oil
1 tablespoon flour
Fresh parsley, to garnish (optional)
SAUCE
1 cup low sodium chicken broth
1/2 cup milk
1/4 cup sour cream
1/2 teaspoon onion powder
1/2 teaspoon garlic powder
1/2 teaspoon Italian seasoning
1 (1 oz.) packet Ranch seasoning mix
---
Instructions
Pound the chicken breasts to an even 1" thickness using a meat mallet and season both sides of the chicken with salt and pepper.
In a skillet over medium-high heat, melt 1 tablespoon of butter and add olive oil. Sear the chicken on each side until golden brown, about 4-5 minutes per side. Remove to a plate and set aside.
Reduce heat to low and add the remaining butter. Stir in flour and cook for about one minute.
Pour in chicken broth and scrape up the browned bits stuck to the pan.
Add milk, sour cream, onion powder, garlic powder, Italian seasoning and ranch seasoning mix. Stir to combine until the sour cream and ranch seasoning has fully dissolved into the sauce.
Add chicken and plate juices back to the pan and spoon the sauce over the chicken. Simmer in the sauce until the chicken is heated through and the sauce has reduced slightly.
Dish and serve hot topped with fresh parsley (optional).
Enjoy!
Notes
I used boneless, skinless chicken breasts on the smaller side (about 5-8 oz. each). If you have large chicken breasts, cut 2 breasts in half lengthwise to get 4 chicken cutlets.
Use full-fat sour cream so it doesn't curdle in the sauce.
Add more flavor – Top the chicken with some chunky bacon bits before serving or add them into the sauce.
Scroll up to RECIPE TIPS for more useful tips, suggestions and ingredient substitutions.
Prep Time: 10 mins
Cook Time: 30 mins