An authentic spicy cashew chicken with a sticky savory sauce, tender chicken slices and crunchy cashews.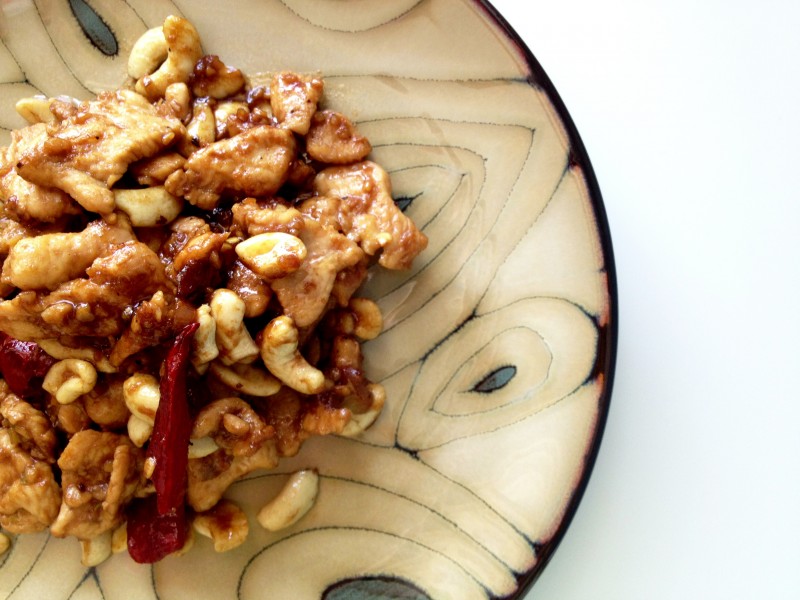 I love nuts. Cashew nuts, almonds, macadamia, pistachios…all of them are great. So when you mix nuts with chicken and give it a sweet and spicy sauce, that's heaven right there. In a plate. I can't really tell you how great it is, you need to taste it for yourself.  When it comes down to it, this protein-packed entrée really gets you going.
I usually serve it with a side of white rice and maybe some stir-fry greens in oyster sauce like baby kailan or boy choy. You could also try some green beans stir-fry or stir-fry mixed veggies. It's important to have a blank  palate canvas like white rice to balance out the strong flavors from the sticky sauce and a side of greens to change up the flavor in between bites. Let's get started.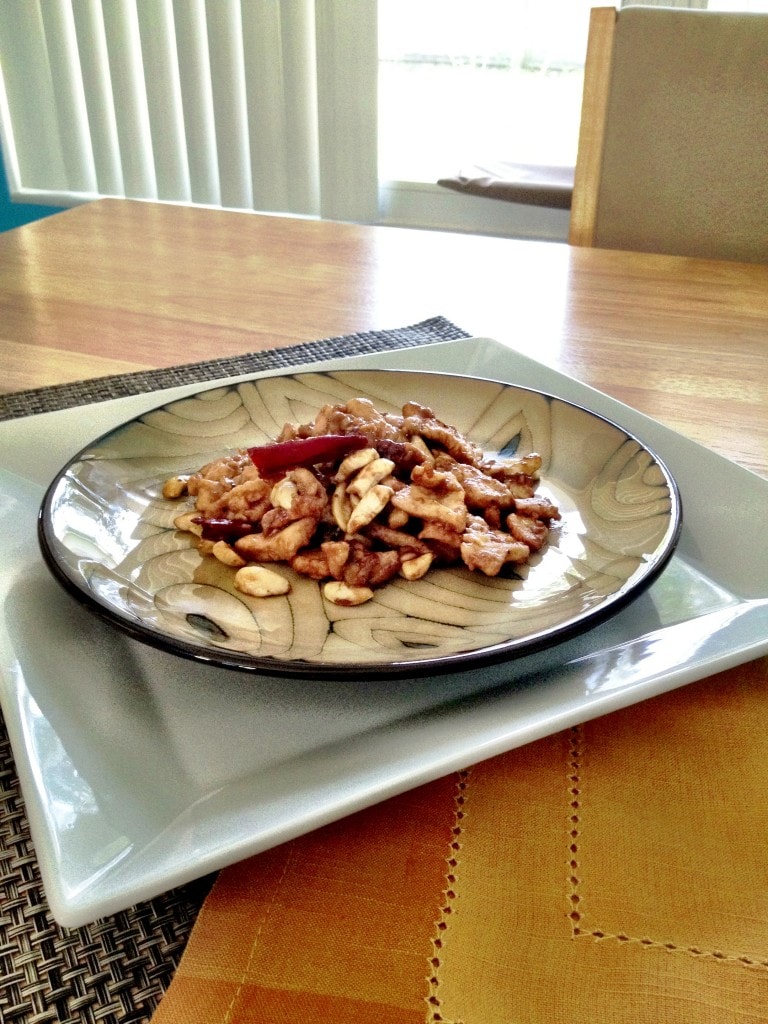 I've had this recipe tucked in my head for a better part of 14 years. With how forgetful I'm getting lately, putting it down here seems pretty smart.  Anyway, there's a lot of flavors going on here: soy sauce, oyster sauce, honey, chilies, garlic and ginger. All these sauces mix together beautifully to create a delicious depth of flavor.
SPICY CASHEW CHICKEN TIPS AND TRICKS
Thick/dark soy sauce: This is usually hard to find in regular grocery stores but you can find them in Asian markets and online from Amazon. The brand I usually use is ABC. Unlike regular soy sauce, this is thicker and sweeter, usually infused with molasses. It's added to stir fries, noodles and fried rice to add color and a hint of sweetness. If you can't find this anywhere and don't feel like adding it to your pantry by buying it online, try subbing by adding in some brown sugar to mimic the taste of molasses.
Oyster sauce: This is one of my favorite sauces. I use it in noodles, stir fried veggies and stir-fried proteins like this recipe. The sauce is used widely in Southeast Asian cuisine. Once you buy it, you can use it for many, many dishes so it won't go to waste. You can find an off brand of these in the ethnic section of some big grocery chains, Asian markets and online from Amazon. I like using the brand from Lee Kum Kee. I've tasted other brands from regular grocery stores and it falls short so brand does matter. For other ideas of what to use oyster sauce with, try searching 'oyster sauce' on the blog.
Enjoy!
Print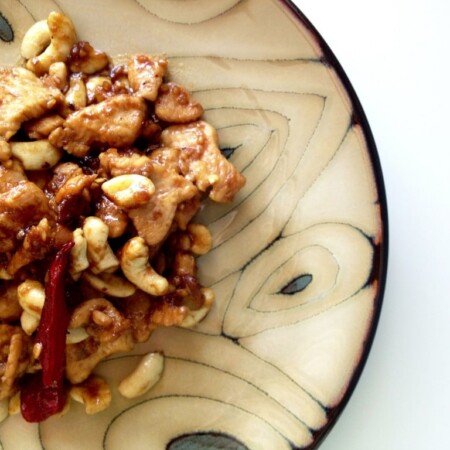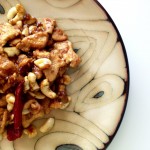 Spicy Cashew Chicken
---
Author:
Total Time: 15 minutes
Yield: 2 1x
Description
An authentic spicy cashew chicken with a sticky savory sauce, tender chicken slices and crunchy cashews.
---
1 chicken breast, sliced thinly
1 shallot, sliced
1 tablespoon garlic, minced
1/2 teaspoon ginger, minced
1 tablespoon thick/dark soy sauce
1 tablespoon soy sauce
1 tablespoon oyster sauce
1 tablespoon honey
1 dried chili /1/2 tablespoon sriracha sauce
1/2 cup cashew nuts
Salt and pepper to taste
---
Instructions
Ove medium high heat, sauté shallots, garlic, ginger and chili in some oil until fragrant, about 1 minute.
Toss in the chicken slices and cook until chicken is no longer pink.
Add thick soy sauce, thin soy sauce, oyster sauce, honey and salt and pepper to taste.
Toss to coat and sauté for another 5 minutes.
Add in cashew nuts and stir to coat thoroughly in the sauce.
Dish and serve hot with a side of white rice.
Prep Time: 5 mins
Cook Time: 10 mins