Stir-fry mixed vegetables is a colorful blend of broccoli, baby corn, carrots, mushrooms and snow peas in a savory Asian garlic sauce.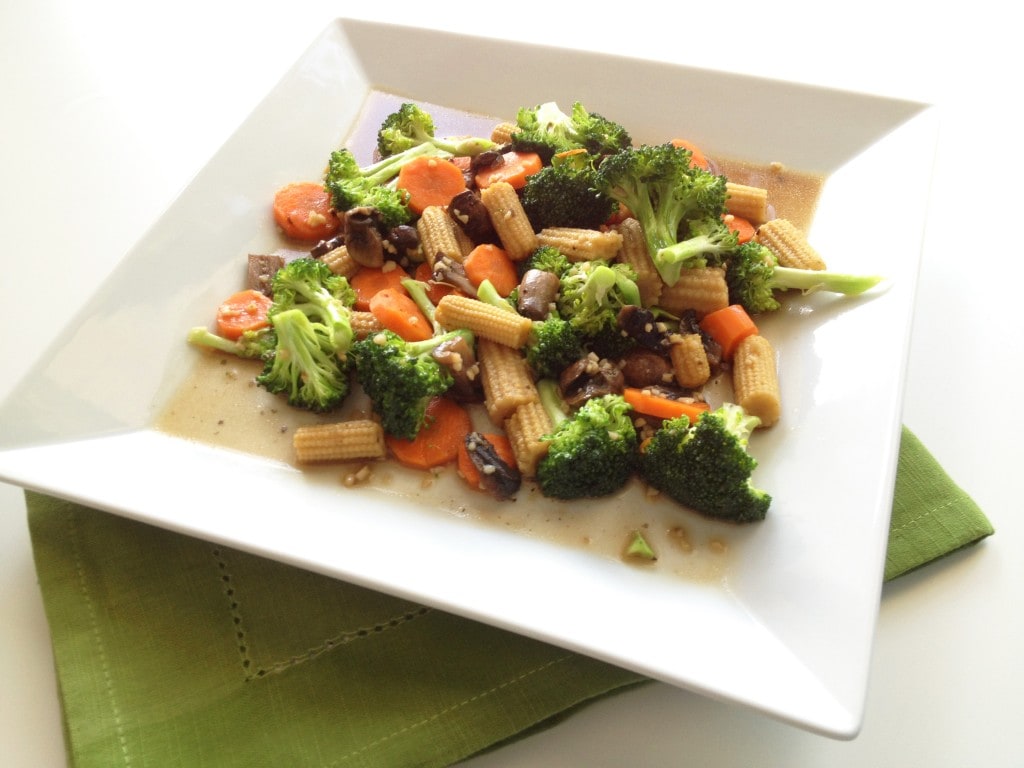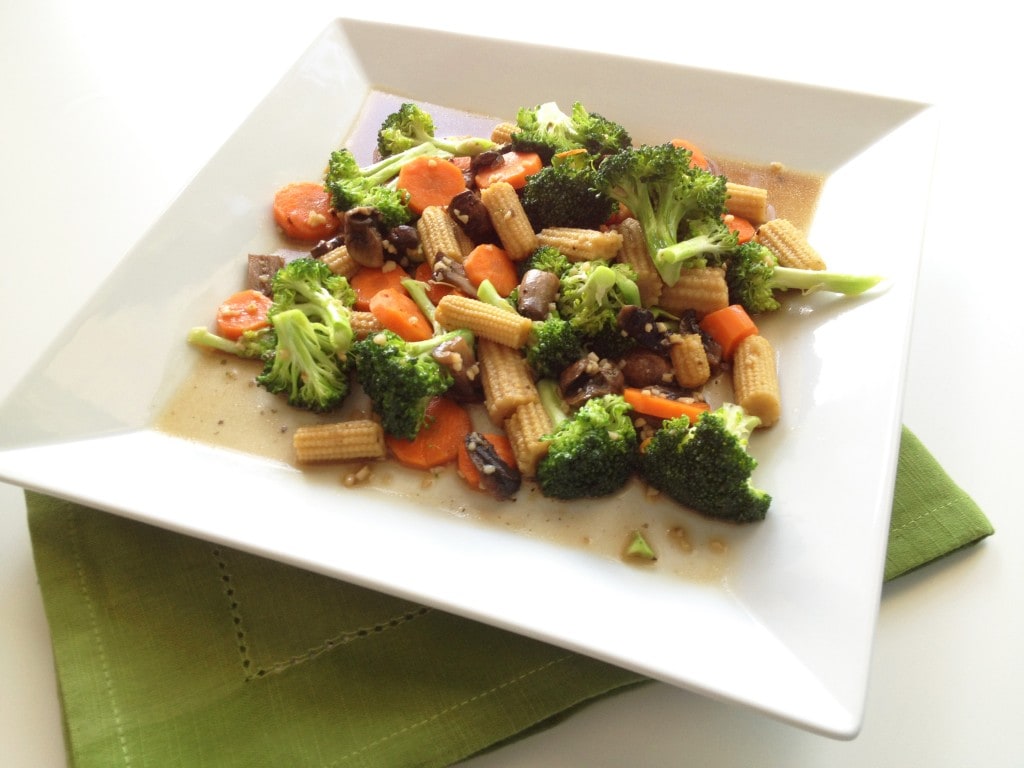 I just love the explosion of color on the plate. It actually makes vegetables look yummy. Not to mention the variety of textures which are the soft sponginess of mushrooms, crisp broccoli florets, ridged baby corn and crunchy carrots. They'd have these at Chinese lunch buffets and I always had my fill.
Who wouldn't want something like that on their plate? In a medley dish like this, there's always something someone likes more than the others and for me, it's baby corn. I just love baby corn. If you haven't tried it yet, you really should. Pair it with shrimp in lobster sauce with all that egg sauce to douse your fluffy white rice in.
It's a wonderful medley of ingredients that compliment each other so well, like the Happy Family stir-fry or hot plate tofu. So let's get started.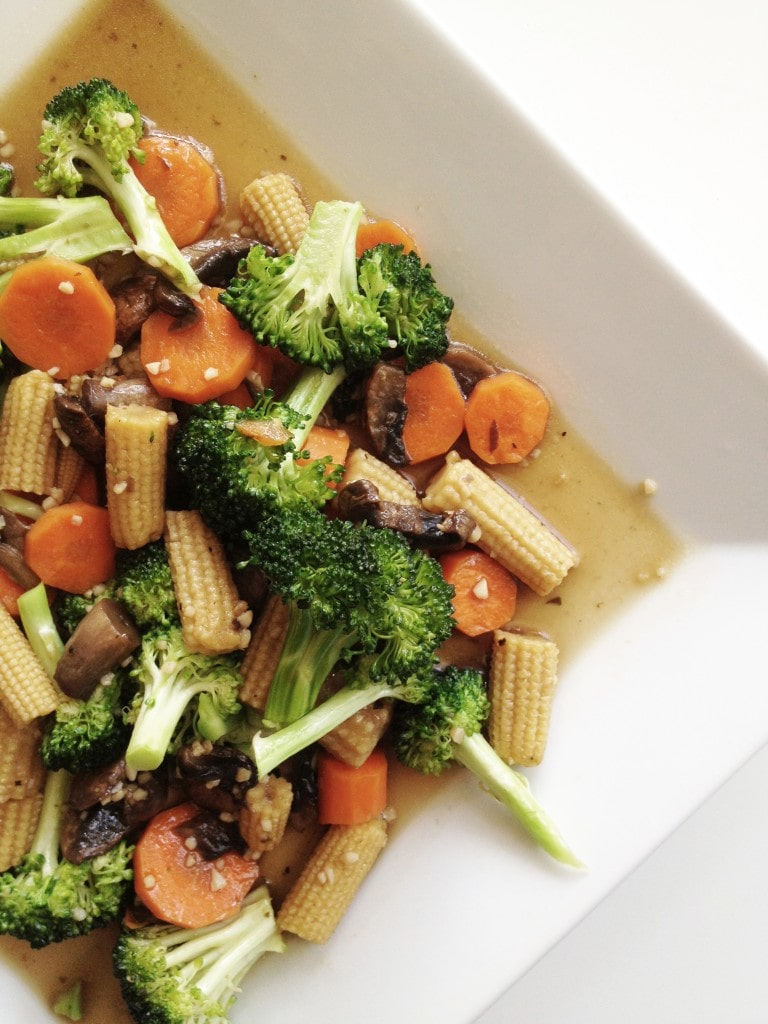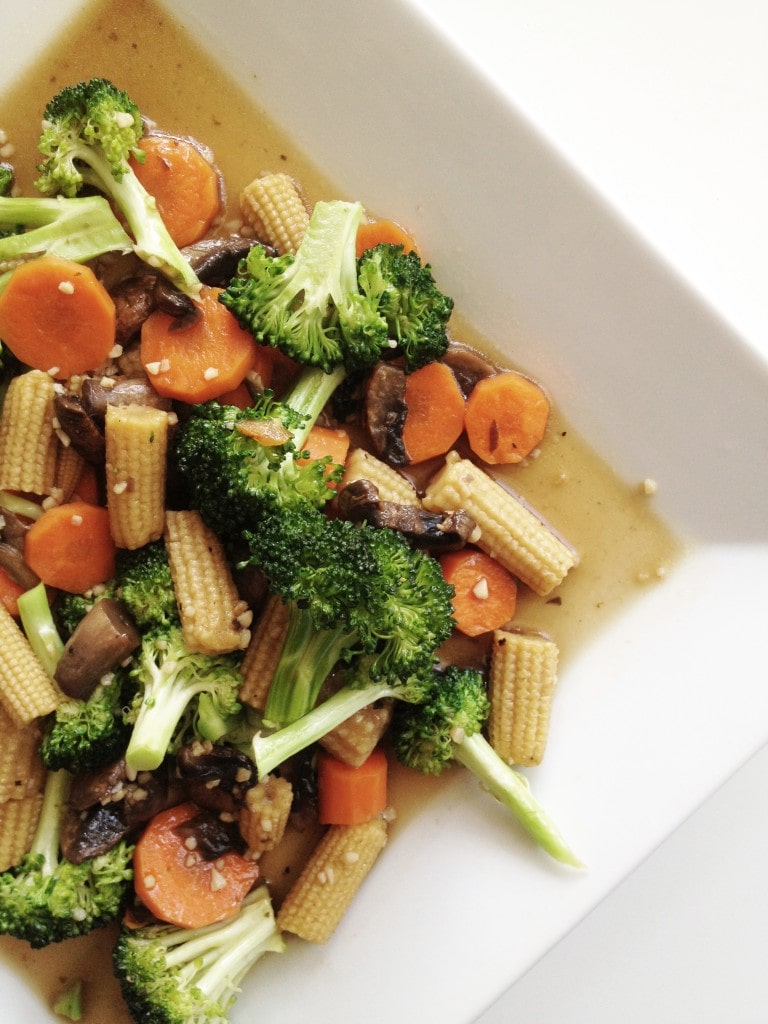 This is another one of my recipes that I've deconstructed and replicated at home based solely on taste. It's as close as I remember it. It has a base sauce of chicken stock flavored with oyster sauce, sesame oil and pepper. Pretty simple stuff. Remember to add in the broccoli last so it doesn't wind up soggy and maintains its happy, bright green crisp texture.
STIR-FRY MIXED VEGETABLES TIPS AND TRICKS
Stir-frying: The best way to do cook this is in a wok so you have the ease of tossing the veggies around without having to worry about stuff spilling off the sides. With how fast a stir-fry is, you'll want to prioritize evenly cooking things over babying a mess and this is easily done in a wok. If you don't have one, a cast iron skillet works as well, just be careful not to spill!
Vegetables: You can use two cups worth of any kind of mix of veggies for the recipe. I used a mix of broccoli, baby corn, carrots, mushrooms and snow peas but fill your two cups with whatever you have on hand or whatever you like. I used fresh vegetables for this recipe but a frozen mix will work as well with the caveat that it won't be as crispy. Fresh is always best. The only exception I've found to this rule is the Costco Kirkland stir-fry vegetable blend. I have used this mix to make a quick green curry chicken or Panang chicken.
Garlic: I like using this mini grater to grate fresh garlic but you can also use a garlic press. I just find the mini grater easier and faster to use. You'll want to use these to mince the garlic because I've noticed more garlic punchy flavor from mincing it this way as opposed to chopping it up with a knife, which is what I did for many, many years.
Oyster sauce: You can't substitute this with anything else. It has a very unique flavor and brand selection is important or you'll end up with a subpar and totally different taste from how it should be. My go-to brand for oyster sauce is the Lee Kum Kee panda brand. I do not suggest shopping for the oyster sauce in the ethnic aisle of your regular grocery store. I've tried some brands they keep there and it was completely different from the flavor profile I grew up with and love.
Sesame oil: This is a finishing oil, not the kind of oil you cook with. It's intended to add a smoky flavor to the finished dish so a light drizzle at the tail end of the stir-fry is all you need. My favorite brand for this one is Kadoya sesame oil.
And that's about it. Happy cooking and I hope you enjoy the recipe!
Did you make this recipe? Rate it!
♡ If you liked this recipe, giving it a star rating ★★★★★ in the comments below really helps! For more recipes, subscribe to my newsletter or follow me on Facebook, Instagram and Pinterest.
Print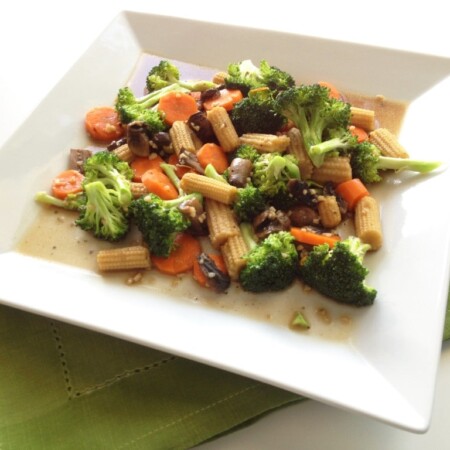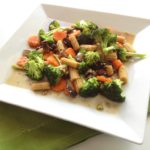 Stir-Fry Mixed Vegetables
---
Author:
Total Time: 10 minutes
Yield: 2 1x
Description
Stir-fry mixed vegetables is a colorful blend of broccoli, baby corn, carrots, mushrooms and snow peas in a savory Asian garlic sauce.
---
2 cups mixed vegetables (broccoli florets, sweet baby corn, sliced carrots, oyster/shiitake/portobello mushrooms and snow peas)
1 tablespoon garlic, minced
1/4 chicken bouillon cube
1 tablespoon oyster sauce
1 teaspoon sesame oil
Pepper to taste
---
Instructions
In a wok over medium-high heat, saute garlic until fragrant.
Toss in baby corn, carrots, mushrooms and snow peas and stir-fry for about 1 minute.
Crumble the chicken bouillon cube and pour in the oyster sauce over the vegetables. Stir to combine.
Deglaze the wok if needed and add in broccoli, cooking for 1 minute.
Season with pepper and mix well.
Remove from heat and pour in sesame oil, tossing to combine.
Dish and serve hot.
Prep Time: 5 mins
Cook Time: 5 mins