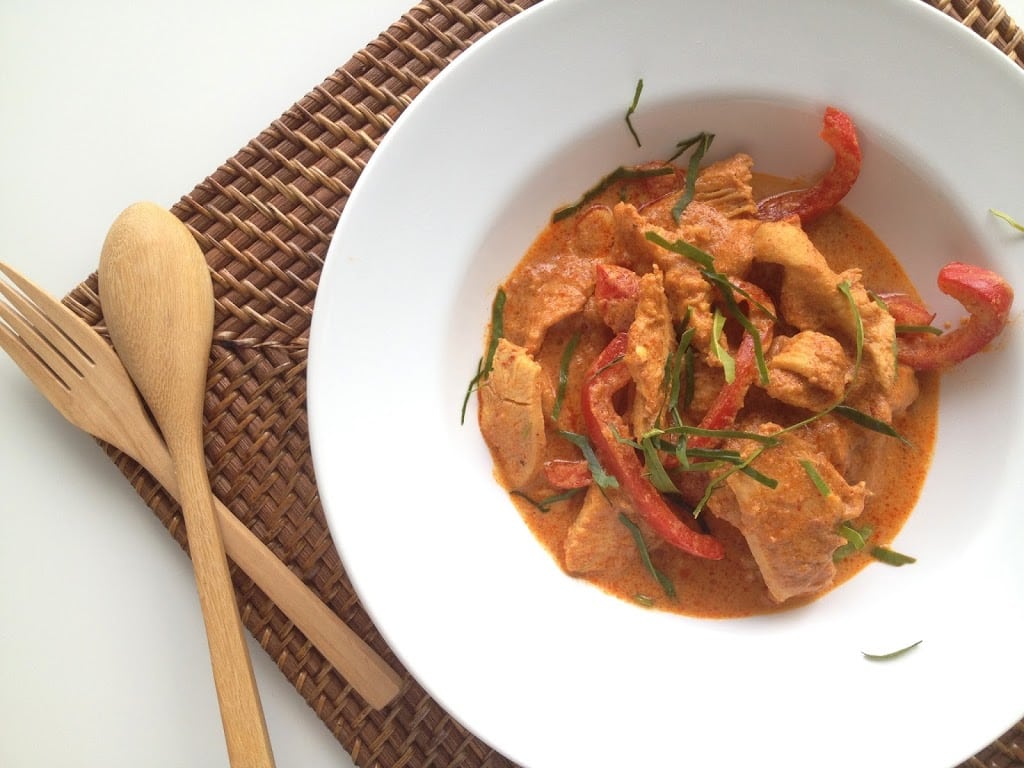 Panang curry which is also spelled as Penang or Phanaeng, is another curry in Thai cuisine. This mild curry has a strong nutty base amid coconut creaminess and can be enjoyed by those who can't handle spicier curries, and those that enjoy the taste of satay sauce as there are slight similarities in flavor.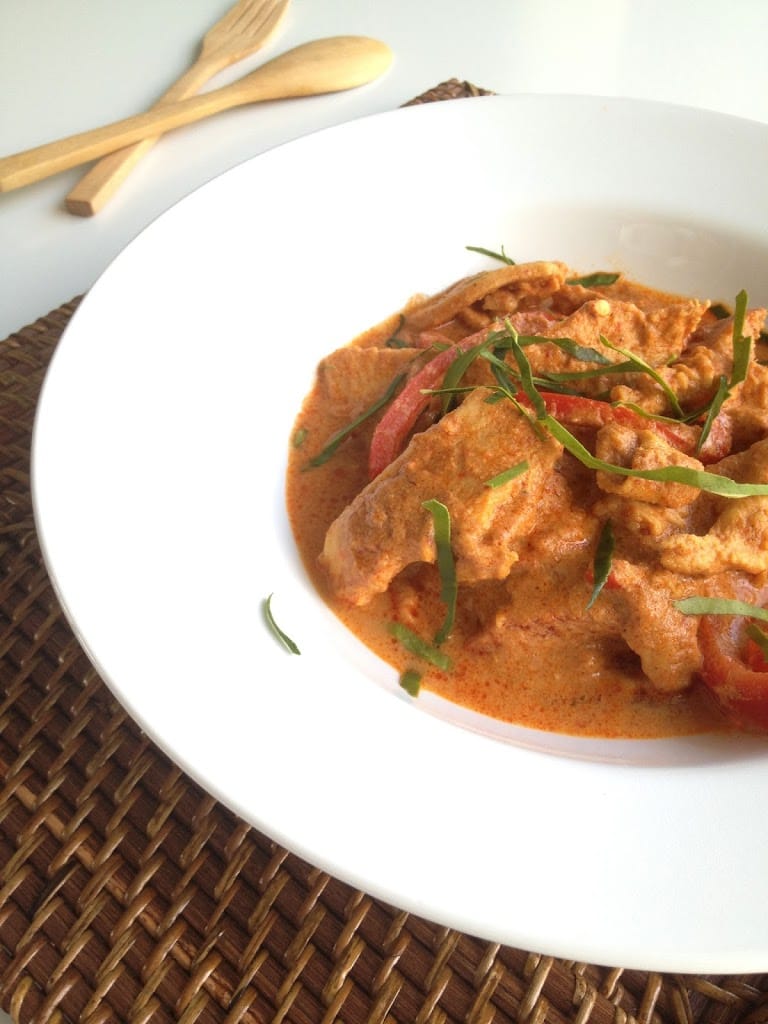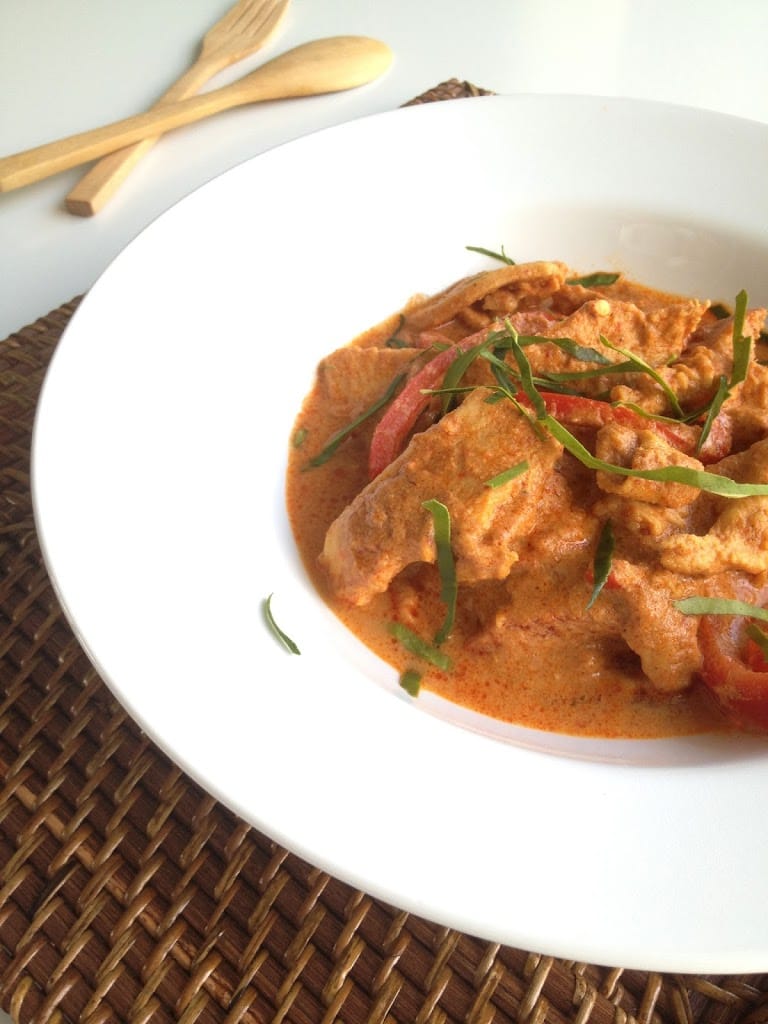 Today I will be using a pre-made curry paste to make an easy dish as I did with beef massaman curry. So here's a quick and easy recipe for curry enthusiasts that'll get dinner on the table in 30 minutes.  I chose to go with the Maesri brand of curry paste but you can also go for Mae Ploy. Serve on a bed of rice and a side of veggies.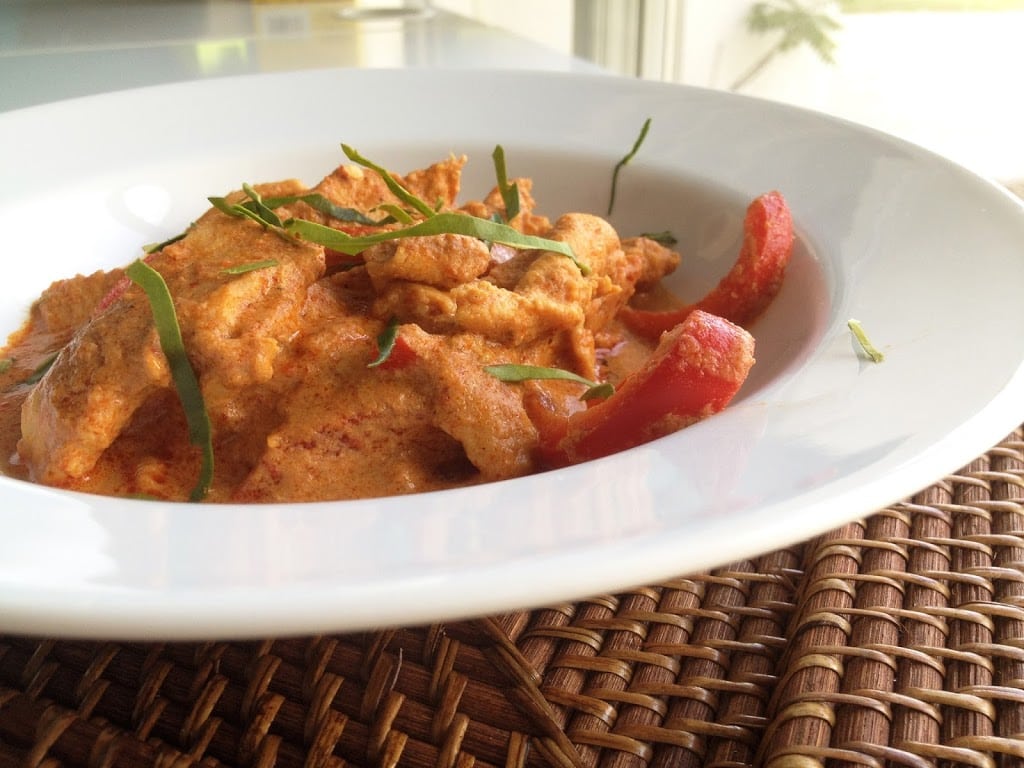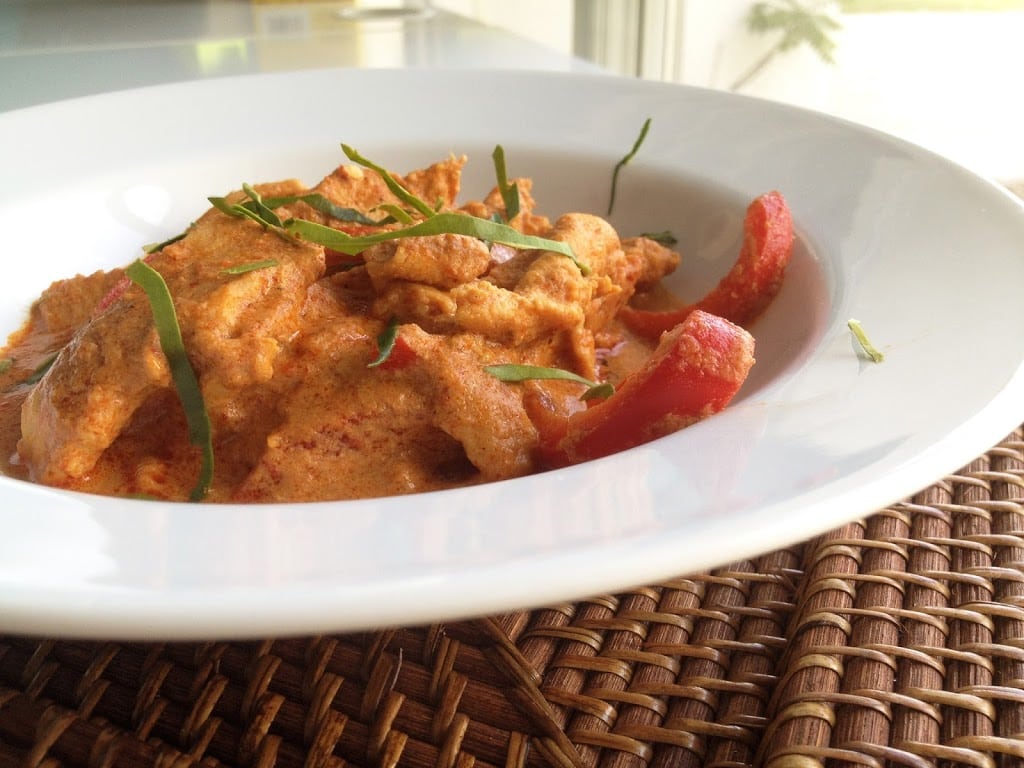 Chicken and be substituted with beef, or tofu for the vegetarians and you can add all sorts of vegetables as a filler; red bell peppers, cucumbers, green beans or peas. Be sure to be careful once it starts to boil, it can spit. I got some curry in my eye and lordy did it hurt!
Tips and Tricks:
Use thick coconut milk for a creamy, thick curry
If you need more salt, use fish sauce
If you want it sweeter, use brown sugar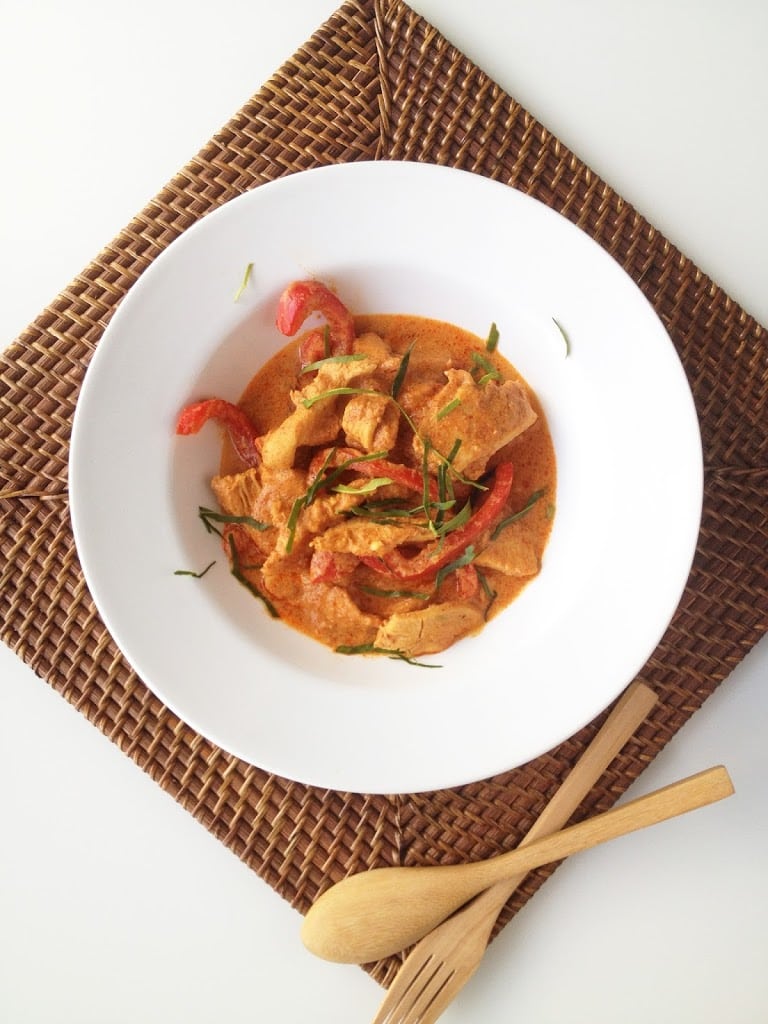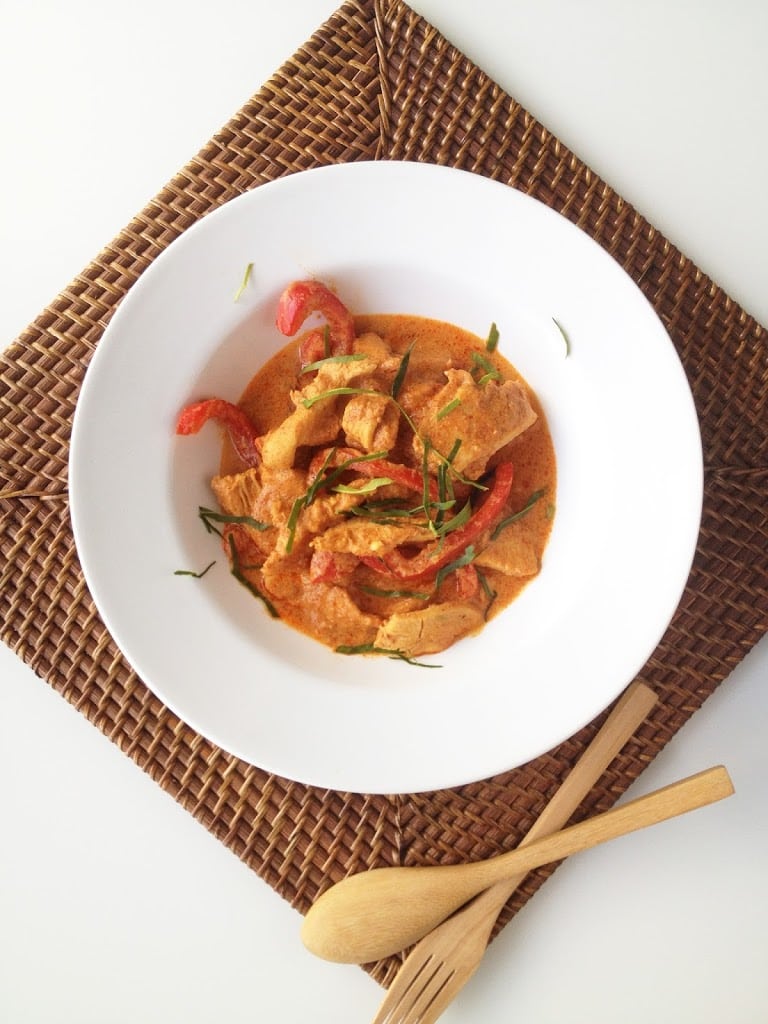 Print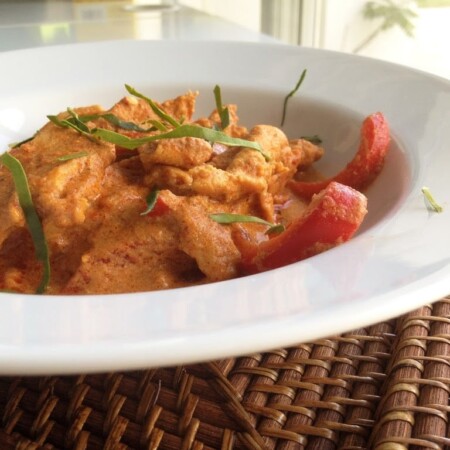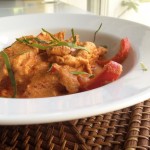 Easy Panang Chicken Curry
---
Author:
Total Time: 30 mins
Yield: 4 1x
1 can (4 oz.) Panang curry paste
1 1/2 cups thick coconut milk
2 boneless, skinless chicken breasts, thinly sliced
2 tablespoons brown sugar (optional)
2 teaspoons fish sauce (optional)
---
Instructions
Over medium high heat, saute the curry paste in some oil until fragrant
Pour in coconut milk and bring to a boil
Add chicken (and vegetables if any) and stir to combine
Do a taste test and add brown sugar for a sweeter curry or fish sauce for a more savory curry
Reduce heat to medium and simmer uncovered for 20 minutes or until the curry has thickened
Dish and serve hot
Prep Time: 5 mins
Cook Time: 25 mins